What is better than the creamy texture of warm baked goat cheese dip? A goat cheese dip recipe with sautéed shiitake mushrooms, fresh tomatoes, stone ground mustard, and pickled red peppers. This creamy dip recipe is incredibly easy to make, and makes for an easy appetizer or part of a snack board.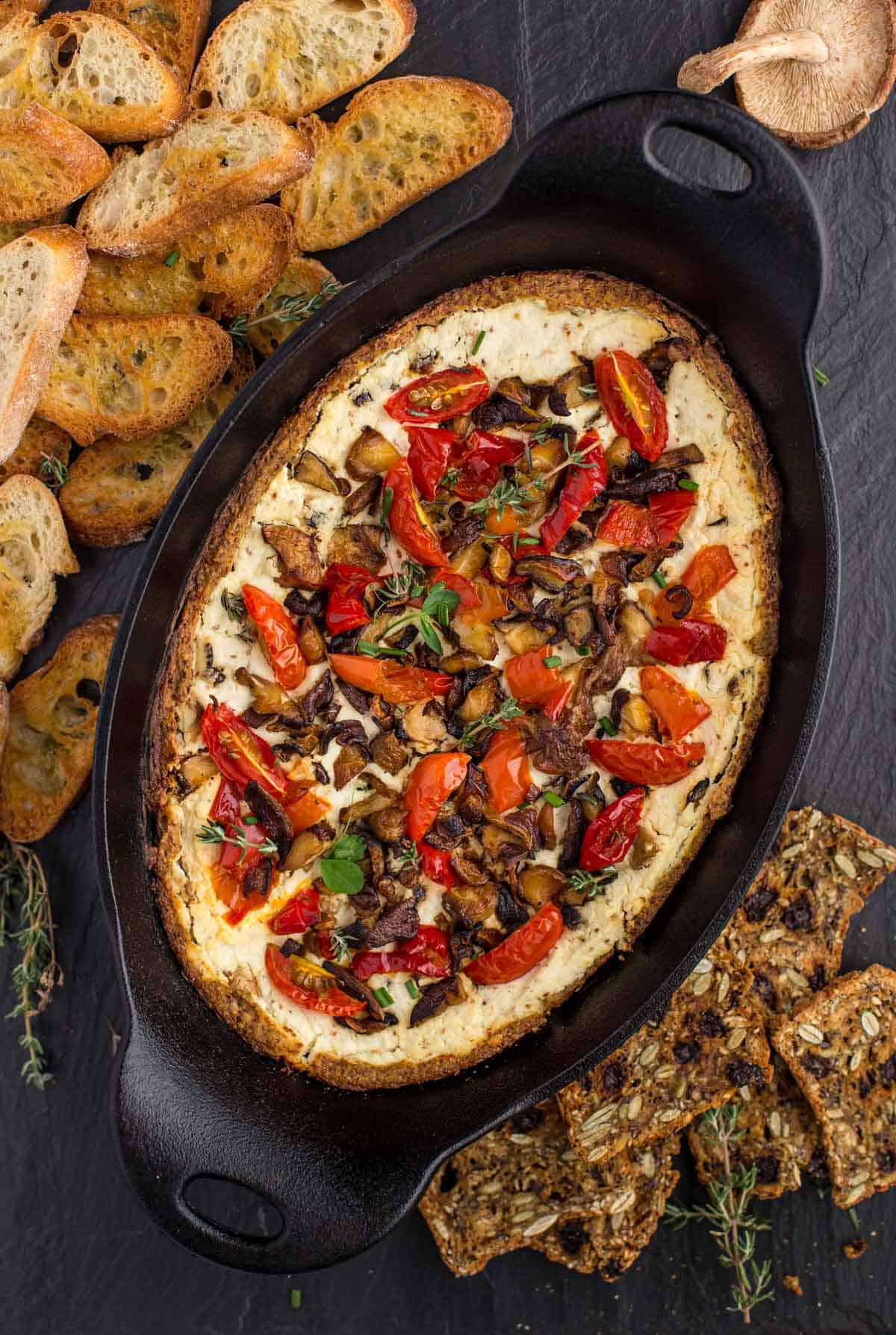 Recipe Highlights
The warm goat cheese, cream cheese, and mustard add a tangy flavor perfect for pairing with wine and beer.
A perfect appetizer to prep in advance and then bake when you are ready to eat.
Any crusty bread from French Bread to a rustic olive loaf are great for dipping.
When it comes to cheese dips, we can't get enough and we like easy recipes. Whether it's a hatch chile beer cheese dip or a queso dip with spicy beans, we love combining flavors that give both cheesy goodness and also a pop of savory. This goat cheese appetizer dip has both, and is inspired by a happy hour dish from one of our favorite breweries in Oregon, Deschutes.
Jump to:
Ingredients
Quality creamy goat cheese (or chevre) and cream cheese makes for better flavor and is the primary base to the dish.
Good Goat Cheese – A log of goat cheese will typically come in either 4-ounce or 10-ounce package. Opt for the 10-ounce log for this dish, and be sure to use plain versus flavored. It is also called Chevre.
Cream Cheese – Be sure to use the brick and not whipped cream cheese. The tangy goat cheese combined with creamy cream cheese is the base of the dip.
Mushrooms – Shiitake will have a rich flavor and is what we like for this dish. Alternatively, cremini mushrooms work well as a substitute.
Good Quality Whole Grain Dijon Mustard – The acidity makes the dish shine.
Spicy Pickled Peppers – We use a local brand called Mama Lil's (they're soooo good!). Any spicy pickled pepper will work, or even pepperoncini.
Fresh Grape Tomatoes – Cherry tomatoes also work well.
Good Bread – A good crunchy crostini or toasted bread is perfect to dip. You can also use sturdy corn chips, crackers, or raw vegetables.
Chef's Tip: Be sure you have soft goat cheese and cream cheese. Leave the cheeses out for one hour prior to making it.
See recipe card for quantities.
Recipe Instructions
Sautéing Mushrooms – In a small saucepan over medium heat add olive oil and butter. When butter melts add the chopped shiitake mushrooms to the pan. Don't stir too often, let the mushrooms absorb the liquid and brown for 6 minutes. Stir, add more olive oil, and let sit again over heat for additional 6 – 8 minutes. Remove from heat when the mushrooms are brown and soft with just a slight crispiness to the edges.
Assemble Dip – Combine goat cheese, cream cheese, and and half the mustard into a medium bowl. Add half the mushrooms and continue to stir until incorporated. Place mixture into an small baking dish or cast iron in an even layer. Then top with the tomatoes, pickled peppers, and rim the outside of the dish with remaining mustard.
Grill (or Bake) the Dip: Place the dish on a preheated grill (or oven) at 375 degrees Fahrenheit for about 20 minutes, or until you see the cheese bubbling. Remove with heat safe gloves and then serve with crostini and crackers. If you use corn chips, be sure they are dense and sturdy to avoid them breaking in the dip.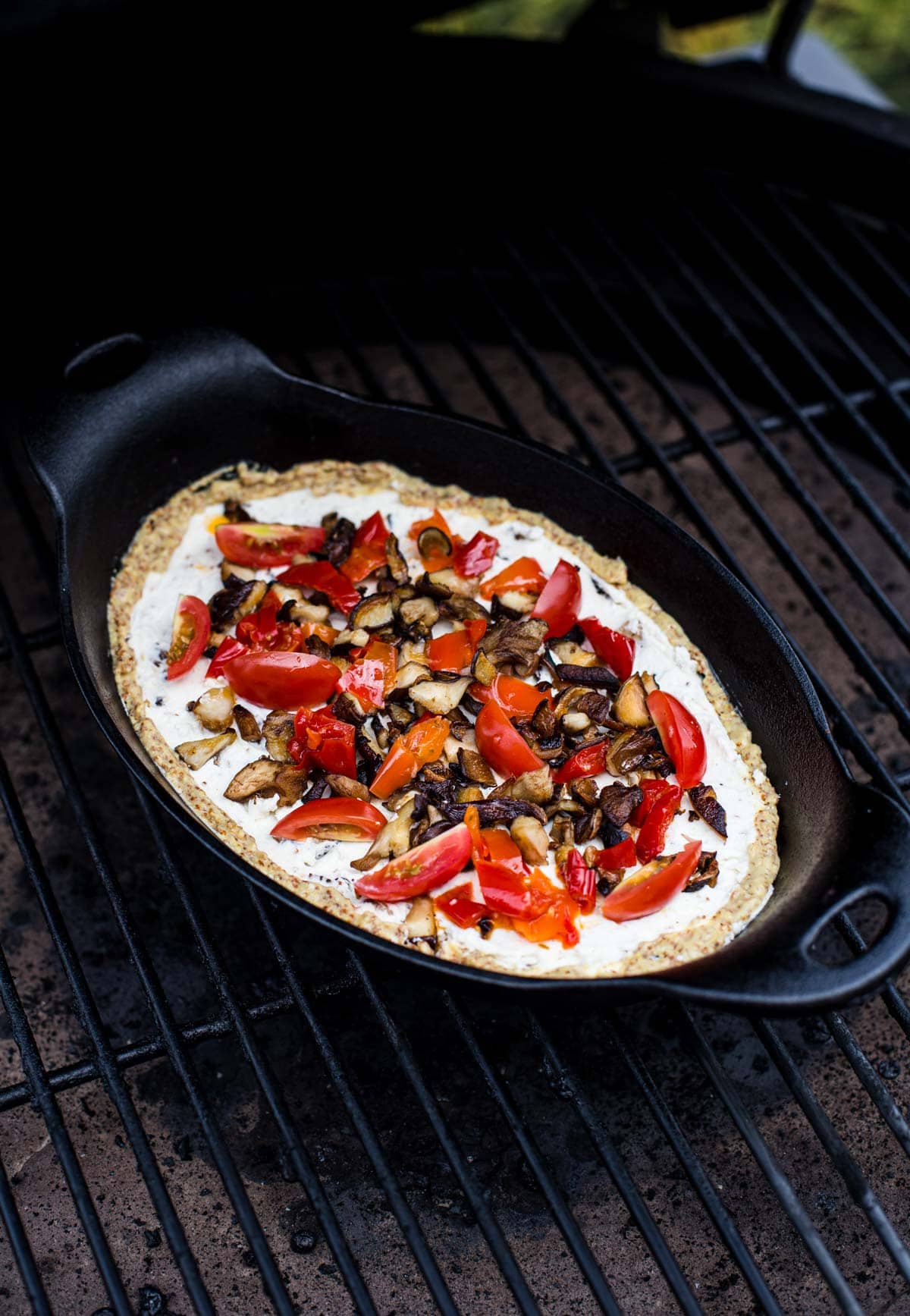 Top Trick – To easily add the mustard to the edge, place 1 tablespoon of mustard into a small plastic baggie. Seal it, then cut the tip of a corner off and use like a piping bag. Just run a line of mustard to the outer edge.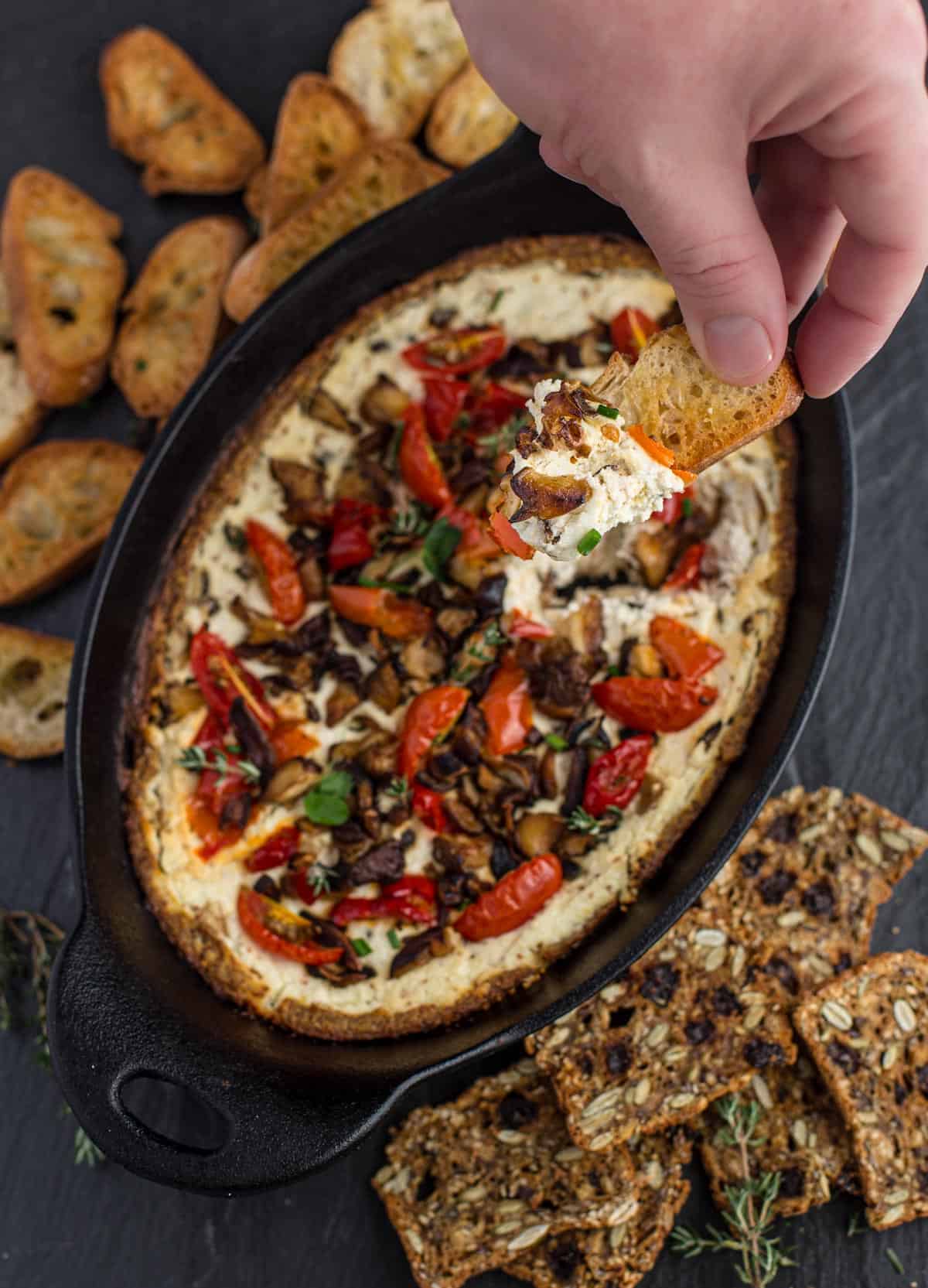 Equipment
Cast iron pans are a great way to bake and serve. We use a 9-inch long (16 oz) oval Lodge Cast Iron and a good trivet that can handle the heat when it first comes off.
If grilling be sure you have the best high heat gloves so you can pick up and just place to serve.
Wine Pairing
A great pilsner or blonde beer are a great pairing. For wine this dish is both tangy and savory. For white wine look for a French sauvignon blanc or sparkling wine. For reds we love Beaujolais or a rich syrah – try to avoid an overly tannic wine.
Frequently Asked Questions
Can this be made in advance?
Yes, this can be prepared at least one day in advance. Store in the cast iron pan in the refrigerator, and remove one hour prior to baking to warm up.
Can I reheat this dish?
It's not recommended to reheat. But if you do have a lot of leftovers, add some olive oil and parmesan cheese, stir and bake again at 375 degrees F in the right size oven safe container until bubbly.
Is Chevre and Goat Cheese the same?
Yes. Chevre is goat in French and is the same as goat cheese. For this dish use plain goat cheese. You can use flavored, but know that flavor will carry through to the dish.
---
This post may contain affiliate links. This means if you click on the link, we may receive a small commission if you purchase through the link. We partner with brands we know and love and use and it helps keep the blog going!
---