Candied nuts make a great snack for the house or holiday parties. They also make for an amazing edible holiday gift idea. These smoked candied nuts are slowly smoke roasted and then finished with a sweet glaze making them crunchy, sweet, and mildly smoky.
Candied nuts, similar to our smoked almonds recipe, are popular because they are crunchy and delicious and great to snack on throughout the day. They also feed a crowd and make an easy awesome gift. This batch is made with a mix of nuts (though you could stick to just one if you prefer) and finished with a sweet glaze.
And according to the Mayo Clinic, they are heart healthy too.
Jump to:
Ingredients for Candied Nuts
We use a variety of nuts for our candied nut mix. It also depends on what is easily available and what you like. But our favorite mix is to maximize flavor and crunch.
Pecans – These just melt in your mouth with a little sweetness after roasting or smoking.
Almonds – The bite and crunch give texture.
Cashews – Soft to the bite, lightly sweet and adds moisture.
Hazelnuts – Adds an herbal element and strong crunch. We are partial to these since we own a Hazelnut farm.
You can use any mix you like, but we find a combination of 3-4 gives the best flavor. Be sure when buying that you purchase raw nuts, not those that have been already roasted or blanched. We like to buy them in the bulk food section for the best price.
How to Smoke Mixed Nuts
The goal with smoking nuts, is to mimic the oven roast texture, but at a much lower heat. Nuts also contain natural oils that will slowly extract as the nuts roast. So there is no need to flavor or oil them PRIOR to the sweet glaze. Simply smoke them for a few hours at a low heat together.
After the second hour, the color will darken, and the natural oils start to come out of the nuts which further enhances the smoky flavor. Pull them off when you like the color and flavor.
Preheat the smoker to 225 degrees Fahrenheit. Fruit woods are a great option for nuts.
Smoke the nuts together on a sheet pan or oven safe dish for 90 minutes. Then stir up the nuts.
Smoke an additional 90 minutes and remove from smoker. They should have slightly darkened.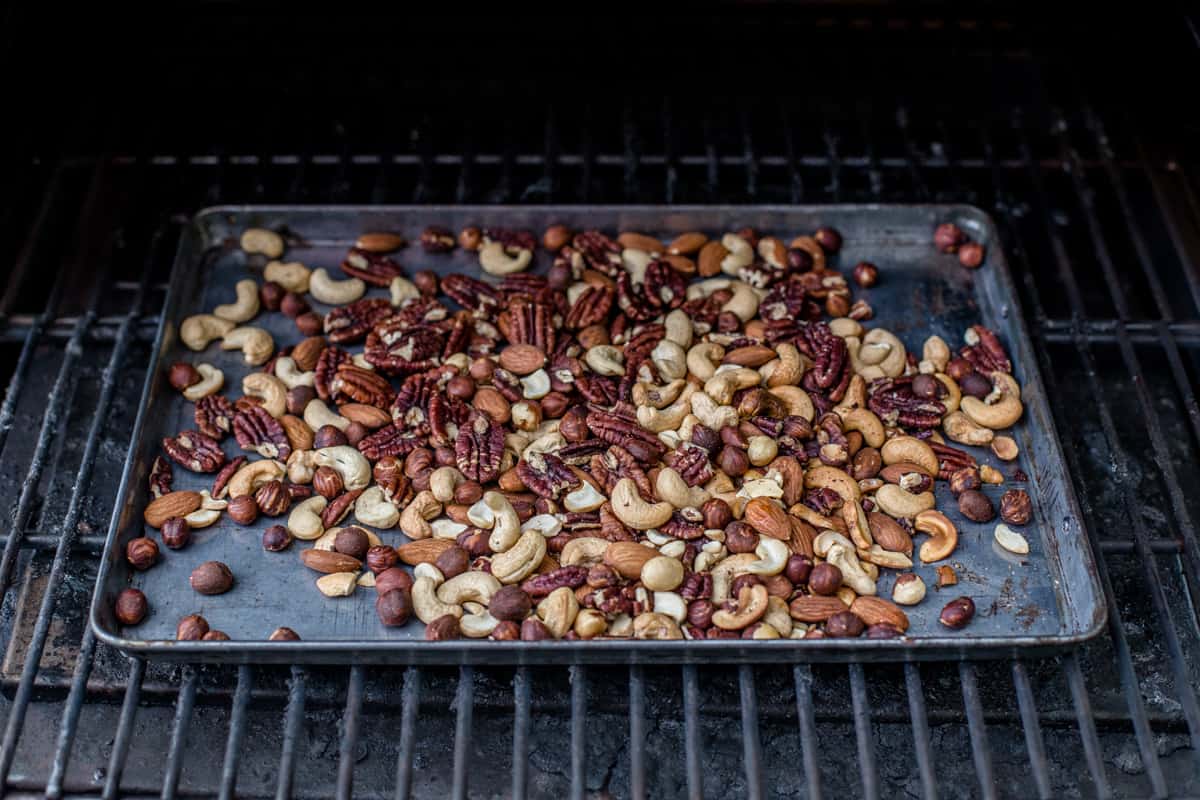 Want more smoke flavor? Either change the wood type to oak or hickory, or keep smoking. But check them every 30 minutes after the third hour. This avoids scorching and an overly smoky flavor.
Once removed from the smoker, it's time to make and apply the glaze.
The Glaze
The glaze is simple:
Butter
Brown Sugar
Bourbon (or Whiskey)
Cinnamon
Kosher Salt
Almost like making caramel, the goal is to combine all the ingredients in a small pan and then get the sugar to caramelize and bubble. This will also concentrate the subtle Bourbon flavor for a sticky and sweet glaze that adheres to the nuts. The glaze comes together in just a couple minutes. You can make the glaze as soon as the nuts come off of the grill. Then glaze the nuts while they are still warm for that candied nut flavor.
Chef's Note: You are not making caramel so be cautious to not overheat the pan. So depending on the pan you use (stainless steel versus cast iron as an example), start on a lower heat level and slowly raise the temperature. You want a gentle amount of bubbling to avoid burning, or scorching, the sugar and butter mix.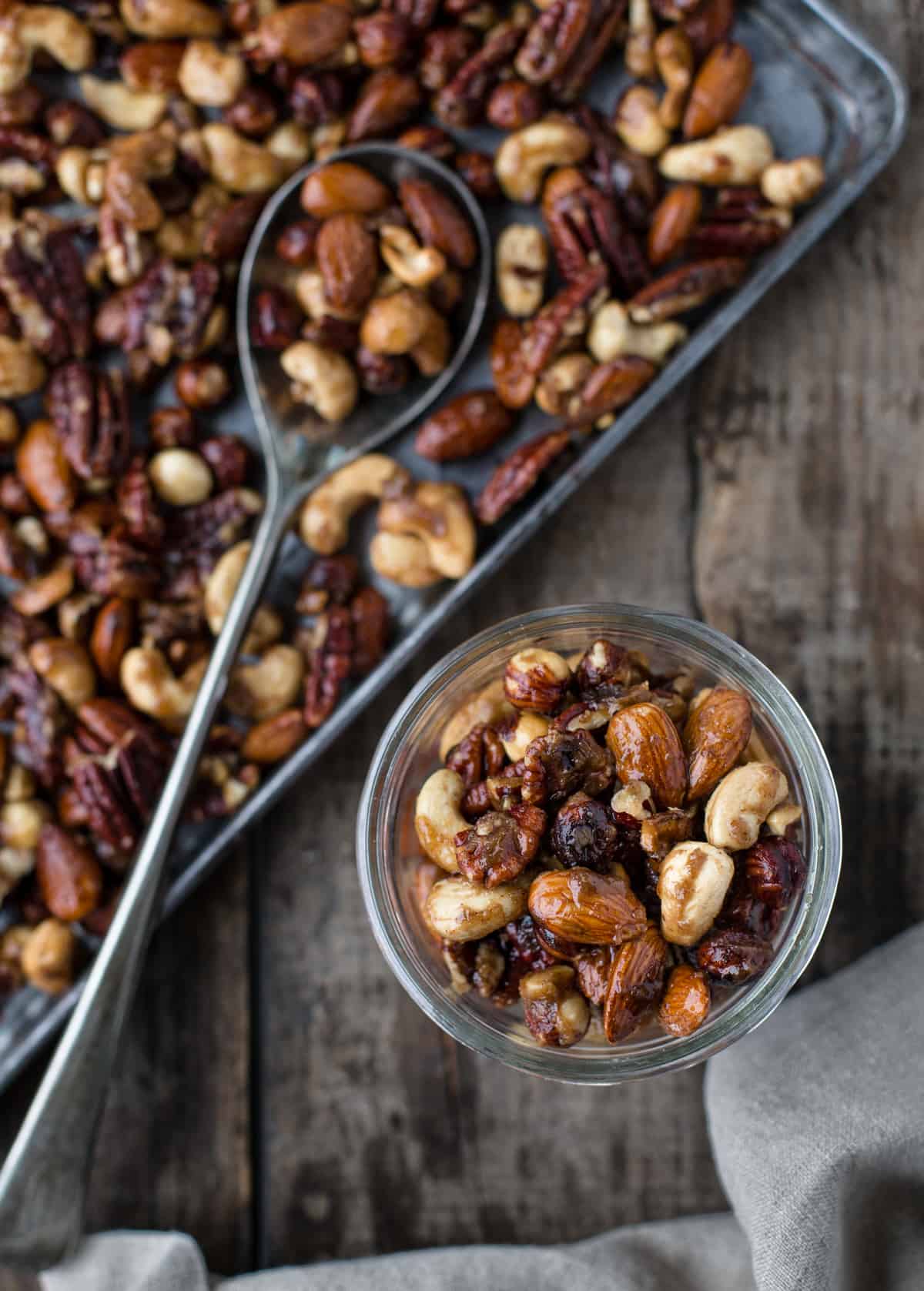 Storing Smoked Mix Nuts
If not serving warm right away, store in a mason jar. They will stay fresh for up to a month.
If giving these as a gift, add a nice note "to enjoy within the next month".
Variations
It's easy to make with just Pecans or a single nut variety. The same portions apply.
Consider a little heat with cayenne pepper. A little goes a long way.
Don't have Bourbon? Dark Rum works great as well. Amaretto is fun too for a cherry like flavor. Any liqueur will actually make for a fun flavor addition.
Related Recipes
This post may contain affiliate links. This means if you click on the link, we may receive a small commission if you purchase through the link. We partner with brands we know and love and use and it helps keep the blog going!