Bourbon Spiked Hot Apple Cider is an incredibly delicious and oh-so-comforting hot cocktail. This easy autumn cocktail can also be served cold for a refreshing treat! Skip the bourbon and this can also make for an incredible and festive non-alcoholic fall drink for all ages!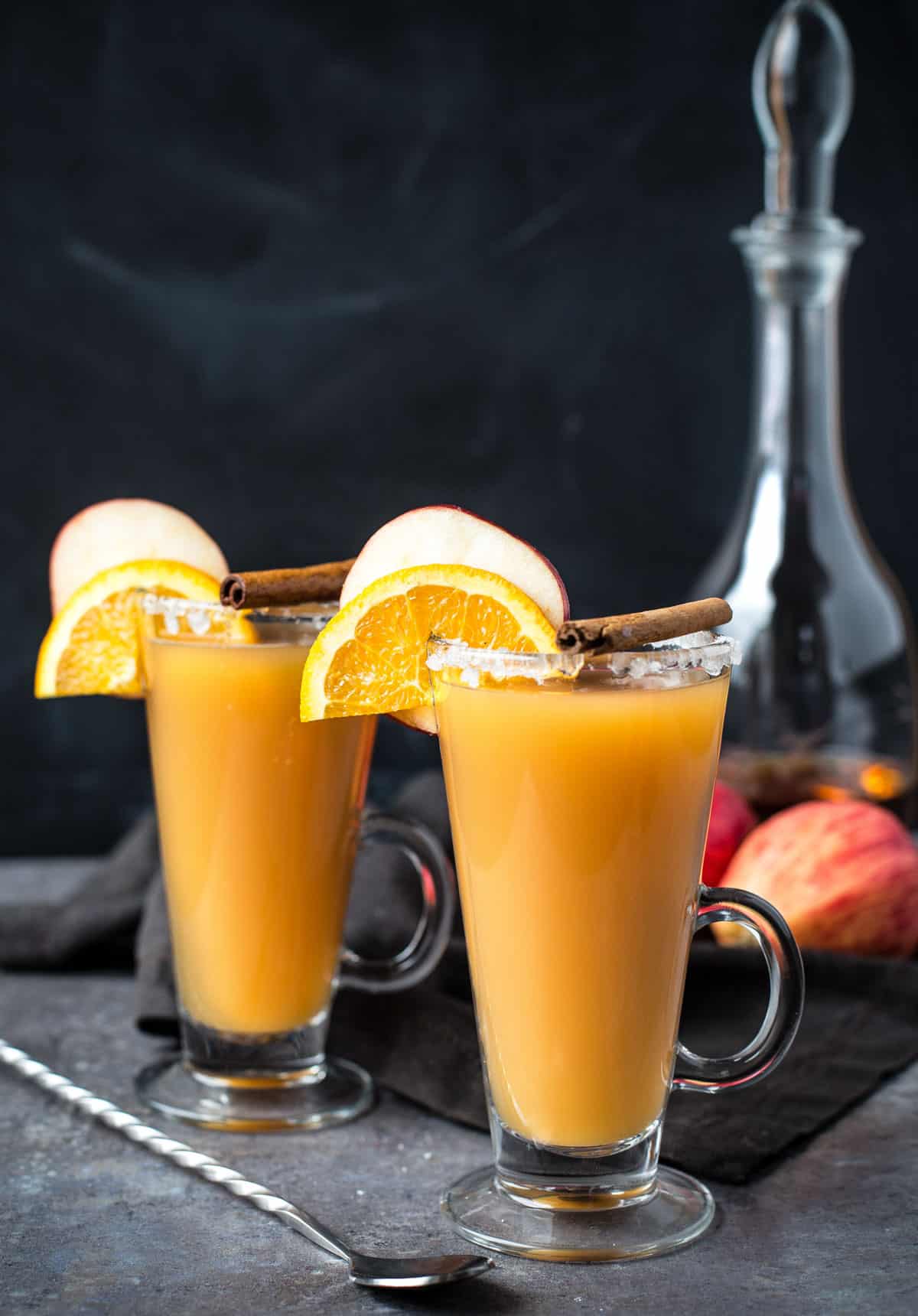 Jump to:
A Hot Apple Cider Cocktail
When the fall season comes around most people are getting exciting about their pumpkin spice lattes. But for me, as soon as October arrives and my apple trees are ripe and delicious, I'm ready for an apple cider cocktail.
And while I still can't get behind everything pumpkin spice in the fall, I certainly take advantage of apple season, utilizing them in everything from our smoked apple crisp, to homemade apple sauce for the kids, and you know it, apple cocktails — like this spiked apple cider!
There's nothing more festive and delicious to get me in the fall spirit than a hot spiked cocktail full of flavorful mulling spices.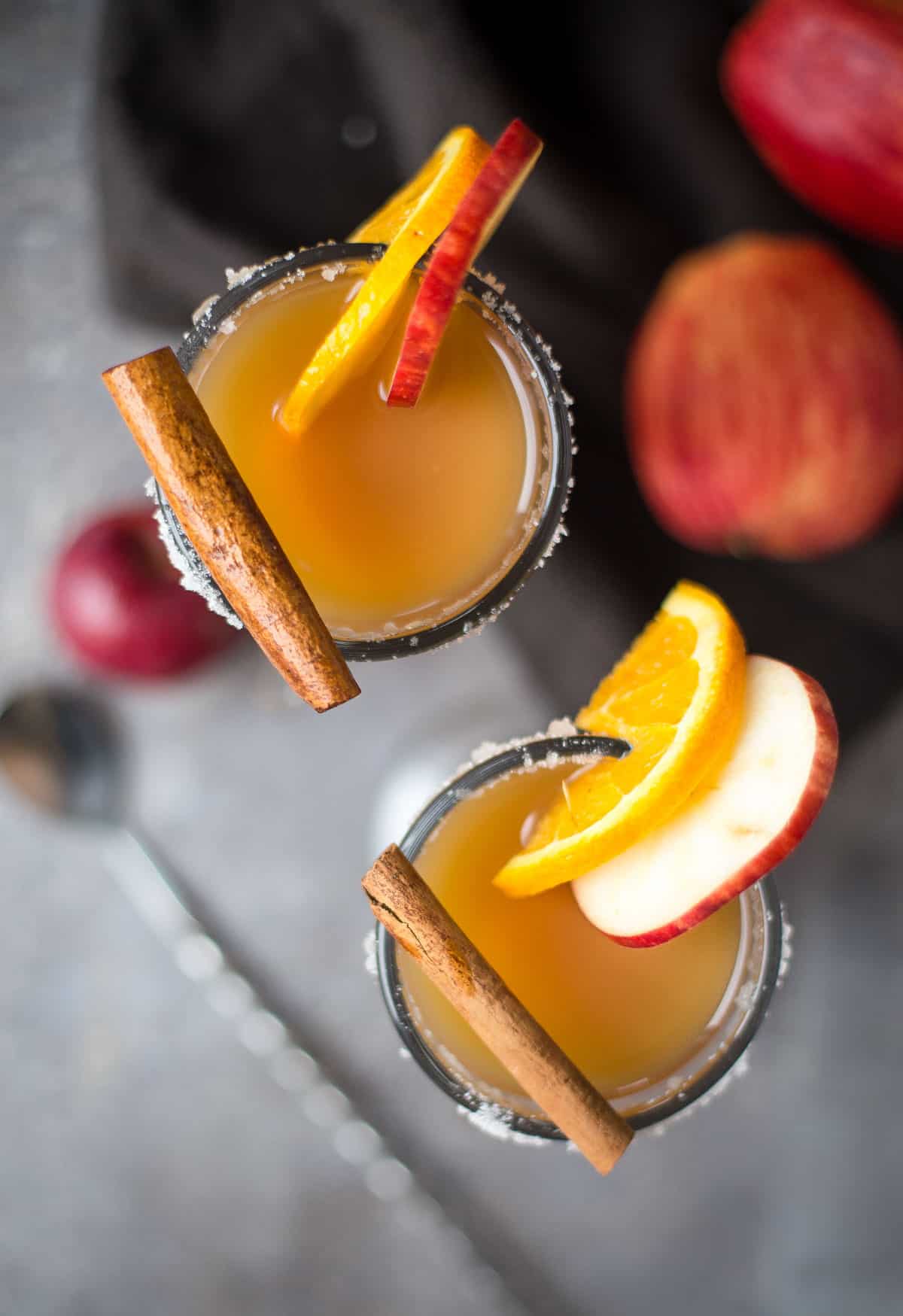 Ingredients and Variations
Apple Cider – Use real apple cider for the best flavor. In a pinch you can use the same portions with apple juice but it won't have the same flavor and texture.
Mulling Spices – We use whole star anise, cloves, and a cinnamon stick. As the apple cider warms with the seasoning it infuses that amazing flavor.
Bourbon – You can use good Bourbon or substitute whiskey or even rum. The brown caramel flavors from Bourbon are our favorite flavor profile.
Citrus – Orange juice and fresh orange slices add a hint of warm citrus flavor. You can really use any citrus but we prefer orange.
Garnish – We often use a sugar rimmed glass, so cane sugar is a good option. Fresh slice of orange on the rim as well as a cinnamon stick. You can add ground cinnamon to the sugar for a cinnamon sugar rim. Use 1 teaspoon of cinnamon to 2 tablespoons of sugar for up to four glasses.
How to make Bourbon Spiked Hot Apple Cider
Start by making your mulled cider: Place all of your ingredients (except for the alcohol) in a pot and bring it to a simmer for 10 minutes. Strain the solids and place in a container to keep it warm (or a crock pot).
To make the cocktail: Rim your glass with sugar (optional) and then add bourbon, and top with about 1 cup of the cider mix. Garnish with an apple slice, orange wedge, and a cinnamon stick. Serve hot!
The best part about this cocktail is that it's super adaptable. You can make it with whatever brown booze you've got around (but I highly recommend Bourbon for this spiked apple cider drink). It can be made in advance and warm it up as needed. You can make a virgin version for the kiddos (just omit the alcohol)! And you can even make it into a cold cocktail if you're just not into those hot boozy beverages. It's your call.
And you don't need to make your own cider for this recipe. This is the time of year you can get some help from the local farms or markets who do it best.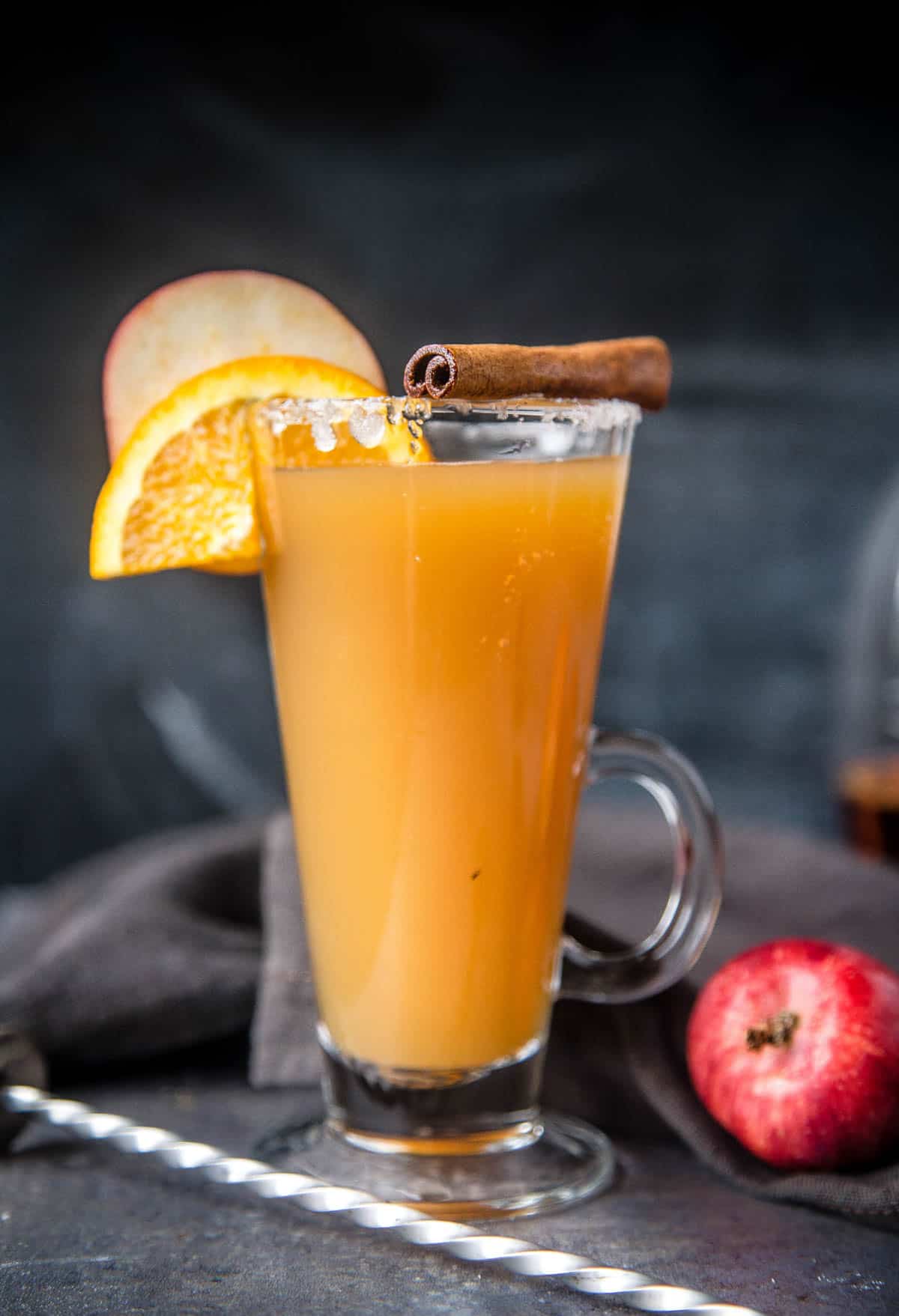 Common Q&A regarding Spiked Hot Apple Cider
What's the best alcohol for Spiked Hot Apple Cider?
We prefer Bourbon. But you could also use whiskey, rum, cognac or brandy.
Can this Bourbon Spiked Apple Cider be served cold?
Absolutely! Just let it cool and serve it over ice. It's super refreshing that way.
Can it be made without alcohol?
For sure! It was originally intended to be a family friendly booze-less drink. But it sure makes for a comforting fall cocktail on a cold rainy evening.

This is also an excellent cocktail for Thanksgiving too! The hot version would go well with pumpkin pie. Or serve cold over ice as an aperitif when your guests are arriving.
What's the best way to keep cider hot?
Slow cooker, baby! If you're having a party the best thing to do is make a big batch and keep it on the low setting in your slow cooker. That way it's nice and warm for as long as it lasts. Alternatively a large coffee tumbler works. Anything that is insulated and will keep the beverage warm for a lengthy period of time.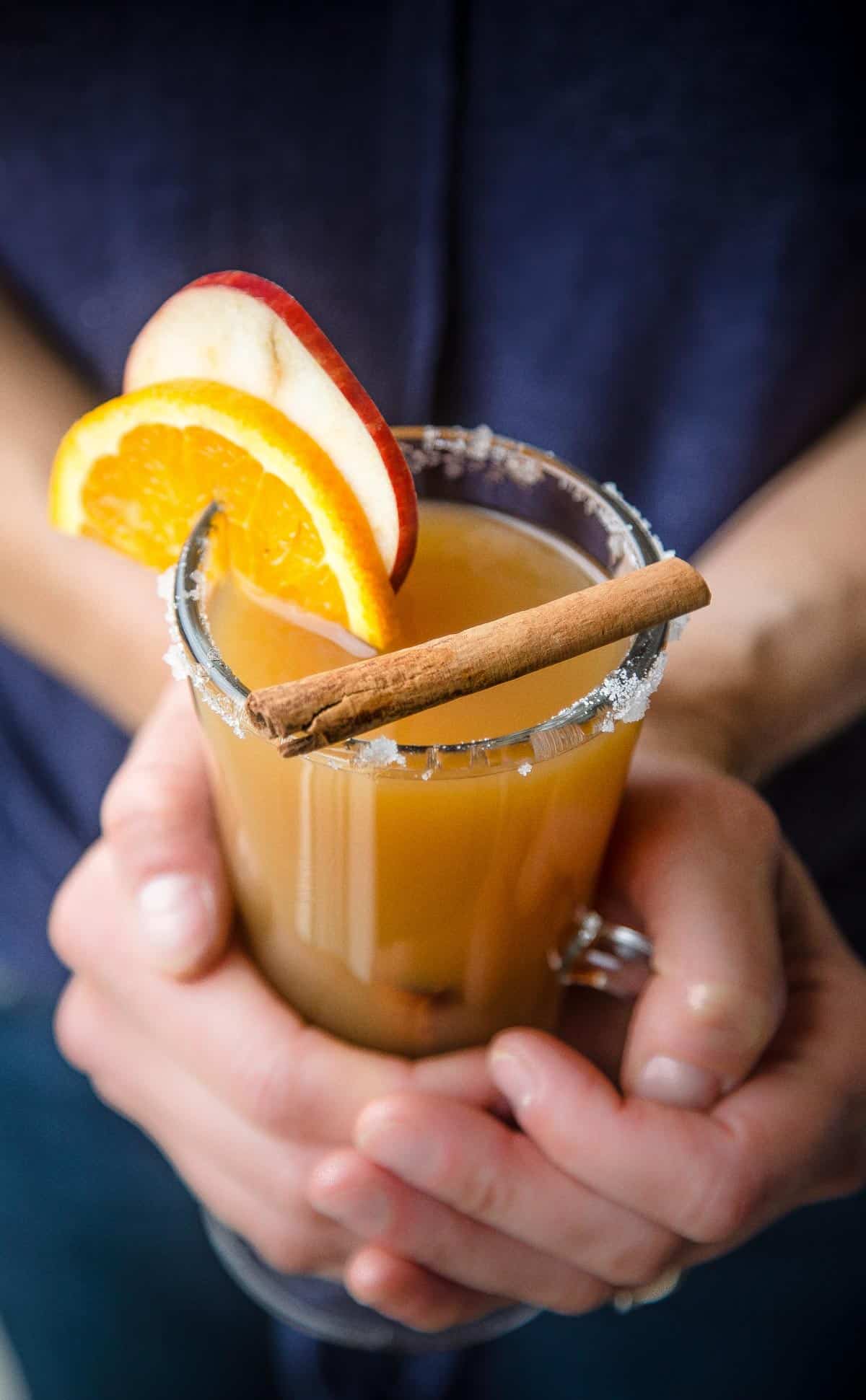 You can see us make this delicious fall spiked apple cider cocktail on our ABC station AM Northwest with our popular Grilled Brie with Blackberry Jam. Perfect fall party appetizer and cocktail.
Favorite Fall Recipes
Check out our full list of fall recipe ideas or explore some of our favorites.
Related Fall Inspired Cocktail Recipes
Explore our list of cocktail recipes or explore some of our favorites.
*This post was originally published in 2014, and edited in October of 2023 with new photos and updated content. The original recipe remains the same.
---