This easy Smoked Brisket Flat recipe walks through the steps for juicy and tender meat without compromising flavor. If you're trying to find the easiest steps for smoking brisket flat, this is your guide. Unlike smoking brisket as one large muscle, the brisket flat is the most common cut found in butchers cases.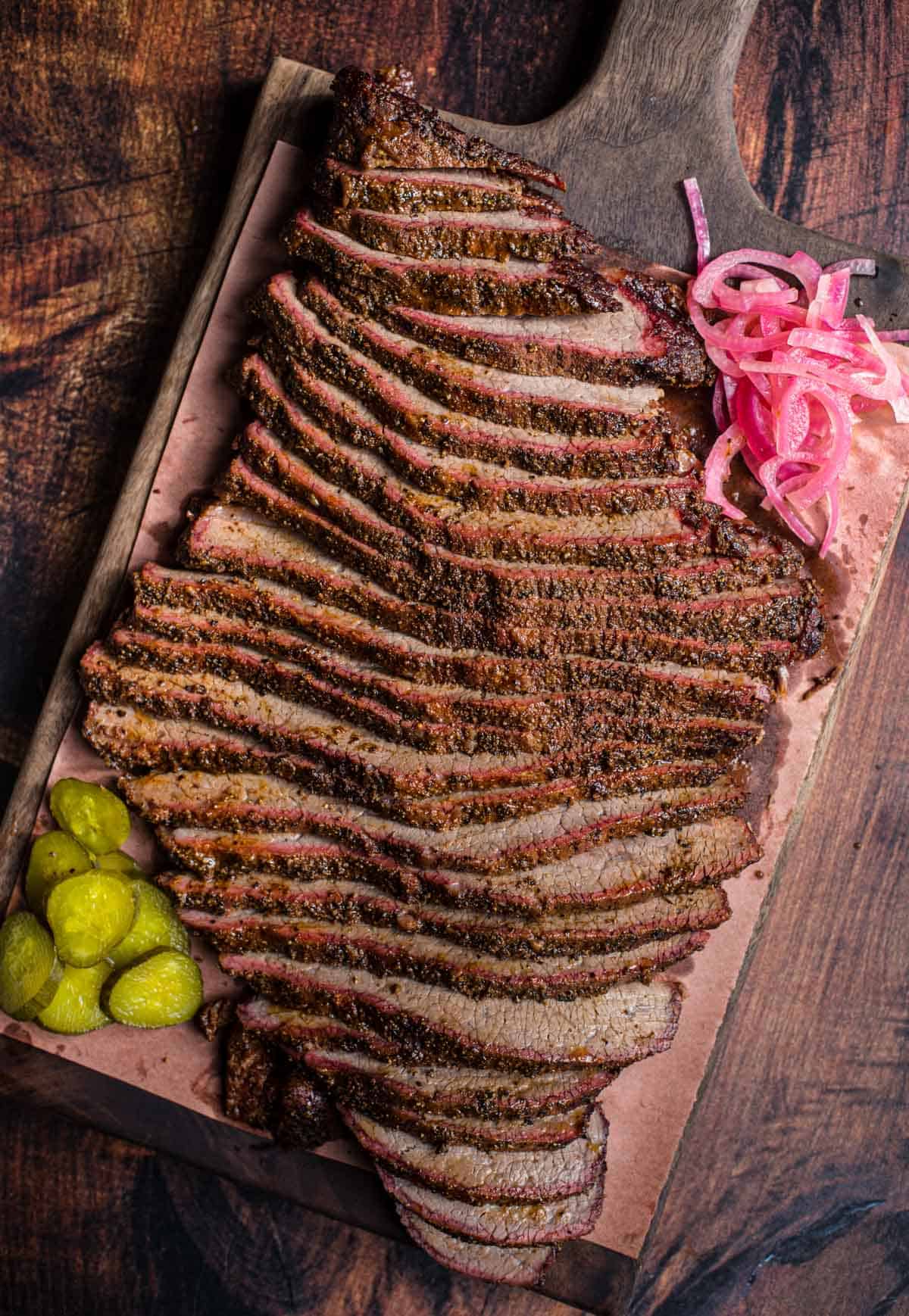 Jump to:
The Cut – Brisket Flat vs Point
If you're curious to the parts of a brisket, we walk through the anatomy of a full brisket packer in our smoked brisket recipe. But the simple difference between the flat and the point is that they are two different muscles connected by a pocket of fat. When they are separated into two parts you then have the flat ready for cooking by itself.
The brisket flat is a lean and less tender cut and the point is a more marbled and tender muscle, often used for burnt ends. Both require a long cooking method to slowly render the intramuscular fat into delicious texture and flavor. Both of these muscles come from the breast area of the cow. This is an area that sees lots of muscle movement giving way to a tougher cut that requires slow cooking methods in order to result in tender meat.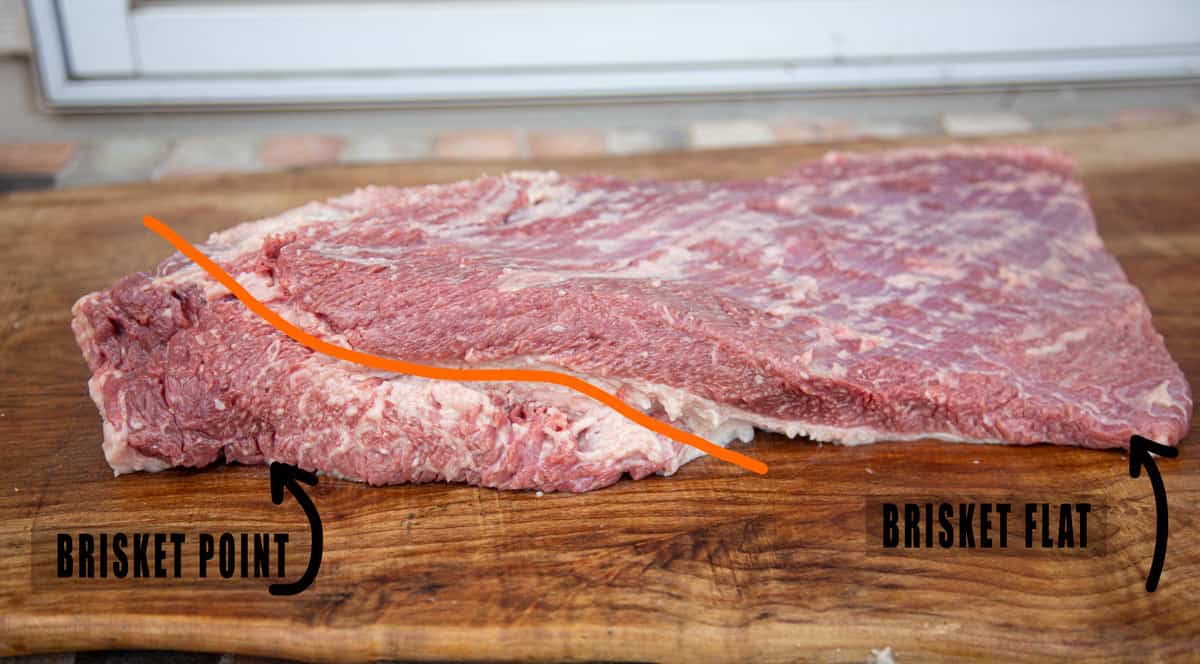 Flat's are commonly found as 3 – 5 pound cuts in a butcher case versus the entire packer, which can range from 12 – 18 pounds. The flat will typically have one side that is fatty from the fat cap, and another with less fat and more silver skin.
Sourcing Ingredients
When smoking brisket flat it's best to target one that is roughly 5 – 6 pounds in weight. The larger flat cut will allow for the meat to evenly cook and avoid drying out (like a smaller flat under 4 pounds).
When buying it, it should not be stiff. It should have some bend to it, which will help carry through in the tenderness as it smokes. Try to find a brisket that is USDA rated Choice or higher so there is enough marbling to render.
A select rated brisket or grass fed brisket is likely to dry out because there isn't enough marbling. If that is all you can find, inject it with a culinary syringe with equal parts Worcestershire and beef stock.
You can also find some great online retailers who can deliver the flat right to your doorstep like D'Artagnan Foods.
Preparation
Smoked brisket flat needs to be trimmed prior to seasoning.
Using a sharp boning knife, start with the fat cap side and reduce the fat cap to no more than ¼ inch. This layer of fat can be too thick and won't render fully. Discard the fat.
Flip it over and then remove any excess fat pockets and silver skin.
Chef's Note: Leaving some fat cap on also helps to insulate the cut from the heat source. Face the fat cap toward the hotter portion of your smoker. So if your smoker burns hot from the bottom, fat cap down and vice versa.
Seasoning for Smoked Brisket Flat
After the flat has been trimmed it's time to season it. Start with a binding agent, we use extra virgin olive oil. The binding agent allows the dry rub to stick to the meat. Typically we use 2 tablespoon of oil for the flat.
For seasoning the brisket flat we're using a jazzed up version of our beef seasoning, which is equal parts kosher salt, coarse black pepper, and granulated garlic. To that blend, we're also added some savory flavors to the beef seasoning recipe, including cayenne for heat, and paprika for body. Plan ¼ cup of seasoning for a 5-pound brisket flat.
Smoking a Brisket Flat
Smoking longer and at a lower temperature helps to render all that nice fat and by liquifying it creates the tender texture and flavor. The goal is to smoke first, then wrap it with some basting liquid, and then rest it when it is the right temperature and texture.
Prep – Prepare the smoker and target 250 degrees F with fruit wood, like apple or cherry. Oak also works well.
Smoke – Place the seasoned brisket on the smoker. To assist in monitoring the internal temperature, we strongly recommend a good Bluetooth temperature probe, like the Thermoworks Smoke Unit. This allows you to watch both the ambient temperature of your smoker and the internal temperature of the meat. Smoke for up to 5 hours or until the internal temperature of the brisket is between 165 and 170 degrees Fahrenheit.
Wrap – Once the flat hits 165 to 170, remove any probes and place fat cap side down onto two sheets of butcher paper. Pour the basting liquid over the brisket and tightly wrap up the paper. Insert the thermometer again into the thickest part of the flat. Continue smoking until it reaches an internal temperature between 200 – 210 degrees Fahrenheit using a separate instant read thermometer probe, like the Thermoworks Thermapen One. No two smoked brisket flats are ever the same. And the reason to probe with another Thermometer is because you are testing the tenderness. The probe should insert like room temperature butter (aka very soft and tender). There should be no tension when inserting the probe in multiple areas of the brisket. Once you experience the butter-like feeling, then remove from the smoker and let it rest.
Rest – After removing the brisket flat from the smoker let it rest 30 – 60 minutes in cooler with no ice. The resting period allows the brisket to slowly finish cooking and redistribute all the flavorful juices while keeping the meat tender.
Slice – After it has rested, slice the brisket into pencil thin slices. When you slice, be sure to slice perpendicular to the grain. This means you will likely cut the rectangular flat at an angle and will have various sized pieces. This helps keep the cells intact and with tenderness.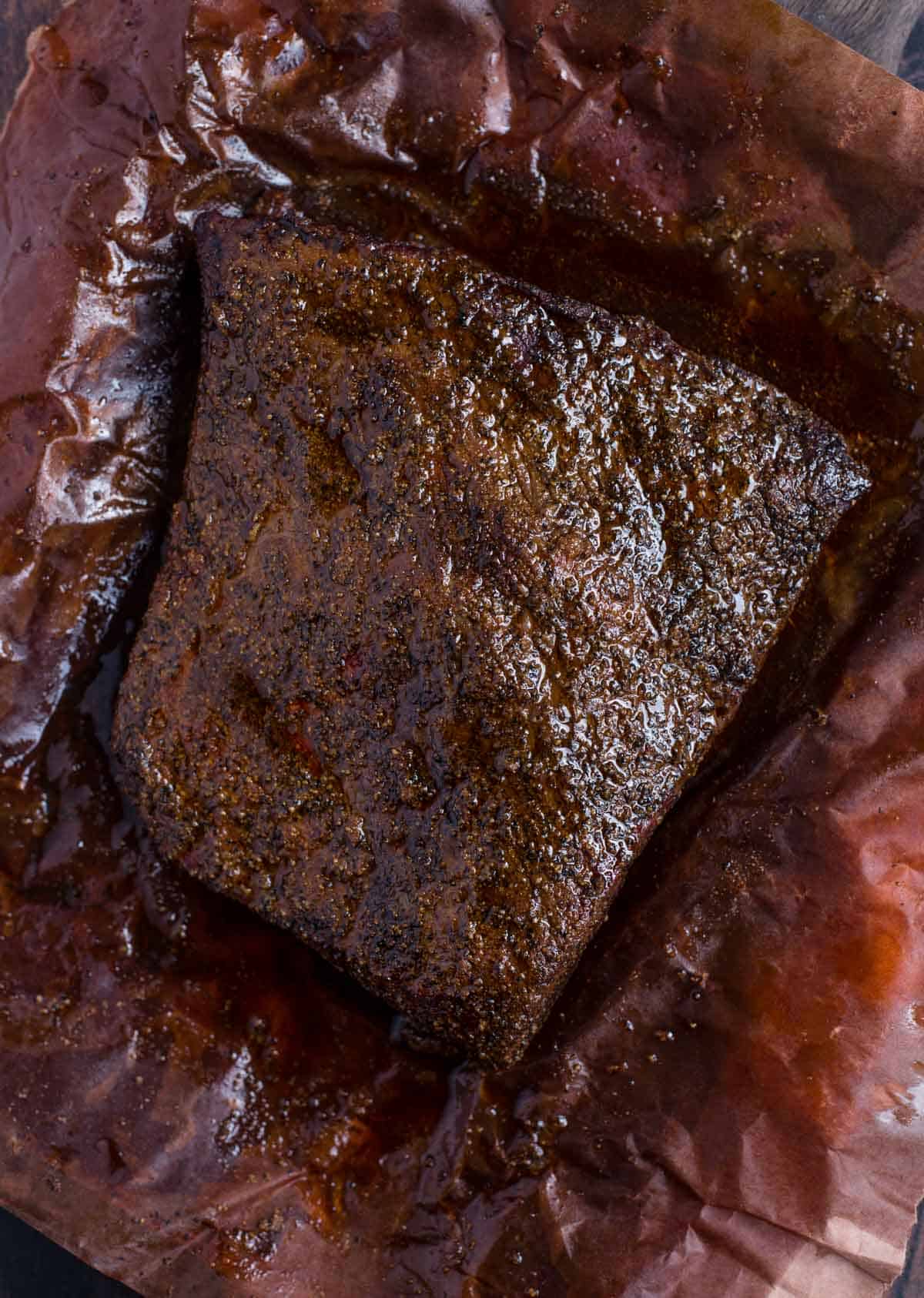 The Stall
It is common when the brisket flat reaches 165 degrees that it hits the stall. This is the time when the liquid that is rendering is also cooling the meat like sweat at the same time. You just need to wait it out. After the internal temperature gets closer to 180 degrees F, then you'll see the internal temperature rise more quickly.
Variations
You do not have to wrap, it simply speeds up the cooking process. Should you want more exterior flavor, just smoke the entire time. However it will add two to three hours of cook time, so adjust your cook time as appropriate.
If you don't have butcher paper, than aluminum foil also works well.
Frequently Asked Questions
Do I cook brisket flat fat cap side up or down?
The fat cap should face the hottest part of your grill. Fat cap should be down for for Big Green egg, or Kamado style cookers, as well as pellet grills. For Grills where the heat tends to run hotter up top like offset smokers, smoke fat cap side facing up.
What temperature do I wrap brisket flat?
Wrap between 165 and 170 degrees Fahrenheit. This allows enough bark to form on exterior and push through the stall to get to the finished temperature.
How long to smoke a brisket flat?
The general rule of thumb is planning 90 minutes per pound of cooking time including resting. However, always cook to the internal temperature and feel of the brisket flat versus solely relying on time.
What if it's done early?
Smoked brisket flat can rest in a cooler for up to four hours safely. If the flat is done early, just hold it in the cooler and slice it when ready to eat.
What about a pellet grill?
Follow the same temperature guide and times for smoking on a pellet grill.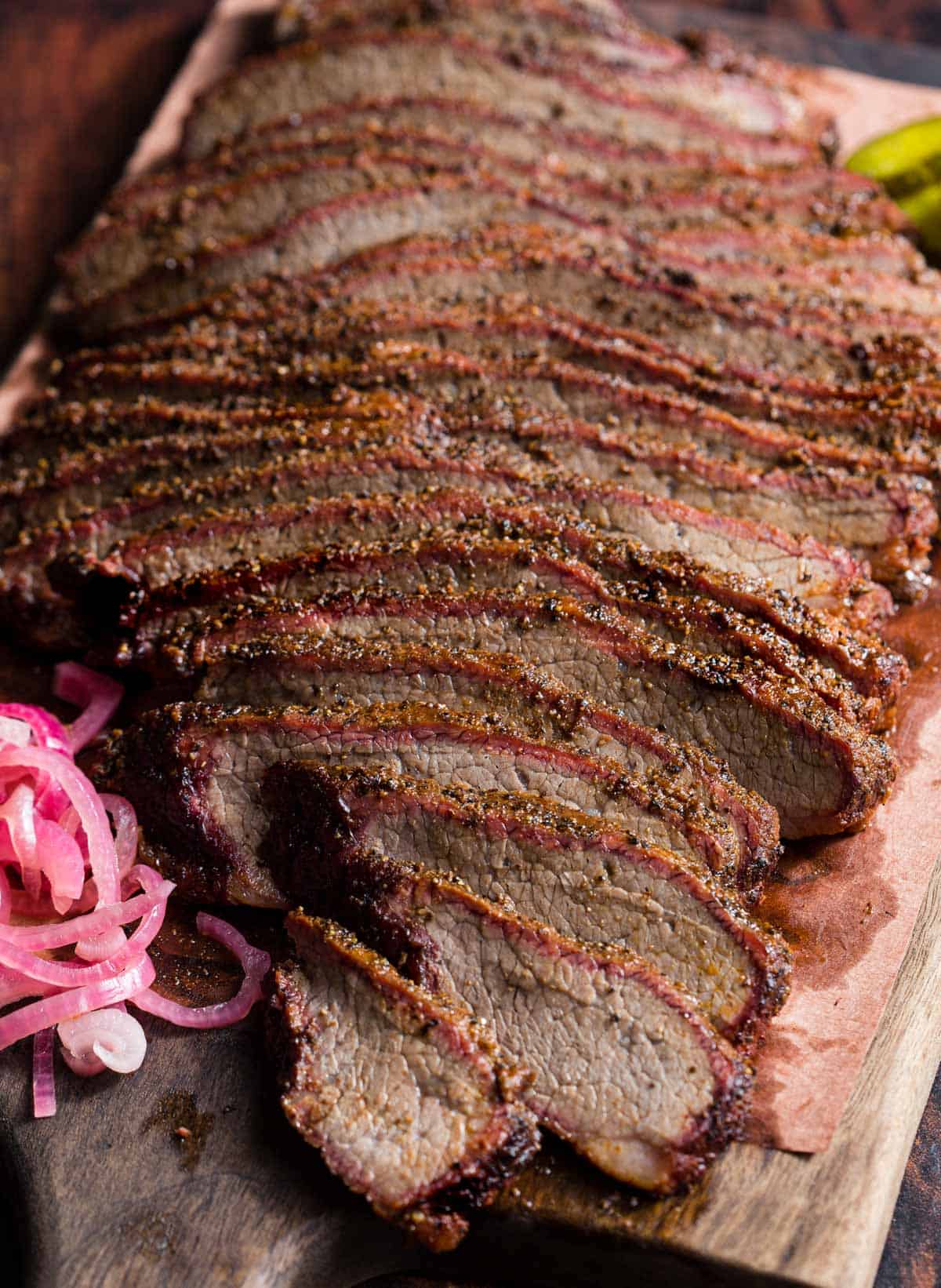 Food Safety
For consideration, be sure to follow safe food handling practices.
Do not use the same utensils on cooked food, that previously touched raw meat.
Wash hands after touching raw meat and consider using gloves when prepping.
Don't leave food sitting out at room temperature for extended periods.
When resting the meat in a cooler, do not rest for longer than four hours and be sure the internal temperature of the beef remains at least 150 degrees F.
See more guidelines at USDA.gov.
Other Classic BBQ Dishes
This post may contain affiliate links. This means if you click on the link, we may receive a small commission if you purchase through the link. We partner with brands we know and love and use and it helps keep the blog going!
---