Cedar Plank Salmon is amazing when coated with a sweet and spicy dry rub, cooked on the grill giving it that smoked influence, and finished with a maple syrup glaze.
Sweet, spicy, and absolutely incredible. And if you don't have a grill you can easily do this in a hot cast iron pan and finished in the oven.

One of my kids recently declared to us he wants to be a vegetarian. So I ask him, "Well what does this mean for you? What kinds of things can you eat now?"
He says, "Well, it means I can eat halibut, and salmon, and also pepperoni, and bacon. But no meat." 🤣🤣
Yeah, good luck with that one, kid.
So to keep the newly discovered pesca-bacon-tarian happy we've been cooking a lot of fish, though not wrapped in bacon.
You may remember this recipe from a few years ago that I wrote for Wine4.me (if not go check it out, because it's goooood)? We love playing around with different flavors when it comes to salmon, so we used that as the base inspiration for this dish. But we knew we wanted to grill the fish. Salmon doesn't take much time to grill, so cooking it on a cedar plank can help you get some of that great smoky flavor when you cook it hot and fast.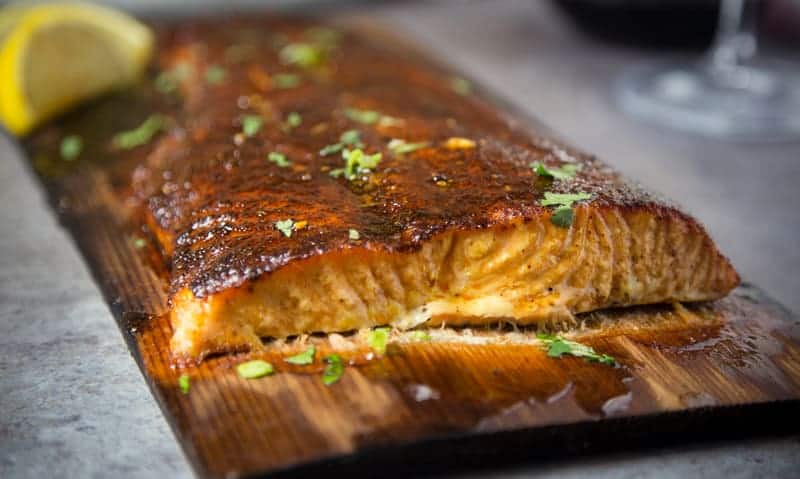 This is a fantastic option if you want a nice salmon dinner on a weeknight (or weekend too when you just don't feel like smoking it low and slow).
Simply prepare your dry rub. *Note: you may not use all of the dry rub on your salmon. Just save the rest in a small jar and use for future recipes. This rub is also great on pork and chicken (or tofu if you're avoiding the other "meats" like my son).
I should also mention the importance of soaking your cedar plank in water for at least 30 minutes, otherwise you're gonna have a fire on your hands, and not the good kind of fire if you know what I mean!
Pat dry your soaked cedar plank and set your grill for indirect cooking. Start by putting the salmon on the the cedar plank and place on direct heat for four to six minutes.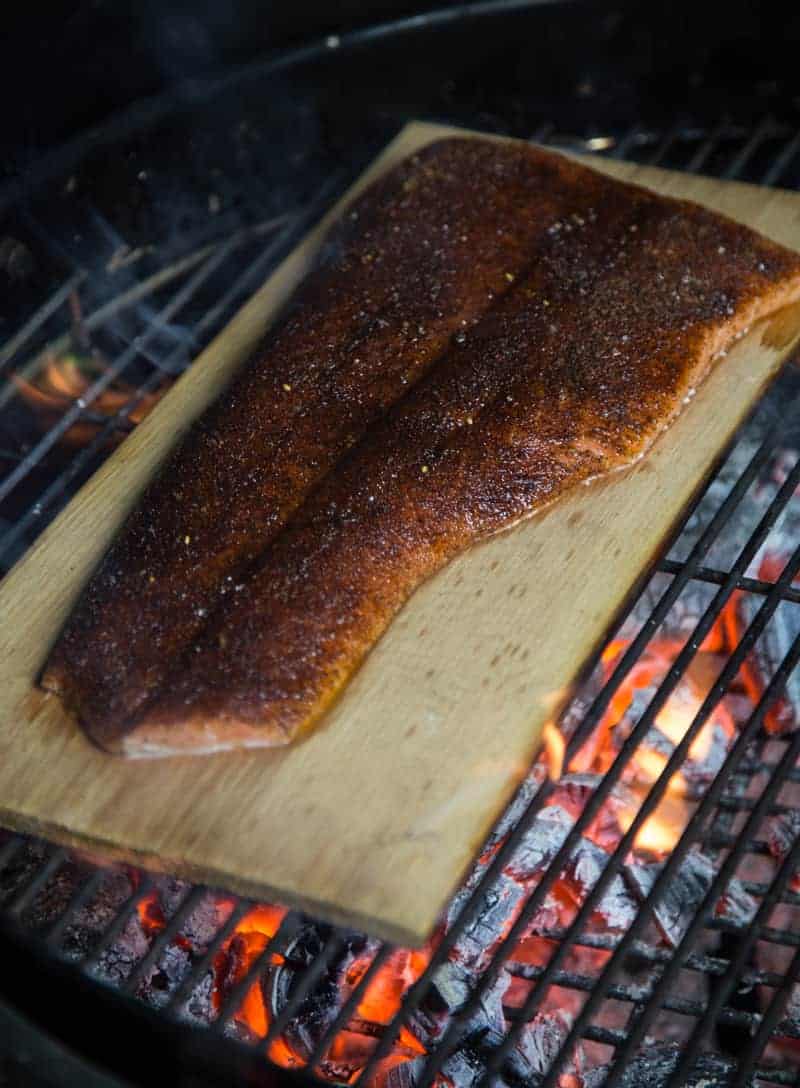 Then transfer to indirect heat and close the lid. You will want to be sure you soak the plank to avoid it going up in flames. It may catch a little on the sides (which is okay!), just be prepared to move it early to indirect heat to finish.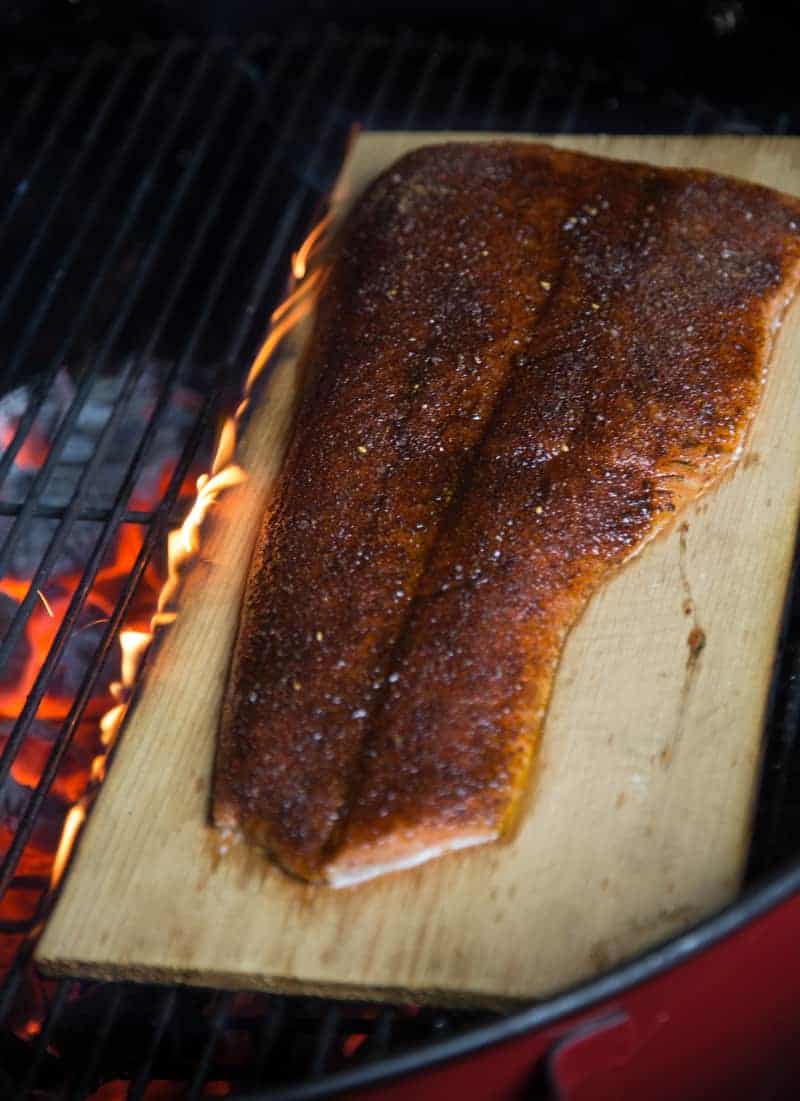 Cook for 15-20 minutes (depending on exact size) or more importantly until the meat registers 145 degrees with a digital thermometer.
Finish by coating with some maple syrup, let it caramelize two more minutes on indirect heat, and that's it!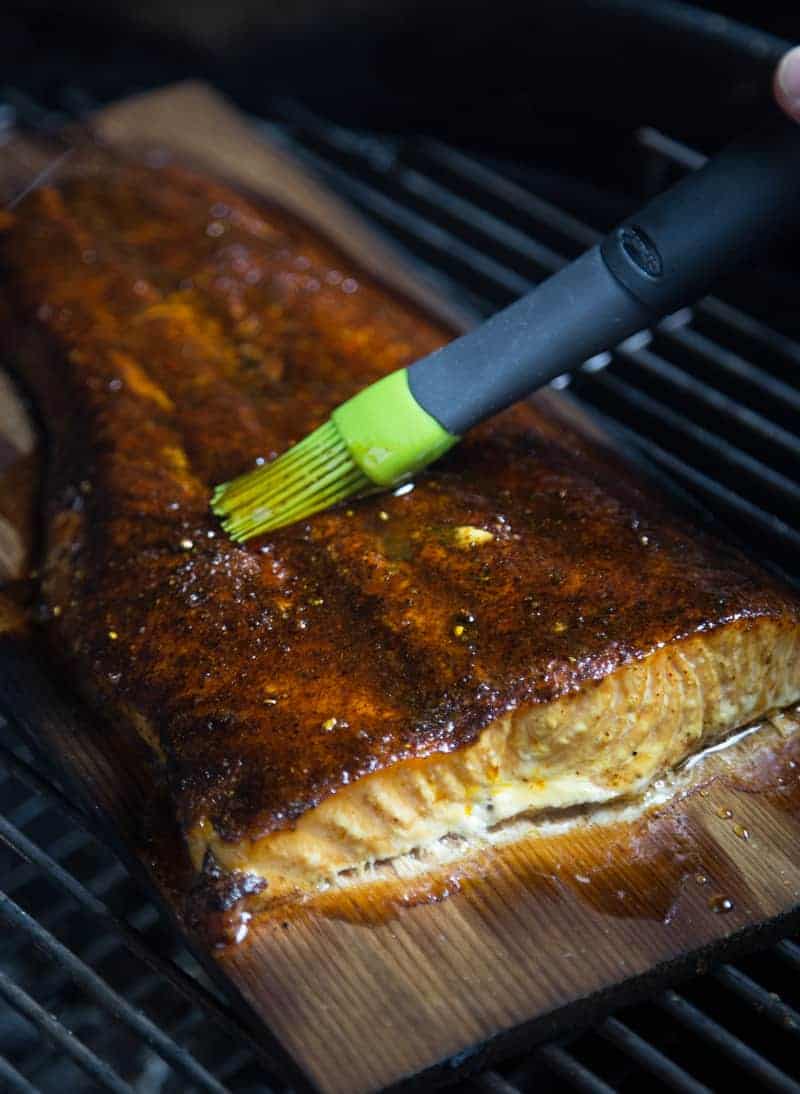 Serve away and enjoy this pesca-bacon-tarian friendly meal.
WINE PAIRING
I have two go-to pairings for this dish – a semi-sweet Riesling and new world style Pinot Noir.
Salmon, in general, tends to have delicate flavors and textures, but this one, coated in that sweet, spicy, and savory rub and maple glaze, offers the opportunity to pair it with something a little bolder. If you go for a medium-bodied fruity Pinot Noir from California, for example, you'll find a nice match up in bold fruit balancing out the flavors in the rub, yet smooth enough to pair with that tender delicate meat under the rub. We tried this with the 2015 Siduri Pinot Noir, Parsons' Vineyard from the Russian River Valley, in Sonoma County, and it was a great matchup for all of the above reasons.
Alternatively, we love Riesling with this. If you find the dry rub to be on the spicy side (this will depend on the strength of the chipotle powder you have), the Riesling will provide a refreshing and sweet contrast to the heat. It will also balance well with the sweetness in the dry rub and maple. It's a pretty versatile wine that works great with the flavors in this dish. Just look for one on the slightly sweet side (you don't want a bone dry Riesling for this, and nothing on the sticky sweet side). This was nice with a Dr. H. Thanisch, Müller-Burggraef, Bernkasteller Badstube Riesling Kabinett from the Mosel, Germany. It had great acid to counter balance the sweetness.
---
For more tasty recipes, BBQ tips and tricks, check out the Recipe Index.
Want more? If you liked what you read you can subscribe to Vindulge and have new posts delivered directly to your inbox.