Cedar Plank Salmon is amazing when coated with a sweet and spicy chipotle dry rub, cooked on the grill giving it that smoked influence, and finished with a maple syrup glaze.
Sweet, spicy, and absolutely incredible. And if you don't have a grill you can easily do this in a hot cast iron pan and finish in the oven.

One of my kids recently declared to us he wants to be a vegetarian. So I ask him, "Well, what does this mean for you? What kinds of things can you eat now?"
He says, "Well, it means I can eat halibut, and salmon, and also pepperoni, and bacon. But no meat." 🤣🤣
Yeah, good luck with that one, kid.
So to keep the newly discovered pesca-bacon-tarian happy we've been cooking a lot of fish, though not wrapped in bacon.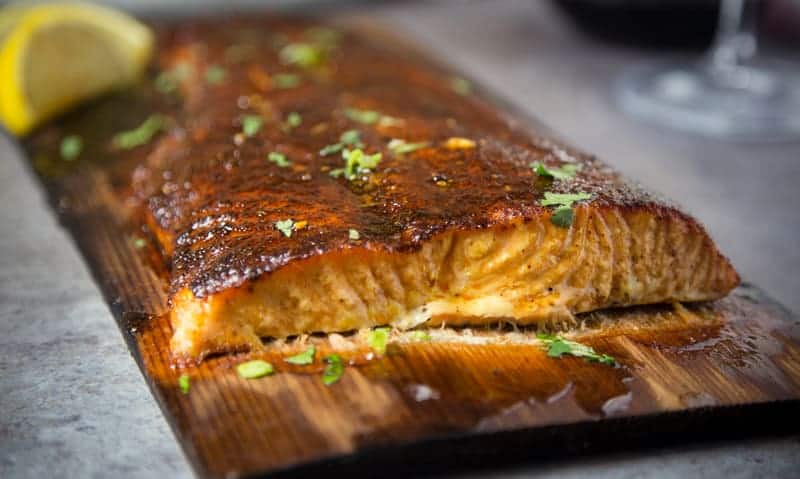 We love playing around with different flavors when it comes to grilled salmon. It doesn't take much time to grill, so cooking it on a cedar plank can help you get some of that great smoky flavor when you cook it hot and fast.
This is a fantastic Cedar Plank Salmon recipe for dinner on a weeknight (or weekend, when you just don't feel like smoking it low and slow).
How to Prep a Cedar Plank for the Grill
It is very important to properly prep your cedar plank before you grill your Salmon. Obviously, wood + fire = more fire. The last thing you want is your cedar plank AND salmon filet to go up in a blaze of glory.
Soak your cedar plank, fully submerged in water, for at least 30 minutes!! No short cuts here, keep it in for the full 30 minutes or you're gonna have a fire on your hands, and not the good kind of fire if you know what I mean!
Now, pat your soaked cedar plank dry to absorb the excess moisture, and you are ready to grill your Cedar Plank Salmon!
Cedar Plank Salmon Rub
Grilled Salmon has amazing flavor, especially when you add the flavor of a cedar plank. However, we want to add a few more layers of flavor for this recipe. The best way to do that is by adding a Salmon Rub before you grill. Our recipe uses:
brown sugar
chili powder
chipotle powder
cumin
salt and pepper
This combination gives it a sweet and smoky flavor with a little heat at the end.
*Note: you may not use all of the dry rub on your salmon depending on the exact size of your fish. Just save the rest in a small jar and use for future recipes. This rub is also great on pork and chicken (or tofu if you're avoiding the other "meats", like my son).
How to Grill Cedar Plank Salmon
Prep your grill for indirect cooking.
Coat your fish with olive oil and liberally season it with the salmon dry rub, then place it on the the cedar plank.
Now place the Cedar Plank Salmon over direct heat. Cook for approximately 12-15 minutes, monitoring it for flames, until the internal temperature of the salmon reached 120 degrees using a digital thermometer.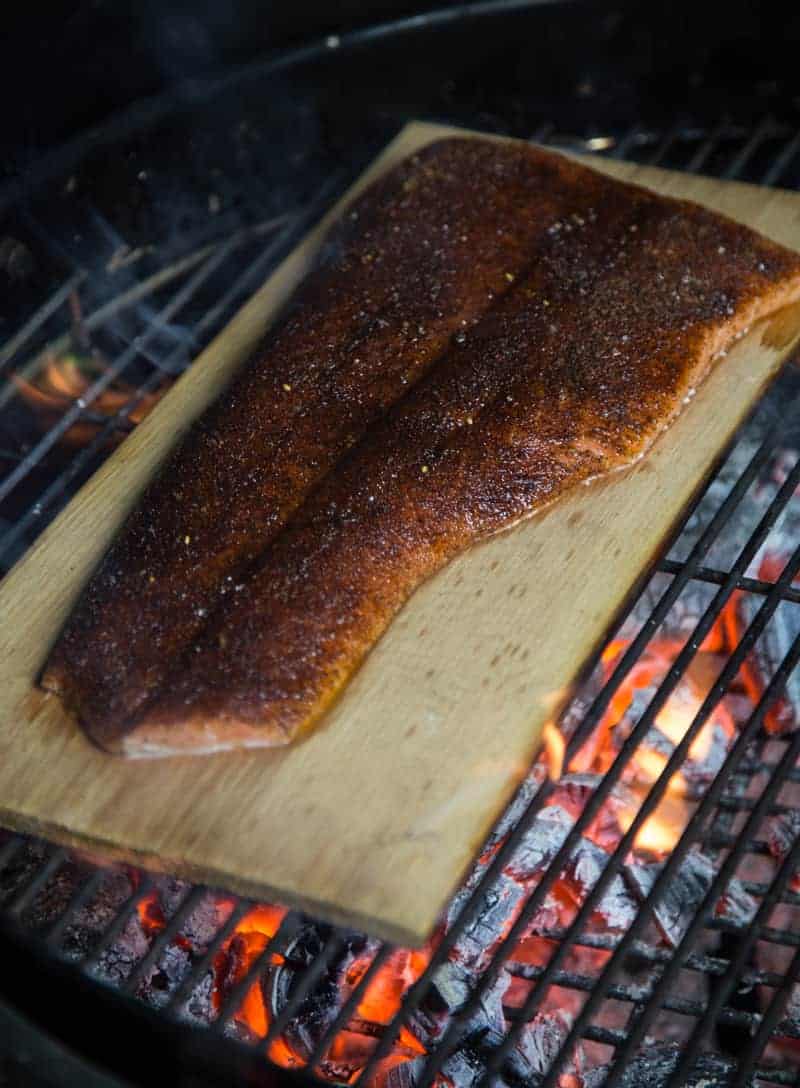 (You will want to be sure you soak the plank to avoid it going up in flames. It may catch a little on the sides (which is okay!), just be prepared to move it early to indirect heat to finish.)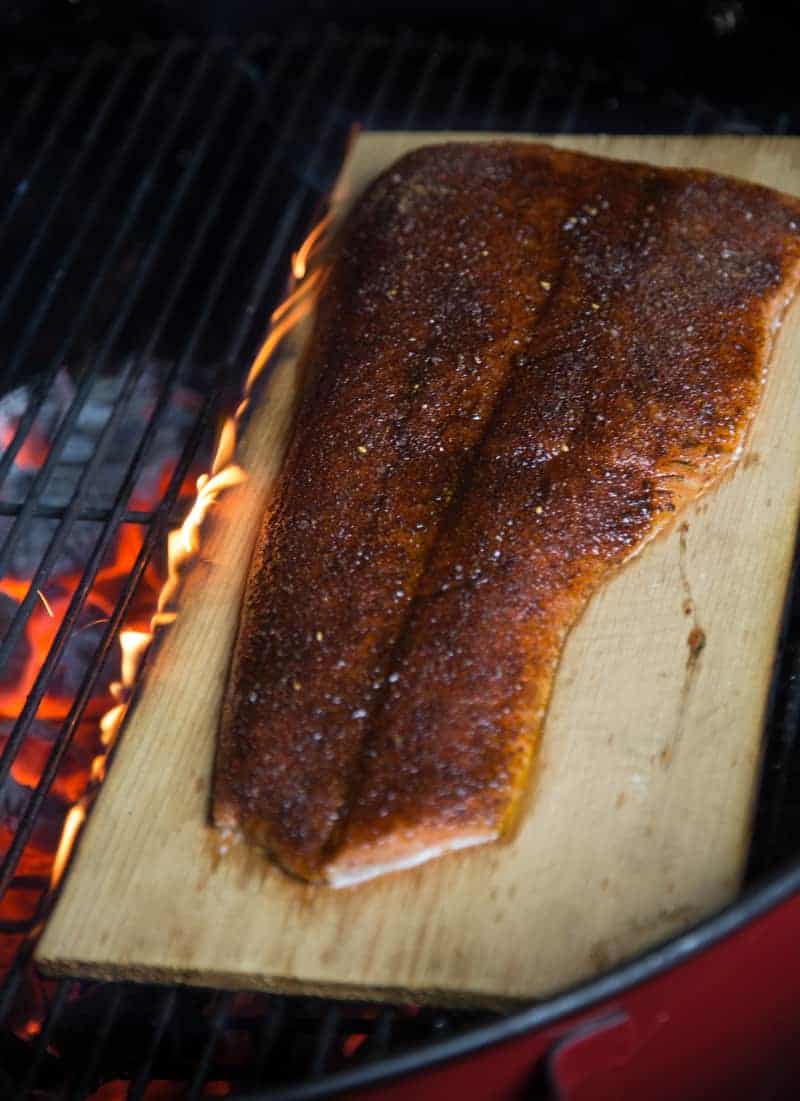 4. After the salmon has reached 120 degrees move to the indirect side leaving grill uncovered, and then coat with the maple syrup, and let sit for about 1 minute to caramelize.
5. Remove from heat and rest for roughly 5 minutes.
The carry-over heat will continue to cook the salmon to 125 degrees (medium rare) over that time and the maple syrup will firm up slightly.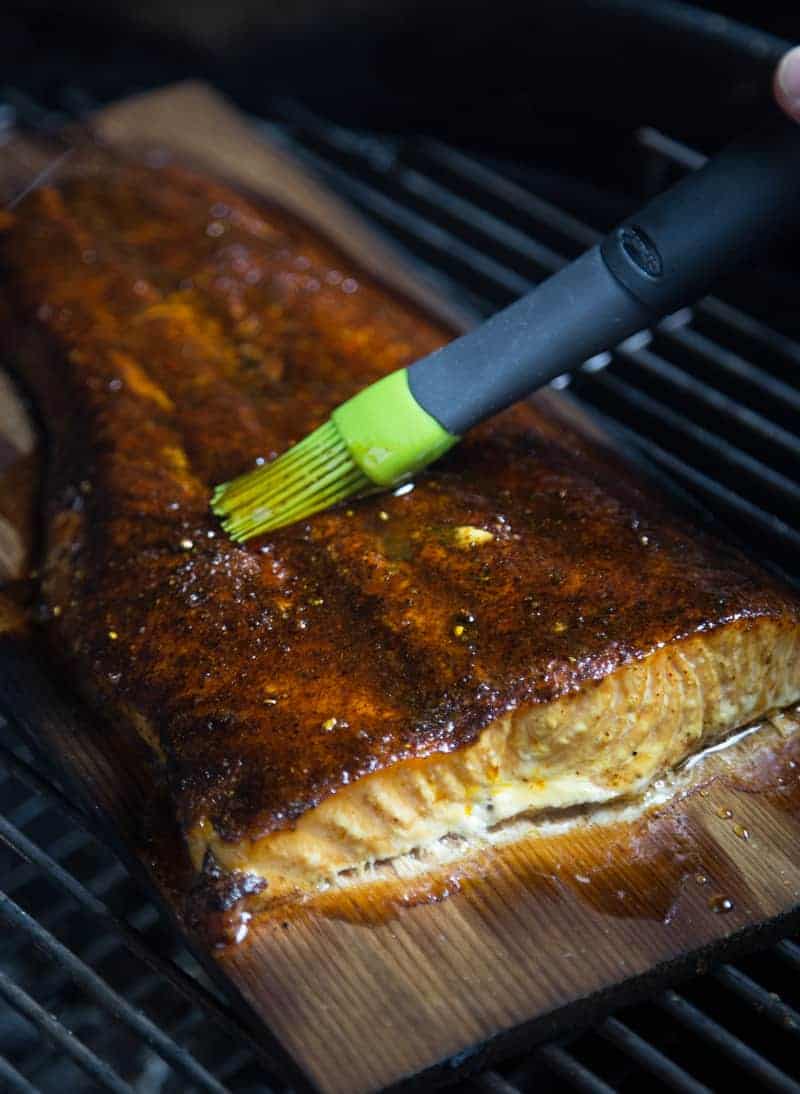 Time to serve and enjoy this pesca-bacon-tarian friendly meal.
Can You Reuse a Cedar Plank?
No, once you have used the cedar plank it is not reusable. Between raw fish and the primary flavor being consumed from the fire, it should be disposed of. If you have a smaller cut, consider before cooking, sawing the plank in half so you can make it last.
Video and Recipe for Maple Chipotle Cedar Plank Salmon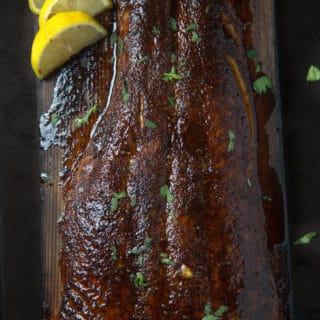 Maple Chipotle Cedar Plank Salmon
Cedar Plank Salmon is amazing when coated with a sweet and spicy dry rub, cooked on the grill giving it that smoked influence, and finished with a maple syrup glaze.
Sweet, spicy, and absolutely incredible. And if you don't have a grill you can easily do this in a hot cast iron pan and finished in the oven.
Print
Rate
Ingredients
1

cedar plank

1 1/2

pounds

salmon

1

tablespoon

extra virgin olive oil

2

tablespoons

dry rub (give or take, see notes)

2

tablespoons

maple syrup
Dry Rub
2

tablespoons

brown sugar

1

tablespoon

chili powder

1

teaspoon

dried chipotle powder

1/2

tablespoon

cumin

1

teaspoon

salt

1/2

teaspoon

fresh ground pepper
Instructions
Soak the cedar plank, fully submerged in water, for 30 minutes. Pat dry after removing from water.

Prepare grill for indirect cooking.

Combine dry rub ingredients in a small bowl.

Coat salmon with olive oil, and then sprinkle about 2 tablespoons of the dry rub over the salmon liberally (you may have some dry rub leftover).

Place seasoned salmon on the cedar plank, and place on direct heat for up to 15 minutes or until the salmon reaches an internal temperature of 120 degrees.

Transfer the salmon and cedar plank to indirect heat, and glaze with the maple syrup using a brush. Remove after one minute.

Let rest for five minutes and then slice and serve.
Notes
*Notes: you can also cook the salmon in a cast iron pan. It will need to be cut into smaller filets to fit into the pan. Cook on the stovetop until the salmon reaches 120 degrees, then coat with maple syrup and finish under the broiler for one minute to caramelize the maple syrup. 
** Depending on the size of your salmon, you may have some leftover dry rub. Make sure to liberally coat the salmon though. Don't be shy! 
Wine Pairing for Cedar Plank Salmon
I have two go-to pairings for this dish – a semi-sweet Riesling and new world style Pinot Noir.
Salmon, in general, tends to have delicate flavors and textures, but this one, coated in that sweet, spicy, and savory rub and maple glaze, offers the opportunity to pair it with something a little bolder. If you go for a medium-bodied fruity Pinot Noir from California, for example, you'll find a nice match up in bold fruit balancing out the flavors in the rub, yet smooth enough to pair with that tender delicate meat under the rub.
Alternatively, we love Riesling with this. If you find the dry rub to be on the spicy side (this will depend on the strength of the chipotle powder you have), the Riesling will provide a refreshing and sweet contrast to the heat. It will also balance well with the sweetness in the dry rub and maple. It's a pretty versatile wine that works great with the flavors in this dish. Just look for one on the slightly sweet side (you don't want a bone dry Riesling for this, and nothing on the sticky sweet side).
---
If you like this recipe we'd truly appreciate it if you would give this recipe a star review! And if you share any of your pics on Instagram use the hashtag #vindulge. We LOVE to see it when you cook our recipes.