Grilled Skirt Steak is a delicious cut of beef that grills quickly and marinates perfectly in our savory red wine steak marinade. This skirt steak recipe is great for weeknight meals, or your next Taco Night.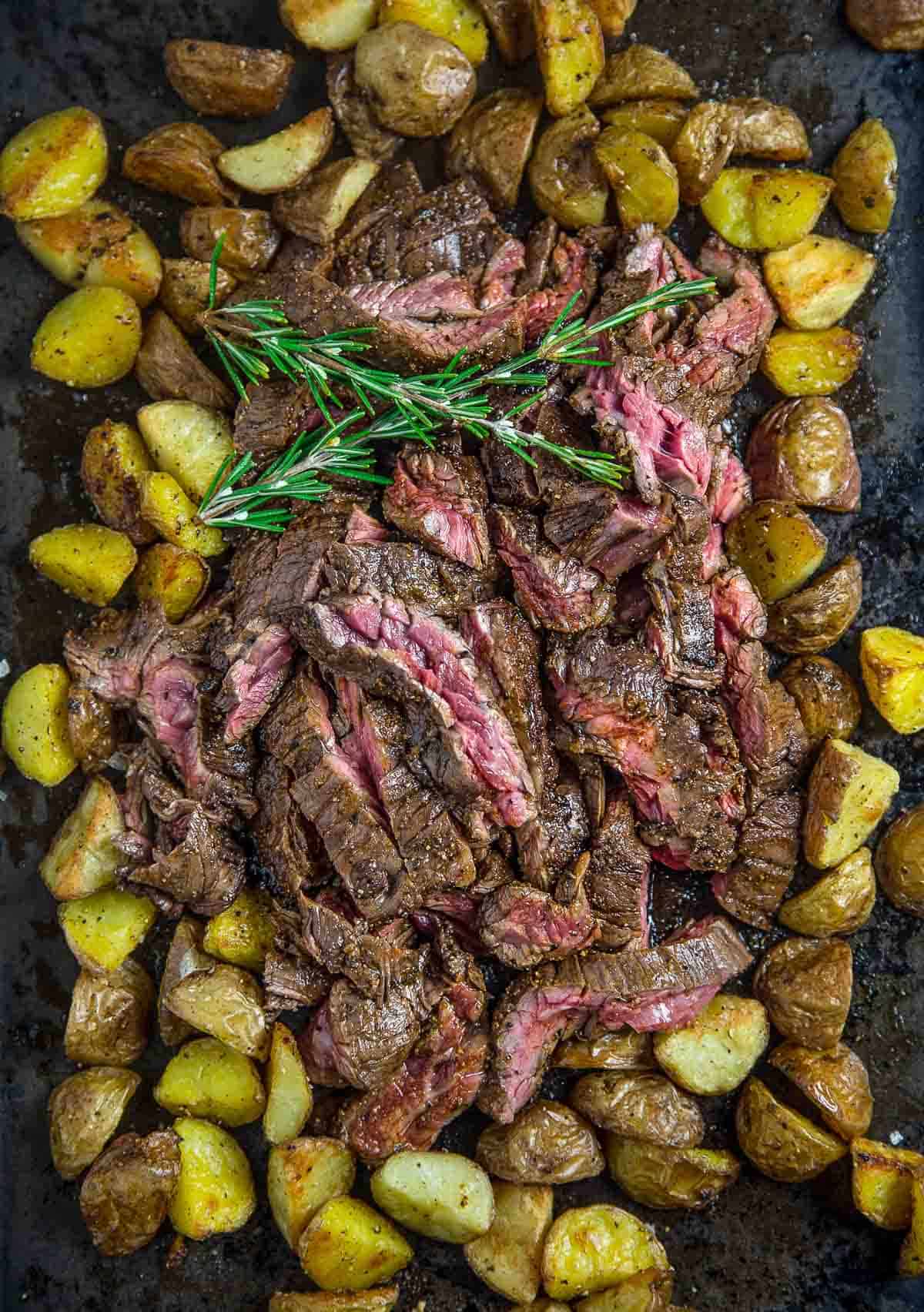 Grilled Skirt Steak has to be one of my all time favorite cuts for a quick and easy weeknight meal. When it comes to lean cuts of beef it is tender, has great flavor, and is a great option when cooking for a crowd. In this recipe the skirt steak is seasoned in a simple marinated for under an hour, then grilled hot and fast over direct heat. It's that easy and done in minutes.
Jump to:
Ingredients
Skirt Steak – We like to purchase the entire skirt steak and then cut it up before grilling.
Seasoning – We love our savory beef seasoning with a mix of herbs and spices. You can also keep it simple with kosher salt, coarse black pepper, and granulated garlic or an SPG seasoning.
Marinade – Use a good dry red wine, Worcestershire sauce, onion, garlic, and rosemary sprigs.
What is Skirt Steak
Skirt Steak, not to be confused with flank steak, comes from the "plate" on the cow or steer. Simply put, the area below the ribs and near the front underbelly of the cow, it's the diaphragm muscle. Flank is the cut from a similar area but more toward the rear of the cow. There are two types of skirt steak cuts.
Inside Skirt Steak – The inside cut is a smaller and tougher cut of skirt. It's not as common to see this at a grocery store and often it's cut up for carne asada style cooking because of the tough muscle fibers.
Outside Skirt Steak – The outside cut is a long cut of beef. The tender skirt steak is most likely in the butcher case. It has the best texture and gives the best results when grilling.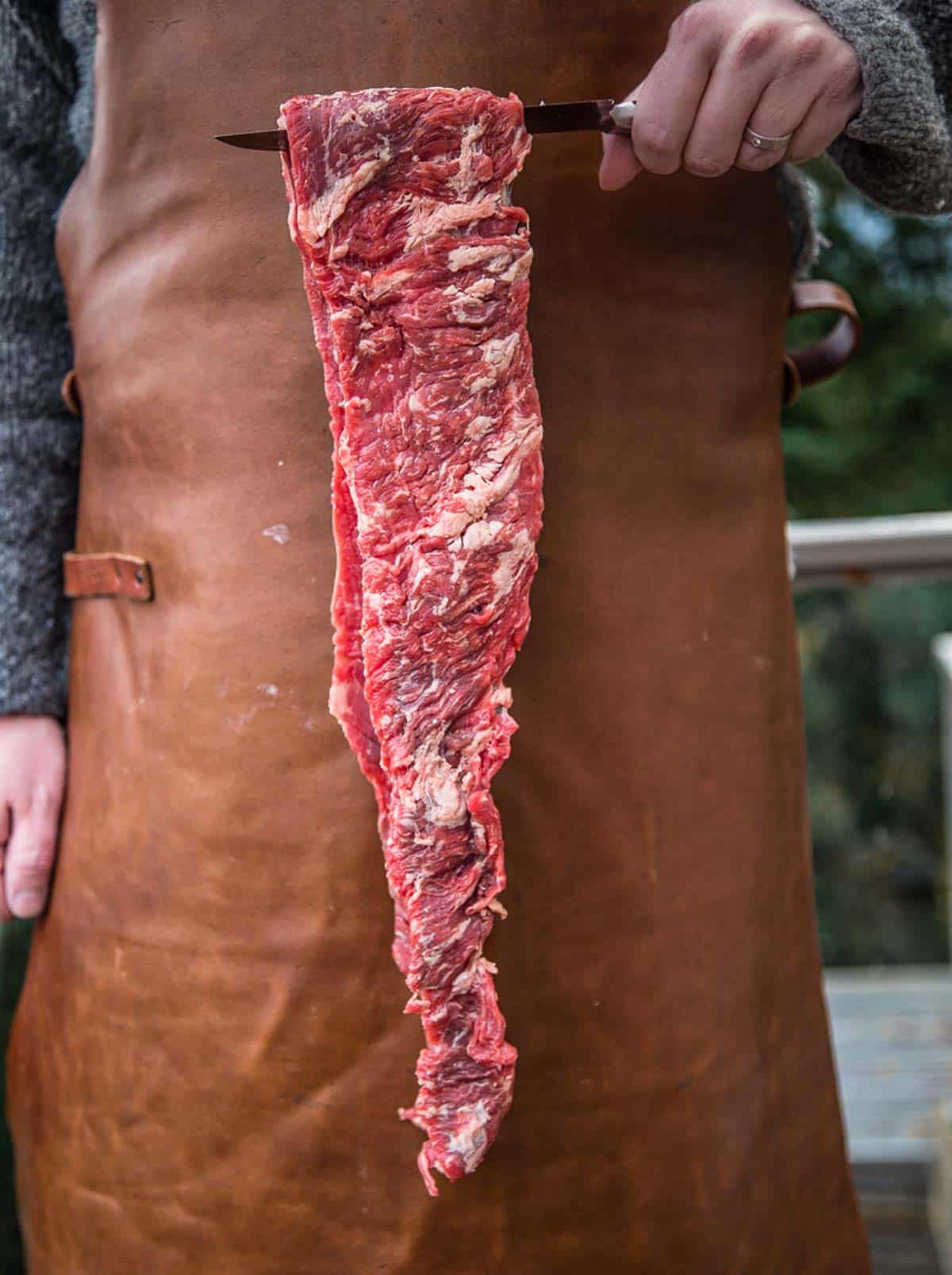 Because it's a thin and lean cut of beef, the best way to cook it is hot and fast on an outdoor grill or flat top griddle. This will allow the connective tissue to break down. Once it's cooked the tender steak is best sliced into thin slices. Even though it's lean it's still tender and has great beefy flavor if cooked to the proper steak temperature.
You can buy the entire (outside) skirt, which will run around 2 pounds and is a long and thin cut. Or you can buy it in smaller pieces based on how much you need.
Skirt Steak Marinade
Marinating helps tenderize a skirt steak. Some will use a meat tenderizer to assist, but we don't. And like I said before, it is a thinner cut of beef so it will take on your marinade very well. You don't need to marinade it for too long. The major flavor components to add are acid (in the form of wine) and flavor elements (like herbs).
Place the marinade ingredients in a large (1-gallon) plastic bag that zips and mix together. Then add the skirt steak.
How long to marinate skirt steak? You can marinate for as little as 30 minutes or up to 4 hours. Any more than 4 hours and the marinade will overpower the beef flavor.
After done marinating, season with your favorite beef seasoning.
Seasoning and Preparation
After the marinade has done it's job place the skirt steak on a cutting board and pat dry with a paper towel. Season with the beef seasoning liberally on both sides of the skirt steak.
We recommend not using a sugar-based seasoning to avoid burning over the direct flame.
You do NOT need to let the steak come to room temperature prior to grilling. In one hour the steak is not going to materially change temperature enough to make it cook faster. It's more important to have a hot grill.
Tools
Meat Thermometer – We strongly recommend an instant read thermometer so that you can grill the skirt steak to the perfect temperature. We use the Thermoworks Thermapen One.
Lump Charcoal – If using an outdoor charcoal grill we prefer the heat and flavor that lump charcoal imparts versus briquettes. Some of the best out there is Jealous Devil and Fogo.
Long Tongs – When grilling hot and fast long tongs prevent your arm hair from scorching and make it easier to flip the skirt steak.
How to Grill Skirt Steak
Cook skirt steak with a quick sear over direct heat (or direct grilling). The steak cooks quickly and is best hot and fast for 5-10 minutes total, to a rare or medium-rare. And that's it – easy & fast!
Marinate: Combine all marinade ingredients together in a large zip lock bag (1-gallon) and mix together. Or use any other airtight container. Add the meat, seal the bag and place in a large baking dish or bowl (this is in case your bag isn't properly sealed. It protects in case of any possible liquid leaking out). Place in refrigerator from 30-60 minutes.
Prep: Preheat grill for direct grilling targeting 500 degrees in the cooking chamber. Remove the meat from the marinade and pat dry with a paper towel. Season the meat with dry rub.
Grill: Place skirt steak on the grill grates over direct heat for roughly three minutes. Then flip and place over direct heat for two minutes. If your instant read thermometer is showing the steak still in the rare range and you want to cook more, place on indirect side and close the lid for no more than three more minutes. It cooks quickly. We like ours served rare, or roughly 120 degrees (F) internal temperature.
Rest: Let rest for 10 minutes to let juices settle and then slice against the grain or chop depending on how you will serve.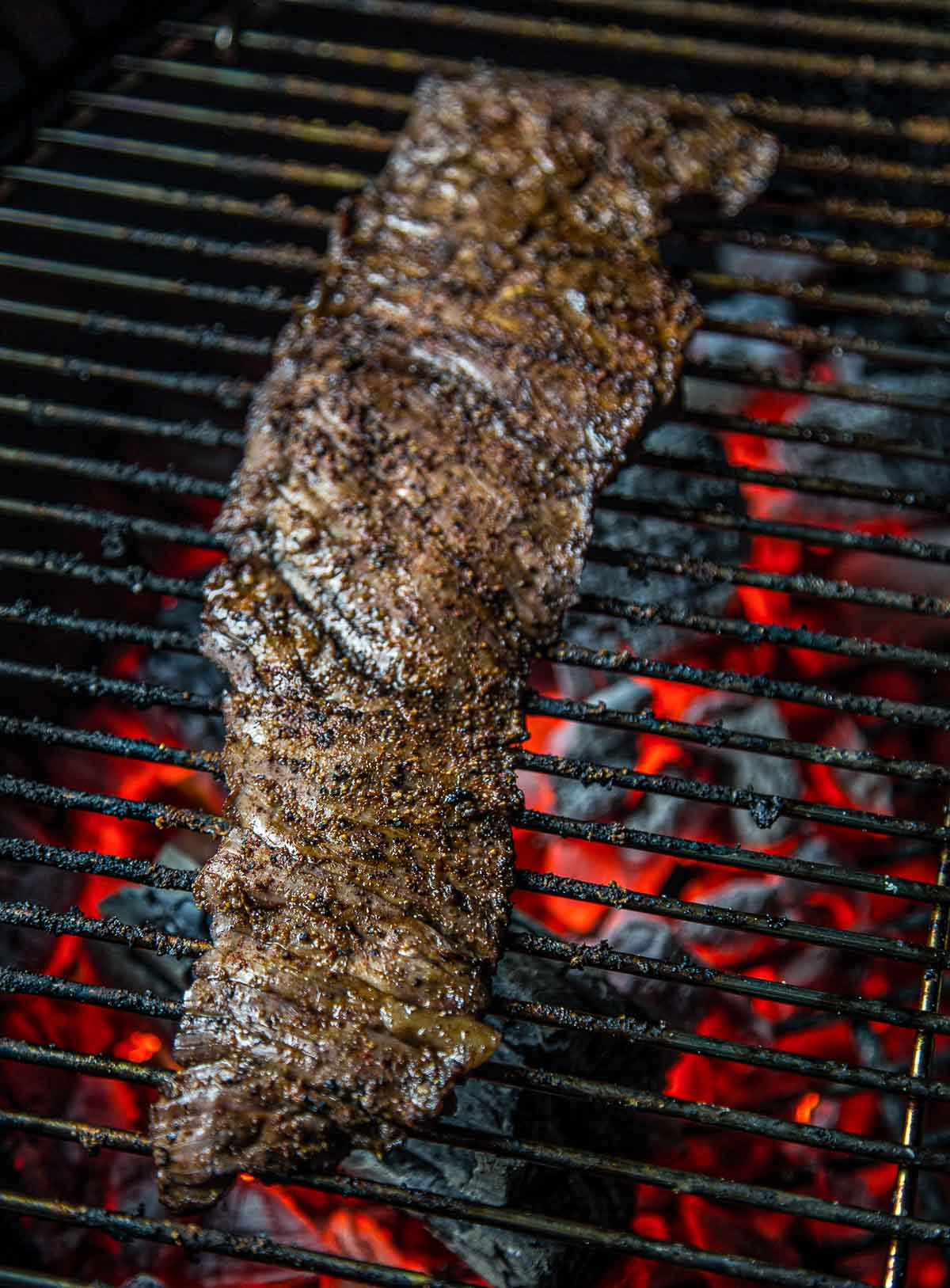 Modifications
Gas Grill: It's easy to modify this on a gas grill. The cook time is the same. Light two burners (or three if you have them) on medium-high heat so the ambient temperature of the cooking chamber is 500 degrees. Place the seasoned skirt steak on the grill grate over direct heat source. Then follow the recipe as directed.
Grill Pan: If you are cooking inside on a grill pan it's best to follow the marinade and seasoning process. Then cut the skirt steak into pieces that will fit on the grill pan. Set the burner to high, season the grill pan with olive oil, and then sear. It may require more flipping to avoid burning. Be sure you run proper ventilation because it will smoke.
Serving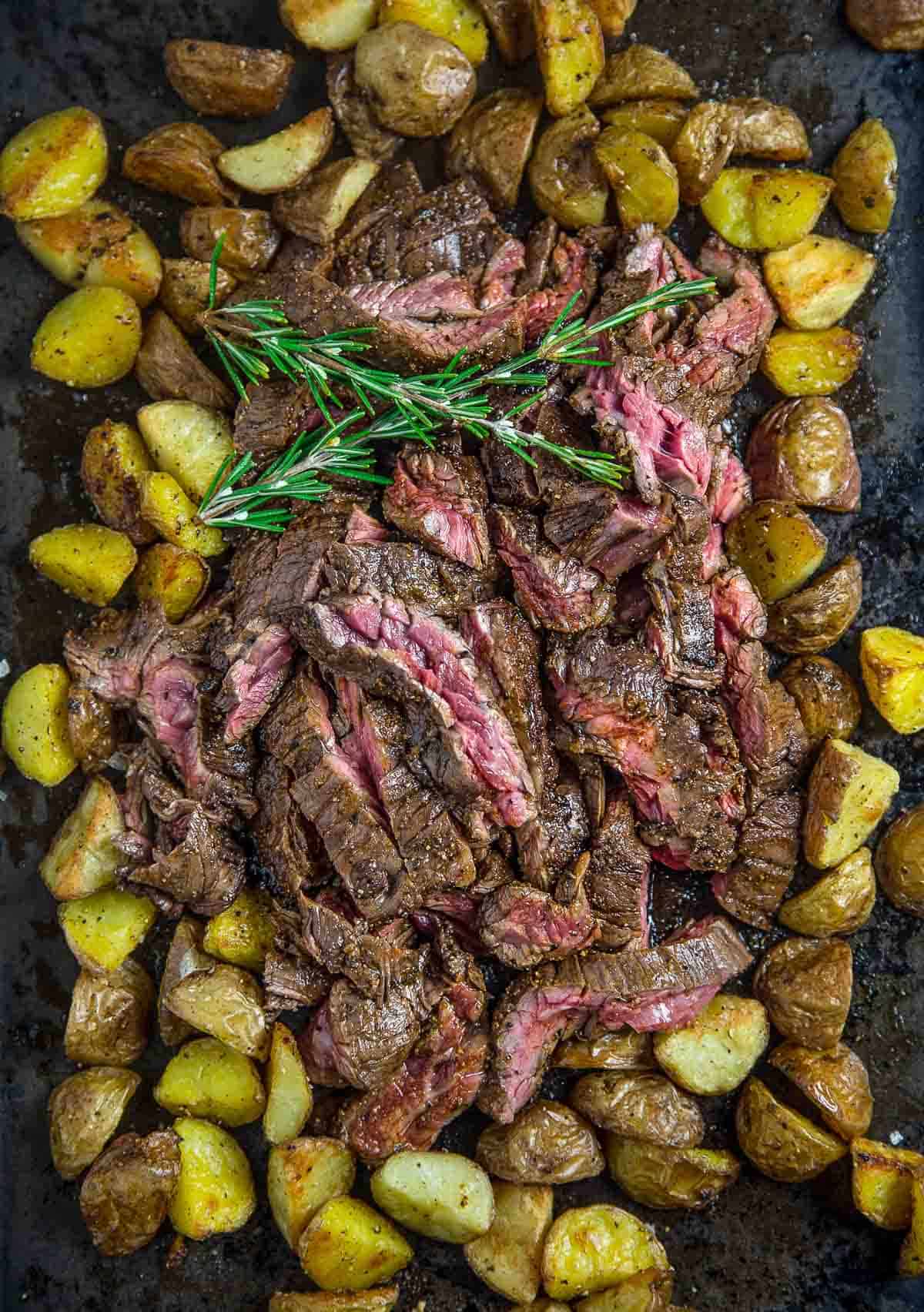 Once the meat is cooked it's great in so many ways. You can serve it along some roasted potatoes, like we did above, and then add an amazing chimichurri sauce.
You can also use it for steak sandwiches. Or, do what we often do on Tuesdays. Use the meat for these killer looking skirt steak tacos! This is also a great option if you're serving a crowd and want to stretch your dollar.
Wine Pairing
This cut of meat soaks in all of those delicious flavors from the marinade. You get incredible savoriness that comes through and a hint of that rosemary. There are many options that would fit the bill, but I lean towards full-bodied reds with some herbal characteristics for this.
This is great with red blends, like Rhone Style GSM (Grenache/Syrah/Mourvedre) blends. Cabernet Franc is also a beauty with this meat, and one we often turn to. Tempranillo is also a tasty choice.
More Easy Beef Cuts for Grilling
Mary (a certified sommelier and recipe developer) and Sean (backyard pitmaster) are co-authors of the critically acclaimed cookbook, Fire + Wine, and have been creating content for the IACP nominated website Vindulge since 2009. They live in Oregon on a farm just outside Portland.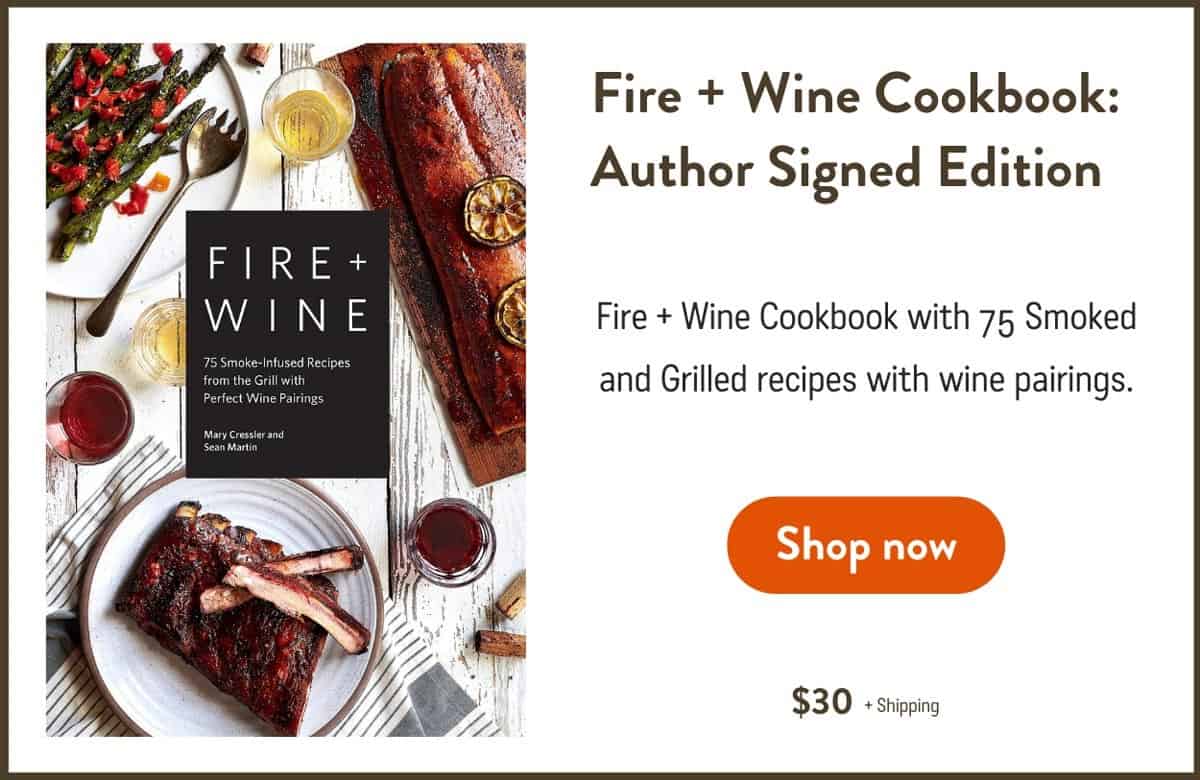 Tried this recipe? Give us a star rating and we would love to see! Mention @vindulge or use the hashtag #vindulge on all the social media handles. And consider subscribing to our newsletter where we drop all our favorite ideas and inspirations every week.
This post may contain affiliate links. This means if you click on the link, we may receive a small commission if you purchase through the link. We partner with brands we know and love and use and it helps keep the blog going!