Grilled Skirt Steak is a delicious cut of beef that cooks up quickly and marinates perfectly in our savory red wine marinade. It is great for weeknight meals, or your next Taco Night.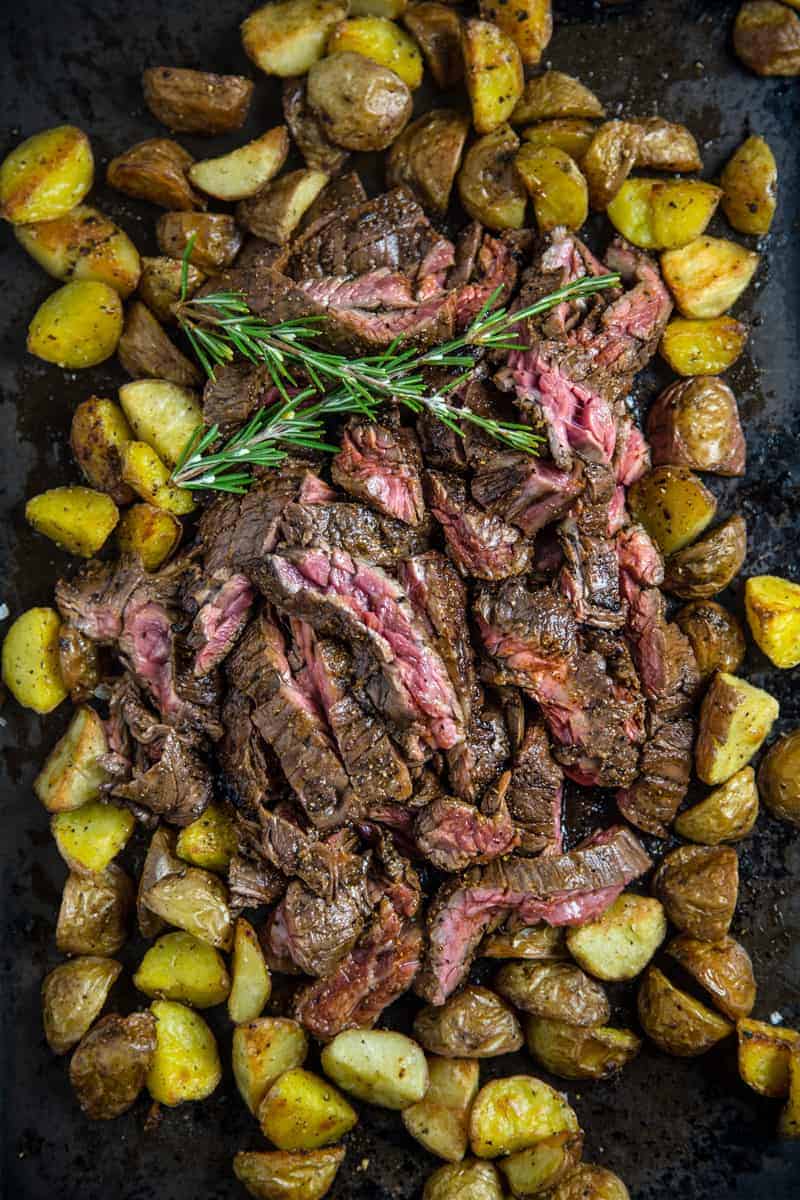 Since moving to the country we've had to get serious about weeknight dinners. Before, when we lived minutes away from several grocery store options, it was common for us to play it by ear, and run out to the store several times a week getting whatever we were inspired to cook.
But shoot, if I don't plan the week's meals on the weekend, we're screwed! Aaaand I'm really bad at planning. So, it's now becoming common place for me to call Sean on his way home from work and ask him to stop and pick up some groceries. Sorry, Sean! (#notsorry).
Grilled Skirt Steak for a Quick & Easy Dinner
When we need something that can be cooked quickly, with little prep or time, grilled skirt steak is a fantastic option!
It's a thin and lean cut of beef, so it only takes a couple minutes for it to cook on the grill.
Marinating skirt steak is simple, and since it is a thin cut of beef it doesn't need much time to soak in all of those savory flavors. So in reality, Sean can come home with the ingredients at 5pm, and we can have dinner on the table by 6:15 (factoring in about 30-60 minutes in the fridge to marinate).
Once the meat is cooked it's great in so many ways. You can serve it along some roasted potatoes like we did above.
Use it for steak sandwiches.
Or, do what we often do on Tuesdays. Use the meat for these killer looking skirt steak tacos! This is also a great option if you're serving a crowd and want to stretch your dollar.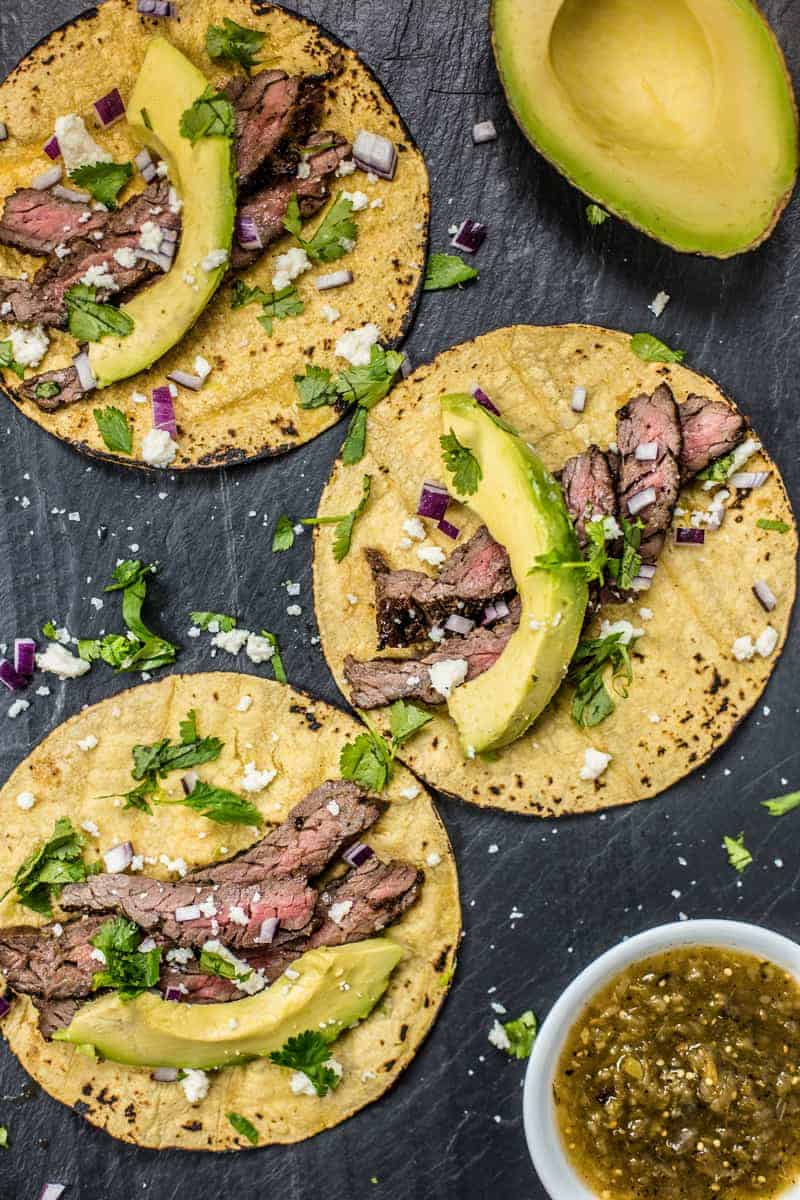 This is my kind of taco party, friends.
You can see from the picture we serve them simply. Some avocado, cotija cheese, some chopped onions, and salsa verde. Boom. You've got yourself one damn good taco.
What is Skirt Steak- The Cut
Skirt Steak, not to be confused with flank, comes from the "plate" on the cow. Simply put, the area below the ribs and near the front underbelly of the cow, it's the diaphragm muscle. Flank is the cut from a similar area but more toward the rear of the cow.
If you get it from your butcher, all good, because you likely don't need to trim. If you are butchering, be prepared for some tedious trimming of silver skin or membrane. That is key to remove prior to cooking to avoid a tougher cook.
Marinating & Grilling Skirt Steak
Marinating helps tenderize a skirt steak. Some will use a meat tenderizer to assist, but we don't. And like I said before, it is a thinner cut of beef so it will take on your marinade very well.
In this recipe we marinate our skirt steak with a mixture of red wine, garlic, rosemary, Worcestershire, and onion. It gives the steak amazing flavor, quickly.
To make sure your skirt steak stays tender on the grill you will want to grill it hot and fast for a couple minutes per side, to a rare or medium rare. And that's it – easy & fast!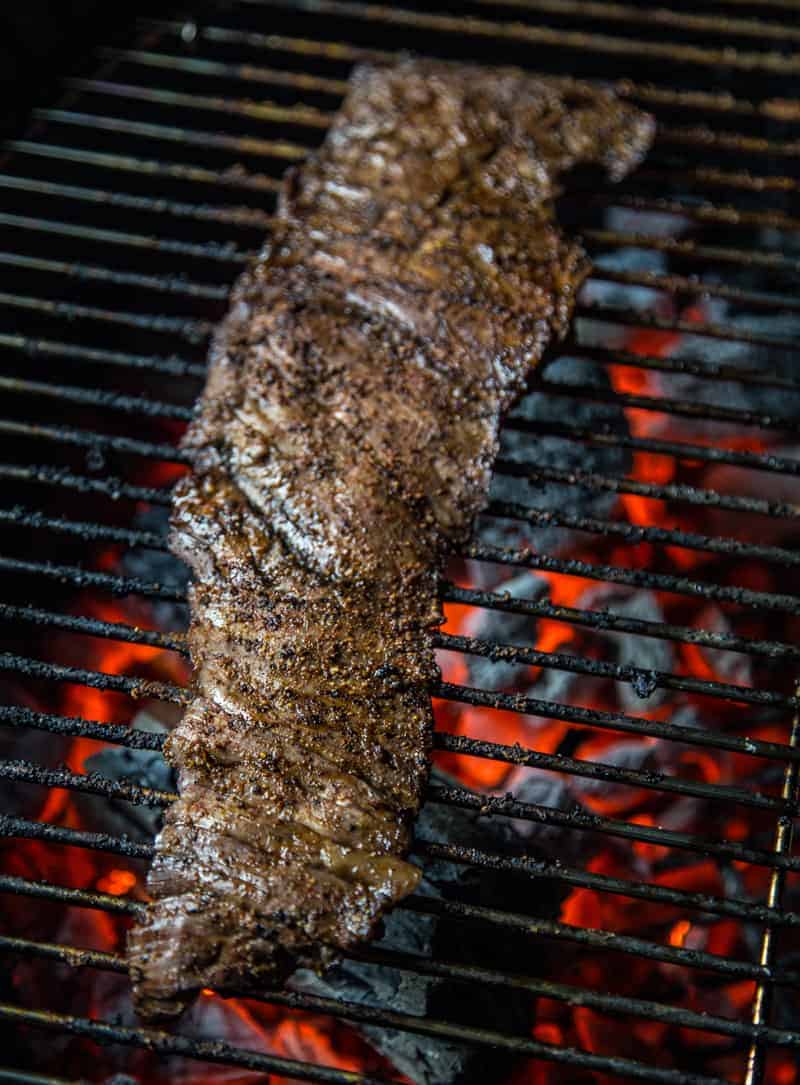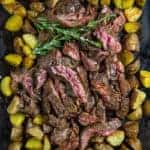 Red Wine Marinated Skirt Steak
Grilled Skirt Steak is a delicious cut of beef that cooks up quickly and marinates perfectly in a savory wine sauce. It is great for weeknight meals, or your next Taco Night.

Cuisine:
American, BBQ, Barbecue
Keyword:
grilled skirt steak, skirt steak marinade, skirt steak recipe
Ingredients
1 1/2 - 2

lbs

skirt steak

2

tbsp

dry rub,

this rub consisted of equal parts salt, pepper, garlic powder. Simply mix all three, in equal parts, in a bowl to mix together, then measure out how much you need for the meat
For the Marinade
1

cup

red wine

1/2

cup

Worcestershire sauce

1/2

small onion,

chopped

2

cloves

garlic,

smashed

2

sprigs

rosemary
Instructions
Combine all marinade ingredients together in a large gallon size Ziploc bag and mix together. Add the meat, seal the bag and place in a large baking dish or bowl (this is in case your bag isn't properly sealed. It protects in case of any possible liquid leaking out). Place in refrigerator from 30-60 minutes.

Preheat grill for indirect cooking.

Remove the meat from the marinade and pat dry. Allow the meat to come to room temp. Coat the meat with dry rub.

Place meat on the grill over direct heat for roughly three minutes. Then flip and place over direct heat for two minutes. If your instant read thermometer is showing the steak still in the rare range and you want to cook more, place on indirect side and close the lid for no more than three more minutes. It cooks quickly. We like ours served rare, or roughly 120 degrees (F) internal temperature.

Let rest for 10 minutes to let juices settle and then slice against the grain or chop depending on how you will serve.
Wine Pairing for Marinated Grilled Skirt Steak
This cut of meat soaks in all of those delicious flavors from the marinade. You get incredible savoriness that comes through and a hint of that rosemary. There are many options that would fit the bill, but I lean towards full bodied reds with some herbal characteristics for this. This is great with red blends, like Rhone Style GSM (Grenache/Syrah/Mourvedre) blends. Cabernet Franc is also a beauty with this meat, and one we often turn to. Tempranillo is also a tasty choice.
What about you? Do you cook with skirt steak? What are your thoughts on this underused meat?
---
For more tasty recipes, BBQ tips and tricks, check out the Recipe Index.
If you like this recipe we'd truly appreciate it if you would give this recipe a star review! And if you share any of your pics on Instagram use the hashtag #vindulge. We LOVE to see it when you cook our recipes.

---