Grilled Skirt Steak is a delicious cut of beef that cooks up quickly and marinates perfectly in our savory red wine marinade. It is great for weeknight meals, or your next Taco Night.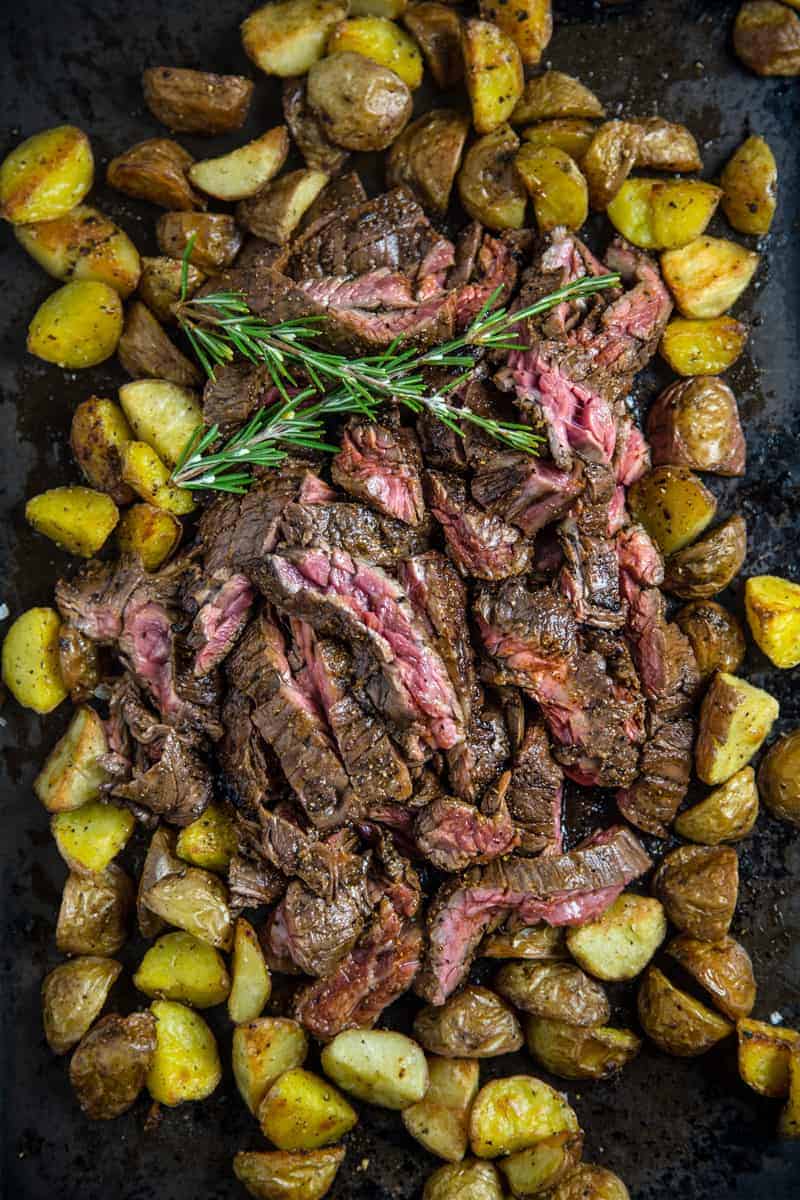 Grilled Skirt Steak has to be one of my all time favorite cuts for a quick and easy weeknight meal. Shoot, it works great for weekend entertaining too! The steak gets marinated for a short time, then is grilled hot and fast over direct heat. It's that easy!
Grilled Skirt Steak for a Quick & Easy Dinner
When we need something that can be cooked quickly, with little prep or time, grilled skirt steak is a fantastic option!
It's a thin and lean cut of beef, so it only takes a couple minutes for it to cook on the grill.
Marinating skirt steak is simple, and since it is a thin cut of beef it doesn't need much time to soak in all of those savory flavors. So in reality, I can come home with the ingredients at 5pm, and we can have dinner on the table by 6:15 (factoring in about 30-60 minutes in the fridge to marinate).
What is Skirt Steak – The Cut
Skirt Steak, not to be confused with flank, comes from the "plate" on the cow. Simply put, the area below the ribs and near the front underbelly of the cow, it's the diaphragm muscle. Flank is the cut from a similar area but more toward the rear of the cow.
If you get it from your butcher, all good, because you likely don't need to trim. If you are butchering, be prepared for some tedious trimming of silver skin or membrane. That is key to remove prior to cooking to avoid a tougher cook.
Marinating Beef
Marinating helps tenderize a skirt steak. Some will use a meat tenderizer to assist, but we don't. And like I said before, it is a thinner cut of beef so it will take on your marinade very well. You don't need to marinade it long. The major flavor components to add are acid (in the form of wine) and flavor elements (like herbs).
This grilled skirt steak marinade consists of a combination of the following:
red wine
garlic
rosemary
Worcestershire sauce
onion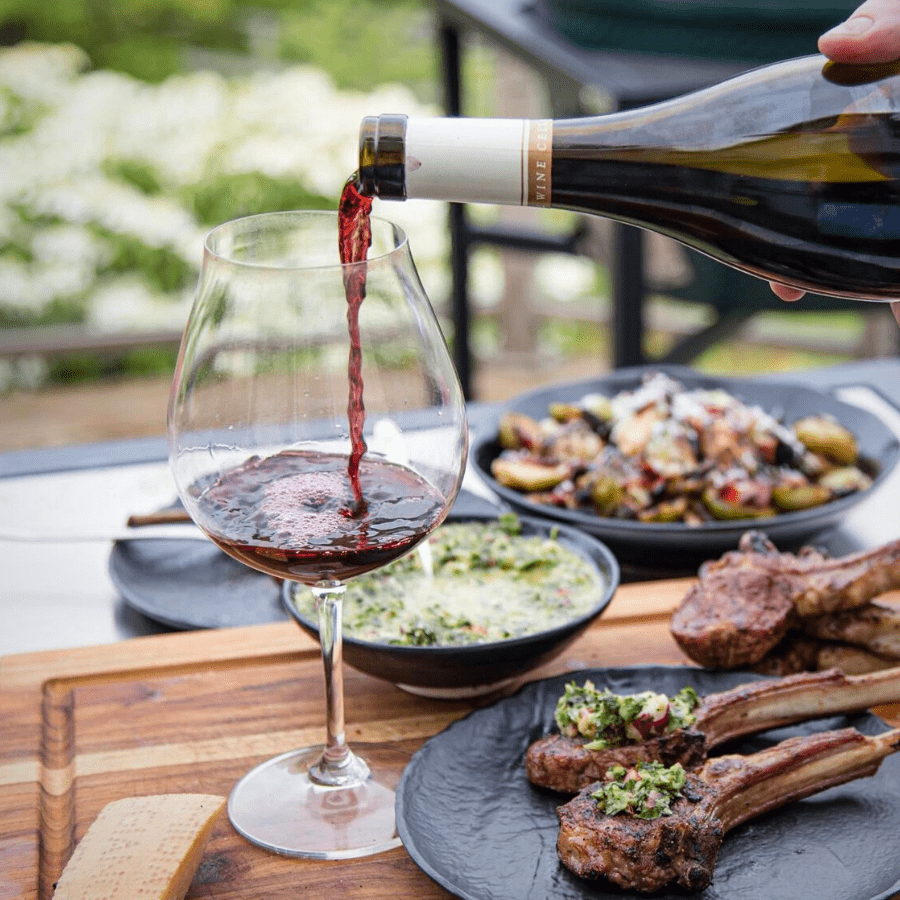 Join our
Wine Club
Receive small production, high quality wines from sustainable, small, and family- owned producers.
Grilling Skirt Steak
This is the kind of cut that is best with a quick sear. To make sure your skirt steak stays tender on the grill you will want to grill it hot and fast for a couple minutes per side, to a rare or medium rare. And that's it – easy & fast!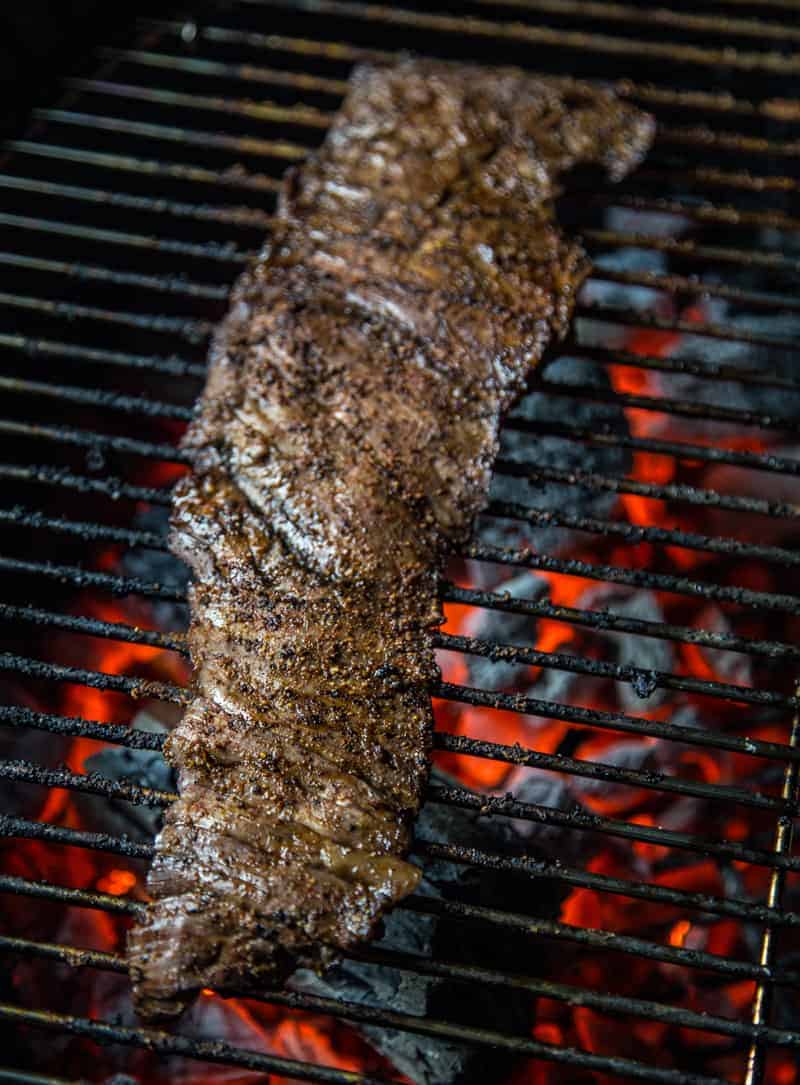 Wine Marinated Grilled Skirt Steak Recipe
What to serve this cut with?
Once the meat is cooked it's great in so many ways. You can serve it along some roasted potatoes like we did above. You can also use it for steak sandwiches. Or, do what we often do on Tuesdays. Use the meat for these killer looking skirt steak tacos! This is also a great option if you're serving a crowd and want to stretch your dollar.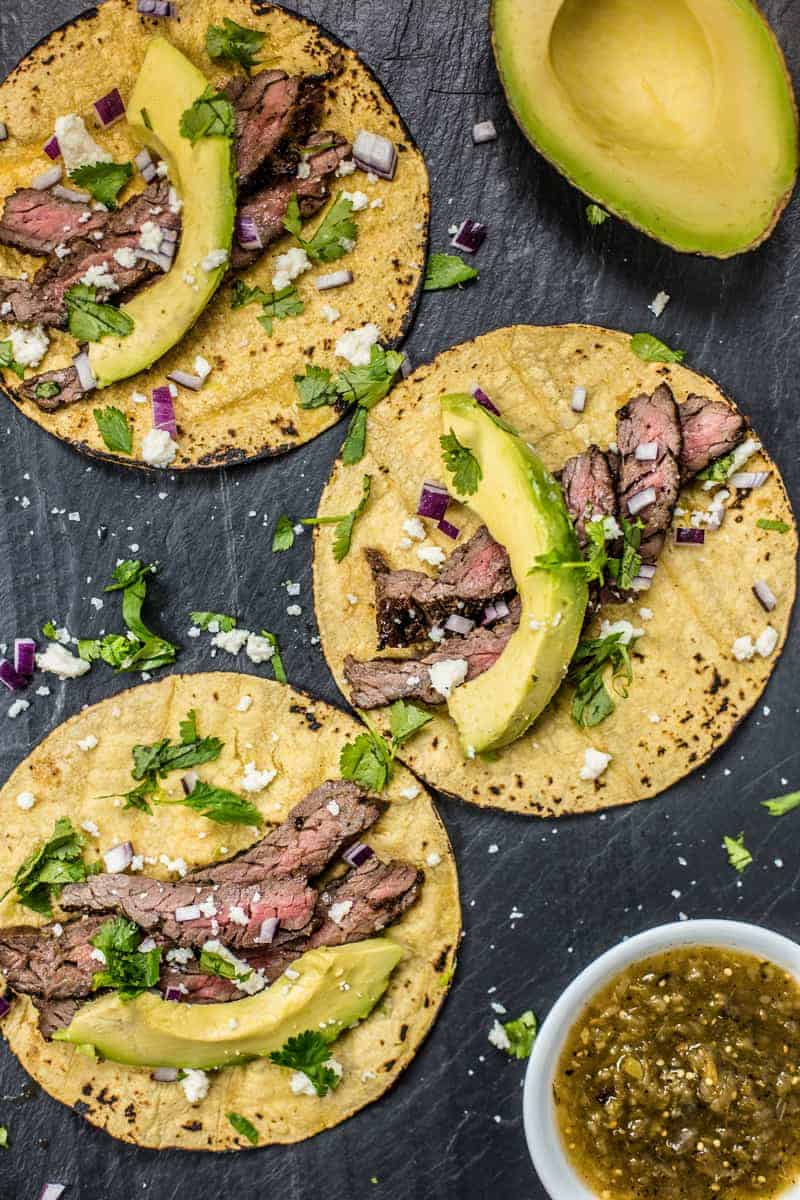 This is my kind of taco party, friends.
You can see from the picture we serve them simply. Some avocado, cotija cheese, some chopped onions, and salsa verde. Boom. You've got yourself one damn good taco.
Wine Pairing for Red Wine Marinated Grilled Skirt Steak
This cut of meat soaks in all of those delicious flavors from the marinade. You get incredible savoriness that comes through and a hint of that rosemary. There are many options that would fit the bill, but I lean towards full bodied reds with some herbal characteristics for this. This is great with red blends, like Rhone Style GSM (Grenache/Syrah/Mourvedre) blends. Cabernet Franc is also a beauty with this meat, and one we often turn to. Tempranillo is also a tasty choice.
More Easy Beef Cuts for Grilling
---
If you like this recipe we'd truly appreciate it if you would give this recipe a star review! And if you share any of your pics on Instagram use the hashtag #vindulge. We LOVE to see it when you cook our recipes.

---