On the morning of February 3rd, our group was scheduled to visit the Irpinia region of Campania exploring the famous Taurisi DOCG, with winery visits to Mastroberardino, TerreDora and Cantina Feudi di San Gregorio.  Nature, however, had different plans for us.  That morning Italy (and all of Europe for that matter) was on the verge of a snowstorm of historical proportions.
Because Irpinia was nestled in a higher elevation it would be impossible for our bus to reach our destination while fighting the snow, where it would be coming down heavily.  Instead, we made an impromptu visit to a winery we were not scheduled to visit until the next day, Villa Matilde, located in a lower and safer elevation for us to reach.  You would think the winery representatives would be scrambling to prepare for our early visit, but you would be wrong.  With flawless presentation and hospitality it seemed as if they had been ready for our group all week.
Upon our arrival we were greeted by enthusiastic Export Manager, Giorgio Imparato, a man so funny and charming I wanted to squeeze him, put him in my pocket, and take him home with me.  I knew I liked the man when, just minutes after we scurried off the bus, fighting strong cold winds and a wet mix of rain and snow, he greeted us (outside) saying "Hello, my name is Giorgio, shall we go tour the vineyards first?" with a serious look upon his face.  He held onto this look as he watched my colleagues fumble to respond.  Then he broke into laughter as he announced "ahhh I'm joking! Are you kidding, it's cold out here, can't you see it's snowing?  Let's go inside where it is warm and we can drink wine."  His icebreaker set the tone for the rest of the afternoon.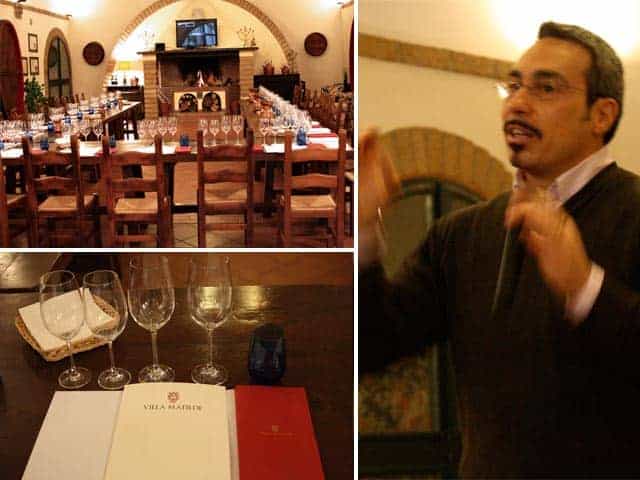 Villa Matilde is located in the town of Cellole in the Campania region of southern Italy. With 140 hectares planted they make 13 different wines, totaling 700,000 bottles of wine per year (roughly 58,333 cases) from the white grapes of Falanghina, Greco, Fiano and red grapes Aglianico, Piedirosso, and Primativo.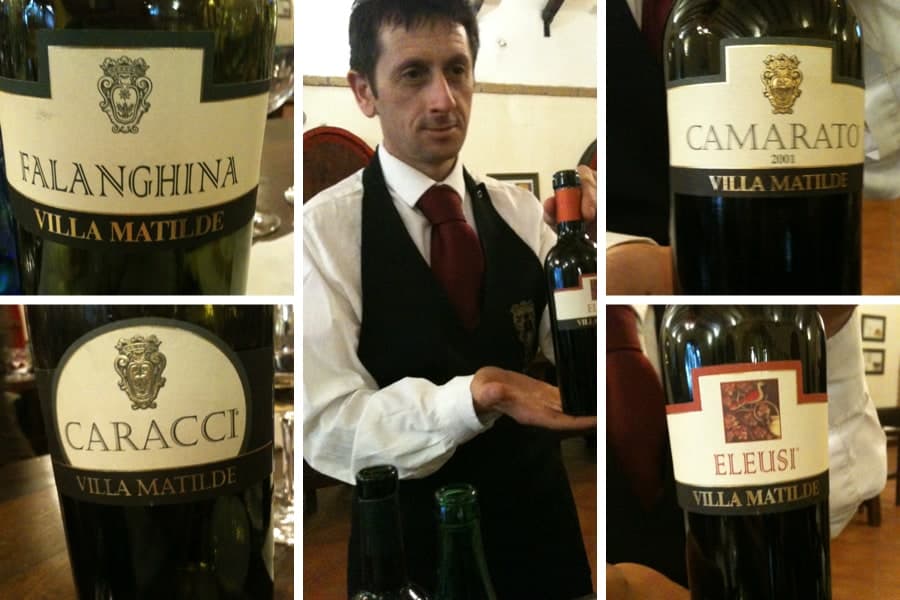 As Giorgio began the tasting he announced, "our wines are not for drinking alone, they are wines meant for food. You need food to drink our wines. This is not beer we're drinking here." And in Italy wine IS food. Which is precisely why the chefs at Villa Matilde carefully paired each wine with a specific appetizer course.  Knowing my affinity for food and wine pairings I decide that I liked this place more and more by the minute.
If that wasn't enough I learned that Giorgio has a very fascinating way of describing the wines that would make even the most novice wine enthusiast smile and nod their heads in agreement.
The first wine Giorgio poured was the Falanghina, Roccamonfina I.G.T.  2010 – 100% Falanghina grapes aged in stainless steel for 3 months.  "Imagine, if you will…" Giorgio describes, "a beautiful young teenager.  She is fresh, beautiful, and young.  This is the Falanghina.  Can you picture her?"  A wine that indeed smells and tastes fresh, bright, with a salty minerality you often get from wines produced near a coast.  This was well paired with a warm crusty savory pastry dish, but would also be great with light salads and white fish dishes.
"The Falerno on the other hand," Giorgio begins to describe the second wine, "is a mature woman of 30 years old.  She is more complex. You can have a conversation with her. You want to spend more time with her."  This wine was the  "Caracci" Falerno del Massico, D.O.C. White 2007  – also made from 100% Falanghina grapes and aged in stainless steel, then 8 months in the bottle.  Caracci is the name of the vineyard, Falerno is the specific region.  Not only was this wine much darker in color, but also had a richer mouthfeel and more complexity, which you would expect from a mature woman vs. her younger teenage counterpart.  Both wines were good for different reasons and both a great representation of the complexity the Falanghina grape offers the drinker.  This paired nicely with a savory fried dumpling.
We then moved onto the reds, made primarily from Aglianico grapes.  Generally speaking, Giorgio explains, "Aglianico is like a big cow.  She produces a lot of milk".  Conversely, "This Aglianico [grown specifically in the historical Falerno region] is more like a buffalo.  Very rich, but different, producing much less milk, but the milk she does produce is so important", using this analogy to explain the complexity you receive from Aglianico made in this important region, Falerno.  The Falerno del Massico D.O.C. Red 2007 is 80% Aglianico and 20% Piedirosso, selling locally for 12-13 euro.  They use Piedirosso instead of Primativo (a popular southern Italian grape) to give the wine more fruit and a velvety soft texture.  This wine was paired with the most scrumptious risotto ball (one of my favorites.  In my house I often tend to make risotto as a meal with the primary intention of turning the leftovers into fried risotto balls).
We moved on to a side by side tasting of the single vineyard "Camarato" Falerno del Massico D.O.C. Red 2005, 80% Aglianico, 20% Piedirosso, next to the same wine of the 2001 vintage.  The difference, Giorgio describes, is that the 2001 feels "like cashmere – it is soft and elegant", showing what a few years of age does to the same wine.   He was right.  The 2005 felt bigger and bolder with the 2001 showing more delicacy, softness and balance.  And, really, what is a trip to Italy without a reference to women, food and fine clothing?
After our tasting Giorgio invited us to a casual lunch prepared by the chefs.  At this announcement a fellow blogger shouted "What? There's MORE food? We just ate!"  Giorgio's response summed up my entire experience in the country, "Hey, you are in Italy".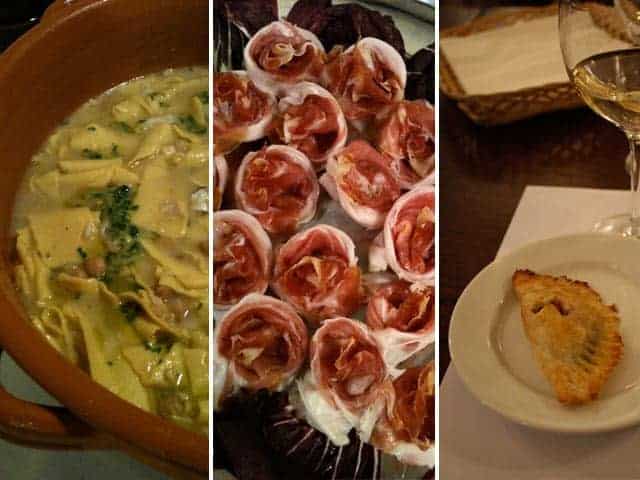 As we were ending our experience at Villa Matilde Giorgio demonstrated his outgoing personality one final time when he challenged our group to a quiz asking trivia questions from his earlier presentation and giving prizes to the top three winners.  None of us, however, left empty handed.  Instead we left with fond memories of that experience, not to mention a full (and happy) belly.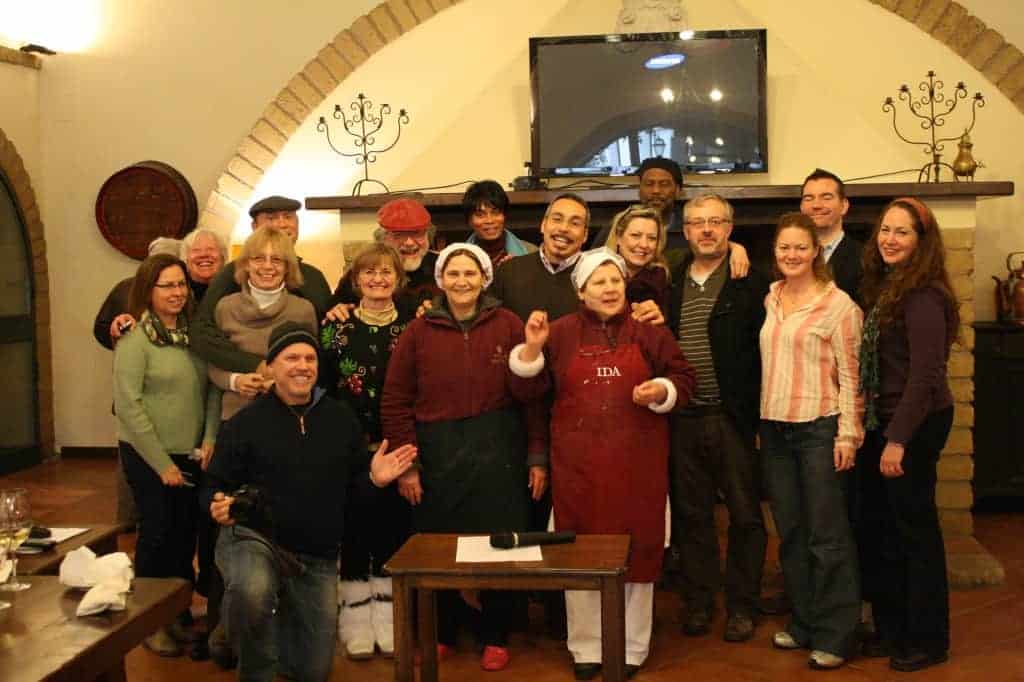 If you get the chance to explore Campania (and I hope you do) consider a visit to Villa Matilde.  The food and wine pairing and genuine hospitality they provided for us was not just a special arrangement for our group.  Tourists can also experience the food and wine pairings by making an appointment in advance.
If a trip to Italy is not on your radar, I do hope you seek out the wines of Villa Matilde.  They are a fresh change from the typical Pinot Grigio and Chianti you see filling the shelves of the Italian section of many wine stores.  If you don't see this specific producer, ask your local wine store what they have from the Campania region of Italy.  If they don't' have anything (like, sadly, the corner wine store in my own neighborhood) challenge them to order some.  A good wine buyer should be able to find something you are looking for in your price range.  It may not be exact bottle you want, but they should at least be able to find you something close in price, region and variety.
Cheers
Related articles: