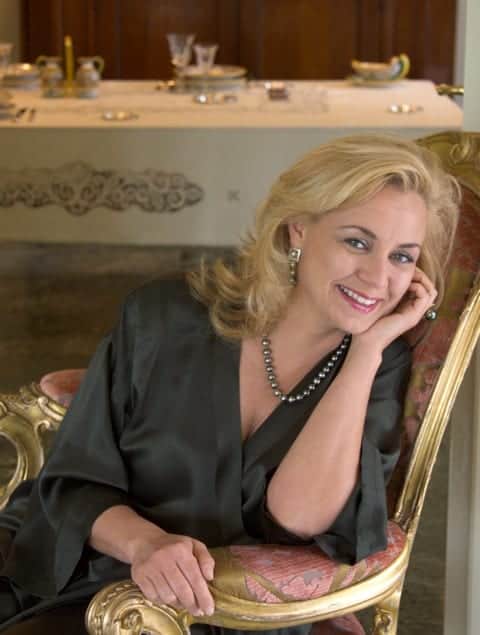 Emilia Nardi is among a growing number of important and respected women in the Italian wine industry, and for good reason.  She took over the reigns of her father's company, Tenute Silvio Nardi, in 1990, producing high quality Brunellos that highlight the specific terroir from where they are grown.  When Silvio Nardi started the company in the 1950's, Montalcino was just a small village, not famous for its wines.  Fast forward 60 years, the region is now known for producing some of the greatest wines in all of Italy.
I had the opportunity to sit down with Emilia over lunch last week at Scalinatella restaurant in NYC.  I spoke with her about her wines, her focus, and what it is like to be a woman in a very male dominated industry in Italy.  I discovered that not only is she both intelligent and funny, but also a woman as elegant as the wines she produces.
But first, to understand the wines of Tenute Silvo Nardi, let's take a quick look at what the wines from this famed region are all about.
Brunello di Montalcino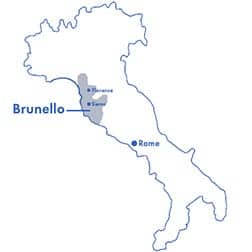 At its most basic sense, Brunello di Montalcino is a red wine made from Sangiovese Grosso (a clone of Sangiovese), from vineyards within the town of Montalcino, located in the Tuscany region of Italy.  By DOCG regulations the wine must be aged a minimum of two years on wood, and a minimum of four months in the bottle before release (six months for a "riserva"). They are ready to be sold five years after the year of the harvest (six for the "riserva").
Brunello di Montalcino was among the first eight Italian wine production zones to be designated a DOC in 1966, and in 1980 it was the first Italian wine to receive a DOCG status, the highest status in Italian wines.
There is also  Rosso di Montalcino DOC produced in order to give winemakers a chance to offer a wine that is more drinkable upon release. These are also made from 100% Sangiovese Grosso, and also grown within the region of Montalcino, but the aging requirements are much less –  only six months aging in oak and one year total aging before release.  These are also offered at a fraction of the price of Brunello di Montalcino.
Tenute Silvio Nardi
Emilia's focus, as president of Tenute Silvio Nardi, is to produce wines that are a true expression of the land in which they come from.  In order to achieve this, she is committed to modernization, technology, and science; vigorously studying how the different clones of Sangiovese are best matched with specific vineyard plots.  She follows closely techniques used in Bordeaux France for inspiration, and has worked with the University of Bordeaux to introduce new projects focused on clonal research.  Emilia explained that the goal of making a great Brunello is "a true agricultural project".  It is discovering the perfect combination of soil, specific vineyard plot, climate, and clone.  Her winery grows grapes on 36 different vineyard plots on three different estates, each plot is studied carefully.
I asked Emilia what she wanted people to understand about Brunello –   
I received some strange looks from the other guests at our table at this question. It is a pretty deep question I suppose, one difficult to answer in just a few sentences.  But at the time I was tired of talking about vintages, which seemed to be the dominant topic of conversation for awhile.  What I wanted to know, from her perspective, was how she would explain the complexity of Brunello to the novice wine enthusiast.  In America, the average consumer can become weary of expensive bottles and are often under educated on the vast array of offerings from Italy.  How is this wine – a wine from Tuscany – so vastly different from the Chiantis on the shelf at any wine store – a wine also from Tuscany and also made from Sangiovese grapes, but at a fraction of the price?  The difference in geography is not the only thing separating these two vastly different wines made from similar grapes.
"It takes time (to produce a great Brunello)," she responded.  "Brunello is a wine for patience," she went on. "It takes a long time for it to be ready.  You cannot rush it." You also need experience, not only the vineyard but production.  She explained that you need at least 20+ vintages under your belt to be considered a great producer.  It is not a fast process.  You cannot just go in and plant a vineyard in the area and expect great Brunello within a few short years.  You need time and experience, and most of all you need to understand your soil.  This concept of time not only applies to the growing conditions, but also once the wine is released.  Mary Ewing-Mulligan, Master of Wine, has noted that most Brunellos need a minimum of 10 years before they are ready to drink, and in most cases 10-15.  She believes if you want to drink anything younger than 10 years, drink a Rosso di Montalcino.
Brunellos can range from balanced and elegant to powerful full-bodied wines.  Nardi explained "Our goal is to produce a wine of elegance.  We wait to pick our grapes until they are at their ripest, which usually means that we harvest later than most others.  September 24th or 25th is typical for us to begin harvest (and lasting through mid October).  We do this to avoid any bitterness that can come from grapes that are picked too early".
When Nardi took over the winery in 1990 she was among a very small number of women in the industry, and 22 years later she is now considered one of the most respected.   
I asked her how she felt about being a woman in a male dominated industry?  She said that it can definitely be a challenge.  One of the things she discussed came as a surprise to me.  She spoke of the equipment used for making wine.  That all equipment, in both the vineyard  and cellar, is made for men – indicating things being built at a much higher level for use, making them difficult for the average sized woman to use.  I was surprised at her explanation, as I am used to women responding more about the challenges of being seen as equal, having to prove oneself to men, not the physical limitations and challenges that can exist.  She believes it is the same all over (not just the wine making industry) and said to me, "I bet if you go into the kitchen here at this restaurant, the stoves would be higher, everything would be made for mans use, not for women. We have a long way to go."  Coming from a woman whose focus is agriculture and science, it makes sense that she notices the differences in physical equipment posing a challenge for women, in addition to the more emotional or psychological challenges.
The wines of Tenute Silvo Nardi
2010 Rosso di Montalcino DOC
Grapes:  100% Sangiovese Grosso  |  $27  | 14% abv
This wine was produced from grapes selected from younger vineyards (less than ten year old vineyards), aged six months in oak and four moths in bottle prior to release.  Aromatic bright nose, fresh, with rhubarb, strawberry and cherry.  Considered a "mini-Brunello" this is a very enjoyable wine ready to drink now.
2006 Brunello di Montalcino DOCG
Grapes:  100% Sangiovese Grosso  |  $70  | 12.5% abv
Produced from grapes from two different vineyards, this wine was aged two years on oak, and six months in the bottle.  I understood immediately what Emilia refers to when she speaks of elegance in her wines.  That was the first thing that came to mind when sipping this wine.  Though it still had pronounced tannins there was a very noticeable balance between the fruit, tannins, and a silky softness.  Emilia explained that 2006 was also slower ripening year for their fruit, resulting in softer, more elegant wines than the next wine we tasted from the 2007 vintage.
2007 Brunello di Montalcino DOCG
Grapes:  100% Sangiovese Grosso  |  $70  | 14% abv
2007 was a warmer year, resulting in stronger and more powerful wines.  Produced from grapes from two different vineyards, this wine spent 30 months in oak and 12 months in the bottle.  The feel of this wine is significantly different than the 2006.  Bigger with much more pronounced cherry and vanilla, spice and oak, with stronger tannins, and a nice minerality. This is one to put down for at least 10-15 years.
2006 Brunello di Montalcino Manachiara DOCG
Grapes:  100% Sangiovese Grosso  |  $107  | 14% abv
This is a special wine for Nardi, a single vineyard Brunello produced from a vineyard over 45 years old.  This is a small vineyard, with low yields, resulting in less than 11,000 bottles produced.  Nardi explained that they do not produce this wine in every vintage, only the better vintages.  The wine had very focused fruit and spice flavors in the mouth, and bold tannins.  I was fascinated by this wine wine. Bold. Structured. Has a lot of personality.
Following lunch I had the opportunity to attend a separate tasting where I tasted no less than ten different Brunellos from different producers.  It was then that I truly understood the focus of elegance in all of Nardi's wines.  The other wines I tasted, also produced from the 2006 and 2007 vintages, were much bigger and bolder wines with lots of power.  Nardi's wines seemed more balanced, softer, yet with the structure that will allow them to remain elegant for years to come.
If you are interested to discover for yourself what Brunello di Montalcino is all about, I encourage you to seek the wines of Tenute Silvio Nardi – innovative, structured, and elegant.