These Hot Honey Ribs start by slowly smoking ribs, then basting them in hot honey and butter, and finishing with more hot honey glaze. It's sweet, savory, and moderately spicy. If looking for a new rib recipe to try, or ways to use hot honey, this recipe is it! Hot Honey Ribs can be made with Baby Backs or Spare Ribs.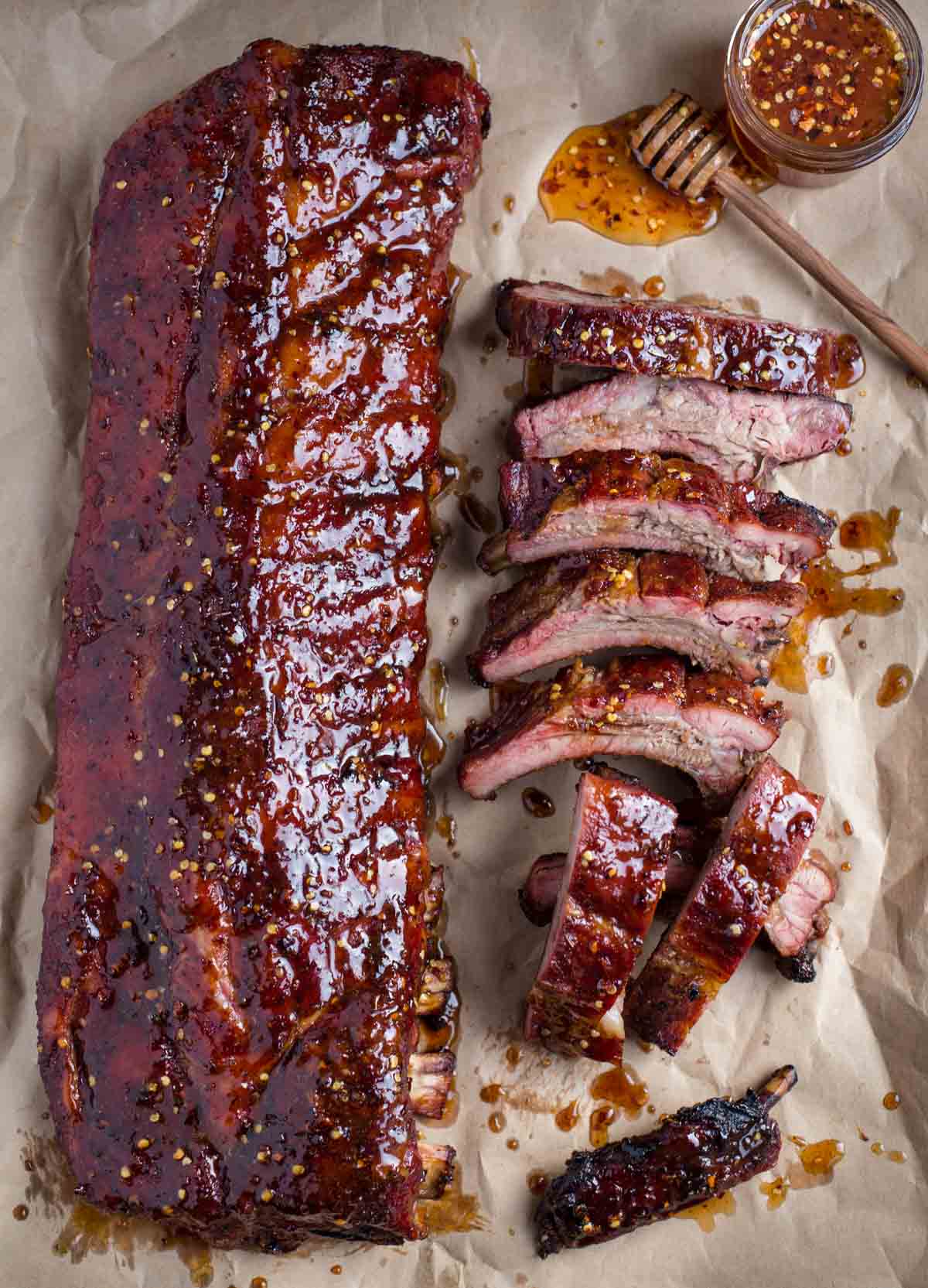 Hot Honey Ribs Recipe Highlights
Jump to:
Hot honey may seem like a fad, but the reality is that it has quickly become our second favorite condiment (next to Frank's RedHot hot sauce). It can be used for virtually anything from drizzling over goat cheese, hot honey pizza, fried chicken, or on toast with butter. But when you use hot honey on ribs – the flavor just works. Trust me! For some reason hot honey and pork is a match made in heaven, much like PB&J.
Ingredients for Hot Honey Ribs
Ribs – Look for larger pork ribs with as much meat and marbling you can find. We use two full racks for one portion, which feeds 4 – 6 people.
Dijon Mustard – This is the binder that keeps the seasoning on the ribs.
Seasoning – A good balance of salt, savory, and sweet is best with this recipe. Too much sugar and it doesn't balance the glaze. We use our own Ultimate Seasoning.
Unsalted Butter – Helps as the butter melts and binds with the honey.
Hot Honey – Our homemade hot honey is perfect. But if you have a store-bought version, like Mike's Hot Honey, that will work in a pinch.
Preparation
Read section for spare ribs if using a whole rack of spare ribs.
Make your seasoning. If not using a pre-made store-bought seasoning, then be sure your seasoning is prepped in advance.
Remove the membrane from the ribs. For the ribs be sure to remove the membrane on the bone side of either baby back or spare ribs. The easiest way to remove is to use a small knife to pry a small corner of the membrane up and then pull with a paper towel. Or use a butter knife to gently pry the membrane from the bone side and then grip it and pull so it all comes off.
Trim excess fat. If you see excess layers of fat use a sharp boning knife to remove it prior to seasoning.
Use a binder. Before adding seasoning, coat the ribs with mustard first. We like Dijon mustard, but any yellow mustard or even olive oil will work.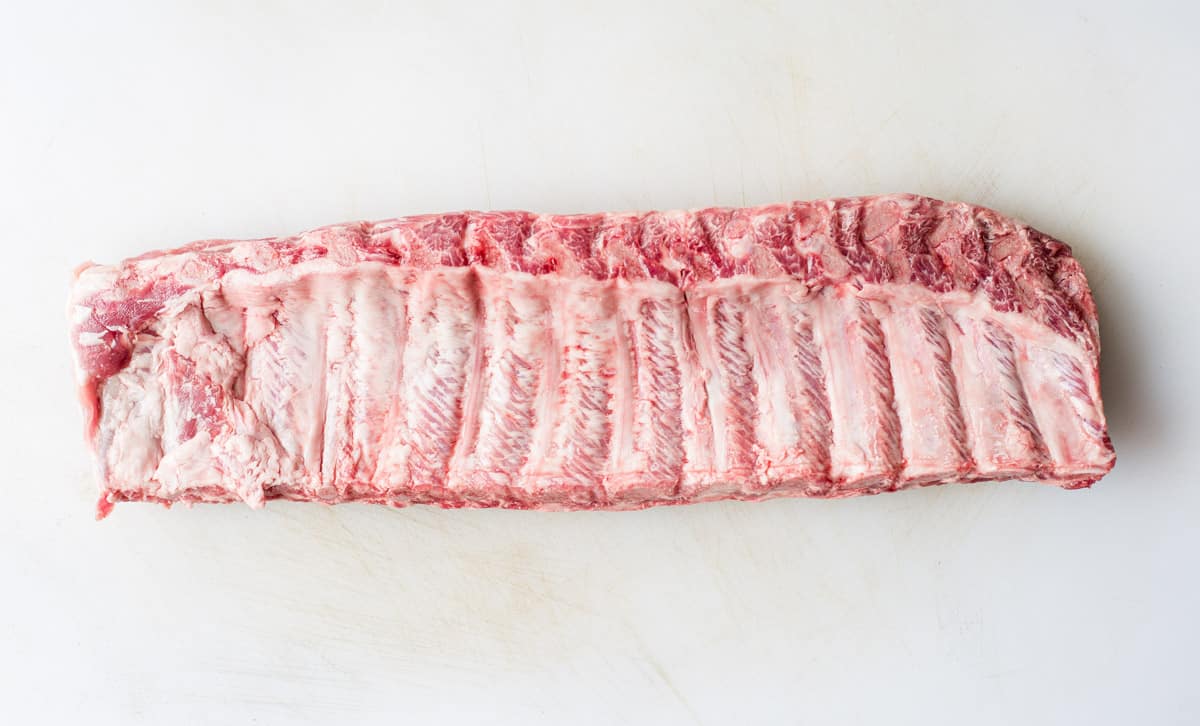 A note on the rib membrane: If you leave the membrane on, it tends to get chewy and unpleasant after cooking for a few hours, which is why we remove it. Note that some rib companies will have removed the membrane already. If you don't see an opaque white membrane on the bone side of the ribs, then it's been removed (hooray!) and you can skip that step.
If Using Baby Backs
Plan a total cook time of about 5 hours for hot honey ribs. While Baby Back Ribs tend to have less meat than spares, the size can very. Smaller baby back ribs can cook in as little as 4-hours.
If Using Spare Ribs or St. Louis Cut
If you buy a full rack of spare ribs, untrimmed, we recommend to cut them into the St. Louis cut ribs. This evens out the ribs and allows them to cook more evenly, as well as removing unwanted bones and cartilage from a full spare rack.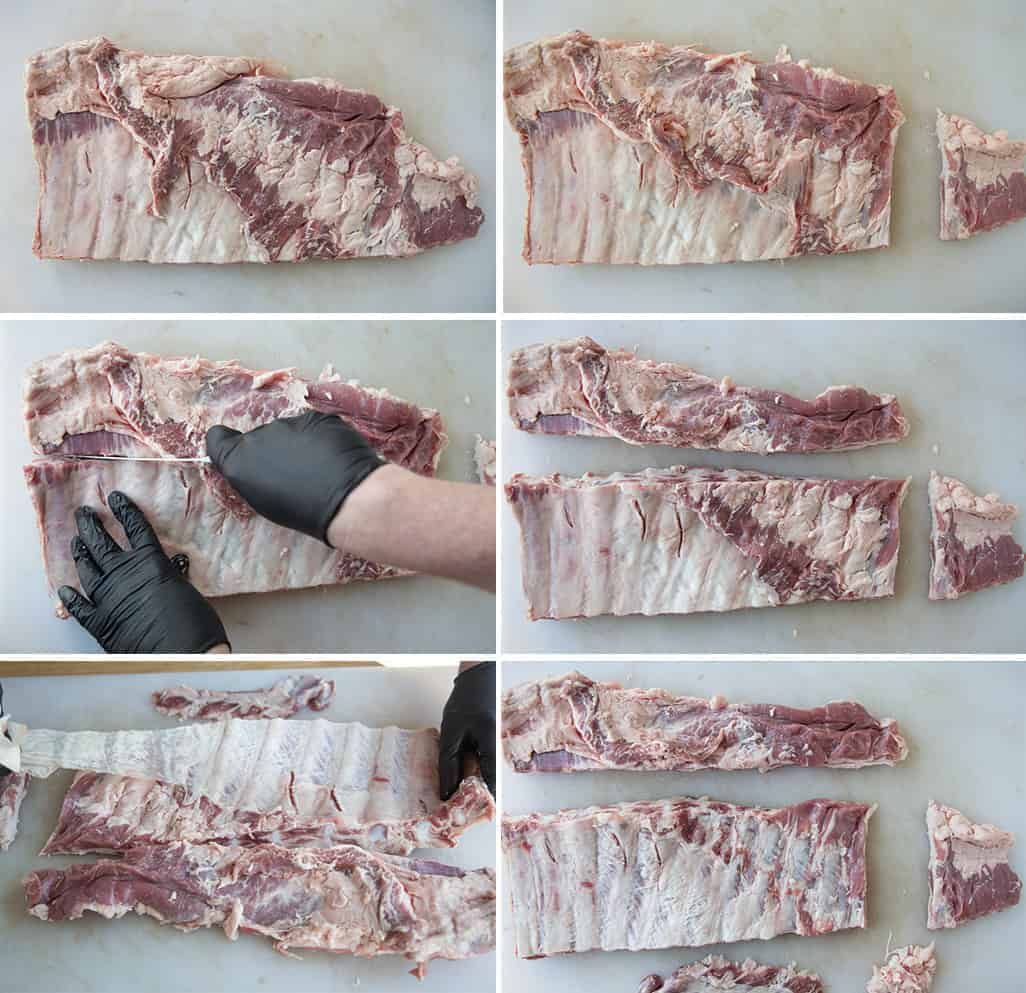 If using Spare Ribs – start with a 6-hour timeline with 3 hours of smoke and up to 3 hours wrapped. However, check the ribs after 2 hours of wrapping to see if they are done.
Spritzing Ribs
An optional step for smoking ribs is spritzing. The added liquid sprayed onto ribs helps the smoke bond with the meat adding more smoke flavor.
Combine equal parts water and apple cider vinegar in a food safe spray bottle and spray the ribs while they smoke. The spritz will be good for 24 hours, then discard (in case you make ribs or pork shoulder the next day).
½ cup water
½ cup apple cider vinegar
How to Spritz: After the first hour of smoking, open the smoker door and spray the top of the ribs. Do this every 30 minutes until you need to wrap them. And contrary to popular belief a 10 second spritz will not lose all the ambient heat in the smoker chamber. Typically this means we spray 5-6 times per rib for each time we spritz.
Hot to Make Hot Honey Ribs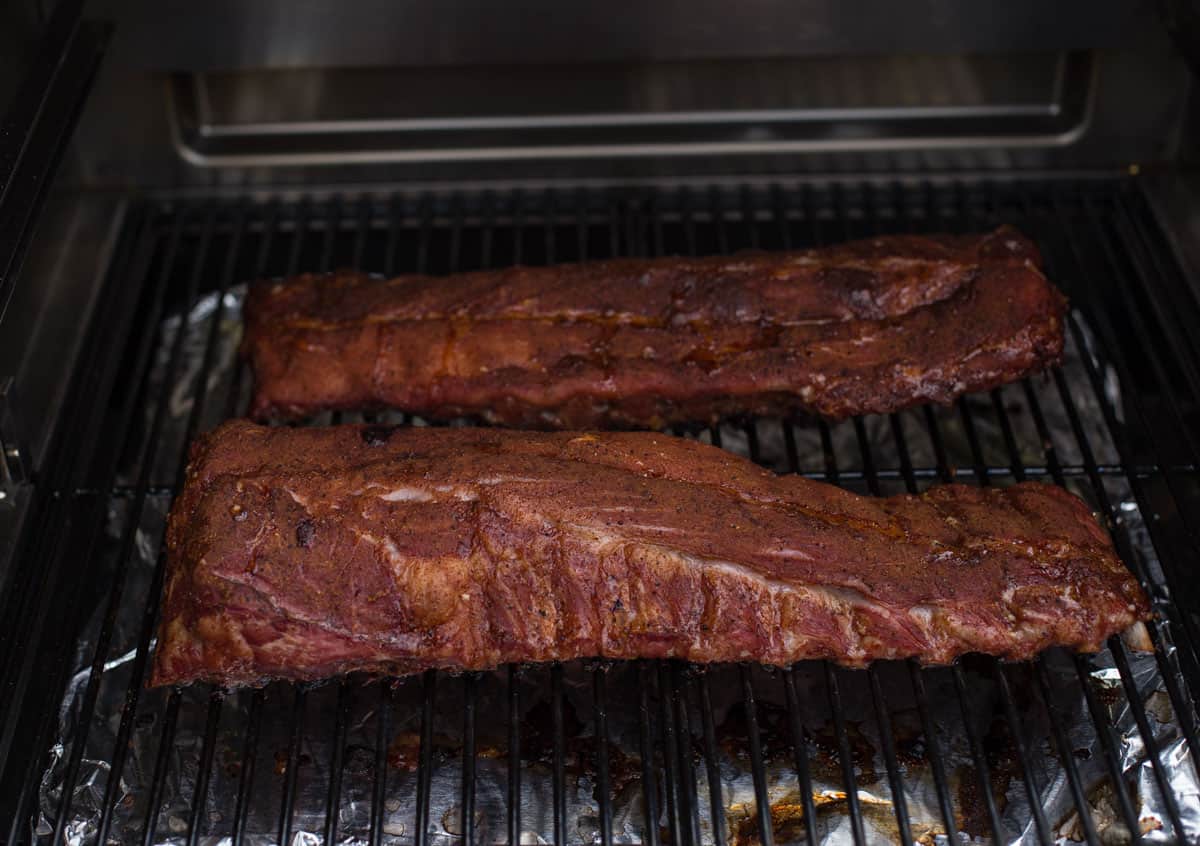 Prep: Prepare smoker for indirect cooking targeting 275 degrees Fahrenheit using a fruit wood. Coat the top and bottom of each rack of ribs with Dijon mustard and liberally apply the seasoning.
Smoke (for 3 hours): Place the seasoned ribs into the smoker, uncovered and smoke for one hour. After the first hour, spritz the ribs every 30 minutes until 3 hours have passed total. By then the bones should start to poke out of ribs, which indicates it's time to wrap.
Wrap (and then continue to smoke for 2+ hours): Place a large sheet of aluminum foil on a cutting board. Remove each rib and place on the foil. Top the ribs with ¼ cup of honey and 2 tablespoons of butter (on the meat side). Wrap the ribs tightly and place the ribs top/meat side down in the smoker and continue cooking for 2 hours.
Remove: Remove hot honey ribs from the smoker. You can expect a fair amount of liquid from the honey and the rendered fat. Gently open and remove the foil and then apply the remaining honey to the meat side of both ribs, slice, and serve.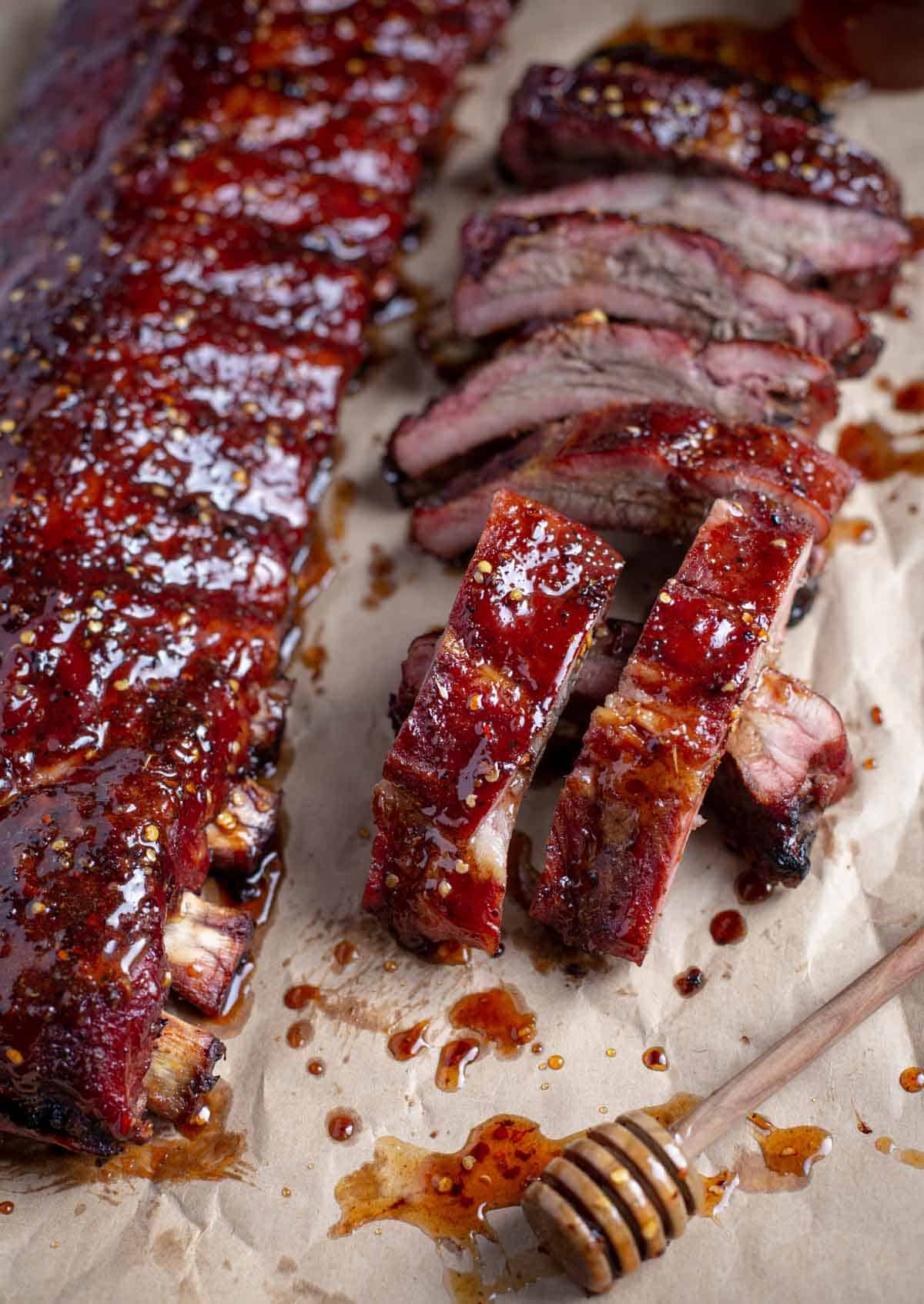 Other Rib Recipes
A roundup of our favorite rib recipe ideas.
Tried this recipe? Give us a star rating and we would love to see! Mention @vindulge or use the hashtag #vindulge on all the social media handles. And consider subscribing to our newsletter where we drop all our favorite ideas and inspirations every week.
This post may contain affiliate links. This means if you click on the link, we may receive a small commission if you purchase through the link. We partner with brands we know and love and use and it helps keep the blog going!