Pellet Grill Chicken Thighs are delicious cooked on any kind of pellet grill. Learn how to cook perfect BBQ grilled chicken on your Traeger Grill or Pellet smoker on high heat in less than 30 minutes.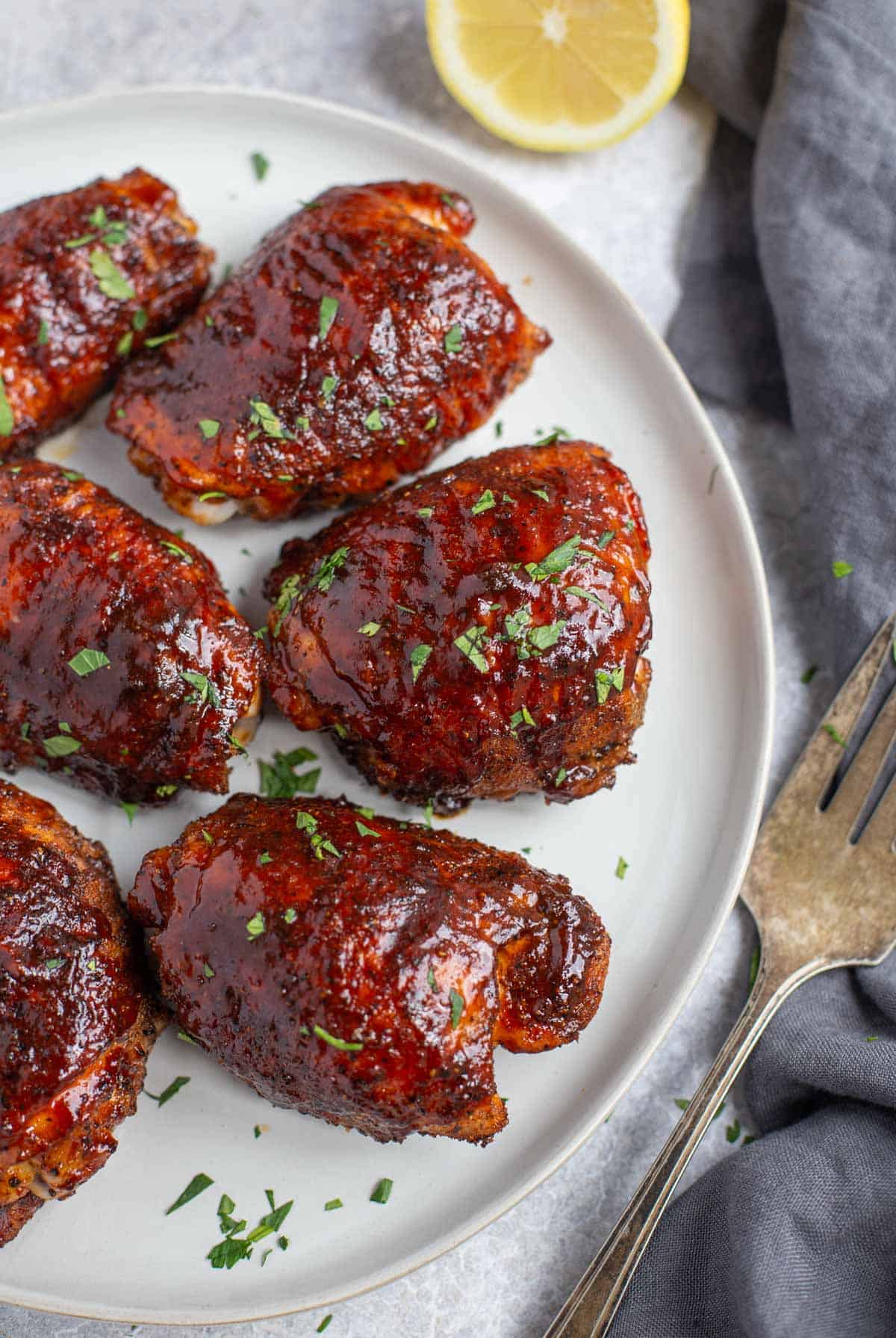 We love to grill chicken over a charcoal grill for great texture and crispy skin. But you can still achieve crispy skin even when cooking hot and fast on a pellet grill, such as a Traeger or other brand. Pellet grills are typically known for low and slow smoking. But I like to consider it more like an oven (you can do both low, and also high temperature cooking). And while most pellet grills do not have a true direct cooking option, this pellet grill chicken thigh recipe helps you achieve great flavor and texture.
What we have in this recipe is chicken thighs cooked in a pellet grill, but over a high heat (450 degrees). What this does is allow a hot enough temperature to get a nice char and crispy skin, while still inviting some smoke infusion to get into the meat. This method works great with any pellet grill.
If you don't have a Traeger, or Pellet Grill, don't fret, we have a great grilled chicken thighs recipe cooked over charcoal.
Jump to:
Buying Chicken Thighs
Be sure when buying, to look for uniform size thighs. That way they all cook at the same time. For this recipe we're using bone-in chicken thighs with skin.
Preparation
Start by patting dry your chicken thighs with a paper towel. Then you'll want to trim any excess fat along the side of the thighs. The idea here is to make the thighs look uniform, like handsome little soldiers. This way they all cook around the same time and look pretty on you serving platter.
Seasoning
Once trimmed coat the thighs with olive oil, and then liberally apply your dry rub. We've tested this recipe with our all purpose seasoning, and also our chicken seasoning (sugar free). We prefer the savory flavor our no-sugar chicken seasoning.
But you can use whatever dry rub you have on hand.
How to Grill Chicken Thighs on a Pellet Smoker
Because most pellet grills, like Traeger or Camp Chef, use indirect heat for their cooking method, the idea is to use the higher heat setting on the grill and the convection style cooking in order to achieve crispy skin on the chicken. If your grill has a direct grilling feature, like the Yoder YS 640 or the MAK 2-Star, then you can follow the recipe using direct grilling and just monitor the internal temperature of your grill.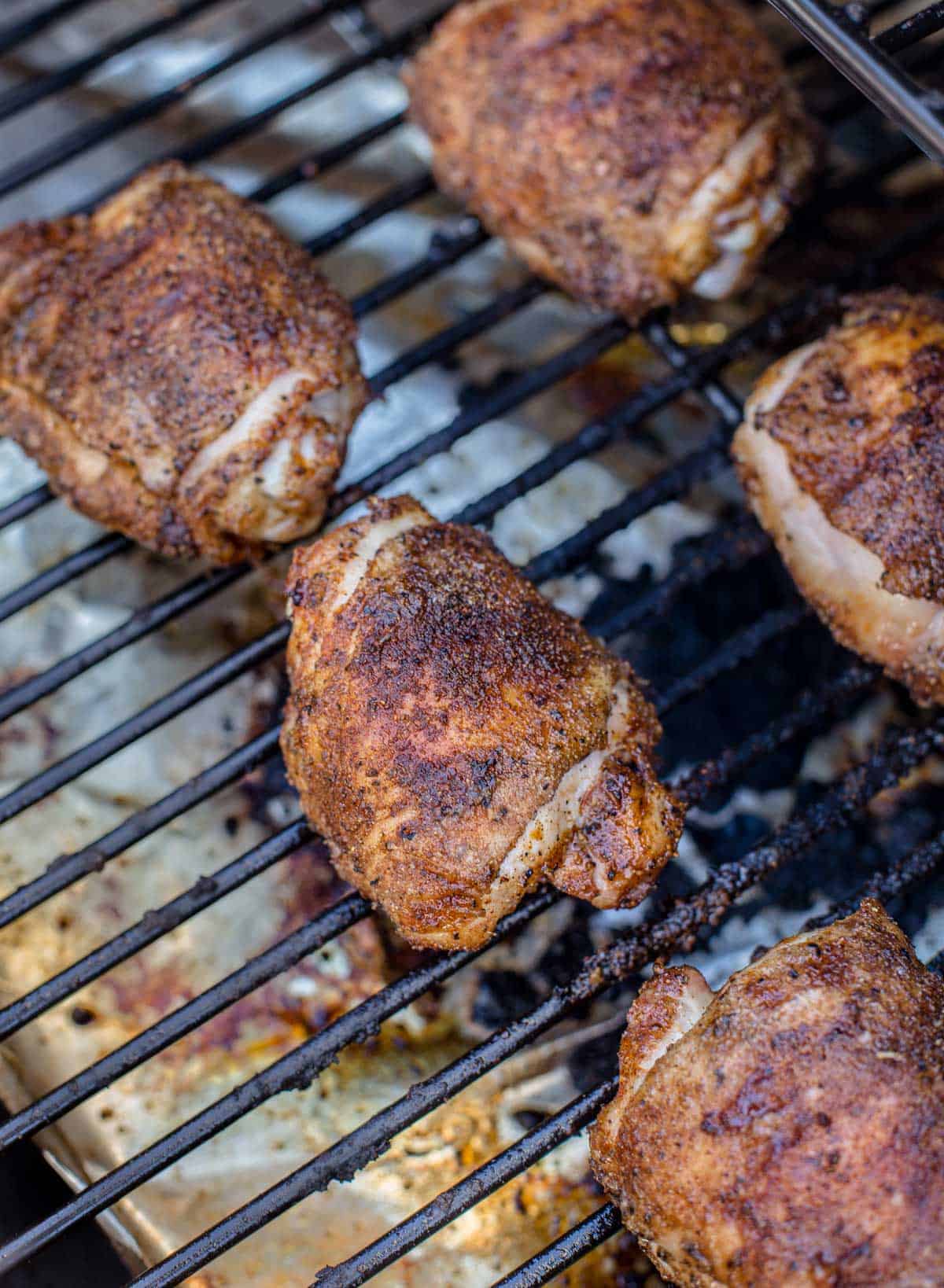 Preheat the grill to 450 degrees Fahrenheit with a fruit wood. In some cases the grill may have an actual temperature, on others it may just say High (if that's the case bring it to "High").
When the grill comes to temperature, place the thighs, skin side DOWN, on the grill. Continue to grill at 450 until the internal temperature of the thighs reaches 155 degrees F (about 15 minutes).
Once the thighs reach 155, start glazing the chicken and then rotate the chicken to skin side UP, and glaze the skin side. Continue grilling until the internal temperature of the chicken reaches between 170 and 180 degrees Fahrenheit using a good instant read thermometer like the Thermoworks Thermapen One (about 10 more minutes).
Remove and glaze one last time while resting for 10 minutes. The sauce will thicken, or tack up.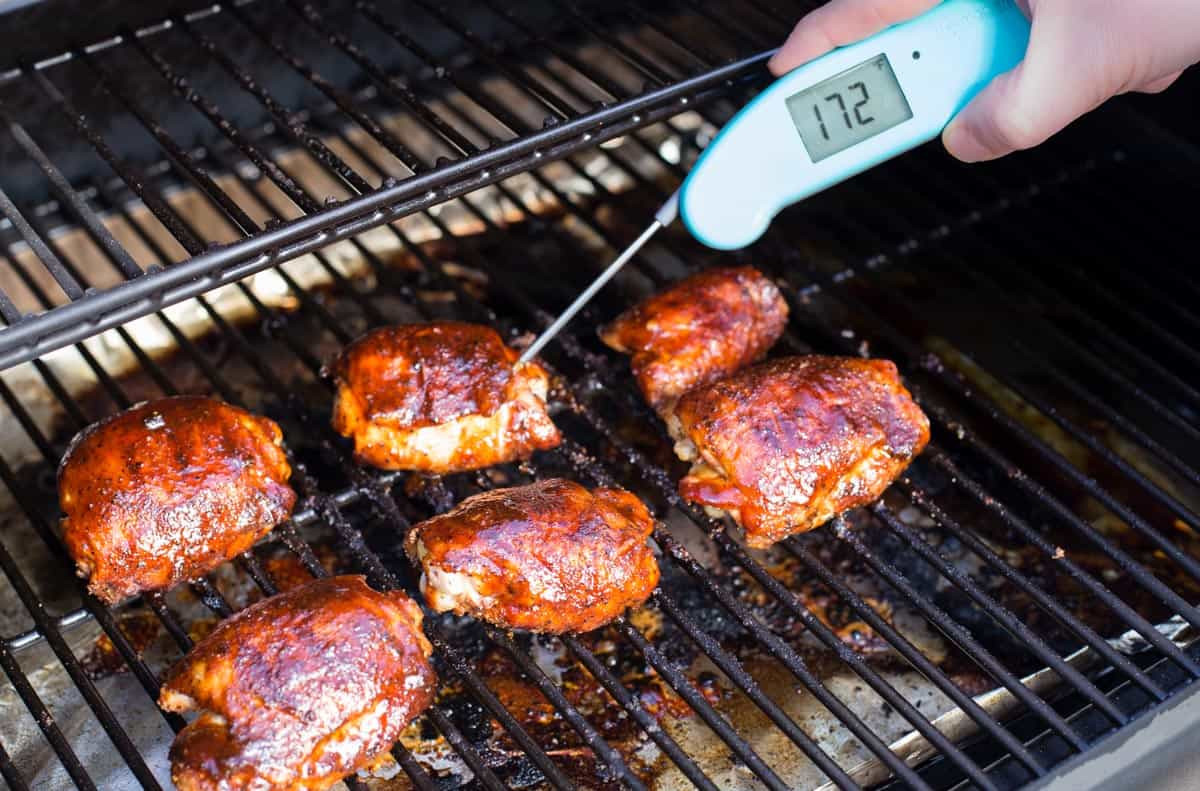 Chef's Note: Starting the thighs skin side down helps to render fat out of the skin faster, helping achieve crispy skin. You can also use our grilled chicken wing method which adds corn starch to the rub.
Wine Pairing for Traeger Grilled Chicken Thighs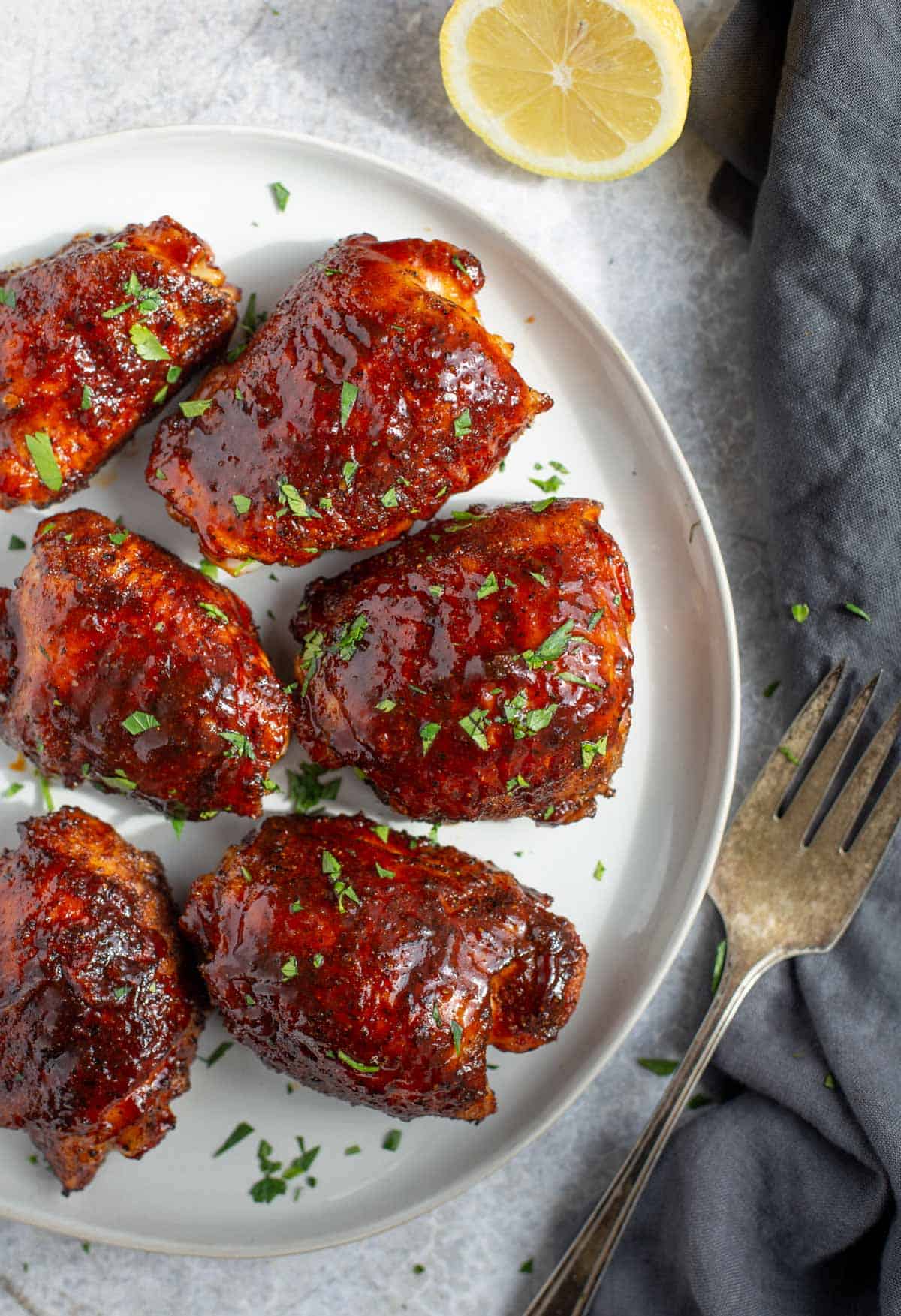 This chicken dish comes out super juicy and tender, with a nice sweet bite from that glaze, and a mild smoke infusion. A few of my favorite wines to try for this recipe:
Côtes du Rhône Red Wines — These wines come from Southern France, are generally based on Grenache or Syrah grapes, and tend to be affordable, easy drinking, and food flexible. They can be fruity but also tend to have some smoky or earthy tones, which work well with smoked or grilled meats.
Fruity Rosé — If you're looking for something refreshing, try a bolder style rosé. The light (Provence style) gets lost in the vibrant flavors of the chicken. You can stick with the Rhône theme and go with a Rhône rosé, but the dish would work equally well with a Spanish Rosado.
Other Pellet Grill Recipes
We have a host of pellet grill recipes that make some outstanding barbecue.
Other Grilled Chicken Recipes
Modify this recipe with any of our sauces.
---
This post may contain affiliate links. This means if you click on the link, we may receive a small commission if you purchase through the link. We partner with brands we know and love and use and it helps keep the blog going!
If you like this recipe we'd truly appreciate it if you would give this recipe a star review! And if you share any of your pics on Instagram use the hashtag #vindulge. We LOVE to see it when you cook our recipes.
This post was originally published in June 2015, and updated in April of 2022 with new photos, recommendations, and adjustments to the glaze.