What could be better than a classic Cuban Sandwich Recipe? You know, the pressed sandwich made with roasted pork, ham, Swiss cheese, pickles, mustard, served hot on a soft French Roll. A smoked Cuban Sandwich made with smoked pork shoulder!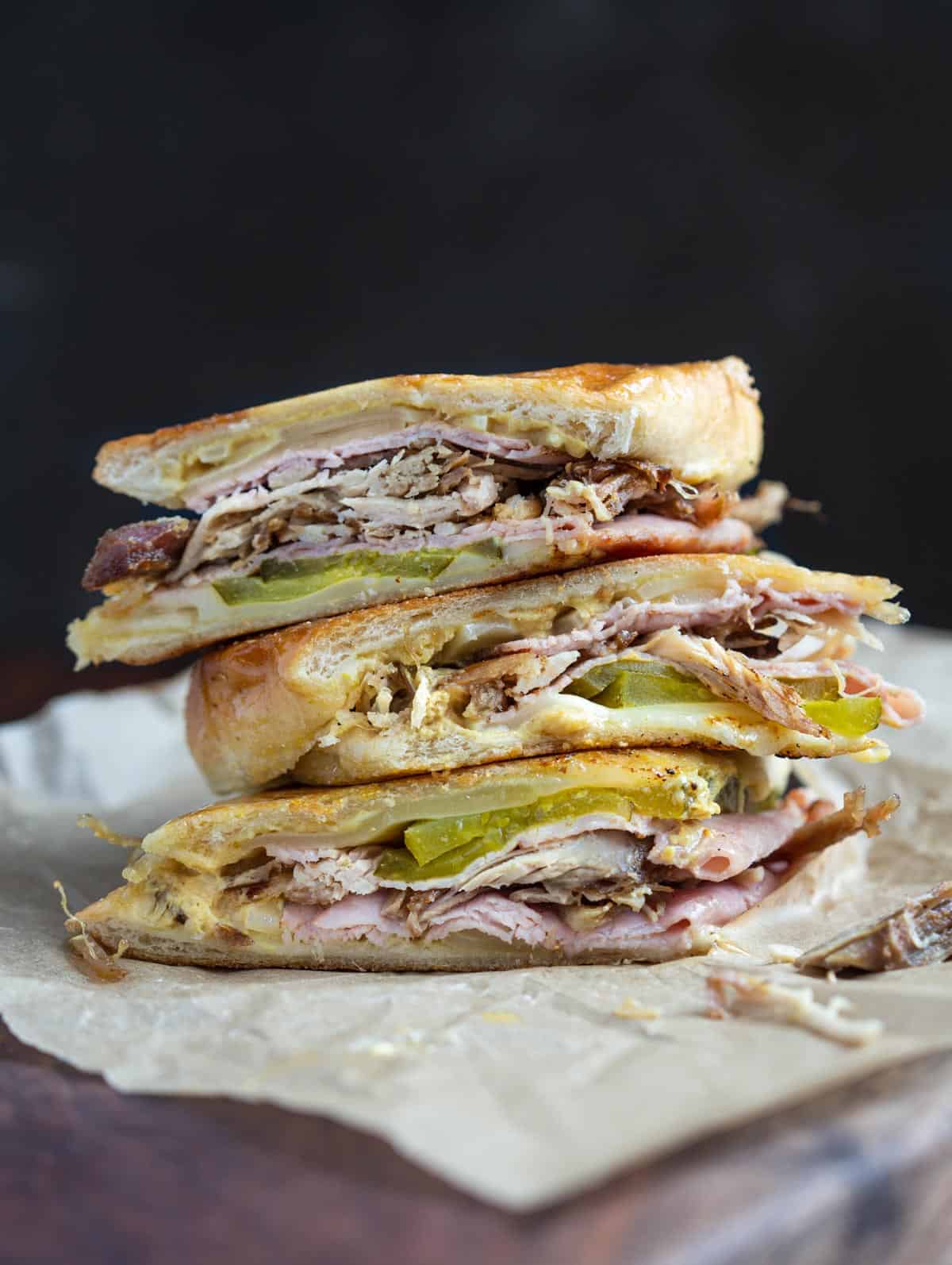 This has to be one of the best pork sandwiches out there. A classic Cuban sandwich with a toasted and pressed soft roll filled with the zesty bite of pickles, ham, tender smoked pulled pork, and tangy mustard.
Jump to:
Why This Cuban Sandwich Recipe Works
Smoked Pulled Pork adds incredible flavor to the sandwich and is a great way to use leftover pulled pork.
A soft roll like a French roll or Banh Mi roll make the texture of the sandwich authentic and easy to press for a tender bite.
Simple, yet flavorful, ingredients give the bite and added texture.
You can make this recipe on the stove top without a special panini press.
The flavors can be enhanced easily with your favorite toppings.
We first tried to make this sandwich traditional way, with a marinade and roasted in the oven. The sandwiches came out great, but they weren't authentically us (meaning they weren't smoked!).
Next time we smoked a pork butt the way we usually do, but instead of pulling the pork meat, we removed the pork from the smoker early and sliced it into thick slices. The sandwiches were good, but the pulled pork seemed to have better texture versus thick slices.
That's when we realized the pulled pork has a better texture when used in combination with the sliced ham, and so the sandwich has a better meat ratio, so it isn't too thick with a pork steak.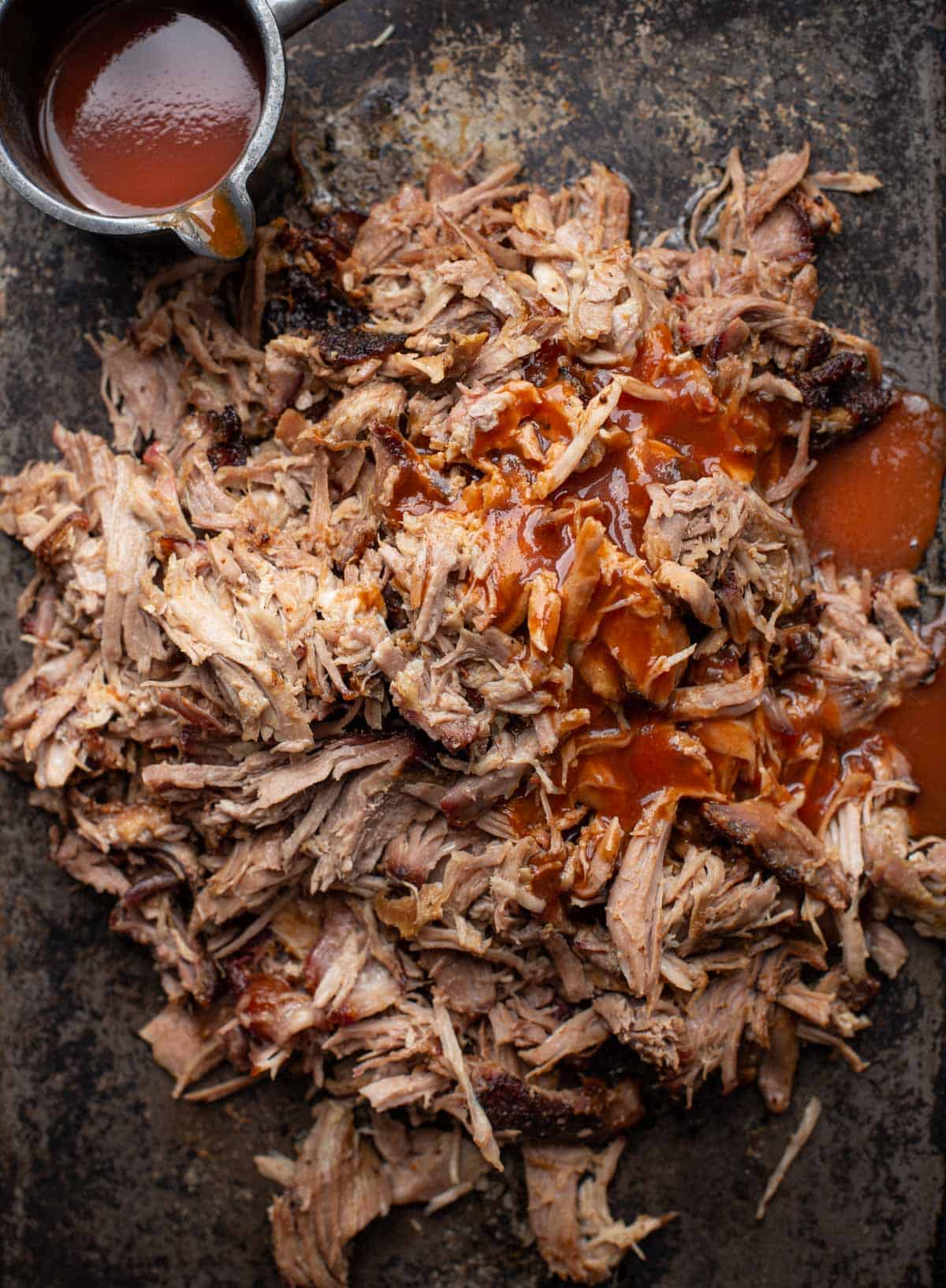 What is a Cuban Sandwich?
A sandwich that originated in Cuba and made its way to Florida, and comprises of bread, ham, pork, Swiss cheese, pickles, and mustard. It's very popular in South Florida with lots of variations. Often the pork shoulder is marinated in a mojo sauce. For a full breakdown you can check out this article from Thrillist.
Ingredients
With so few ingredients, it's important to use good quality when buying. Here are the basic ingredients for a Cuban Sandwich.
Meat
The two types of meat: pulled pork, and thick sliced Black Forest ham. Black Forest ham has the right blend of salt and flavor versus other styles of ham. But you can use whatever you have available. Try to find thicker slices when buying from the deli.
For the pulled pork we have a few recipes to select from. Just use the leftovers from any of the following to make the sandwich.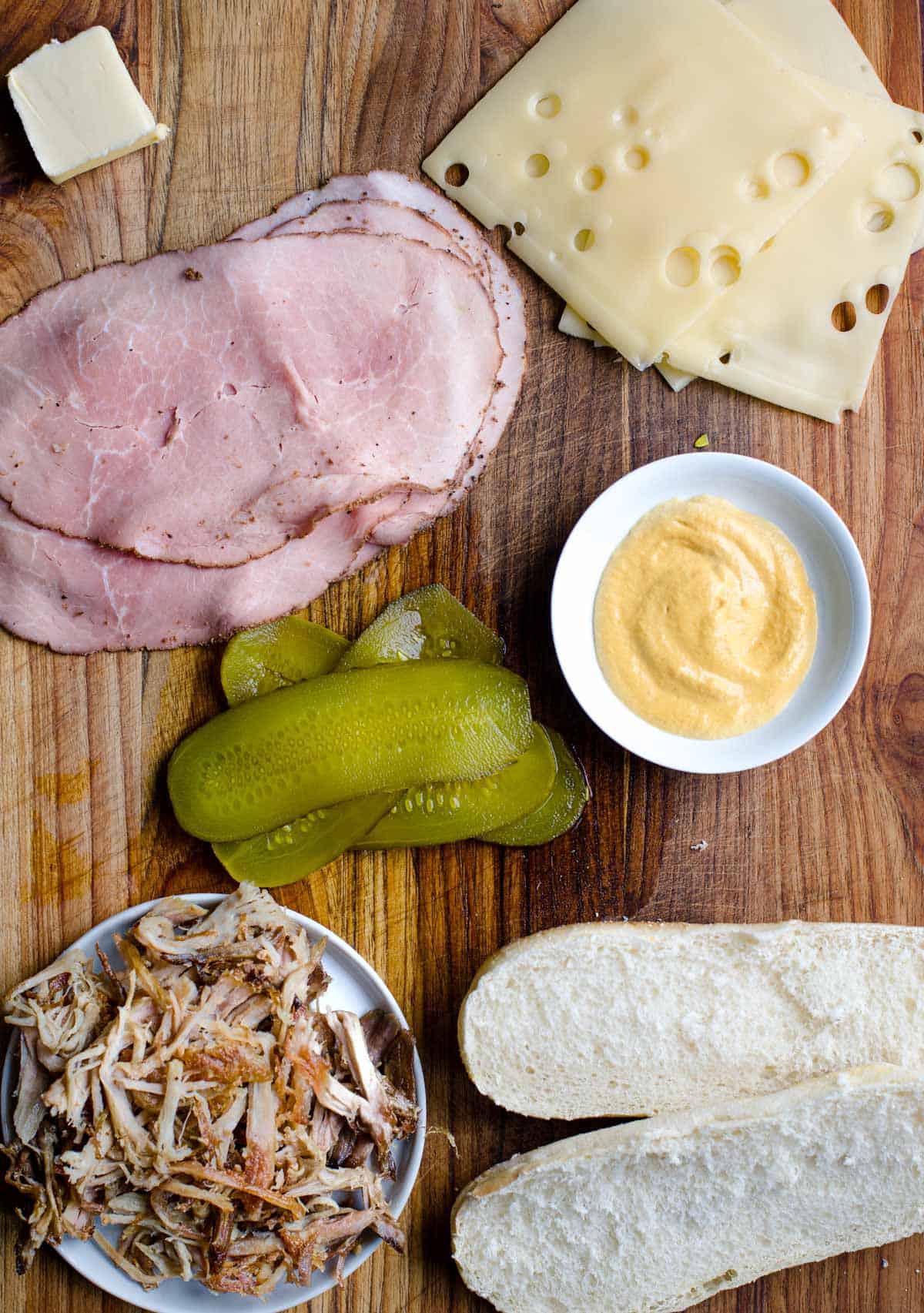 Mustard
After going back and forth on Dijon vs. yellow mustard (the traditional mustard for a Cubano) I believe it truly comes down to your taste preferences. We are big Dijon fans and love the spicy zing it brings to these sandwiches. But if you prefer the traditional taste of yellow, go for it. It's your Cuban sandwich after all. If you want an even more fun experience try a jalapeño mustard.
Pickles
The next most important element, after the meat, is the pickles. Yes, the pickles! I can't tell you how many jars of pickles we've gone through to find "the" one. We tried fancy artisan pickles, pickles from the farmers market, imported pickles. And you know what? My favorite pickles were the most generic of all. Regular dill pickles you can find at every grocery store from the Atlantic to the Pacific. We find the best pickles are those with a white vinegar base and are not sweet.
Cheese
Classic Swiss is pungent and amazing when melted. It also doesn't overpower the sandwich like cheddar, or flavorless like a mozzarella.
Bread
We tried fancy rolls purchased at Whole Foods. We tried cheap 'ol buns from the supermarket. But when we found these Banh Mi rolls purchased at a French Vietnamese Bakery near our house (true story), that's when we finally made a breakthrough.
They are soft on the inside, but when coated with butter and cooked on the grill pan (or Panini press) they create the perfect crust crunch on the outside, soft and smooth on the inside. Yes please! Can't find these? Go French Bread. Often you can buy them with the regular bread near the hamburger buns.
Bring all these elements together – the perfect tender smoked pulled pork, your favorite pickles, Dijon (or yellow) mustard, Swiss cheese, deli sliced ham, a little bit-a-butter for the bread, and the perfect bun – well, friends, you've got yourself an incredible Smoked Cuban Sandwich.
How to Make a Cuban Sandwich
This recipe is for using a grill pan versus a panini press.
Preheat a cast iron skillet on medium/medium high heat.
Cut rolls in half, lengthwise.
Start layering the sandwich: First apply the Dijon mustard to both sides of the roll. On one side of the roll layer with 1 slice of Swiss cheese (you may need to cut cheese in half for the length of the sandwich), and then add ¼ lb pulled pork (from smoked pork above) to one side of the sandwich.
Next add ham and sliced dill pickles to the same side as the pulled pork, and then top with another slice of Swiss cheese. Finish by adding salt and pepper.
Cover with the top of the roll, and then slather butter on the top and bottom of the outside of the rolls. This is important to get the rolls crusty but not burned.
Cook sandwich: Place sandwich onto the skillet and press down with a heavy object like a cast iron pan or a small brick wrapped in foil. Cook 4-5 minutes, then flip and repeat by pressing the other side of the sandwich with a heavy weight. Cook until the crust forms and the cheese is melted (about 4-5 minutes per side).
Serve warm: The sandwich will press down flat and have a nice toast to it, the Swiss cheese on both sides melting act like a glue, so be sure it's melted enough.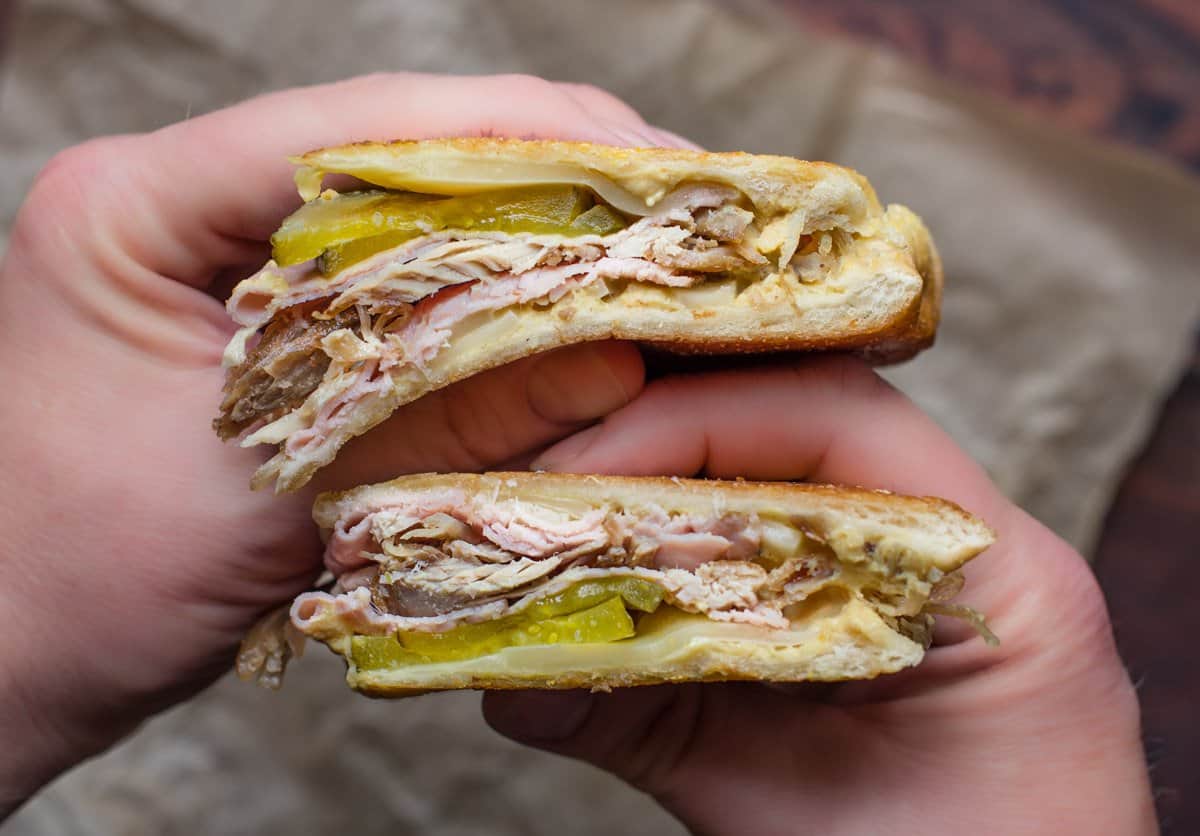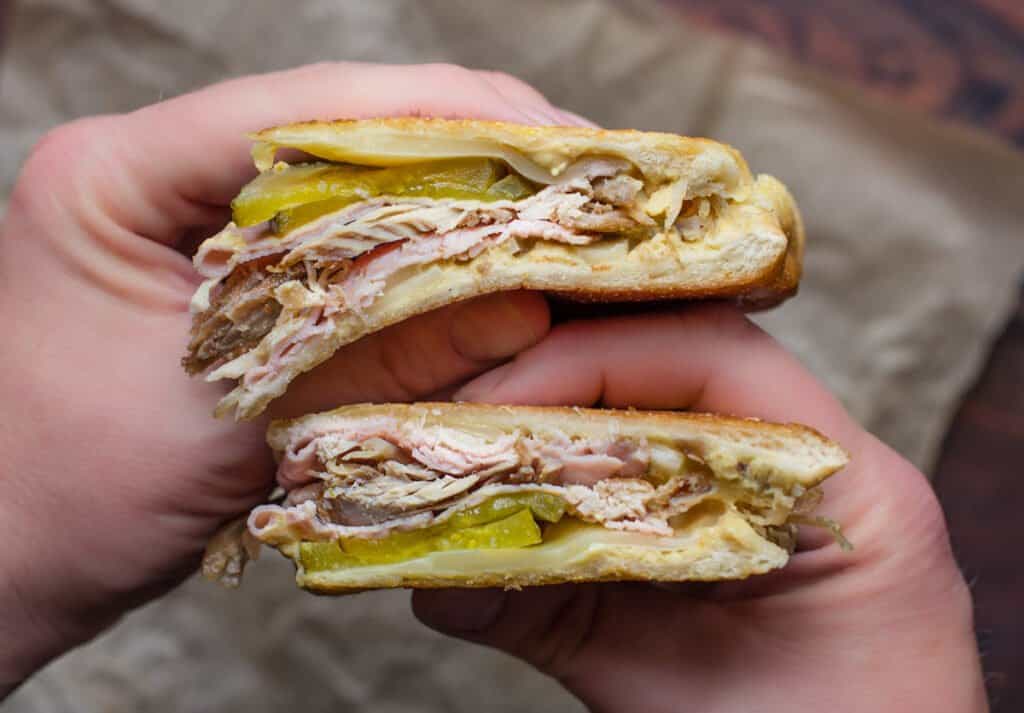 Wine Pairing
Oregon Pinot Noir is great for Cuban Sandwich, or you can enjoy a Carneros (California) version. You'll find more richness and power to the fruit. You want something that won't overpower the subtle smokiness and juiciness from the pulled pork mingled with the melted Swiss cheese and salty deli ham, but you do want something with enough fruit and good acidity to stand up to the various flavors from the sandwich.
The natural acidity of most Oregon Pinot Noir will be a fine match to the mustard and the pickles. Steer clear of the more earthy Pinots from the Burgundy region for this dish. Stick to the fruity New World style.
White? Incidentally I also tasted these sandwiches with a most unlikely pairing, a Gewürztraminer. Or for a casual afternoon pairing try a dry rosé. I'm a huge fan of rosé and pork. The berry fruit and acidity will be a great match for these Cuban Sandwiches.
---
This recipe was originally published in February 2015, and updated in 2022 with new photos, video, and, more details. The recipe remains the same.
If you like this recipe we'd truly appreciate it if you would give this recipe a star review! And if you share any of your pics on Instagram use the hashtag #vindulge. We LOVE to see it when you cook our recipes.
---