Inspired by the celebratory Hawaiian dish, this Kalua Pork recipe is made with pork shoulder (pork butt) seasoned with Hawaiian Pink Salt, wrapped in banana leaves, and cooked on the smoker for hours until pull-apart tender.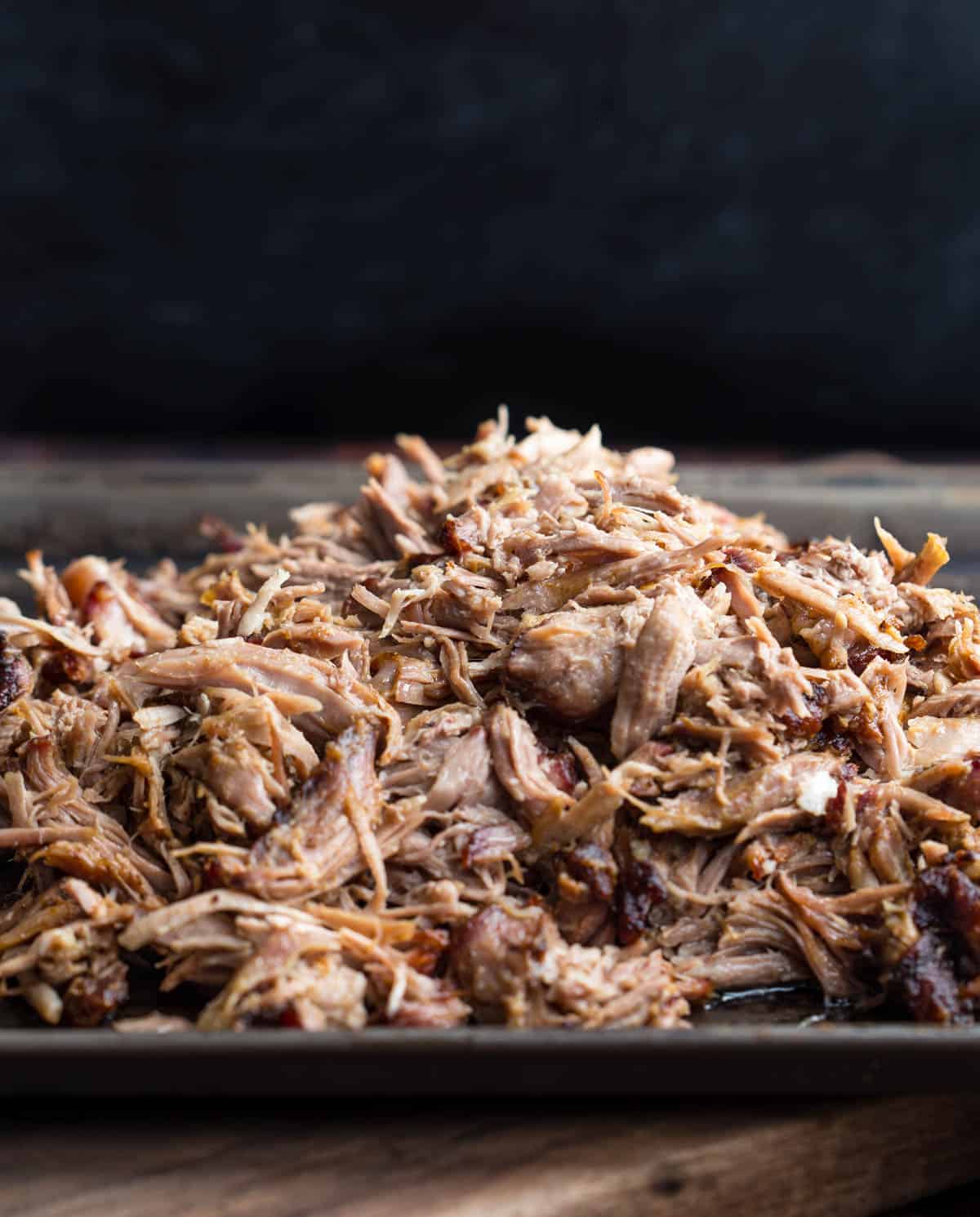 Anytime we travel, we come home inspired by local foods and dishes. And in Hawaii, we always get inspired by the authentic Kalua Pork you'll find there.
Kalua Pork is an ancient style of cooking pork in an earthen pit wrapped in banana leaves, among other local leaves. This recipe modifies that style of cooking by using a smoker. Pork shoulder is seasoned with Hawaiian Pink Salt, wrap in banana leaves, and cooked on a grill or smoker for hours until pull apart tender. It is then served with your favorite sauce and sides for your own luau inspired meal in your backyard.
Jump to: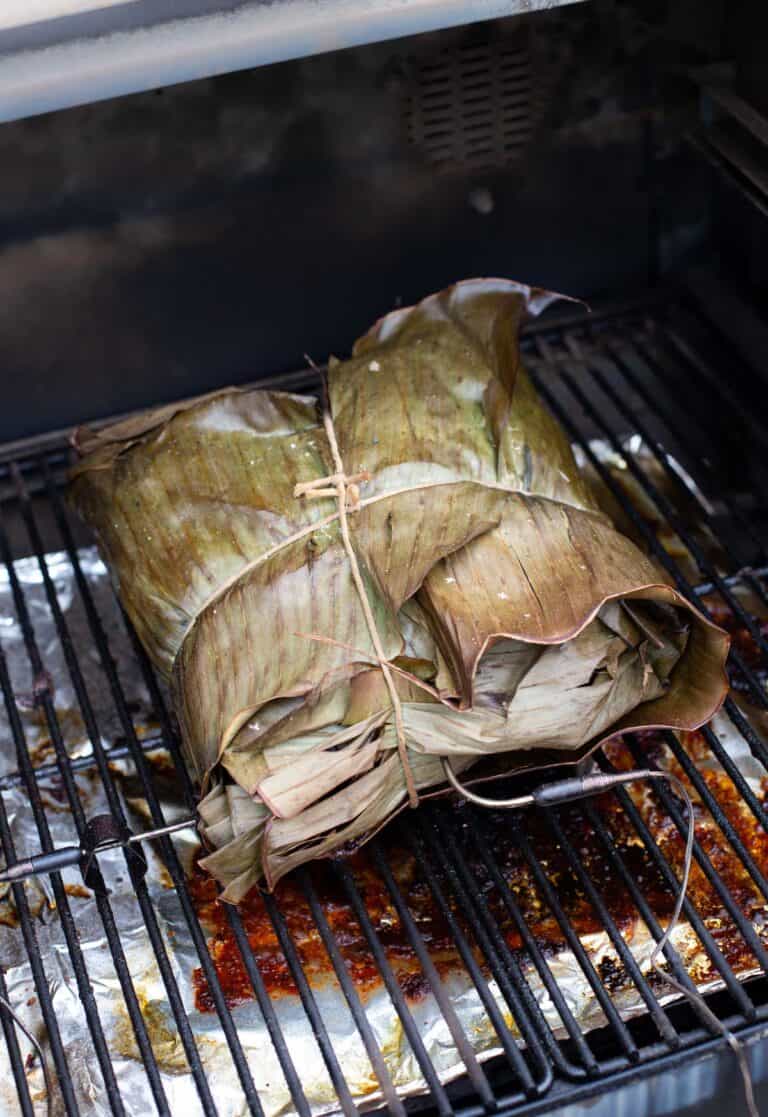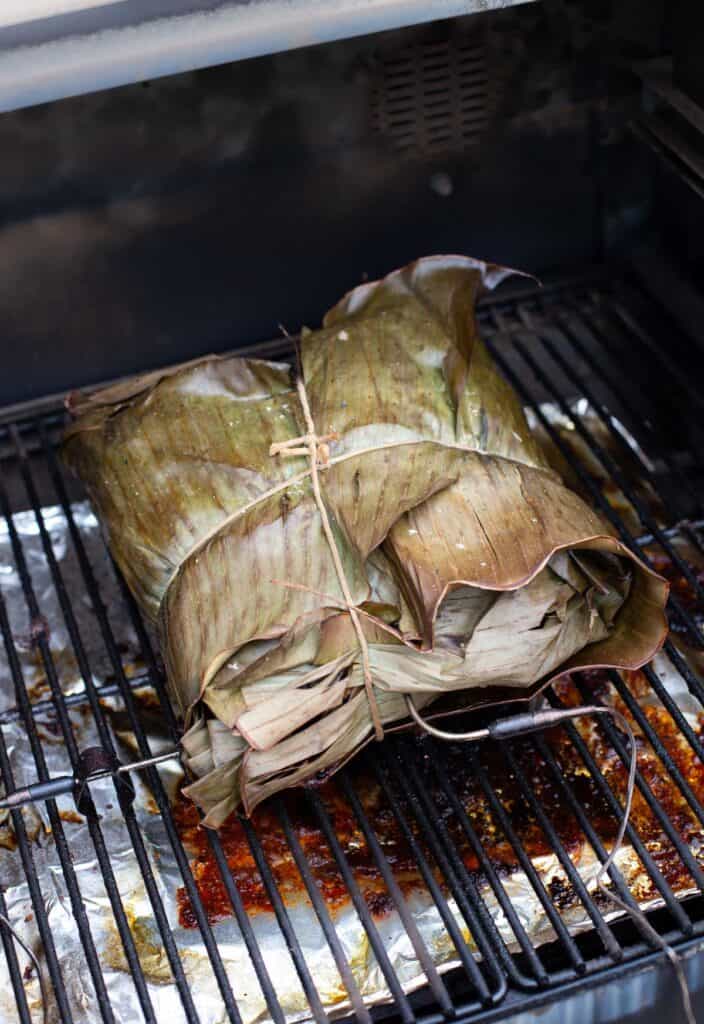 What is Kalua Pork?
Kālua is a Hawaiian method of cooking that involves an imu, or underground oven. It has nothing to do with flavors of the liqueur. The imu is set up as a deep pit that is lined with charcoal and rocks, and the pork (or chicken in some cases) is wrapped in banana leaves and vegetation and then left to slowly roast while covered.
This classic method is difficult to achieve for most home cooks and backyard grillers. So many recipes online will adapt the style of cooking by using an oven and adding liquid smoke to mimic the smoky flavor achieved by the traditional underground process. But in order to get a more true earthen flavor, we are making this Kalua pork recipe in an actual smoker (and avoid using liquid smoke).
Ingredients
There are only three ingredients we're using in order to mimic classic Kalua pork. It may seem basic, but with good salt, you will find the flavor is incredible with such a simple seasoning.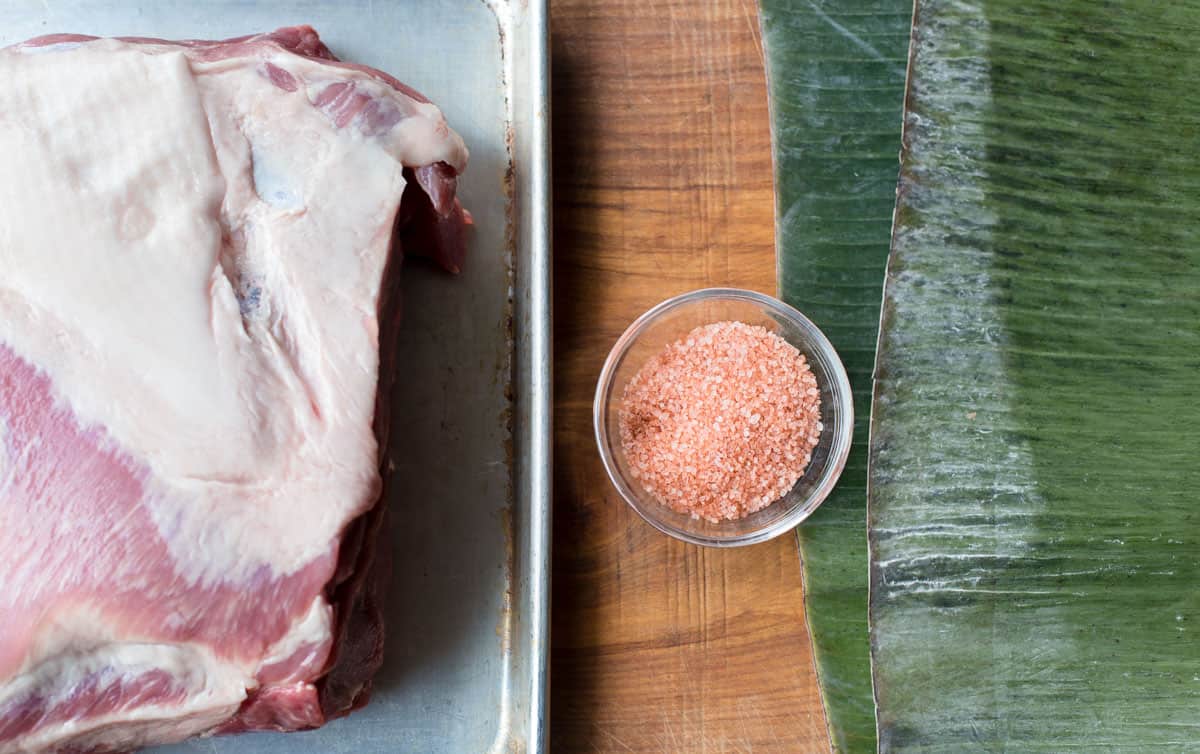 Banana Leaves – The banana leaves are for wrapping the shoulder and letting it steam and infuse flavor into the pork. Most often a specialty grocery store have them in the freezer, or you can usually find them at your local Asian grocery store. We've tested this recipe with and without banana leaves, and definitely prefer the flavor and moisture from the banana leaves. See more below.
Hawaiian Pink Salt – For authentic flavors, season only with Hawaiian pink salt. Their larger crystals and has a very briny flavor. You can find this at many grocery stores or online. Alternatively you can use Himalayan style pink salt as well.
Pork Shoulder – We use a 6 to 7 pound whole pork shoulder. You can use boneless or bone-in. The flavor is the same, but it's generally easier to work with bone-in shoulder when wrapping.
Preparation
Be sure your banana leaves are defrosted and that you have access to butcher or kitchen twine ready to go.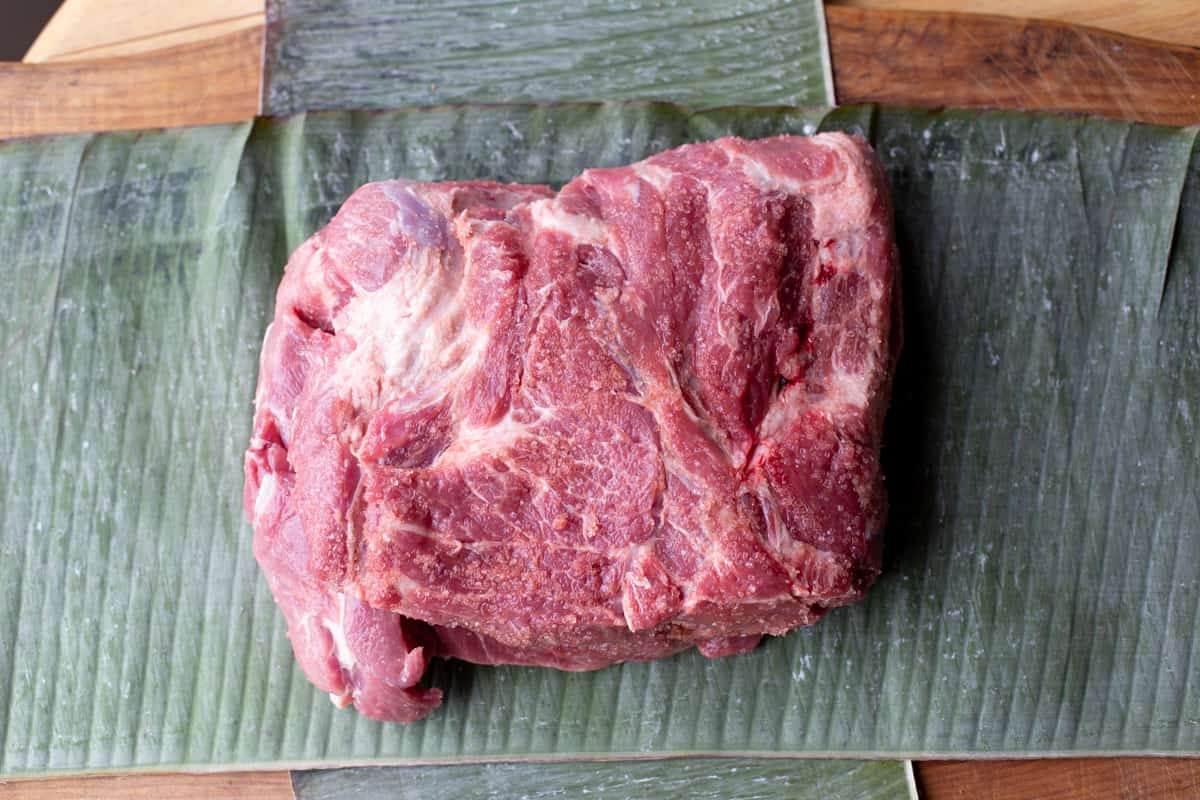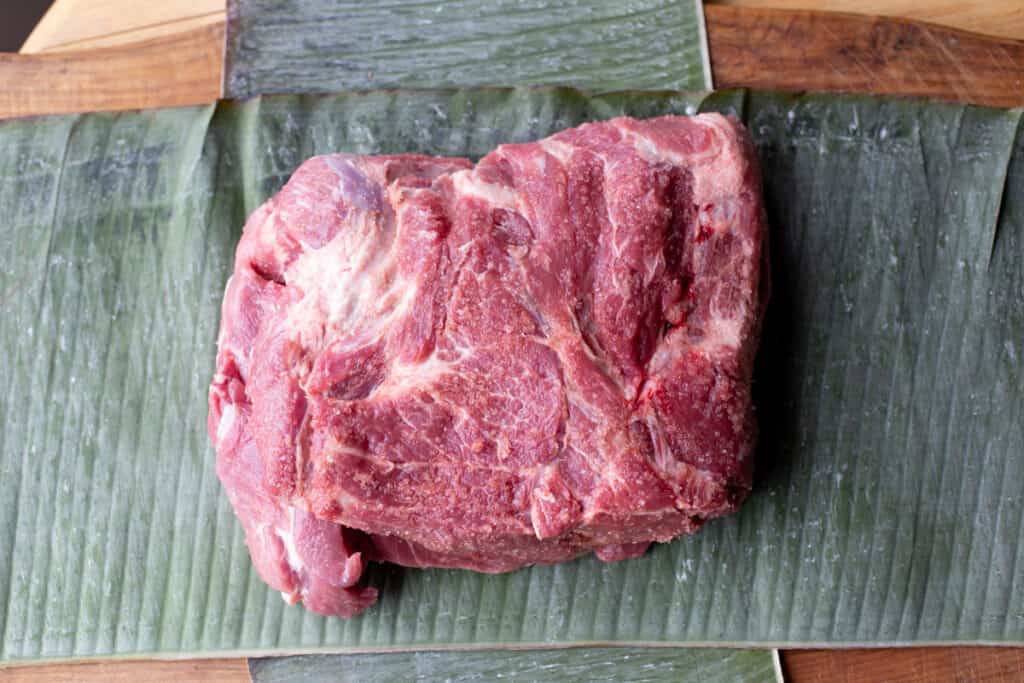 The evening before cooking, trim excess fat and any glands off the pork shoulder. Leave ¼ of the fat cap on the top of the shoulder. Liberally season with the salt.
Lay out the banana leaves in a cross pattern and place the pork shoulder in the center. Then carefully wrap the shoulder. We like to wrap one side, and then wrap the other and then tie it down tightly. Ideally the entire shoulder is wrapped and not exposed.
Then store in the refrigerator overnight so the salt dry brines the pork.
How to Make Kalua Pork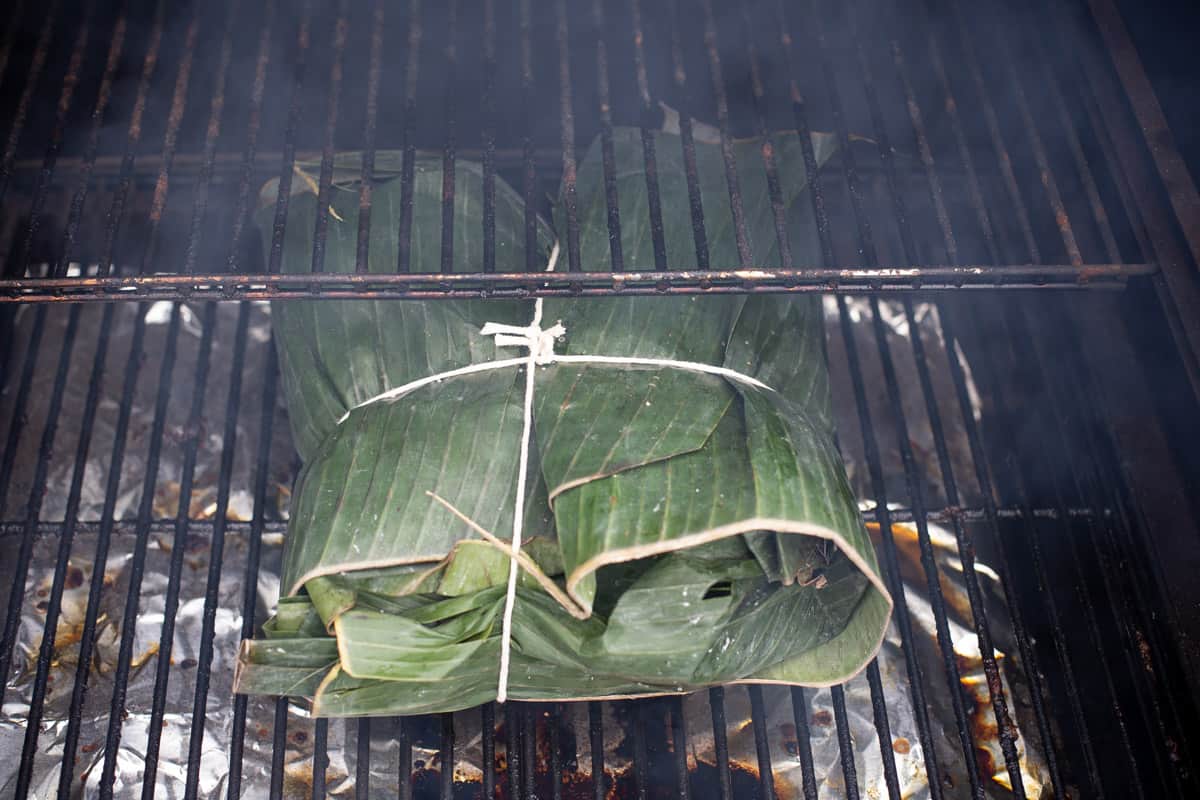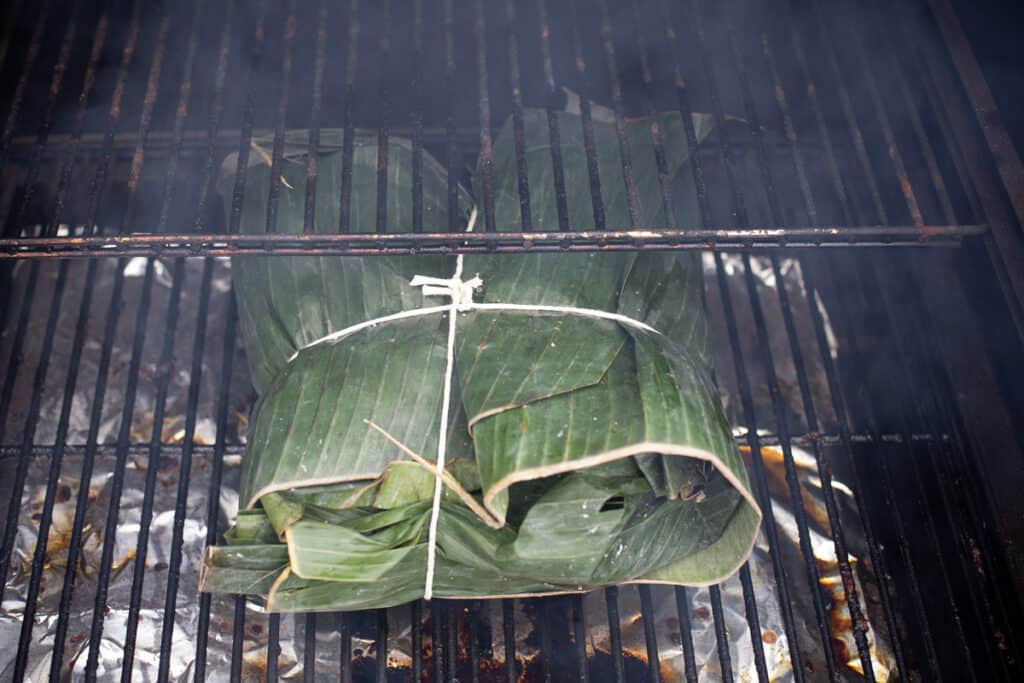 Prepare the smoker at 275 degrees Fahrenheit, using oak or a fruit wood. Remove the wrapped pork shoulder from the refrigerator as the smoker comes to temp.
When the smoker comes to temperature, place the wrapped pork shoulder on the smoker and insert a good digital thermometer to monitor the cooking temperature, like the Thermoworks Smoke or Smoke X unit.
Continue smoking until the internal temperature of the pork reaches 190 degrees Fahrenheit. At that point, use an instant read thermometer like the Thermapen One and test the temperature in a few places. Ideally when using the instant read thermometer it should feel like your inserting the point into room temperature butter. That is when the shoulder is done. This can range from 190 to 205 degrees Fahrenheit or after cooked about 8 hours.
When it reaches the correct temperature and texture, remove from the smoker and then let it rest for 30 minutes. Cut away the leaves and discard. Then using your favorite pork pulling tool and shred. As you shred, discard any excess fat, bone, and cartilage.
Serve with your favorite sides.
Wrapped Versus Unwrapped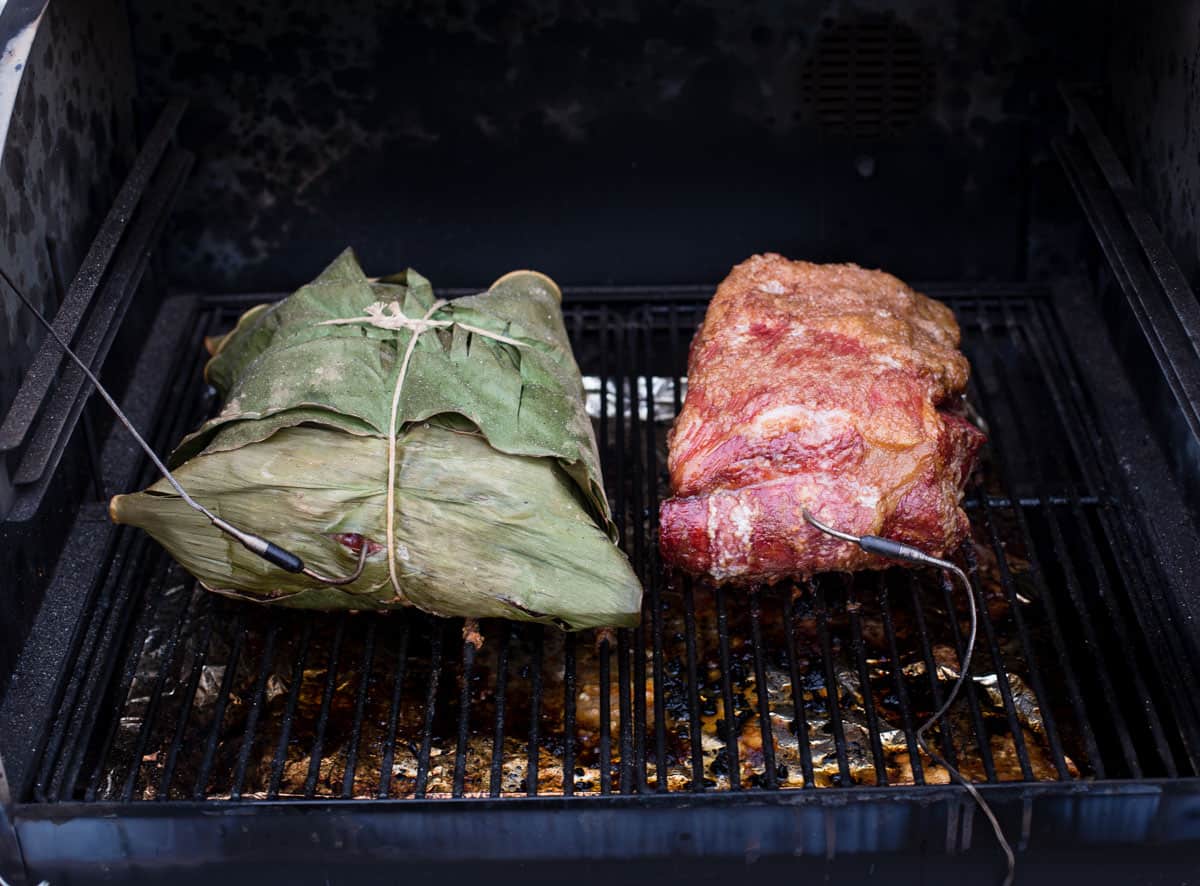 We tested a wrapped and unwrapped pork shoulder to understand the flavor difference the banana leaves bring. And the leaves provide a slightly sweeter and more authentic flavor to the pork versus just smoking and then wrapping in butcher paper. The pink salt also brings a ton of flavor as well versus say a more traditional BBQ pork shoulder recipe.
Serving and Sides
You can serve as is, or add your favorite island style barbecue sauce. Turn into a sandwich or serve with rice.
---