There is no better dish to serve off the smoker than tender and properly smoked pulled pork. But sometimes you want to keep it simple. This recipe outlines the easiest way is to smoke a pork butt, by simply seasoning the pork shoulder and then placing on a smoker until it's done. But to go from good to great, you need to follow a few key steps.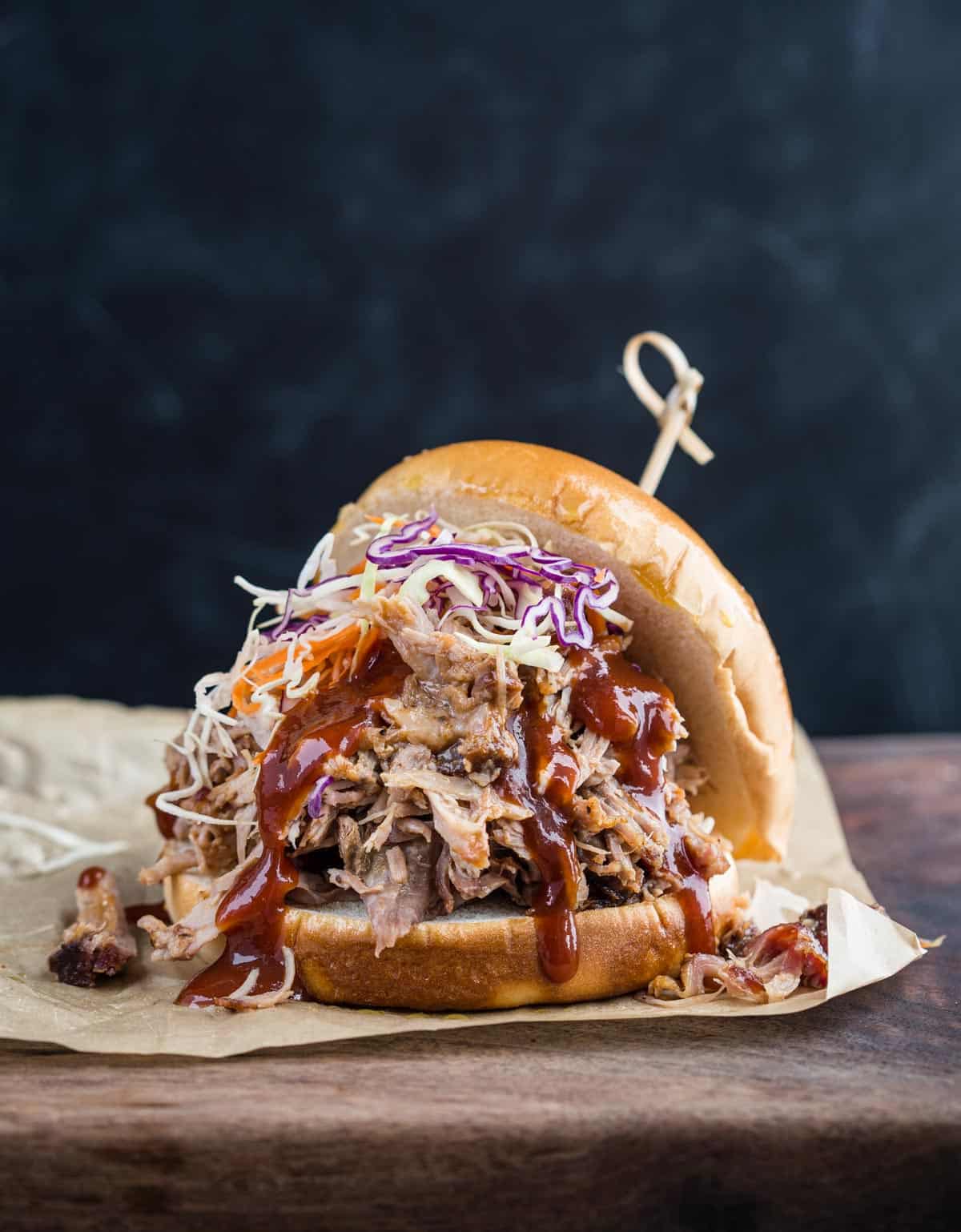 We have smoked well over a thousand pork shoulders (also called pork butt) between our catering business, test cooking, and our cookbook. And when we do demos or classes, a common question we receive is how we achieve a good smoke flavor, tender meat, and the juicy finish. There are many ways to achieve this, like our classic Smoked Pork Shoulder (Pork Butt) recipe where we inject and wrap it to speed up the cooking process. But sometimes you want to keep it easy, and avoid wrapping or injecting. This recipe is for you. It's all about easy. And after mastering this recipe you can modify away based on your flavor preference and how much time you have.
Jump to:
The Cut
Smoked pulled pork comes from the pork shoulder. The pork shoulder can come in a few cuts. The easiest to use for this pulled pork recipe is the bone-in pork shoulder (or Boston Butt). You may also see a pork picnic, which is the entire shoulder and upper portion of the leg. While you can use this recipe on a picnic, it will take longer and require more trimming. So it's easiest to just grab a simple pork shoulder.
Bone-in keeps the shape of shoulder consistent, which allows for more consistent cooking as the roast slowly comes up in temperature.
Boneless Modification: If you only have access to a boneless pork shoulder, modify as follows:
After seasoning the shoulder, tie the shoulder together tightly so that it resembles a large rectangle with kitchen twine. The goal is consistent size and shape.
Adjust cooking time down as the boneless shoulder MAY cook faster by about an hour. However, monitor the internal temperature and texture to be sure you remove when done. See FAQ for more details on timing.
Other cuts to AVOID when considering pulled pork:
Ham – See FAQ. While technically you can pull a ham, it's much easier and tender using the shoulder.
Pork Loin – Pork loin is lean and incredibly tender. It's best suited for reverse searing or grilling.
Pork Belly – While incredible fat and meat ratio, the pork belly is better suited for burnt ends or grilling.
Sourcing
When purchasing a shoulder locally, be sure you look for marbling. The lines of intramuscular fat should be visible and a fresh pack date should be on the label. It should also have a vibrant pink color. It should not be grey. Be sure the fat cap on top of the shoulder is not overly thick as you don't want to pay for something you are trimming off.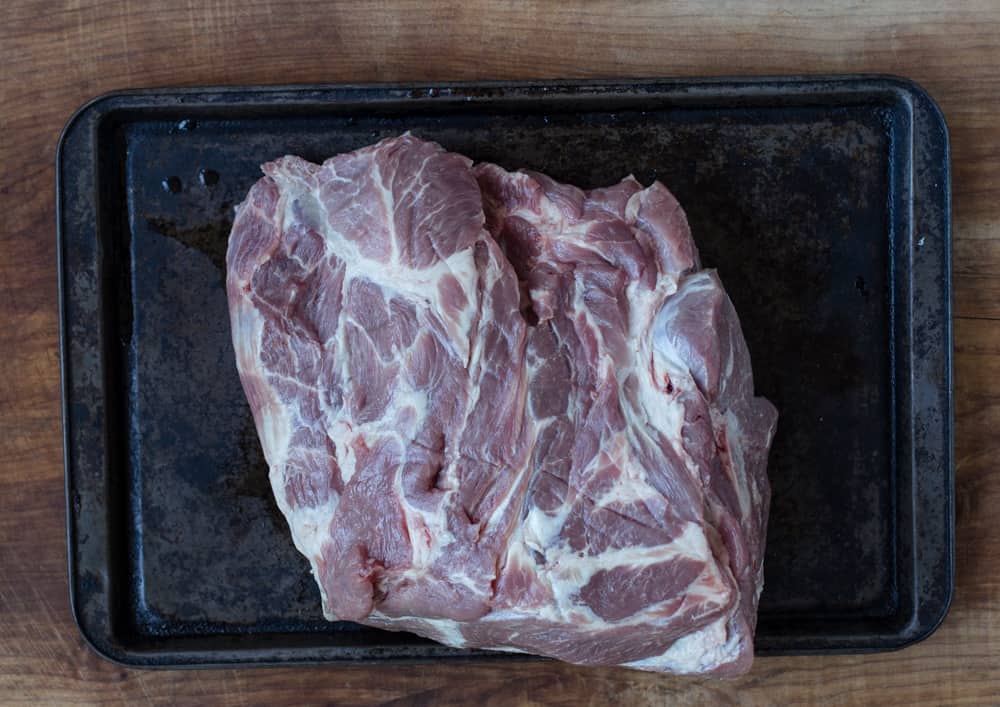 You can also source online for amazing pork. Snake River Farms produces some rich and juicy Kurobuta pork shoulder with incredible buttery flavor. D'Artagnan, who provides meat for some of the most popular restaurants in the US, also has incredible Berkshire pork shoulder which can be purchased fresh or frozen for home delivery.
If you are cooking for a crowd consider purchasing one pound of meat for every two people. So for 20 people, have 10 pounds of pre-cook weight shoulder. For any planning, target roughly ½ pound of meat per adult for total protein weight.
Preparation and Seasoning
The easiest way to prep the pork is to remove some of the fat cap, and be sure there are no glands or other fat pockets that hang off the shoulder.
Use a sharp boning knife to remove large fat pockets off the fat cap. Leave no more than ¼ inch of fat. Also run your hands along the sides and remove any cartilage, fat pockets, or glands that are visible or stick out. The goal is an even square or rectangle.
Apply the mustard all over the pork. This acts as a binding agent that will help the dry rub stick.
Liberally apply the dry rub to all sides of the pork shoulder.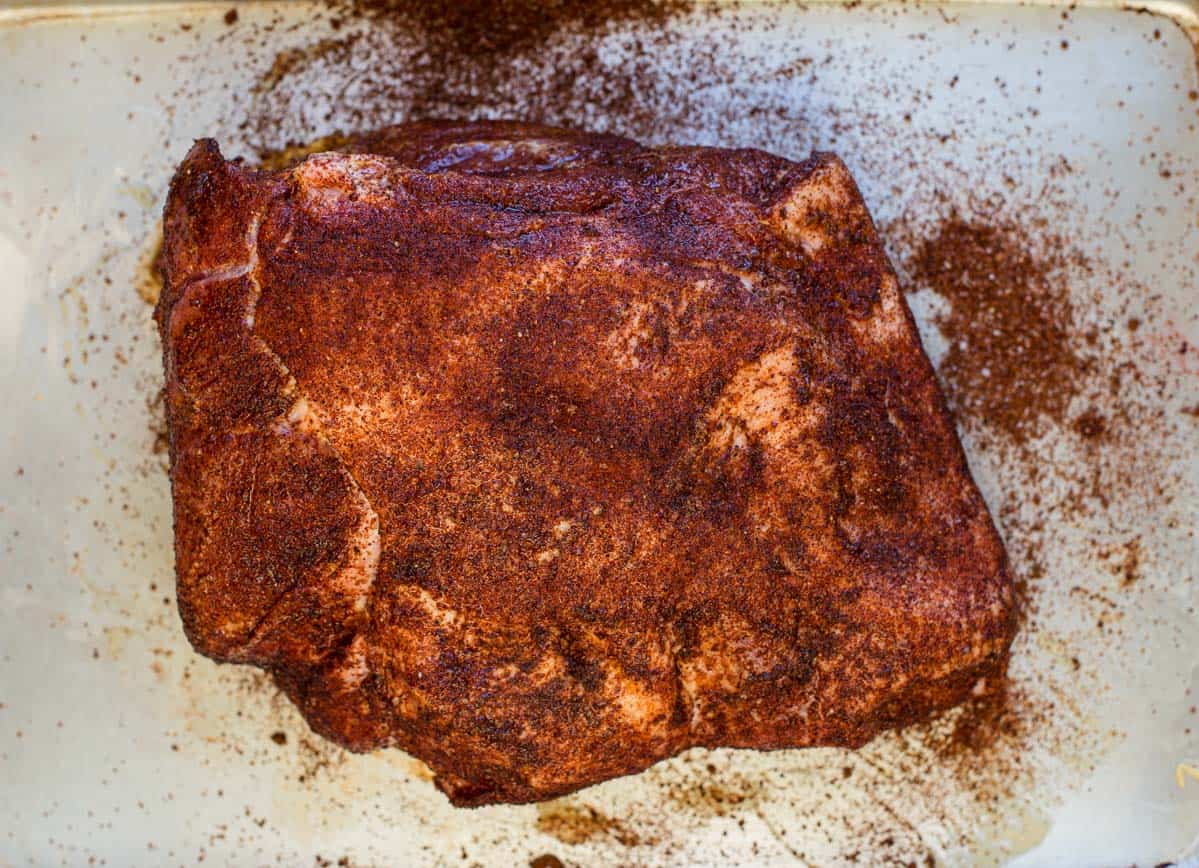 Smoking
Prepare the smoker targeting 250 degrees Fahrenheit. We recommend oak or a fruit wood like apple or cherry for a balance of sweet and smoke.
Insert a Bluetooth probe thermometer into the pork shoulder, like the Thermoworks Smoke Unit. This will relay the incremental increase in the pork temperature while also having a probe that monitors the temperature of your smoker. NOTE: Be sure the probe is not touching the bone, and measures the center of the cut.
Place the pork shoulder on the smoker and close the lid. Now you sit and wait. Plan one hour of cook time per pound of meat. After the internal temperature of the shoulder reaches 190 degrees F, it's time to start probing the meat with an instant read thermometer like the Thermoworks One Thermapen.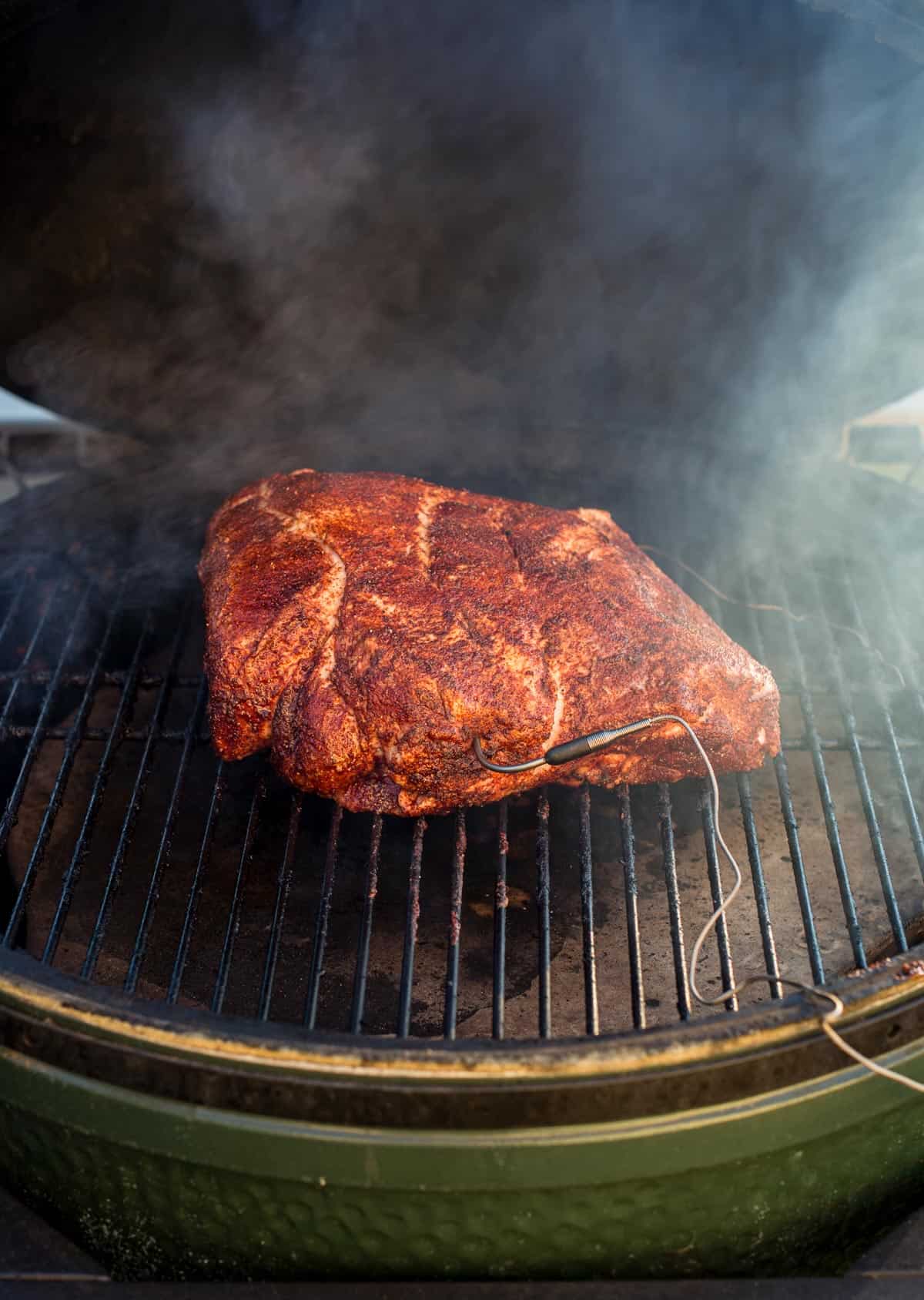 Fat Separation – As the pork cooks the fat may start to split. This is completely normal. As the pork renders, it naturally starts to shrink and so the fat pockets around the bone may show.
Technique for final temperature check – Even though you are using a Bluetooth device, that only records the temperature in one place of the meat. To supplement that, use a good instant read probe in other parts of the meat. You want to insert the thermometer into the thickest part of the pork shoulder in a few places and it should feel as if you are inserting into room temperature butter every time. If parts of the pork is 200 degrees and others are 186, then continue smoking until you have that feel in all parts. Typically we see this around 203 degrees.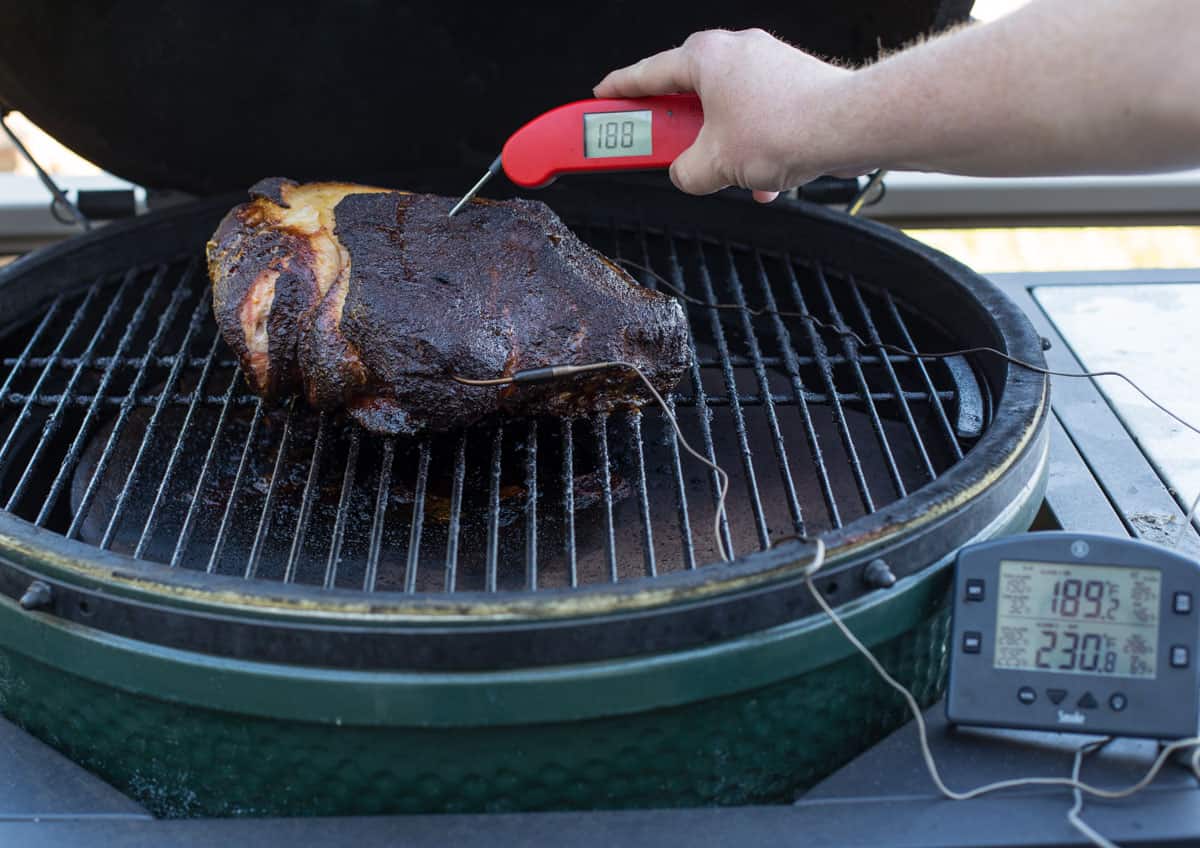 Pro Tip – Another reason we like bone-in shoulder is because we pull on the bone. When it easily starts to slide out of the shoulder cleanly, we know the shoulder is done. We recommend temping however to avoid overcooking.
The Stall – What to Expect
The stall is when the pork shoulder slows down the cooking process and you have incremental increases in the internal temperature. This usually occurs when the internal temperature of the pork is between 165 and 180 degrees F.
The stall is normal, and you just wait it out. What is happening is that the intramuscular fat is rendering and while it liquifies it is cooling the meat while the meat is also warming up from the ambient temperature of the smoker. You just wait until it finishes rendering and then you will quickly see the temperature start to rise again after 180 degrees.
Rest and Pull the Pulled Pork
Once the pork shoulder has reached the desired texture and temperature, place it into a cooler that is lined with foil (with no ice). Close the lid and let it rest for one hour BEFORE pulling. This resting period allows the pork to settle, slowly decreasing the heat and making the pull process easier and still retaining the moisture level.
If your pork is done early, you can also hold your pork up to four hours in the cooler before pulling.
Place the pork in a large pan or baking dish. Using large forks or your favorite pork pulling tool, gently pull on the meat in large chunks. Remove any bone, cartilage, or fat, and discard. Using your hands then pull the larger chunks into smaller pulled pieces and then serve with your favorite sauce or as is.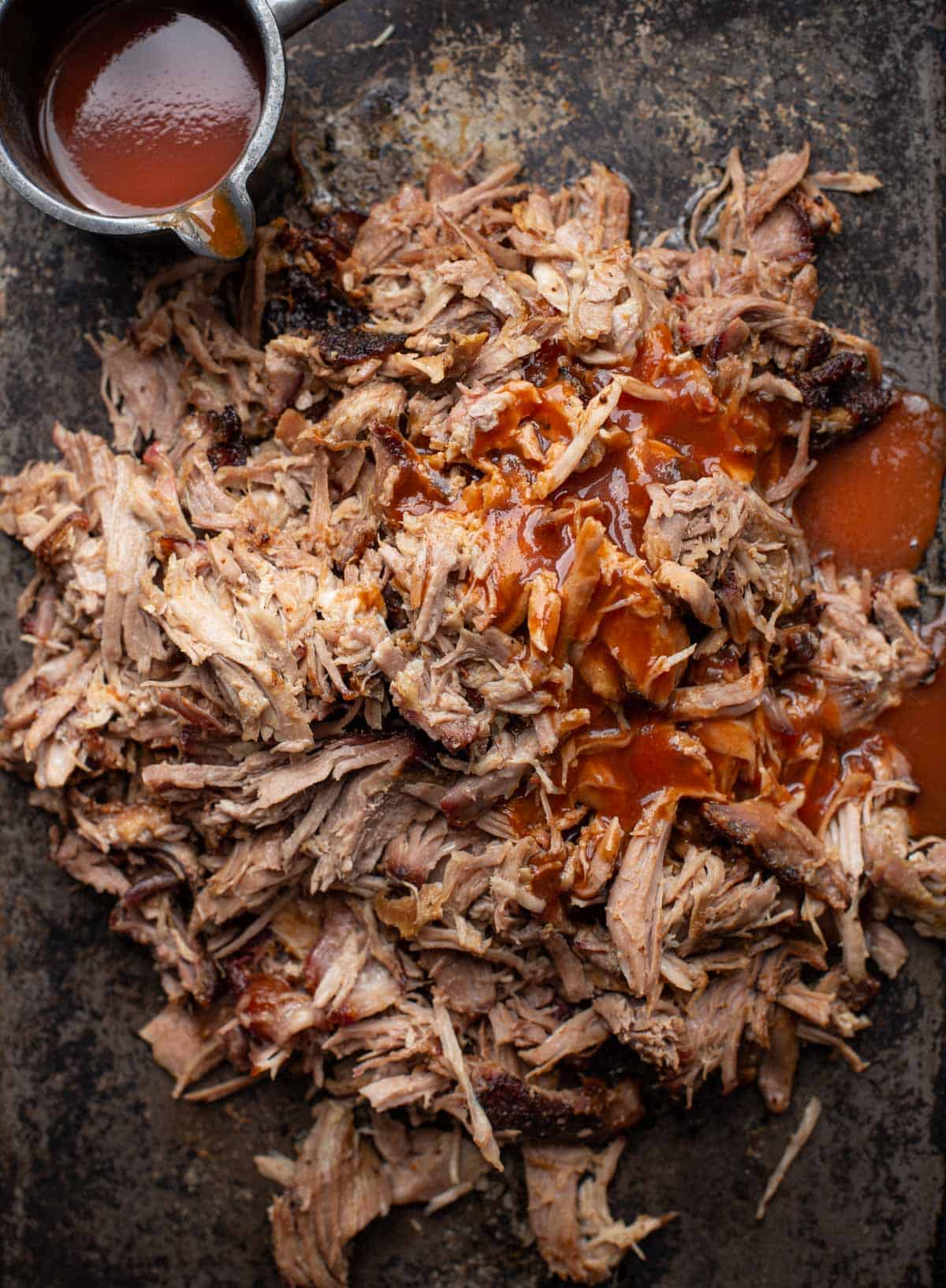 Reheating Pulled Pork
If you have leftovers, reheat pulled pork in the oven. Preheat the oven to 300 degrees F and place pork in a baking dish. Add ¼ cup of apple cider vinegar or your favorite barbecue sauce and cover with foil. Cook for 20 minutes until warm and serve immediately.
Leftover Ideas for Easy Smoked Pulled Pork
We have an entire round up of our favorite leftover pulled pork recipes from tacos, to sliders, and even wontons. Check out some of our favorite ideas. One of my personal favorites is pulled pork nachos followed by our wontons.
Food Safety
For consideration, be sure to follow safe food handling practices.
The minimum safe temperature per the USDA is 145 degrees Fahrenheit. Because pulled pork needs to cook to an even higher temperature you will easily cook it to the minimum safe temperature.
Do not use the same utensils on cooked food, that previously touched raw meat.
Wash hands after touching raw meat and consider using gloves when prepping.
Don't leave food sitting out at room temperature for extended periods.
When resting the meat in a cooler, do not rest for longer than four hours and be sure the internal temperature of the pork remains at a steady 150 degrees F.
See more guidelines at USDA.gov.
Frequently Asked Questions
How Much Pulled Pork Per Person?
Plan ½ pound of pulled pork per person (pre-cook weight). The pork shoulder will loose some mass as it cooks out and this also accounts for the waste from fat and the bone.
How Long will Pulled Pork Take?
Plan one hour per pound of meat and one hour of rest time. However give yourself an extra hour in case weather or other factors slow down the cooking process. If the pork is done early, you can hold in a cooler with no ice for up to four hours.
Can I Make Pulled Pork with the Ham?
The ham, or the thigh of the pig, is not the same cut as the shoulder. The intramuscular fat is much leaner and is better suited to curing or cooking for slicing.
What temperature do I smoke pulled pork at?
250 degrees Fahrenheit is the ideal temperature that gives both smoke flavor and tender pulled pork. 225 will take longer to cook, and runs the risk of drying out your pork. 275 to 300 will note infuse as much smoke, but it will speed up the cooking time.
Do I have to use a smoker?
We are a little biased but you can do this in an oven using the same temperature ranges. Or even better if you make in an Instant Pot.
This post may contain affiliate links. This means if you click on the link, we may receive a small commission if you purchase through the link. We partner with brands we know and love and use and it helps keep the blog going!
---