Digital Instant read thermometers are an important tool when cooking, especially live fire cooking. The right thermometer can make the difference between good and great cooks. The ThermoWorks ThermoPop is one of the best overall instant read thermometers for under $35.00 and a great tool in your cooking arsenal. And if you are in the market for one of the best inexpensive digital thermometers, the things to consider are speed, backlight, rotating display, and the customer experience behind the product.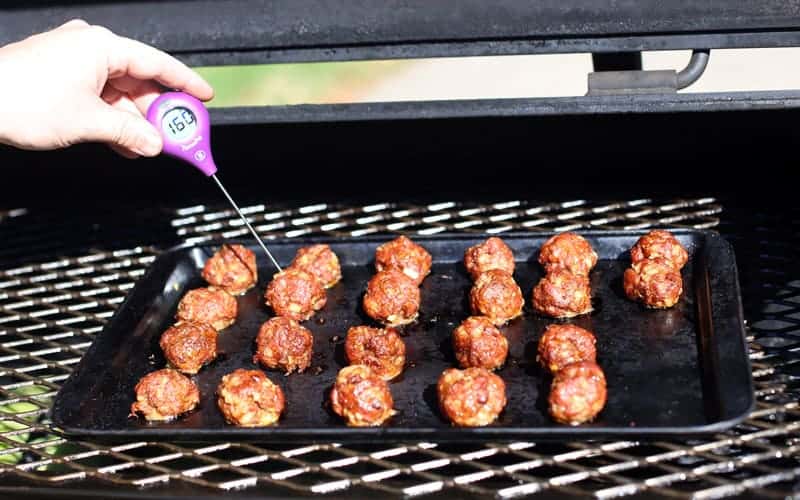 This post may contain affiliate links. This means if you click on the link, we may receive a small commission if you purchase through the link. We partner with brands we know and love and use and it helps keep the blog going!
Jump to:
How it Works
A digital thermometer for cooking uses digital processing power to rapidly provide the temperature of the item being cooked. They are far superior to analog or dial thermometers for their speed and accuracy of temperature readings. The reason we favor the ThermoPop by ThermoWorks is the combination of speed, price, durability, and strong customer experience.
For the ultimate digitial thermometer with the most accurate and fastest readings you can check out our review on the Thermoworks Thermapen One.
Who This Digital Thermometer is Good For
This is a great tool for those who want to check the temperature of burgers, meatballs, grilled, or reverse seared steaks. It also is friendly on the pocketbook at only $35.
Because this is not a leave-in thermometer, it's not ideal for monitoring long cooks like brisket or pork shoulder. For that option, we recommend the Thermoworks Smoke Unit.
Pros
At a retail price of $35* you get a fast and accurate reading. (3-4 second reading per their specs, but closer to 2 seconds in our experience)
It is water resistant
Has a backlight
Can swap from Fahrenheit to Celsius
Rotating Display
*Price at the time this article was published.
Cons
Over time the plastic sleeve it comes in can lose its grip. That doesn't impact the performance of the ThermoPop®, but it does make it easier to lose the sleeve.
Compared to more expensive thermometers, it is slower by about 2 – 3 seconds.
The top of the thermometer is not heat safe, so you can't leave it in the meat for the entire cooking time.
Not dishwasher safe.
Engineering
A key feature we like compared to similar price ranged models, is the simple engineering. No moving mechanical parts means that you have less change of a probe breaking or general wear and tear. The simple display and probe are fixed together.
Where to Buy the ThermoPop
The ThermoPop is sold online through the Thermoworks website (authentic Thermoworks products are not sold on Amazon so beware of knockoffs). They can also be purchased at better BBQ and grilling stores but call first to see if they are available.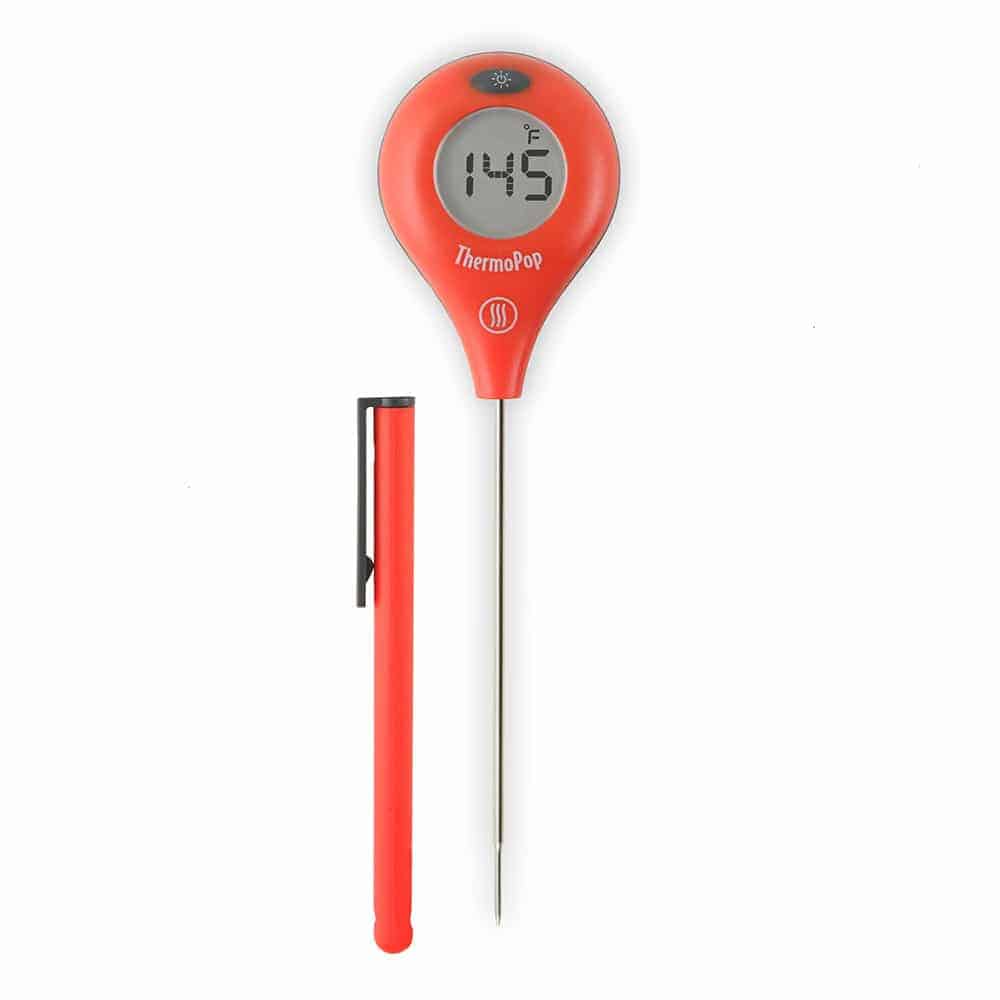 Care
Be sure to hand wash the unit after using and dry immediately like a good knife. Be sure to store the probe with the included sheath to avoid any damage to the probe.
Customer Service
An important thing to consider is to what extent any thermometer is backed in case there are issues. ThermoWorks makes it easy with a staffed customer service hotline and an easy process to replace or repair products if their customer service team can't troubleshoot on the spot. Their customer service is reliable, available, and helpful.
Technical Details
What is great is that you can swap between Fahrenheit and Celsius. It's also water resistant, so for those in the Pacific Northwest, like us, will not see water damage from using in the rain or accidentally leaving out out overnight in the rain (oops).
| | |
| --- | --- |
| Probe Range | -58 to 572°F (-50 to 300°C) |
| Accuracy | ±2.0°F (±1°C) from -4 to 248°F (-20 to 120°C); ±4.0°F (±2°C) thereafter |
| Response Time | Full reading in 3-4 seconds (although we get more like 2 seconds) |
| Backlight | 10 seconds |
| Water Resistant | IP66 Rating |
| Battery | CR2032 (3V) lithium coin cell (included) x 1, 5,000 hours |
| Display | 0.95 dia. inches (24 dia. mm); Digits: 0.35 H inches (9 H mm) |
| Product Size | 7 H x 1.8 W x 0.8 D inches (178 H x 45.2 W x 20 D mm) |
Sourced from Thermoworks Thermopop Product Page
User Review
I bought the ThermoPop thermometer on sale 6 months ago, and I have been using it ever since. Before purchasing the Thermopop I used a cheap spring/dial thermometer. It was difficult to read as the numbers were small, close together, and the glass would fog up. This inevitably led to inaccurate readings. The temperature range was also limited, so I could only use it for meat and not baking and candy-making. The ThermoPop has a large, easy to read, digital display, and has a huge temperature range. Overall, I am glad I switched to the ThermoPop so I can ensure the food I serve is safe as well as delicious.

Sarah Schoenbine – ThermoPop User
---