A trip to Sicily would not be complete without a visit to Mt. Etna, Europe's largest and most active volcano! Read on if you are looking to tour the top of Mt. Etna.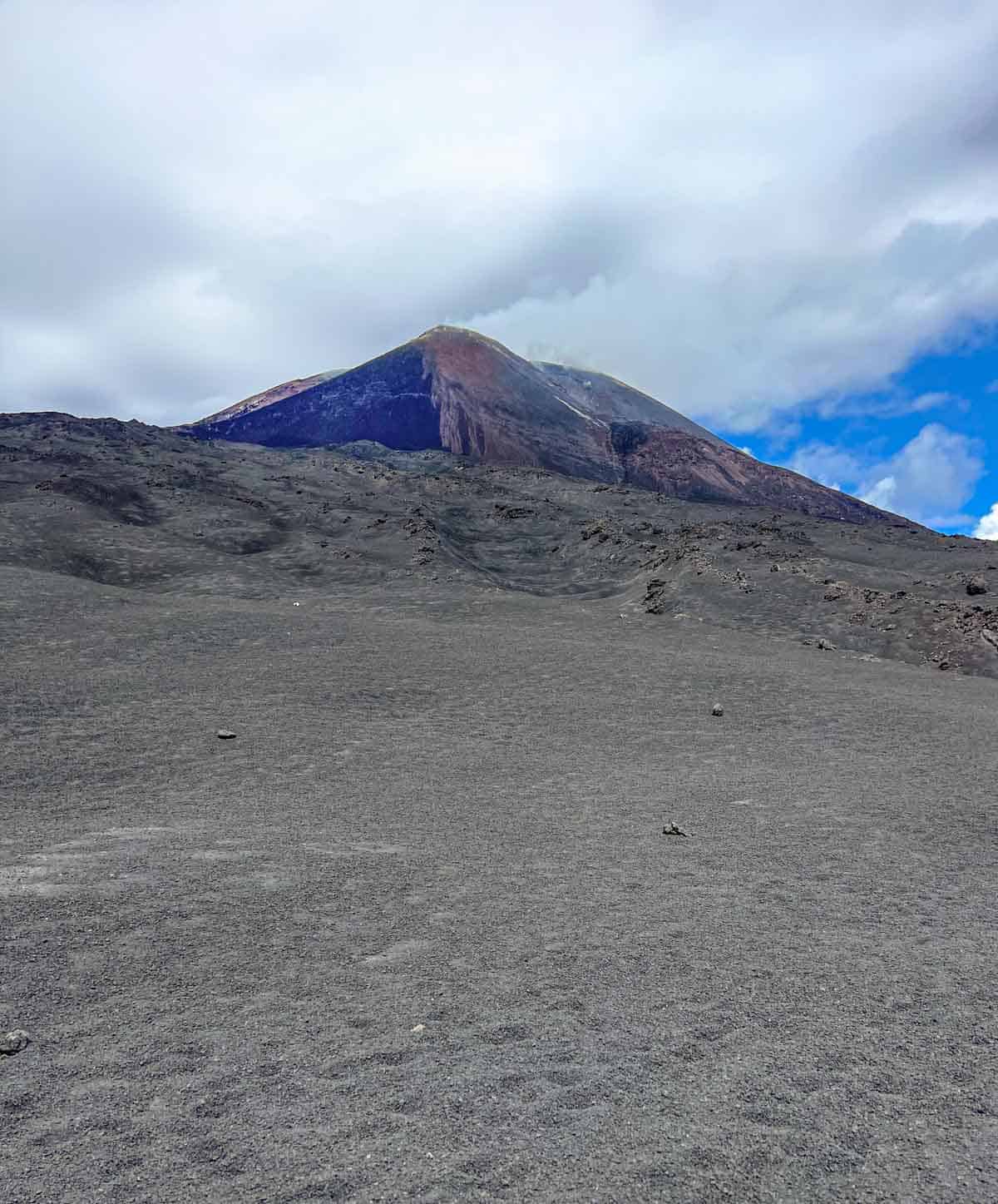 Visiting the Top of Mt. Etna
There are many ways to get to the top of Mt. Etna, and many different types of excursions offered, so your experience will be based on what kind of trip you're looking for.
For our group, which was a part of a press tour to learn about the Etna DOC wine region, we drove out from Catania by bus, then parked in the main parking lot and got tickets for the Funivia dell'Etna.
Funivia dell'Etna runs a cable car from Rifugio Sapienza, at 1920 meters, up the mountain to 2500 meters. When you exit the cable car you can walk to the top (3½ to 4 hours out and back) up the winding track to the crater area (at 2920 meters). Alternatively, you can take a 4X4 minibus to the top of the crater area (this option includes a 40-minute guided tour of the crater area).
The day we went the cable cars were closed due to high winds (which, honestly I was not sad about since I have a massive fear of cable cars and heights!!!). So instead of a cable car we took the 4×4 bus, which was more like a large sturdy industrial jeep, from the parking lot to the top. The total drive time was about 15 minutes.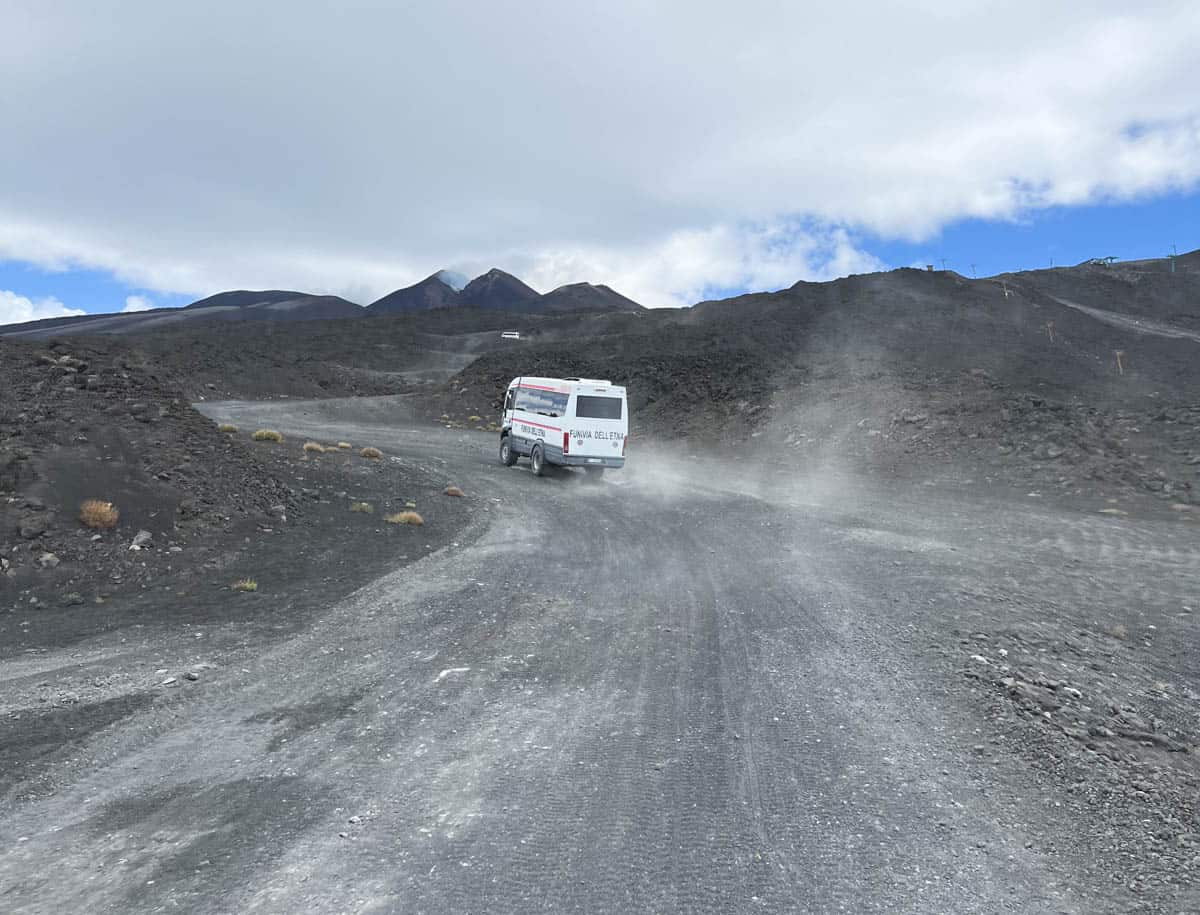 Then, from the bus, we drove up to "Valle del Bove", one of the Mt. Etna's best panoramic points for a walk with a tour guide. Our group stayed there and toured around for about 30 minutes before turning back and getting back on the bus for the drive back to the parking lot.
There are some incredible spots to view both the volcano, and also the amazing view to the east.
It was super windy and also cold so be sure to wear stable shoes and layers.
But the views are spectacular! It is such amazing experience that you have to try if you're in Sicily… even if you have a massive fear of heights (like I do!).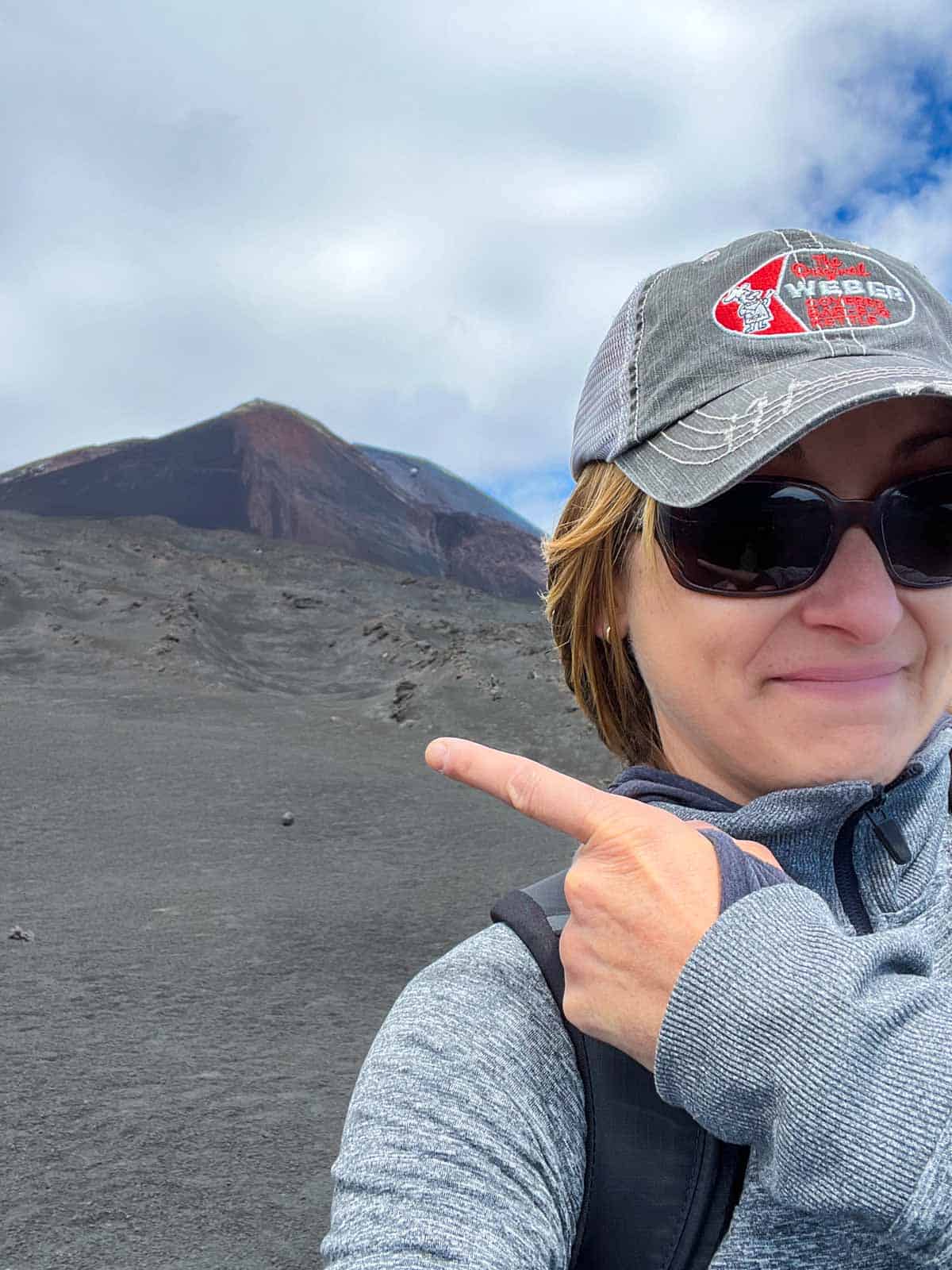 There are other excursions that will take you to another crater to explore a bit and reach the top of the crater (total duration 2 hours 30 minutes).
But like I said our group had a bit of an amended version of what you could expect if you go on a normal day because of the weather the particular day we visited.
I have to say I was a bit terrified at the idea of the cable cars, so I'm not sad they were closed that day. But if you're a fan of adventure I'm sure you'd love it and the views would be spectacular from the ride!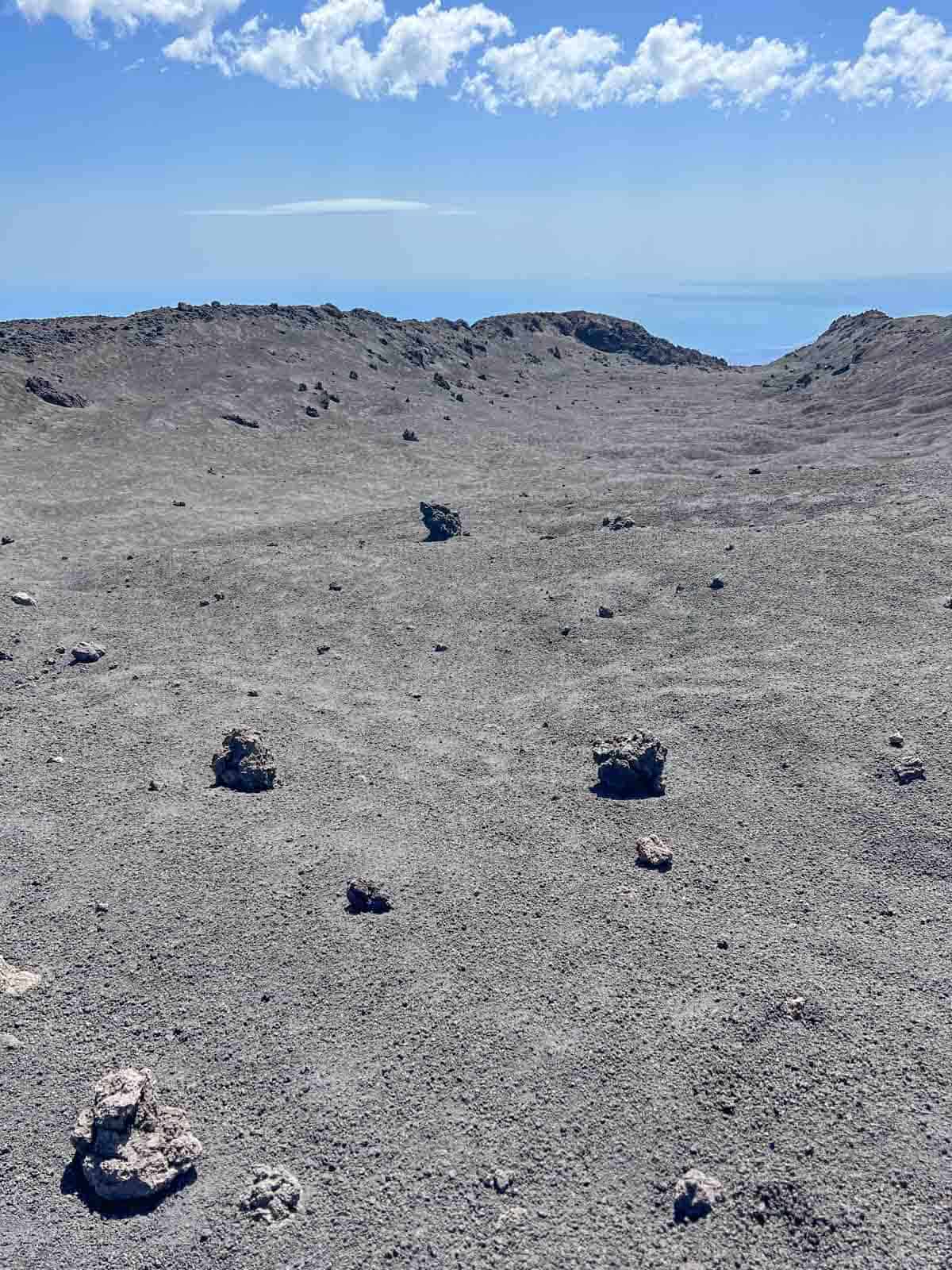 If You Go
Keep in mind that Mt. Etna is an active volcano, so there may be times you can't get as close to the crater as other folks have. There are also times the volcano may be very active, and others that are much quieter. Nobody can control this except Mother Nature, so be flexible.
The cable cars may not be working, but the minibus can take you as close to the crater as the cable cars (or even further).
Make sure to wear comfortable walking shoes! This is rocky terrain.
Bring layers! We went in September, and while it was 80 degrees F down near Catania it was very cold up top and very windy!
If you plan to walk up to the crater, make sure to leave yourself plenty of time to get both up and down before the last cable car (or jeep/minibus).
There are a couple different restaurants options at the parking area for lunch and/or snacks.
Restrooms are also available in the parking area.
Expect to pay approximately €30 each (return journey) for the cable car experience (or €65 with the jeep and tour guide included). Children under 4 are free.
The ticket office accepts credit card and/or cash.
For More Information
Visit: https://www.funiviaetna.com