I've always believed a good test of someone's true character is how well he or she responds to extreme pressure during unforeseen circumstances (aka when plans go massively wrong).
A few years back I was managing a private event for a winery during a "freak wind and ice storm" (yes I seem to be prone to these "freak" storms, I know).  This was a storm that left the entire winery and event space with no power or running water; the winery was on a well system and needed electricity in order for water to run.  It was also snowing and about 20 degrees out.  Not typical weather for this area at all.  As the owners and managers of the company left for the day I was alone, scared, with 60 guests coming for a dinner event that evening; no power, no heat, no running water.  All I had was a small staff and the chef, who cooked all food in advance, and my guests expected a fully catered and elegant event.  Did I mention this was one of the first events of this size I ever managed?  'What the heck did I get myself into?!', was all I was thinking.
Behind the scenes my team worked diligently and creatively to execute this event through very undesirable circumstances, including boiling gallons of drinking water in order to wash the dishes, under flashlights in extreme cold temperatures.
To the guests in the dining room, however, they witnessed no flaws. No stress. It was as smooth as if this was how we ran all events.  A well executed event in the midst of a massive power outage and snowstorm.  They had "ambiance" in the form of a roaring fire keeping the room warm, and lots LOTS of candles for light. They had great food, great wine, and (I'm assuming) great company – they were happy.
Little did they know what was really going on behind the scenes to keep them happy.
The next day my team and I were praised by the clients on how smooth things went despite the circumstances and I was told that their group had an amazing time. In fact, they immediately booked the same company party for the following year.
Despite how challenging it was to execute that event it taught me so much about staying calm, thinking on my toes, and maintaining professionalism and demeanor, even though at the time I secretly wanted to just crawl into a hole and hide until summer.
This story reminds me of my experience while visiting the region of Campania, during the last few days of my recent trip to Italy.  Only instead of my role as management control, I was a guest this time – praising a successful event through "unforeseen" circumstances.  I was on the other side of the table this time.
Our Campania itinerary was very detailed and specific – maneuvering our ways through the regions wineries, sub-regions, restaurants, and hotels – but due to a "freak snowstorm" (something I am all too familiar with) we had to alter our plans.  And by "we" I mean our amazing hosts from the Movimento Turismo del Vino Campania, and more specifically Daniela Mastroberardino.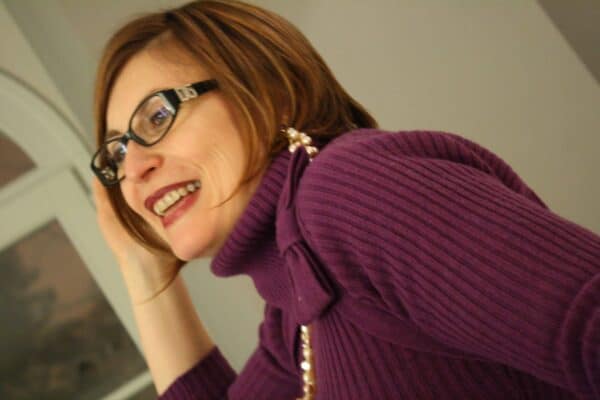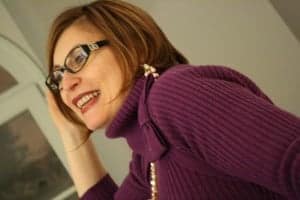 Among the many skills Daniela Mastroberardino possesses is the rare and admirable skill of being cool, calm, quick-thinking and organized under extreme pressure.  Not to mention she is also a world-class host.
Daniela Mastroberardino is the president of the Movimento Turismo del Vino (MTV) Campania and part owner of Terredora Winery (one of Campania's largest wineries).  Our group spent the later half of our trip with Daniella as our guide touring the region…  Or, at least touring the region was the original plan.
Though she is part owner of Terredora Winery she spent the majority of her time with my group being an ambassador for the Campania region as a whole; educating us on the history of the entire region, the grapes that grow there, the wines to know.  Some of that information you will find here, the rest will unfold throughout this series.  Unbeknownst to her, she was also in charge of getting our group – a group of 15 media and bloggers – from point A to point B during these challenging weather circumstances while trying to show Campania at its best.
When we woke up on day seven of our trip in the stunning Aquapetra Resort we realized snow was brewing in Italy and our trip to the Irpinia region would need to be cancelled due to its location in higher elevations where the snow would be falling heavily.  Fast on her feet, Daniella quickly changed our itinerary to visit Ville Matilde Winery instead of the three we had on schedule. A visit that ended up one of my most memorable of the nine-day adventure.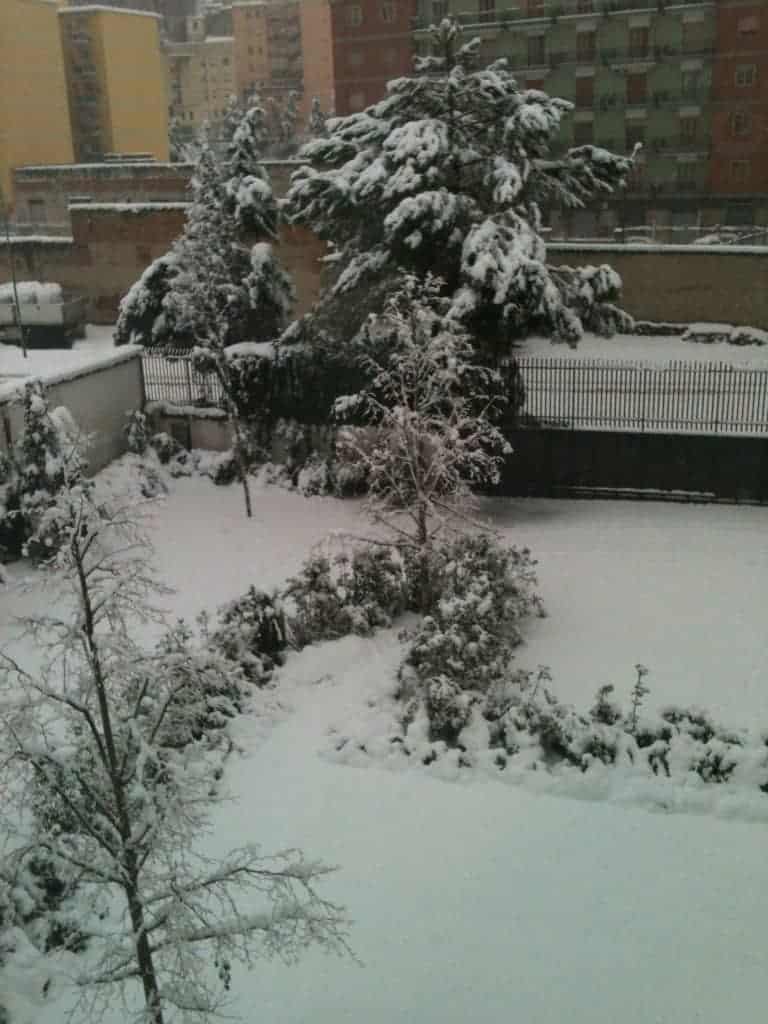 The following day, we found ourselves snowed in at the Hotel il Molino in Benevento, once again having to cancel our plans for we would be stuck inside the hotel half the day.   This was something that could have easily turned into a PR disaster for the MTV.  Instead of stressing however, Daniella gave an impromptu presentation on Campania to our group in a hotel meeting room (so impromptu that, with a broken pointer she improvised with a bread stick – whatever works right?).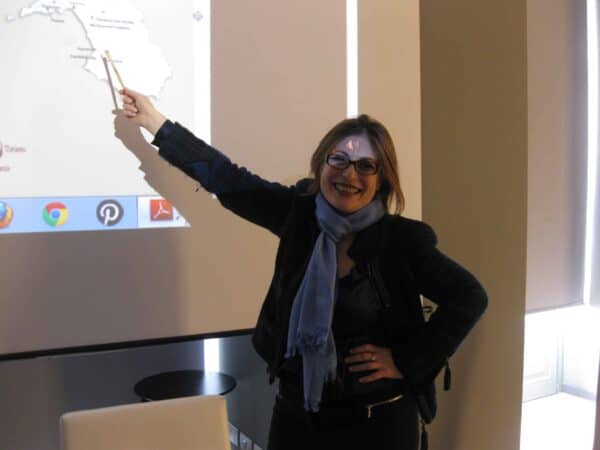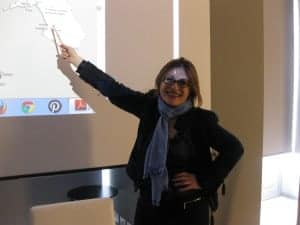 Immediately following the presentation, Chef Angelo D'Amico gave our group a cooking demo preparing the most warm and soothing soup using the simplest local ingredients; pasta, potatoes, pork, olives, and anchovies.  All the while Danielle maintained a collected and positive energy about her.  She actually seemed to be having fun despite the circumstances, and as a result we had fun too.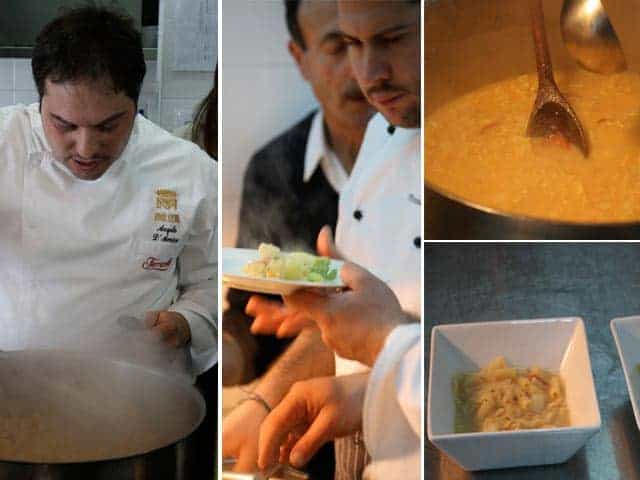 What stands out most is that Daniella has a genuine warmth to her and a level of excitement and passion about the region that is infectious.  This passion and positive attitude resonated throughout a room of what could have been some very unhappy bloggers.  The way she speaks about Campania you can't help but genuinely want to learn more.  Frankly, before this trip I didn't know a whole lot about Campania, or the wines of southern Italy for that matter – they often get a bad rap, being associated with mediocre quality wines.  I found the reverse to be true of the wines we tasted, and developed a much deeper appreciation for the region and its wines as a result of this experience.  And since my visit I have been actively seeking out those that are available here, at home.
Terredora Winery  is one that I have seen many times since returning home and I am very happy about that, especially since we were unable to visit the actual winery on our trip.
Terredora is one of Campania's largest wine producers and vineyard owners, with a growing reputation for quality.  Though they have been around since 1978 their commitment to excellence and quality goes back to 1994 when they decided to produce wines using ONLY their own grapes – meaning they do not source grapes from outside vineyards, but instead use only grapes from their own.
This decision was based on the idea that only through complete and direct control over the entire wine production process (from vineyard to bottle) they could ensure overall quality of their wines.  Interestingly, the majority of their wines are made from indigenous grape varieties – Greco, Fiano, Falanghina (whites) and Aglianico and Piedirosso (reds) – grapes that are unique to this specific region.  When you taste them, you are truly getting a taste of Campania in your glass.
Wines to seek out: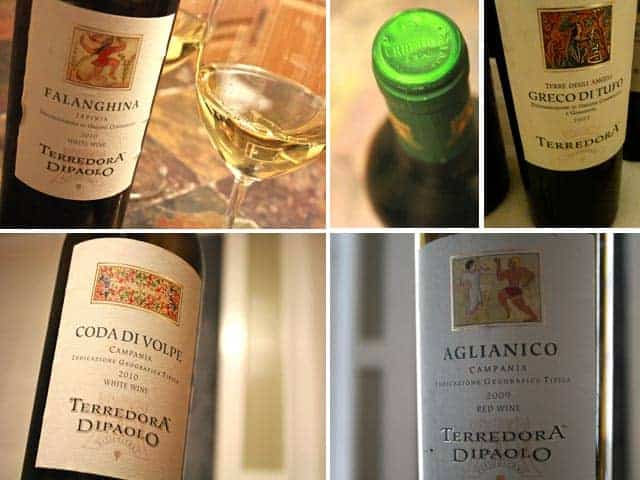 All of these wines I have seen here, in the states.  On a recent trip to visit my in-laws in Rochester NY, I even witness a whole shelf devoted to the wines of Terredora.  If I can find more than 5 of their wines in a liquor store in Rochester NY then I am sure you can track them down wherever you may be in the country.  Some of my favorites so far have been:
Greco di Tufo D.O.C.G. Terre degli Angeli (white wine)
Grape Variety: 100 % Greco
Retail: approx $15
Falanghina Irpinia D.O.C (white wine)
Grape Variety: 100 % Falanghina
Retail: approx $15
Coda di Volpe Campania I.G.T. (white wine)
Grape Variety: 100 % Coda di Volpe
Retail: approx $12
Aglianico Campania I.G.T.  (red wine)
Grape Variety: 100% Aglianico
Retail: approx $14
Unforeseen circumstances can bring out the best and worst in people.  Often the later is true.  For Daniella, I think this snowstorm brought out some of her best qualities, and I was intrigued.  A great host, and more importantly, her passion helped spark a curiosity for me to explore the wines of Campania.  And believe me, I have been seeking them out since my return over a month ago… and I hope you start seeking them out too.
Cheers
Related articles: