Or rather, how to buy cheap wine for a non-profit event that doesn't "taste like ass."
A good friend reached out to me recently with a challenge. She was looking for help in getting donations, wine donations specifically, for a fundraising event.
That friend was Lynn Johnson, whom you may remember for creating that life changing Smoked Bloody Mary. In addition to being a creative amateur mixologist, Lynn is also Co-Founder & CEO of of Go Girls! Camp based in Oakland, CA (an incredible program aimed at Bay Area elementary girls), and recently Director of Membership & Programs for Teaching Artist Guild (TAG).
TAG is a start up non-profit – working to promote the visibility and impact of artists who teach in schools and communities.
The Challenge
Like I mentioned, Lynn reached out to me with fundraising advice. Something I'm absolutely horrible at! I hate asking people for money. It's not in my nature. What we decided is instead of asking folks for money or free wine I could help her in another way. She suggested I recommend some wines that she could proudly serve at this event.
The catch? They had to be cheap. To use Lynn's own words, "can you recommend some wines that I can buy for, let's say $6 a bottle, that won't taste like ass?"
I thought this advice could not only help Lynn, but others in her situation, whether looking for wines to serve for non-profit event, a party, or just looking for some everyday values.
The Wine Experts
So I decided to reach out to some of my favorite bloggers and writers for their advice. Writers I respect. They collectively have travelled all over the world, tasted some of the finest wine out there, as well as some of the best values. Most importantly, they are awesome people who would never turn their nose up on a wine because of its price. These people know their stuff and are awesome to boot.
I decided to cap the wines at $10 per bottle since often times when you buy in bulk (by the 12 bottle case, or sometimes half-case) you can usually get discounts bringing the prices down even lower.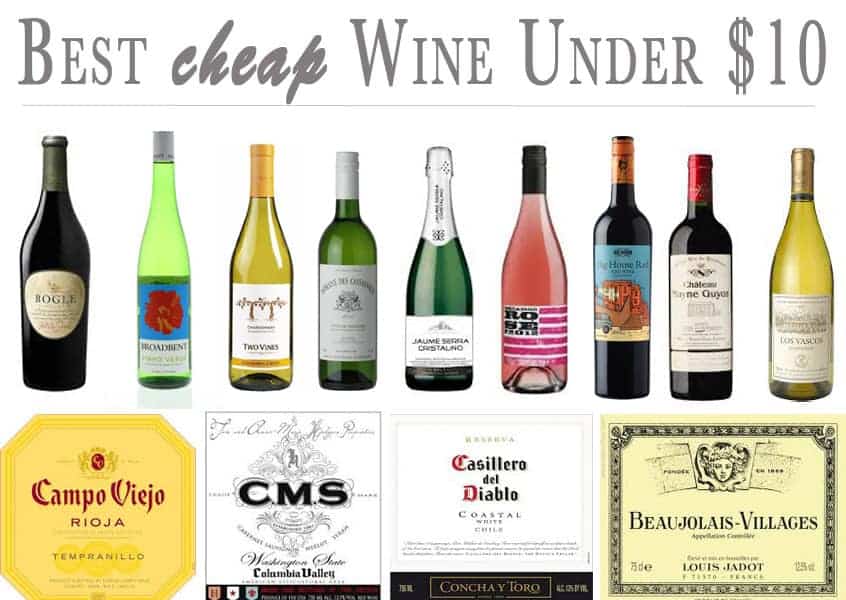 ---
Jon is no stranger to cheap wine. In fact, he's writing the book on it. No really, he's actually writing a book on finding the best value wines based on his popular blog dedicated to wines under $20. But for this challenge I asked Jon to look a little deeper and suggest his current favorites under $10.
Jon's picks —
Chateau Mayne Guyon 2011 – Trader Joe's Top Picks 2014
I'm not sure this one is still available at Trader Joe's but if so it's an absolute no-brainer at only $8. While it's got wide appeal it also has a surprising amount of complexity for more discerning drinkers.
14 Hands Hot To Trot Red Blend 2012 – Gallopingly Good
This is one of my very favorite mass market red blends as it's not too sweet like so many of them out there. Only $8 and it's available everywhere — Costco, Trader Joe's, World Market and more.
New Age White Wine – The Definition of Refreshing
90% Torrontés and 10% Sauvignon Blanc from Mendoza and available for around $8. The delicious sweetness is offset nicely by the bubbles and good acidity. This is a quaffer for a hot day if there ever was one!
---
Madeline Puckette from Wine Folly
Madeline is the Co-founder and host of the very popular and absolutely brilliant site, Wine Folly. Her infographics, easy going teaching style, wine smarts, and videos are a must for anyone wanting to learn more about wine in a fun and unpretentious way.
Madeline's picks —
Sparkling: Jaume Serra Cristalino Brut Cava (Spain)
Rosé: Charles & Charles Rosé (Columbia Valley, WA)
Red: St. Francis 'Red Splash' (Sonoma County, CA)
*Madeline also mentioned to look for 2012 vintages of the red and rosé
---
I first met Jameson on a trip to Greece in 2012 and have since got to know him as a talented writer, hardworking editor, and overall great guy. Plus the guy sports a white v-neck t-shirt like no other.
Jameson's picks —
For under $10 whites I have two categories that are my go-to picks. One is Chilean Sauvignon Blanc. I usually get Viu Manent, but I'll take a flier on something unfamiliar. I also like the Ugni Blanc/Colombard blends from the Côtes de Gascogne. I lean towards the one from Domaine des Cassagnoles. (Also, don't be scared by "Ugni".)
For red go with Falesco Vitiano, a Cabernet/Merlot/Sangiovese blend from Italy and is a great pizza wine. A great cold pizza wine, too. Replace the Sangiovese with Syrah and you've got Washington State's Hedges CMS. These two wines have wide distribution so you should see them in lots of places if you are in unfamiliar territory and panic mode sets in. [Bonus: It might be a shade more than $10 but the House of Independent Producers (HIP) Merlot from Hedges is a knockout single-vineyard wine that will convert skeptics of this maligned grape.]
*Jameson adds his favorite under $10 sparkling over on his site. Read about it here.
---
Ben Carter from Benito's Wine Reviews
Ben is a true southern gentleman who loves to promote a great $10 wine as much as an amazing $100 Champagne. Ben is also a columnist for Palate Press and avid barbecue fanatic. What's not to love about that?
Ben's picks —
White: Columbia Crest 2 Vines Chardonnay (Washington State)
Red: Bogle Vineyards Petite Sirah (California)
Sparkling: Freixenet Cordon Negro Brut (Spain)
---
Liza Swift from BrixChix
I met Liza through the Wine Bloggers Conference, and have traveled with her in Croatia and Italy. She is one of my favorite people in the wine world! She's fun, funny, and smart and I love her to death. She also lives near Oakland and has some local insight into wine shops for Lynn.
Liza's picks —
Sparkling: Segura Viudas Brut Reserva Cava (Spain)
White: True Myth Chardonnay (Edna Valley, Central Coast, CA) – "Drinks like a $40 wine"
White: Concha y Toro "Casillero del Diablo" Reserva Coastal Valley White (Chile) – "Super food friendly"
White: Clean Slate Riesling (Mosel, Germany)
White: Broadbent Vinho Verde (Portugal)
Red: Louis Jadot Beaujolais-Villages Rouge (Beaujolais, France) – "Drinks like a Pinot!"
Red: Big House Wine Co. Red (California)
*Insider's Tip: Liza says most of these wines can be found at BevMo but since Lynn is in Oakland she cannot do better than The Wine Mine!
---
Sassy, fun, and a social media guru, Nannette is all three and more! Plus she's not just about wine. Lately she's been posting a lot of fun cocktail recipes that I've had my eyes on.
Nannette's picks —
Sparkling: Freixenet Cordon Negro Brut Cava (Spain)
Sparkling: Domaine Ste. Michelle Brut (Columbia Valley, Washington)
White: Los Vascos Chardonnay (Chile) — for crisp elegance that's a crowd pleaser.
Red: Campo Viejo Rioja Tempranillo (Rioja, Spain) — for it's juicy deliciousness.
Rosé: Sometimes you just need to push boundaries when you entertain. The general public has the belief that all blush wines are the super-sweet wine zinfandel, but challenge your guest perceptions with a stylish (yet affordable) dry rosé, the Jean-Luc Colombo Cape Bleue Rosé (Provence, France) has all the sophistication of the South of France, but won't break the bank.
---
Amy Gross of Wine4.Me and MomsToolbox.com
Amy is a busy entrepreneur and mother of three. I met her at the Wine Bloggers Conference several years ago when she had an idea for a wine app. Flash forward to this summer and her idea became a reality in the Wine4.Me wine app! She also runs several other blogs, including MomsToolbox.com. She's an awesome person and an inspiring business woman! Amy also included where you can find these wines in your area.
Amy's picks —
White: Santola, Vinho Verde ($6.99 H-E-B)
I love this crisp Vinho Verde with shrimp, or any shellfish, actually. It's also fantastic with creamy cheeses and almonds on a cheese board. Super cheap, but doesn't taste that way at all.
White: Franzia Crisp White ($11.36 for 5L Spec's)
Yep, I'm going there. This is my boxed wine of choice. Always a crowd-pleaser. (And you can serve it in a carafe and no one will know it's boxed wine!)
White: Bandit Pinot Grigio ($7.99/ Liter Total Wine)
Crisp, refreshing and perfect for a picnic, as it's not in a glass bottle.
White: PopCrush White Blend ($9.99 Target)
I picked this one up at Target because the label was so pretty and just had to know whether I would like the wine inside or not… and was delighted when I found that I did. It had hints of apricot a fuller body than I anticipated. Plus it was a favorite at a recent mom pedicure party.
White: Relax Riesling ($9.99 ABC Fine Wine & Spirits)
My mother-in-law picked this one up and I'm glad she did. Fun bottle, fun name and great wine.
White: Indaba Sauvignon Blanc ($8.49 Total Wine)
I've tried this one several times, most recently at Disney's Animal Kingdom Lodge, and every time I do, I'm glad. It's got that great Sauvignon Blanc zing that cuts right through your palate without being abrasive.
White: Fetzer Shaly Loam Gewürztraminer ($8.99 BevMo)
The first time I tried this one, I was given it as a gift.. and it has since become a house bargain favorite. Not one person who has tried this at my house hasn't enjoyed it and it is so easy to find. Wine snobs look away– everyone else: Give it a try!
---
My Picks
I have to agree with all of these suggestions. The Jaume Serra Cristalino Brut Cava (Spain) and the Segura Viudas Brut Reserva Cava (Spain) have been my go-to $6 bubbles when I need something cheap (and they are great for mimosas). For white wines, Jameson and I are in agreement on the Côtes de Gascogne whites. I'll also throw in its neighbor, Saint Mont. I recommended four great examples a few weeks back.
On the red side I'd also add Castaño Monastrell (Yecla, Spain). I've been sipping on that bad boy all summer, both with grilled meats as well as sans food. I wrote about that little gem here, after visiting the region of Murcia, Spain, last summer. Incredible values to be found from this region.
Madeline Puckette agrees. Her pick from Murcia is the 2009 Bodegas Luzon "Luzon" (Jumilla, Spain).
---
Tips for getting the best deals on wine
When trying to get the best prices on wines it's best to buy in bulk, either by the case (12 bottles) or 6-pack. Many stores these days (large bulk stores, small wine shops, even grocery stores) will offer bulk discounts. If you don't see it advertised make sure to ask! Often times you can mix and match wines, they don't have to be 12 bottles of the same exact wine. In many situations, the more you buy, the better the discount.
Look for sales. Safeway, for example, often has seasonal 30% off deals. When you see those sales stock up!
All of the wines mentioned in this post are widely available and you should be able to find them at a store that offers sales by the case (places like BevMo, Total Wine, supermarkets, etc.).
What about you? What are your favorite wines under $10?
---
Reader's Favorites:
Darryl Joannides, owner of cork • a bottle shop in Portland (one of my favorite wine shops in the city), recommends Protocolo Blanco — "At about $7 and hard to beat!"