Do not underestimate a good chili dog. Grilled hot dogs over flame, and then topped with a savory hot dog chili, sweet onions, and yellow mustard, this chili dog recipe will make you go "Wow"!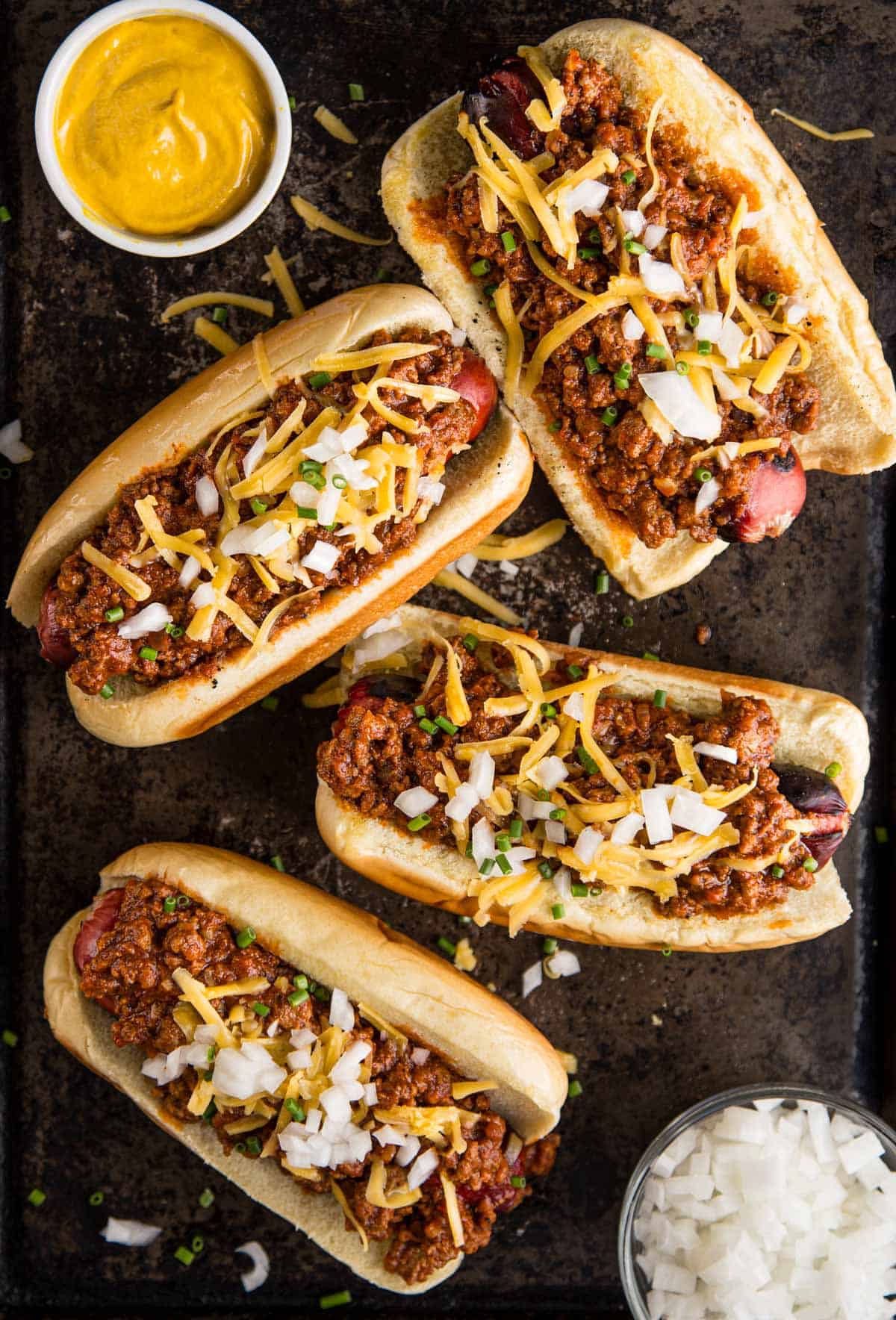 There are so many variations of chili dogs. Ours is rooted in a savory chili that on its own is quite delicious, and then using a high quality hot dog for full optimal flavor. We place the dog and chili on a brioche hot dog bun and then add our toppings like yellow mustard and cheese. All the savory and sweet elements explode when you bite into this. And warning – have extra napkins.
This is a summertime classic for a good reason!
Jump to:
Hot Dog Chili
When scanning recipes you will see variations of chili with ketchup as the base. Instead of an overly sweet chili we wanted to focus on savory and beef flavor for our version. To do this we used tomato sauce and tomato paste, which are the base to ketchup anyway (without all the added corn syrup or sugar) and we use high quality ground beef, specifically we're using Snake River Farms ground beef. Regardless of what beef you use, 80/20 ground beef is the perfect lean to fat ratio.
Making The Chili
The biggest flavor factor in any hot dog chili is the chili itself. We aren't adding a ton of veggies and bacon to the chili like our popular brisket chili post. Instead we focus on creating a rich yet simple chili, then you can add any additional chopped veggies or toppings when you're loading up your dog. So our ingredient focus is meaty beef flavor with the slight sweet from the sauce.
A few highlights to the recipe:
Finely dice the onions and garlic. Large chunks of onion for a chili dog can be an unpleasant texture. So really use a great sharp chef knife to finely dice the onions and garlic.
Brown the beef. Use high heat to try and brown the beef for added flavor. This earthiness is great flavor.
Let it simmer to reduce. Keeping the simmer going will help reduce the liquid to give that nice richness to the chili.
These steps are important so you can be sure to get the most flavor and the right texture.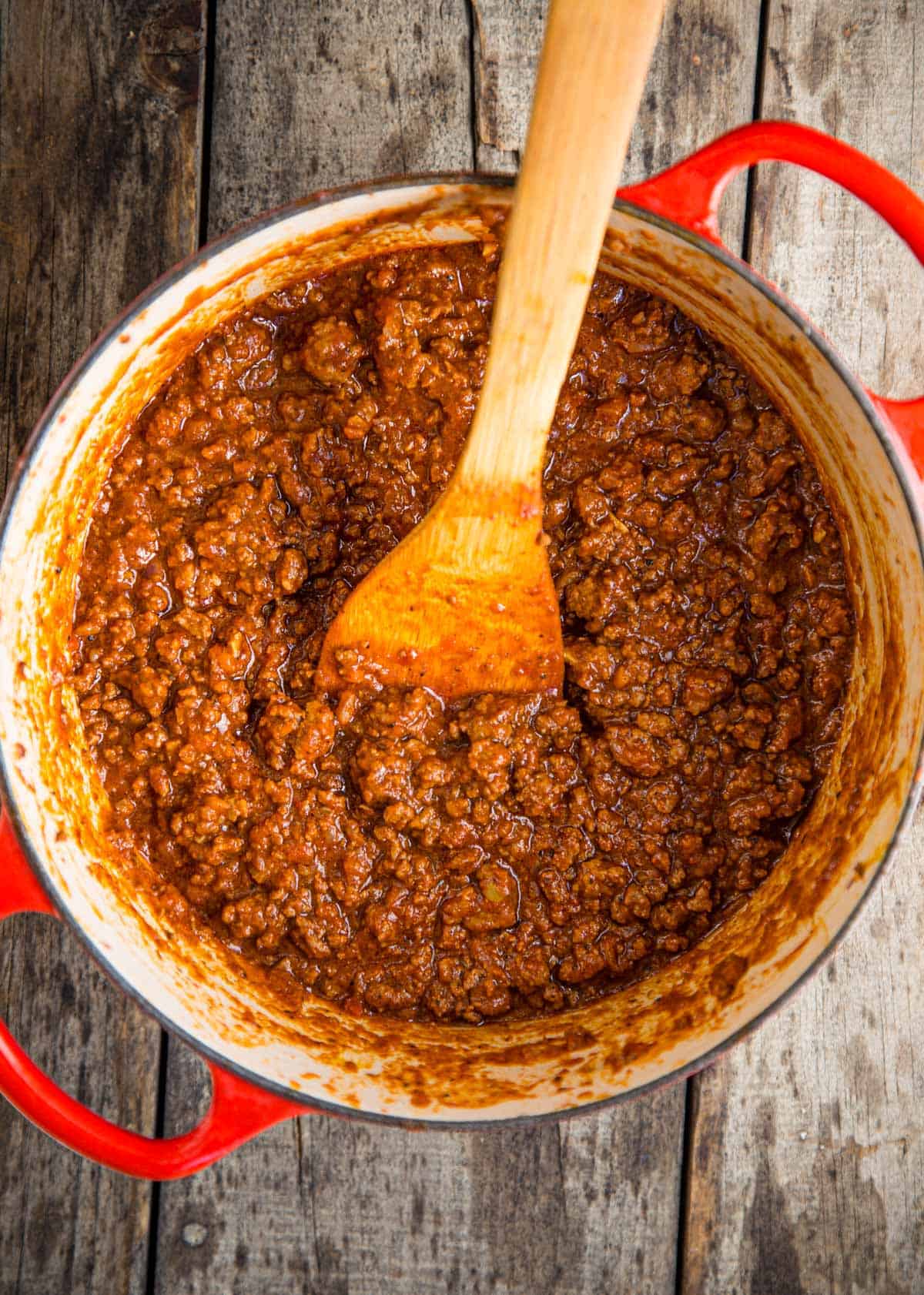 Grilling
Hot dogs are precooked. You can confirm that right on the package. So when grilling hot dogs, the key is direct grilling and targeting the temperature around 450 degrees Fahrenheit over the direct heat just to warm them up. They will cook in 2 – 3 minutes per side, so be sure to stay out there and monitor to avoid burning the grilled hot dogs.
If you really want to cook to temperature, then try to get the internal temperature of the hot dog over 150 degrees Fahrenheit using a good instant read thermometer like the Thermoworks MK4 Thermapen.
Remove them and place onto the brioche bun. You can toast the bun if you want, but we like the fresh flavor and texture of a soft brioche.
Make the Dog
At this point the hot dogs have grilled and is sitting in the bun, the chili has been simmering and is nice and thick. Now it's time to carefully spoon the chili over the hot dog. The chili should be very warm.
Then add the cheese over the top of the hot chili to let it melt should you so desire. Finally add the diced sweet white onions. This added flavor is not as strong as red onions. White onions work well too.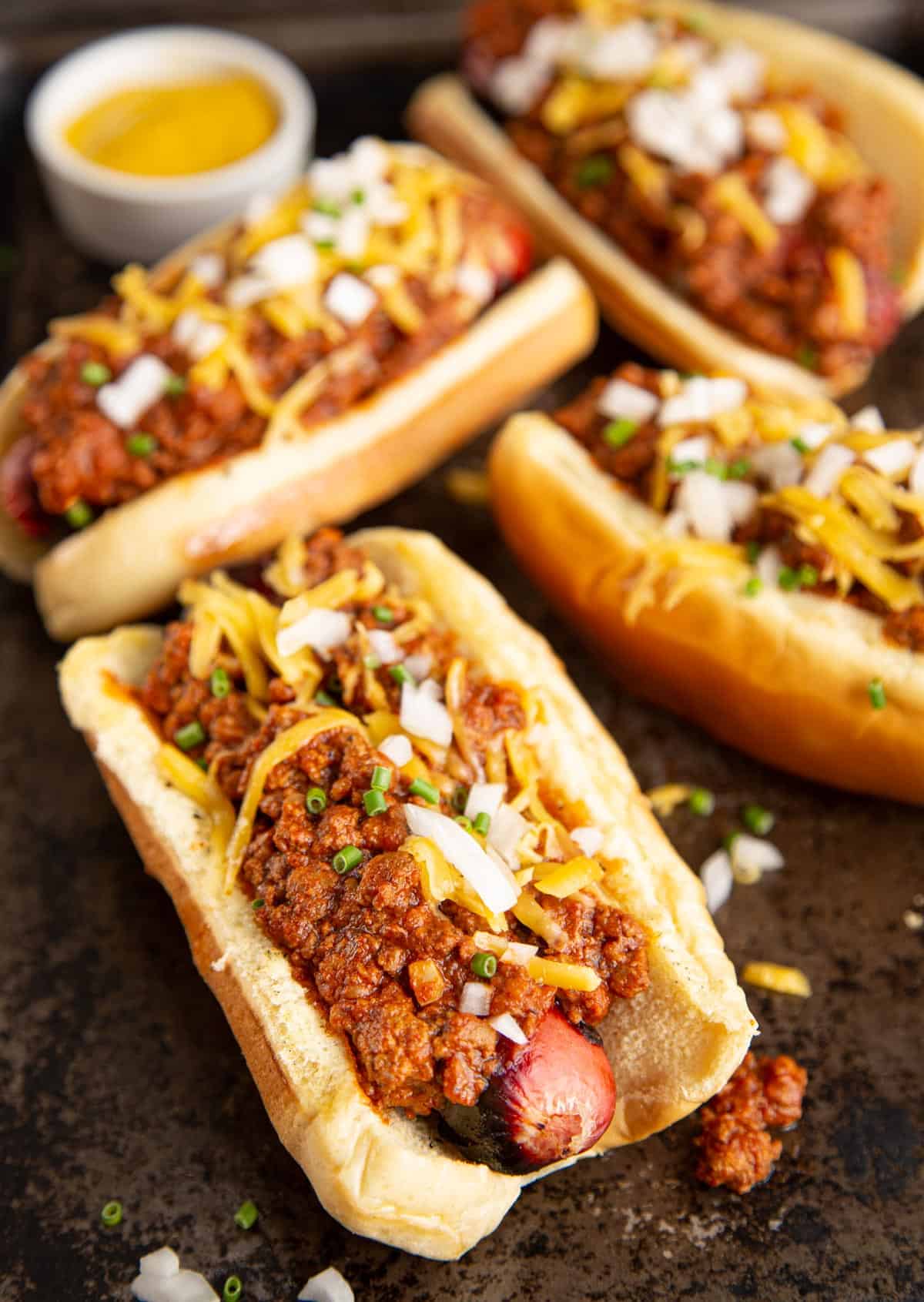 And if you are like me, feel free to top with a little yellow mustard. This is optional but the added acidity is perfect.
If you are making these chili dogs for a crowd and want to melt the cheese, then add the dogs in a bun to a sheet tray. Top them with the chili and the cheese and then place under the broiler. It won't take more than 2 minutes to melt the cheese and reheat the food. You can put 12 hot dogs on a large sheet tray. Then remove and add the toppings and serve. Great way to put them all out at once.
This post may contain affiliate links. This means if you click on the link, we may receive a small commission if you purchase through the link. We partner with brands we know and love and use and it helps keep the blog going!