These Extra Virgin Olive Oil Chocolate Chip Cookies are made with olive oil instead of butter. They have a unique flavor and texture and are sure to delight this holiday season. These cookies are also a great dairy free dessert idea.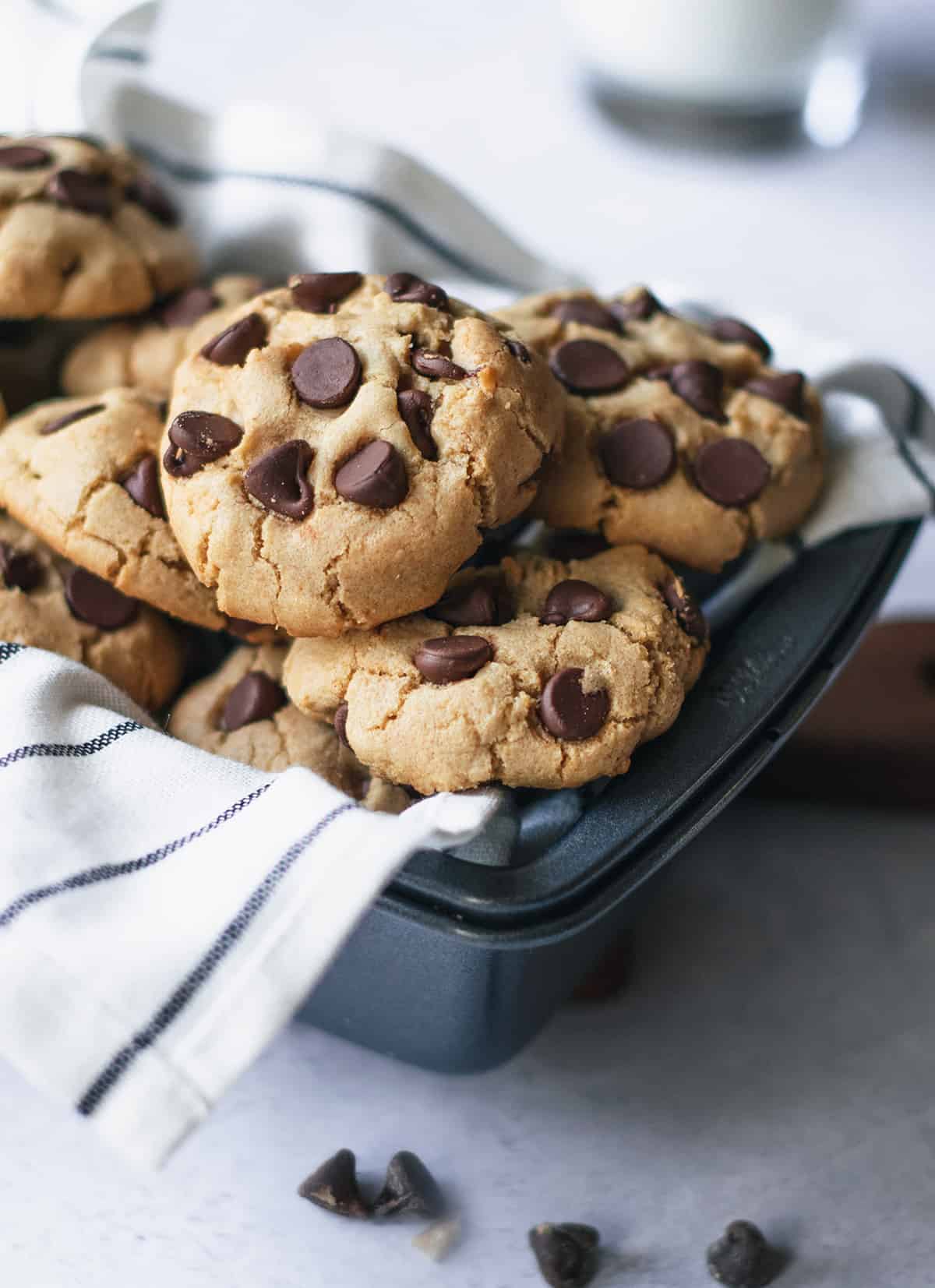 I first had olive oil cookies at the Oregon Olive Mill at Red Ridge Farms. They were delicious and had this lovely rich and fresh olive oil flavor with each bite. My thanks go out to Libby Crow for sharing this delicious recipe!
Jump to: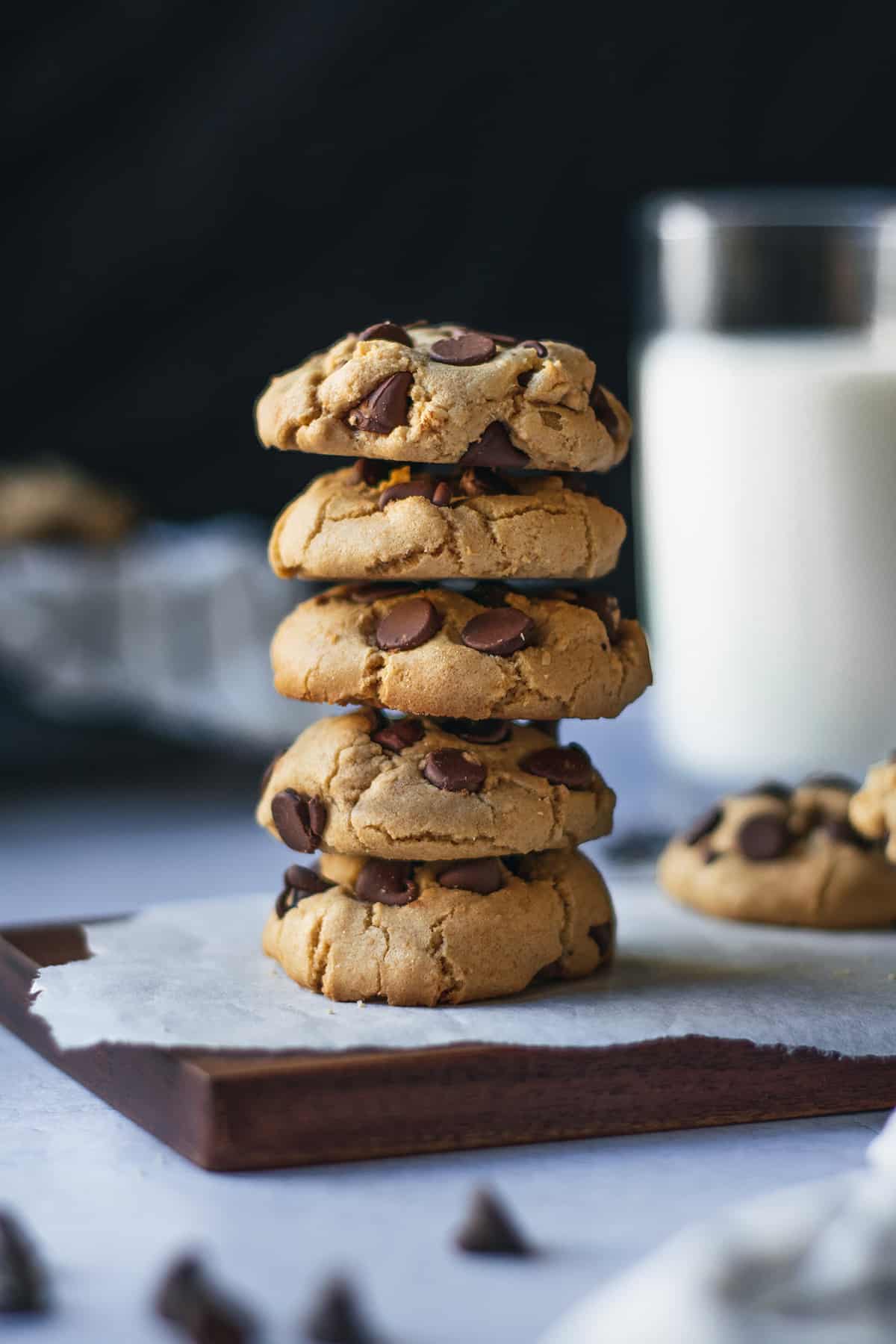 Which olive oil is best for baking cookies?
If you want that rich, herbaceous olive oil flavor, you should definitely use extra virgin olive oil. 'What makes EVOO so special?' you might ask. It all has to do with how it's made. Extra virgin olive oil is extracted without heat or added chemicals. This makes it 'unrefined' and allows it to keep its olive-y smell and flavor.
There are several different varieties of olive which each produce slightly different olive oils.
For a lighter more delicate flavor try Arbequina olive oil.
For a bolder taste try Kalamata olive oil.
Whatever type you prefer, you do not need to use the highest quality oil in these cookies.
Save the expensive stuff for salads and bread dipping and use a medium quality oil for baking and cooking.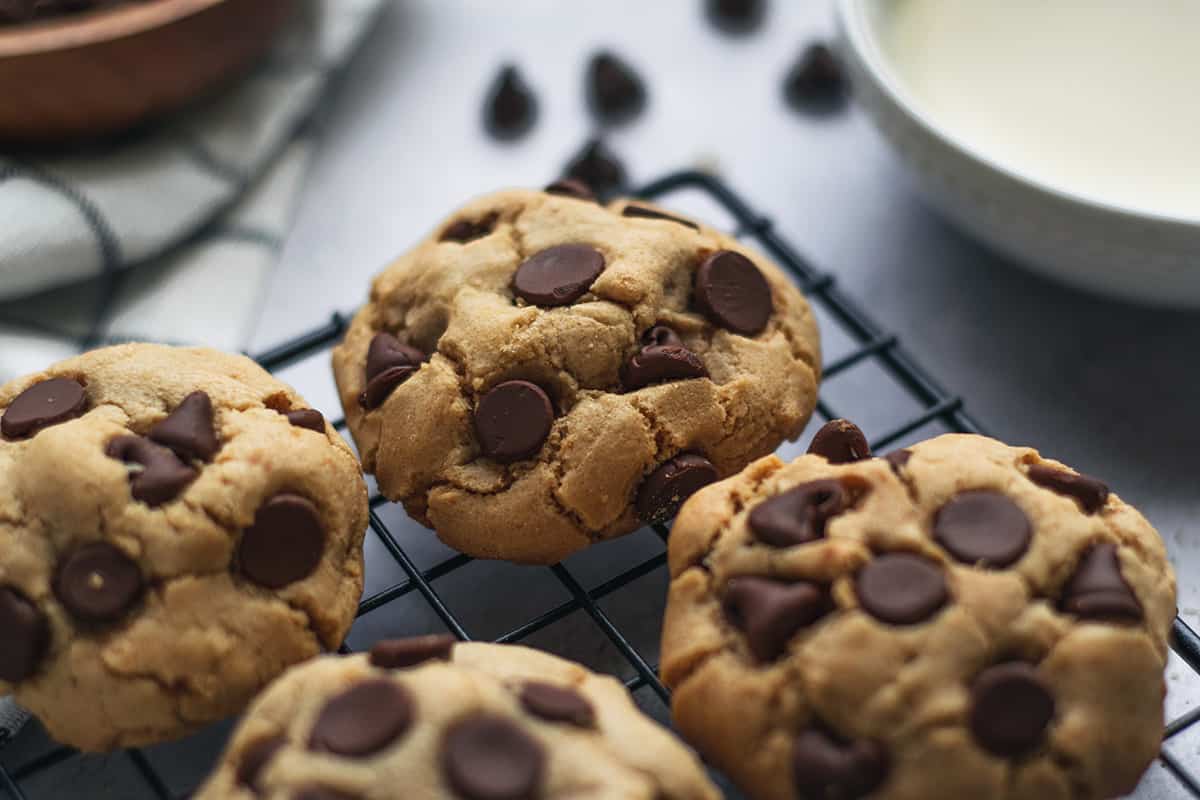 Substituting Vegetable Oil or Butter with Olive Oil
This recipe is made specifically for olive oil. However, if you are interested in substituting olive oil in other baked goods you need to do a little math.
Olive oil can be substituted for canola or vegetable oil 1:1
Olive oil can be substituted for butter 3:4 (if a recipe calls for 4 Tablespoons of butter use 3 Tablespoons of olive oil)
Since olive oil is a liquid at room temperature, this substitution keeps the balance of wet to dry ingredients. It is important to note that oil is 100% fat whereas butter includes 20% water, which when baked produces steam, a natural leavening agent. Thus, baked goods made with oil will be denser than those made with butter.
Other Substitutions
We used semi sweet chips in this recipe but you can also use dark chocolate or a chopped-up chocolate bar. Try adding chopped nuts. You can also experiment with sprinkling different flavored salts like Espresso Brava Salt on top.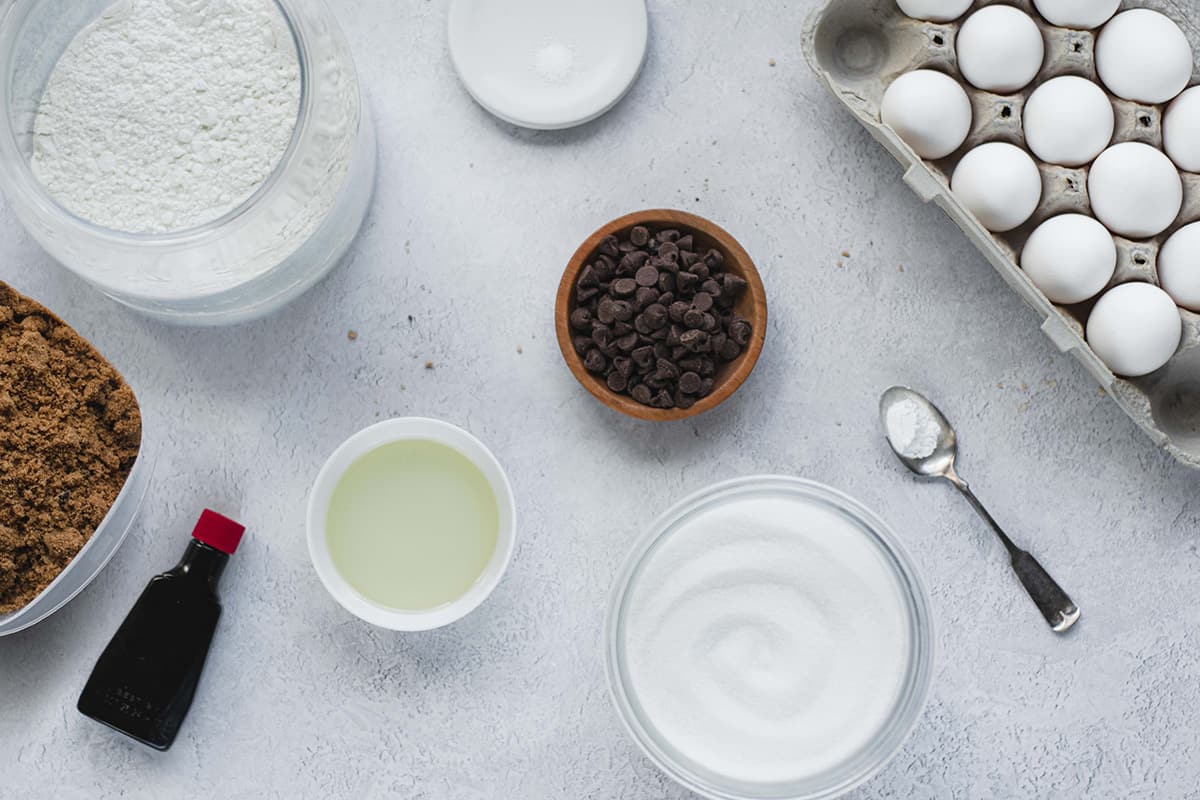 Olive Oil Cookie Ingredients
Olive oil cookies contain many of your standard baking ingredients that you probably already have in your pantry.
Flour acts as a thickening agent, giving your cookies structure
Brown and white sugar sweeten the cookies. The extra molasses in dark brown sugar helps keep the cookies soft
Egg + extra yolk gives richness without needing dairy. Extra beating of the egg acts as a leavening agent and emulsifier
Salt brings out other flavors and cuts through sweetness
Baking Soda is the main leavening agent
Vanilla adds additional flavor depth
Olive Oil is used instead if butter to add moisture, flavor, and richness
Chocolate Chips are the best part, right?! We used semi sweet chips but you can also use dark chocolate or a chopped-up chocolate bar.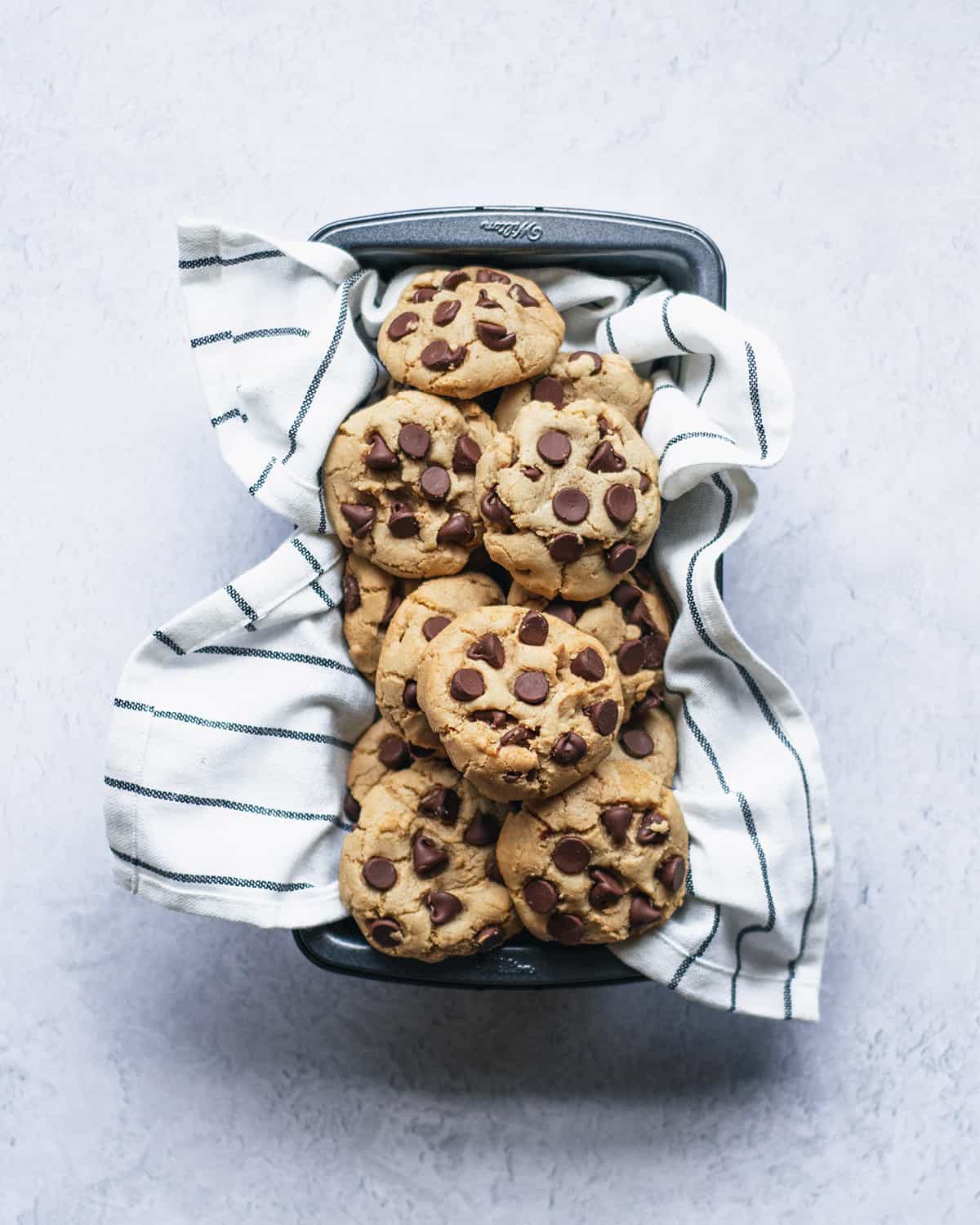 How to Make Olive Oil Cookies
Adjust oven rack to middle position and heat oven to 325 degrees. Olive oil has a low smoke point, so we bake these cookies low and slow.
Whisk flour and baking soda together in medium bowl. This ensures the leavening (baking soda) is properly distributed.
Add both sugars, salt and vanilla to bowl with Extra Virgin Olive Oil and whisk until fully incorporated.
Add egg and yolk and whisk until mixture is smooth with no sugar lumps remaining, about 30 seconds. Let mixture stand for 3 minutes, then whisk for 30 seconds. Repeat process of resting and whisking 2 more times until mixture is thick, smooth and shiny. This slow process helps to introduce more air as well as giving the emulsifiers in the egg yolk time to fully incorporate the oil and egg white.
Using a rubber spatula or wooden spoon, stir in the flour mixture until just combined, about 1 minute. Stir in chocolate chips and nuts (if using), giving the dough a final stir to ensure no flour pockets remain. This dough is drier than a normal (butter) cookie dough. Add the flour slowly, not all at once in case you don't need the last few tablespoons.
Using a tablespoon, scoop out as much cookie dough as necessary to make the size of cookies you desire. I did one big tablespoon for each cookie, which equaled to 2-sheets of 12 cookies. Since the oil will not melt like butter, you will need to squish the dough balls into discs with your hands. If the chocolate chips fall out, simply pop them back into the dough.
(optional) Add a pinch of Espresso Brava Salt or other fleur de sel salts. You can also add more chocolate chips on top.
Bake cookies 1 tray at a time until cookies are golden brown and still puffy, and edges have begun to set but centers are still soft, 13-15 minutes. Do not over bake.
Transfer baking sheet to wire rack; and allow cookies to cool.
Leftovers
Olive oil cookies are best consumed within the first 2 days, but can be kept in an air-tight container for 2 weeks.
For more dessert ideas check out our Grill + Smoker Dessert Round-Up.  
Pair this amazing cookie with our smoked hot chocolate.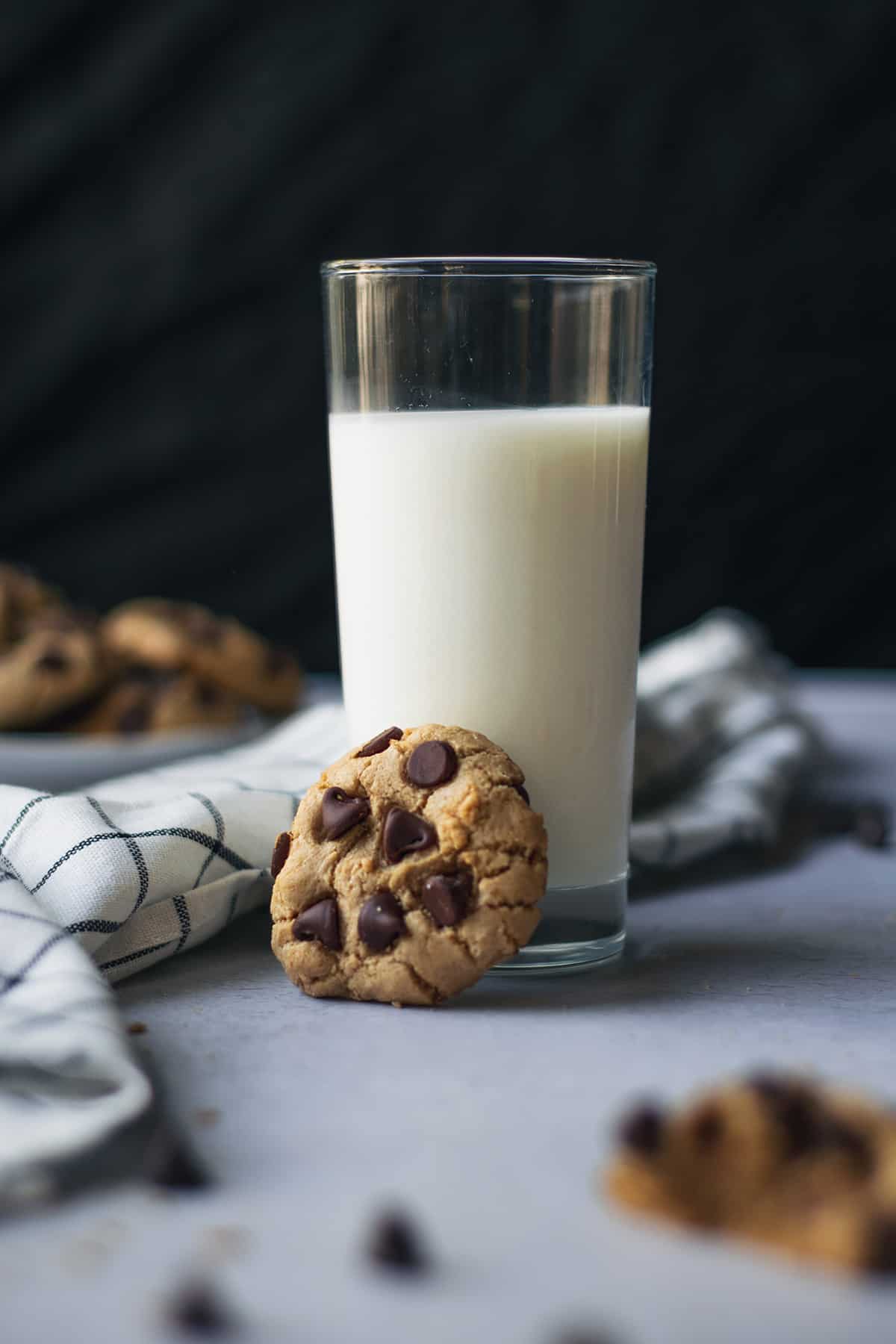 ---
Thank you for being part of our community. If you make any of our dishes we'd love to see them on social media using the hashtag #vindulge and give it a 5 star review.
This post may contain affiliate links. This means if you click on the link, we may receive a small commission if you purchase through the link. We partner with brands we know and love and use and it helps keep the blog going!
This post was originally published in 2014 and updated in 2021 with additional tips and clarity.
---
---