If you are looking for an incredible homemade hot chocolate recipe, it's this Smoked Hot Chocolate. Smoking milk adds a lovely hint of smoke flavor, creating the most amazing hot cocoa recipe. All you need is a smoker to create this unique twist on a classic winter treat!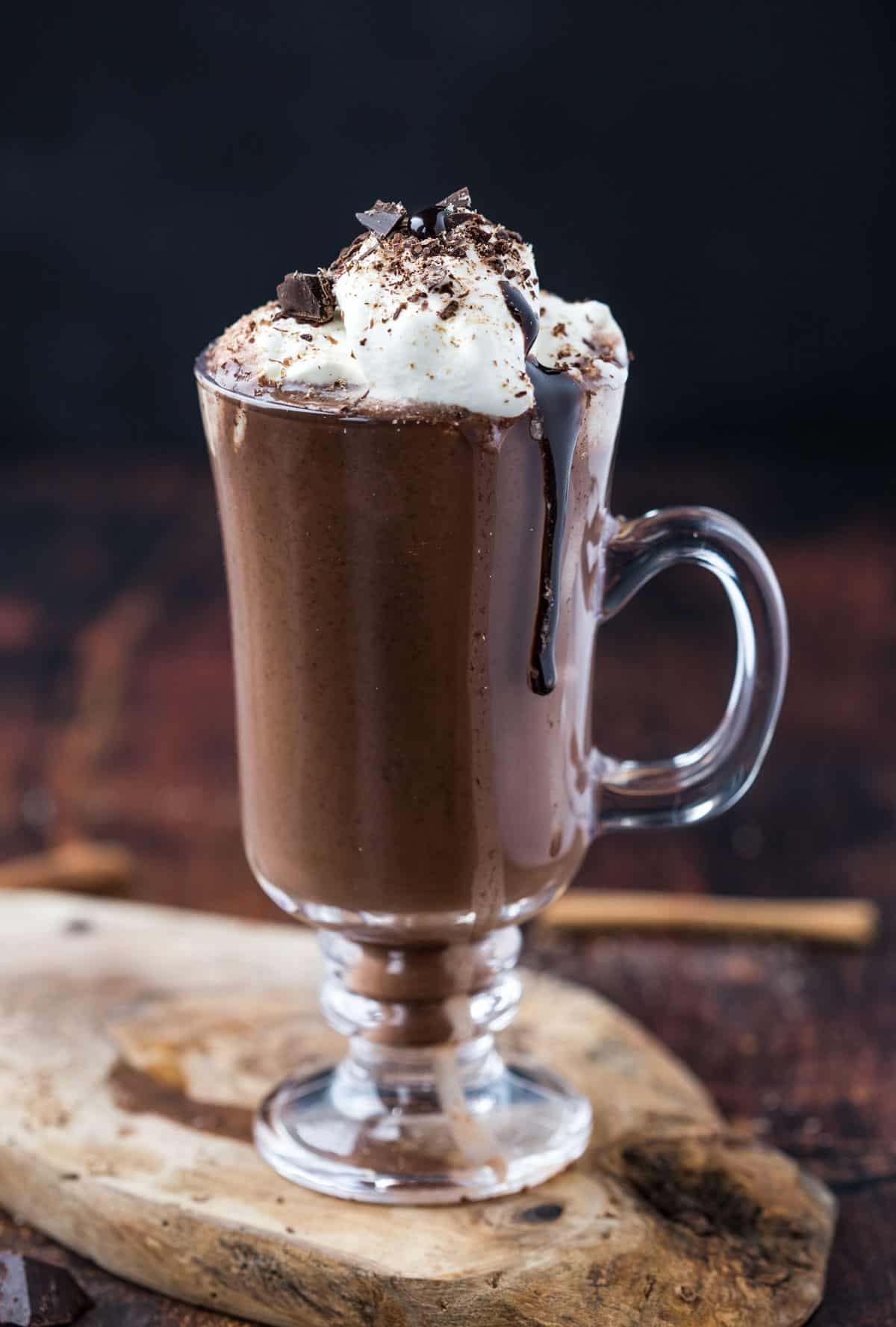 When it's cold outside or if you're looking for a fun and unique recipe for a party, this hot chocolate is one to try. It can be easily scaled up for a crowd, and can also be made as an adult-only beverage.
Jump to:
Ingredients for Homemade Smoked Hot Chocolate
The star of this show is the smoked (whole) milk and good quality chocolate.
Whole Milk – We strongly recommend whole milk (or 3.5% fat milk). The texture of the milk holds up better as you smoke it and makes the flavor stand out with the finished product.
Semi-Sweet Chocolate Bars – While you can use chocolate chips, chocolate bars are better in terms of weight and volume. We use semi-sweet because it adds a nice flavor versus bitter chocolate. Milk chocolate (and the additional fats associated with it) doesn't melt as easily, so avoid milk chocolate for this recipe. We also add shavings from the chocolate over the top of the drink for garnish and added flavor.
Unsweetened Cocoa Powder – The cocoa powder adds additional chocolate flavor and color.
Cane Sugar (white) – We use the sugar to add the right level of sweetness. This is easy to adjust to your preference of sweetness.
Vanilla Extract – Adds a touch of vanilla bringing a great flavor to smoked hot chocolate.
Nutmeg – Shave some nutmeg over the top of the drink for a nice aromatic flavor.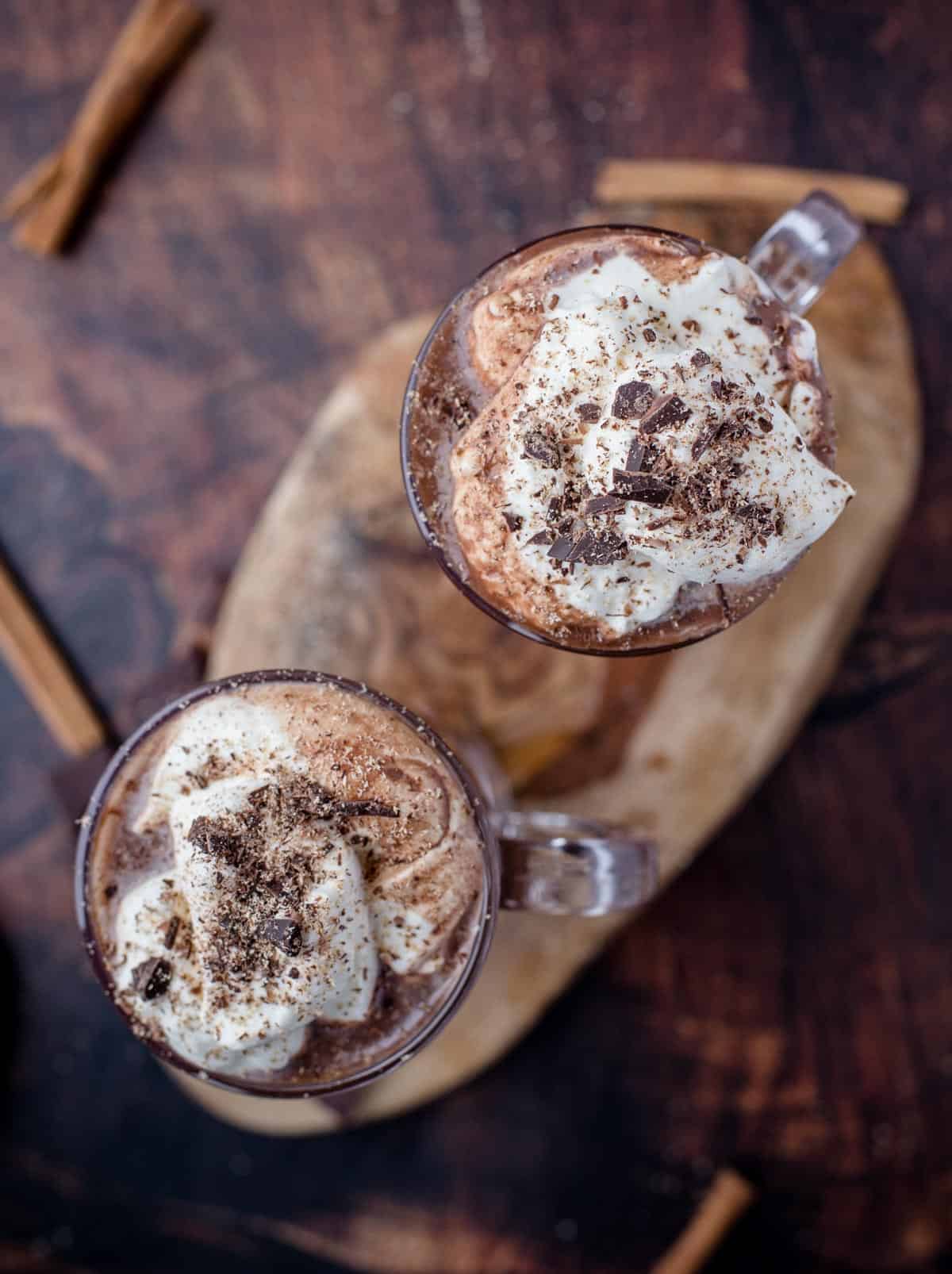 See recipe card for quantities.
Ingredient Note: We do not recommend skim or 2% milk with this recipe because the fat content of the milk is low and as it smokes, it will get more water like consistency.
How to make Smoked Hot Chocolate
The goal is to smoke the milk, then after, use the smoked milk as the base for the hot chocolate. The milk can be smoked up to two days in advance before making the hot chocolate.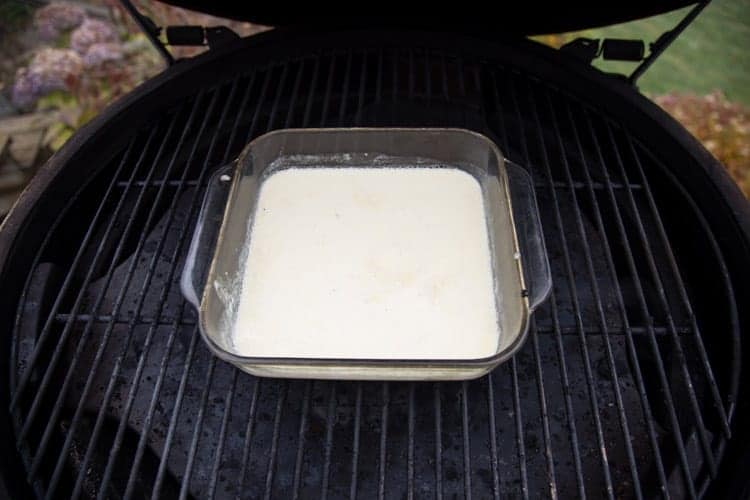 Smoke Milk: Start by smoking the milk. Target a temperature of 200 degrees Fahrenheit in the smoker to avoid boiling the milk. If your smoker doesn't go that low, keep the temperature no more than 225 degrees. Fruit wood provides a mild smoke flavor. Mesquite, Oak, and Hickory will have a more pronounced smoke flavor.
Strain Milk: After 90 minutes, remove the smoked milk and strain out any particles using a fine strainer or cheese cloth.
Make Hot Chocolate: Place the milk in a pan over medium heat and add sugar and vanilla extract (do not bring to a boil). Stir for 2 minutes to combine to allow the sugar to dissolve.
Remove from Heat: Once the milk is sitting at 170 degrees (or sugar is dissolved) remove from the heat. Add the cocoa powder and the chocolate. Whisk or stir to combine until the chocolate is melted and the cocoa powder is combined.
Serve: Pour the smoked hot chocolate into a mug and top with whipped cream or marshmallows. Bonus if you add smoked whipped cream.
Smoking Milk
The trick is to keep the cooking chamber heat low enough to prevent boiling of the milk. In baking terms we want to "scald" the milk, which keeps the temperature of the milk at 170 degrees F. So target 200 degrees F in the cooking chamber, not to exceed 225 or you will boil the milk, resulting in a more burnt flavor and the fats will separate. This is why we recommend whole milk as it has the right fat balance we like.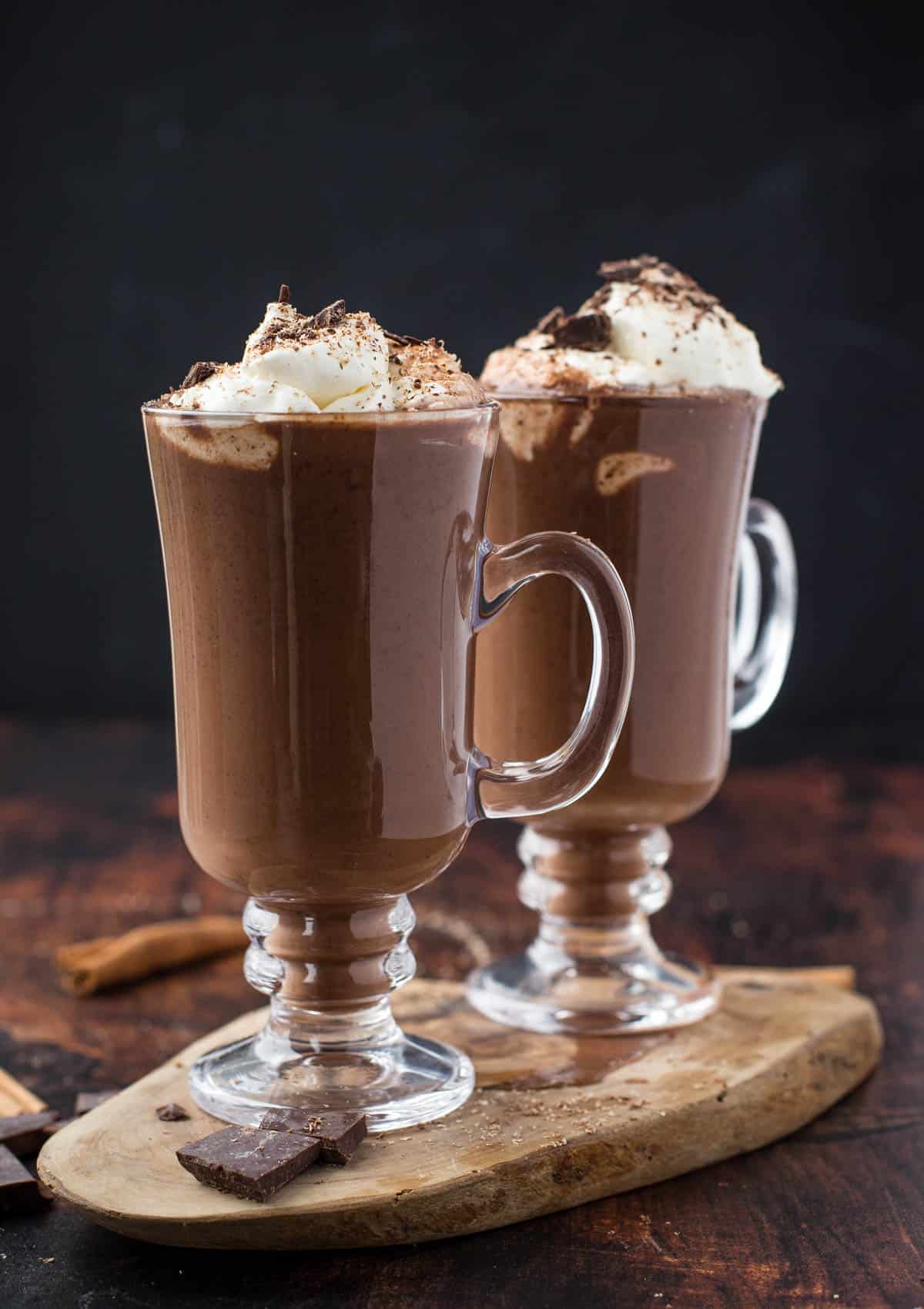 Hot Chocolate Topping Ideas
This is where things can get really fun. Lay out all of these ingredients if making a hot chocolate bar where guests can select their favorites.
Whipped Cream – you can even smoke it.
Marshmallows – Fancy large squares or the small ones, or both
Chocolate – Shave chocolate over the drink
Chocolate Sauce – A chocolate sauce drizzled is delicious
Caramel – Like chocolate sauce, it adds a nice level of sugar
Peppermint Bark – Add some peppermint bark chunks for a holiday touch
Cinnamon Stick – You can shave some with a mesh grater and add the stick for presentation
Substitutions
Milk Substitutes: Almond Milk. We have tested this recipe with almond milk. However, adjust the time to 1 hour of smoke as it seems to take on more smoke flavor.
Adult Version of Smoked Hot Chocolate: If you want to add some boozy cheer to this winter hot chocolate, add 1 ½ ounces of Kahlúa, Baileys, Rum, or Bourbon to your hot chocolate mix, then top with whipped cream.
---