Have you ever thought to make dessert on your grill? Live fire cooking is a great way to cook meat and vegetables, but it also does a great job at caramelizing fruit and adding a smoky flavor to your favorite sweets and desserts. Below are our favorite chocolate, nutty, and fruity dessert recipes you can make right on your grill or smoker.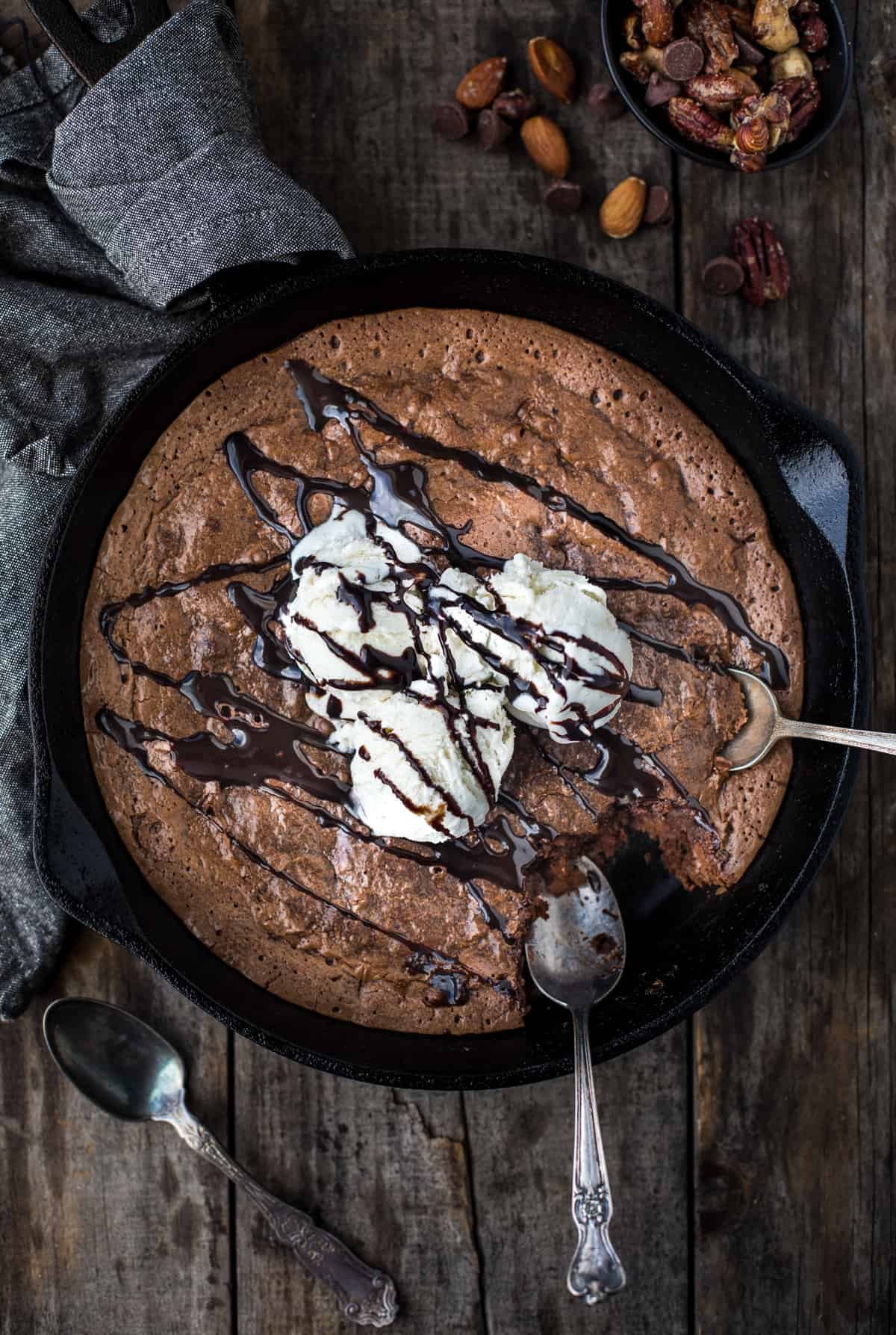 Do you love outside cooking and want to continue all the way to the very last course of the meal? Or maybe you're craving sweets but you don't want to warm up the whole house with your oven? I've said it before and I'll say it again–anything you can make in your oven or on your stovetop can be made in a grill. These sweet dessert recipes are proof of that! We love outdoor cooking on our grill and smoker. It lends an extra layer of flavor to the foods we make and it's a great excuse to get outside with family and friends.
Try making the Chocolate Pots de Creme for a special date night. Or make Candied Pecans as a holiday gift for your neighbor or kiddo's teacher. Some of the dessert recipes like Grilled Peaches or Skillet Brownies are dairy-free or gluten-free and we promise they are just as good (if not better!)
Jump to:
Chocolate on the Grill and Smoker
Calling all chocoholics! Where else to start our sweets round-up than chocolate?! These creamy, rich, and delicious chocolate desserts on the grill and smoker are sure to become your new favorite sweet treat! Be sure to use high-quality chocolate for the best result.
---
Nutty Sweet Treats
If your favorite part of holiday gatherings is the bowl of mixed nuts then we have got the recipes for you! A little smoky and a little sweet, these recipes are perfectly balanced.
---
Fruit Dessert Recipes
Fruits are nature's own sweets! Grilling and smoking fruit helps it to caramelize and bring out the natural sweetness.
Smoked Toppings
Don't forget the toppings! Smoking these ingredients adds additional flavor to any dessert–even store bought!
---
Still craving more smoked sweets? Try this Smoked Pineapple Upside Down Cake by Smoked Meat Sunday or use the same technique as our smoked whipped cream to make Smoked Ice Cream á la Serious Eats.
---
Thank you for being part of our community. If you make any of our dishes we'd love to see them on social media using the hashtag #vindulge and give it a 5 star review.
This post may contain affiliate links. This means if you click on the link, we may receive a small commission if you purchase through the link. We partner with brands we know and love and use and it helps keep the blog going!
---