This Greek Yogurt Dip Recipe is so easy to make and yet packed with flavor. It has 5 simple ingredients, with the most important being good green chile. Serve with raw veggies or chips for the ultimate healthy dip. This delicious Greek yogurt dip will be one of your new favorites.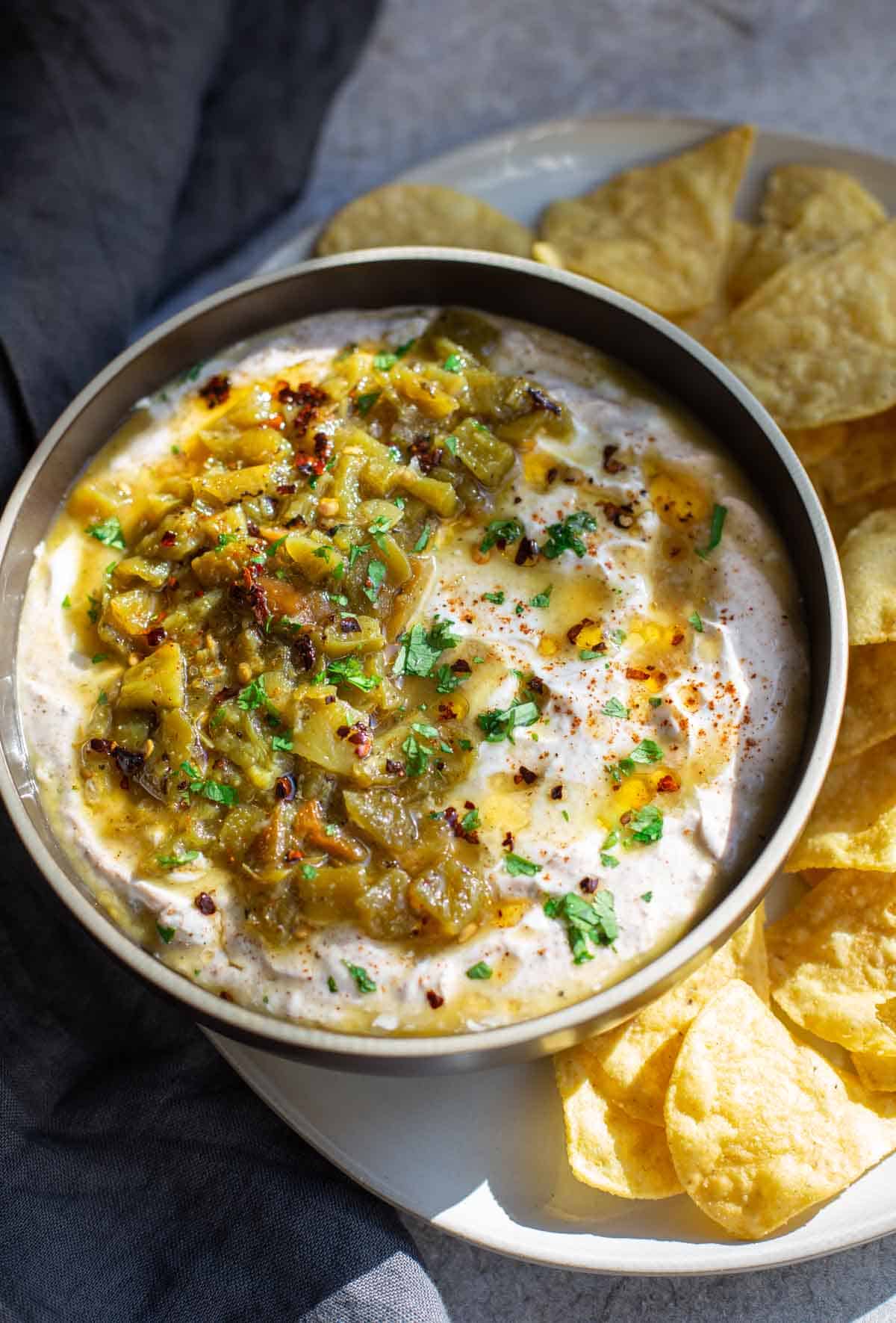 Some of the best dishes are sometimes the most simple. What it tends to come down to is the best quality ingredients. This Green Chile dip is the perfect example. While visiting some good friends in New Mexico, they always had this dip out to snack on.
When they finally told us what was in it, it blew my mind that there were just two main ingredients: good quality fresh roasted green chiles, and full fat Greek yogurt. What?! How could it be? We had to create our own version at home. And since we're not in New Mexico, we jazzed up the flavor a bit with some simple modifications from our friend's version.
Recipe Highlights
This dip is made without sour cream or cream cheese for a healthier dip.
Freshly roasted green chiles are an important component for flavor.
Not only is this a great Greek yogurt veggie dip but it can be a topping for a bean bowl, grilled chicken tacos, or incorporated into a salad.
It is easy to scale up for a crowd.
Jump to:
Typically Greek Yogurt dips have ranch or cream cheese added to them. And while that is fine, sometimes we want something a little healthier. Inspired by that recent visit experiencing New Mexico cuisine, we found this amazing dip that was simply prepared with Greek Yogurt and freshly roasted green chile. We decided to add a little twist to the flavor for creamy texture and added zest for one tasty dip.
Ingredients
Because there are so few ingredients, the quality of each is important! You can easily modify as well to add your own twist of flavors.
Full Fat Plain Greek Yogurt – This is the base of the dip. Whole milk yogurt is preferred for the richer texture and flavor. We do not recommend regular (non-Greek) whole-milk yogurt as it will be thinner, resulting in a more runny texture.
Hatch Green Chile (or other New Mexico Green Chile) – Freshly roasted green chile is best. Alternatively, you can find jarred roasted green chiles, but look for those specifically from New Mexico. The key is finding the best quality green chiles you can find. I do not recommend using the small canned green chile often found in the Mexican aisle of your grocery store (those are usually fairly bland and won't result in the same flavor that we're aiming for).
Seasoning – We use a sweet and savory all purpose dry rub. This gives more flavor to the dip. Alternative you can add a pinch of cumin, chili powder, garlic powder and salt, in a quick pinch.
Kosher Salt – This adds a nice amount of flavor to the dip so it's not overly tart.
Chili Oil (optional)- A touch of chili oil drizzled over the top adds a nice nutty flavor and kick. Alternatively you can add good olive oil.
Modifications
You can add fresh herbs like tarragon, thyme, or Mexican oregano to enhance the aromatics of the Greek Yogurt Dip. For a touch of flavor finish with some Maldon finishing salt and chopped cilantro.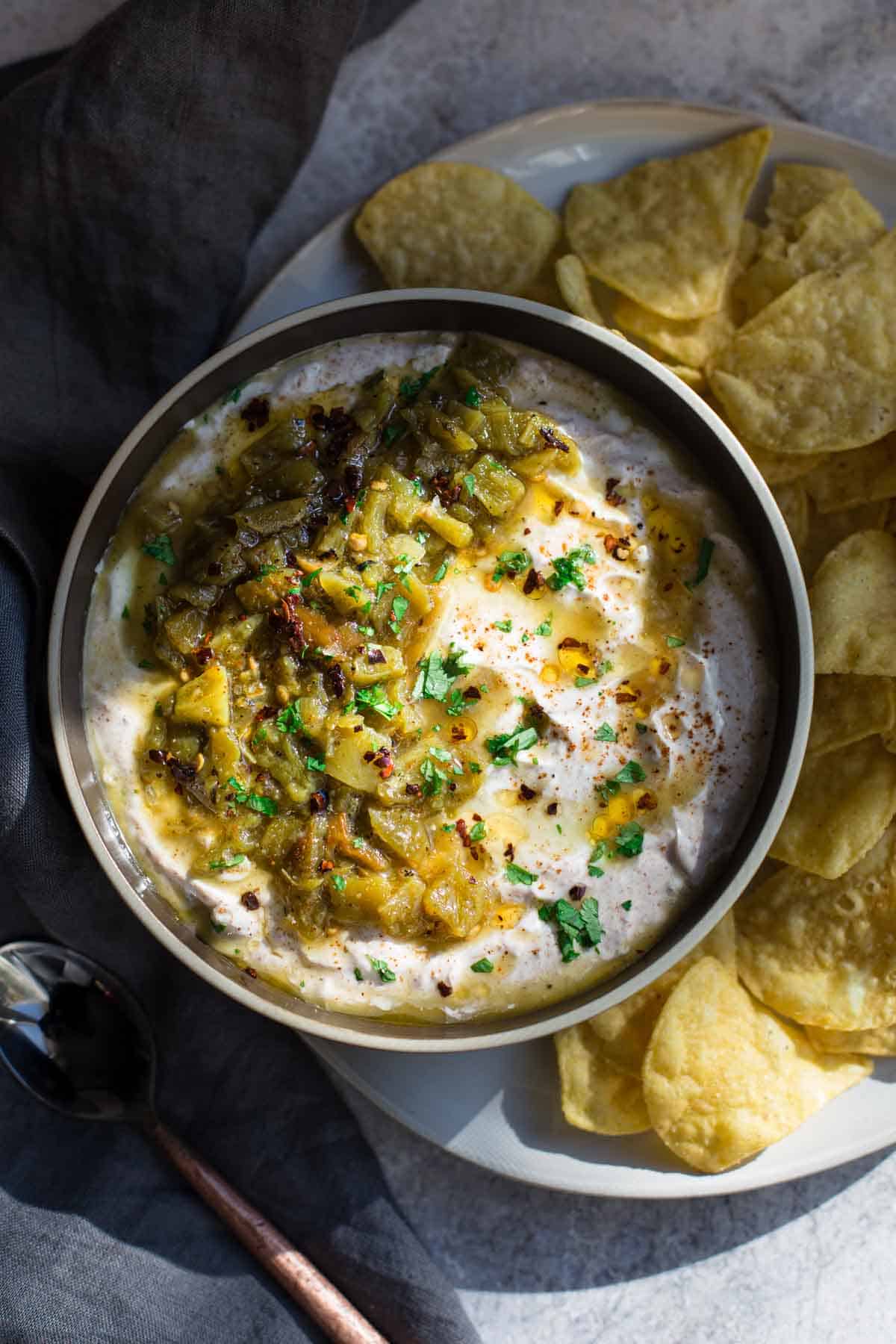 Greek Yogurt Dip Recipe Steps
In a mixing bowl combine the Greek Yogurt, half of the green chile, seasoning, and salt. Stir to combine.
Transfer the dip into a serving bowl. Add the remaining green chile over the top and then pour a small amount of the chili oil and garnish with cilantro.
Serve with tortilla chips, cherry tomatoes, fresh red bell pepper, and baby carrots. Or if you feel bold make some French fries and pour this yogurt dip over the top.
Scaling Up
Yogurt Dip Recipes are easy to scale up for a crowd. We recommend doubling the recipe but adding more green chile to the top of the dish. The important part of presentation is making sure the green chile covers a majority of the top of the dish and is incorporated into the dip itself.
Storage
You can make this up to 1 day in advance and store in an airtight container. If you do this, don't add the chili oil until right before you are serving.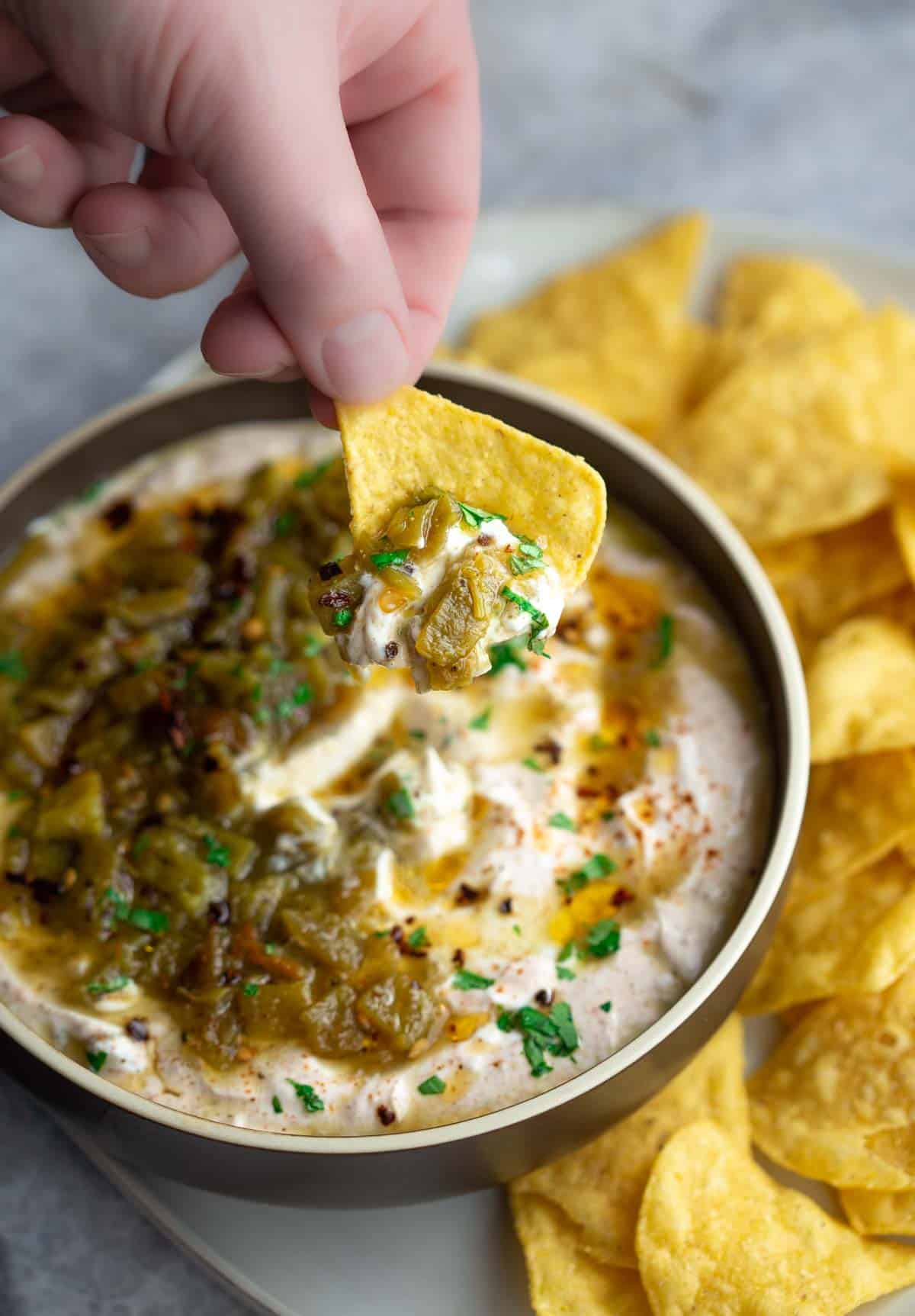 Other Dip Recipes
For more dip inspirations check out some of our favorites.
Tried this recipe? Give us a star rating and we would love to see! Mention @vindulge or use the hashtag #vindulge on all the social media handles. And consider subscribing to our newsletter where we drop all our favorite ideas and inspirations every week.
This post may contain affiliate links. This means if you click on the link, we may receive a small commission if you purchase through the link. We partner with brands we know and love and use and it helps keep the blog going!
---