Whether you have a grill or an oven, learning how to roast green chiles will help you add incredible flavor to a variety of dishes. This recipe works from Anaheim peppers to Hatch Chile Peppers. The unique flavor from roasted green chiles adds an earthy flavor to salsas, stews, and even pizza.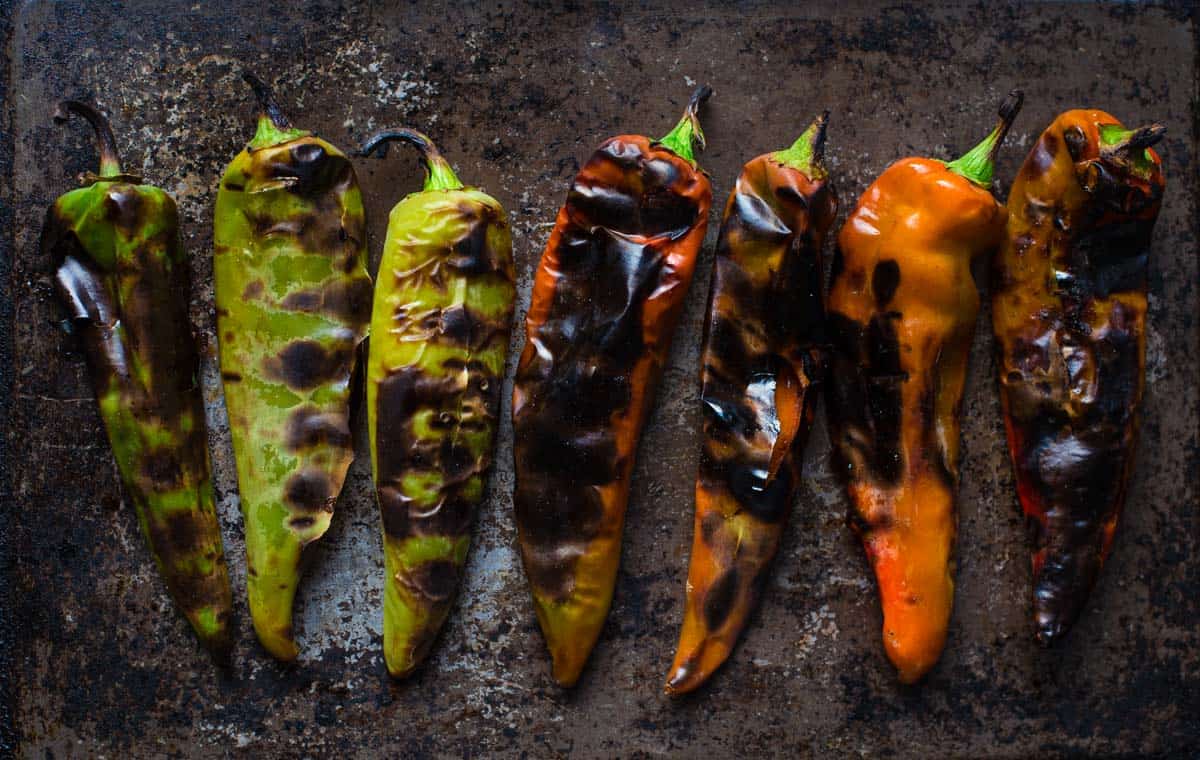 Recipe Highlights
This easy recipe roasts peppers in less than 5 minutes for smoky and fragrant flavors for any dish.
Our favorite way to roast whole chiles is over an open flame on the grill.
This recipe also works for the sweeter red chile pepper as well.
Jump to:
Ingredients
This recipe works for a variety of fresh green chiles. You can source your peppers from any local grocery store. Most commonly if you go to grocery stores throughout the year you will see Anaheim Chiles or Poblano Peppers. This recipe works for these and they are a great alternative to Hatch Chiles or New Mexico Chile varietals. You can read more at our article all about cooking with green chiles.
Seek out local farmers' markets to get your hands on fresh Hatch peppers from the Hatch valley region of New Mexico (the chile capital of the world). The amazing flavors from those specific peppers is remarkable. Typically you will see these peppers during Hatch Chile season, from late summer (in August) until early November. It's a short season but worth seeking out if you can find them.
You can also order fresh Hatch Chiles online and delivered to your door, like from the Hatch Chile Store.
Either way roasted green chiles add a smoky flavor to any dish, and having your own versus the canned chiles is our favorite way to add flavor to our recipes.
Heat Level
Green chile can have a wide range of heat levels according to the Scoville scale. The larger the Scoville heat units the spicier the pepper will be. Generally, fresh Hatch Chiles are labeled as mild, medium, or hot/spicy. But if they aren't labeled a general rule of thumb is that larger peppers tend to have less heat than smaller peppers. You will only see the Hatch or New Mexico chiles during chile season
Preparation
Be sure the green chile is rinsed and dried completely. You don't want moisture. There is nothing else needed. Just roast the green chiles directly over the heat source.
How to Roast Green Chile on a Grill
Whether a gas grill or a charcoal grill the secret to perfectly roasted green chiles is a hot grill with high heat.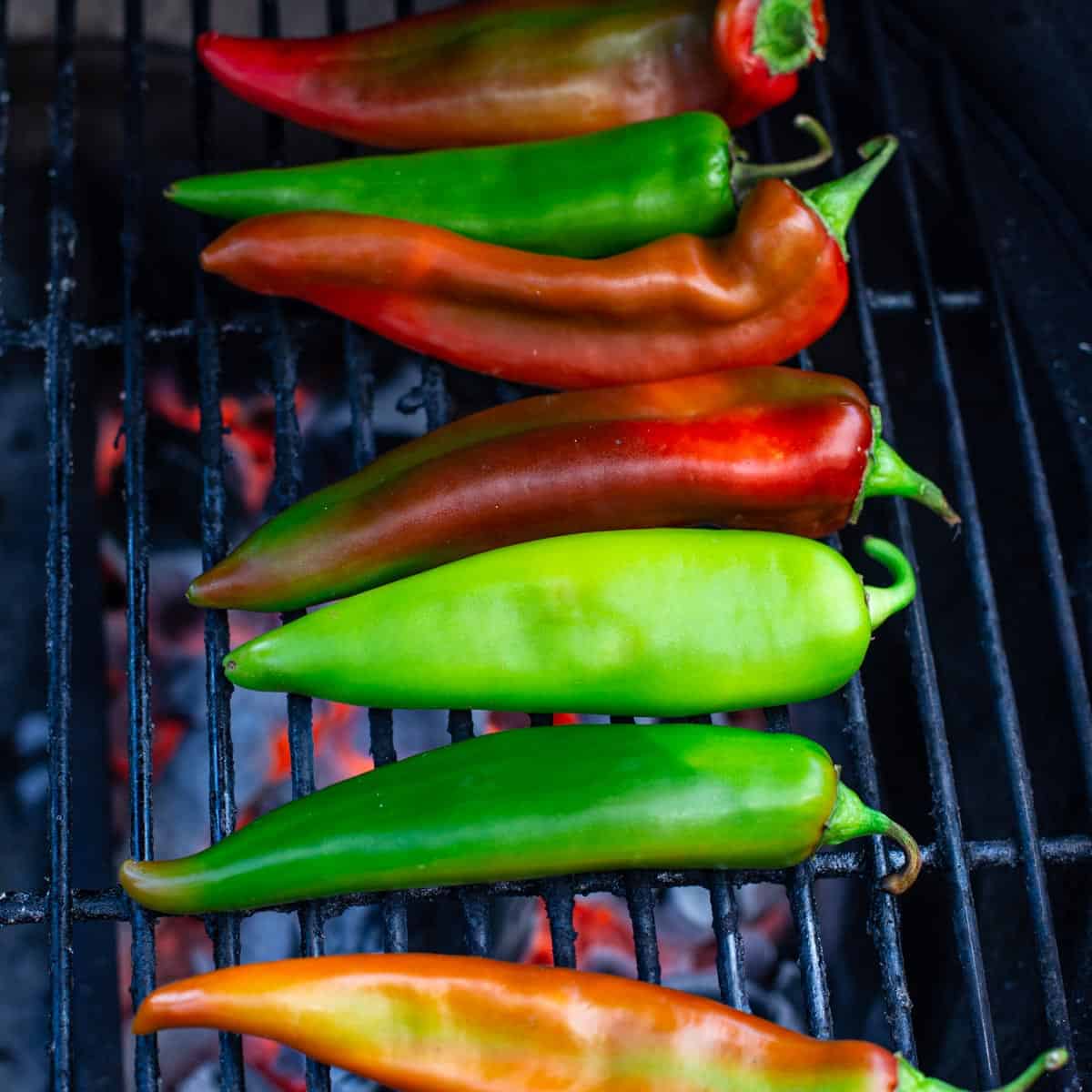 Prepare grill for direct grilling, targeting 500 degrees F as the ambient temperature in the grill.
Place the fresh green peppers on the grill grate over direct heat. Grill for two minutes or until the skin blisters. Flip and continue to grill other side until the skin blisters (about 2 minutes per side). For larger peppers you may need to repeat.
Remove with long tongs and store in a one gallon plastic baggie or equivalent freezer bag.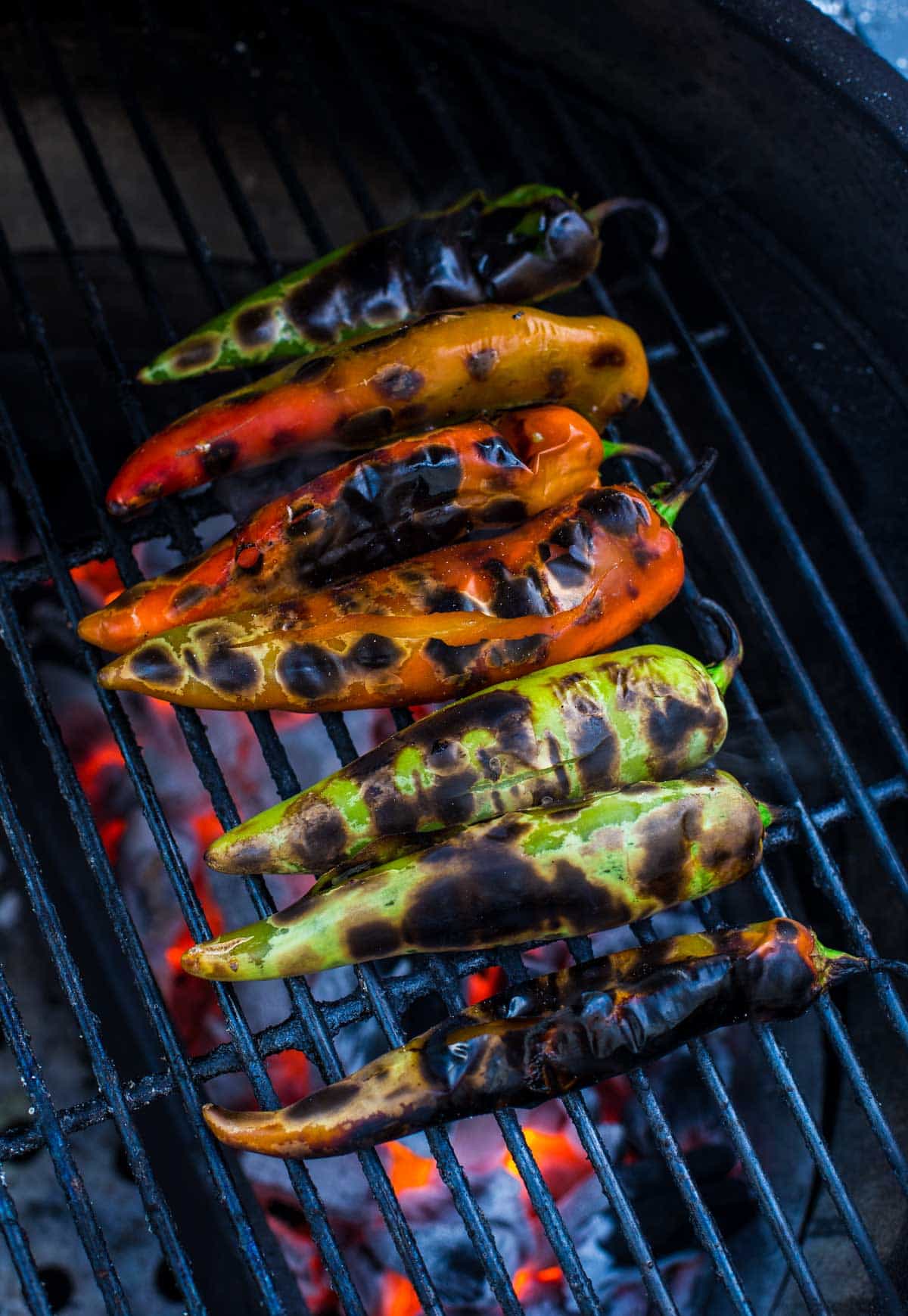 How to Roast Green Chile in an Oven
This is probably the easiest way to make roasted chiles at home without a grill.
Turn the oven broiler of the oven on high and position the grate directly under the broiler.
Place the fresh chiles on a rimmed baking sheet in a single layer. Place them directly under the heat source (which is the broiler). Don't walk away. The green chiles should start to blacken and you'll see the skin blister in as little as one minute and up to 3.
Once the first side is blackened completely, remove the sheet pan. Use tongs to flip the chiles and re-arrange in a single layer. Place back under the broiler and continue roasting the chiles until you see the skin blisters on the other side (up to 3 minutes).
Place peppers into a large freezer bag.
Removing the Skin
It's easiest to remove the skin if you take the grilled green chiles and place them in a plastic bag and then seal it. The heat and moisture will help the skin start to separate. After about one hour in the freezer bag, remove the roasted chiles. Remove the outer skin with your hands. Remove the stems and cut the chile flesh in half with a sharp knife. Then gently scrape off the seeds.
Storing
You can use the roasted peppers right away or store them for future use. Dice the roasted green chiles finely and keep in an airtight container for up to one week. Alternatively you can roast the green chiles, remove the outer skin and stem and then store in the freezer. The best way is to use a vacuum seeler or be sure you store in a freezer bag with as much of the air removed as possible. They will keep for up one year and they defrost within one day.
Green Chile Recipe Ideas
From appetizers to a green chile sauce for enchiladas, the ideas are endless.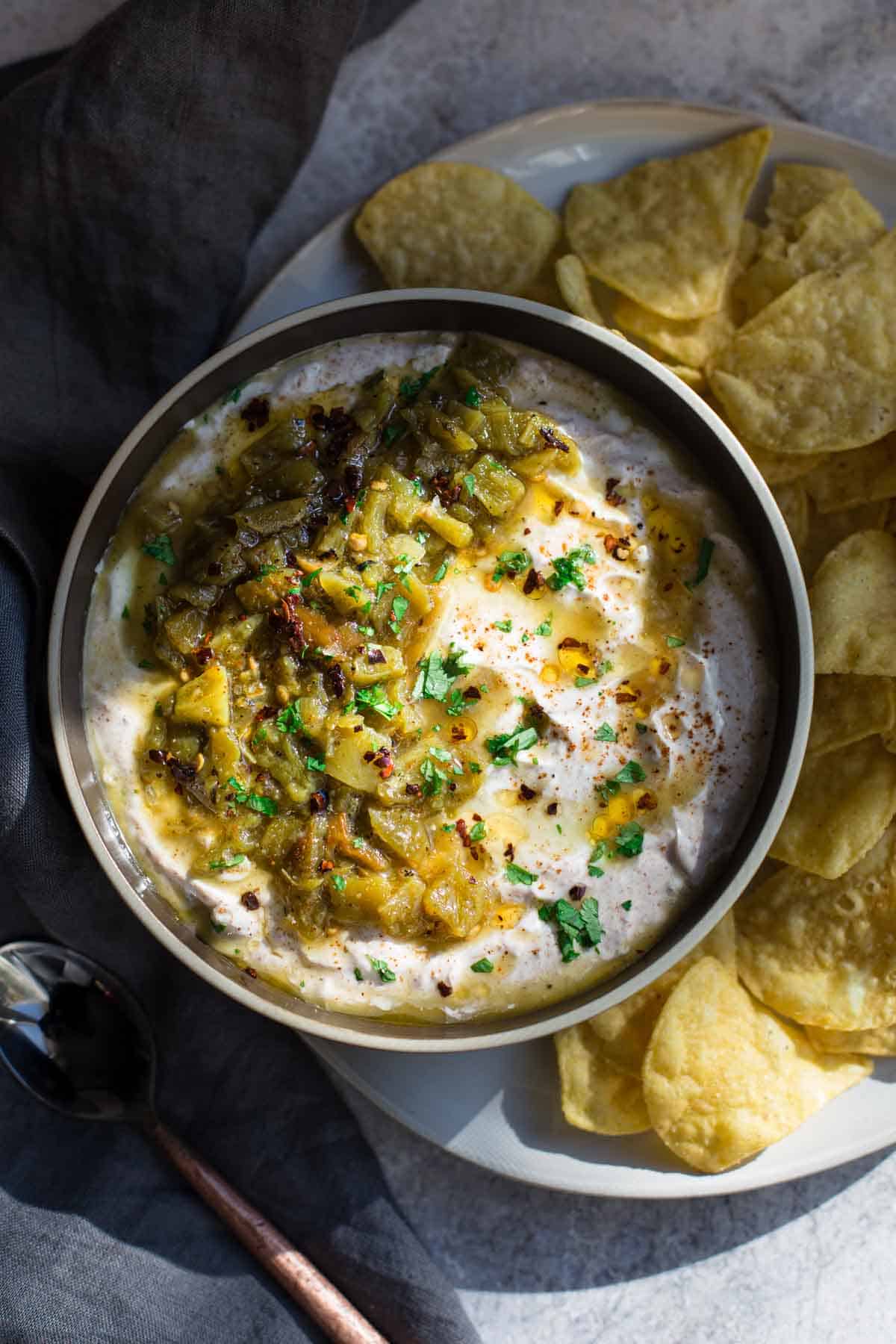 Tried this recipe? Give us a star rating and we would love to see! Mention @vindulge or use the hashtag #vindulge on all the social media handles. And consider subscribing to our newsletter where we drop all our favorite ideas and inspirations every week.
This post may contain affiliate links. This means if you click on the link, we may receive a small commission if you purchase through the link. We partner with brands we know and love and use and it helps keep the blog going!
---