Smoked Onion Dip is an easy recipe that starts with a base of smoked white onion, then layering in sour cream, chives, and cream cheese for the ultimate game day or party snack. It's a fantastic smoky twist on the classic French Onion Dip (but so much better!).
Vindulge Recipe Highlights
Smoking the onion creates a sweeter flavor for this dip with a smoky twist.
Finely dicing the onion makes for a great texture without biting into big chunks.
Adding your favorite dry rub or even ranch seasoning can create your own flavor profile if you like a more salty or umami flavor.
Yes, you can drop some store-bought onion soup powder into some sour cream making it French Onion Dip (it's the dried onions that do it). But why not try smoking an onion and then making your own homemade Smoked French Onion Dip? The flavors are delicious, the steps to make it are easy, and you can modify based on your own flavor preference.
Smoked onion dip is a great edition to your Big Game party spread, or really any party for that matter. Wow your friends with the secret ingredient – smoked onions. It's pretty addictive!
Jump to:
Ingredients
Instead of using a dried onion soup mix, we opt for a mix of fresh and dry spices for our homemade blend.
White Onion – After smoking for two hours, the onion becomes sweet and soft. Red onions will still be a more pronouced flavor. So if you (and your guests) love onion, then feel free to swap the white onion for a red one.
Dairy – For the creaminess we mix sour cream with cream cheese. The combination adds the acidic flavor plus a creamy richness. You can also swap the sour cream for Greek yogurt should you want 1:1.
Spices – Onion and garlic powder both accentuate the flavor of the dip.
Salt – Kosher salt brings the sweet and salty flavor together.
How to Smoke Onion
We use smoked onion for onion rings as well as a topping for burgers. It's such a fun way to add flavor and is the key ingredient for this smoked onion dip.
Cut the onion in half from the poles (versus the orbital). Cutting in half adds more surface area to take on smoke flavor. You can smoke an onion whole, but cutting it in half allows the onion to "cook" faster.
Prepare the smoker, targeting 225 degrees Fahrenheit, using fruit wood like apple or cherry for a sweeter flavor. For more smoke flavor, you can use oak or hickory.
Place the onion halves on the smoker for two hours and then remove. Allow them to cool to make it easier to chop. You can also place the smoked onions in the refrigerator to cool for one hour to make it easier to cut. You can do this the day before for easier prep.
After the onion has cooled, remove the poles and then outer layer of skin. Then it's ready to finely dice.
Chef's Note: Cutting at the poles (where the stalks sprouted from) versus the orbital allows the cells from the onion to stay more intact providing better texture to the onion as you eat it in the dip.
Making Smoked French Onion Dip
Finely dice the smoked onion.
Combine all ingredients in a large bowl and then stir to combine.
Season to taste with more salt. Because this recipe runs sweet, avoid a rub with sugar unless you want additional sweet flavor.
Serve with your favorite chips and veggies.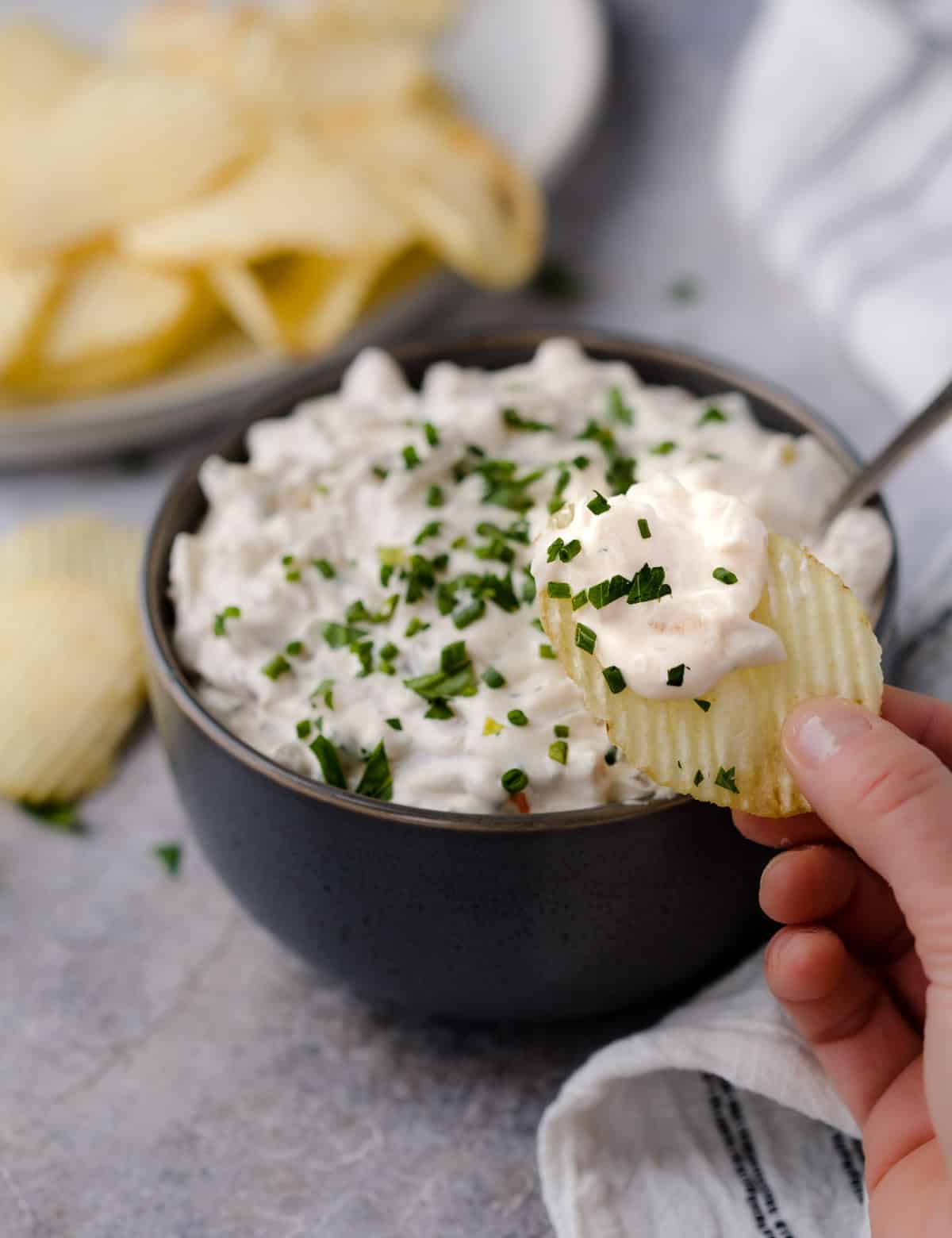 Other Great Appetizers
You can see our entire line up of game day appetizers for the grill or smoker. Here are some of our favorites.
Tried this recipe? Give us a star rating and we would love to see! Mention @vindulge or use the hashtag #vindulge on all the social media handles. And consider subscribing to our newsletter where we drop all our favorite ideas and inspirations every week.
This post may contain affiliate links. This means if you click on the link, we may receive a small commission if you purchase through the link. We partner with brands we know and love and use and it helps keep the blog going!
---