Cooking with Fresh Green Chile is a magical experience. Just ask anyone from New Mexico and you'll hear a lot of opinions about how New Mexican Green Chile is so ingrained in the food and culture of the state. From a green chile sauce of simply roasted chile to the common green Chile stew made with fresh Hatch Valley chile, the varieties of green chile peppers create amazing meals.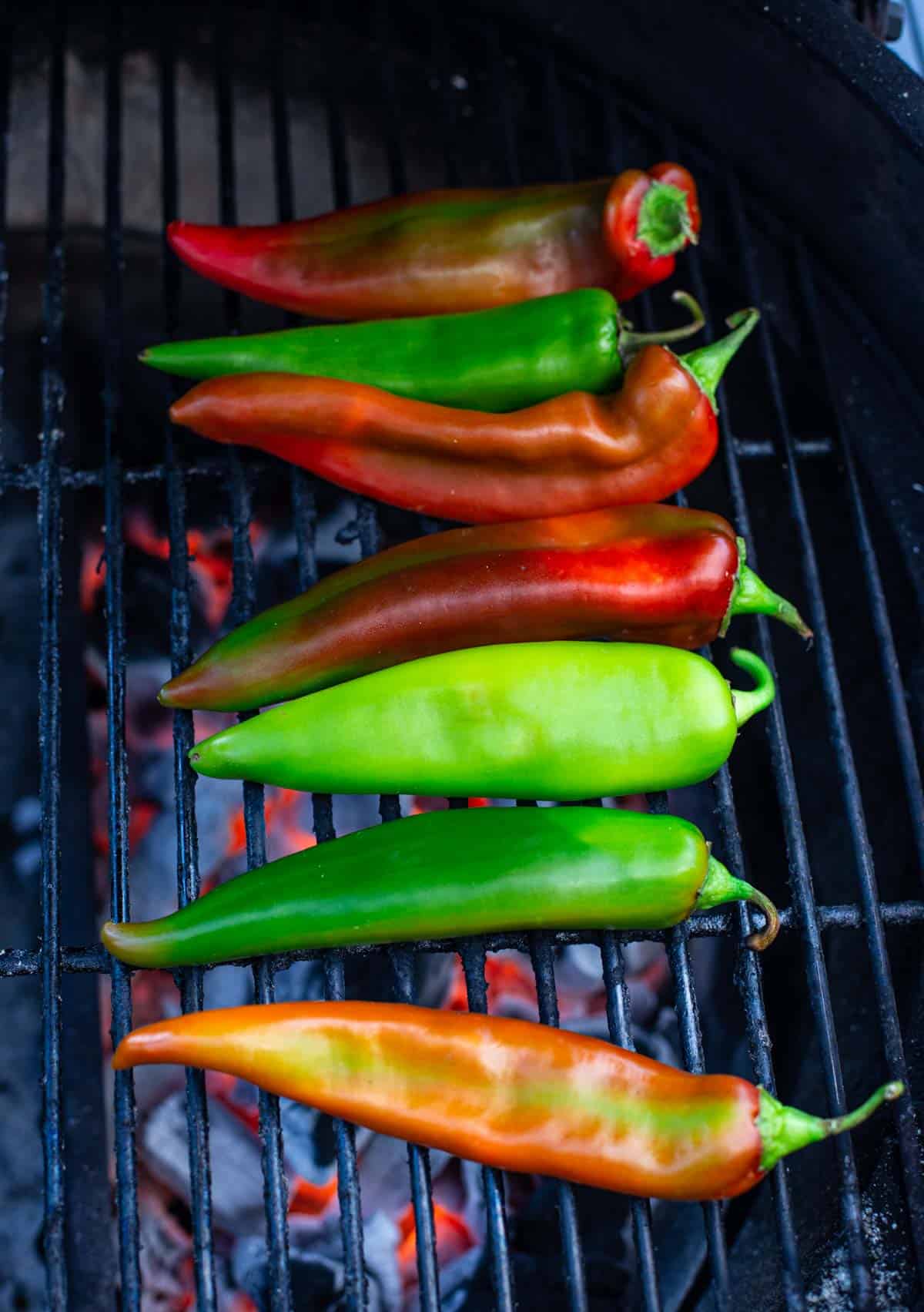 Article Highlights
There are many varieties of "green chile" mostly grown throughout the American Southwest
Hatch Green Chiles only originate in the Hatch region of New Mexico.
Roasted Green Chile is a great way to add rich smokey flavor to any dish.
Red Chile is simply green chile that was ripened longer and with a sweeter profile.
Jump to:
Chile versus Chili
It's important to note that "chile" references the peppers that make up Green Chile versus "chili" which references the stew-like culinary dishes.
New Mexico Green Chile
For millennia the Green Chile was grown by the Pueblo people throughout the Southwest part of the United States. Pueblo Chiles are still cultivated to this day and showcase the diversity of the pepper. There is not one specific type of pepper that is the New Mexican Chile, instead it's a variety of heirloom peppers.
The most common type of peppers are the Big Jim, No. 6, No. 9, Sandia, and New Mexico 6-4. The various plants were often bred to change heat levels to appeal to a variety of palates. New Mexico State University plays a big role in the ongoing research and development of chile peppers, and a great resource for research.
New Mexico even created legislation to be sure that any labeling of the chile properly identified it as a New Mexico chile versus those grown in Colorado or California.
Hatch Chile Peppers
In order for a pepper to be labeled Hatch it must be grown in the Hatch Valley of New Mexico around the town of Hatch, NM. Many chile experts point to the growing conditions in the Hatch Valley as perfect for the distinct flavor and heat profile of Hatch Green Chiles. The Rio Grand River combined with the soil type and weather all make it an ideal place for growing fresh chile.
Hatch peppers are similar in that they can be many different varieties.
Colorado
Like New Mexico, chiles are also grown in Colorado and often referenced in the recipe for Chile Colorado.
California
Often the most common chiles found in California are the Anaheim and Poblano varieties.
Growing Season
Peppers are planted in the early spring (April) and are harvest season is in late August through December. Hatch Chile Season generally follows the same timeline. Frost, rain, and other environmental factors can speed up or slow down any growing season.
But you can generally expect to see "Hatch" or "New Mexico" fresh chile in mid August and for a few weeks there after. As October hits that's when the red chile peppers tend to show up and are then dried for the ristras.
Green Chile Flavor Profile
Like any fruit, the varietal of the pepper will define the actual flavor and level of heat as well as the level of ripeness. The color of the chile won't really change the heat level. Green chiles are harvested early in the growing season and as it sits on the plant they start to turn red later in the growing season. So red chile is simply the green chile varietal that has ripened further.
Green Chile – Picked early in the growing season, green chile tends to have a brighter pungent note, smoky flavor, and a little more acidic after cooked.
Red Chile – Picked later in the growing season, the red chile will tend to be sweeter in flavor with a little more earthiness when roasted. It tends to lose some of the pungency as well.
Dried Red Chiles or Ristra – When red chile is dried at the end of the season you can find ristras, or red chiles that have been tied together to dry into pods. These are great rehydrated for red chile sauce or ground up for chili powder. The dried chiles make a great gift, but be sure when buying that it is food safe.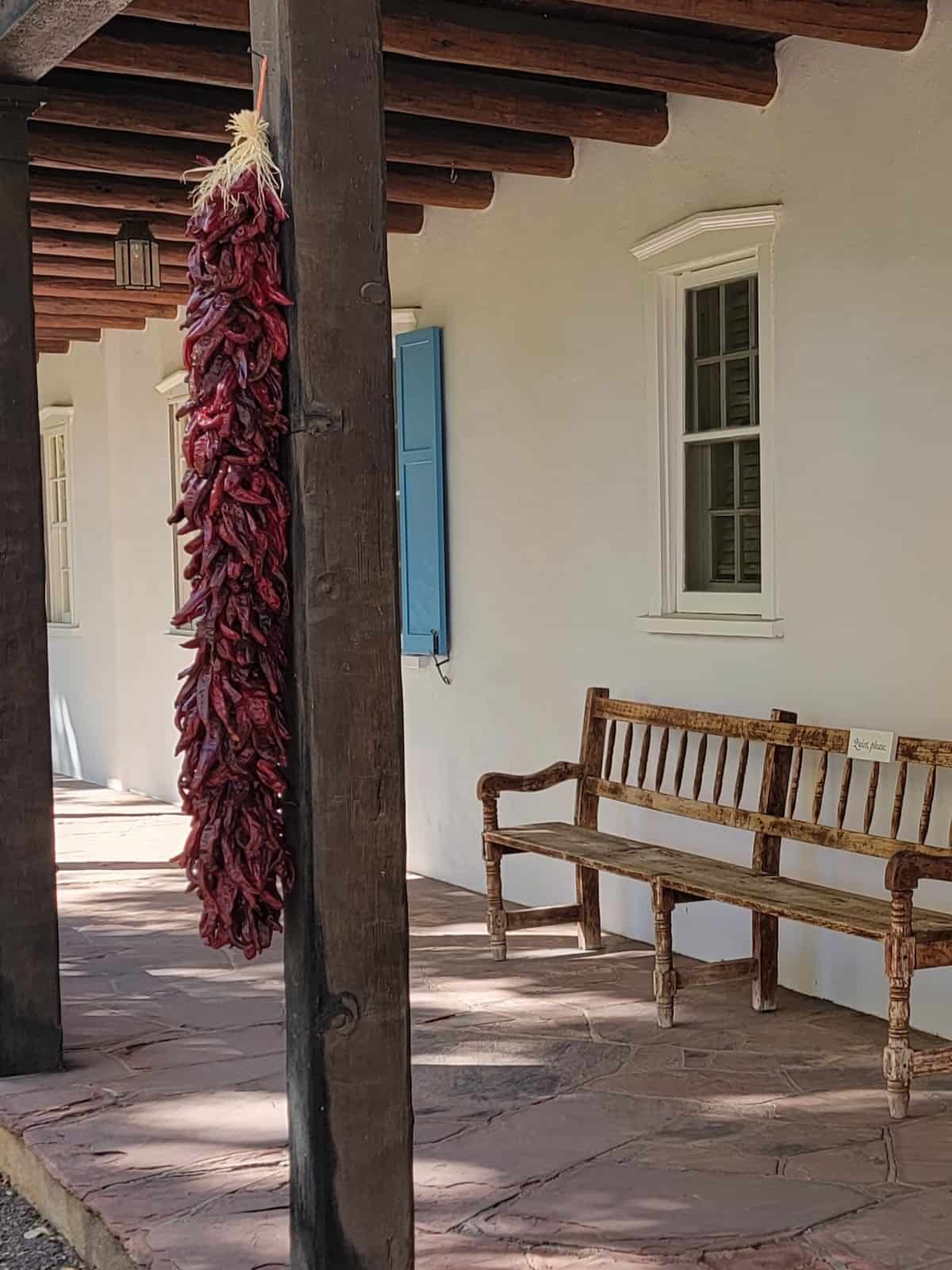 Heat Level
Green and Red Chiles will have a range of heat level based on the Scoville Scale of heat units. The higher the Scoville heat units the hotter a pepper generally will be. You won't know how hot an Anaheim green chile pepper is when buying fresh, but generally a larger pepper can be milder than a smaller pepper. If looking for specific New Mexico chile that is hotter buy the jarred or canned chile as they are labeled mild, medium, and hot. Or seek out hot peppers you know are spicy, like a jalapeño or habanero.
Buying
New Mexico chiles must have originated in the state. If searching for New Mexico or Hatch green chilies then be sure to look at the labeling. Grocery stores will have them property labeled. If they aren't labeled New Mexico or Hatch then they will have originated from another state.
Freshly Roasted – Depending on where you live, you can find freshly roasted green chile at your local grocery store in the late summer and early fall.
Farmers Markets – Freshly roasted peppers are often at farmers markets, however these are likely locally grown peppers, like Anaheim peppers or poblano peppers. If the peppers are sourced from farms in New Mexico then they should be labeled as New Mexico or Hatch Green Chiles.
Canned Green Chile – You can find these in the Mexican aisle of the grocery store. Hatch Green chile cans are a brand that are specifically from the Hatch valley.
Jarred Roasted Green Chile – There are many companies that will roast peppers and then jar them for consumption all year. Often these are found as well in the Mexican aisle of the grocery store.
Dried – You will find many varieties of dried chiles. Be sure you look at the heat level to understand how hot they are. Dried chiles are most often red chiles and great to use as a base for sauces and Texas chili dishes.
Frozen – You can find frozen bags of green chile or even roast and freeze them yourself for use throughout the year. Frozen chiles are best if used within the year of roasting.
Alternatives – You can always buy Anaheim chiles and roast them yourself if you can't find the New Mexican varieties.
In our green chile recipes we will generally use fresh roasted chile during the late summer and jarred throughout the rest of the year. If we specify a canned green chile it's most commonly the Hatch brand 4-ounce can of diced chiles.
Recipes
Here are a few green and red chile recipes that we love to make.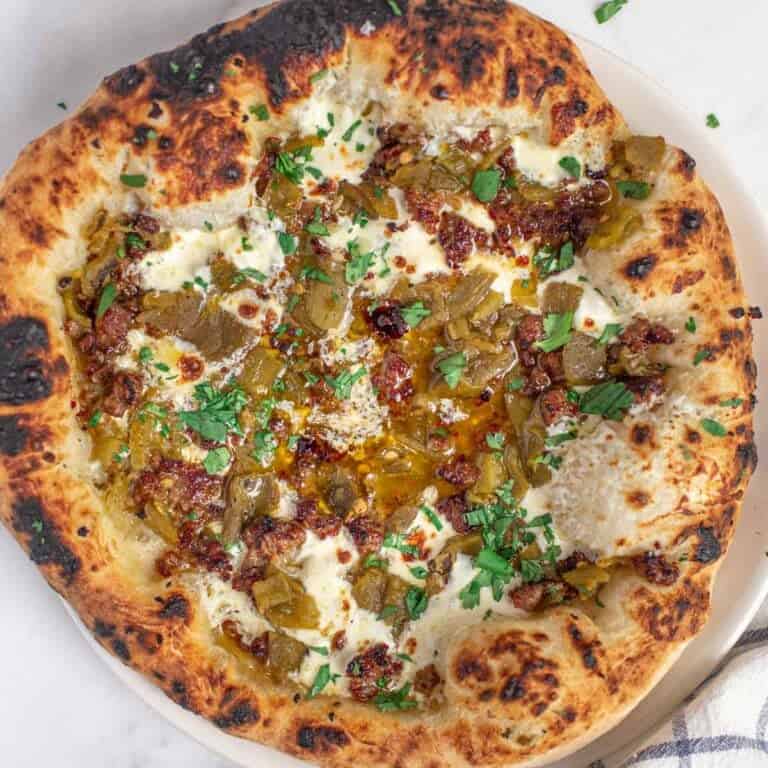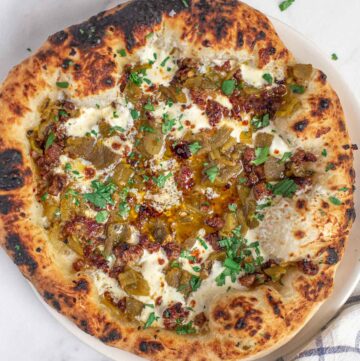 Green Chile Pizza Recipe
Green Chile Pizza brings the flavor of New Mexico to your table. Using roasted green chile, chorizo, and a garlic and olive oil sauce, this green chile pizza recipe will wow your tastebuds.
Full Recipe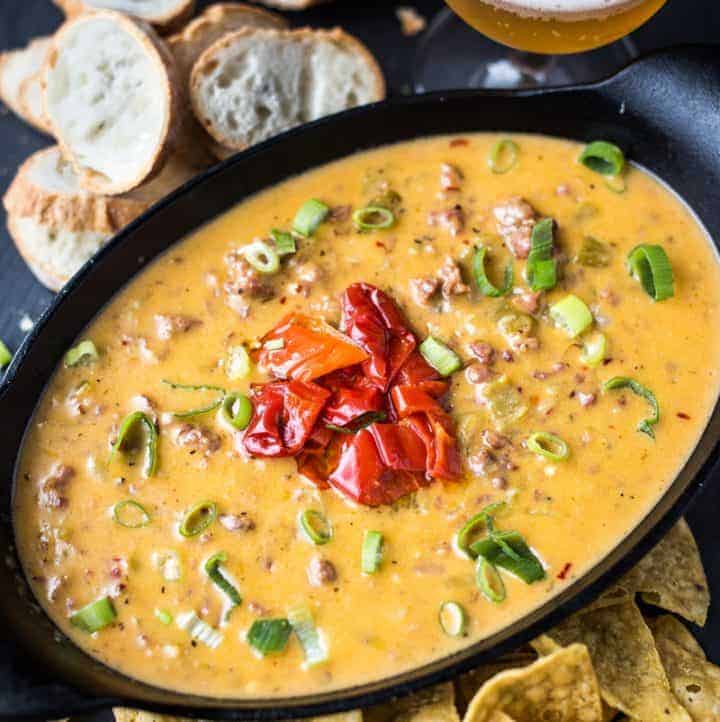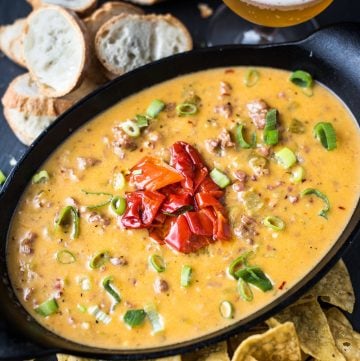 Smoked Sausage and Hatch Chile Beer Cheese Dip Recipe
Creamy, smoky, Smoked Sausage Hatch Chile Beer Cheese Dip is the Ultimate Beer Cheese Dip appetizer! Perfect for tailgating season.
Full Recipe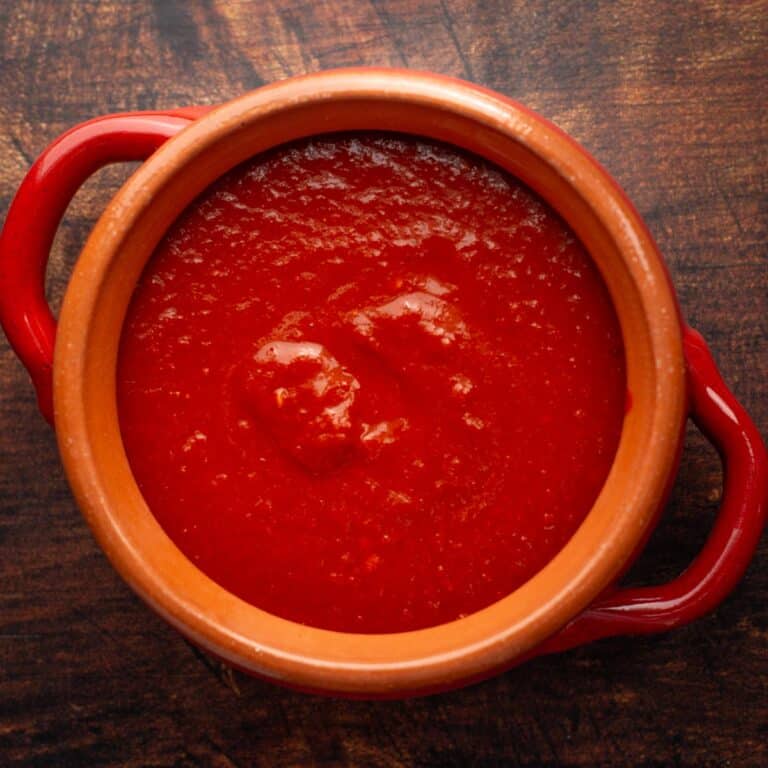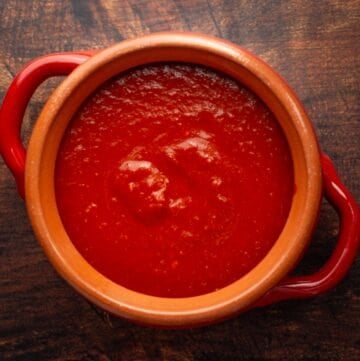 Authentic Red Chile Sauce Recipe (Enchilada Sauce)
An authentic dried chili based red sauce that is mixed in a blender and can be used as an easy enchilada sauce or enhanced for other recipe options.
Full Recipe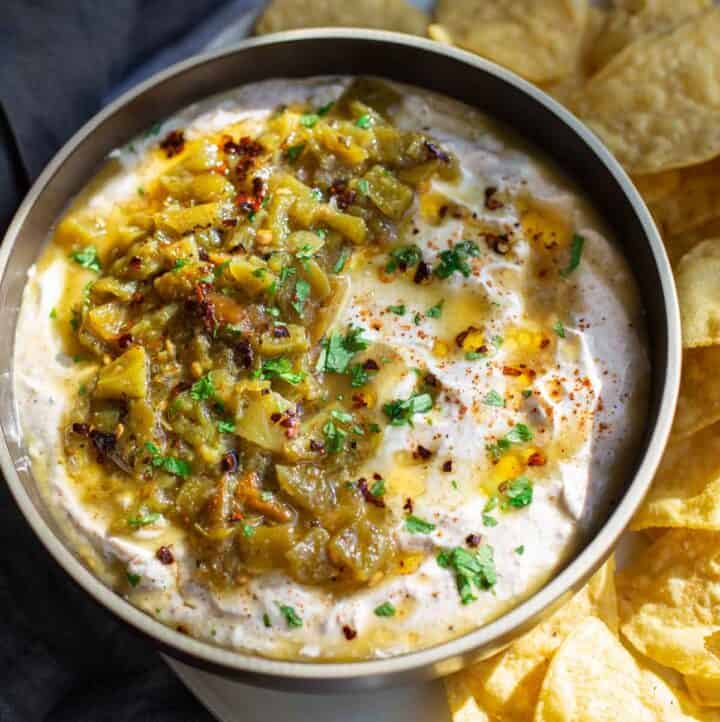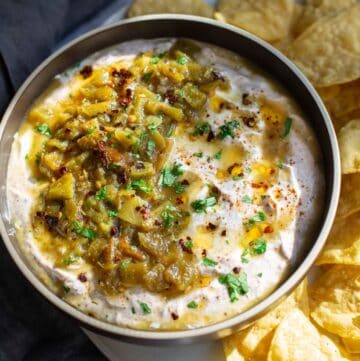 Easy Greek Yogurt Dip Recipe with Green Chile
An easy 5-ingredient Greek Yogurt Recipe topped with fresh green chile inspired by New Mexico cuisine.
Full Recipe
---