Why yes, you can bake on your grill! This is traditional apple crisp that is baked directly on the grill. Grilled Apple Crisp is going to be your go-to this fall season (p.s., it's also a fantastic addition to your Thanksgiving dinner!).
*We cooked this recipe live on AM Northwest on KATU2 News in Portland, Oregon, on October 17, 2019.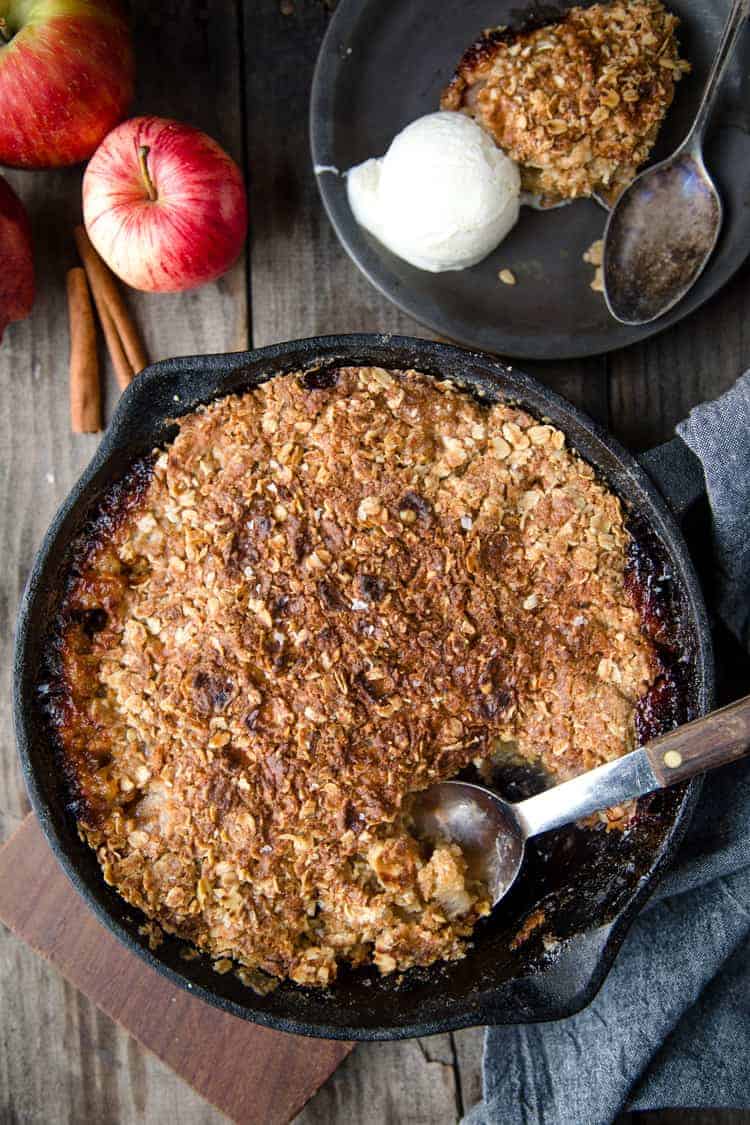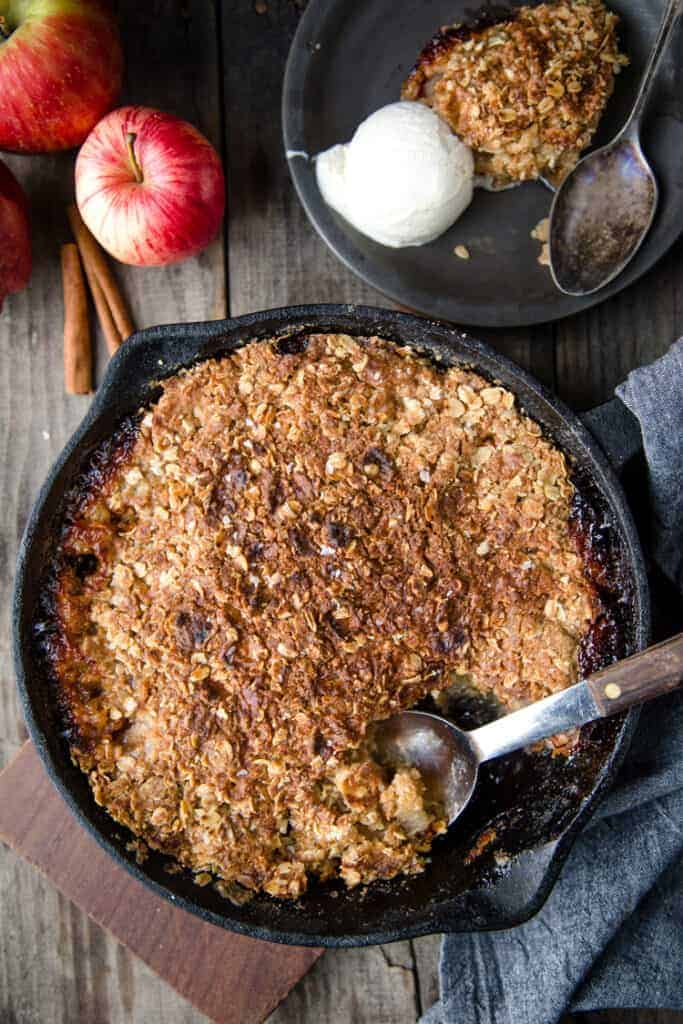 We've been making apple crisp on our grill for years. As a family, this one is perfect for a family of four or less. But the apple crisp we're sharing today is perfect for a crowd.
It's also what we cooked up on AM Northwest recently.
Our philosophy of cooking is that anything you can cook on the stovetop or oven you can cook on the grill or smoker (and it's a heck of a lot more fun!). That goes for baking an apple crisp directly on the grill!
Jump to:
Can You Bake on a Grill?
Yes. Think about your grill like you would your oven, and anything is possible. Get your grill up to your desired temperature. In this case we want it in the 350-375 degree (F) range for baking an apple crisp.
When baking in a grill, follow the same cooking temperature and times.
How to Make Apple Crisp
This is an easy apple crisp recipe, however there are a few stand out tips to help in a successful and flavorful dish.
Prepare your filling and your topping separate. For your filling, place your apple wedges, liquids, and spices into a large bowl and toss together.
Secrets to Great Apple Crisp Filling:
Add citrus. Both the zest and the juice. Adding a touch of lemon or orange dramatically improves the flavor of the dish, adds acidity to the apples, and gives the wow flavor factor. You can read about the inspiration to why we add citrus in this post.
Place in a cast iron pan. No need for oil or butter layer in the cast iron pan.
Top with the crumbly buttery filling just before placing the crisp on the grill to cook. That's it.
Secrets to Great Apple Crisp Topping:
Cold butter. Not frozen. Biscuits are great with frozen butter, but with apple crisp it just needs to be cold. When you mix the topping dry ingredients with the butter it starts to slowly bind together and melts perfectly. Cut up the butter into smaller squares, and then use a mixer to further incorporate the butter and the dry ingredients. Liberally apply to the top of the filling.
Then throw it on the grill at 350 – 375 degrees Fahrenheit to cook for an hour or until bubbly with a golden crust.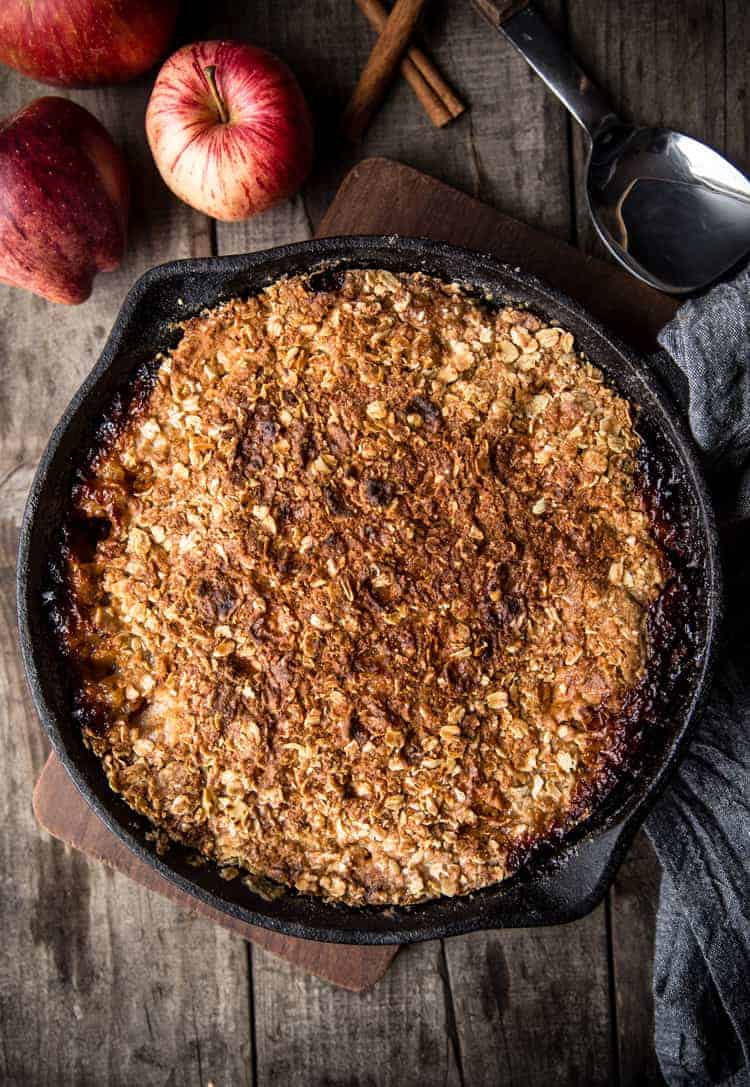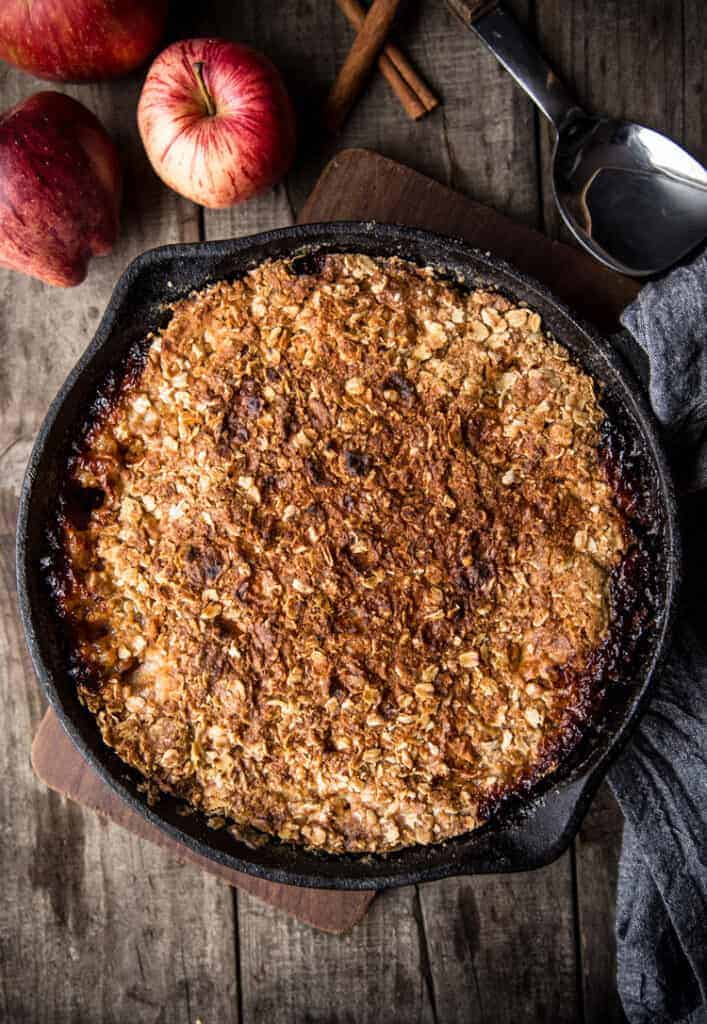 What Apples are Best for Apple Crisp
For any apple crisp recipe you want something crisp, firm, slighly tart, and slightly sweet. Something that will keep its structure after cooking for so long. You want to avoid softer apples like Red Delicious as they will cook down into an applesauce-like consistency by the time the crisp is done cooking. Ideally you should use a mix of apples. The best apples for baking include:
Granny Smith
Honeycrisp
Braeburn
Pink Lady
Fuji
Cortland
Pro Tip: Don't dice up the apple wedges too much. Larger chunks are good and help the apples to retain their structure. Using softer apples or smaller chunks cause the apples to disintegrate and liquefy making for an unpleasant texture.
How to Bake an Apple Crisp on the Grill
How to Bake On a Gas Grill
Gas grills are most like an oven. With multiple burners, it is best to use the two zone method of cooking, and have the apple crisp on the indirect side at a temperature of 350 – 375 degrees F.
There is no need to foil cover the apple crisp as there is no smoke element.
How to Bake On a Charcoal Grill
Baking on a charcoal grill requires the use of the two zone method of cooking (or indirect) also. This technique is important so that the heat element (the coal) does not sit directly under what you are baking causing it to burn. Instead the indirect or two zone method will prevent burning and get the perfect flavor and a touch of wood smoke.
Another important element with charcoal is to cover the dish being baked for the first half of the cook, in this case an apple crisp. Covering the dish with foil and then removing the cover after a period of time avoids too much smoke flavor influencing the dish or the dish tasting ashy.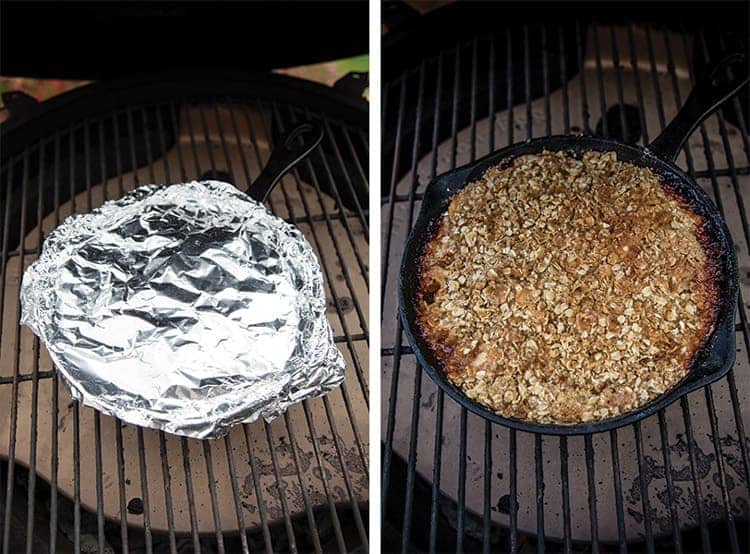 Finally, use a cast iron pan. Cast Iron can handle the heat, most specifically as a good conductor of heat in a grill where the heat source can sit in different parts of the grill.
How to Bake on a Pellet Grill
Because Pellet Grills are designed as indirect cookers, simply set the target temperature at 350 degrees F and place the crisp covered in foil in the grill. Be sure to also use cast iron or a high heat metal. Remove the cover half way through the cook.
How Long to Cook an Apple Crisp
350 Degrees F an Apple Crisp will take around 1 hour 15 minutes
375 Degrees F an Apple Crisp will take around 1 hour
400 Degrees F an Apple Crisp will take around 45 minutes but may burn, especially the topping, so we target an optimum range between 350 and 375 degrees F.
This is easily adaptable to your oven using the exact same cooking temperature and times.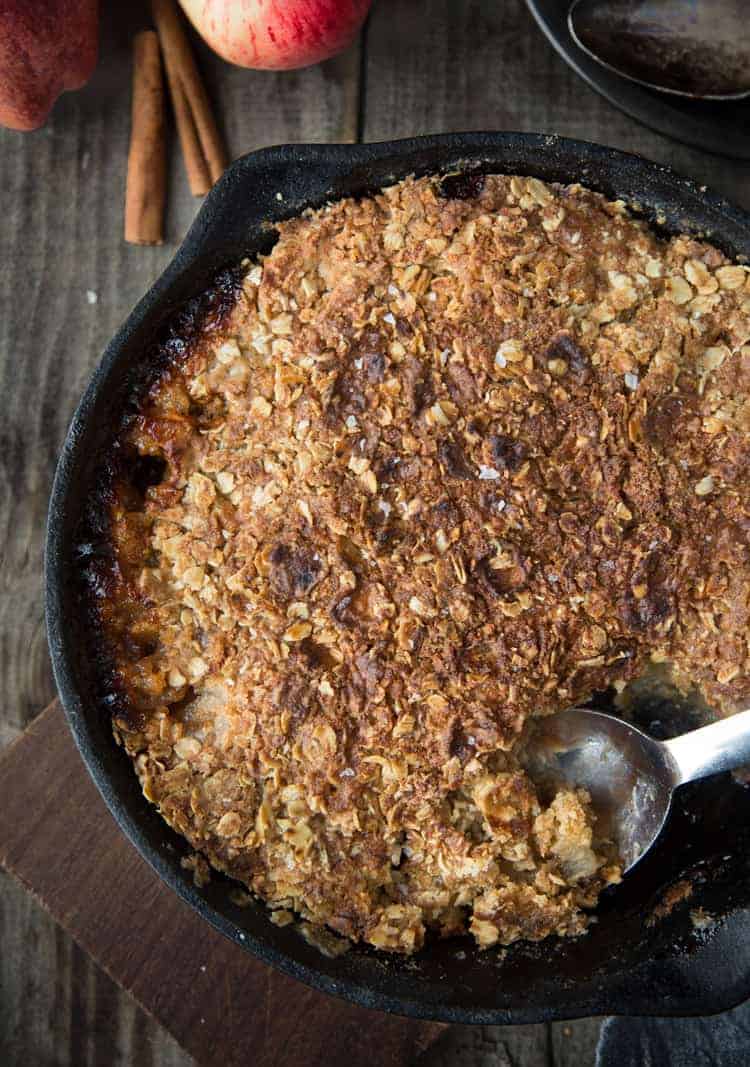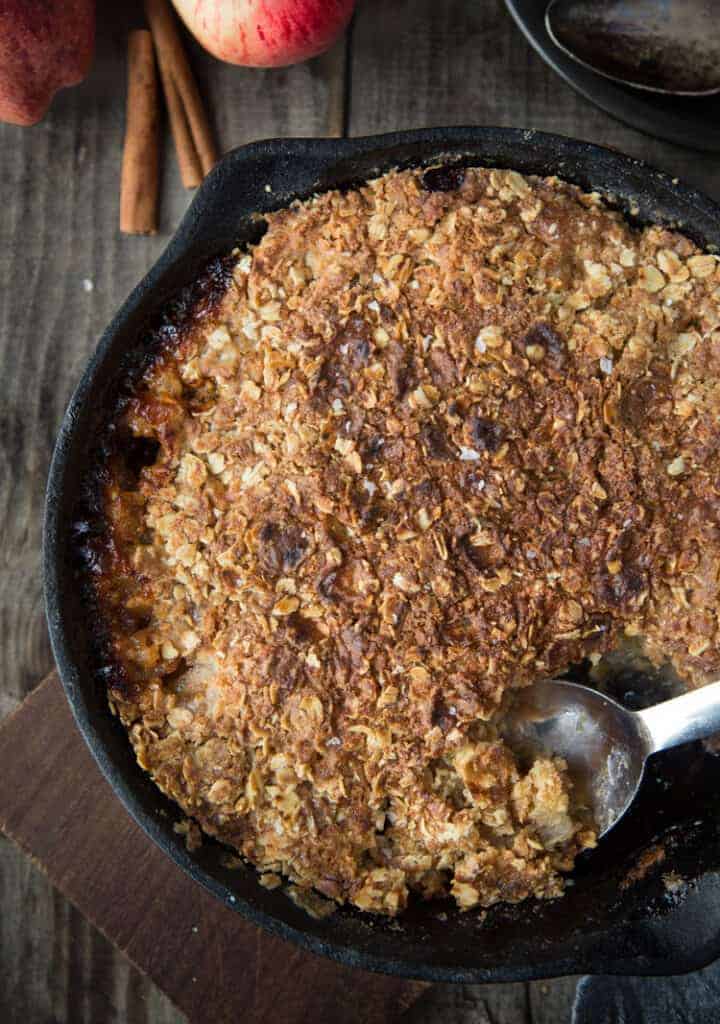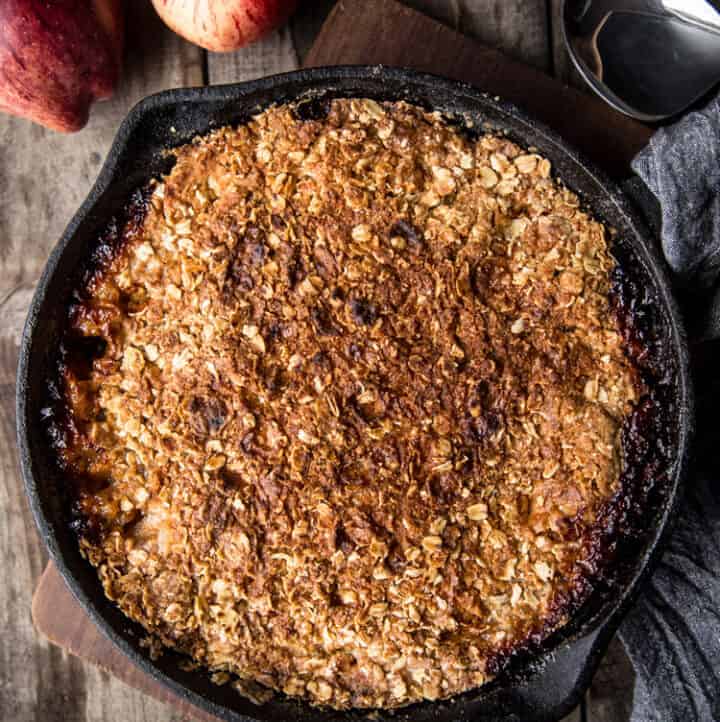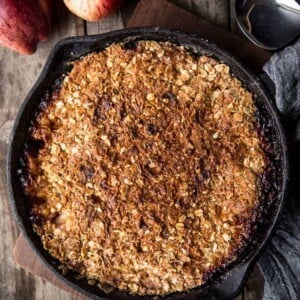 Grilled Apple Crisp
How to make a traditional apple crisp on the grill. Grilled Apple Crisp is going to become your new favorite fall dessert! It's also the perfect dessert for Thanksgiving dinner!
Print
Pin
Rate
Ingredients
For the Topping:
12

tablespoons

unsalted butter, cold and cut up into small cubes

1

cup

flour

(can make Gluten Free by substituting 1 to 1 gluten free all purpose baking flour)

1

cup

oatmeal

½

cup

granulated sugar

½

cup

brown sugar

¼

teaspoon

kosher salt
For the Filling:
3

lbs

apples, peeled, cored, and cut into large wedges

zest of 1 orange

zest of one lemon

2

tablespoons

fresh squeezed orange juice (juice of ½ an orange)

2

teaspoons

fresh squeezed lemon juice (juice of ½ a lemon)

¼

cup

granulated sugar

1

teaspoon

cinnamon

¼

teaspoon

ground nutmeg
Instructions
Preheat and prepare grill for indirect heat cooking. Aim at getting the grill between 350-375 degrees (F).

(Or if using a gas grill, heat it up to 350 degrees F)
For Apple Crisp Filling
In a large bowl, mix together all filling ingredients and toss together. Pour mixture into a 9" round cast iron skillet.
For Apple Crisp Topping
In a large bowl, or the bowl of an electric mixer, combine the flour, oatmeal, sugars, and salt, and mix together. On low speed add the butter and continue until the mixture is crumbly and the and the butter is the size of peas.

Alternatively you can mix everything together with your hands.

Place evenly over the apple mixture and cover with foil.

Place the crisp on grill over indirect heat for 30 minutes. Remove foil, and then continue cooking on the grill for an additional 30 minutes, or until the mixture is bubbly and topping is crispy.

Serve warm with a big scoop of delicious vanilla ice cream!
Notes
If using a gas grill no need to cover the dish with foil for those first 30 minutes. 
Please note if you're cooking on a hot outdoor grill to use a pan that can withstand high heat. We like cast iron for this and we used this exact 9″ cast iron dish. 
Optional: For added smoke flavor, consider adding 2 or 3 wood chunks in charcoal.
Find the perfect wine pairing at the Vindulge Wine Shop
*Disclaimer: This post contains affiliate links for the cast iron dish you see in the picture. That means I receive a small commission if you purchase this dish through amazon. By purchasing through these links you are supporting this site so that we can continue to share more grilling and smoked love! I only recommend products we use (often!) and love dearly.