Often referred to as one of the butcher cuts, this top sirloin cap, or Picanha, is a tender and flavorful cut of beef. We add to the beefy flavor of this steak and top it with a savory mushroom cream sauce.
Often seen on skewers over a rotisserie flame, our take on the Picanha is to cut up into steaks and eat grilled.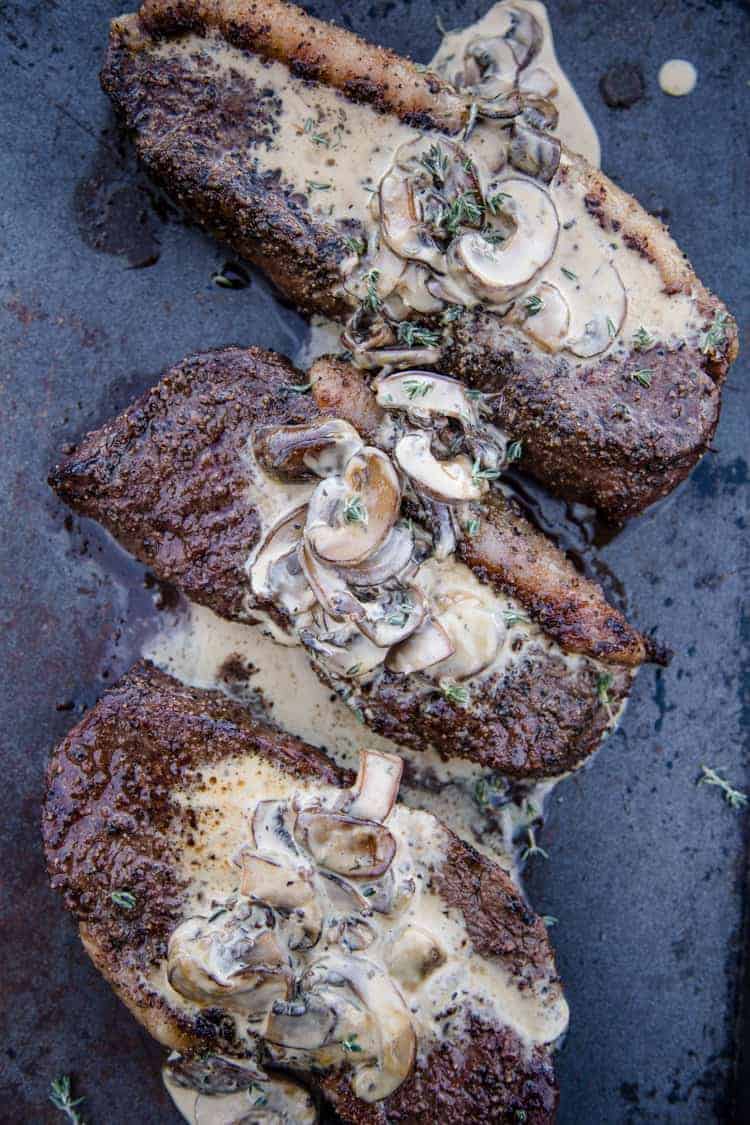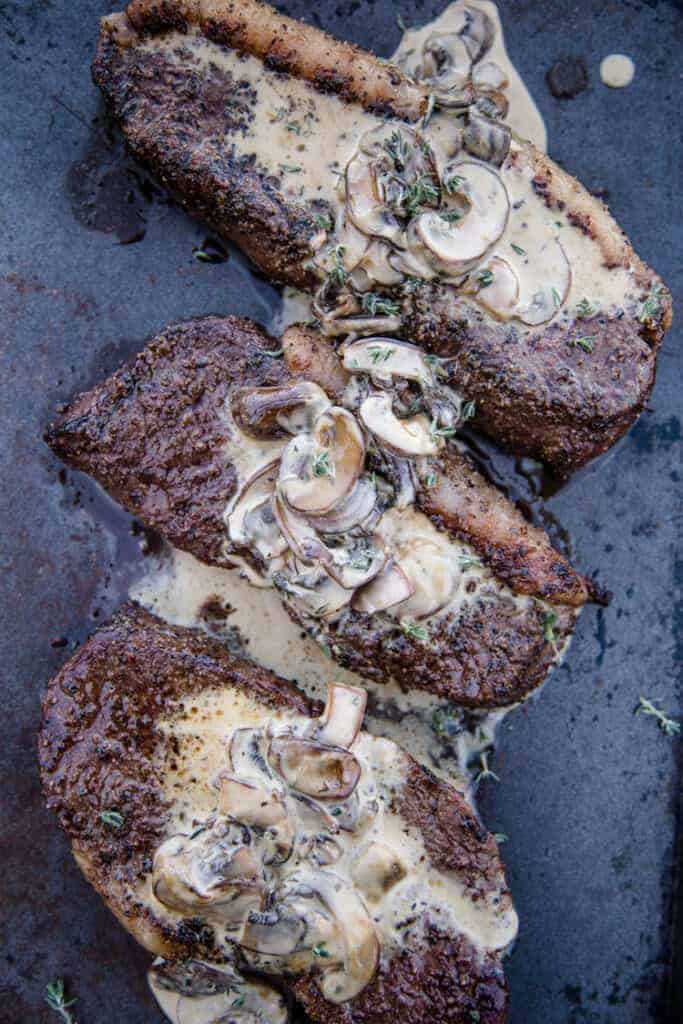 What Is Picanha
Picanha (pronounced pee-kahn-ya) comes from the top of the primal Sirloin of the cow. It goes by many names like Rump Cap, Sirloin Cap, and also Coulotte (pronounced coo-laat).
In Brazil, Picanha is often cut up and put onto a skewer and cooked over fire on a rotisserie. In the US, it is not as common. While it does make great skewers, it's also a great roast in the oven, on the grill, or cut into steaks like what we're doing in this recipe.
Because the top of the sirloin gets less movement than other parts of the cow, the Picanha (or Coulotte) runs very lean, like a tenderloin. What is even more pronounced is the distinct fat cap on the top of the cut.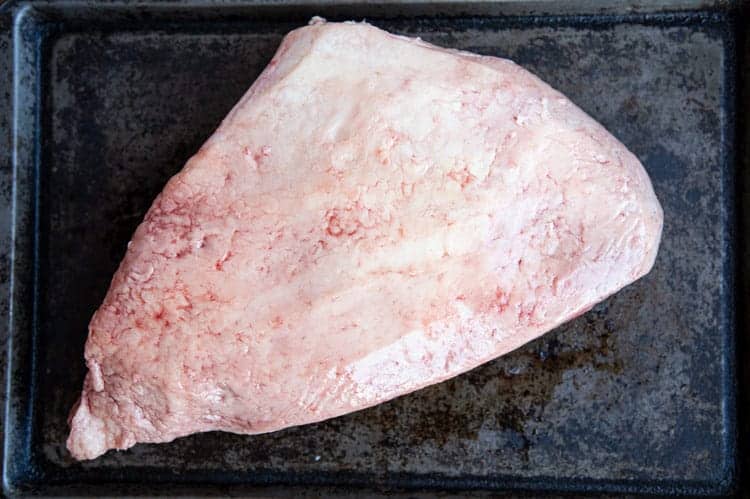 Where To Buy Picanha
In the USA this is most likely going to be called a Coulotte or Sirloin Cap. Most grocery stores won't sell this as a whole roast, opting instead for steaks from the sirloin itself. Place a call to your local butcher before venturing out to confirm they have it, or can cut it up for you. This saves you an extra trip by car.
An alternative is to buy it online. We partner with Snake River Farms for incredibly marbled and flavorful American Wagyu and Prime beef delivered to your doorstep.
How To Trim Picanha For Steaks
Most of these cuts will range from 2.5 – 5 pounds. There will be a distinct fat cap side, and the other will have a little sliver skin and need to be trimmed.
Leave the fat cap on.
On the non-fat side, remove silver skin and trim excess fat.
Cut perpendicular to the grain into 1 to 1 ½ inch steaks.
Use those smaller edges (that aren't quite big enough to grill up for a whole steak portion) as a snack!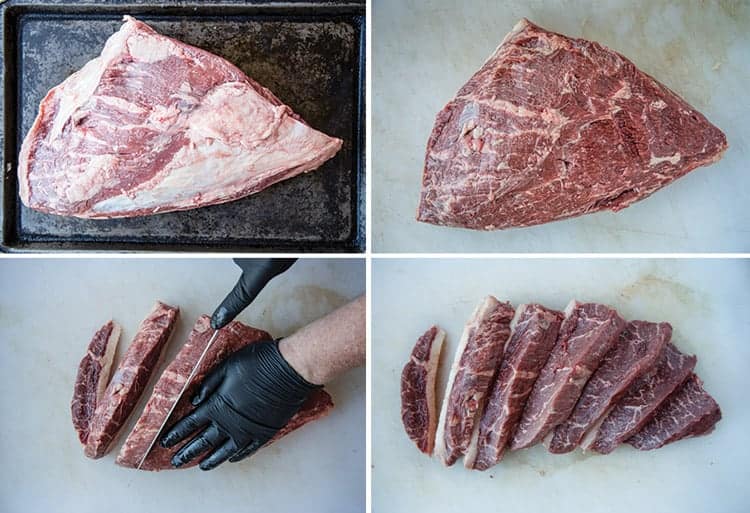 How to Cook Picanha Steaks
Grilling with a two zone or direct/indirect method is the best way to get the perfect sear, and not overcook the steaks. Place the Coulotte or Picanha Steaks over the direct heat for a couple of minutes per side and then finish on the indirect side. Be sure to use a high quality thermometer like this one. Our ranges for desired finishing temperature is below.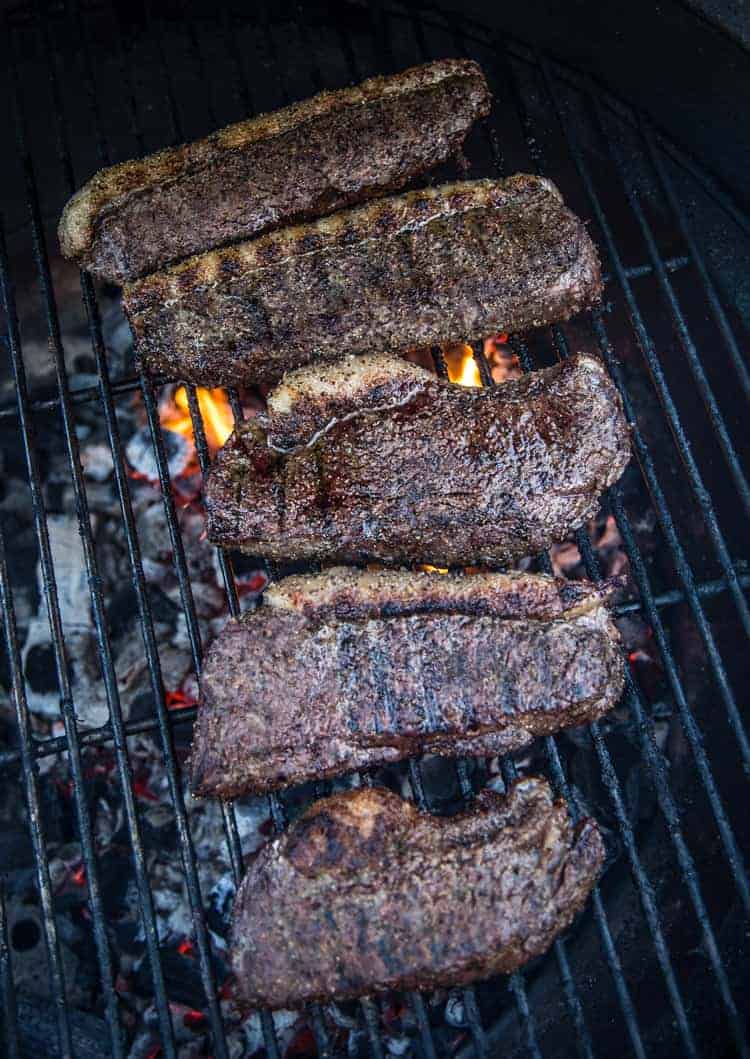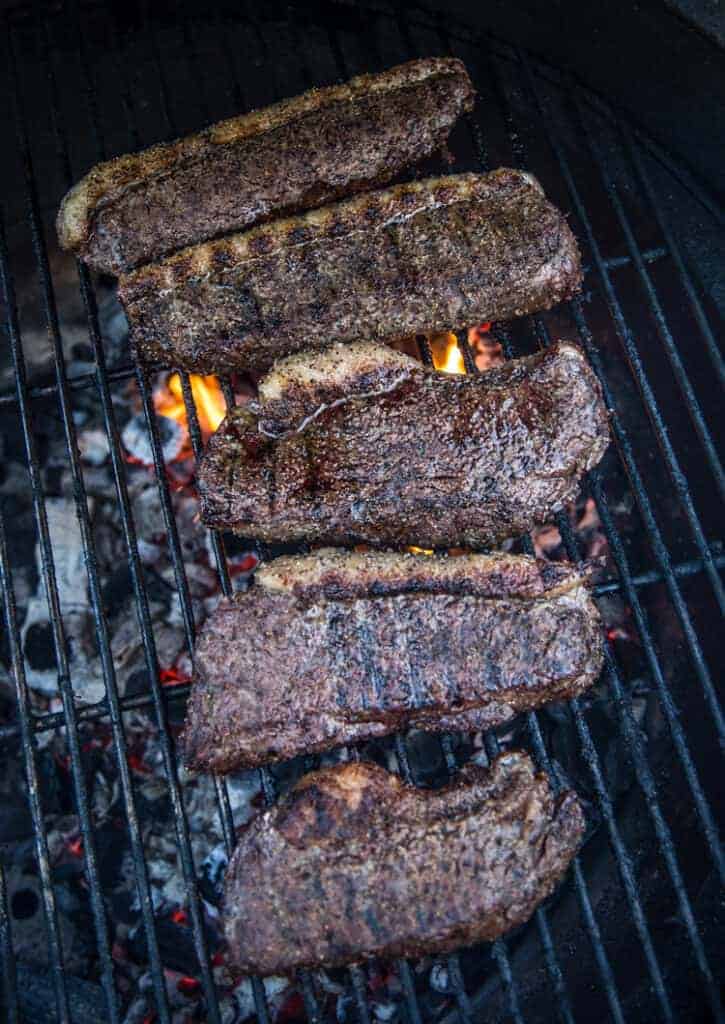 Rare: 120-130 degrees F
Medium Rare: 130-140 degrees F
Medium: 140-150 degrees F
Medium Well: 150-160 degrees F
Well Done: 160 degrees F AND not recommended for a good quality steak
How to Make a Mushroom Cream Sauce
Our cream sauce is simple to make and is a fantastic topping to these grilled steaks. The key to the sauce is starting with sautéing the mushrooms. Then remove the mushrooms and set aside, and then make the cream sauce. Add the mushrooms back into the sauce to finish and thicken. This allows for nice browning of the mushrooms, while not letting them get a soggy or chewy texture.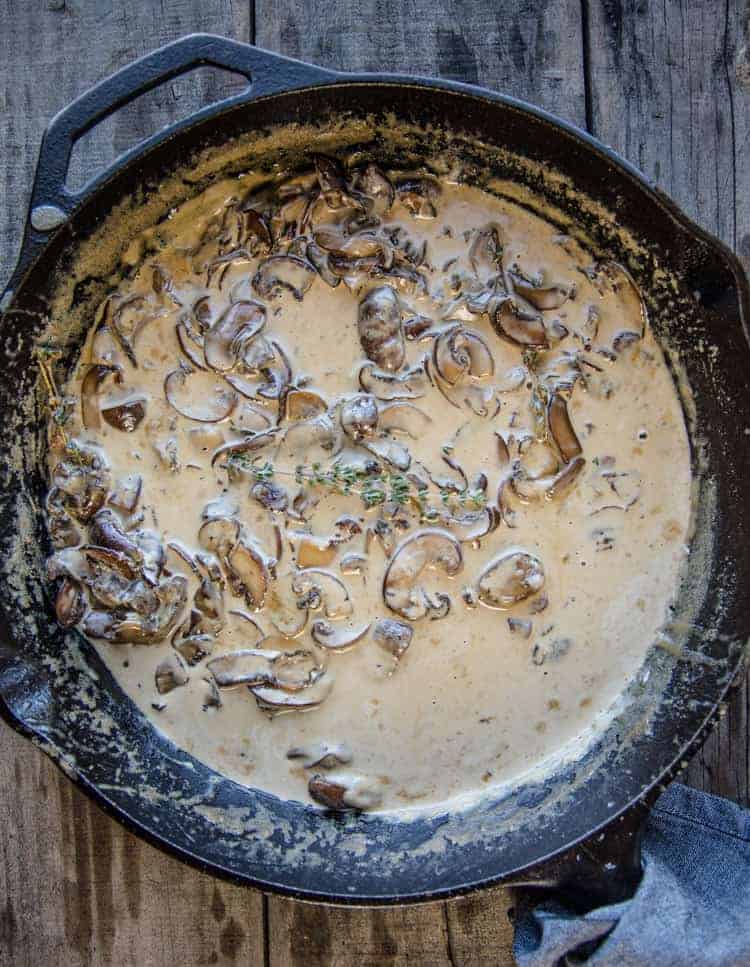 The secret to a good mushroom cream sauce is a touch of sherry for flavor and finish with a slurry to help thicken.
Recipe For Grilled Picanha Steaks with Mushroom Cream Sauce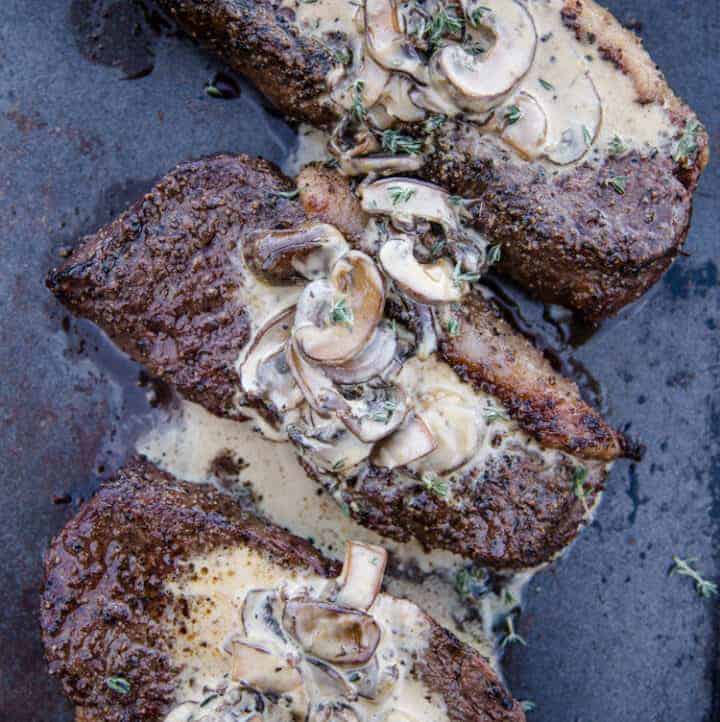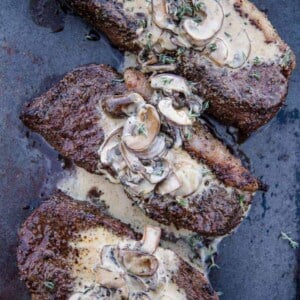 Grilled Picanha Steaks with Mushroom Cream Sauce
Grilled Picanha steaks (also known as Coulotte or Sirloin Cap) topped with a mushroom cream sauce.
Print
Pin
Rate
Ingredients
For The Cream Sauce
4

tablespoons

unsalted butter

1

pound

cremini mushrooms, rinsed and stems removed, and sliced

2

cloves

garlic, minced

⅓

cup

sherry

1 ½

cup

heavy cream

½

cup

chicken stock, plus 1 tablespoon for slurry

¼

cup

freshly grated Parmesan cheese

½

teaspoon

kosher salt

¼

tablespoon

freshly cracked pepper

6

sprigs

fresh thyme

1

tablespoon

all purpose flour
Instructions
Prepare grill for direct/indirect cooking.

Trim picanha steak by removing silver skin from non-fat cap side. Trim off any excess fat pockets from fat layer if it is not firm, but leave at least ¼ inch of fat on.

With fat side of steak down, cut into 1 inch to 1 ¼ inch steaks buy cutting perpendicular to the grains on the steak. Should yield four to five steaks.

Mix dry rub ingredients together in a small bowl and apply to the steaks.

Place steaks on direct side of heat for 6 – 8 minutes and then flip. Continue cooking for another 4 – 6 minutes. Move to indirect side to finish until desired temperature. We like to pull when internal temperature of the steaks is rare or reads between 120 – 125 degrees F.

Let rest for 15 minutes. This is a good time to make the mushroom cream sauce.
Mushroom Sherry Cream Sauce
Prepare all ingredients prior to grilling the steaks. Remove stems from mushrooms. Using damp towel or paper towel, gently brush and remove any excess dirt from mushrooms. Slice mushrooms thin.

Over medium high heat in a large skillet, add butter and as it melts add the mushrooms. Stir mushrooms occasionally to brown. Remove mushrooms when browned and set aside, leaving some of the juices/liquid. About 8 – 10 minutes.

In same skillet over medium heat add the garlic. Sauté garlic for two minutes using residual liquid from mushrooms. Add sherry and stir, cooking for 1 – 2 minutes.

Add cream, stock, cheese, salt, pepper, and thyme and bring to a simmer. Add mushrooms and reduce heat slightly. Make slurry with the extra stock and flour in a small jar if the sauce isn't to your desired thickness. Shake and pour into the simmering liquid. Let simmer for additional 6 – 8 minutes, it will thicken while simmering. Remove from heat.
Notes
*If you only have a small pan – Saute the mushrooms in two batches, be sure to also portion the butter.
Find the perfect wine pairing at the Vindulge Wine Shop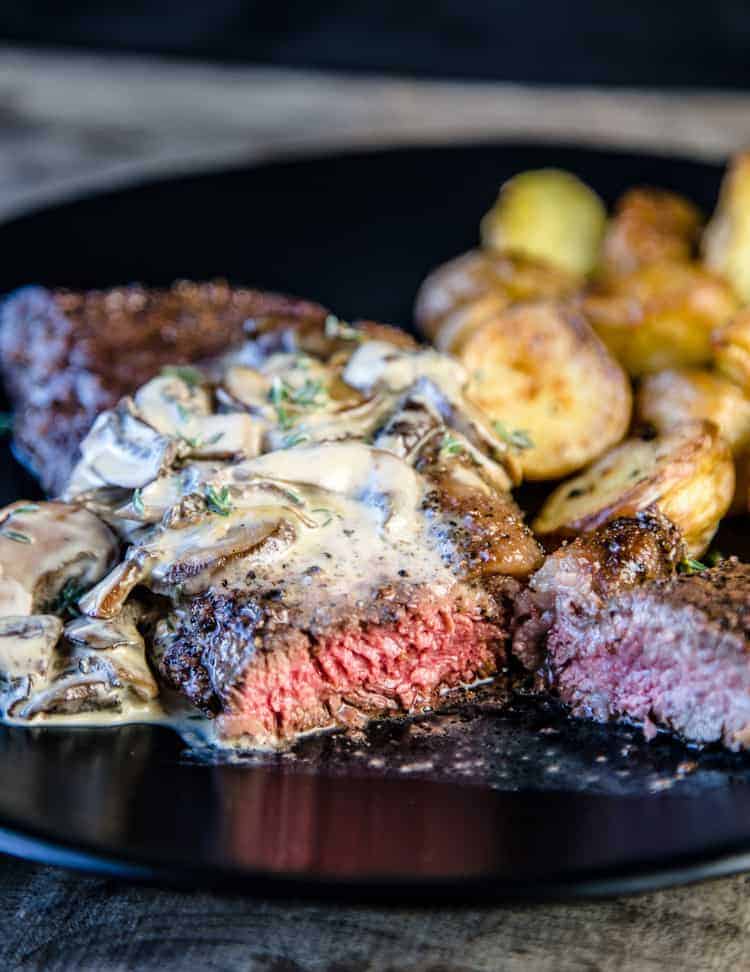 Other Butcher Cut Recipes
Butcher cuts are the less common cuts from beef or pork, and the recipes below represent some of our favorite.
---
If you like this recipe we'd truly appreciate it if you would give this recipe a star review! And if you share any of your pics on Instagram use the hashtag #vindulge. We LOVE to see it when you cook our recipes.