Pork Collar is a tender cut of well marbled pork with amazing flavor. Perfect for a marinade and roasted on the grill. If you love pork and you haven't heard of this amazing cut, you need to seek it out and try this grilled version with a delicious citrus marinade.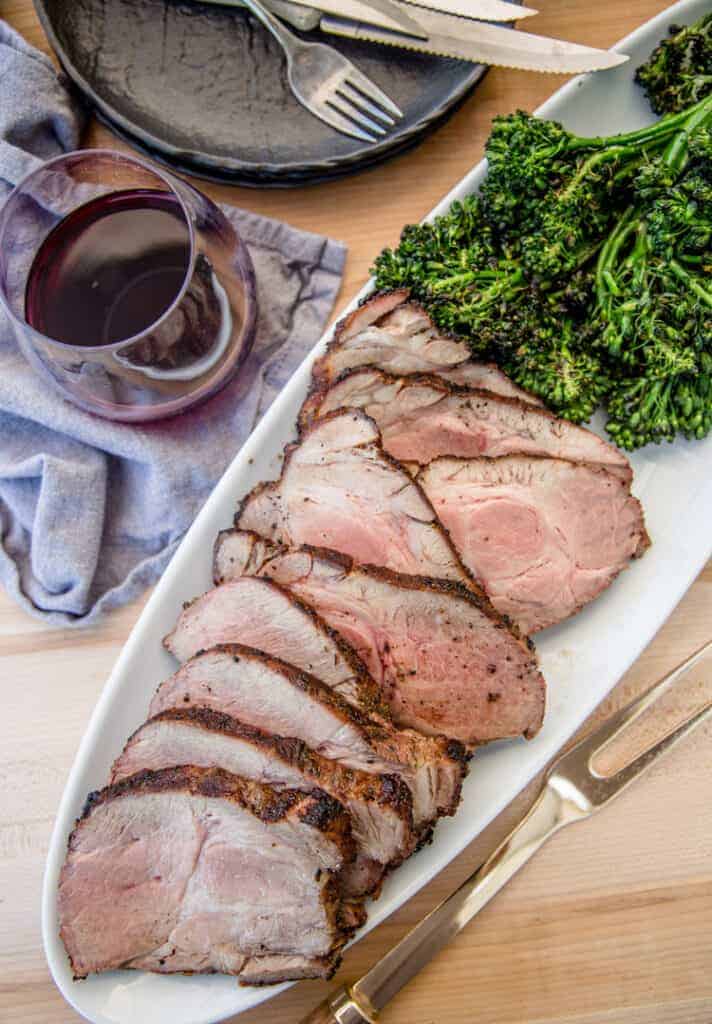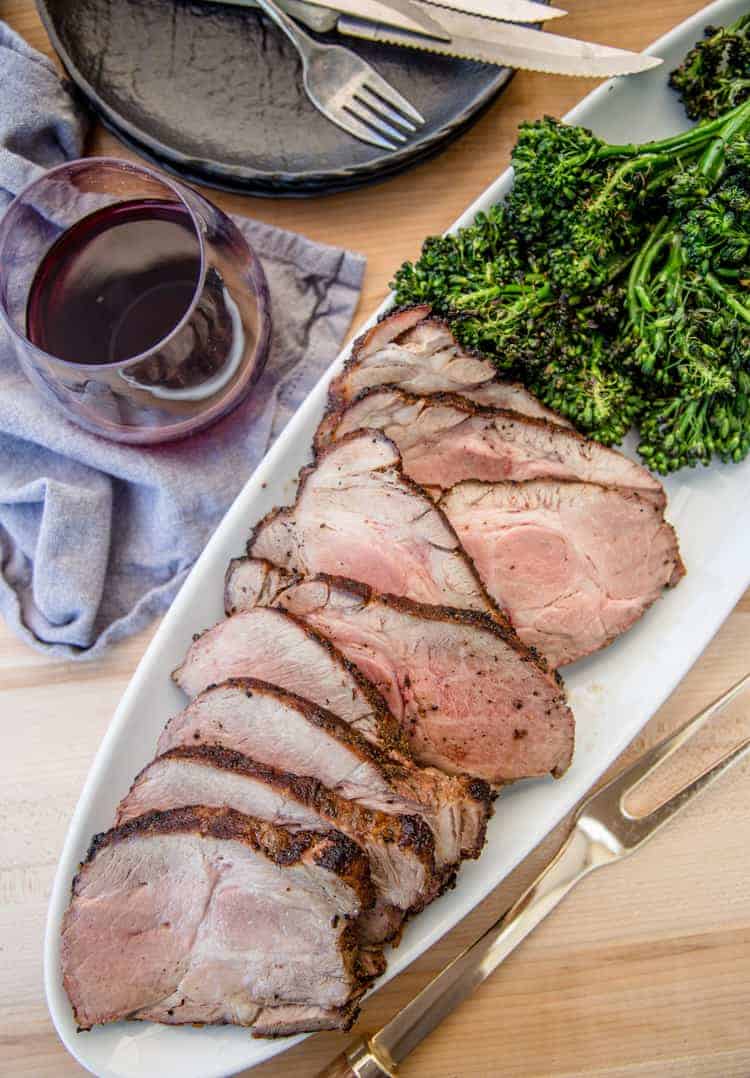 What is Pork Collar?
Pork Collar is a muscle that runs from the jowl of the pig, through the shoulder, specifically the boston butt, and extends close to the loin. Pork collar is commonly used in coppa. Parts of the cut is also called the money muscle in barbecue competitions.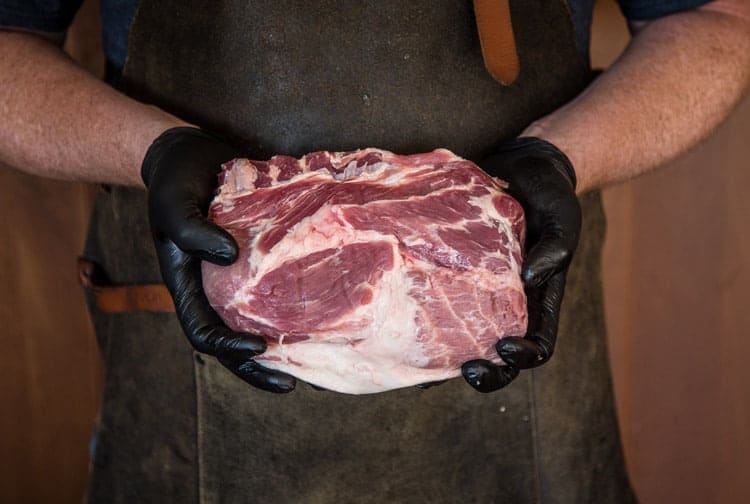 This cut is great as a roast, or grilled. The marbling is also similar to pork shoulder and can also be smoked low and slow. It may also be referenced as pork neck, or neck fillet.
What is the money muscle? This is a cut that competitive barbecue teams use when turning in their pork shoulder. Money muscle is cooked to a lower finishing temperature and sliced versus pulled. The boxes are often turned in with both the sliced money muscle as well as the pulled shoulder. The marbling and texture is amazing which lends to the wins teams have using the money muscle.
How to Prepare and Season Pork Collar
Pork collar will likely have a small fat cap. Do not remove that cap or at the most trim it down to a ¼ inch of fat using a sharp knife. A marinade is a great way to tenderize the collar. We use citrus for the natural acidity and tenderizing characteristics and then add herbs, spices, and salt to enhance the flavor. Blendtec blenders are a great way to blend up marinade ingredients and eliminate chunks. Read below for a great coupon code.
Marinate for at least three hours.
After removing from marinade, pat the collar dry before applying rub. The natural marbling is substantial and holds moisture when grilled or roasted. This is why we simply marinate and rub.
If there is a fat cap, score fat cap with X patterns using a sharp knife. This will allow for the rub to get into the fat, and for rendering when grilling the collar.
For a dry rub add herbs, kosher salt, and pepper as an easy way to season the cut. Be sure the cut is pat dry, this helps in the searing process.
Where To Buy Pork Collar
Ask your butcher if they can prepare a collar, or buy a Boston Butt and carve it out. Or, buy amazing Kurobuta pork collar online through Snake River Farms or through our friends at D'Artagnan Foods where they source amazing meats from small farms around the country.
The quality of the meat can be seen in the marbling, the texture is melt in the mouth, and the flavor is rich like butter. You will thank us no matter where you get it from. 🙂
Grilling Pork Collar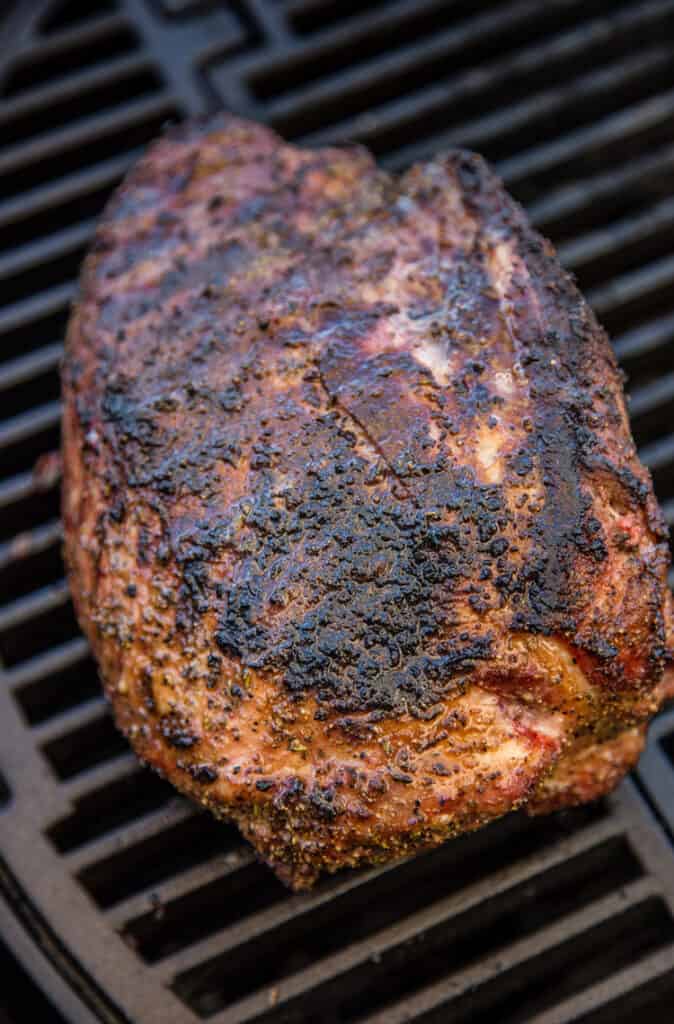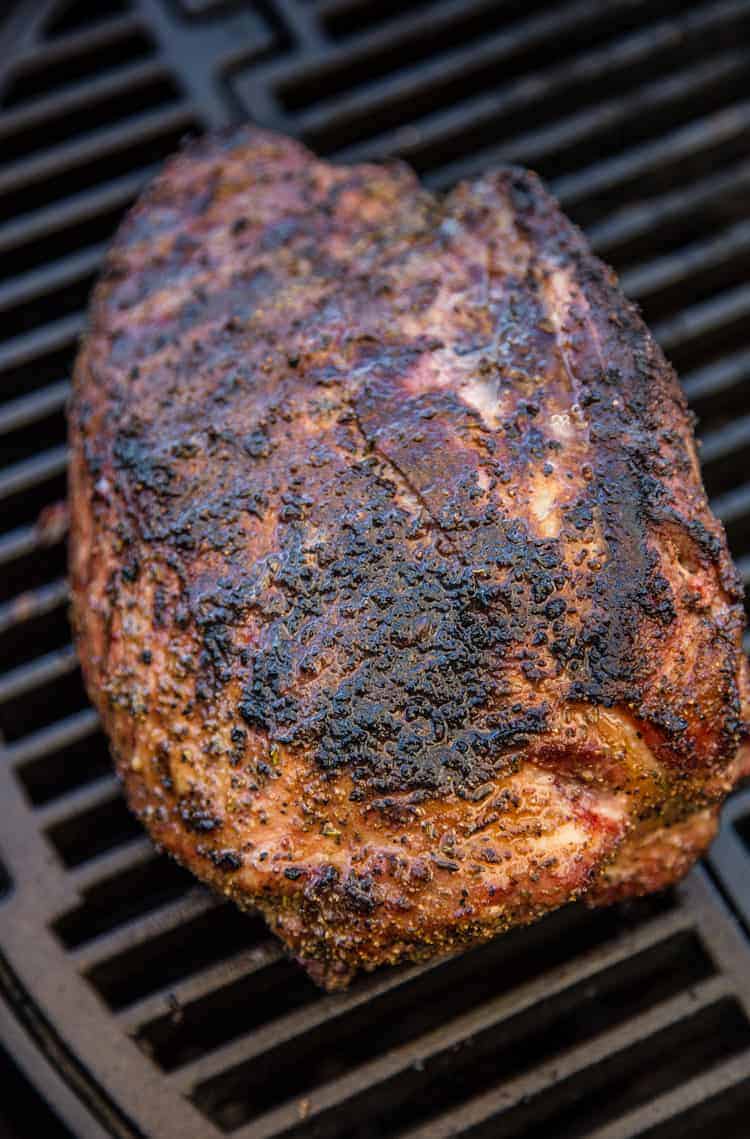 Roast, grill, or smoke it. Our recipe highlights how easy it is to grill the collar using the direct/indirect method or two zone cooking. The two zone method helps in getting a nice crust and then moving to indirect heat to finish.
The grill should be HOT. The internal temperature of the grill at 450 – 500 degrees F. A hot direct side gives the best sear. Even though the ambient temperature of the grill is high, the indirect side will not burn the meat.
We like to cook our pork roasts like collar to medium rare or 140 – 143 degrees Fahrenheit using an instant read thermometer like our Thermoworks Thermapen MK4.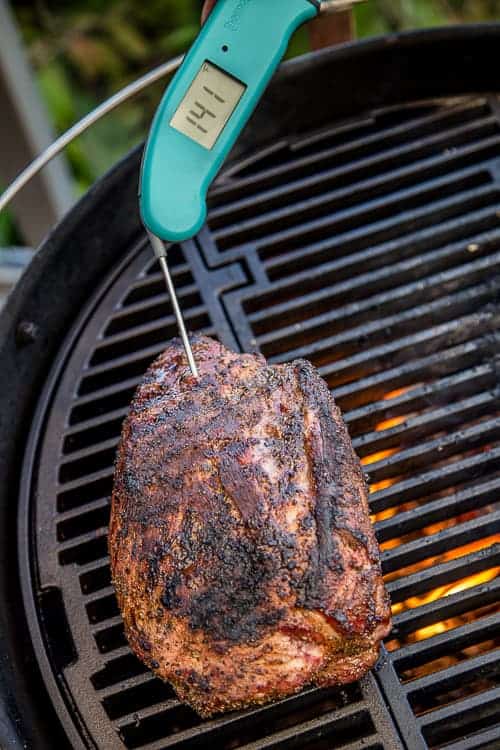 LET IT REST! Yes caps emphasized. Expect a little pink in the pork, that is perfectly acceptable. Letting the pork rest for at least 10 minutes, ideally 15, allows the cut to finish cooking, a method called carry over cooking, and for the cells to reabsorb the moisture from some of the fat that has rendered. That is why we pull the collar when the center of the collar is temping at 140 – 143 degrees F.
Now time to carve into this beautiful cut of meat. Believe me, you're gonna love this one!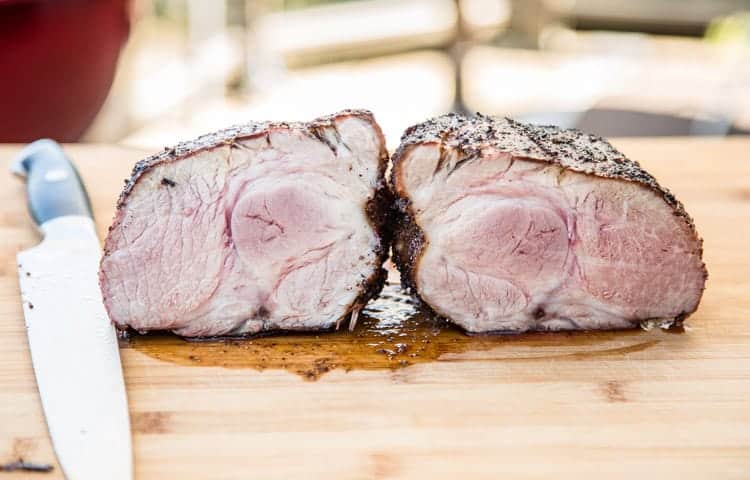 Wine Pairing for Pork Shoulder or Pork Collar
I love love love pork and Pinot Noir, and this is the perfect reason why. The juicy and slightly natural sweet flavors of the tender pork are so good with the light (to medium) bodied nature of a fruity Pinot Noir, especially from Oregon. This is a pairing you just can't go wrong with!
---
Other Fun Cuts of Meat
---
This post contains affiliate links, which means that some of the products mentioned we receive a small commission for. This helps us keep the blog going! We only partner with brands we love and have used. You can purchase these products at the following links.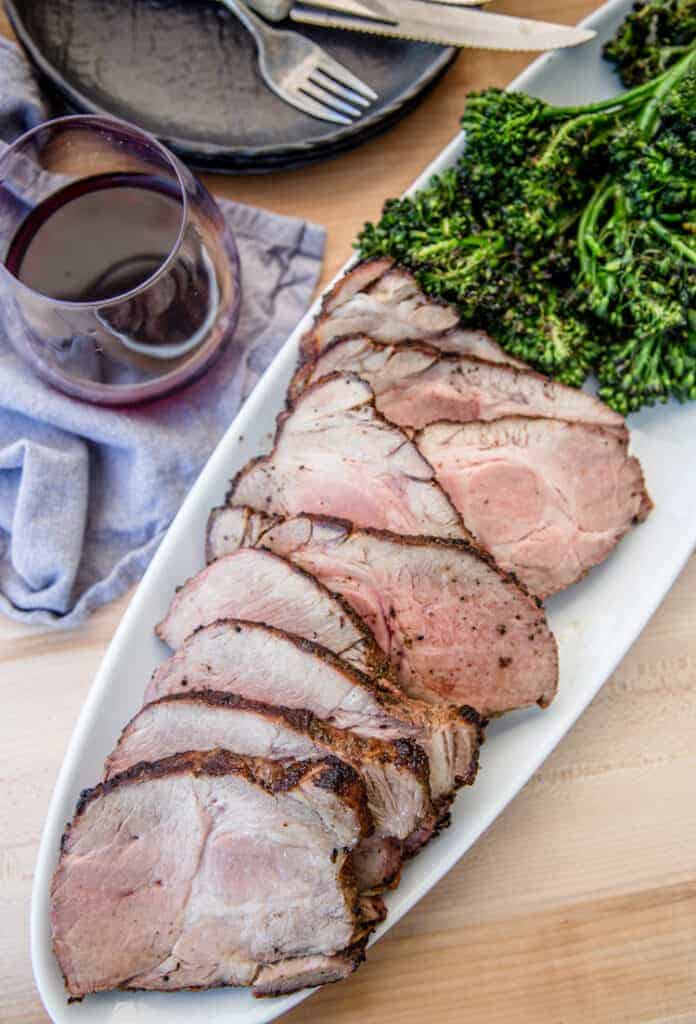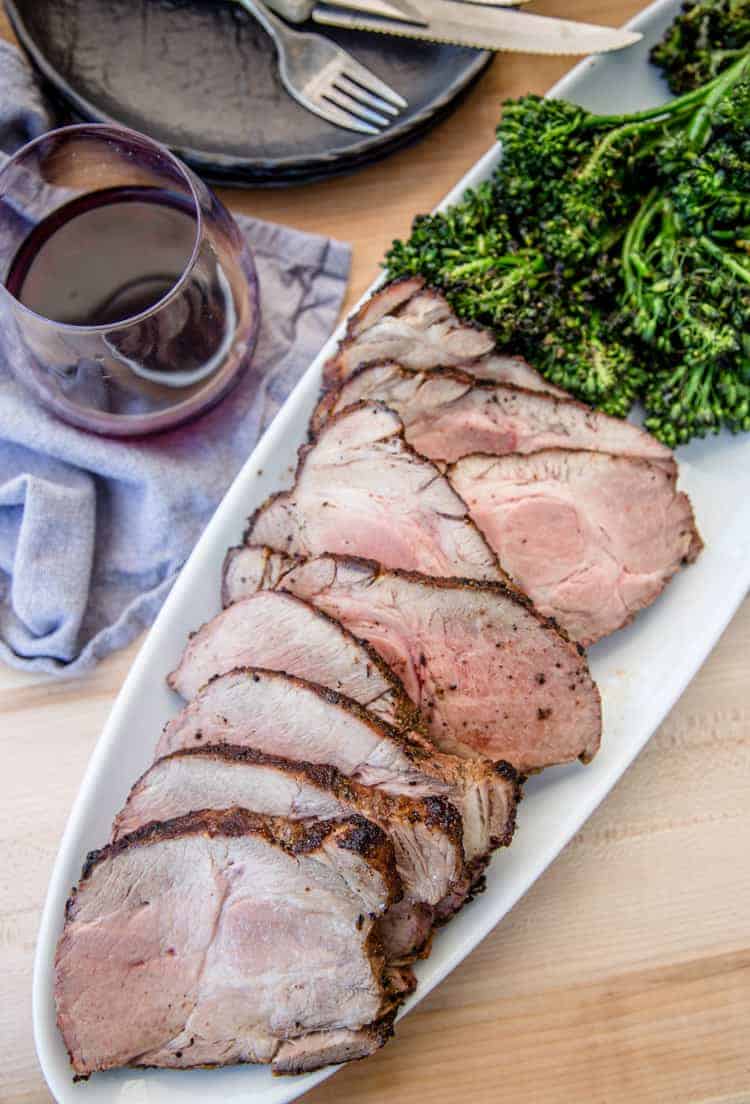 If you like this recipe we'd truly appreciate it if you would give this recipe a star review! And if you share any of your pics on Instagram use the hashtag #vindulge. We LOVE to see it when you cook our recipes.
---