The bavette steak is the greatest steak you need to know about. Tender like skirt steak, and full of flavor, this Grilled Bavette Steak with a decadent Whiskey Peppercorn Sauce will be your go to option for tender and flavorful steak.
What Cut of Meat is Bavette Steak?
Bavette steak, or flap steak, comes from the sirloin primal of beef. As a sirloin is cut up for steaks, the bavette is created from the bottom portion of the sirloin. It's very similar in texture to skirt steak and often confused with flank steak, but not the same cut. The location of the bavette steak adjacent to the flank gives a tender texture and great marbling. The literal french translation is bib, and in beef terms, refers to flat cut.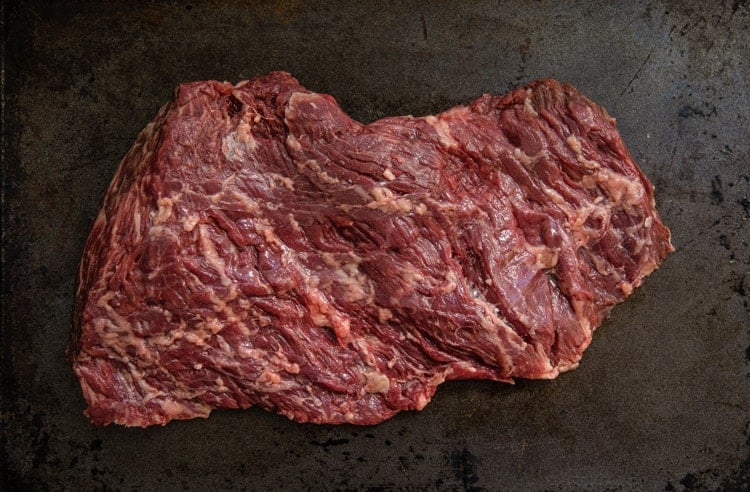 How to Prepare Bavette Steak
A bavette steak is very versatile to season. It is great in a marinade, and also great simply seasoned with a dry rub (or both). There is very little to trim, simply remove any excess fat prior to seasoning. often there is a thick end and a thin end. Important to note as you cook it.
Bavette is well marbled, we use Snake River Farms for our beef cuts. It is amazing American Wagyu with great marbling and incredible flavor. No matter where purchased, look for good marbling which you will see throughout the meat.
How to Cook Bavette Steak
Bavette steak is perfect grilled or seared on a cast iron pan. The tender texture of bavette makes for a great fajita cut, or simply sliced for a small group dinner.
Add a pan sauce like a whiskey peppercorn sauce for a touch of extra flavor. Or try a refreshing chimichurri like this one.
How to Grill Bavette Steak
Bavette is best grilled using the two zone or direct/indirect method. This allows a good sear for both sides, and moving the steak to indirect heat to finish.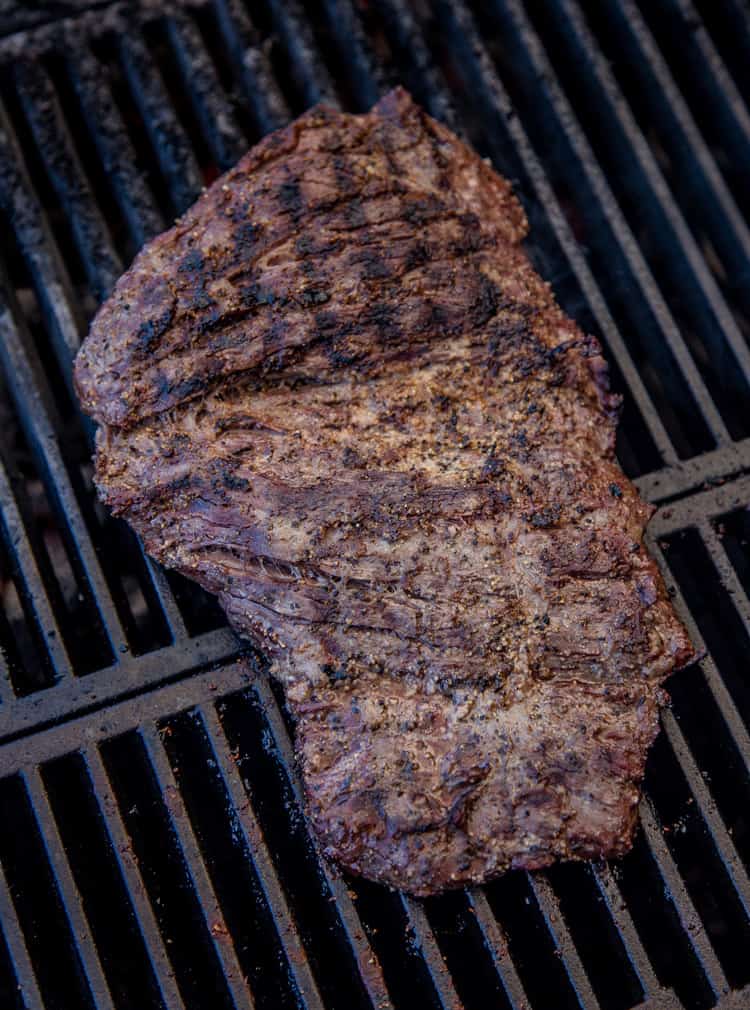 This grilling technique prevents scorching or burning the Bavette over a hot flame. We noted earlier there is often a thinner side. When grilling indirect position the steak so the thicker side is facing the heat source.
What Temperature is a Bavette Steak Done?
Bavette is very tender, and so rare or medium rare is the recommended finishing temperature for this cut of beef. Use an instant read thermometer like the Thermoworks MK4 and pull at 120 degrees for rare, and 130 degrees for medium rare.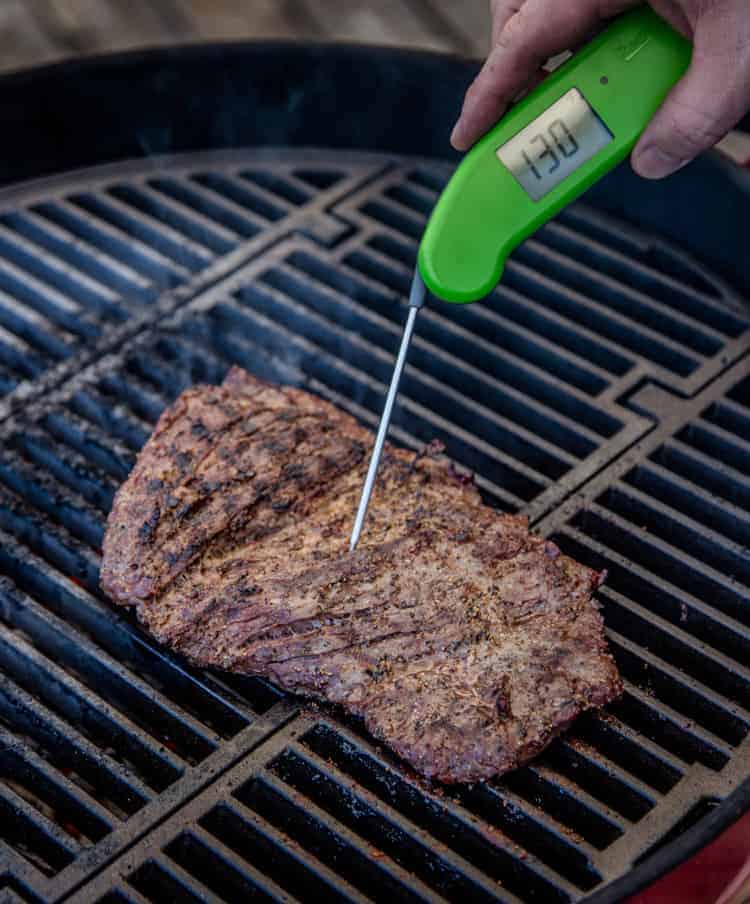 Let it rest!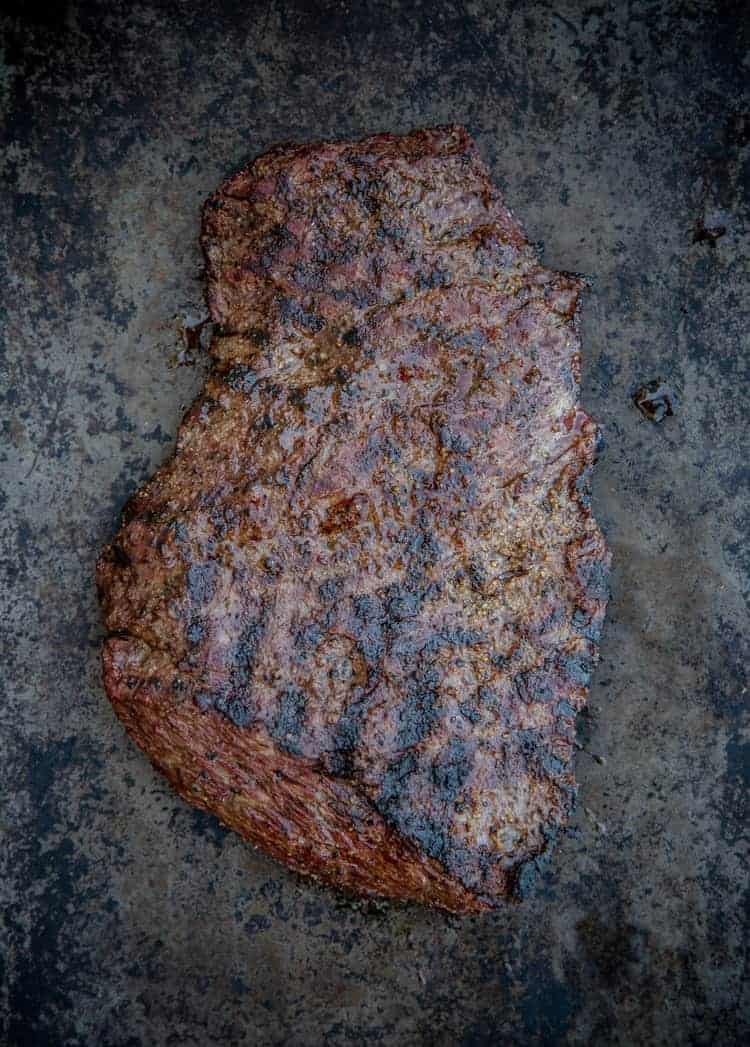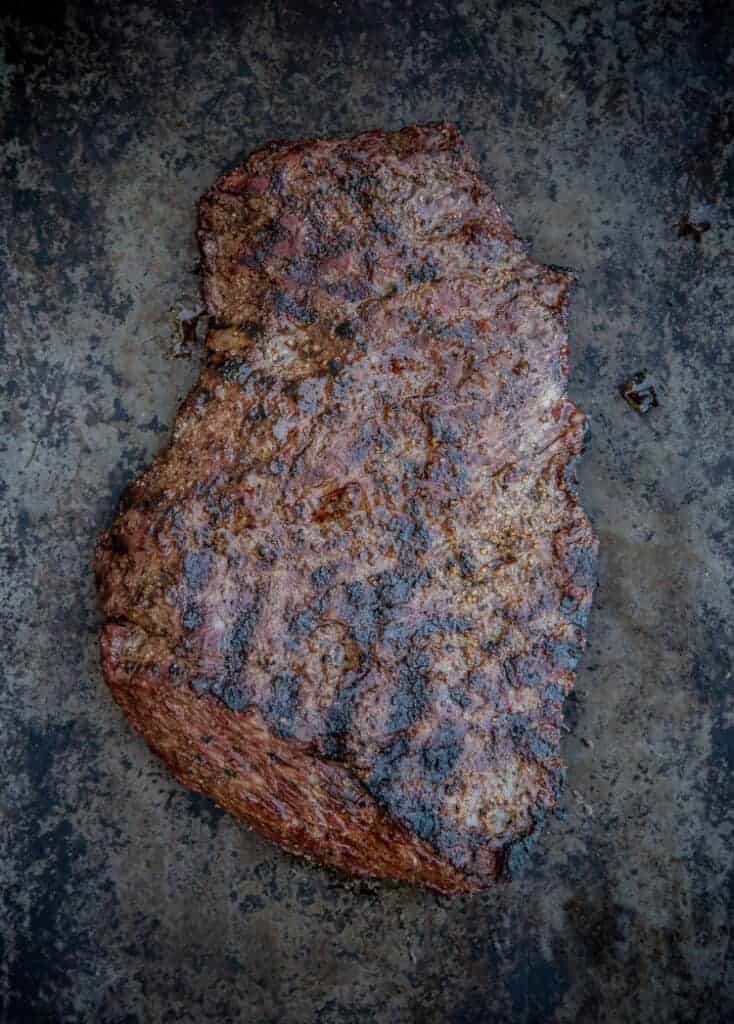 Let the steak rest for 10 – 15 minutes and then slice against the grains. When slicing any beef cut, slicing against the grain is important to keep that delicate texture. Slice at a slight bias as well.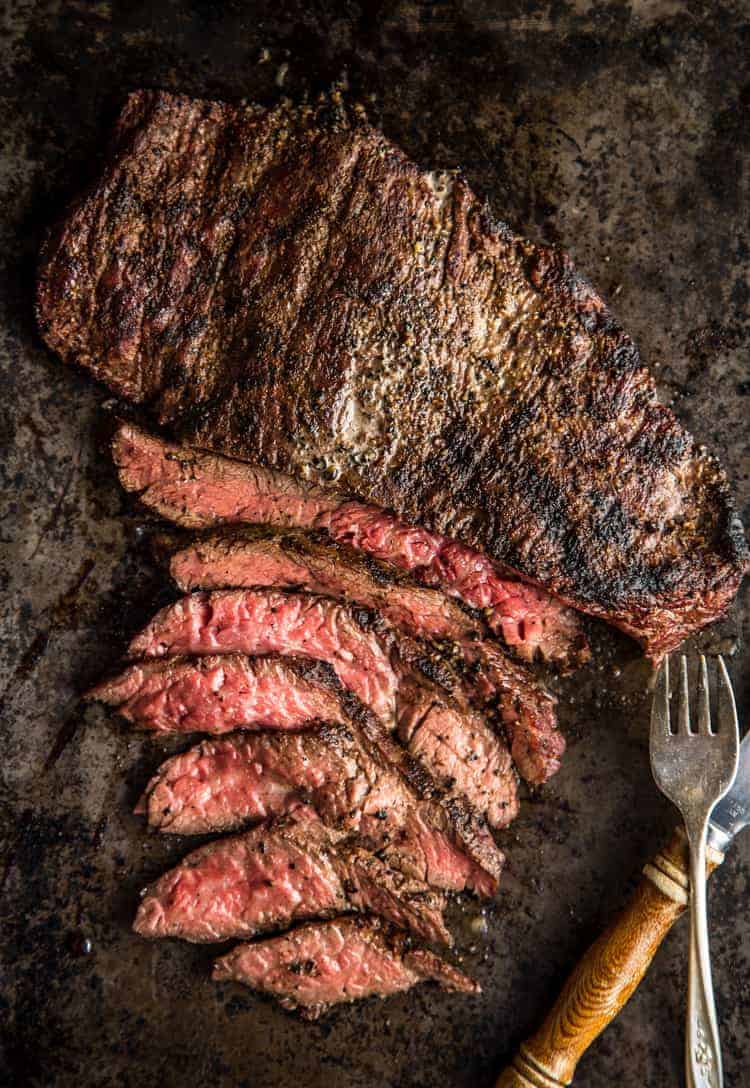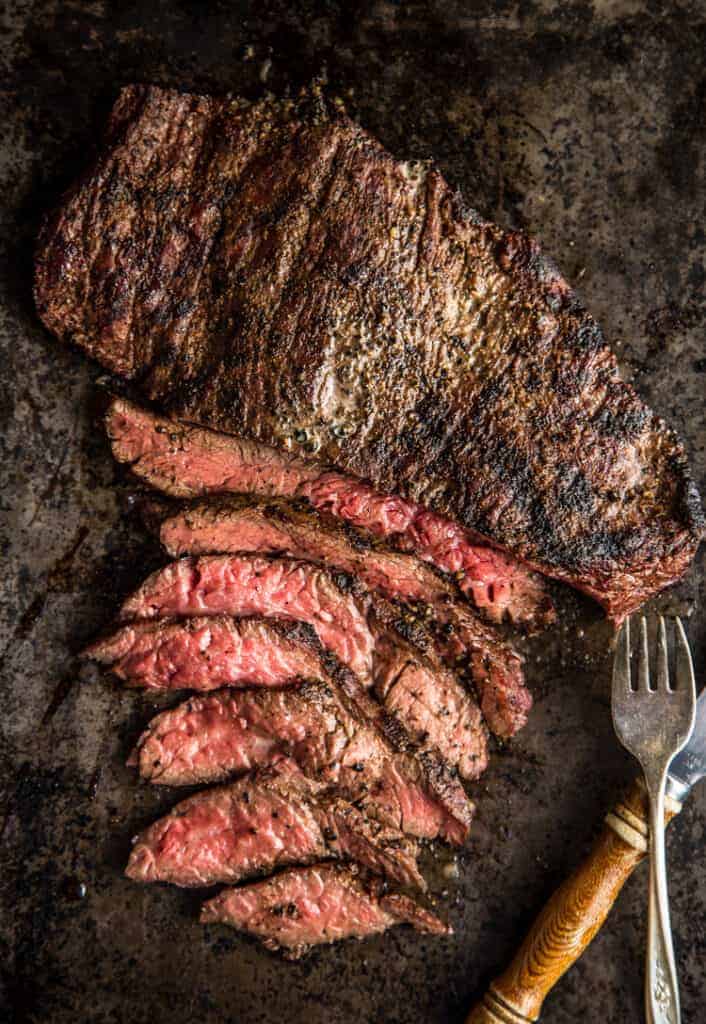 Where Can I Buy Bavette Steak
The cut can be a unique one to source. Snake River Farms has an American Wagyu Bavette with incredible marbling and flavor shipped straight to home flash frozen and still packed with flavor.
Or call a butcher in advance and ask for it to be custom cut if needed.
Recipe for Grilled Bavette Steak and Whiskey Peppercorn Sauce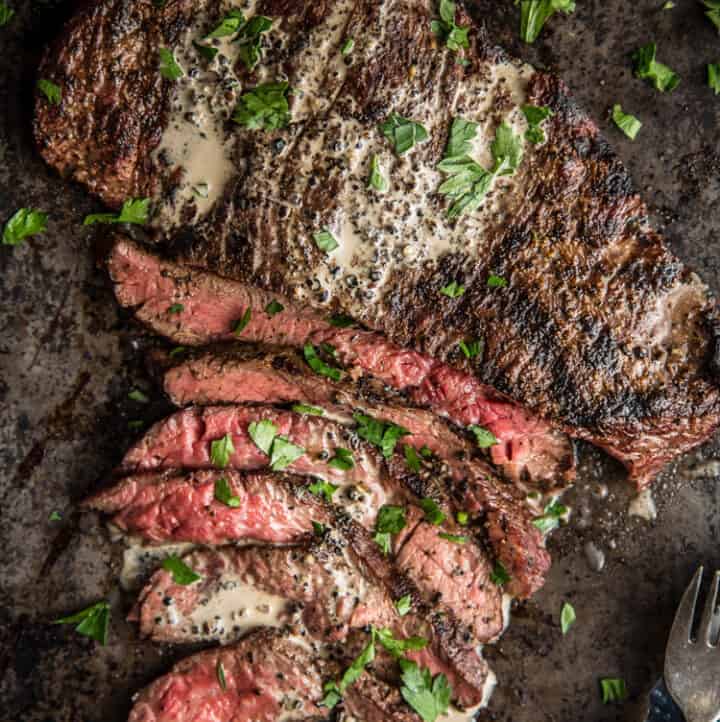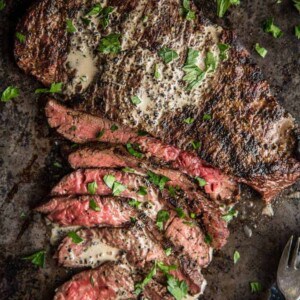 Grilled Bavette Steak with Whiskey Peppercorn Sauce
Bavette is tender like flank steak and full of flavor. Grilled Bavette Steak with a decadent Whiskey Peppercorn Sauce will be your new favorite steak.



Print
Pin
Rate
Ingredients
1.5

pound

Bavette Steak

(We like Snake River Farms American Wagyu)

1

teaspoon

kosher salt

1

teaspoon

coarse black pepper

1

teaspoon

granulated garlic
Instructions
Grilled Bavette Steak
Preheat grill for two zone or direct/indirect method.

Trim extra fat off bavette steak and pat dry. Combine salt, pepper, and garlic powder and sprinkle generously over both sides of the bavette steak.

Place the steak over direct heat for two minutes or until you see a sear develop. Flip the steak and place back over direct heat for another two minutes or until you see a sear develop on that side.

Move the steak to indirect heat, and cover. Check temperature after five minutes and remove from the grill when the temperature of the thickest part of the steak reaches 125 to 130 degrees Fahrenheit.

Let the steak rest for 10 minutes, then slice against the grain. Plate, and drizzle sauce over the steak.
Bourbon Peppercorn Sauce
Preheat a cast iron pan over medium-high heat or direct heat on the grill. Pour bourbon and peppercorns in as you see a small amount of smoke coming from the pan. Let simmer for 1 minute and pour in beef broth, stir. Let simmer again for 2 minutes while stirring. It will slightly reduce.

Add the cream and salt and continue stirring for another eight to ten minutes. It will reduce. Move to indirect heat if it is boiling over, or reduce heat on the stove-top. Sauce will slightly thicken.
Find the perfect wine pairing at the Vindulge Wine Shop
Nutrition
Calories:
501
kcal
|
Carbohydrates:
2
g
|
Protein:
36
g
|
Fat:
35
g
|
Saturated Fat:
18
g
|
Polyunsaturated Fat:
2
g
|
Monounsaturated Fat:
15
g
|
Cholesterol:
145
mg
|
Sodium:
1322
mg
|
Potassium:
550
mg
|
Fiber:
1
g
|
Sugar:
1
g
|
Vitamin A:
466
IU
|
Vitamin C:
1
mg
|
Calcium:
37
mg
|
Iron:
3
mg
The How-To Video
More Awesome Steak Recipes for the Grill
---
*This post contains affiliate links. That means if you click on a product we recommend and you purchase it, we receive a small commission. We only recommend products we use and love! And your support keeps this blog going for free!!
If you like this recipe we'd truly appreciate it if you would give this recipe a star review! And if you share any of your pics on Instagram use the hashtag #vindulge. We LOVE to see it when you cook our recipes.
Reader Interactions