Crispy pan-fried mortadella is layered with melty cheese and squeezed between two amazing brioche buns for the ultimate sandwich. It's a next level indulgent mortadella sandwich that truly melts in your mouth.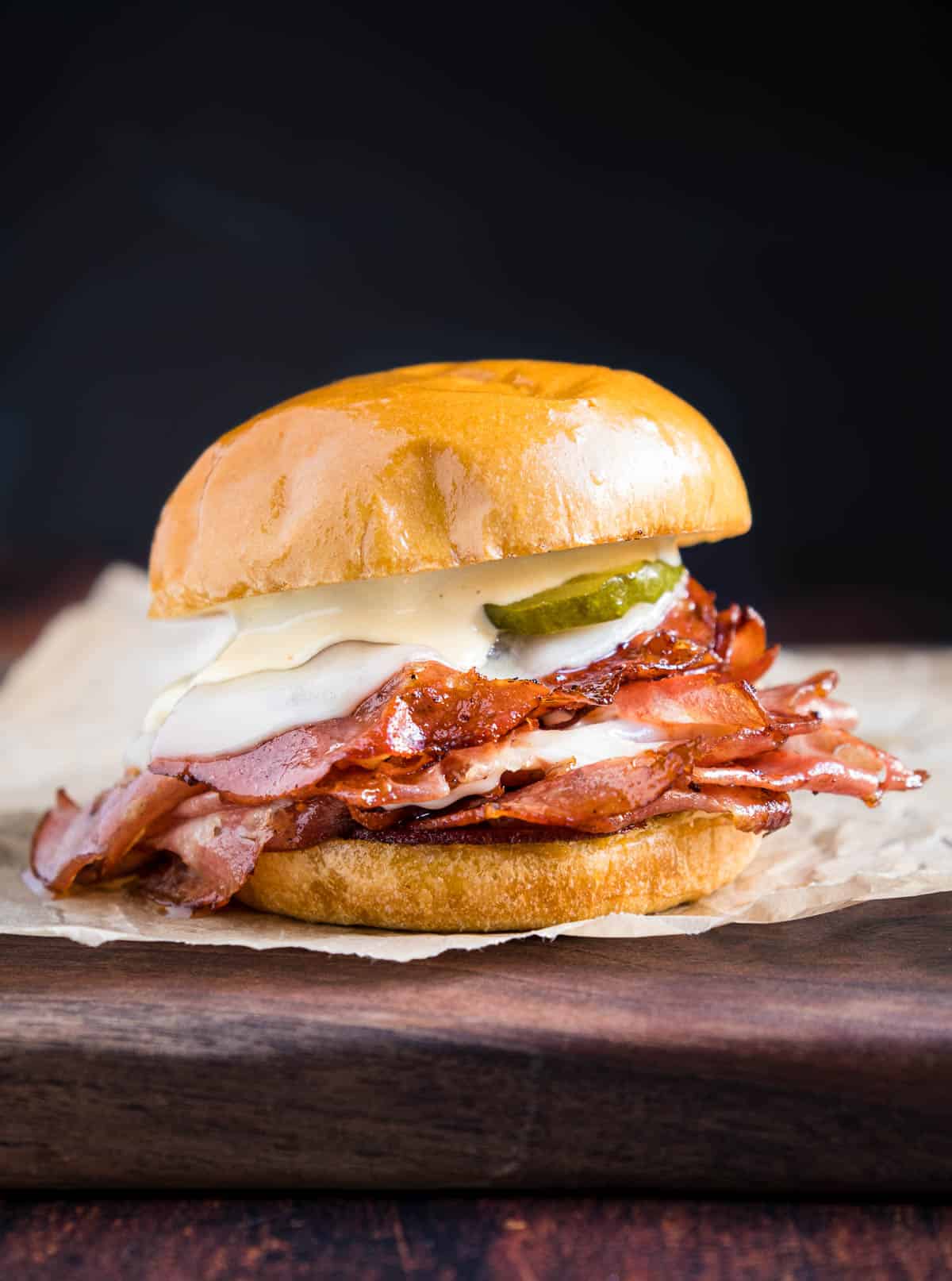 We love Italian Mortadella because it has a rich buttery flavor with pockets of delicious and rich fat. Our Smoked Mortadella has become a staple on every holiday charcuterie board we make and always yields plenty of leftovers. When we are graced with such leftovers we love to make this crispy pan-fried mortadella sandwich and it's always a big hit.
Ingredients + Substitutions for Mortadella Sandwich
You can find good quality mortadella in most grocery stores near the cold cuts, deli case, or seek out an Italian Market with a deli counter. Some online purveyors will also ship them direct to you.
Italian Mortadella – Or you can buy your own loaf and slice it yourself. Plan on ⅓ pound of meat per sandwich. While you can technically use bologna, we encourage you to seek out the richer and more flavorful cut of quality mortadella.
Bread – We love brioche buns for the added rich flavor and soft texture. The buns are fried in butter to get a golden brown toast. Another great option is fresh focaccia. The key is to have soft slices of bread that will brown in the butter. Avoid baguettes or hard rustic crust breads.
Cheese – We use provolone cheese because it melts quickly when piled on top of the mortadella. You can also use mozzarella although it tends to have less flavor.
Aioli – We make a quick aioli of good mayonnaise, Dijon mustard, and lemon juice and coat both slices of bread.
Pickles – Because mortadella sandwiches are so rich we like to add a pickled flavor and acid to balance the flavors. Classic dill pickles are great. Be sure to buy the hamburger sliced pickles.
Optional Toppings – Add peppery arugula for some nice flavor and texture.
Full portions are in the recipe card.
Mortadella versus Bologna
Italian Mortadella is pork sausage and originated in the Bologna region of Italy. As Italian immigrants came to the United States they created a version of mortadella called balogna (or baloney). American balogna can be beef or a mix of pork, chicken, and beef. The ingredient list highlights the finer flavors of mortadella with pockets of fat and often mixed with pistachio and herb seasonings.
Tools Needed for Mortadella Sandwich
You will want a plancha or a large cast iron griddle in order to get the slices of mortadella crispy. It's also good to have good tongs and a flat top style spatula.
Preparation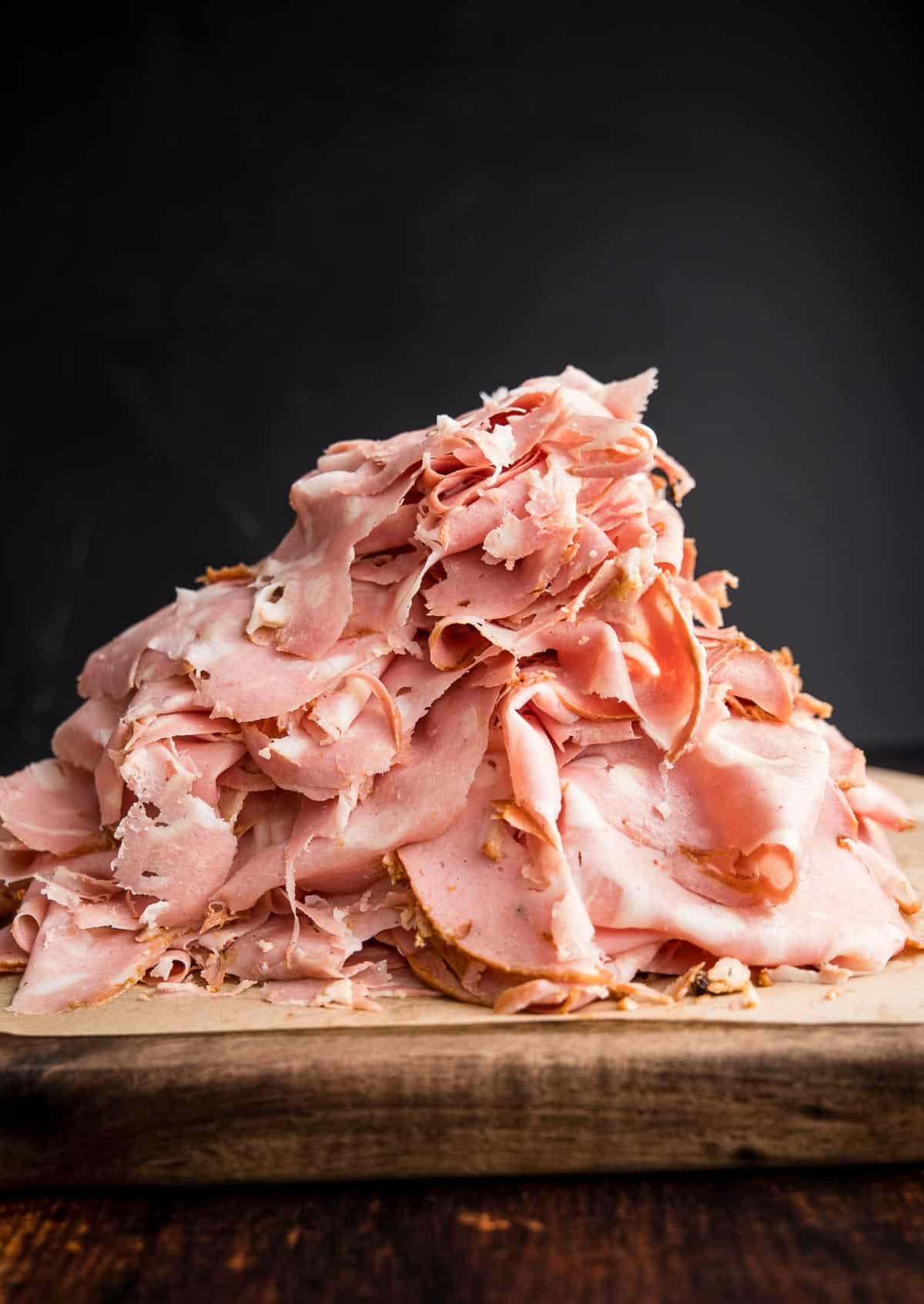 Mortadella sandwiches need thin slices. On a slicer that would be .5 to .75. It will crisp up better if thin.
Make your aioli by combining the mayonnaise, Dijon mustard, and lemon juice in a small bowl. We use ¼ cup of aioli for every two sandwiches.
Recipe Steps for Mortadella Sandwich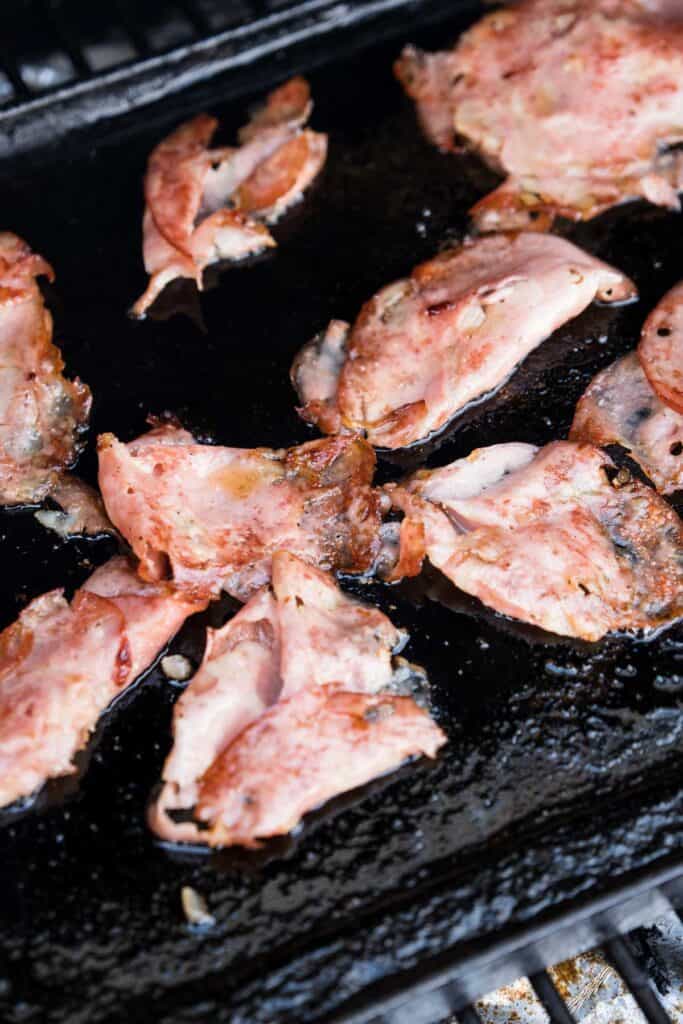 Start by preheating your cooking surface to high heat. We are using a cast iron plancha. If using a grill pan or griddle that would be a temperature of 375 – 400 degrees F, if reading the surface with an IR thermometer.
Coat the plancha with a light coating of olive oil and place your slices of mortadella directly on the pan so they lay flat. Crisp up the mortadella for about 5 minutes or until you see the edges start to brown. Then using your spatula flip the mortadella and crisp up the other side for an additional 4 – 5 minutes.
Once the mortadella is crispy use the tongs to pile up half of the meat. Then add one slice of provolone to the top of the mortadella. Top with more mortadella and another slice of provolone. Then add butter to the pan and when it melts place your bun facing down into the butter. Allow to toast for up to 2 minutes or until it is golden brown.
Once the meat is cooked and the cheese is melted it's time to build the mortadella sandwich. Coat both of the slices of bread with the aioli. On the bottom slice add the crispy mortadella with the melted cheese on top. Then add the pickles (and arugula if using it) and the top slice of bread. Serve warm.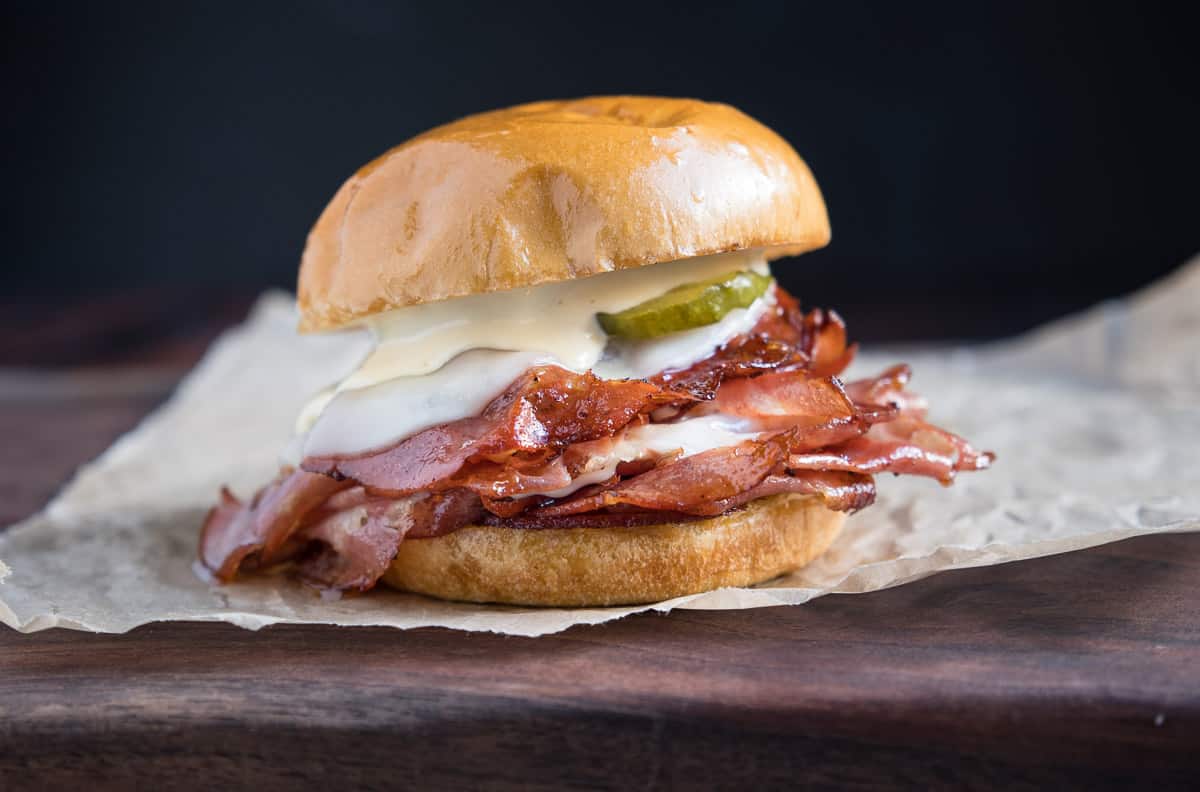 Chef's Notes + Tips
If using a smaller pan, then consider crisping up the meat in two batches. The ideal goal is to have as much of the mortadella touching the hot pan as possible so it all gets crispy.
We brown and toast the bread second so it's still warm when eating.
Other Sandwich Recipe Ideas
If looking for some fun sandwich inspirations, here are a few of our favorites.
Prime Rib Steak Sandwich – Take leftover prime rib and stack it on a baguette with caramelized onions and arugula. Simple ingredients, big flavor.
Smoked Meatball Sandwich – A rich and decadent sandwich with smoked meatballs, marinara sauce, and topped with melty mozzarella cheese.
Smoked Cubano Sandwich – Smoked pork stacked with classic Cuban sandwich flavors.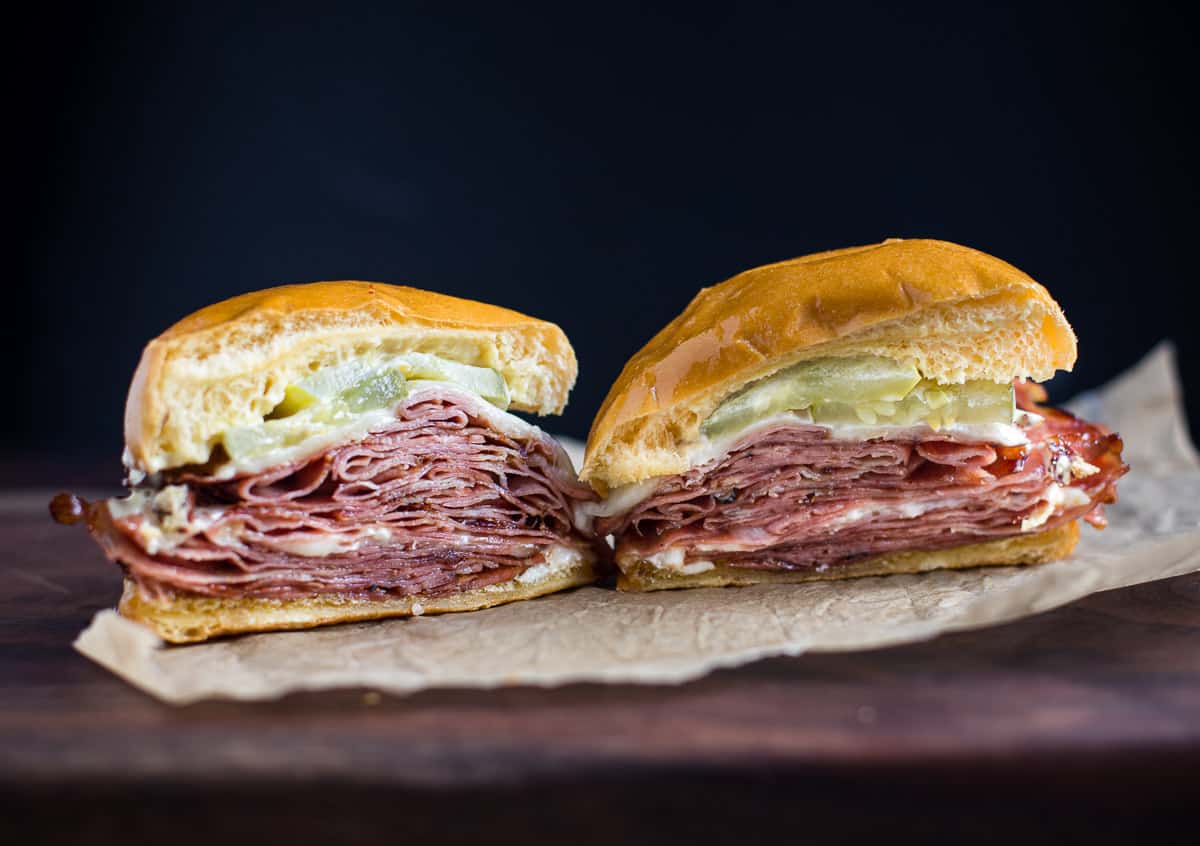 ---
Mary (a certified sommelier and recipe developer) and Sean (backyard pitmaster) are co-authors of the critically acclaimed cookbook, Fire + Wine, and have been creating content for the IACP nominated website Vindulge since 2009. They live in Oregon on a farm just outside Portland.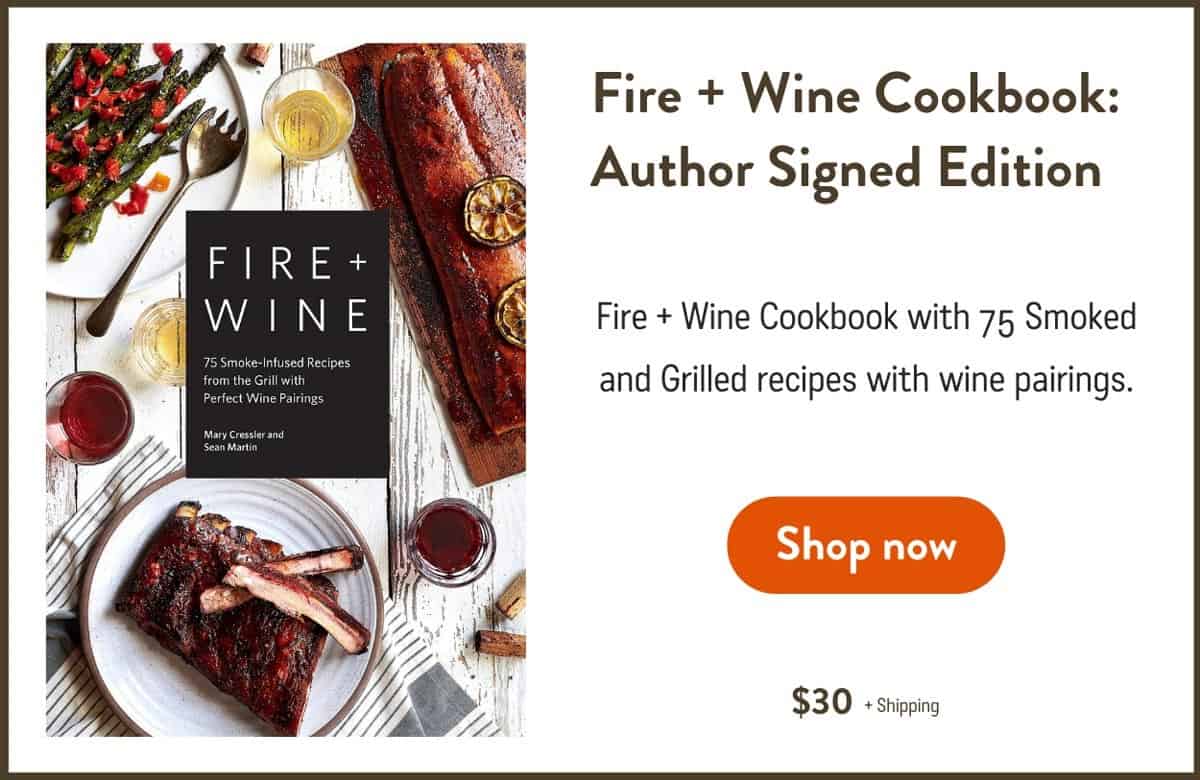 Tried this recipe? Give us a star rating and we would love to see! Mention @vindulge or use the hashtag #vindulge on all the social media handles. And consider subscribing to our newsletter where we drop all our favorite ideas and inspirations every week.
This post may contain affiliate links. This means if you click on the link, we may receive a small commission if you purchase through the link. We partner with brands we know and love and use and it helps keep the blog going!