This quick pickled vegetable recipe is so much easier than canning because you don't need special tools. It's ready in less than 15 minutes. If you want to learn how to make a quick pickle recipe for almost any vegetable, from red onions to hot peppers, it's all about knowing how to make a brine and then adding additional flavor. Let's go!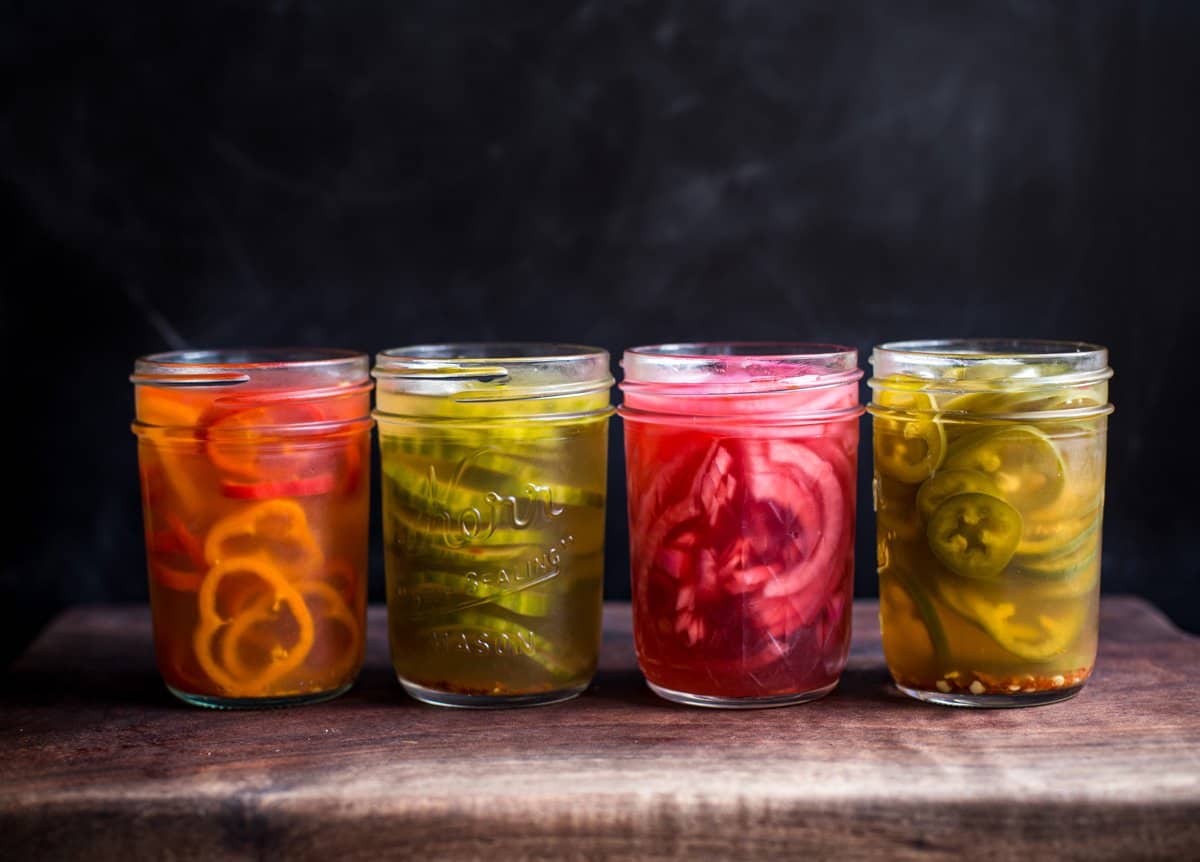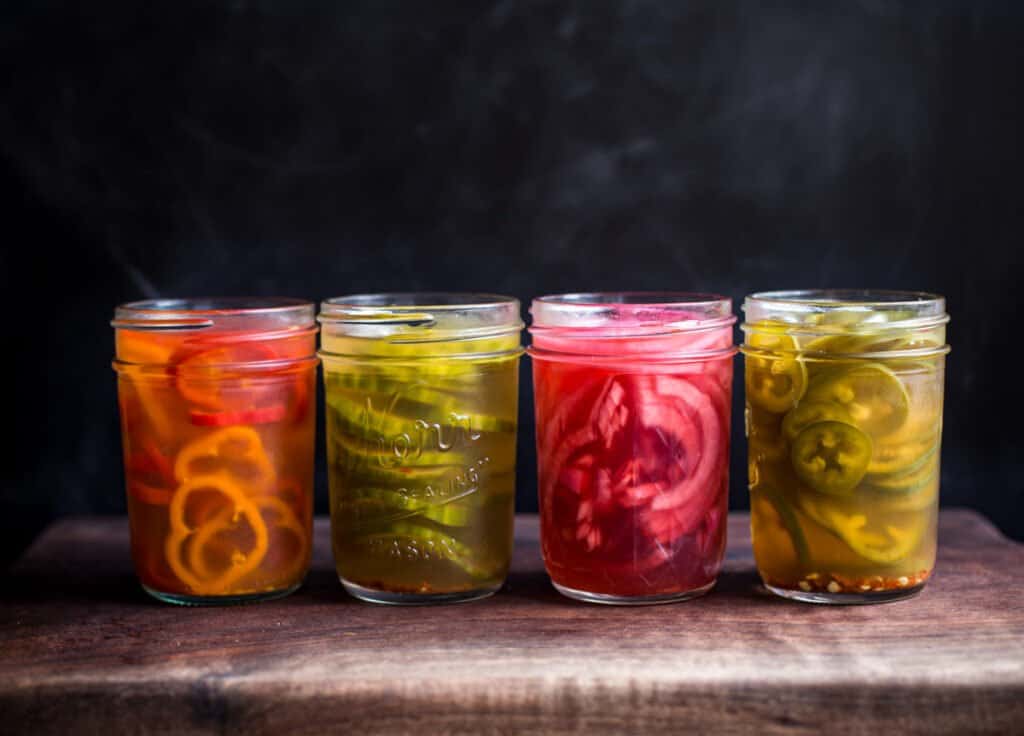 Whenever we have friends over for a backyard feast, or want to elevate our favorite cheese and charcuterie platter, we love to make a bunch of quick pickled veggies using simple ingredients for garnish or snacking. They are great to eat on their own, or can make for a great ingredient in salads, coleslaw, or even as a topping to your favorite burgers, grilled chicken, or pulled pork.
This is also a great way to preserve excess vegetables you may have from your garden or grocery run.
Jump to:
Quick Pickle Recipe Highlights
The brine is ready in less than 15 minutes and the pickled veggies are ready in less than 2 hours.
Pickling uses a basic brine ratio. You can easily scale up the recipe for more yield.
It can easily be modified to your palate with more seasoning or sugar.
What is a Quick Pickle?
Also known as a "refrigerator pickle", these are vegetables packed in a basic brine (in this case a blend of vinegar, water, salt, and sugar). You add that liquid to your favorite vegetables and then store in the refrigerator. The pickled veggies are ready in less than 2 hours. While it won't be shelf stable like a canned pickling recipe, nor do they even require a canning process at all, they are prepared quickly and will last in the refrigerator for up to two months depending on the vegetables used.
Equipment
To make the experience easy, the best equipment to use include:
Large Funnel – This makes it easy to pour the liquid into any size container.
Large Sauce Pan – Basically you have to combine the brining liquid and warming it up makes the sugar and salt dissolve faster.
Mason Jars – We like the 8-ounce jars because we can make a lot more variety of pickled vegetables versus a larger jar. They also get consumed faster. While mason jars aren't required for this recipe, we prefer them for ease.
Pickling Brine Ingredients
We follow a basic brine ratio, which is: 1 cup of water and 1 cup of vinegar (we use apple cider most frequently), plus 1 tablespoon of kosher salt and 1 tablespoon of cane sugar. This provides us with a balance of sweet, acid, and flavor.
If you were to scale up, do so in 1 cup increments. So for a three cup batch you would use 1 ½ cups water, 1 ½ cups of apple cider vinegar to 1 ½ tablespoons of kosher salt and 1 ½ tablespoons of cane sugar.
If you don't want sugar, consider natural sugar flavor like honey or maple syrup in equal parts.
Just remember 1 part water: 1 part vinegar as your base.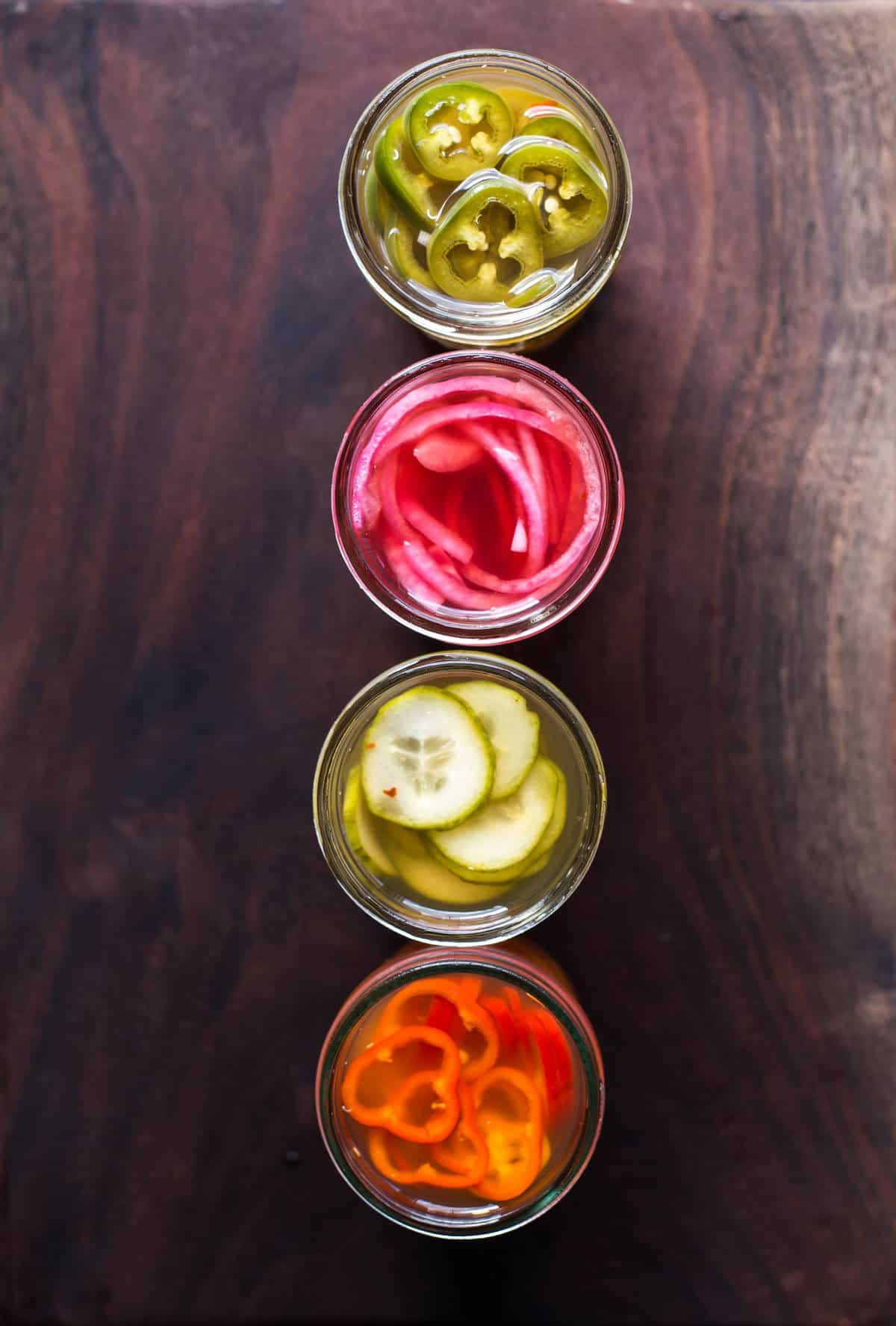 Vegetables
You can use any you want for a quick pickle, we like to offer four for both the color, presentation, and flavor. We love red onion for the flavor in burgers or a salad and coleslaw, jalapeño as a stand along snack or part of a smoked brisket platter, sweet red peppers (the smaller versions) as the are great on sandwiches, and English cucumber which take on a classic pickle flavor.
If you want to use legumes like green beans, or pickled root vegetables like carrots, be sure to blanch them first before they are pickled. Blanching them keeps a better texture after they are pickled (so they aren't too hard to bite).
Vinegar
The base flavor of any pickled dish will be the vinegar. Each style of vinegar is going to offer different flavor profiles, but all make great options. Vinegar in general is acetic acid and a liquid, commonly water. The additional flavor comes from the other acids and ingredients.
White Vinegar – White vinegar is very strong and high in acid. It's the acid you taste with the water and the purest form of vinegar flavor. If you don't like sweet or hints of sweet in pickled flavor, than use white vinegar.
Apple Cider Vinegar – The most common vinegar we use. Sweeter in flavor with hints of apple, this vinegar has a distinct odor and flavor. In pickling it will be sweeter and will taste slightly less acidic than white vinegar. If you like a touch of sweet to pickles, than opt for apple cider vinegar.
Red Wine Vinegar – A very distinct flavor like wine from the tartaric acid. It's red in color makes for a great color variation with onions and cauliflower. White wine vinegar is like the red cousin, only with the white wine flavor. If you want a more pungent vinegar flavor with the hint of red wine, than opt for this one.
Rice Wine Vinegar – Fermented rice gives a richer and more earthy vinegar flavor. It will impart potential earth profiles to the pickling. Rice wine vinegar is a good substitute for apple cider vinegar.
Balsamic Vinegar – Made from grape must and often aged in barrels, this vinegar is not recommended for pickling, instead as an ingredient in salad dressings or even as a dipping sauce. As it ages, it also gets more expensive. Avoid for this recipe.
Flavor Modifications
There are a lot of ways to modify the pickling recipe based on your preference, but stick to the ratios above. Any flavor you add to the brine, will get enhanced as the vegetables sit in the liquid.
For heat: use red chili pepper flakes.
For aromatic flavors: consider cardamom, allspice, mustard seeds, whole peppercorns, or coriander seeds. Garlic is also a fun flavor to add.
Herbs: consider fresh herbs like dill, oregano, or marjoram.
The flavors are endless, and it is fun to experiment.
Basic Quick Pickling Brine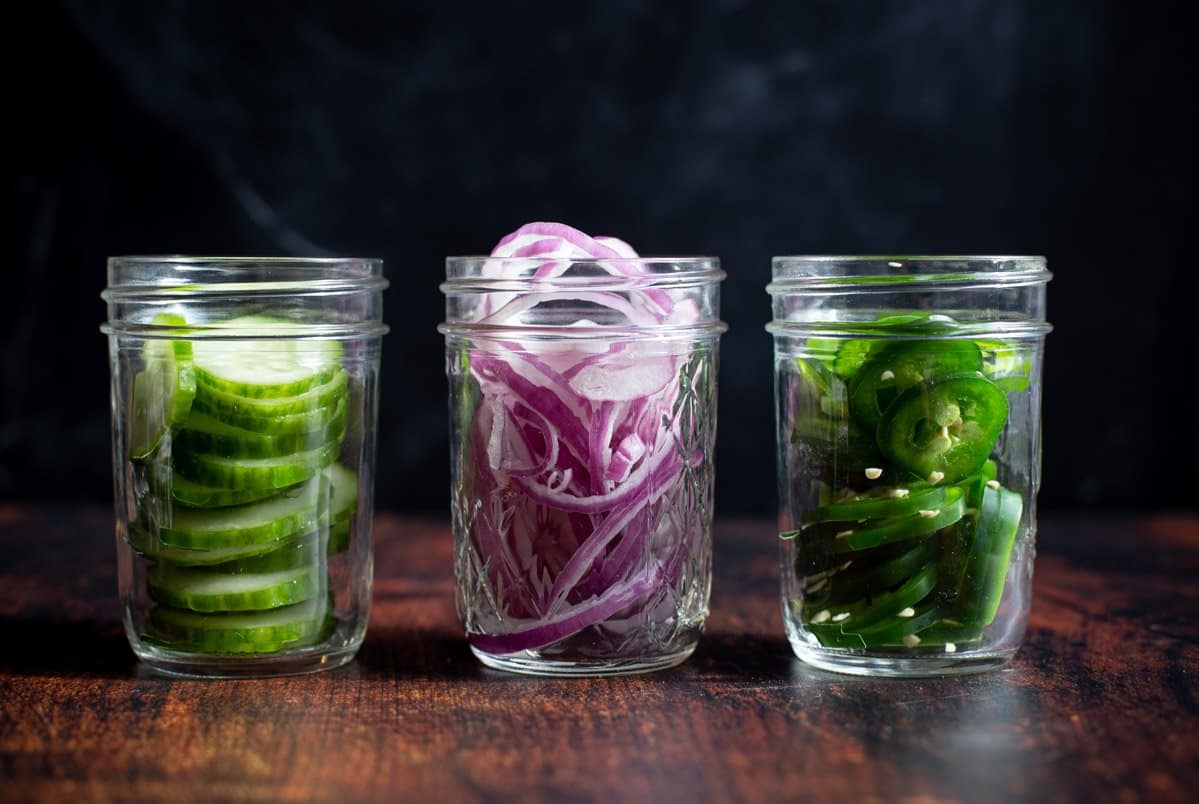 Prepare Jars: Place the sliced vegetables separately into four empty 8-ounce mason jars.
Make Pickling Brine: In a large saucepan, combine all the ingredients for brine over medium heat and bring to a simmer until the sugar and salt are dissolved.
Pour Brine: Once the sugar and salt are dissolved, turn off the heat and then distribute the pickling liquid among the jars of vegetables using a funnel. Note: there is no need to strain the chili pepper flakes as you want them to sit in the brining liquid to infuse the flavor.
Store: Let cool in the refrigerator, covered, for at least 2 hours. Ideally for 24 hours for the brine to infuse into the vegetables.
Quick Pickling Frequently Asked Questions
How long will quick pickled vegetables last?
Pickled onions will last up to two weeks in the refrigerator. For most other vegetables, they will last up to 2 months if refrigerated.
Can you pickle with just vinegar?
Yes, you can. But it will carry a lot of that acidic and pungent flavor, and if that is what you like, then you can adjust the recipe. You may want to offset the quick pickle with sugar or other flavors as well.
This post may contain affiliate links. This means if you click on the link, we may receive a small commission if you purchase through the link. We partner with brands we know and love and use and it helps keep the blog going!
---