Not your average backyard cookout coleslaw. This mayo-free and allergy-free coleslaw is made with smoked pickled onions and is fantastic loaded onto pulled pork or chicken sandwiches or as a great side dish for your next party.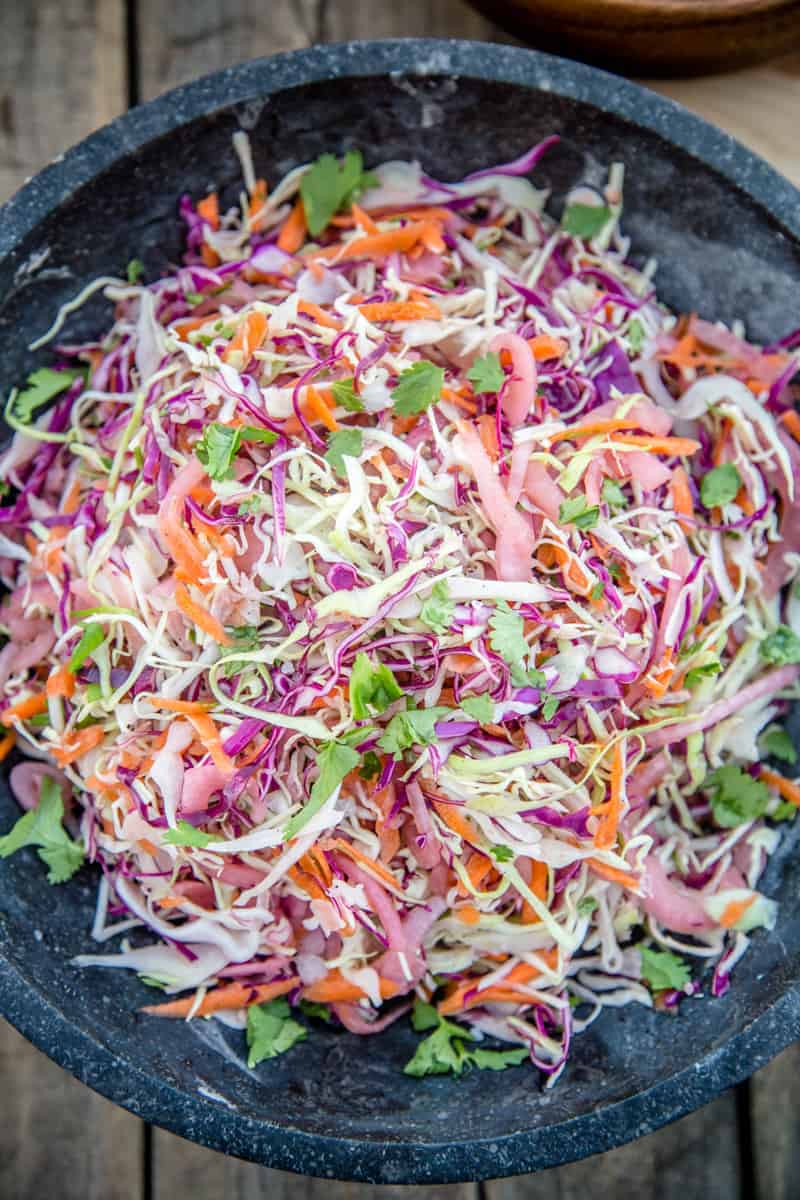 Jump to:
I can't stand mayo! I know I may be in the minority, but I just can't do it. The texture, the smell, none of it. Plus it's no good to have in a salad you wish to have out at a backyard party or picnic on a hot summer day. Because spoilage.
You may remember our Easy Mayo Free Coleslaw recipe. This one is pretty different, yet similar in that they both require zero mayonnaise… because I just can't do it! And this one has a special ingredient giving it an incredible WOW factor. Smoked Pickled Onions.
What are Smoked Pickled Onions?
Smoked pickled onions are onions that are placed in a pickling liquid, then cooked on the smoker at a low temperature to infuse with a sweet smoke infusion.
I'm a sucker for all things pickled (true story). Pickled everything, including onions. And these are great in this coleslaw.
---
Check out our easy quick pickling guide for more ways to add flavor.
---
How to make Smoked Pickled Onions
Start by slicing onions into thin strips. For this you don't need any special tool, just a sharp knife and a focused eye (or two). We recommend slicing the onions from the poles.

Add them to a baking dish (we use a square 8×8 glass dish). Add some apple cider vinegar and sugar and then place the dish in your smoker, set to 225 degrees, for about 2 hours (tossing once or twice).
Remove the smoked pickled onions from the smoker, let cool, and then strain the onions (MAKING SURE TO SAVE THE LIQUID!!!). Reserve that delicious liquid vinegar/onion infused smoked goodness for later. It will come in handy!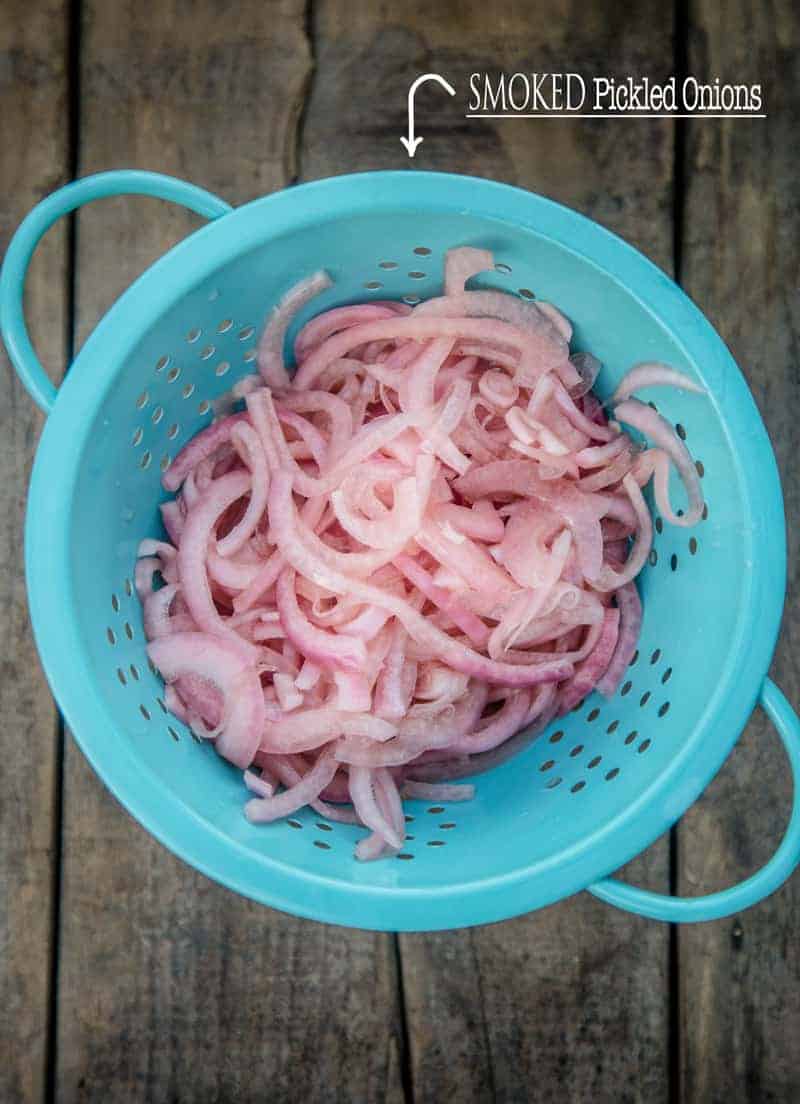 Next up, prep the rest of your coleslaw ingredients.
How to make coleslaw without Mayo
Instead of going the creamy mayo route, think of other, brighter, more acidic flavors to add enhancing your coleslaw. Think of it more like a vinaigrette vs. a creamy dressing in a salad. We're brightening up the flavors with apple cider vinegar from the pickling liquid.
And to jazz things up even more, we're making it with smoked pickled onions, which have so much flavor you don't even need a dressing!
You can use a pre-bagged coleslaw mix, or save money by slicing it yourself with a sharp knife or mandolin.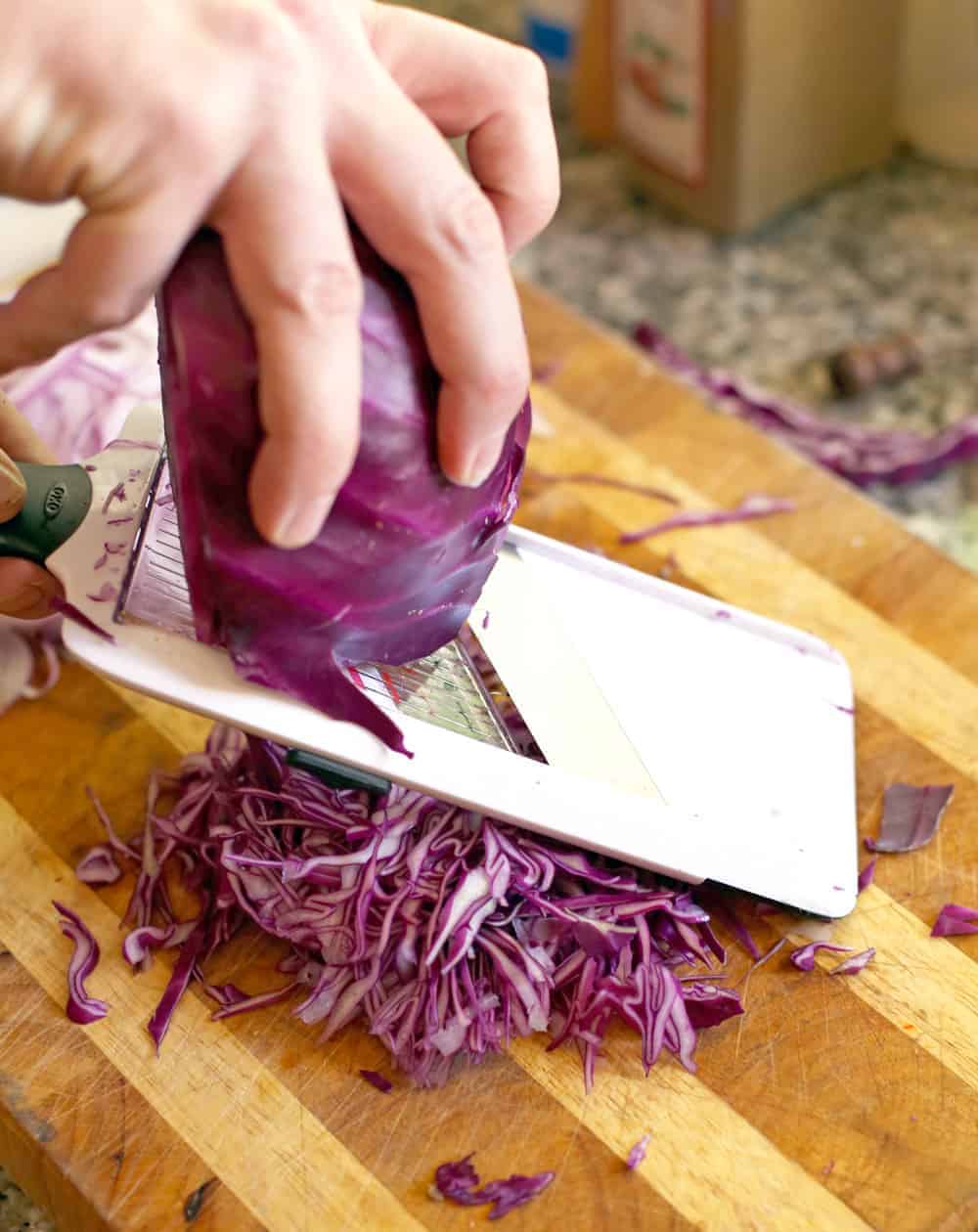 CAUTION: Be super duuuuuper careful using a mandolin, my friends! These damn things can cut your finger off! I know, I've had a couple accidents that weren't too pretty! Protect your precious fingers (or ask your husband/wife/partner/friend/mom to do it for you like I did).
Now that you've shredded your cabbage, assemble all the rest of your ingredients.
Coleslaw Ingredients
This coleslaw recipe is about simplicity but big flavor.
cabbage (both red and green cabbage)
cilantro (because it's delicious and flavorful)
shredded carrots (for good measure, sweetness, and color)
smoked pickled onions and pickling liquid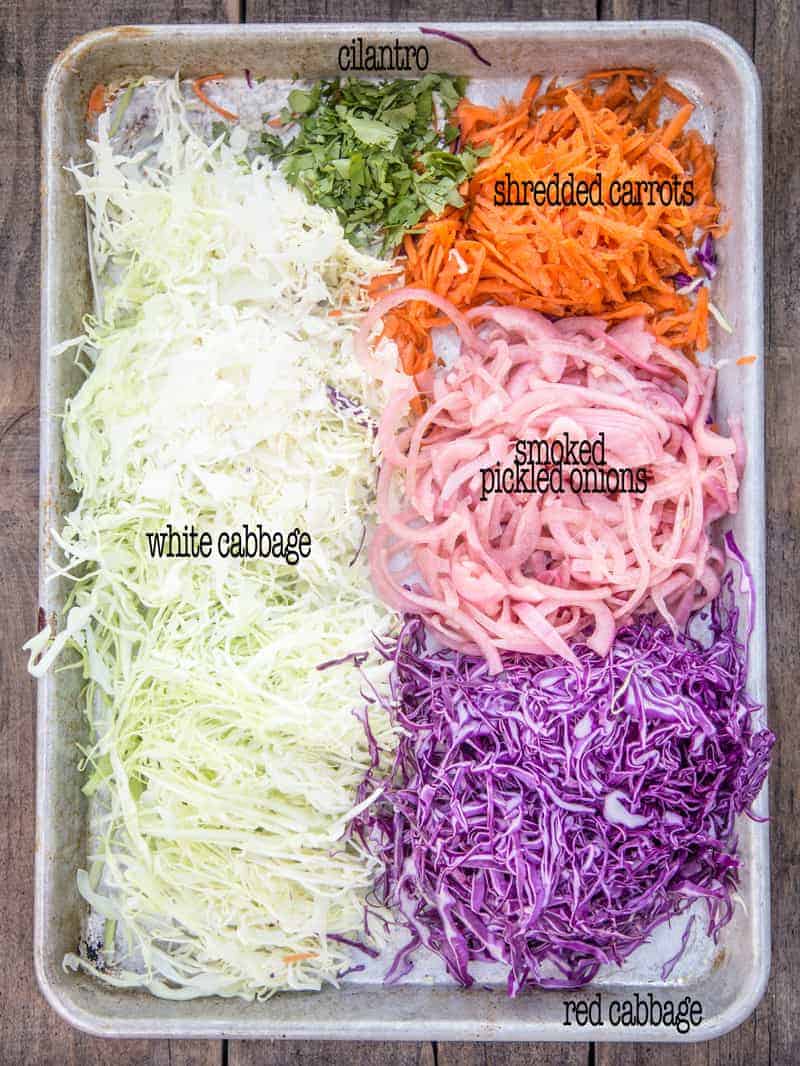 Toss together with some of that reserved liquid along with some salt, pepper, and cumin. Stir up and adjust flavors based on taste.
Chef's Tip: We like to add one tablespoon of the pickling liquid at a time until we like the flavor. Store any leftover smoked onions you don't use in a mason jar and cover with the remaining pickling liquid. It will last up to two weeks in the refrigerator.
Main Dish Ideas With Coleslaw
The options are endless! This mayo free, gluten free, dairy free, egg free, nut free — basically completely allergy free –– coleslaw is going to be your BFF this summer. Plus how cool is it that you smoked and pickled your own onions. You are officially a badass.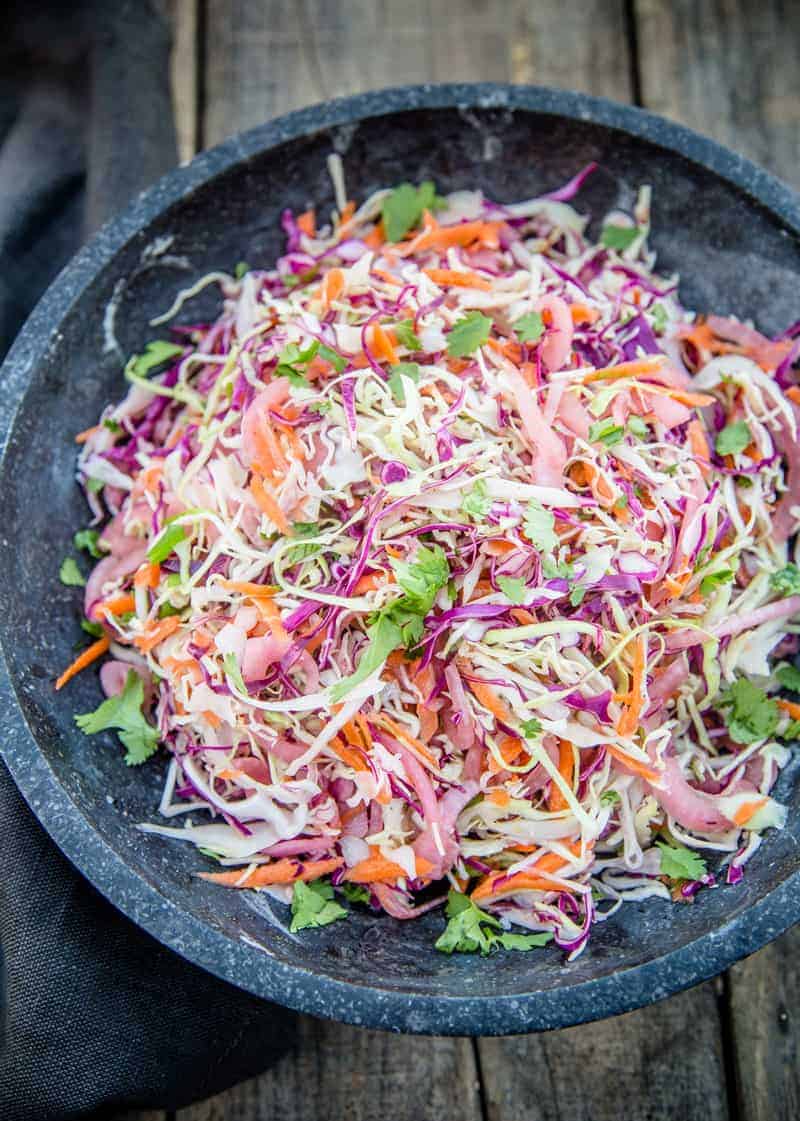 This recipe was first published in May of 2018 and updated in 2022 with new photos and steps for the pickling process.
If you like this recipe we'd truly appreciate it if you would give this recipe a star review! And if you share any of your pics on Instagram use the hashtag #vindulge. We LOVE to see it when you cook our recipes.
---