Change up your burger routine with a killer Smoked Lamb Burger with Rosemary Aioli. Serve with a delicious brioche bun.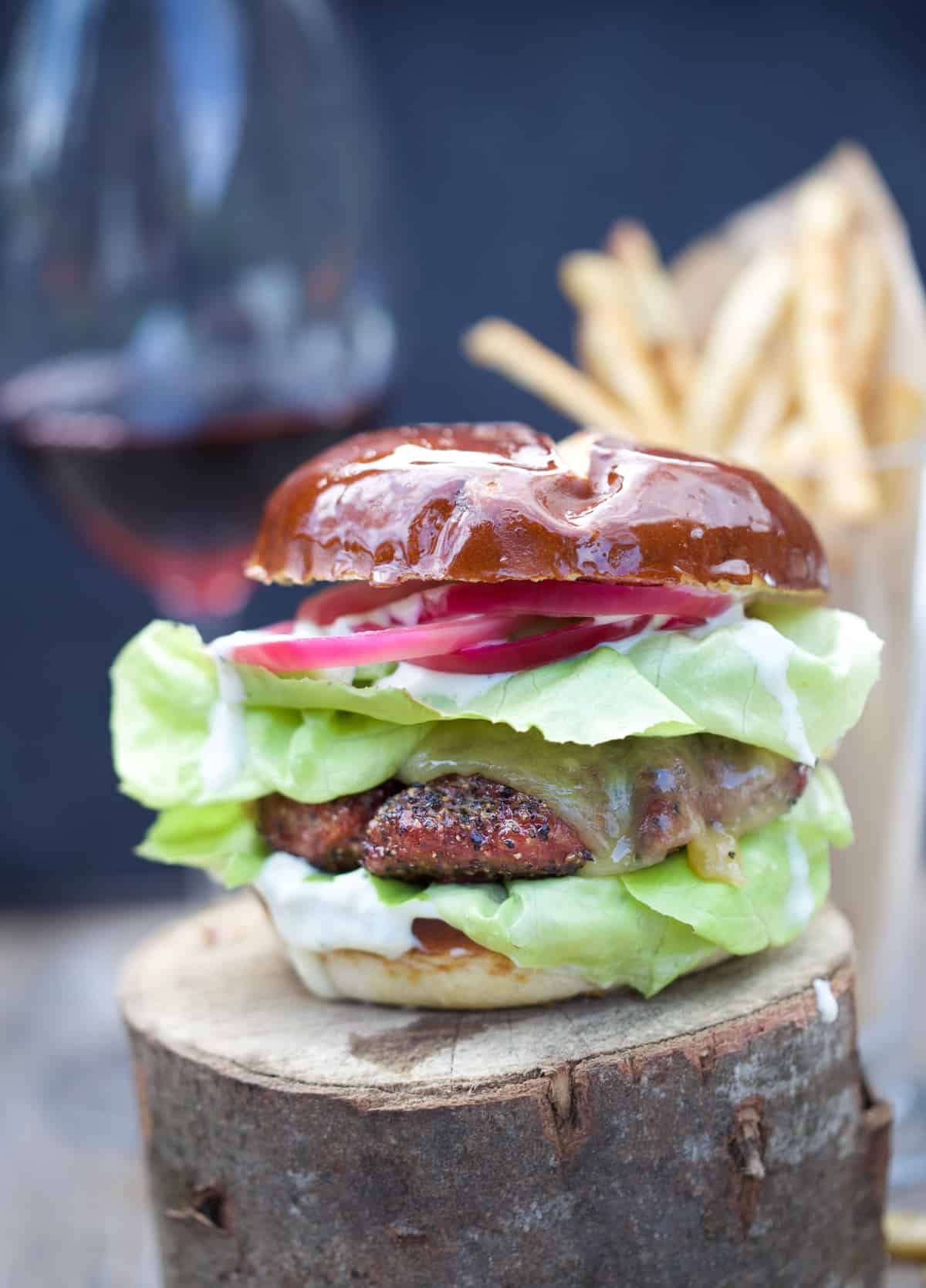 People tend to have a love/hate relationship with lamb. Fresh lamb is delicious with an earthy flavor. When smoked however, lamb takes on an even better flavor profile.
Lamb
Lamb is sheep up to 1 year of age. After 1 year the lamb are technically sheep or mutton (when used for food purposes). The gaminess from lamb comes from a couple of things. It can be lamb that is older, even bordering on mutton. The flavor will also be impacted by location and what the lamb eats. So buying the freshest lamb possible is ideal.
Burgers
So many lamb burger recipes out there rely on Mediterranean flavors, like topping it with feta, cucumbers, yogurt, you get the idea. Seriously, Google lamb burgers (or lamb anything for that matter) and you get a slew of Greek and other like flavors. It's like Greece owns the market for lamb.
But what if you just aren't into those flavor combinations? Lamb has such an incredible flavor on its own, it really doesn't need to be drowned out with the sharpness and saltiness of feta cheese, or the rich creaminess of yogurt. Amiright?
Why not enjoy it the same way you would a great beef burger, with limited interference.
For a bun, brioche all the way. Brioche is soft and buttery. I like my burgers with just a little crunch from fresh lettuce. Romaine or Red Lead lettuce are great options for crunch. Rosemary aioli and a thin slice of melted cheese (but a mild cheese like havarti or something similar that melts well) adds flavor. We're also big into pickling things so add some pickled onions to the top.
And of course it has to be smoked.
How to Smoke Lamb Burgers
You can easily do this, with or without a smoker.
We set this one up on our Kettle Grill to show you just how easy you can do it with a simple kettle grill. And we use the snake method for smoking.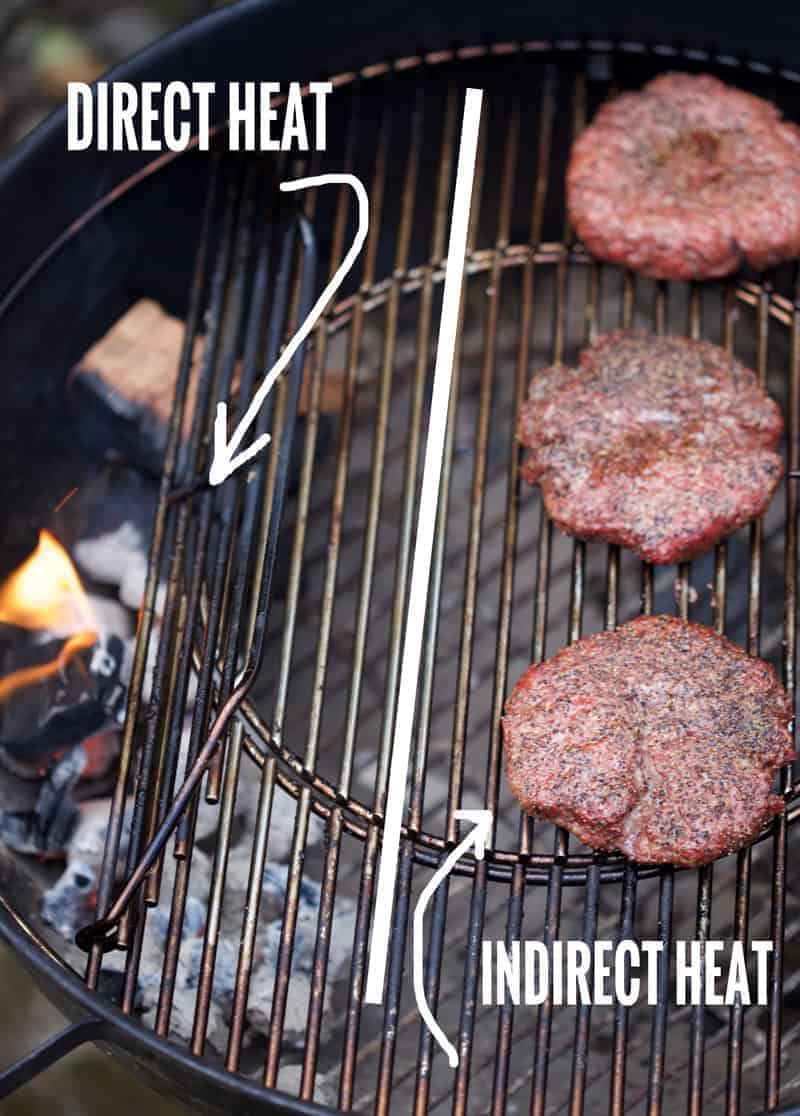 Just set up the kettle for a smoke session using the snake method. It's not just two zone cooking, you want to slowly light up the coal so it burns but doesn't get the internal cooker too hot. So what we do is to start about six or seven coals in a chimney starter. In the kettle, line up pieces of charcoal side by side along the grill wall and then have a line of those about seven or eight long, basically along the edge of your smoker. Like it's a fuse.
Add wood chunks on top of the charcoal line close to each other. The coal will add the heat, the wood will add the flavor. When your starter coals are ready place them in the front of the line of coal and add a wood chunk. Add more coal if it's not hot enough. You are looking for 250 – 275 degrees as the ambient temperature in the cooker.
Then cook the lamb burger on indirect heat for about 45 minutes or until the internal temperature reaches about 150 degrees.
Then if you're adding cheese add it now, and finish cooking the lamb burger until they reach 160 – 165 degrees. If you're not adding cheese, then just cook until the internal temp reaches 160 – 165 by using a digital thermometer.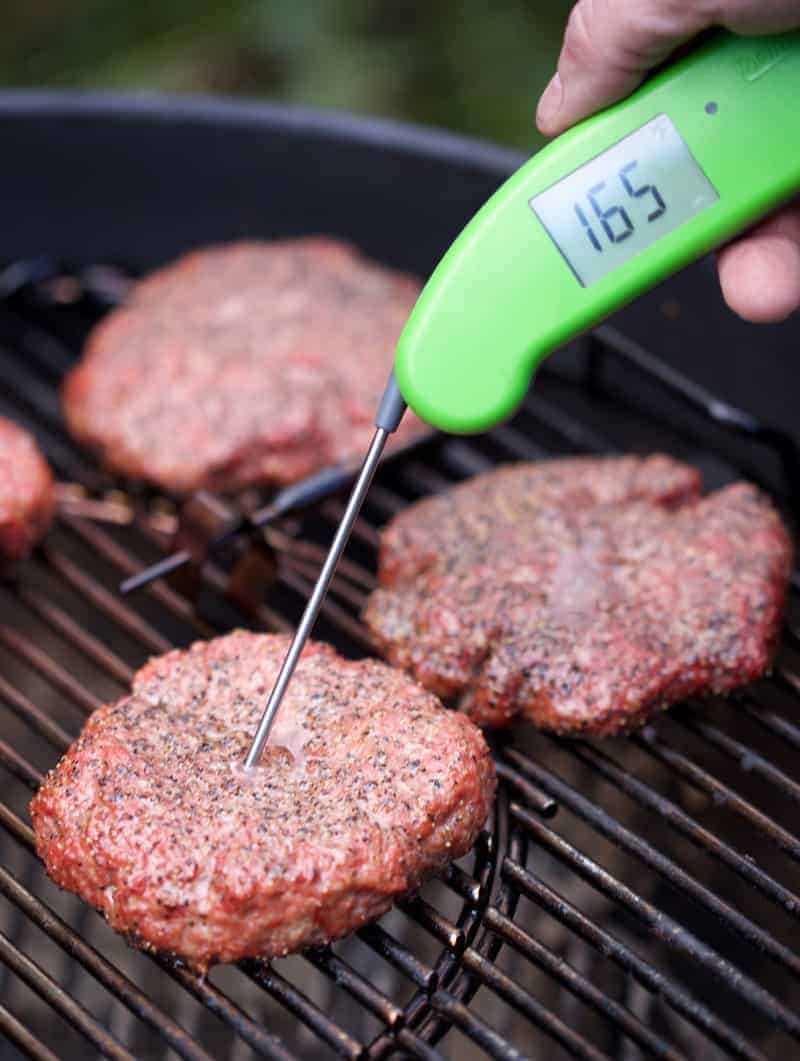 These are our favorite digital thermometers. They are essential for cooking your meat to perfect temp!
That's it.
Wine Pairing For Lamb Burgers
I just love pairing anything lamb with a red that has a fine balance between earthy and fruity flavors, like Pinot Noir (especially local Oregon Pinot). Not all Pinots are created equal. Some are light and fruity, while others are rich and pack a punch. I like those that do have a bit of weight to them, or at least can hold their own with the smoke and earthy and savory flavors you're going to get out of these burgers.
If you wanted something a little bigger with your lamb burger then you can easily choose a Rhône style wine with some Grenache, Syrah, or Mouvedre, or even a Spanish Rioja. But I encourage you to not to go too big. Lamb alone has fantastic purity of flavors, and you don't want to wash them away with too many competing flavors.
Other Great Lamb Recipes
Great Burger Recipe Ideas
This recipe was originally published in April 13, 2017 and updated October of 2020 with additional recipe details and a link to the snake method of smoking.
---
*This post contains an affiliate link for the Thermapen Mk4 digital read thermometer. We only recommend products we use and love! And you can't smoke meat to the perfect temperature without one! You can always be certain if you have a good thermometer and this one is awesome.
If you like this recipe we'd truly appreciate it if you would give this recipe a star review! And if you share any of your pics on Instagram use the hashtag #vindulge. We LOVE to see it when you cook our recipes.
---