Change up your burger routine with a killer Smoked Lamb Burger with Rosemary Aioli!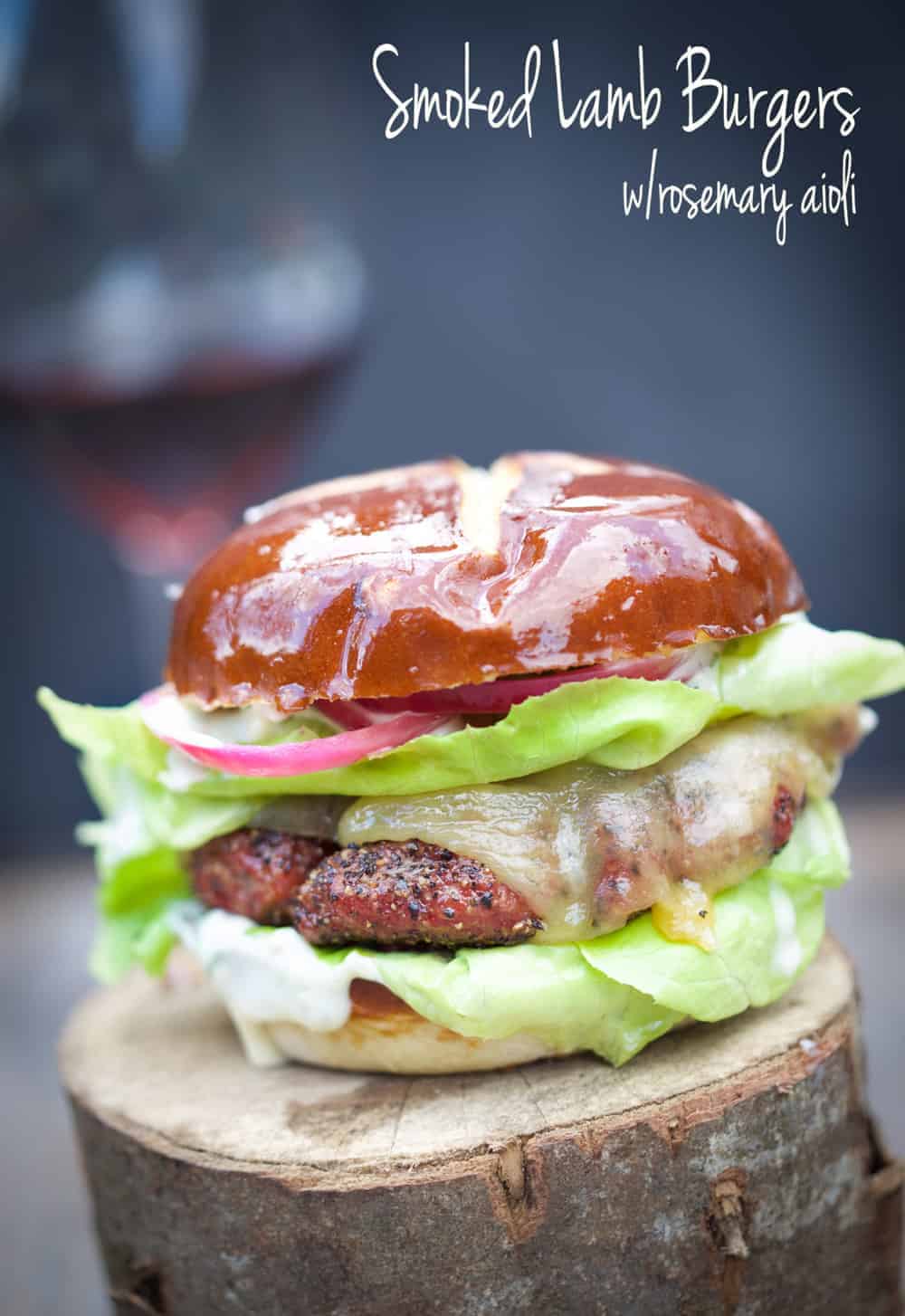 We've been talking a lot about Easter lately, and how I'm just not into ham (what I was raised on eating for Easter dinner). We've done Prime Rib a few years in a row now. But this year I've had mad cravings for lamb. Not sure why.
All this lamb talk got us craving the protein, and thus we've been eating it a lot lately, but not how you might expect. We've been doing some fun stuff, like making lamb meatballs, pulled lamb sliders, and most recently lamb burgers topped with homemade pickled onions.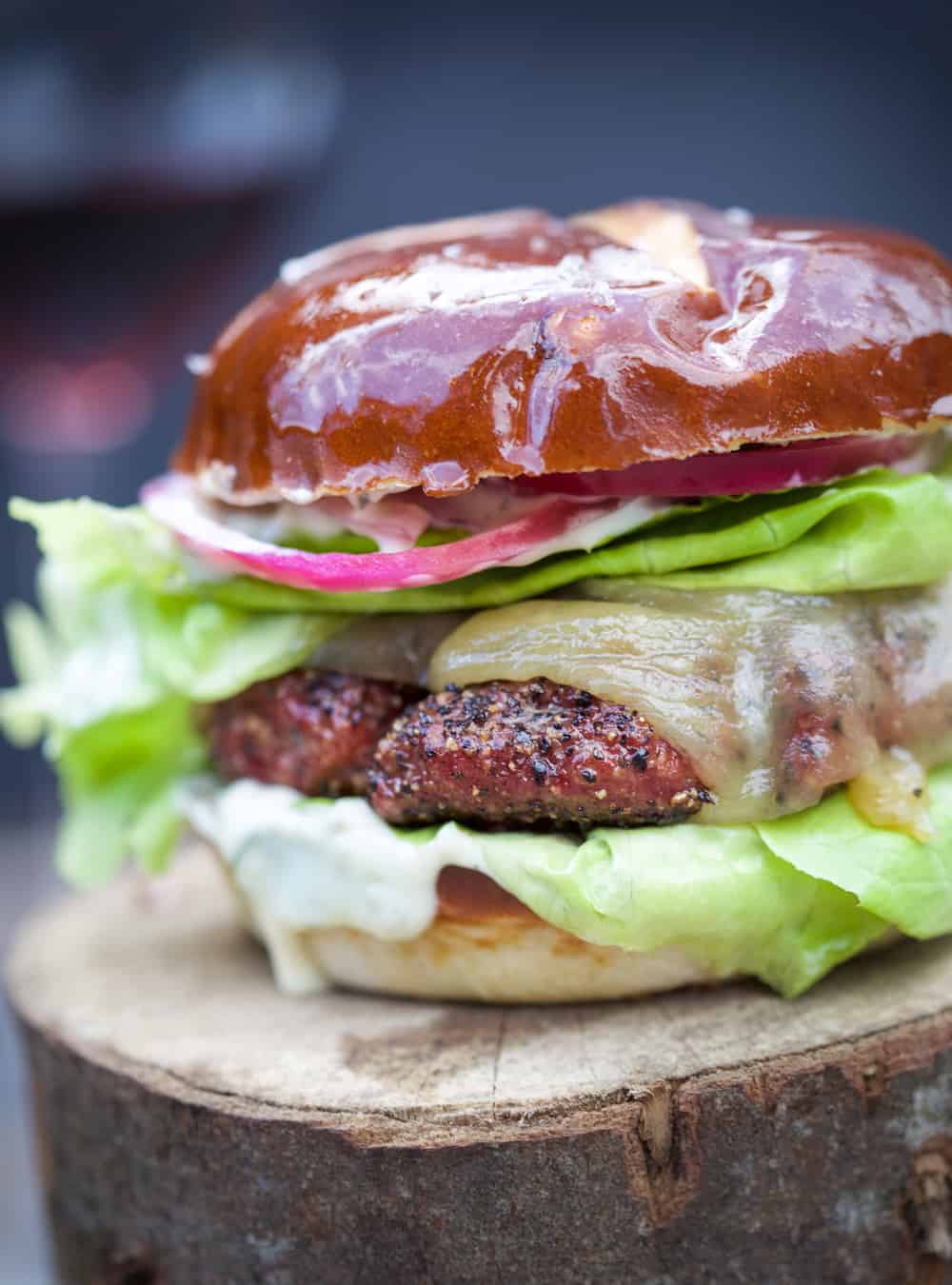 Hot damn. What a fantastic plate of pure deliciousness!
So many lamb burger recipes out there rely on Mediterranean flavors, like topping it with feta, cucumbers, yogurt, you get the idea. Seriously, Google lamb burgers (or lamb anything for that matter) and you get a slew of Greek and other like flavors. It's like they own the market for lamb. But what if you just aren't into those flavor combinations? Lamb has such an incredible flavor on its own, it really doesn't need to be drowned out with the sharpness and saltiness of feta cheese, or the rich creaminess of yogurt. Amiright? Please tell me I'm not the only one who feels that way, and thinks lamb deserves to be served on its own from time to time?
Why not enjoy it the same way you would a great beef burger, with limited interference?!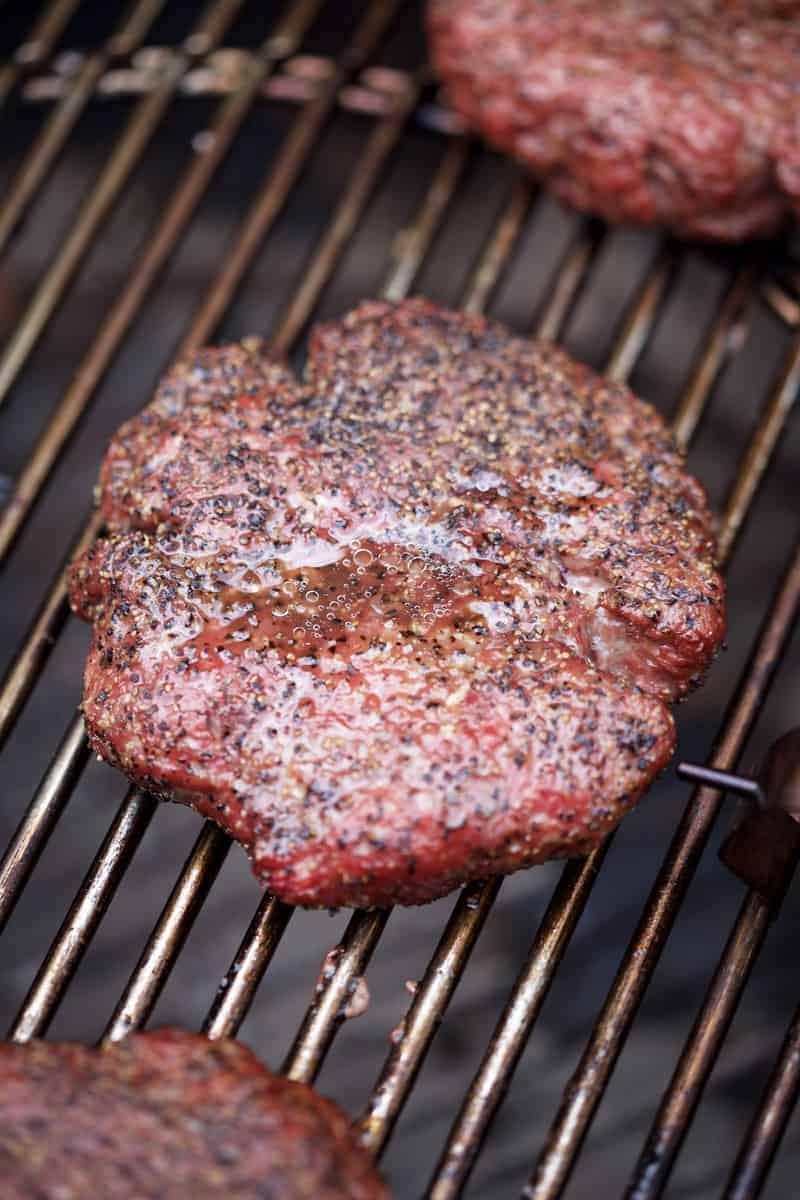 I like my burgers with just a little crunch, a touch of creamy moisture (like from the rosemary aioli) and sometimes (but not always) with a thin slice of melted cheese (but a mild cheese like havarti or something similar that melts well). We're also big into pickling things so we added some pickled onions to the top. But if you're not into that feel free to leave them out (but seriously, why would you?!).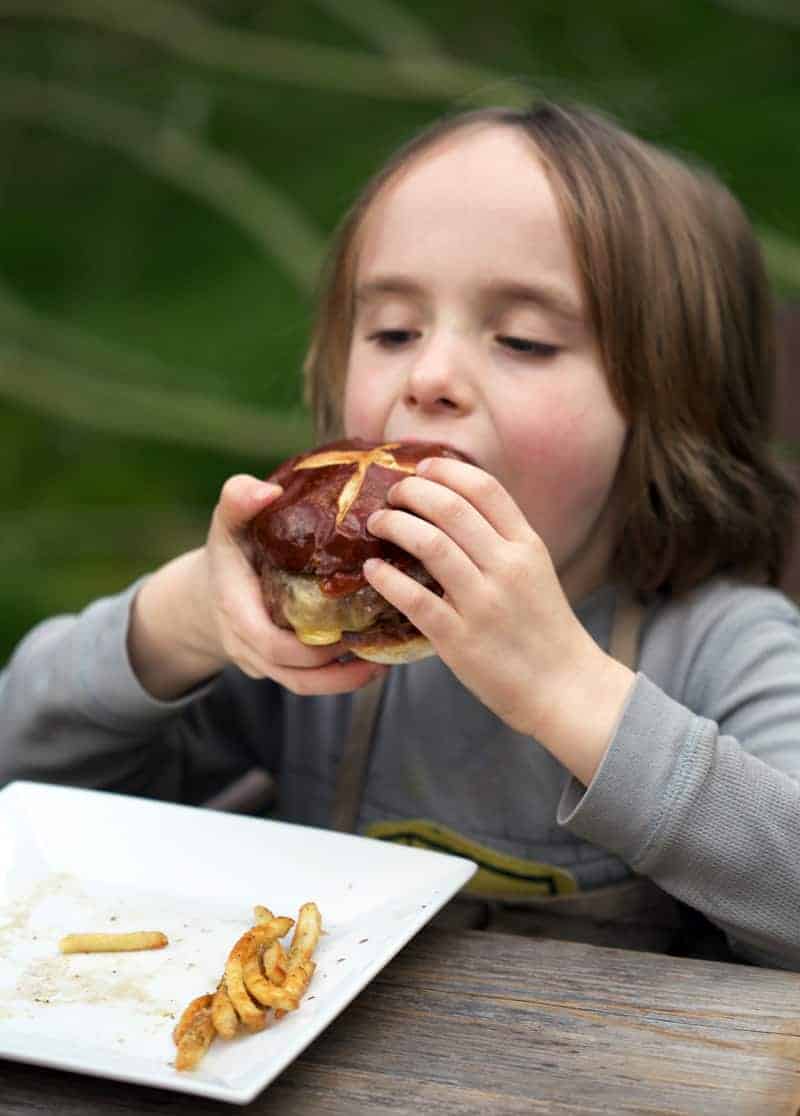 And of course it has to be smoked!
How to Smoke Lamb Burgers
You can easily do this, with or without a smoker.
We set this one up on our Weber Kettle Grill to show you just how easy you can do it with a simple kettle grill. And we use the snake method for smoking.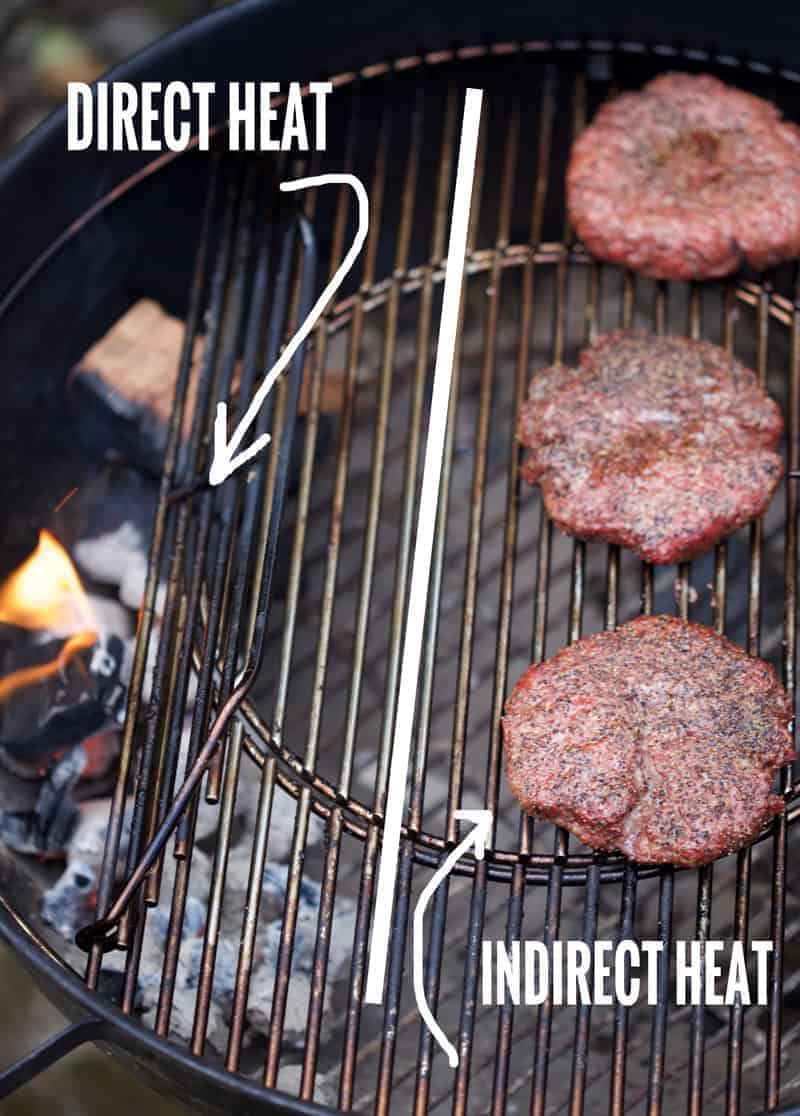 Just set up the kettle for a smoke session using the snake method. It's not just two zone cooking, you want to slowly light up the coal so it burns but doesn't get the internal cooker too hot. So what we do is to start about six or seven coals in a chimney starter. In the kettle, line up pieces of charcoal side by side along the grill wall and then have a line of those about seven or eight long, basically along the edge of your smoker. Like it's a fuse.
And add wood chunks on top of the charcoal line close to each other. The coal will add the heat, the wood will add the flavor. When your starter coals are ready place them in the front of the line of coal and add a wood chunk. Add more coal if it's not hot enough. You are looking for 250 – 275 degrees as the ambient temperature in the cooker.
Then cook the lamb burger on indirect heat for about 45 minutes or until the internal temperature reaches about 150 degrees. Then if you're adding cheese add it now, and then finish cooking the lamb burger until they reaches 160 – 165 degrees. If you're not adding cheese, then just cook until the internal temp reaches 160 – 165 by using a digital thermometer.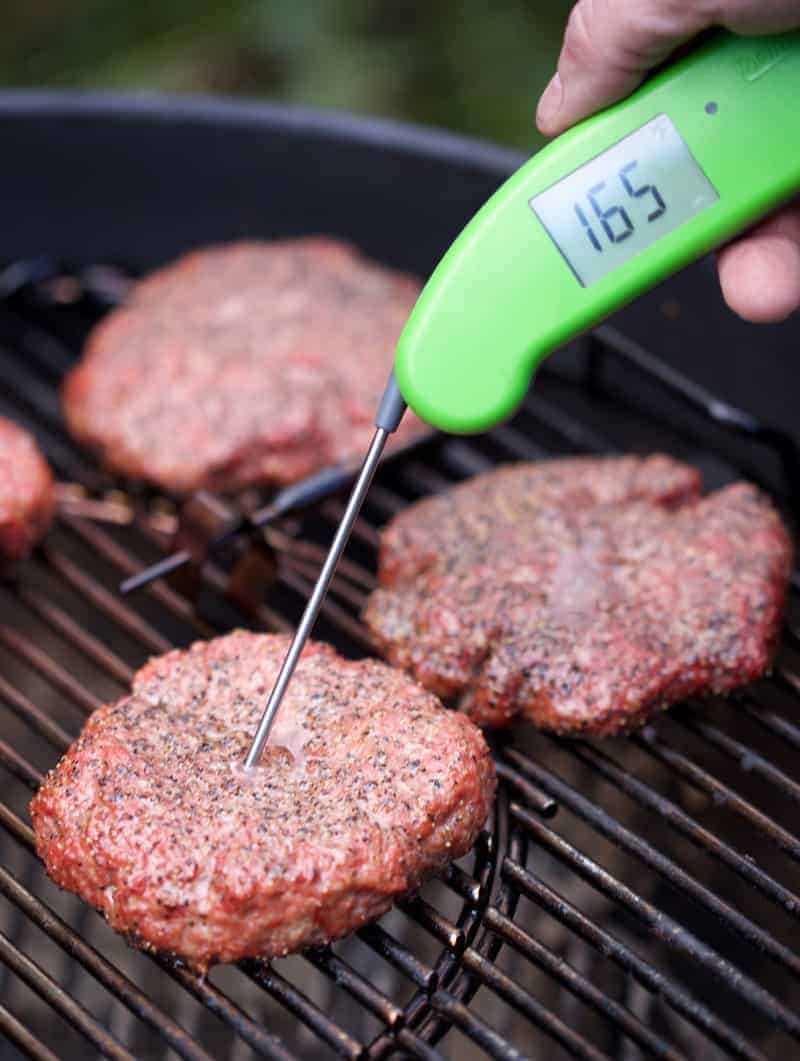 These are our favorite digital thermometers. They are essential for cooking your meat to perfect temp!
That's it.
Top it with your garnishes of choice. I like the simplicity of the rosemary aioli, a little lettuce for crunch, and these pickled onions for a little sharpness.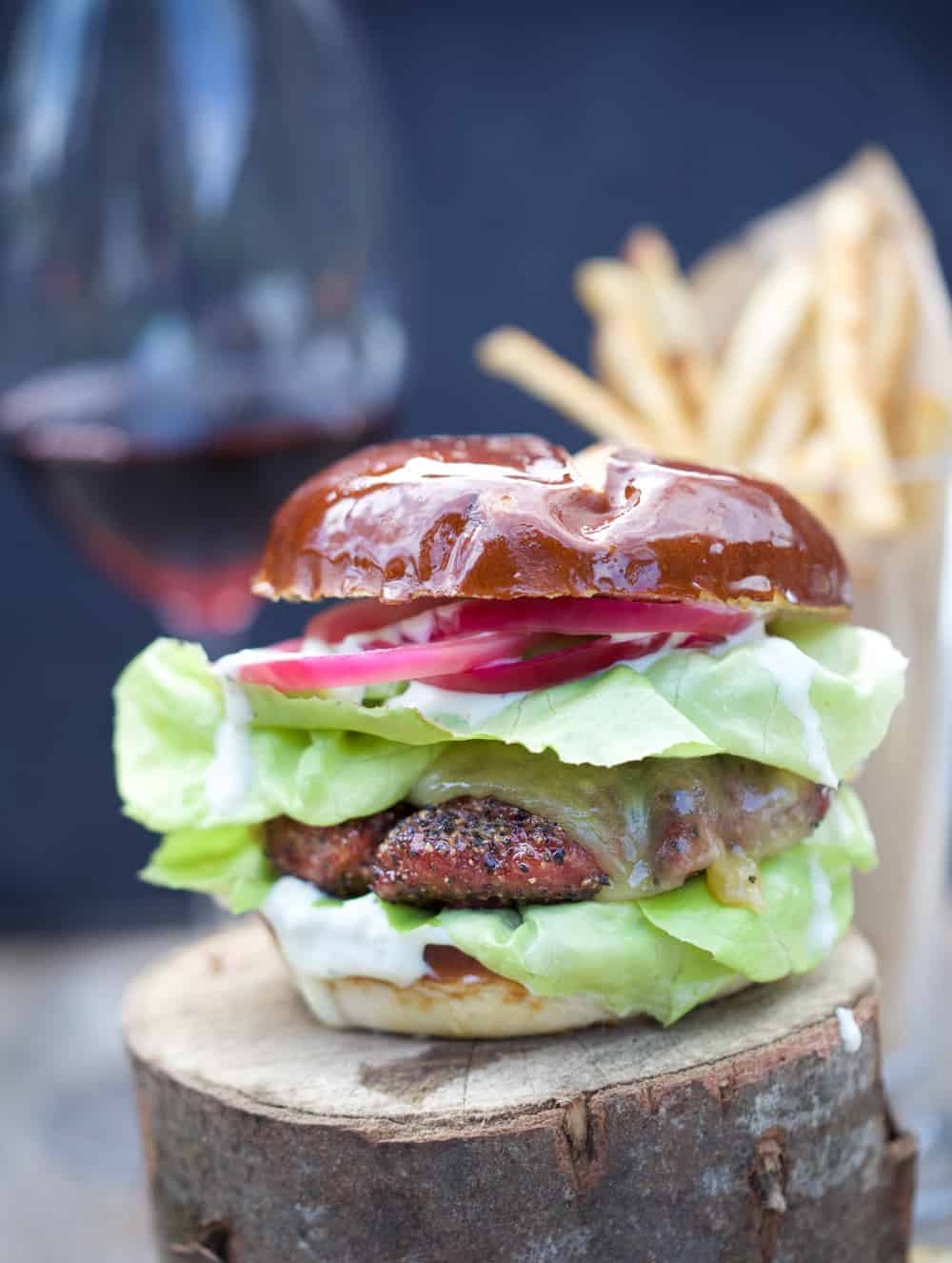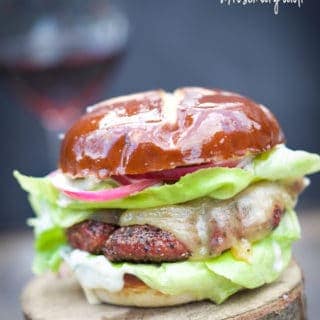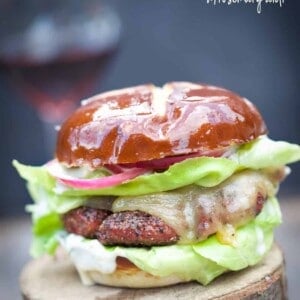 Smoked Lamb Burgers
A simple recipe for smoked lamb burgers with a rosemary aioli sauce and pickled onions. Includes instructions on how to smoke meat on a simple Weber Kettle Grill.
Print
Rate
Ingredients
For the Lamb Burgers:
1 ½

lbs

of ground lamb

1

tablespoon

salt

1

tablespoon

freshly ground pepper

4

slices

of Havarti cheese

or preferred cheese, optional
For the Rosemary Aioli:
1/3

cup

mayonnaise

1

teaspoon

Dijon mustard

1

tablespoon

lemon

1

tablespoon

garlic

2 cloves, finely diced

1

teaspoon

fresh rosemary

finely diced

1/8

th teaspoon salt

Fresh ground pepper

just a couple twists (or a pinch)
For the Pickled Onions:
1

sliced red onion

1

cup

water

1

cup

apple cider vinegar

1/2

cup

granulated sugar

1 1/2

teaspoon

salt

1/2

tablespoon

whole peppercorns
Instructions
For the Lamb Burgers:
In a bowl, gently combine meat and lay flat on a cutting board.

Cut into quarters for equal size burgers, and then shape into patties and season both sides with salt and pepper.

Preheat the smoker to 250 degrees and set for two zone cooking. For more heat control, lay out the two zone pattern with a line of charcoal and wood chunks.

Place patties on the smoker on the indirect side.

If using cheese: cook until internal temperature of patty reads 150 degrees on an instant read thermometer and then place cheese on top to melt, then continue cooking until the burger reads 165 degrees. (Approximately 45 minutes of cook time total but the key is cook to temperature, not time).

If not using cheese: cook until internal temperature of the patty reads 165 degrees. (Again, aim for approximately 45 minutes of cook time total but the key is cook to temperature, not time.)

Serve with favorite accompaniments.
For the Rosemary Aioli:
Combine all ingredients in a small bowl and set aside until serving time.
For the Pickled Onions:
Slice onion and place into a clean mason jar.

Place all other ingredients (except for the onions) into a medium pot and bring to a boil. Once it boils add the mixture to the mason jar. Let cool and put into fridge, can be made days in advance. Allow at least six hours in the pickling liquid for flavor.
Wine Pairing For Lamb Burgers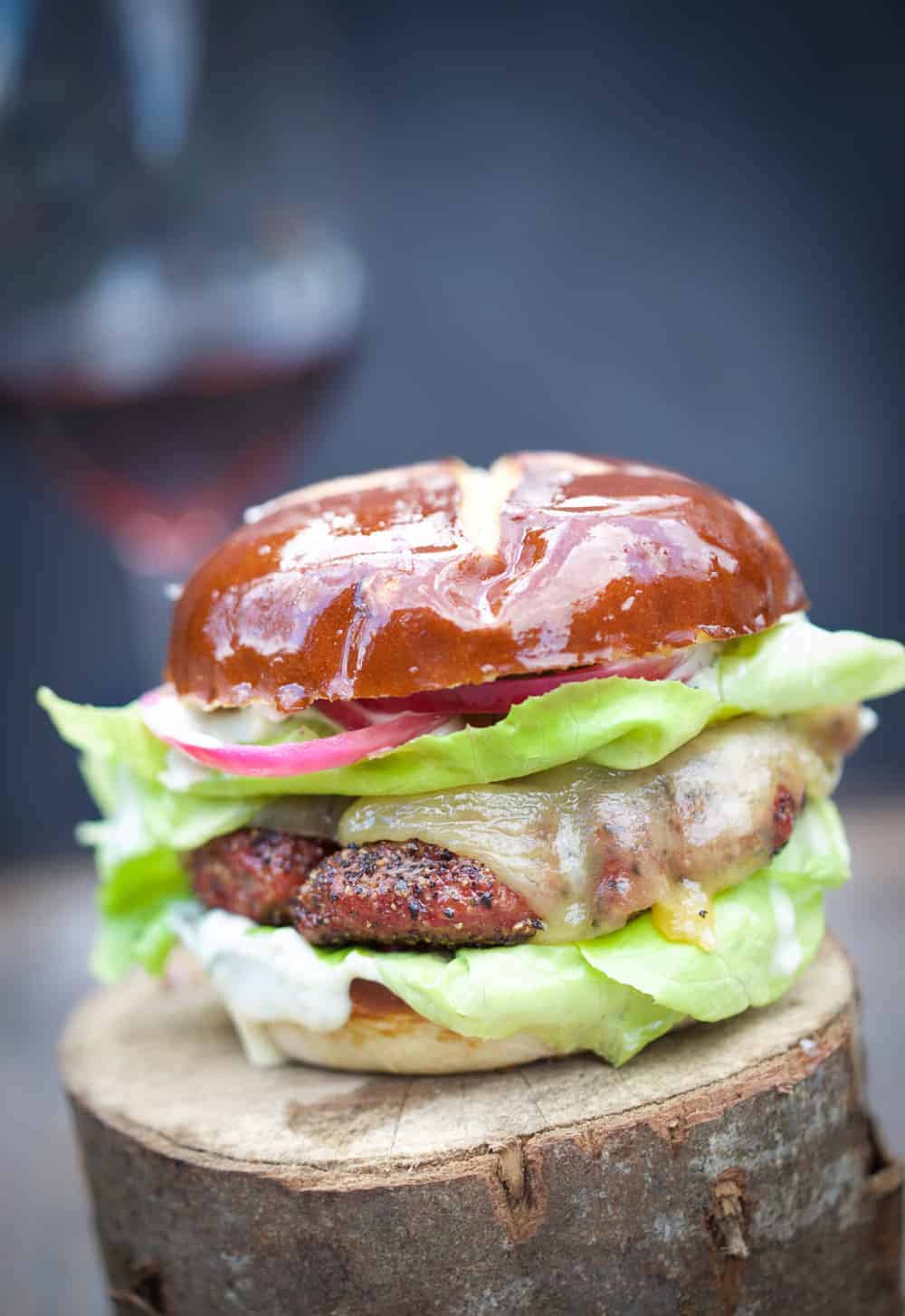 I just love pairing anything lamb with a red that has a fine balance between earthy and fruity flavors, like Pinot Noir (especially local Oregon Pinot). Now, not all Pinots are created equal. Some are light and fruity, while others are rich and pack a punch. I like those that do have a bit of weight to them, or at least can hold their own with the smoke and earthy and savory flavors you're going to get out of these burgers. (The full review of this Pinot Noir by Van Duzer is coming this weekend).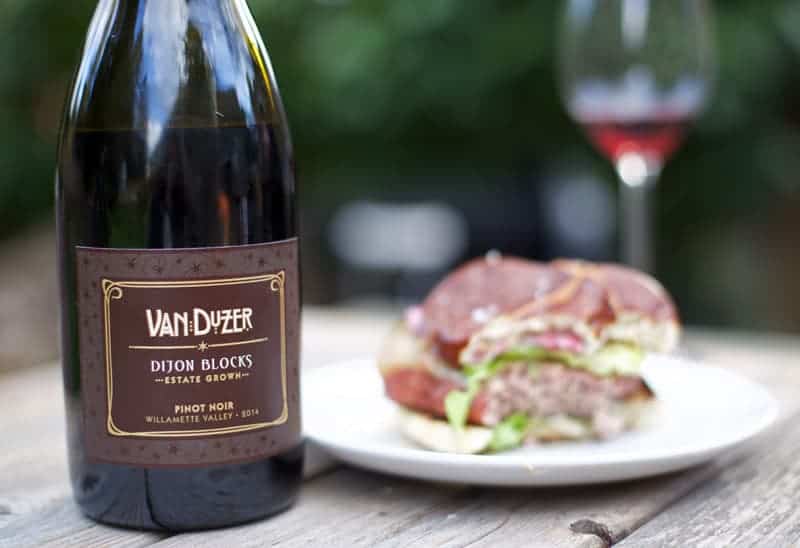 If you wanted something a little bigger with your lamb burger then you can easily choose a Rhône style wine with some Grenache, Syrah, or Mouvedre, or even a Spanish Rioja. But I encourage you to not to go too big. Lamb alone has fantastic purity of flavors, and you don't want to wash them away with too many competing flavors.
---
*This post contains an affiliate link for the Thermapen Mk4 digital read thermometer. We only recommend products we use and love! And you can't smoke meat to the perfect temperature without one! You can always be certain if you have a good thermometer and this one is awesome.
---
For more tasty recipes, BBQ tips and tricks, check out the Recipe Index.
If you like this recipe we'd truly appreciate it if you would give this recipe a star review! And if you share any of your pics on Instagram use the hashtag #vindulge. We LOVE to see it when you cook our recipes.
---