Spring Rolls are an awesome way to use up any leftover Pulled Pork.
Springtime + smoked pulled pork + vegetables = this.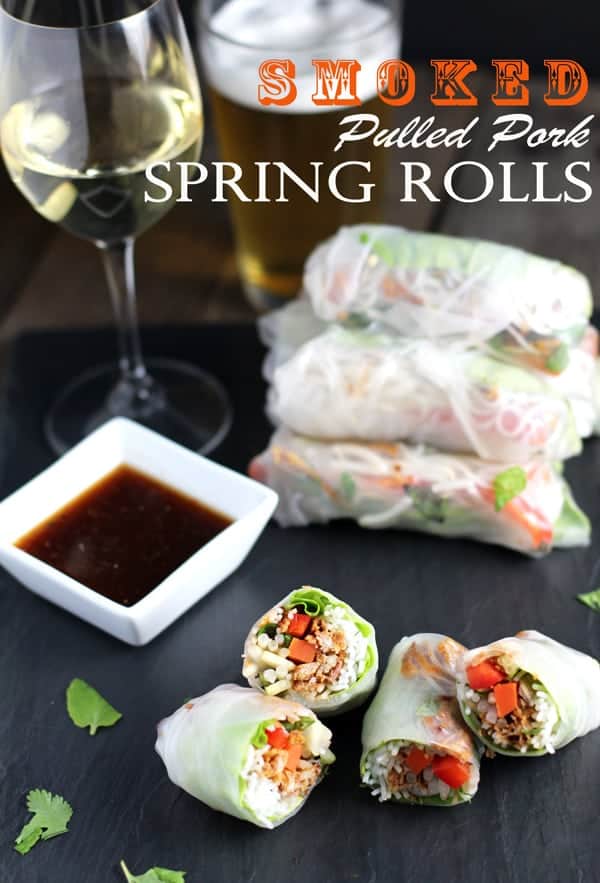 Spring is here! Now the big secret is that we've been enjoying spring-like weather in Portland since, oh, January (don't hate). But in other parts of the country it seems like the brutal arctic weather would never ever end. But don't fear, spring is here. And so are these tasty spring rolls.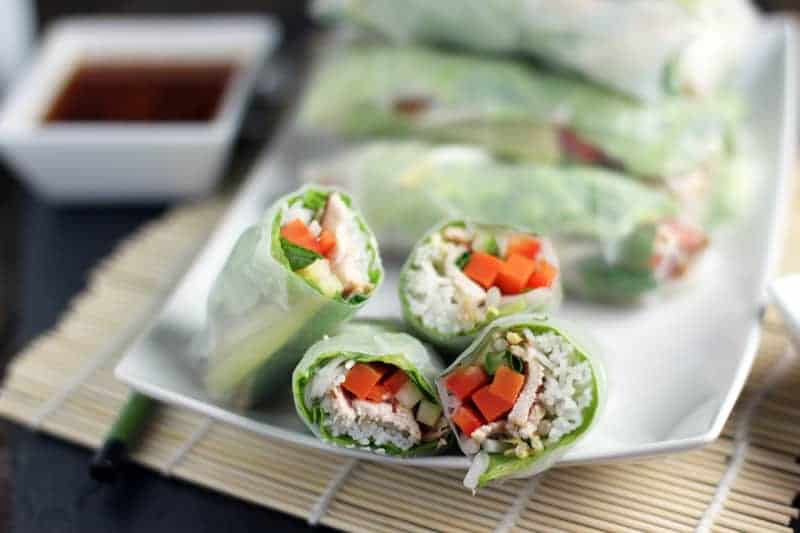 Chicken and Vegetable Spring Rolls and Wine Pairing recipe on Wine4.Me
I wrote an article on Wine4.Me all about my love for these healthy and scrumptious Chicken and Veggie Spring Rolls (photo above). But after we made them, we had another brilliant idea. How would they be filled with tender smoked pulled pork?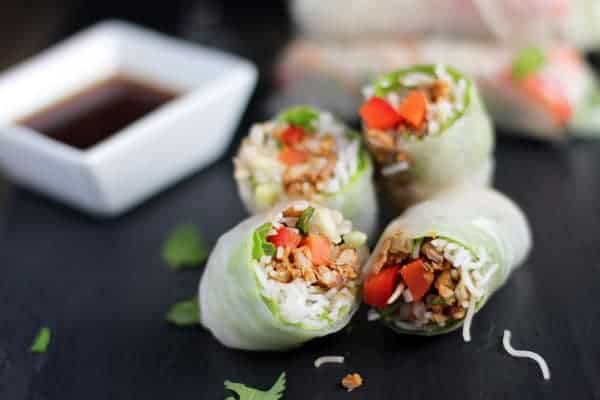 The answer? A-mazing.
We switched up the ingredients to be more BBQ friendly and cater more to the smoky and savory meat.
The great thing about spring rolls (or summer rolls as they are often called), is that you can put whatever the heck you want in there. Just be careful not to overload them because the delicate rice paper rips easily.
In my article on Wine4.Me I also stress that it's important to layout and organize all of your ingredients on a cutting board so that it's all there and prepared when it's time to do your stuffing and rolling. This is what the French call "mise en place" (look at me, throwing out fancy French words).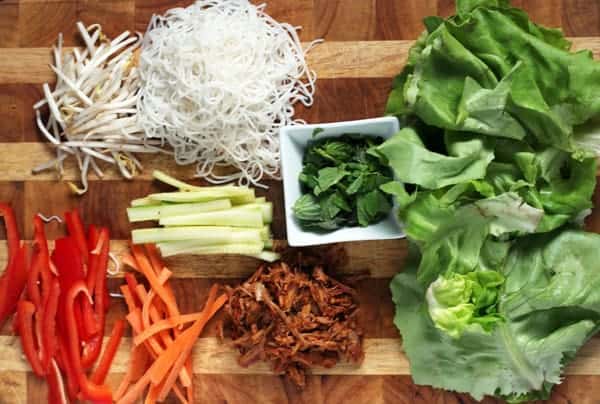 Then you just need to be gentle with the paper. Rice paper is solid, yet fragile at first, almost like a delicate cracker, so you must soften them before stuffing them with the filling. Like this:

Get a large bowl of warm water, then gently place the rice paper in to get it wet, then rotate it around in the water until the paper has softened (about 5-10 seconds total). It's so easy a 4-year old can do it.

Then, start layering your ingredients, making sure to not fill them too full or the paper will tear.
*Tip: if you find that your paper does indeed start to tear (frustrating, right?!), just double layer with two pieces of rice paper instead of one.

Then roll and fold it up like a baby burrito.
Boom. You're done.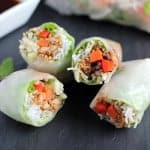 Smoked Pulled Pork Spring Rolls
Smoked pulled pork spring rolls are a fresh and delicious use for any extra pulled pork you may have around the house, and a fun take on a traditional vegetable or shrimp spring roll.
Cuisine:
Asian inspired, BBQ, Barbecue
Servings
:
12
spring rolls
Ingredients
12

round rice paper wrappers,

22 cm or 25 cm size work great

1

small head of lettuce,

I like bibb or butter lettuce

1

8 oz package dried rice (or "vermicelli") noodles, cooked according to package instructions

2

cups

smoked pulled pork

12

slices

of pickled carrots,

or other pickled vegetable

1

small red bell pepper,

julienned

½

small cucumber,

julienned

1

cup

fresh bean sprouts

Fresh herbs: mint, cilantro,

(about one cup of herbs combined)
Instructions
Fill a wide bowl with warm water. Place one piece of rice paper in the water at a time for 5-10 seconds to soften the paper (see photo demonstration above).

Place the moistened paper flat on a plastic cutting board. Place a piece of lettuce on the bottom half of the rice paper closest to you. Layer with a few strands of the cooked rice noodles, pulled pork, carrots, cucumber, bean sprouts, and top with a combination of herbs (about 4-5 herb leaves).

Carefully start rolling the paper about halfway. Then fold in the sides, and continue rolling.

Repeat with remaining wrappers.

Serve with your favorite dipping sauce.
Wine Pairing?
You'll have to head over to Wine4.Me to read what I recommend for spring rolls. The recipe I wrote for them is a bit different, and involves marinated grilled chicken instead of pork, and also includes a dipping sauce recipe, but the wine pairings will work with both recipes. However, if you should go heavy on the pork in this recipe (and I do recommend that!) my favorite pairing is a crisp rosé from Spain (or rosado as they call it there).
Read Chicken and Vegetable Spring Rolls Recipe and Wine Pairing here.
---
For more recipes and wine pairing check out the Recipe Index.
Want more? If you liked what you read you can subscribe to Vindulge and have new posts delivered directly to your inbox.
Or just follow along here: