The region of Friuli–Venezia Giulia (Friuli for short) in northeast Italy is a special place leaving those who have visited a longing to return.   In a series of back and forth emails I had on the region with writer Elaine Brown from Hawk Wakawaka Wine Reviews she wrote, "In Friuli I felt this deep calm like I belonged there. It was wild and unexpected."  She spent time in Friuli last year and caught the bug.
I shared in my last post how the natural beauty of the region captivated me.  But there are many regions in the world that are simply "beautiful".   There must be more than scenery to create the feeling that Brown describes.  For me the things that leave a lasting impression outside of natural beauty are fairly simple — warm genuine hospitality, good wine, and memorable food.   I Comelli provided all of the above. This is one of the places that first come to mind when I reflect on my recent trip to Friuli and one I hope to return to visit someday.
I Comelli Winery and Agriturismo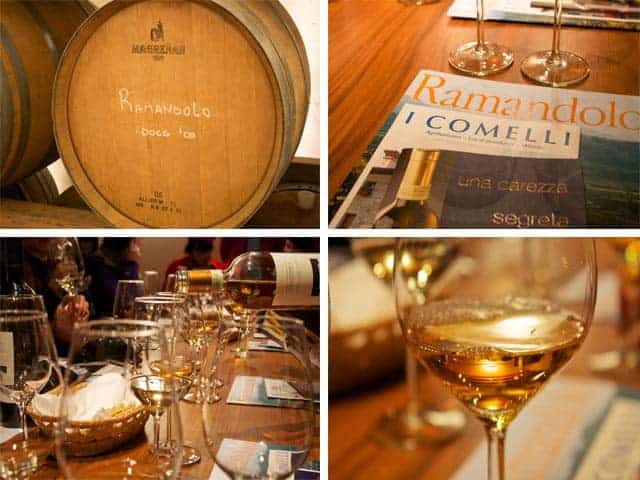 The Comelli family has a long tradition of making wine in the Friuli region of Italy.   Alexander and Livia Comelli own this family operation, with sons Paolo, Francesco and Enrico in charge of viticulture and winemaking.   In 1997 they added an agriturismo as a part of the business.
For those unfamiliar with the concept (as I was before this trip) an agriturismo is essentially an agriculturally based B&B, typically with a farm, or winery (or both) on site.  In my week in Friuli we stayed at different agriturismo's nearly every night, instead of commercial hotels (which are not very common here).   These are beyond your typical B&B and are fantastic places to stay to get a unique, and essentially "Italian", experience.   More on why I love agriturismo's another day…
Out of all the agriturusmo's we stayed at, this was my favorite.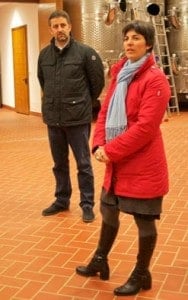 We began our visit to I Comelli by visiting their winery located in the heart of the Colli Orientali del Friuli DOC area, specifically in the demarcated Ramandolo DOCG appellation, not far from the Austria and Slovenia borders.   There they produce several wines typical of the region (Friulano, Pinot Grigio, Refosco, among others), but we were there that evening to learn about Ramandolo DOCG.   Our hosts, husband and wife Paolo & Allesandra Comelli, explained this unique wine and region to us.
Ramandolo 
Ramandolo is a sweet white wine that receives its name from the village (and small appellation) of the same name, which is situated in the hills near Nimis and Tarcento.  The grape used to make the wine is the local Verduzzo (a uniquely tannic white grape) that are left on the vines to ripen and sweeten.  These late harvest grapes are then dried out for a short period of time, creating concentrated, intense sweet flavors.
Ramandolo was the first wine in Friuli to receive a DOCG status (there are now three in the region). Many people mentioned that this is the wine that reflects the people of Friuli.  In this case I'd agree, as this is the very wine I am reminded of when I think of the people behind I Comelli.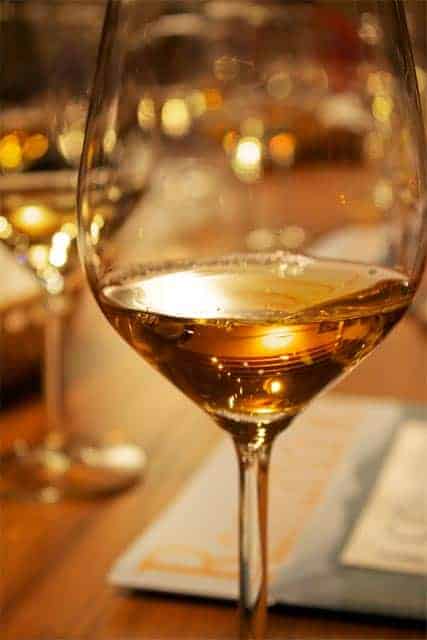 The I Comelli Ramandolo had the most mesmerizing aromas of honey, apricot, and sweet fruit.  The mouth reveals the lush and rich wine that coated my palate with fresh honey, but with pronounced acidity keeping it from coming across super sugary sweet.  The tannins from the grapes gave it a bold structure and some "umph".  Such a unique, well-balanced, and memorable wine.   Many people described it as "liquid gold".  I have to agree.  It reminded me of Vinsanto from Santorini; not in flavor but rather the richly honeyed texture and aromas with strong acidity and rich, luscious, body.  Acidity is key in these types of wines.
Ramandalo is small production wine, in a small region, with a small amount of wineries producing it, but definitely a treat to taste if you should ever come across a bottle.
The Agrigurismo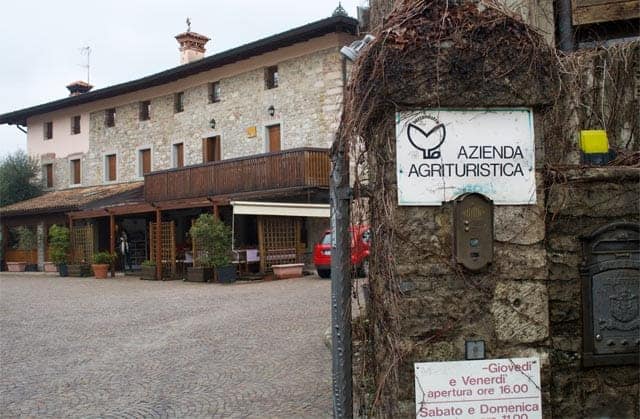 Following the tasting we headed to the family agriturismo (i.e. B&B) for dinner.  The property is the Comelli's old family house that has been renovated to accommodate overnight guests and serve meals in their two dining rooms.  We met more members of the family there where they joined us for dinner.  It was during dinner where I had the most memorable dish of my entire trip to Friuli — Melanzane alla Parmigiana.
Dinner involved several courses, but this Eggplant Parmesan dish stood out among the rest.  Comfort food at its finest, it was rich, melt in your mouth, creamy goodness.  Paired with the I Comelli Friulano was a great match, as the acidity in the wine livened and freshened up the creamy dish.   All I kept thinking was that I have to figure out how to make eggplant taste this good!  It's my new culinary mission.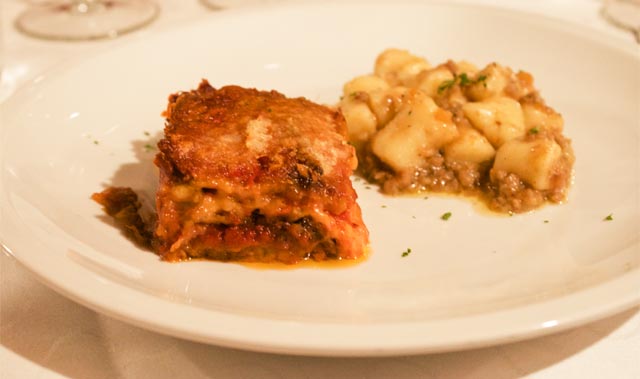 I apologize for the dark and blurry nature of this photo, which does not do this meal any justice.  My camera at the time was bad in low light situations like this.  I so want to eat this dish again, and again, and again
During dinner I couldn't help but fall in love with the natural charm of this place.  The dining area with the grand fireplace, the simple rustic decorations, the homemade local foods, and then there's the people.  Quiet, humble, genuine.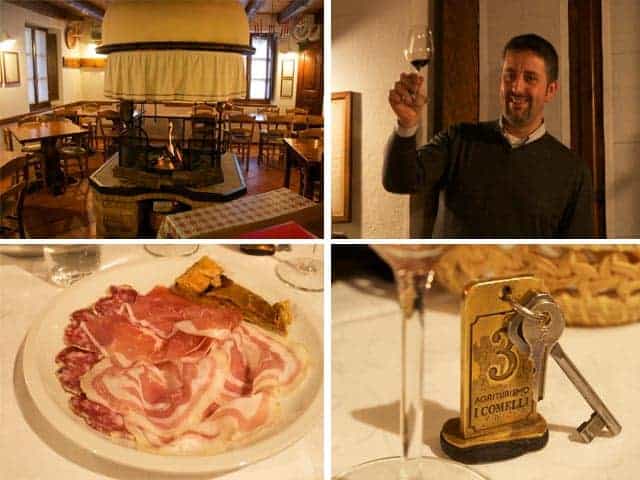 Wandering around the dining room after dinner I couldn't help but notice several old photos of people, all in old mismatched frames.  I asked Allesandra about a specific grouping of photos of young children, "are these photos of people in your family?" I asked.   "Yes," she exclaimed as she pointed to a photo with three young children, "these right here are my children," and then looked down and put her hand on her belly and smiled the smile of a proud mother, "and this will be number four".  I didn't even know she was pregnant (!) and offered my congratulations.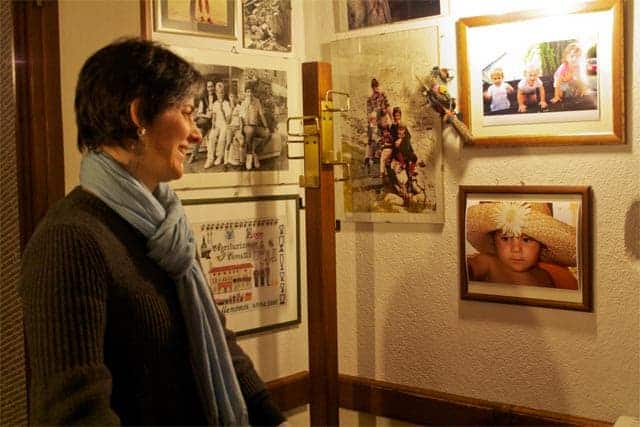 That evening I had the pleasure of staying overnight in one of their 5 guest rooms.   The rooms are comfortable, spacious, and clean and each has its own private bathroom, TV, and wifi access.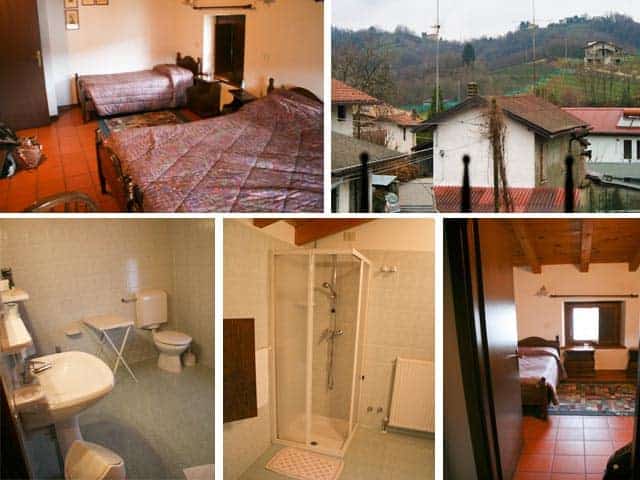 I took these photos to show that, while this may not have the amenities of a Hilton, it has a level of charm and comfort you are not likely to receive at any chain hotel.   It was comfortable, quiet, and just right.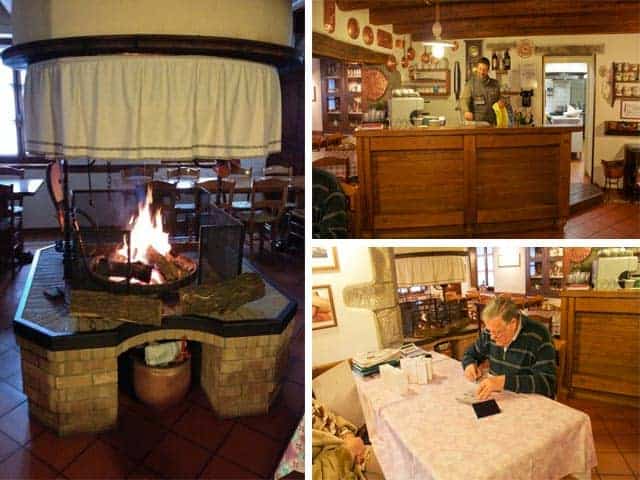 I came downstairs in the morning to find the fire still lit and members of the family still there quietly going about business; Paolo was putting away clean dishes and his father was taking care of the books.  My simple breakfast of breads, cheeses (no doubt made on premise), fresh yogurt, and espresso was perfect.
If you should find yourself visiting the Friuli region, I highly recommend you stay at an aggriturismo, and if you are looking for a place to stay near the commune of Udine specifically then check out I Comelli in the small town of Nimis.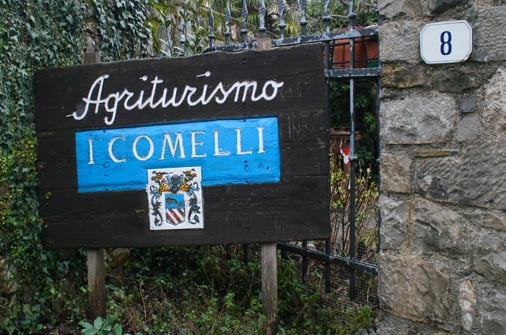 Not only do the Comelli's produce wine and excellent food for their guests, but they also produce local cheese and honey.  On the farm you will also see a vegetable garden, and also bison, goats, ducks, donkeys and horses.  There are several things to do around town for the outdoor enthusiast including biking, horse riding, and rock climbing, or just strolling through the scenic vineyards.
Everybody I speak with who has traveled to Friuli agrees that it is a very special place.   Besides the obvious beauty and scope of the land, I believe a lot of it has to do with the people.   The Comelli's were among the people who made this trip memorable to me.
How to contact them: info@icomelli.com
Largo Armando Diaz, 8
33045 Nimis, Udine, Italia
Info on booking the agriturismo
Special thanks to the Strada del Vino e Sapori Friuli Venezia Giulia and the IWINETC team for sponsoring this trip.
~~~~~
Want more?  If you liked what you read you can subscribe to Vindulge and have new posts delivered directly to your inbox.  
Related Posts:
The Beginning of a Friuli Experience
A yogurt that is "Better Than Heaven" in Friuli, Italy
Friuli — discovering Ribolla Gialla and Friulano
The show must go on in Cividale del Friuli