During my walking tour of Zagreb I mentioned that huge blue umbrella, bearing the "licitar" heart logo of the city, would eventually see its demise.  Well that happened in the town of Cividale del Friuli, at the exact time I decided to finally embrace the cold wet weather.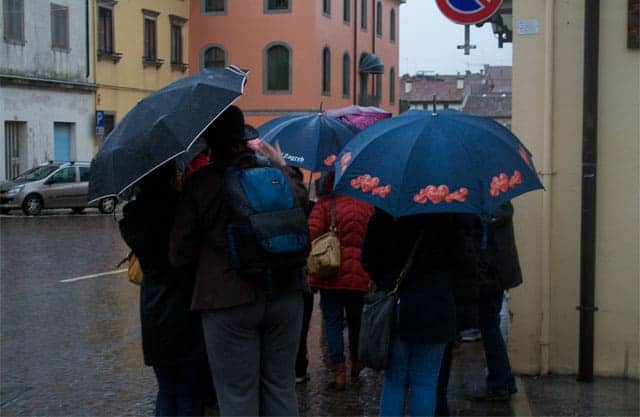 Our group had spent the morning indoors, visiting Zorzettig winery and dining at their restaurant, Relais La Collina, where I had that lovely frittata mentioned here.  After our cozy lunch it was time for our scheduled walking tour of the historical town of Cividale del Friuli.
Exiting the bus into the pouring rain I couldn't help feeling bad for the hard working team at Strada del Vino e Sapori Friuli Venezia Giulia for having to entertain and educate a group of 12 bloggers in such poor weather.  I was impressed with how well they managed to keep such high spirits despite the cold rain and vicious winds we'd experienced since arriving in Friuli days earlier.  But, as I learned in high school theater, the show must go on — even if it meant a walking tour during a wind and rain storm!
Anyone who has known me five minutes will learn my affinity for hot dry weather and my equally passionate despise for anything cold, wet, or worse — both.  I was born in Phoenix, AZ, and they say you can take the girl out of the dessert, but you can't take the dessert out of the girl.  That is certainly true for me.  However, there was something very different about walking off the bus that afternoon.  For some remarkable reason I didn't care that I was getting soaked, and that my fingers and toes were nearly numb.  It was all so spectacular.  Spectacularly beautiful.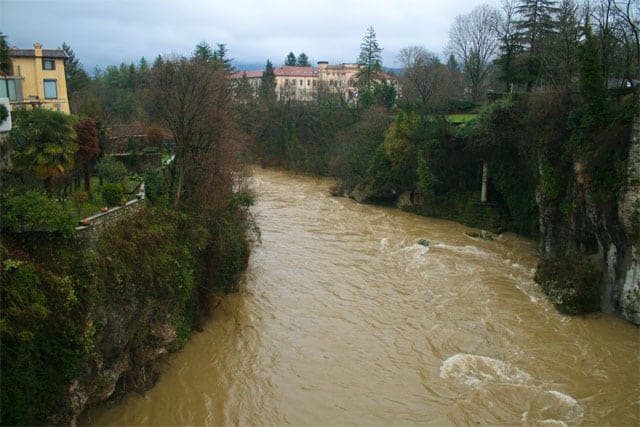 It was the first time on the trip (probably the first time in years) I just stopped thinking about the weather.  I was distracted by something more powerful than the rain.
As the group scurried over Devil's Bridge I stayed back to capture a couple dozen photos from the top of this grand bridge looking down the dramatic drop to the river below.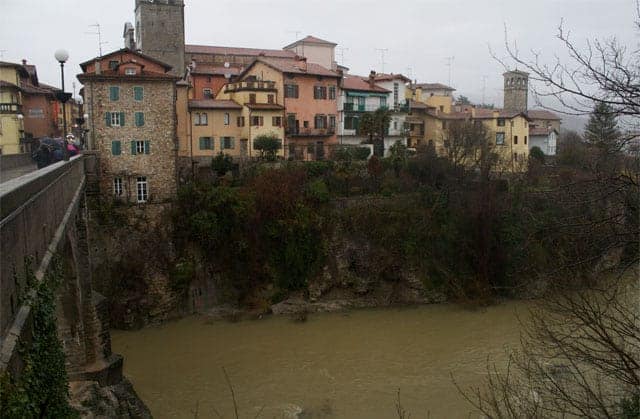 Legend has it the bridge gets its name from when it was being built.  In exchange for making construction of the bridge easy, the Devil asked for the soul of the first person to cross it.  The clever Cividalesi allowed a cat to cross the bridge first, sparing any human lives.  Meow.
The bridge itself offers captivating views, even in cloudy weather.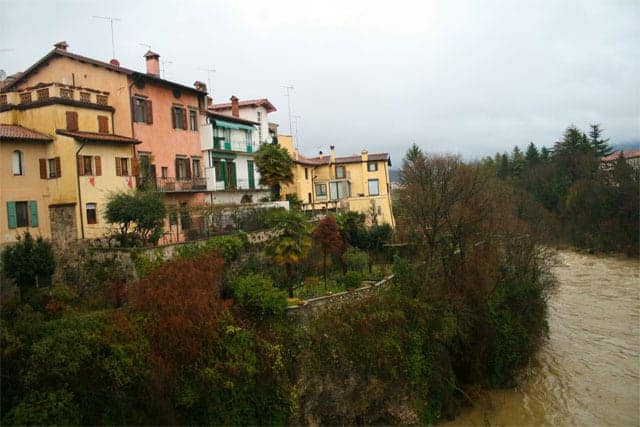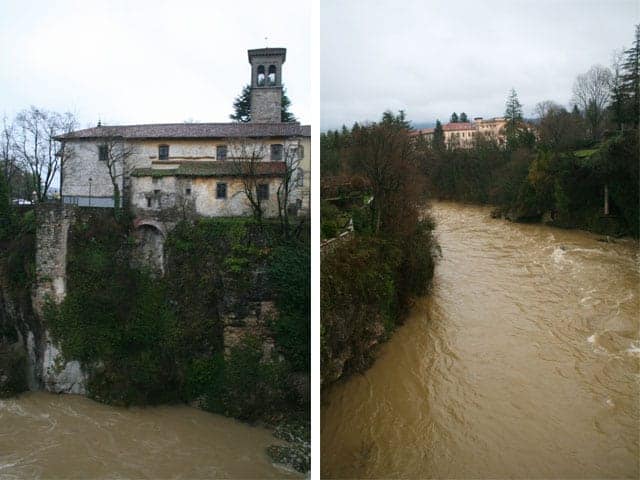 When I noticed the group had proceeded a couple blocks ahead of me I had to break myself of the trance and try to catch up.  I didn't want to get lost after all (though that certainly wouldn't be a bad thing!).  It was then that I got blind sided by a powerful gust of wind that annihilated my umbrella nearly pulling it from my tight grip!  Boom!  Just like that, the mighty umbrella had been destroyed.
It just so happened Marcy Gordon watched the whole thing and had her handy phone ready to catch a couple snapshots of the event as it unfolded (quite literally).  Thanks for the pictures Marcy!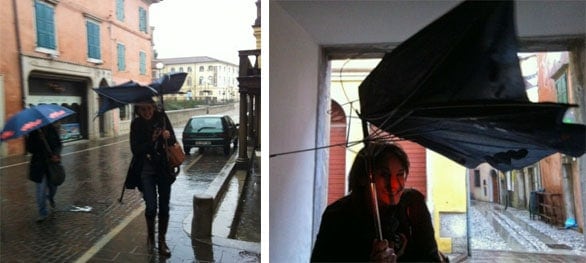 R.I.P. Awesome Zagreb Umbrella
We eventually worked our way to the Christian Museum where one step inside you could already feel the importance of religion to the history of this town.  The museum is home to a collection of sacred archaeological treasures along with a photo gallery.  While guests are not allowed to snap photos, and I understand why, the eerie (or dare I say spiritual) presence inside this museum will remain in your memory long after you leave.
Walking along through the town square our way to Consortia Colli Orientali del Friuli…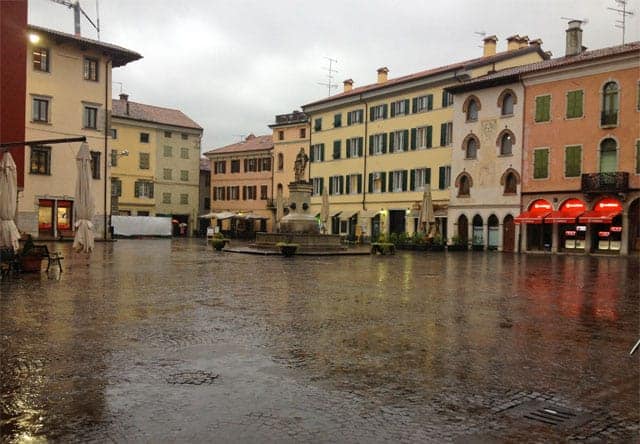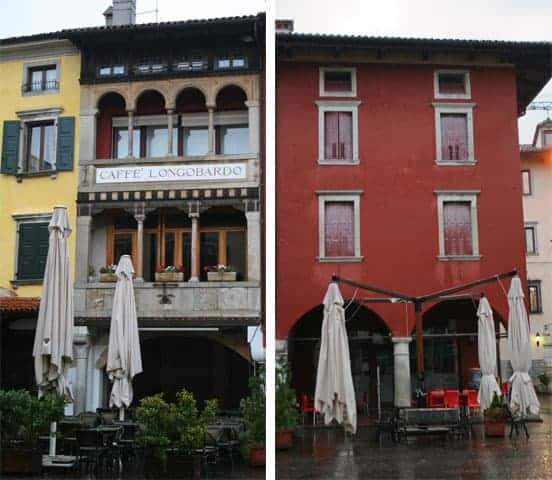 I loved these two buildings that stood side by side.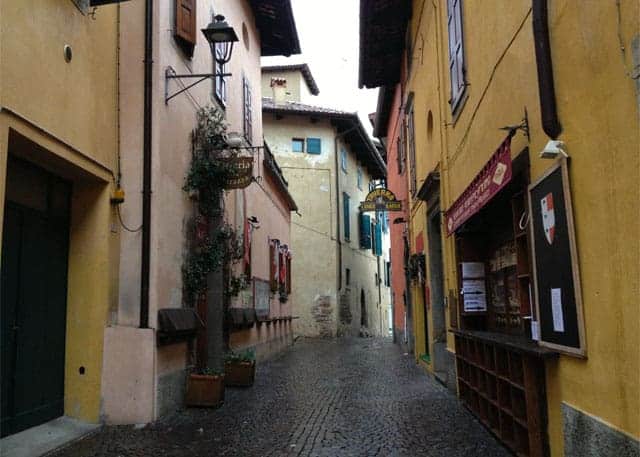 Just another beautiful alley in Cividale del Friuli
After leaving the museum we were back to learning about wine at the Consortia Colli Orientali del Friuli where we viewed a video introducing us to winemaking in the region.  While watching the film, my mind got lost again thinking about the simplistic beauty surrounding this city.  My notes are filled with descriptions of the vineyards, the land, and the people we'd met, rather than historical facts about wine laws and regulations.  That kind of stuff you can read in a textbook.  What I felt can only be achieved through experiencing it.
Later that evening I would put my study cap back on while learning the facts behind the DOCG Ramondolo and the rich delicious wines.  I would also eat the most amazing eggplant parmesan of my life.  Stay tuned…
But until then I continued to daydream and appreciate (for once) the rainy weather that adds to the beauty of this town and region.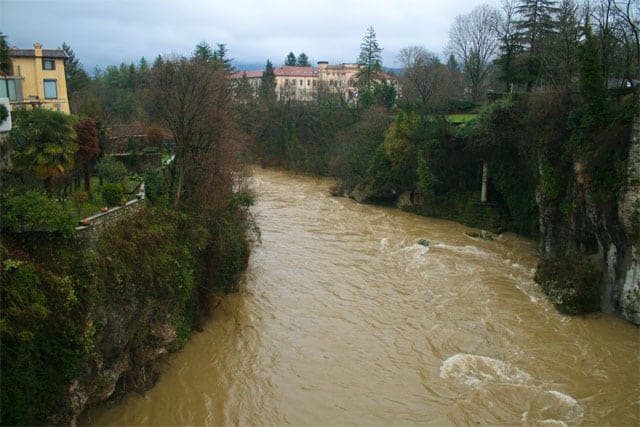 Special thanks to the Strada del Vino e Sapori Friuli Venezia Giulia and the IWINETC team for sponsoring this trip.
~~~~~~~~~~~~~~~~~~~~~~~~~~~~~~
Want more?  If you liked what you read you can subscribe to Vindulge and have it delivered directly to your inbox.  
Related Posts:
The Beginning of a Friuli Experience
A yogurt that is "Better Than Heaven" in Friuli, Italy
Friuli — discovering Ribolla Gialla and Friulano