This Watermelon Cocktail made with fresh watermelon juice and sparkling wine couldn't be easier to make. And it is the most refreshing summer cocktail you'll drink this summer.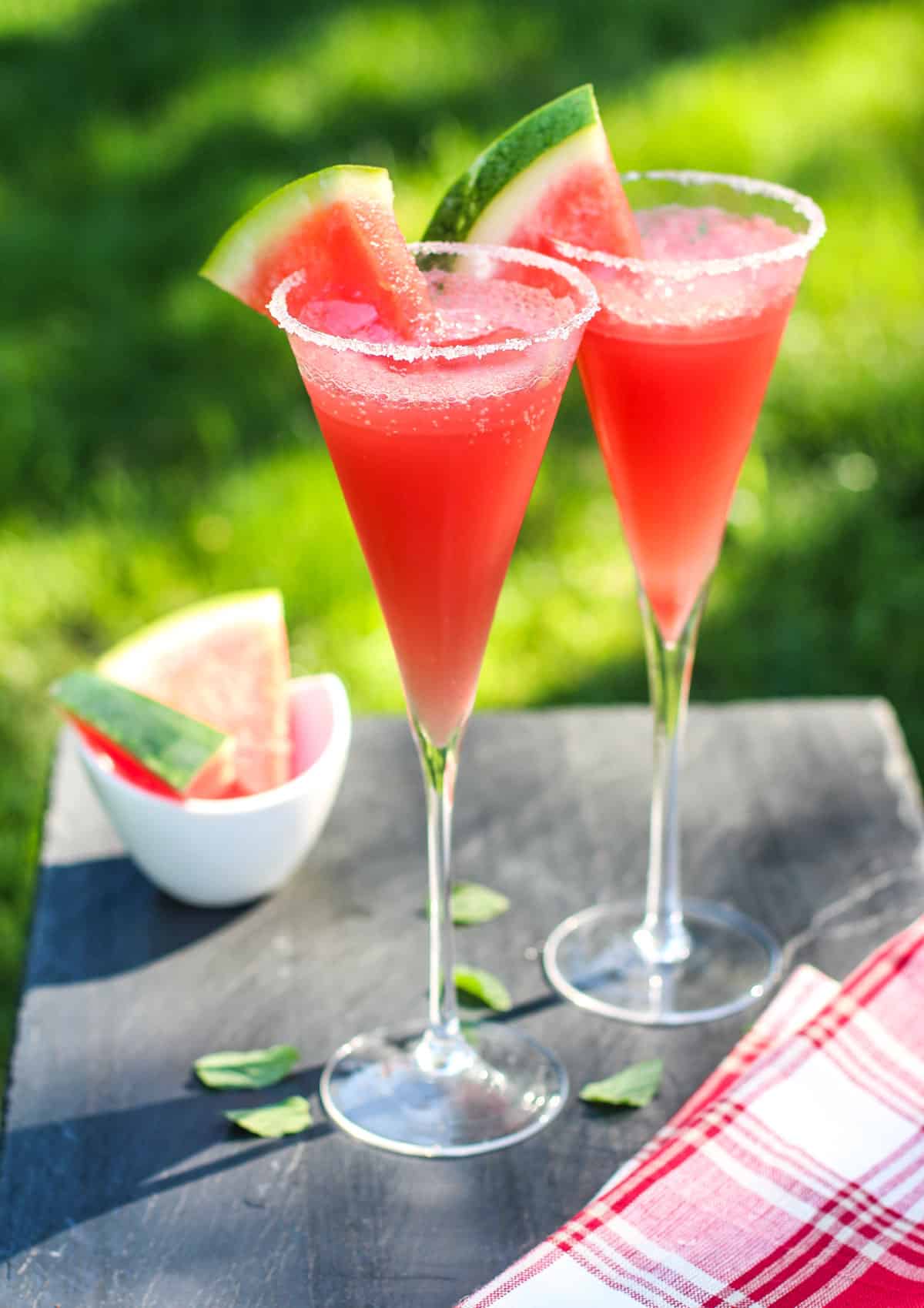 I have an aversion to artificial watermelon-flavored things (candy in particular). But fresh watermelon, I could gobble up for days. And with all the fresh watermelon that fills up the produce isles in the summer months this cocktail is a go-to! It's perfect for entertaining as it will serve many. It's also perfect for summer holidays like 4th of July, Memorial Day, and Labor Day.
This easy cocktail is made with a few simple ingredients and comes together quickly.
Ingredients for Sparkling Watermelon Cocktails
fresh watermelon juice
fresh mint leaves
sparkling wine
sugar and lime, for garnish
Bubbly, watermelony, fresh, delicious, easy to make, and super refreshing.
How to Make Watermelon Juice
Peel watermelon and cut into cubes.
Place the watermelon cubes into a blender and blend until smooth.
Strain into a pitcher to smoothen it out by removing any remaining seeds or chunks, and chill it until you're ready to make your cocktails.
I like to throw in some mint leaves for some added freshness and flavor then place in the fridge to cool until ready to use. The only sweetness in this drink comes from the natural sweetness of the watermelon, so make sure you like the flavor of the watermelon you're using. If it's not sweet enough for your liking, you can easily add some simple syrup to the juice.
To Make the Drink Sweeter — Watermelon Simple Syrup:
Just heat up ½ cup of watermelon juice with ½ cup of sugar in a small saucepan. Once dissolved add it back to your pitcher of juice. I prefer the natural flavor of the juice so I usually leave out the extra sugar, except for the small bit on the rim. Your call.
All you need to do now is garnish your glasses and add your sparkling wine and you're ready to party!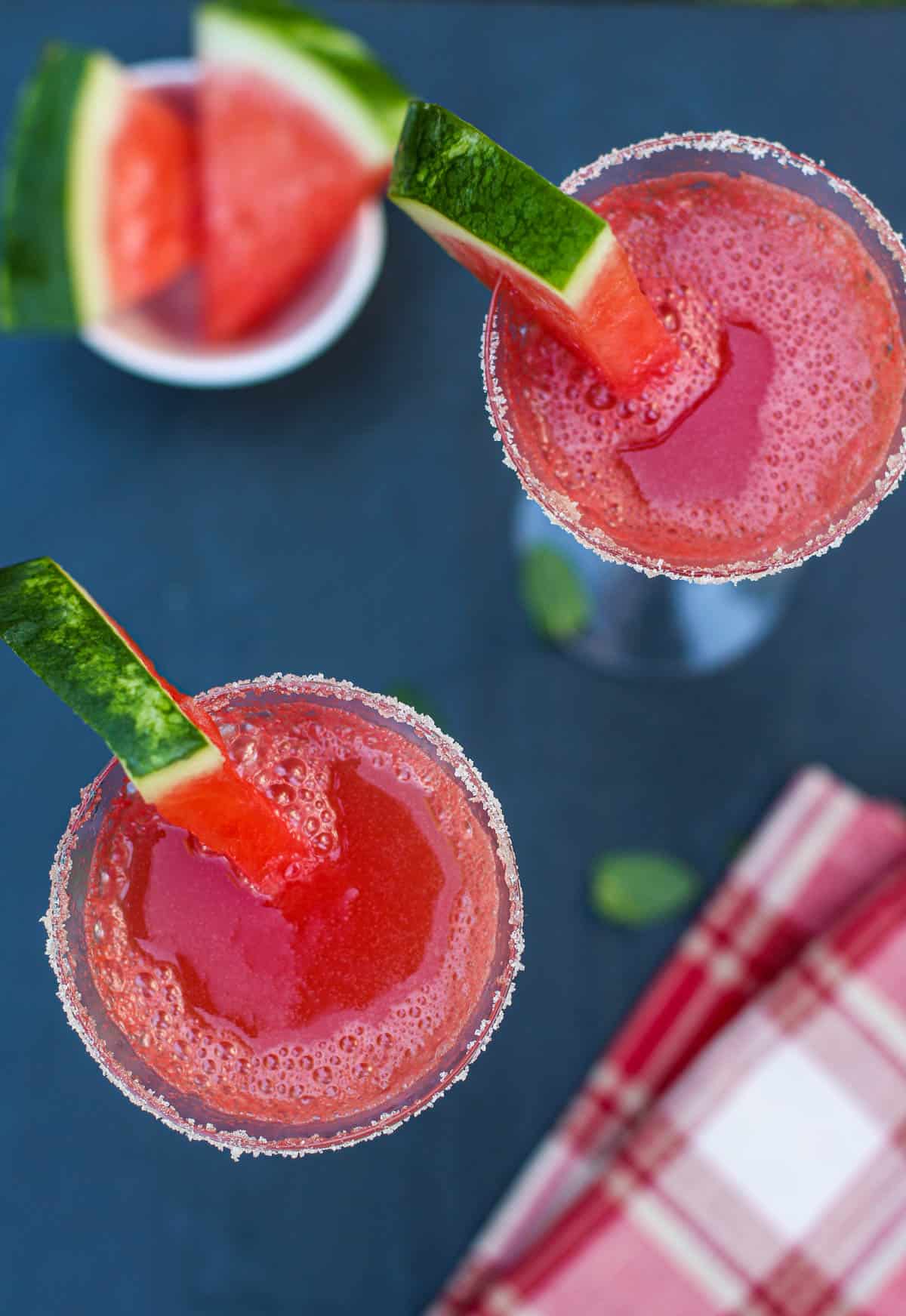 Best Sparkling Wine to use for Watermelon Cocktails?
Avoid true Champagne for sparkling wine cocktails. While they are my favorite beverage on the planet, these are best reserved for sipping alone or for special occasions (not to mention the price of real Champagne starts at around $40).
Instead opt for something in the $10-$15 range, and look for Cava from Spain or Prosecco from Italy. The later is my go-to, as there's a nice fruitiness to the wine that will complement watermelon juice.
Pro Tip: Avoid the cheapest sparkling wines (you know which ones I'm talking about; those found in the $4-$5 range that claim to be "California Champagne"). These are usually overly sweet and will alter the natural flavor of the watermelon. You can find some great alternatives for a few dollars more.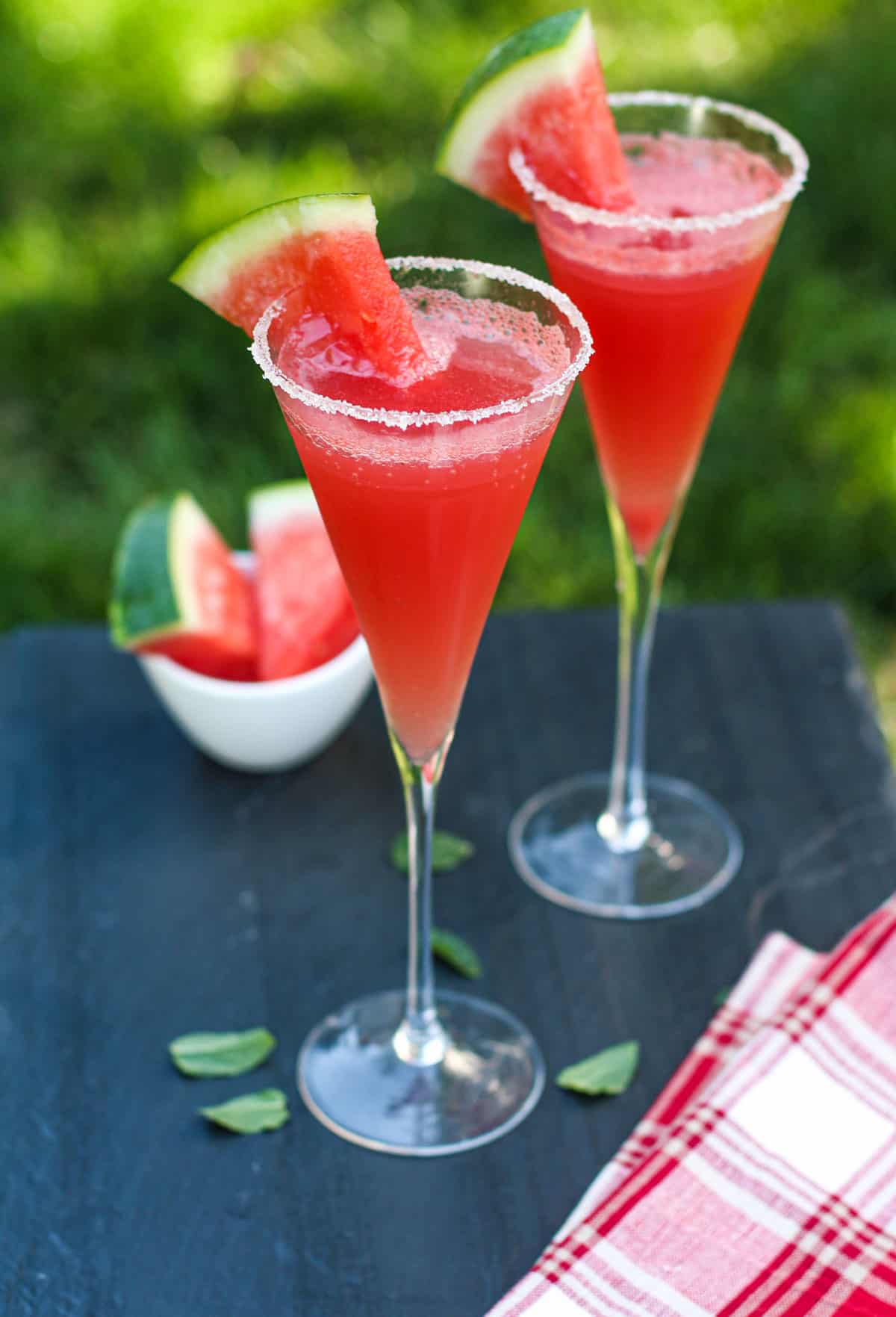 More Easy Summer Cocktail Recipes
Sparkling Watermelon Cocktail
---
*This post was originally published in June 2015, and updated in August 2020 with up to date information and instructions. The recipe remains exactly the same.