Yes, you can make Smoked Ice. Take smoked water, add to your favorite cocktail ice cube tray, and add to your favorite drinks.
Yes, that's right, smoked ice. We are not talking about liquid smoke, we're talking about the real version of that.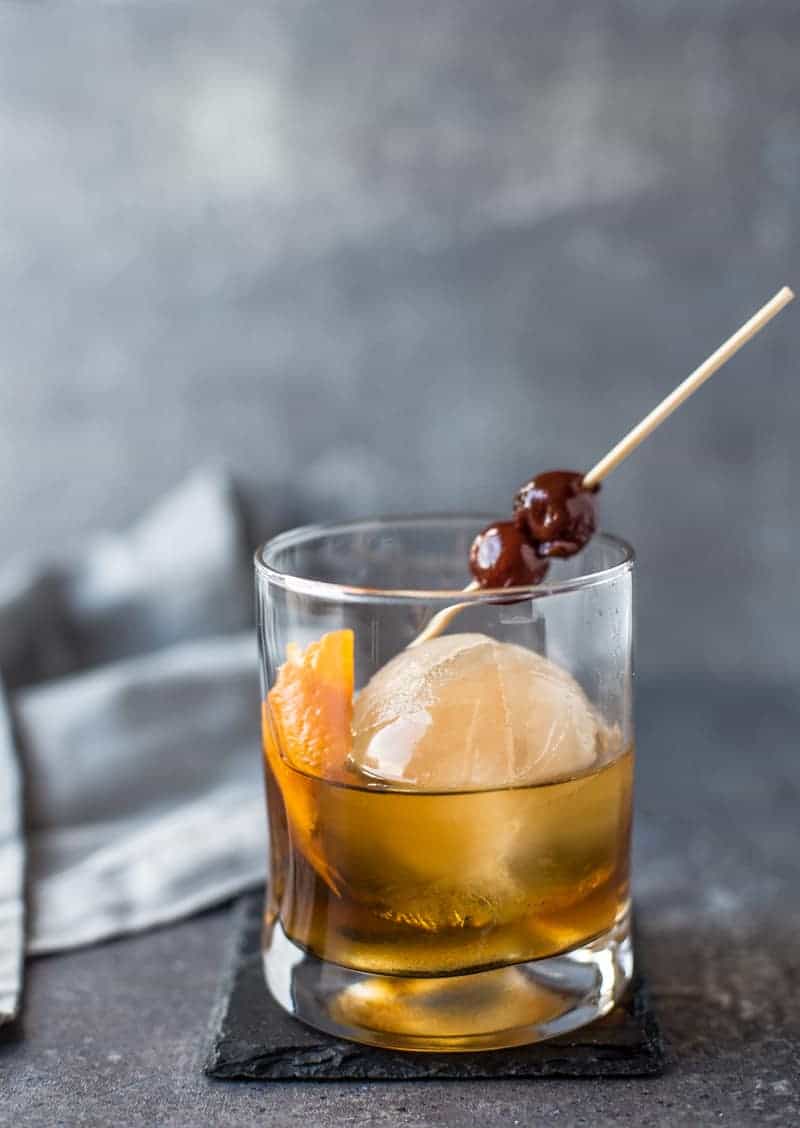 We've talked about smoked ice before, but we thought we'd bring it up again because it's that time of year! You know what I'm talking about. The holidays (aka the time of year you're going to need a good cocktail to put up with your Uncle Matt's nonstop political talk). Yes, this cocktail is going to definitely come in handy then. Or just when you're sick of the cold weather and want a nice warming drink, because bourbon warms the soul. True story.
Jump to:
I made this drink originally for Sean's 40th birthday. So we're bringing it back and making a video of it.
Sean's favorite booze is bourbon (with whiskey a close second), and he's a classic cocktail kind of a guy. Hence our play on a classic Old Fashioned.
But first, let's talk about Smoked Ice.
What is Smoked Ice
Smoked ice is smoked water that has been exposed to wood smoke for a few hours and frozen in molds to make ice cubes. Using a smoker helps avoid the use of liquid smoke. The flavor is a slightly woody nose.
Liquid smoke is typically wood chips that have been burned at high heat and then the moisture and flavor is collected through condensers. After collection, the liquid can be further reduced. The issue is the high heat can give a bitter flavor (like poorly vented smoke).
If you search smoked ice cocktail you will no doubt stumble across this little smoking gun tool used by bartenders all over to infuse drinks with smoke. But who the heck needs a $150 smoking gun when you have the best tool of all — A SMOKER?!?!?!
I'm gonna save that $150 to stock my wine fridge and then use my cocktail smoker, a tool that I already have, to make a smoked cocktail using some very inexpensive ice cube molds.
Sean wrote a pretty thorough article on how to smoke ice for Palate Press. Definitely check it out since we're only giving you the cliff notes version here.
How to Smoke Ice
To start all you need is a large glass bowl or smoker-safe dish. The size of the bowl will depend on how much ice you want to make and the size of your trays or molds. We like to maximize by making a lot, and filling up all of our molds so we have the smoked ice cubes on hand for several weeks. In the picture below we used about 2 quarts of water.
Next, set your smoker to around 200 degrees Fahrenheit (and no more than 225). Water boils at 212 degrees, so you want to keep heat low to avoid boiling temperature otherwise the water will boil and steam out and we don't want to lose any of that smoked water.
Leave on the smoker for 2-3 hours until you're happy with the color. You can also taste test it for flavor.
When you're happy with the flavor make sure to strain the water using a very fine mesh strainer or cheesecloth to get any particles that may have found their way into the water.
Then distribute into your ice cube molds and freeze.
Chef's Note: Make sure to smoke this on its own. Nothing else should be on the cocktail smoker. We don't want raw (or cooked) meat splattering into our water. And think about the wood you use because it will be the primary flavoring agent to this smoked ice. We like cherry for the sweet flavor it gives (vs. something like mesquite or oak which would impart more of a campfire flavor). Any fruit wood makes a great option.
Best Ice Cube/Ball Molds for Cocktails
These molds, the ones in this picture, are our favorite. They're pretty big, but they're quite the show stoppers. They will melt slowly, giving you the opportunity to make a refill for the rest of the cube. And they're a great deal at 2 for $10.
You can also get smaller rounds ones like these.
These are also fun if you want more of a perfect cube vs. a ball.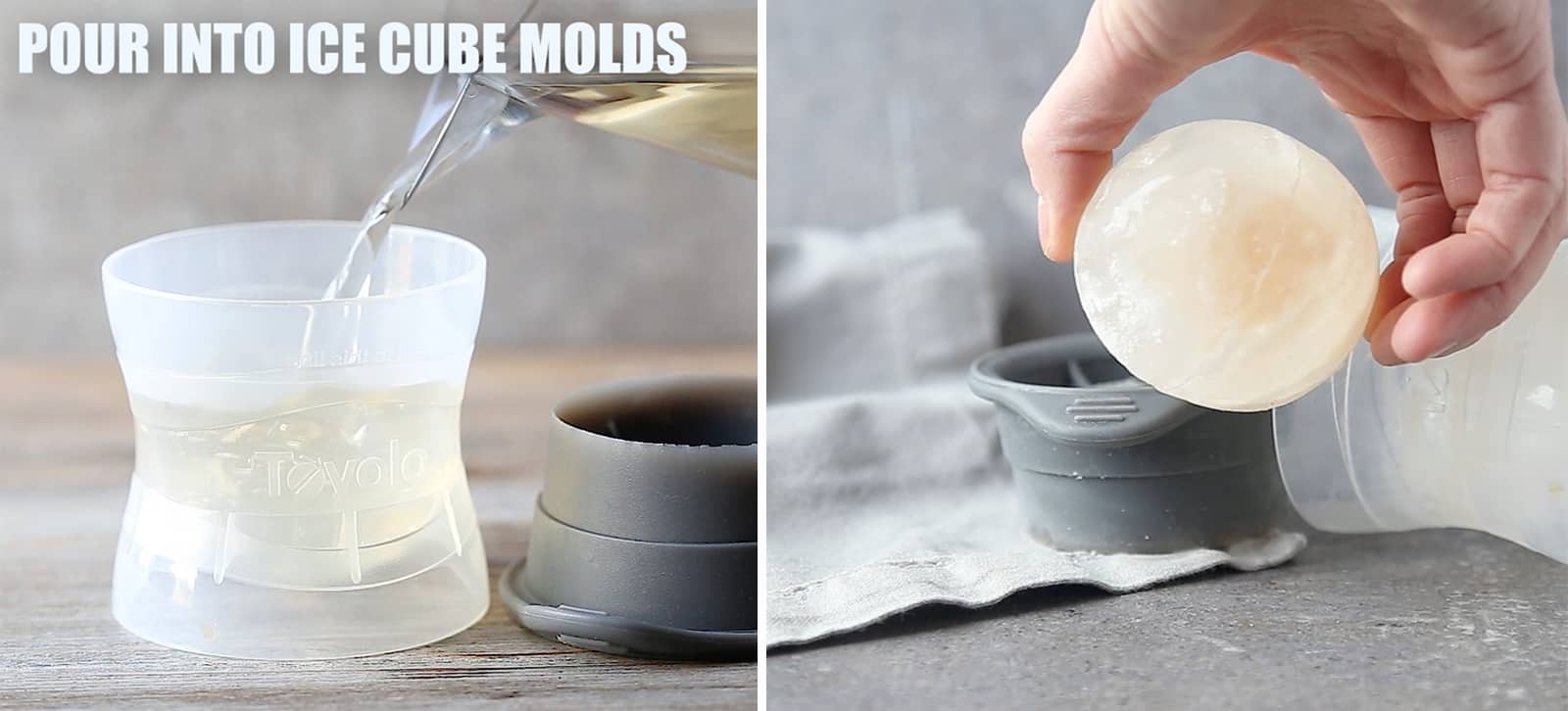 We have all three styles and they all work great.
Once they are frozen it's cocktail time!
How to Smoke Ice for Cocktail
This is a playoff a classic Old Fashioned using sugar, smoked cherries, cherry bitters, and bourbon. You can make your own smoked cherries, or go with regular Maraschino cherries as an acceptable substitute.
Sugar – You can use a sugar cube like the classic and let it dissolve, or simply add sugar to the dish (which we do).
Bitters – A cherry inspired bitters is great. Or you can go with Angostura.
Bourbon – We recommend Bourbon, but Rye, or Whiskey are also great alternatives. We do not recommend this with a peaty Scotch.
Combine the sugar, bitters, and Bourbon in a glass and gently stir. Add the smoked ice cubes or ball and then garnish with the smoked cherries and an orange peel.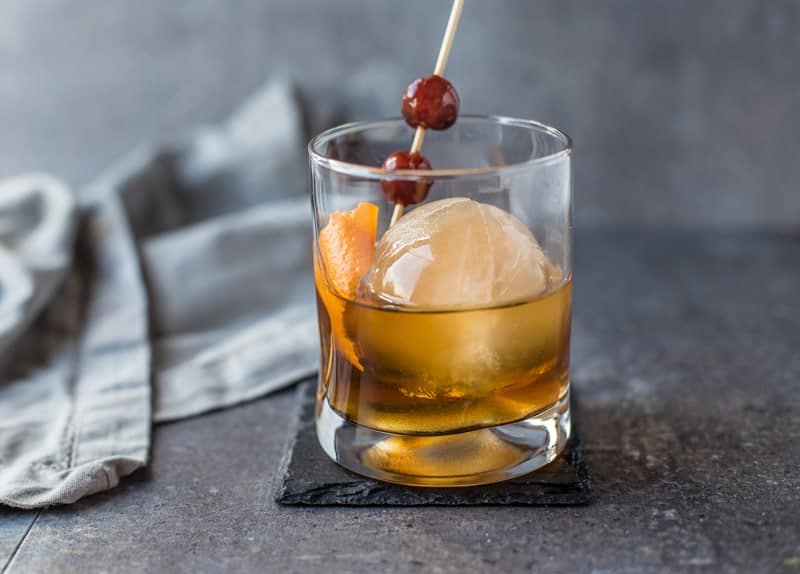 Other Inspiring Cocktails
Mary (a certified sommelier and recipe developer) and Sean (backyard pitmaster) are co-authors of the critically acclaimed cookbook, Fire + Wine, and have been creating content for the IACP nominated website Vindulge since 2009. They live in Oregon on a farm just outside Portland.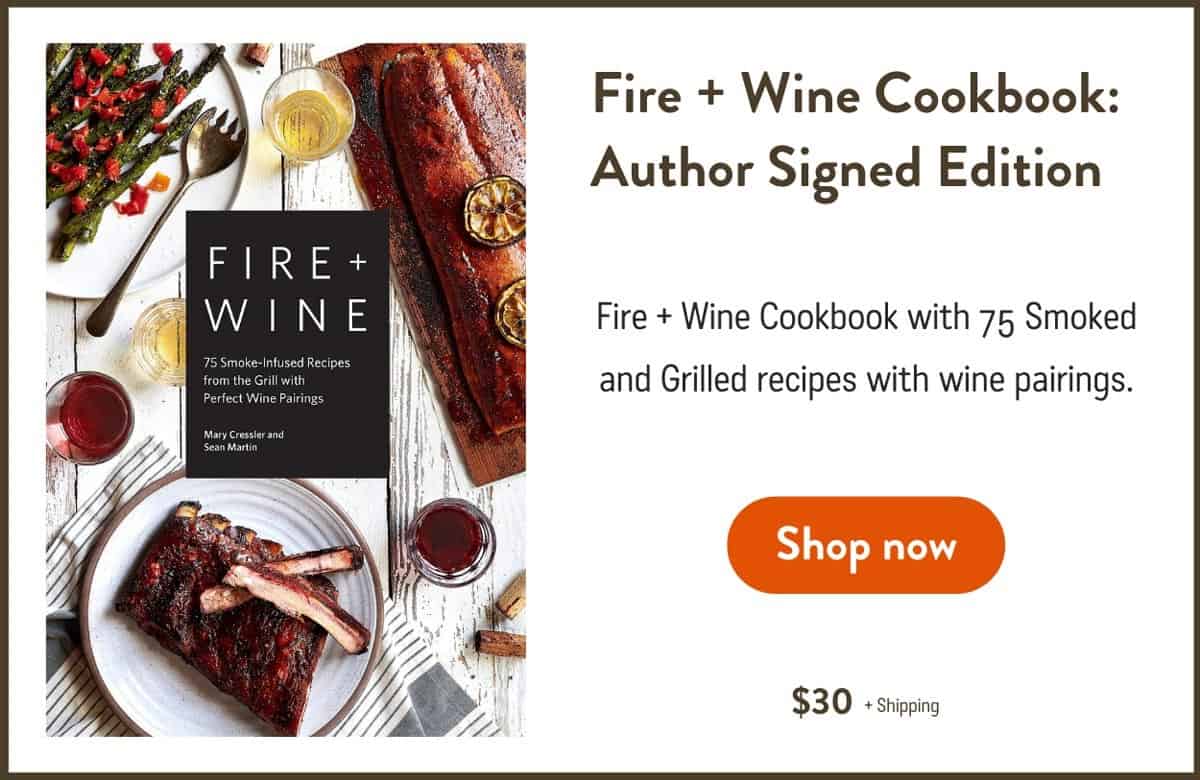 If you like this cocktail recipe we'd truly appreciate it if you would give this recipe a star review! And if you share any of your pics on Instagram use the hashtag #vindulge. We LOVE to see it when you cook our recipes.
This post may contain affiliate links. This means if you click on the link, we may receive a small commission if you purchase through the link. We partner with brands we know and love and use and it helps keep the blog going!