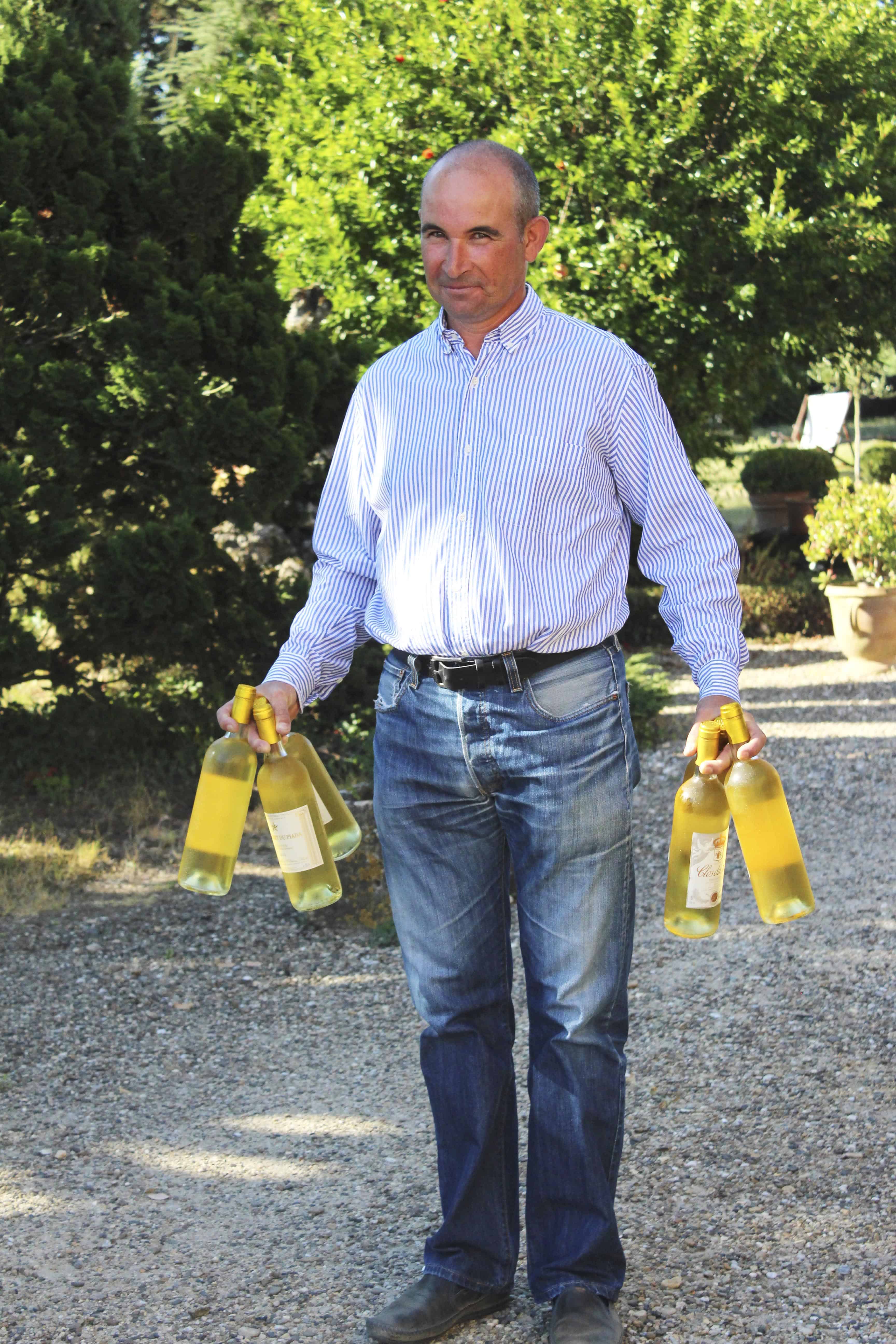 When Frédéric Lalande was a young boy he dreamt of becoming a fighter pilot, not a winemaker like his father and grandfather.
* "When I was a child I used to watch the pilots from the vineyard.  There was a training area not too far, the planes would get very close and dive down towards the vineyard, and then go back up.  They flew so low (around 40 meters) that sometimes you could see the pilot's head.  I wanted to do that."
Lalande initially became a parachuter, but quickly realized he didn't have the eyes or the legs to be a fighter pilot, so he gave up the idea and started working for the family business — Château Piada.  The region of Barsac is located approximately 40 miles southeast of the city of Bordeaux, and is known for making some of the world's best sweet wines from botriatized grapes.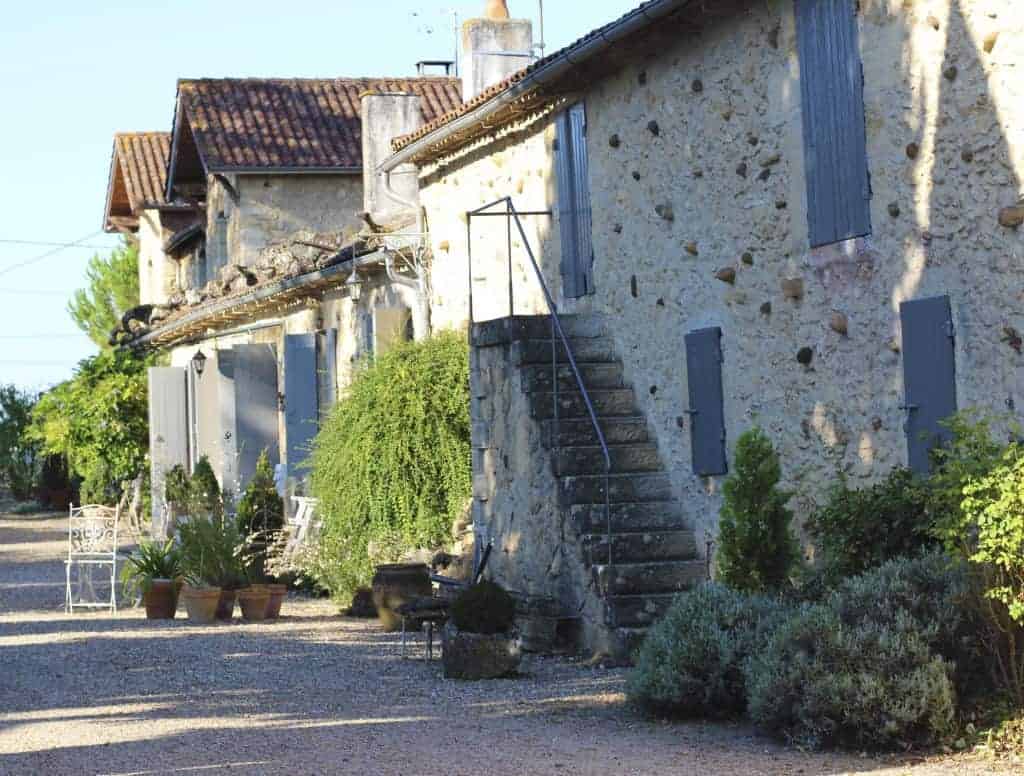 He took over the family property in 1999 managing the exactly 8.22 hectares (approximately 20 acres) of AOC Barsac vines:  7 ½ hectares Sémillon, ½ hectare Muscadelle, and the remaining .22 hectares of Sauvignon Blanc.   He also owns another 7-hectare property where he makes red wines, but we were there that day to focus on his sweet wines.
So what is Botrytis?
Botrytis cinerea (i.e. "botrytis" and also referred to as "noble rot") is a fungus that grows on grapes causing them to shrivel up, dehydrating the grapes, and thus increasing the sugar levels and concentration of the flavors.  When done right, these grapes can turn into some of the most mesmerizing, sought after, and cherished wines in the world with a heavenly bouquet and texture.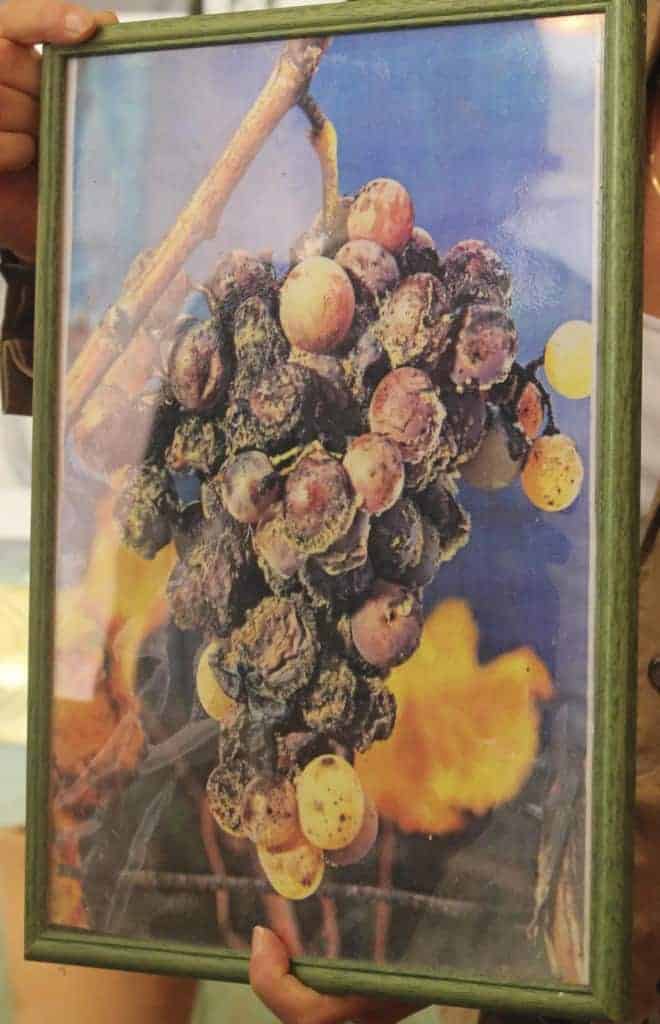 [I was there in early September, before botrytis develops. This photo (left) is what it looks like on the grapes]
This region is situated along the Ciron River, one of the coldest rivers in France, and also the Garonde River, which is warm.  These two factors create a very unique microclimate with lots of fog and humidity, creating conditions that encourage the growth of the fungus.
The primary grape grown here is Sémillon, which is particularly susceptible to botrytis.  The other two grapes allowed are Sauvignon Blanc, which adds freshness and acidity to the resulting wines, and Muscadelle, which contributes aromatics.  Though there are eleven appellations (AOC's) that can make these sweet wines in Bordeaux, the two most important are Sauternes and Barsac.
The wines from here can also demand a hefty price tag.  But there's a good reason for that.  Lanande explains, "When botrytis starts, sometime around late September, I do my first selection."  This means he goes through the vineyard and gently hand picks grapes (not clusters), one by one. Just the individual grapes that have been attacked by botrytis.
"Then, I will do a second picking. Then a third.  However many it takes, usually finishing up by late October."
"After each picking I will then press the grapes immediately.  Even if it's just three small buckets full — I don't refrigerate or wait for a larger amount.  I press each bucket as it comes in."
This is a detailed, time consuming, and manually intensive process that yields much smaller quantities of wines than a traditional wine.  Elsewhere in Bordeaux, one vine will produce approximately one bottle of wine, whereas with the sweet wines made from botrytized grapes, one vine will produce as little as one glass of wine per vine.
Most of the grapes Lalanade uses will be botrytized.   Sometimes, he explained, he will add some non-botrytized grapes to add some freshness. Or if the grapes never developed botrytis by the end of harvest he will pick them, as long as they are still in good condition.  "I'd rather have fresh grapes that didn't develop botrytis, rather than having bad grapes."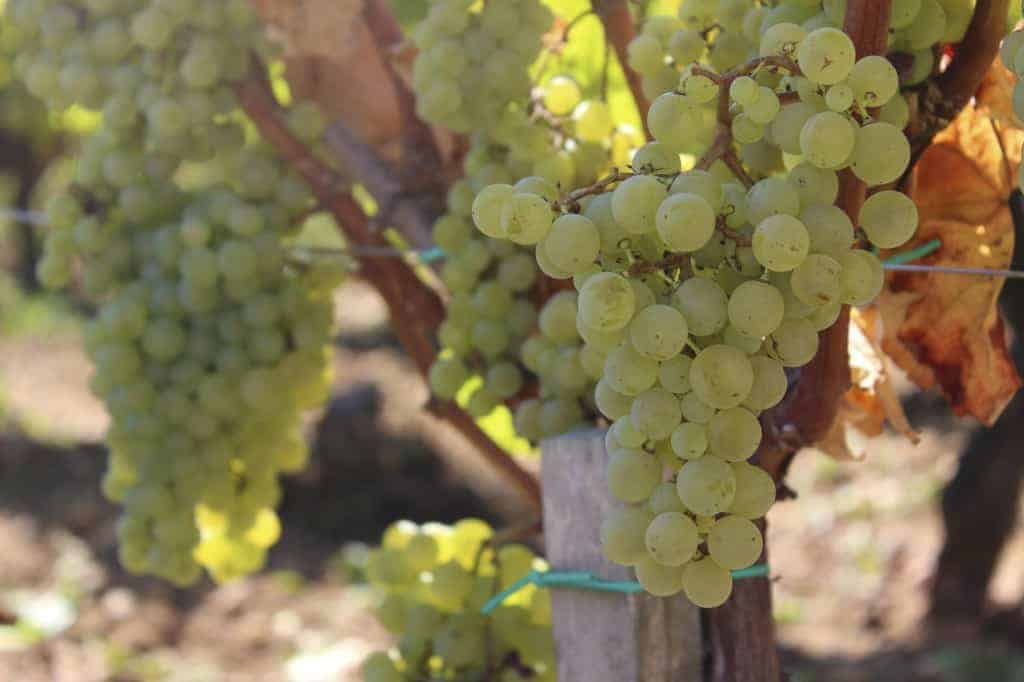 Sémillon grapes before botrytis
Only the very best goes into his wines, selling anything he doesn't like in bulk.   In fact, there have been years they didn't make a single wine because they didn't like the way the fruit came out.   "In 1992, '93, and '94 my father didn't release a Château Piada at all. He didn't think it was good enough, so it went into a different wine.  If we don't like the quality we don't make a wine that year."
Making wine is risky business.  Making this type of sweet wine is even more risky.  But when it's done right, the results are unforgettable.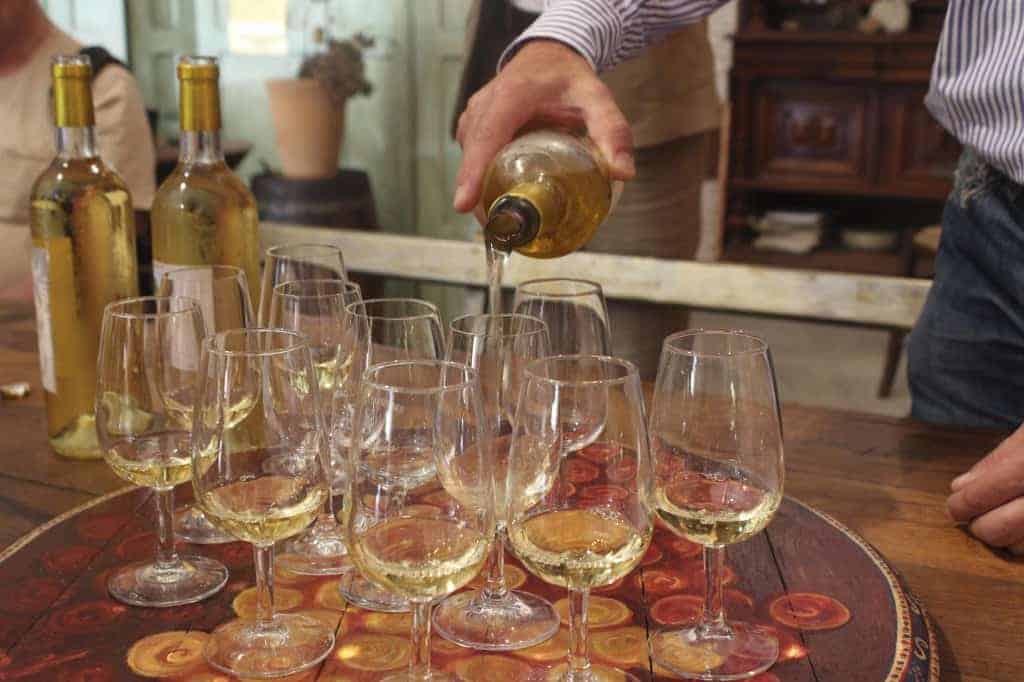 That afternoon I was fortunate to try five of his wines.  His main wine, Château Piada (the 2010 and 2011), his second label "Clos du Roy" (2010, 2011), and the 2010 Le Hauret du Piada, Cerons (AOC).   They were all remarkable wines with great complexity.  The one that stood out to me the most was the 2010 Château Piada that had gorgeous floral, peach, and citrus aromatics and an incredible honeyed texture, with beautiful acidity.  I had to buy a bottle.  This wine averages around $55 here in the US, but Lalanade sold it to me at the winery for 20 euro (less than $30!).  This gem is getting tucked away, to be enjoyed on the twins 21st birthday (their birth year just happens to be 2010, so we're saving some of our favorites from that vintage for them).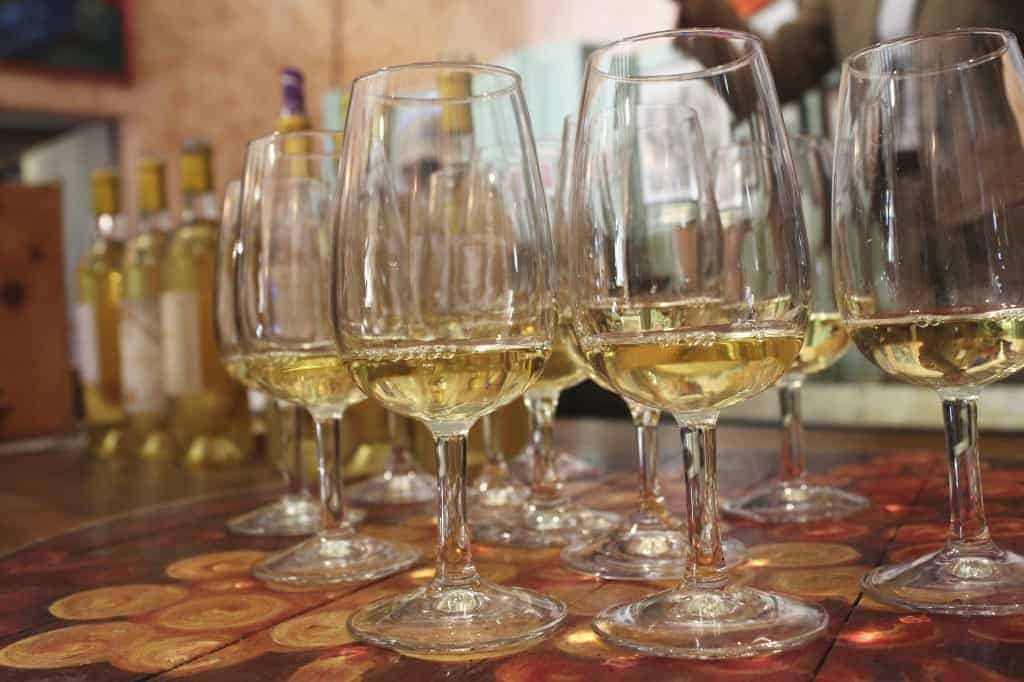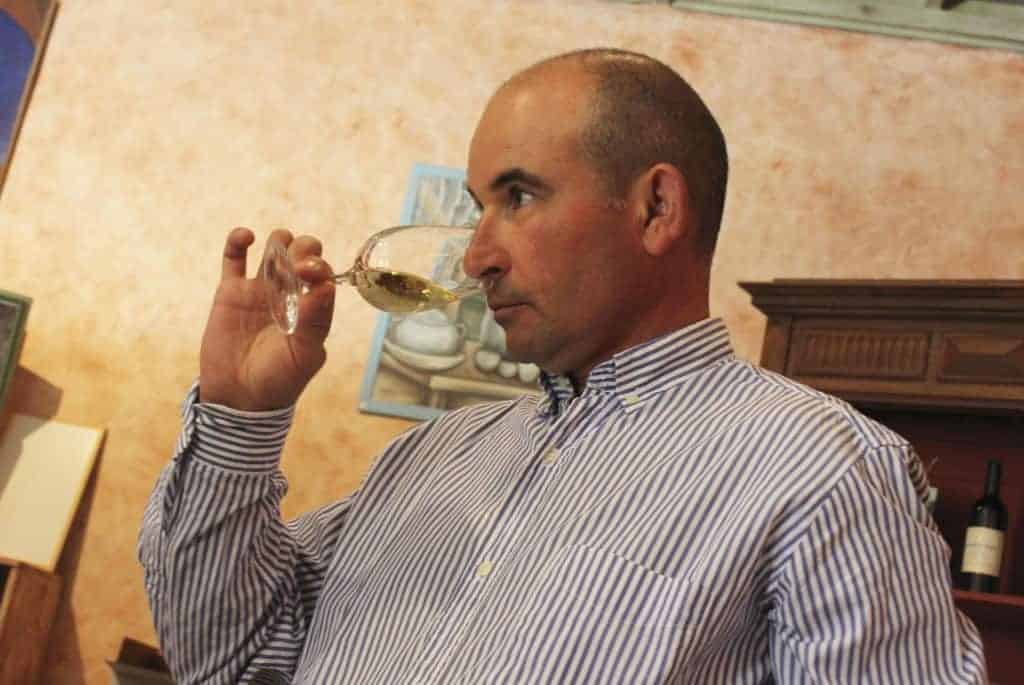 For someone who initially didn't want anything to do with the wine business, Lalande has definitely found his true calling, and seems to be enjoying it.
"There are highs and lows like any job," he explains.  One of the lows came in 2011 when they experienced a fire in their warehouse, losing most of his library wines and his entire stock of his 2009 vintage.  "Luckily we were well insured," he jokes.
"This job is not always easy.  But the best moment is when you know that your wine is going to be very good quality and that you have a very good thing coming." Those moments make it worth it.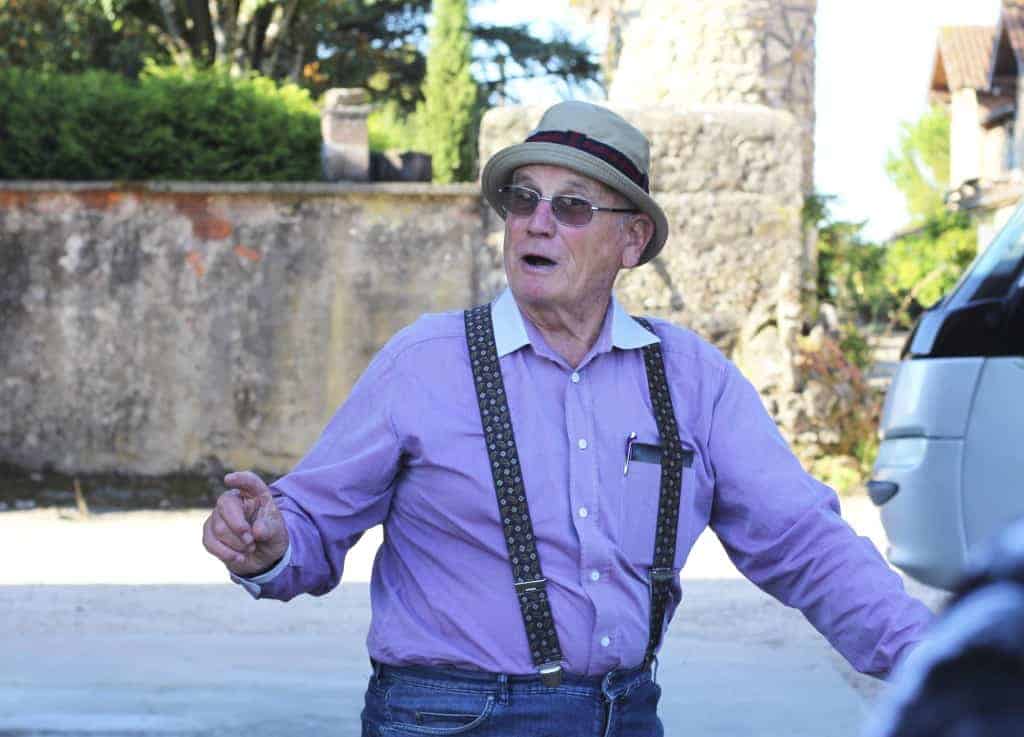 During our visit we also had the pleasure of being introduced to Lalande's father, Jean, a vibrant older gentleman, who showed up riding his bike wearing red slippers, jeans, suspenders, and a purple collared shirt.  Frederic explained that his father (the former winemaker) is an avid bicyclist, who used to ride his bike all over France.  But now, he sticks to this area.  Before he rode off into the vineyard (literally) he let us in on some very insightful information, "Do you want to know what the secret of youth is? Riding your bike, and [drinking] Barsac."
I can handle that!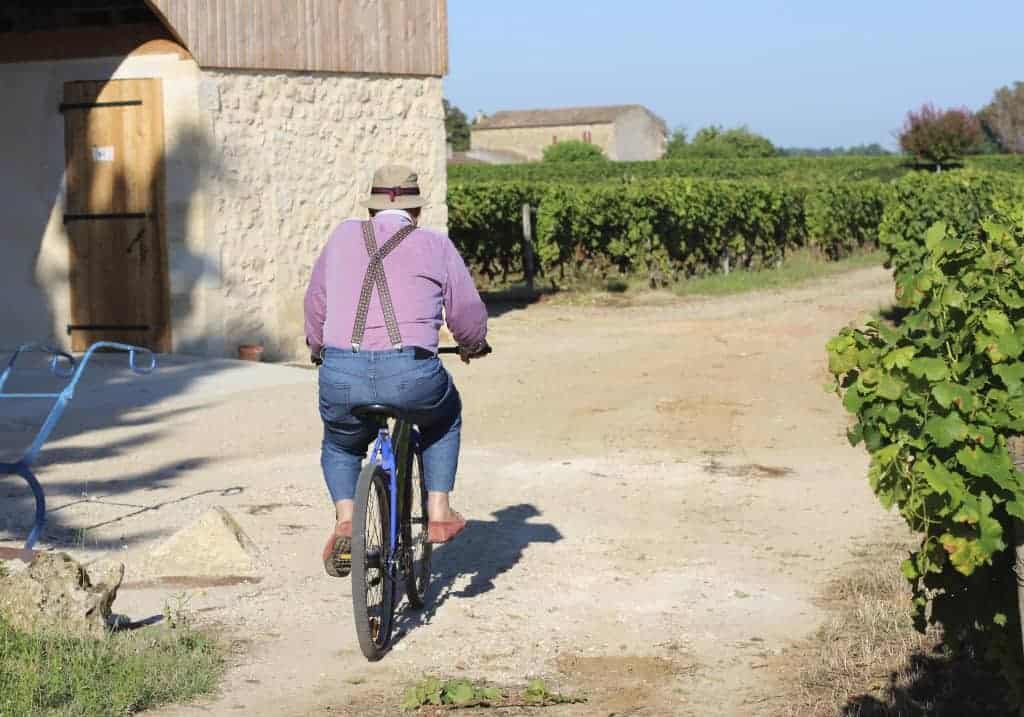 If you get the chance to try the wines from Barsac or Sauternes, especially the wines of Château Piada, you are in for a real treat.
* All direct quotes were translated by our host Maxine Colas, who worked in conjunction with the CIVB to arrange our visit and tour of Bordeaux.
*****
I found this short video of Lalande and Chateau Piada as I was checking some facts for this piece.  It's worth a watch and captures some of the passion of Lalande, and provides some cools shots of him picking the grapes (not clusters) for his wines.   http://www.youtube.com/watch?v=F36ShmxkA8s