When it comes to food and wine pairing most people start with the food, then look for wines to pair with whatever they intended to eat.  But in my house we're often in the opposite predicament – trying to come up with a dish to pair with a specific wine we want to open.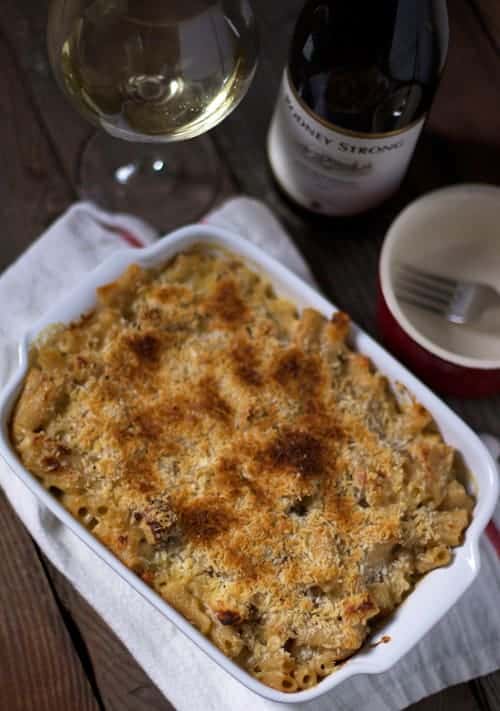 In my latest article published at Wine4.Me I explore how to create a dish based on the characteristics of the wine, instead of vice versa.  And since I've been on such a Chardonnay kick lately I used two different Chardonnay styles to come up with two very different recipes… both go great with their respective wine.
The first is a recipe for a Grilled Shrimp Salad with Avocado paired with an unoaked Chardonnay from Burgundy, France.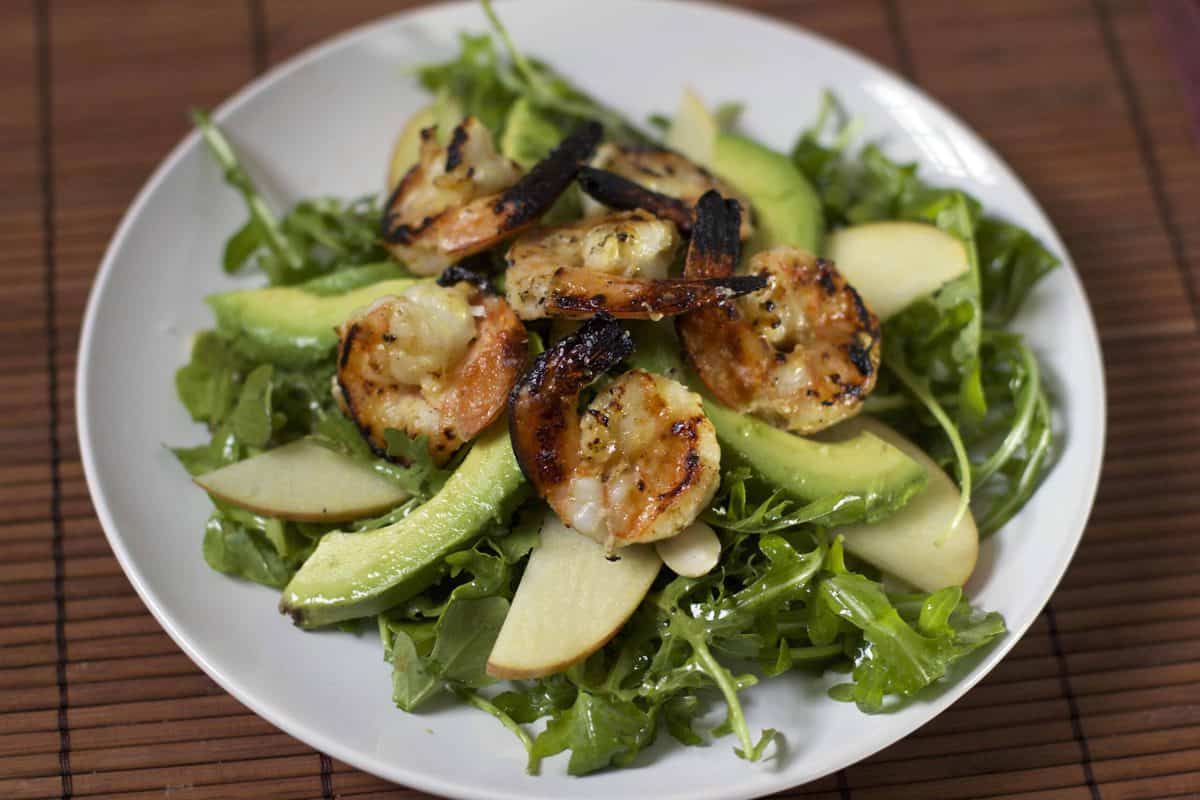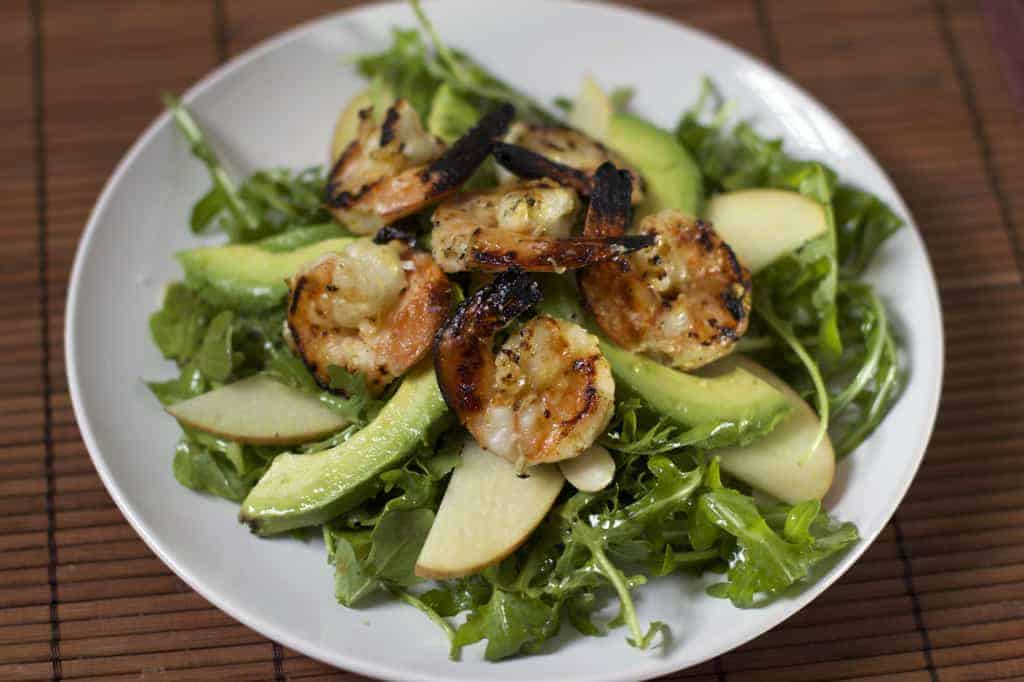 I take the flavors and textures from the light bodied wine (crisp, citrusy, apple, minerals), and create a dish to highlight those flavors (a light salad with grilled shrimp, fresh mild apples, creamy avocado, and a citrus vinaigrette).
The other recipe is an indulgently creamy and rich Macaroni and Cheese with Smoked Bacon that pairs with a rich and creamy oaked Chardonnay.  Creamy, cheesy, bacon-y goodness.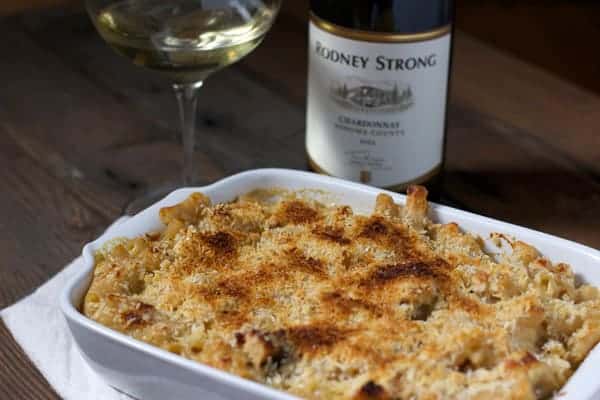 Two opposite examples on the Chardonnay spectrum, and two different, yet equally delicious, recipes to pair.
Find the recipe for Grilled Shrimp Salad with Avocado over at Wine4.Me, but look no further for the creamy Mac and Cheese.
Although my affinity for Oregon Chardonnay has grown immensely over the last month, I have no prejudice against a bigger, richer, California style Chardonnay.  There's a time and place for all styles of this versatile varietal.  Creamy Mac and Cheese is certainly one that begs for the bigger, buttery style, to stand up to the weight of the dish.  And though the flavors of the dish may seem rich and complicated, it couldn't be easier to make.
You start by making a béchamel sauce, which is just a fancy way of saying "basic white sauce", made with a roux of butter and flour cooked in milk.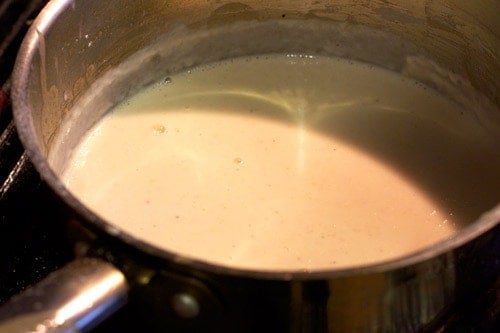 From that point you just add your seasonings and additional cheeses.  I like to add a cup of crème fraîche to make it extra rich and creamy.  I figure if I'm eating mac and cheese I may as well go big.  Speaking of big…
Smoked Bacon.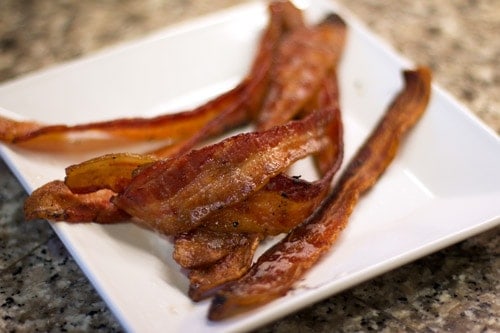 Then add the smoked bacon (why not?!) and diced up chicken.  Finally mix in your precooked pasta, transfer to an oven proof dish, and bake.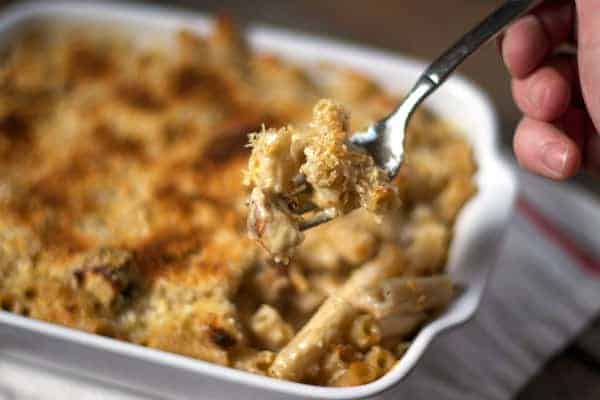 Now there's a bit of controversy in my household.  I like this dish super creamy and rich with extra sauce. Hubby likes it more heavy on the pasta.  The more pasta and chicken you add the more they will soak up the sauce.  So as you add your pasta be mindful of how creamy you want it.  As the dish cooks in the oven the pasta and chicken will soak up some of the sauce.  So if you want it extra creamy, go lighter on the pasta or leave out the chicken.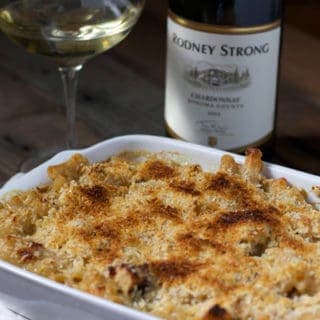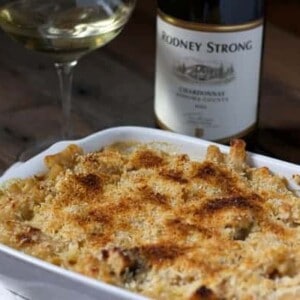 Ingredients
1

lb

bag Penne Pasta

or macaroni, whatever style of pasta you prefer. Adjust amount of pasta to your liking (see notes above)

2

tablespoons

butter

2

tablespoons

flour

2

cups

milk

½

teaspoon

freshly ground nutmeg

more or less depending on how you like the flavor

1

cup

crème fraîche

1

tablespoon

Dijon mustard

½

cup

mild cheddar

½

Fontina cheese

Salt & pepper to taste

3

slices

pre-cooked smoked bacon

chopped (recipe below in notes)

1

cup

cooked chicken breasts

chopped into cubes (I used leftover grilled chicken breasts)

Panko crust: ½ cup panko mixed with ¼ cup parmesan cheese

salt & pepper
Instructions
Preheat oven to 400 degrees.

Cook pasta according to package instructions until al dente.

Meanwhile, in a saucepan over low heat, melt the 2 tablespoons butter. Stir in the flour and cook for about 3-4 minutes.

Add the milk, whisking continuously until the mixture comes to a boil. Then reduce heat to low to allow the sauce to thicken (about 5 minutes).

Add the crème fraîche, Dijon mustard, nutmeg, salt and pepper. Whisk together.

Once combined, add the Fontina and cheddar cheeses. Whisk until cheeses are melted.

Mix in the bacon and chicken.

Add the cooked and drained pasta, and stir to combine.

Mix together and pour into buttered 9x9 baking dish, top with the panko mixture, and bake for 20-25 minutes or until the top is golden.
Notes
For the smoked bacon: place on smoker for 1 hour at approx 275, or until nice and crispy.
Wine Pairing
I used the 2012 Rodney Strong Sonoma County Chardonnay, California ($10) to inspire this dish.  This is a young oaked Chardonnay from Sonoma Valley, CA, that shows its use of oak, but it's not overpowering or distracting.  You certainly notice it, along with some sweet vanilla aromas, but it's balanced out by some bright tropical pineapple, lemon, and pear aromas. The wine is creamy and slightly rich on the palate with some buttery flavors and more citrus.  I found it for $10, and I'd say it's a pretty darn great deal for that price.
I wanted to celebrate the richer, textured style of Chardonnay by creating a dish equally rich and indulgent, with cream and spices.  This style of Chardonnay would have certainly gone quite well with a creamy fettuccini alfredo dish, or even roasted chicken.  But with two toddlers living in my house I decided to make a dish that both adults and children alike could swoon over.   Mac and cheese did the job! 
*****