Anything you can cook in your oven can be made on the grill or smoker. And this Grilled Mac and Cheese recipe is no exception. We're using the classic flavors of a Béchamel Cheese Sauce as the base, and jazzing it up with grilled chicken and crispy bacon.
Bonus, you can make this gluten free as well, just jump to recipe for details in the notes.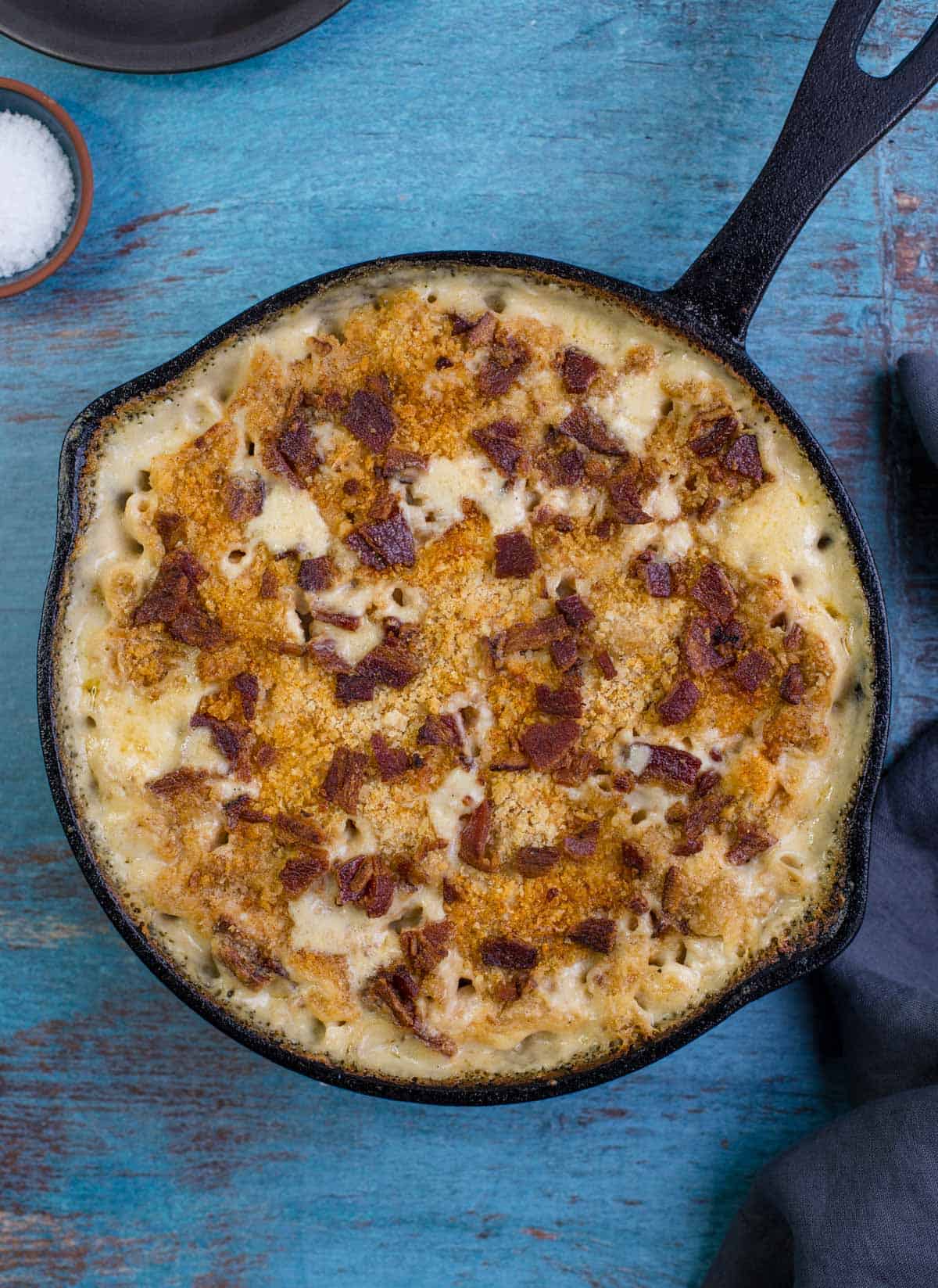 There are infinite variations of making Mac and Cheese. This grilled version is a great starting place with a basic cheese sauce, and then adding flavors and ingredients based on your preferences. In this case we add a touch of texture and flavor with the crispy bacon and added protein with some grilled chicken. But this can be modified in so many different ways.
Jump to:
Ingredients
We are loading this Grilled Mac and Cheese with three difference cheeses.
Cheddar for the color and sharp flavor. Any cheddar will work for grilled mac and cheese. In this case we're using a mild cheddar.
Fontina is a great melting cheese and adds a nice richness. Pepper Jack or even Gruyere can also be substituted.
Parmesan used in the panko crust. This adds a salty and nutty flavor and the texture is great for that extra crust layer.
In addition to the cheese we like a typical macaroni noodle. The tubes will absorb and fill with the sauce giving a creamy texture in every bite.
Grilled Chicken is great to add if you're looking for a one pot meal with some protein. Simply grill up a large chicken breast and shred it, then add the shredded chicken to the filling.
Crispy bacon adds crunch and a salty flavor which is a great depth to the dish. Reserve half the bacon for the topping.
Basic Cheese Sauce
Make a Roux. This is the base technique to thicken the milk and sauce for a creamy mac and cheese. Flour and butter are combined and put to heat in order to thicken the liquids.
Make a white sauce (or basic Béchamel). This classic sauce is used for dishes like Alfredo and has classic flavors of nutmeg, Dijon mustard, and crème fraiche.
Combine Cheeses and Macaroni. Add the melting cheeses and the already cooked macaroni to the pan and combine. Add the toppings for the crispy texture and then grill.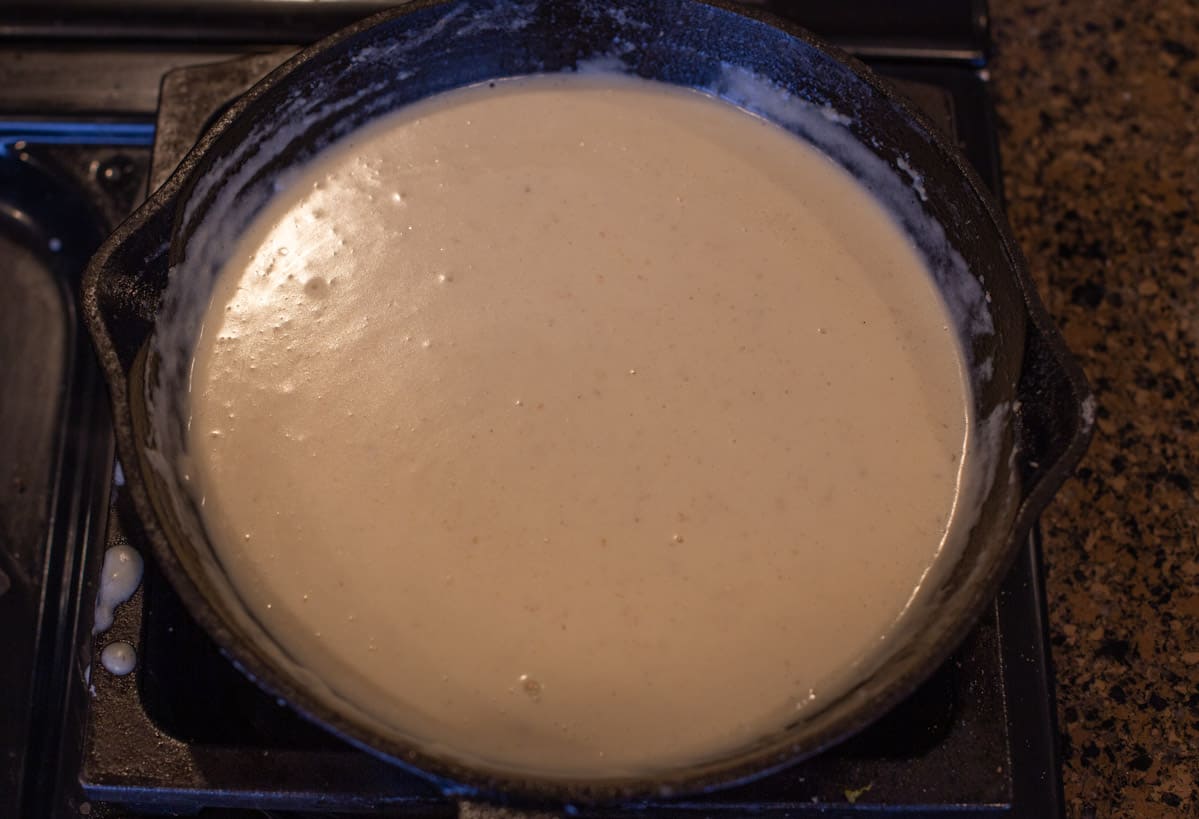 Panko Topping
To give texture and a slight crunch to the finished dish, combine panko, paprika, Parmesan cheese, and some crispy cooked bacon in a dish. Sprinkle over the mac and cheese just prior to grilling. As the dish grills, the Parmesan will melt and the panko will get crunchy making each bite creamy and crunchy.
How to Make Grilled Mac and Cheese
Preheat the grill for indirect grilling, using lump charcoal, and target the internal temperature of the grill at 375 degrees Fahrenheit.
Place the mac and cheese (in a cast iron pan or other high heat pan) over indirect heat.
Grill uncovered for about 25 minutes or until you see the topping turn a golden color and bubbling along the edges of the mac and cheese.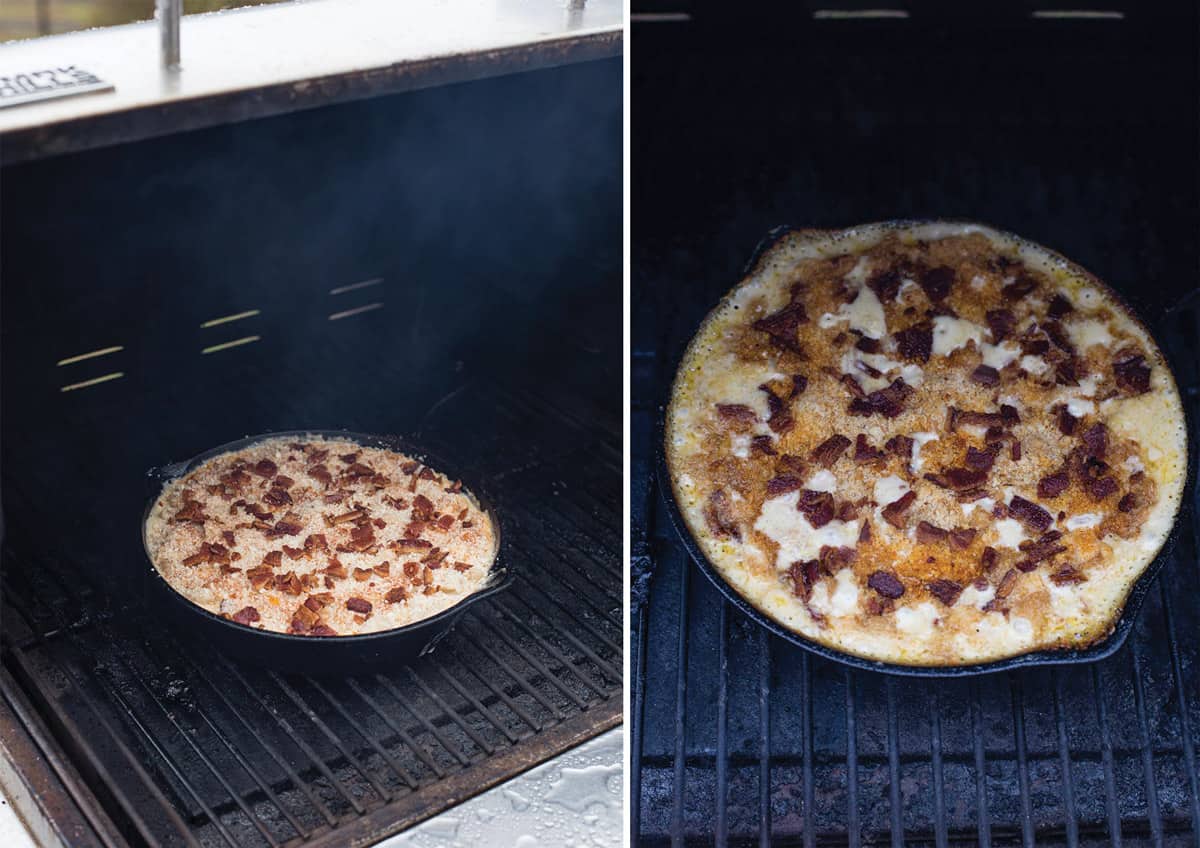 Wine Pairing for Mac and Cheese
The classic go-to for this grilled mac and cheese pairing is Chardonnay. Look for young oaked Chardonnay from Sonoma Valley, CA, as an ideal match. These will often have some notes of oak, but shouldn't be too overpowering or distracting. You'll find some sweet vanilla aromas balanced out by some bright tropical pineapple, lemon, and pear aromas that match well with the creamy mac and cheese.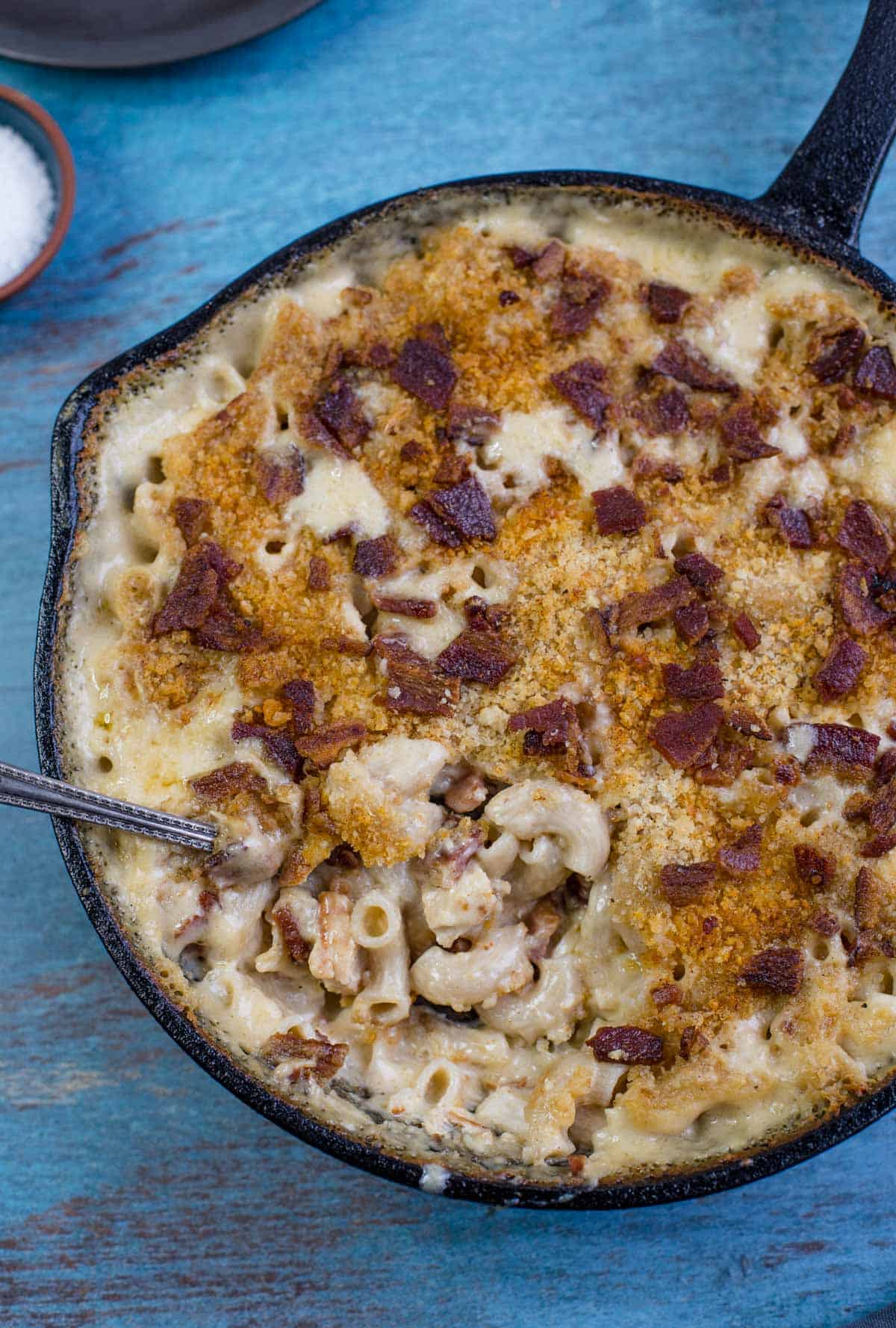 More Mac and Cheese Recipes
Our grilled mac and cheese recipe was originally created and published in March of 2014 and updated March 2021 with new photos and recipe steps.
This post may contain affiliate links. This means if you click on the link, we may receive a small commission if you purchase through the link. We partner with brands we know and love and use and it helps keep the blog going!