This no-cook pizza sauce is so easy to make and gives you a great and flavorful pizza sauce you can make in less than 5 minutes, without the additives. It's easy to scale up too.
If looking for other pizza sauce inspirations try our white pizza sauce or even chimichurri.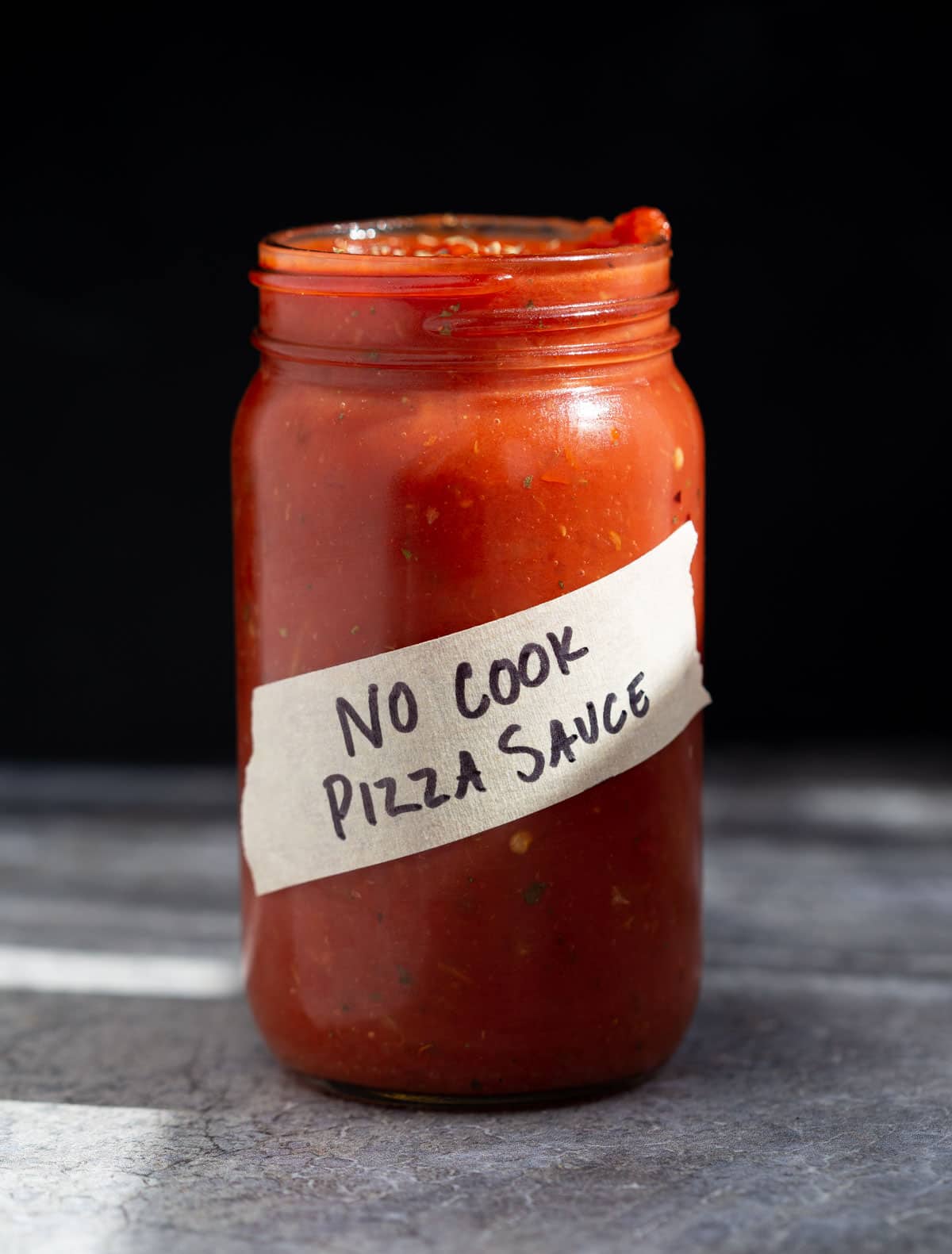 Every Friday is pizza night in my house, which means we are grilling pizzas a lot. And when it comes to ingredients, we like to make our own homemade doughs and sauces. It's just easier that way and we can control the ingredients. This sauce was taught to me by a good friend around 10 years ago, and is the sauce I always make in a pinch when I don't have any prepared sauce.
This no-bake homemade pizza sauce comes together in less than 5 minutes, from beginning to end, and can easily be modified based on your flavor preference.
This post may contain affiliate links. This means if you click on the link, we may receive a small commission if you purchase through the link. We partner with brands we know and love and use and it helps keep the blog going!
Jump to:
No Cook Pizza Sauce Ingredients
When it comes to making great homemade pizza, the sauce is almost as important as a scratch dough. And pizza sauce isn't as simple as throwing some canned marinara sauce on. It needs to be a certain consistency, so that the moisture doesn't make the dough soggy, and have some sweetness to it. These ingredients also had some herbal notes mimicking the classic sauce flavors you will find in your favorite pizza joint. You probably already have all of the ingredients on hand, so no shopping needed!
Canned Tomatoes – We prefer canned whole or diced tomatoes, but be sure you drain out the excess liquid before putting into the food processor. You don't want the extra moisture. Drain them good.
Tomato Paste – Helps thicken the sauce and adds some sweetness.
Herbs and Spices – Dried oregano, dried basil, dried garlic powder, dried fennel, and dried red chili pepper flakes bring flavor and a touch of heat.
Olive Oil – Helps with the viscosity of the sauce rather than using water.
Kosher Salt – Helps bring together a savory flavor to sauce.
Honey – Honey adds a natural sweetness and thickener.
See recipe card for quantities.
Instructions
The first step is to grind down the fennel with the other dried ingredients in a food processor. This breaks up the fennel so you don't get big chunks. If you don't mind the fennel pieces then you can skip this step.
After that you combine the remainder of the ingredients and pulse until all combined.
How much sauce per pizza? Plan on ¼ – ⅓ cup of sauce per 10- 12-inch pizza.
Variations
Spicy – add more chili pepper flakes
Sweet – add sugar, but as you add sugar, balance with some acid or other flavor
Herbal – Double the portions on the oregano
This pizza sauce makes for a great dip as well like with our arancini recipe or any mozzarella sticks.
Equipment
It is easiest to use a good food processor to break down the spices and the sauce. Alternatively you can use a good blender.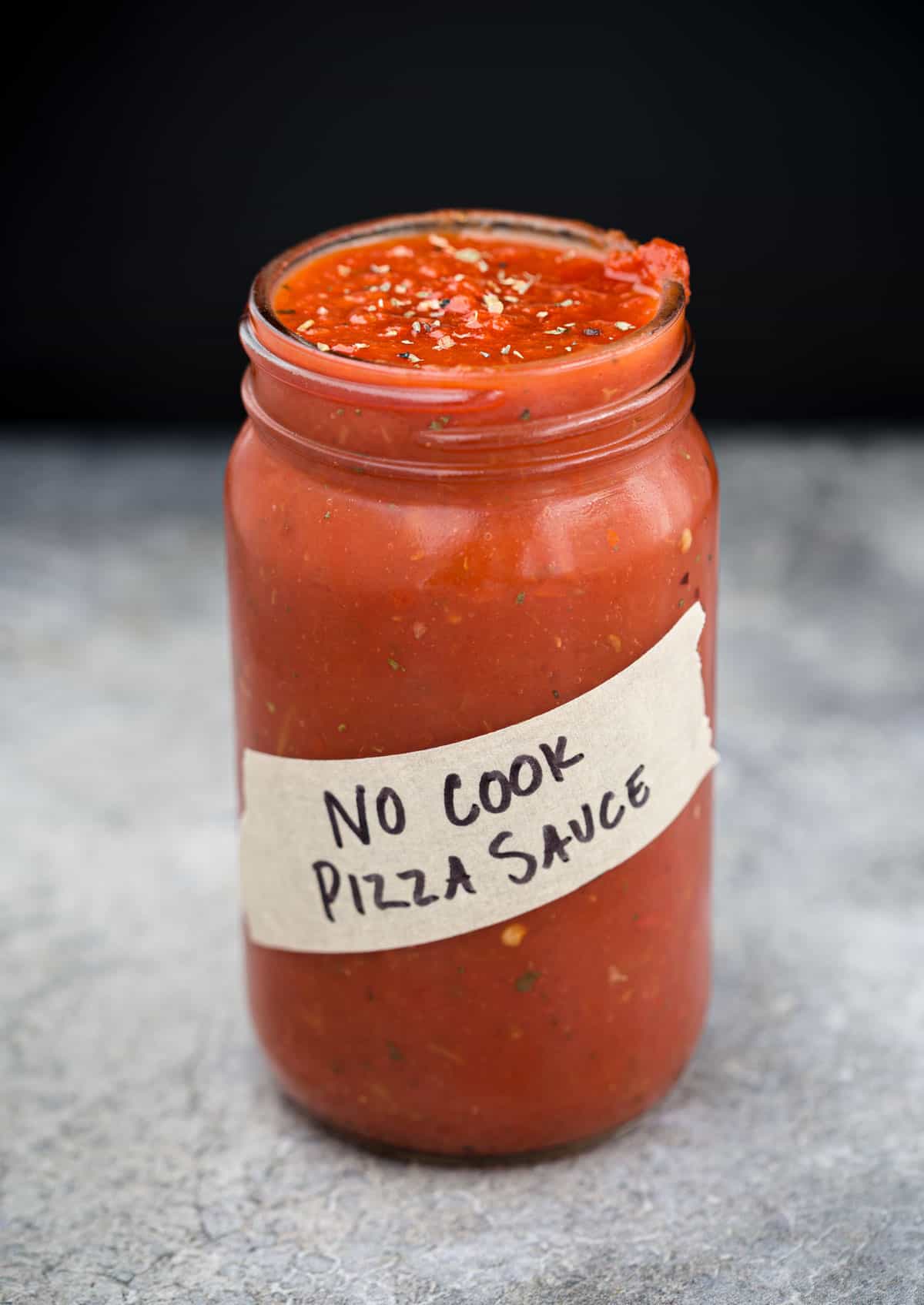 Storage
Store the no bake pizza sauce in a 16-ounce mason jar and store in the refrigerator. It will keep 5 to 7 days in case you want to make ahead.
More Recipes for Pizza Night
---