If you are looking for an easy single pizza dough recipe, this is it. This four ingredient dough makes one 12-inch pizza. This all purpose dough is easy to make and all you need is time and a touch of technique. We use this all the time for both regular (oven) and grilled pizza recipes, regardless of style of pizza.
If you want a larger batch check out our recipe for pizza dough that yields 3 11-inch pizzas. We also have a gluten free pizza dough recipe as well.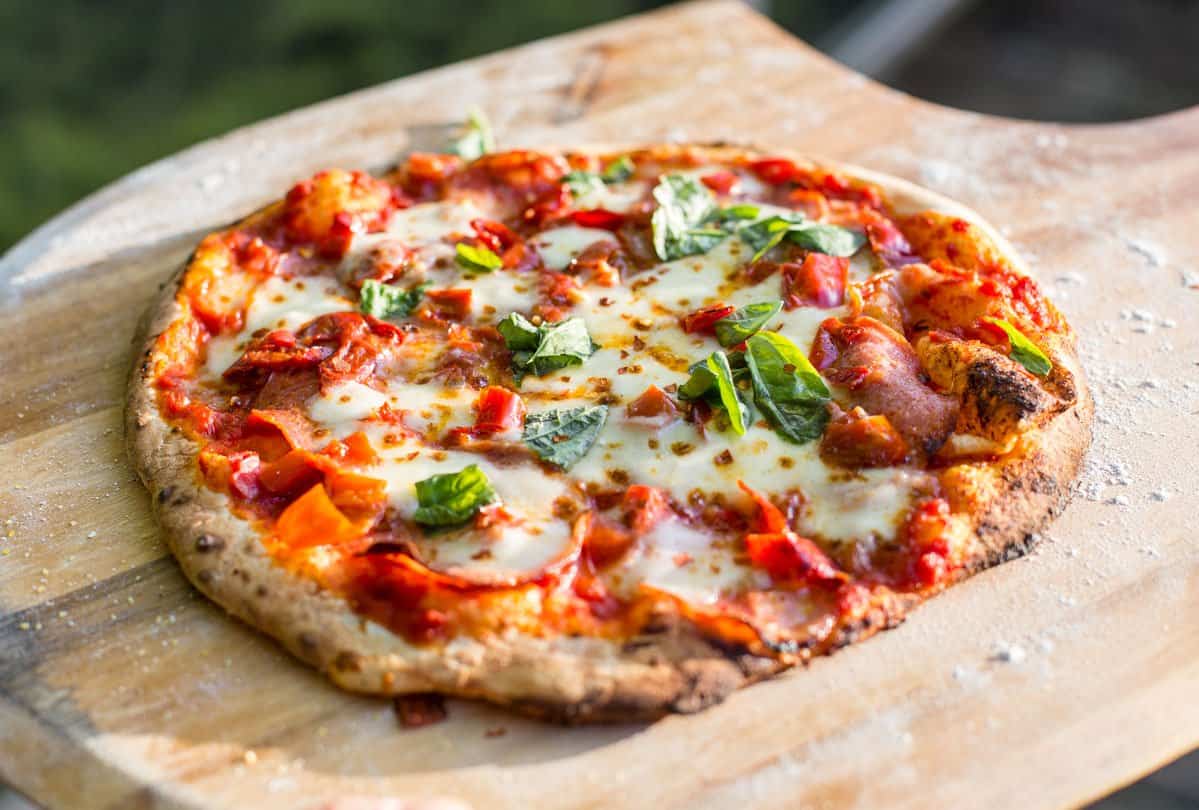 Making pizzas from scratch is experiencing huge growth. And for our style of outdoor cooking, there is no shortage of pizza cookers and grills that allow you to make great outdoor pizzas for crowds. Many dough recipes are intended for multiple (3-4) pizzas. But sometimes you just want one pizza. With a little planning this single dough is perfect and works in the oven or outside on a grill.
This post may contain affiliate links. This means if you click on the link, we may receive a small commission if you purchase through the link. We partner with brands we know and love and use and it helps keep the blog going!
Jump to:
Ingredients for a Single Pizza Dough
For single pizza dough we recommend a bread flour for the gluten levels. You can use an all purpose flour too, but it won't have the same elasticity. Also use FRESH yeast. After about 6 months, it does not tend to activate in the warm water as well. We don't use sugar in this recipe, so it can be an all purpose dough (great for hot wood fired pizza ovens and also at lower temperature kitchen ovens). Sugar is not recommended for high heat ovens, so we leave it out for this recipe all together.
We use:
Warm Water (targeting between 95 and 105 degrees Fahrenheit)
Yeast
Kosher Salt
Bread Flour
See recipe card for quantities.
Preparation
Plan about 6 to 7 hours for the dough, with most of that time being fermentation.
We like to make this early in the morning before getting started for work on Friday so it's ready for the afternoon for Friday pizza night.
Instructions for a Single Pizza Dough
Good homemade pizza dough takes time and some planning. But the best part of the experience is being able to adjust your dough to the style you like. The first step in making a single pizza dough recipe is to activate the yeast. Start by measuring and weighing all your ingredients in separate containers. You could use a mixer for this but we find it faster to just do this in a bowl.
In a large bowl, combine the warm water, yeast, and kosher salt. Stir to combine and then let sit for 5 minutes. The warm water and the time will start to activate the yeast.
Next, add the flour to the bowl and, with your hands, stir to combine the liquid and the flour with your hands for 30 seconds.
After 30 seconds of mixing the dough will still be wet. Roughly form the dough into a ball in the bowl and cover with plastic wrap. It's now going to rise for 30 minutes.
After 30 minutes, the yeast has activated, the dough is starting to rise and it's time for the longer fermentation.
Lightly flour your hands and a cutting board, and gently remove the dough from the bowl. Kneed the dough for 30 seconds by gently folding the dough like a trifold wallet and pressing. I do this about 4 times (over 30 seconds). Begin to form the dough ball by cupping it with your hands. The seam from folding is on the bottom and the top should be smooth. Place the dough ball into a lightly oiled (we use olive oil) bowl and cover with plastic wrap for second fermentation.
Let the dough ball rise for 4 – 6 additional hours and then it's ready to use.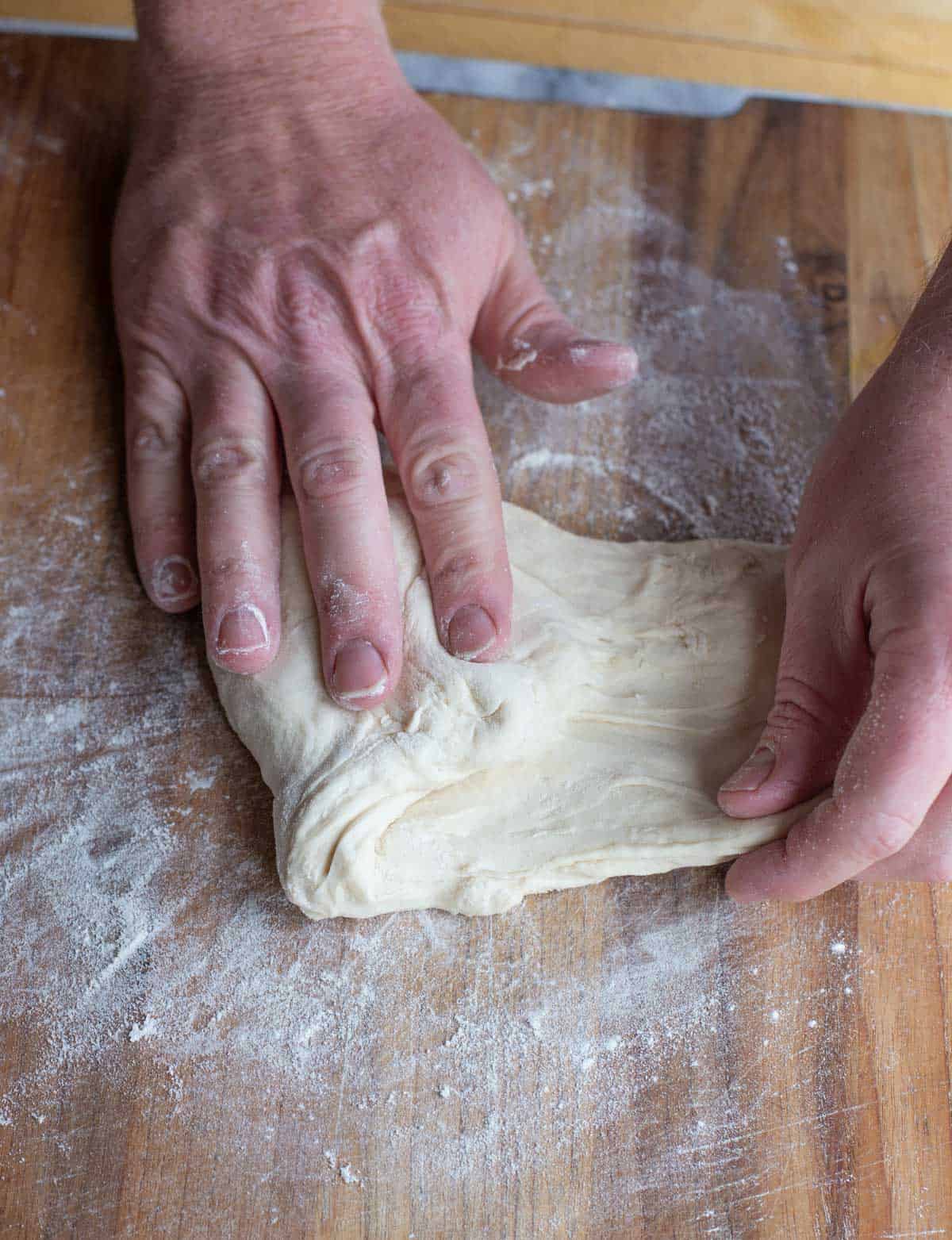 Equipment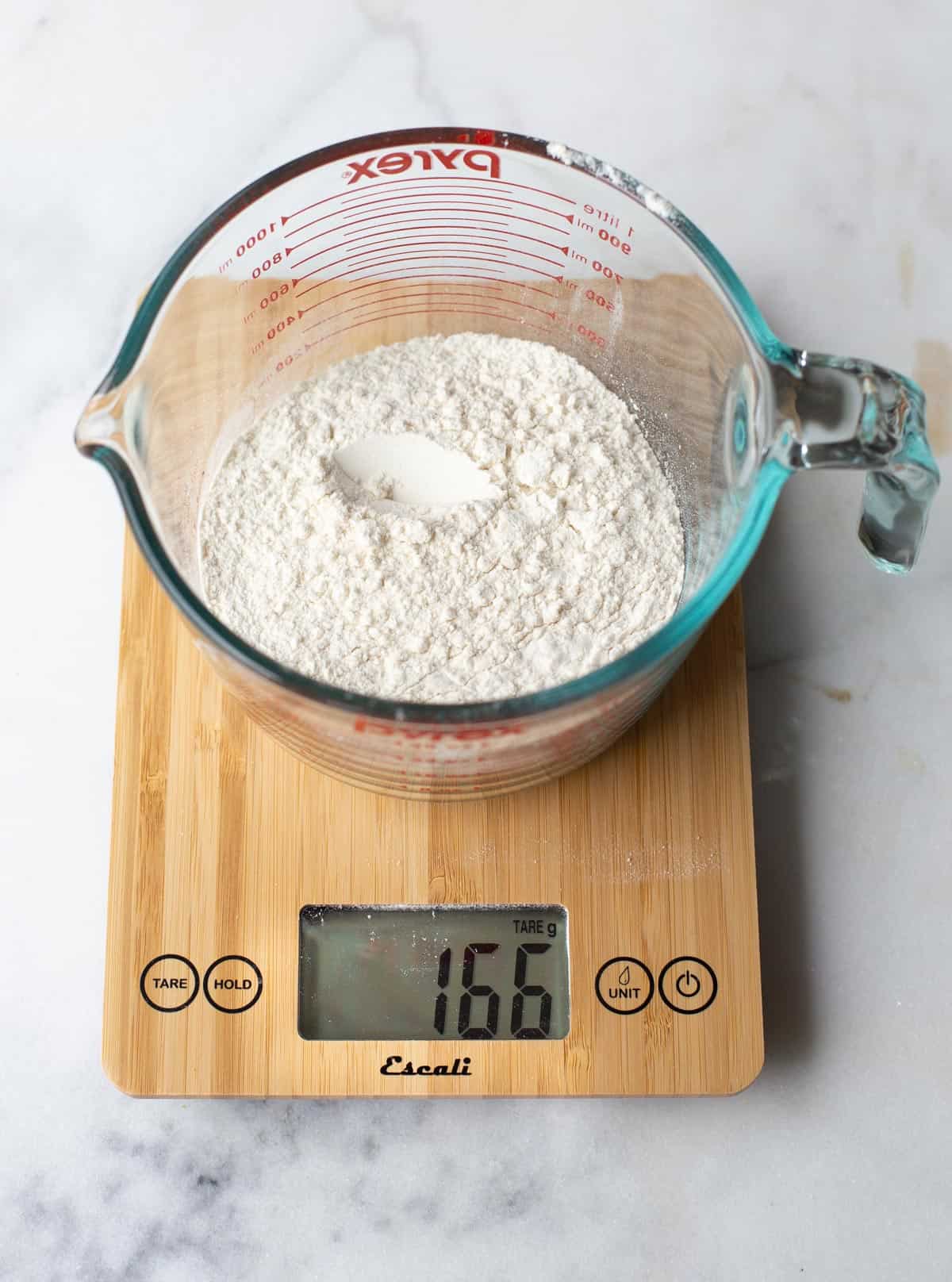 If you plan to make dough regularly a few investments are really important. A must have is a good digital scale with a tare feature. You want precision with dough and weighing the ingredients is the most important step. For dough we do not measure in cup measurements. It's essential, for good dough, to measure in exact grams.
Next you want some good bowls for both making the dough and letting it rise. Two are fine so you can make the dough first, and then after the first fermentation you can transfer it to a second clean bowl.
Plastic wrap helps to cover the bowl to lock in the heat and moisture as it ferments.
There are other tools we like and highlight in our complete guide to pizza tools, but a scale and some bowls are a good place to start.
Making Single Pizza Dough in Advance
Feel free to prep this a day early. If you do this, wrap the dough after the third or fourth hour of second fermentation, wrap in a lightly floured container or plastic wrap and place in the refrigerator.
Prior to making the pizza, remove the dough from the refrigerator and let come to room temperature (about an hour). This dough is best used within 24 hours of making it.
Top Tip
We keep our house cold, and dough needs a warm environment to rise. So we turn the light on in our oven, and that light will keep the oven at around 70 – 80 degrees. A perfect temperature for the dough to ferment for both the first and second fermentation. This was an idea we sourced from Chef Billy Parisi. Note – we do not turn the oven on, just the light, and then we put the dough in the oven to rise.
Also, be patient, it takes time to perfect your dough but is worth it in the end. You'll find after a while that it's easy and you can scale up to larger pizza dough portions pretty quickly.
Pizza Recipes
Here are some of our favorite pizza recipes using this dough.
---