This Grilled Halibut Recipe combines the savory flavors of open-flame char with the sweet and spicy flavors of a mango and jalapeño salsa. We walk through the steps on how to Grill Halibut perfectly every time, so you don't overcook it.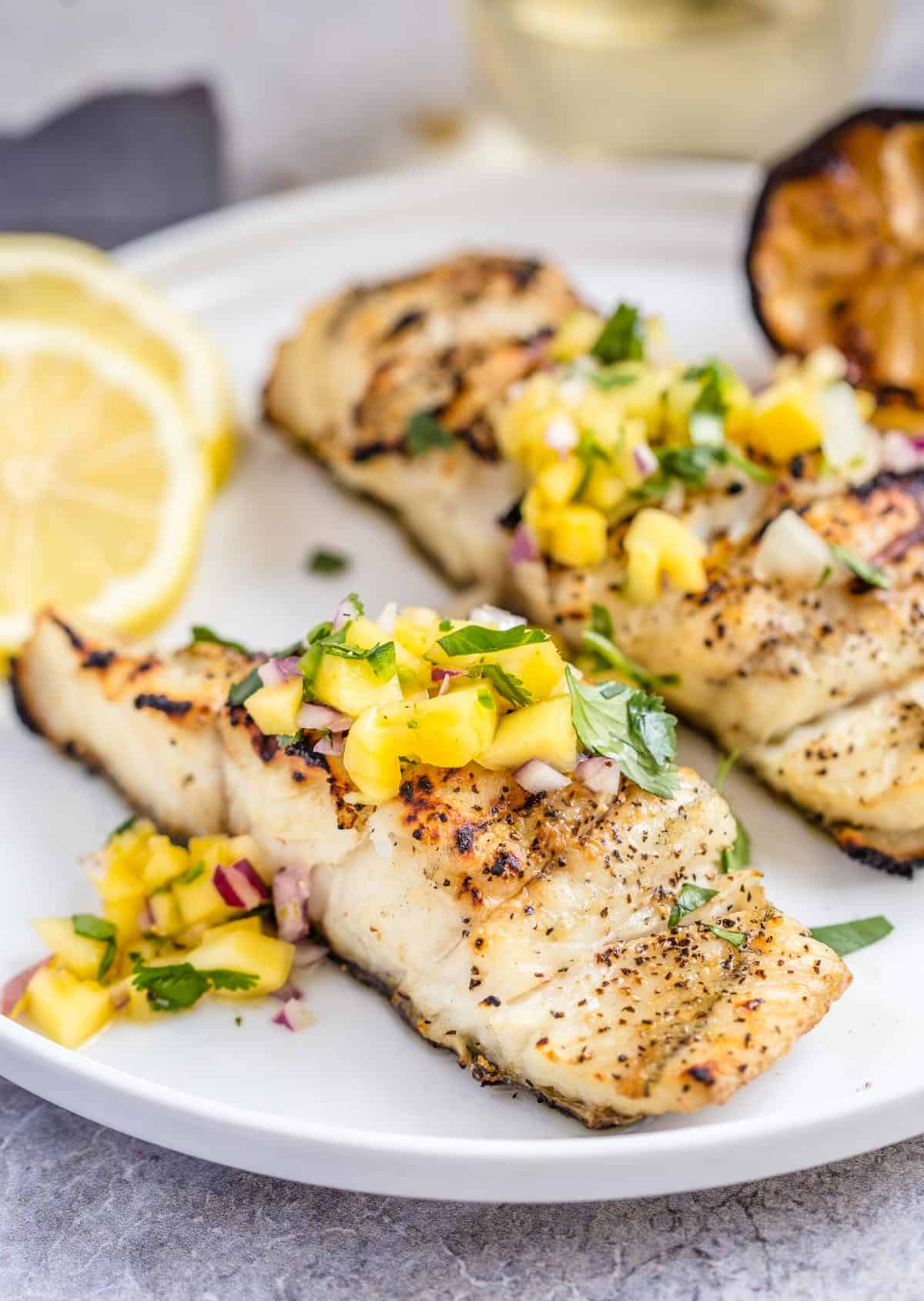 Let's face it, halibut is an expensive cut of fish, and for good reason. This cold weather white fish has a clean and fresh flavor, and is one of my all time favorite fish to cook with. Since this cut isn't cheap, we don't want to mess it up!
Jump to:
The Cut – Halibut
The flavor of halibut is buttery, rich, and incredibly juicy when cooked correctly. There is no other white fish I can think of that melts in your mouth with such a clean flavor. These flatfish are typically large and have very little fat, so when cooking, it's important to pay attention to the process so you don't overcook it (and thus dry it out). And this comes down to starting with a hot grill and using a good thermometer to test when the Halibut is done.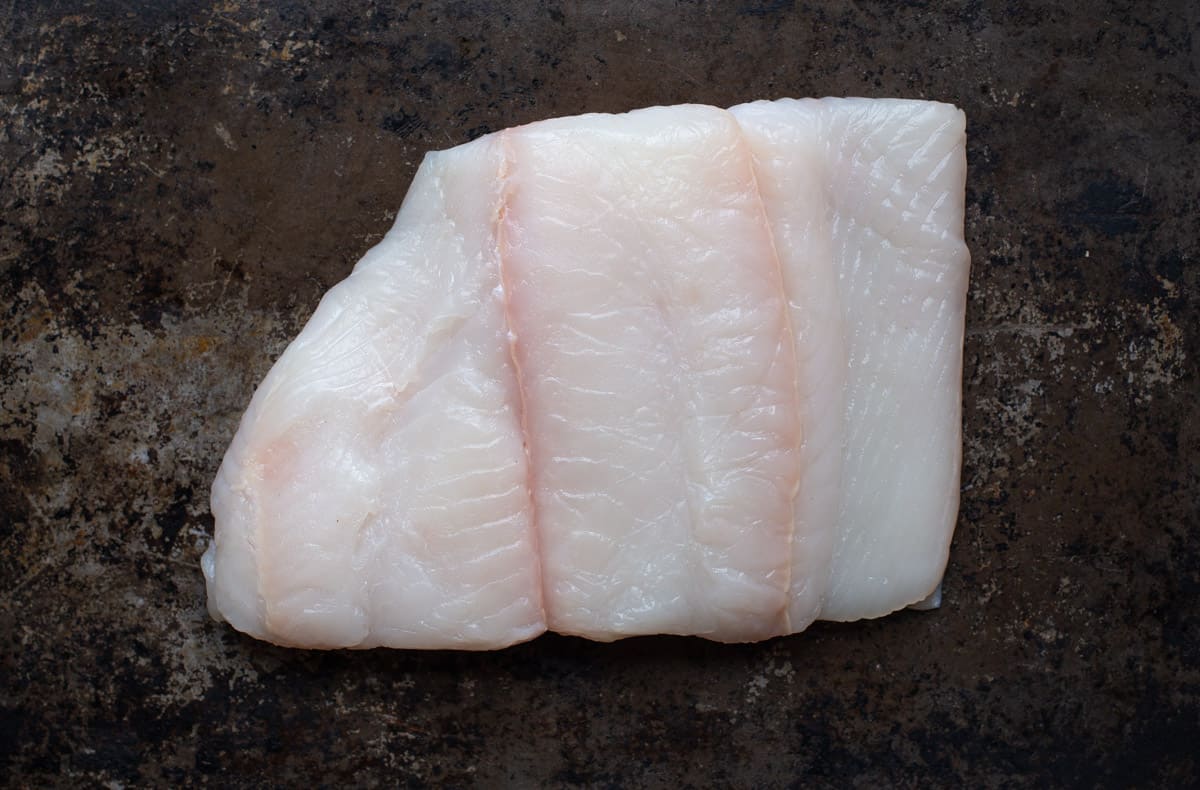 When buying Halibut for the grill, it's best to buy filets with the skin on. Be sure to ask the fish monger to remove the pin bones, otherwise you will need to do it. In addition to buying the filet, try to find it with skin on. The skin will hold together the delicate fish when grilling, unlike poaching or a pan sear. If you can't find skin on (it will only be on one side) then the preparation will be even more important to avoid sticking to the grill.
Grilled Halibut Seasoning
Unlike other bolder-flavored fish where we may add our seafood seasoning, for halibut we season very simply with our beef seasoning, which is simply kosher salt, granulated garlic, and coarse black pepper. We treat halibut like a filet mignon. Simple season to let the quality fish stand out on its own, and then finish by topping with a delicious fresh salsa to complement the bite.
Preparing to Cook Halibut on the Grill
One of the big secrets to grilling halibut is a hot fire, and well-oiled grill grates (and also well-oiled fish).
Preheat the grill for direct grilling with the temperature of the grill over direct heat at 500 – 550 degrees Fahrenheit.
Be sure the grill grates are CLEAN and OILED. After any cook it's good practice to clean off the grill grates and remove creosote or old fat and residue, but for fish, it's doubly important. Without a clean and well-oiled grill, you can easily cause the fish to stick to the grill and then it falls apart.
Cut the filets into your desired size. If you try to grill the entire filet at once and then slice into individual steaks, it may fall apart. So trim the filet into individual cuts BEFORE you season and grill.
Season the halibut. This means a generous amount of extra virgin olive oil all over the fish and then season with the SPG rub (or your favorite seasoning).
Make the salsa. The fish will cook quickly, so having the salsa done in advance is so much easier to get the salsa plated with the hot fish.
That's it. The grill is hot and oiled, the fish is seasoned, salsa is made, and it's time to grill.
Equipment Recommendation: If you don't have a metal fish spatula or large wide spatula, this is a great time to consider investing in one. It makes flipping large cuts of fish easy and keeps them intact.
Mango Salsa Ingredients
A Mango Salsa is great on any fish, chicken, or as a stand-alone dish with chips. Ours combines citrus, heat, and onion and is a fabulous addition to our Halibut recipe.
Mango – First, when buying a mango, be sure it is ripe. There is a big difference in flavor. A ripe mango is soft to the touch but not squishy. If the mango is very hard, it will be difficult to cut and the flavor will be bland and muted.
Jalapeño – Dice with the ribs and seeds removed (this will minimize the heat units). If you don't like heat at all, substitute with a poblano pepper.
Onion – We prefer red onion for the heat and bite. Sweet or white onions are another great option. We avoid yellow because they tend to have the least flavor raw when using in a salsa like this.
Citrus – We combine fresh juice and zest of a lime (lemon is a good substitute for a brighter flavor).
Making the Mango Salsa
With a sharp boning knife, cut into the mango until the knife reaches the pit. Slowly cut around the pit in a straight line so you have one continuous cut around the pit (like an avocado). Then twist to remove the two halves. Use a spoon to remove the mango and then dice into small bites.
If the mango is not ripe it won't twist. So it's best to make the same cut, but then remove the skin. From there dice it up. Yes, it will be a pain if it's not ripe.
From there dice up the remaining ingredients and then combine them in a bowl. Add salt as desired, mix it up, and it's ready to go. You can make this the day before for easier prep.
How To Grill Halibut
Are you ready to cook the halibut? Take these 6 easy-to-follow instructions to get properly cooked halibut in a short time!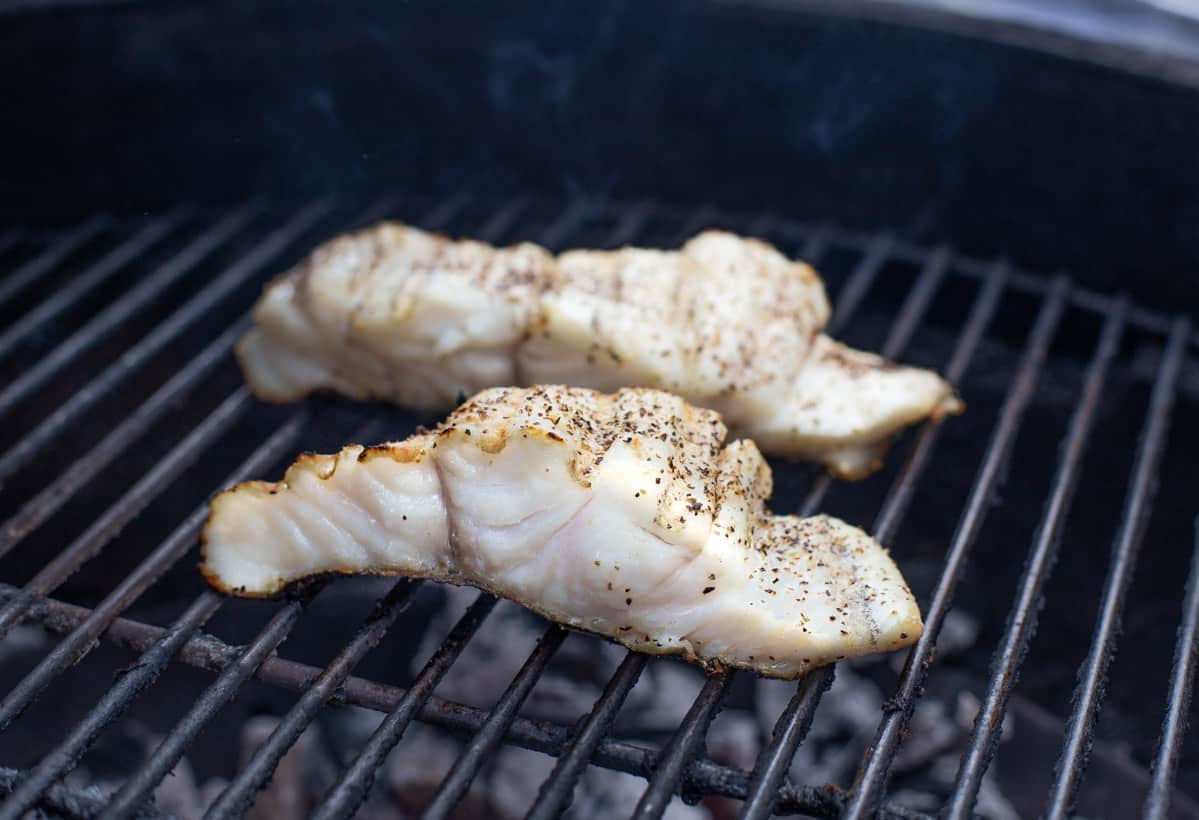 Place the halibut over direct heat on the well-oiled grill, skin facing up, and grill for 5 minutes. The halibut is ready to flip when you can easily move the halibut, because the initial sear is done. It should not stick. Depending on grill temperature it can take 4 – 8 minutes, but on average 5 minutes. Don't worry about
Flip the halibut skin side down, over direct heat, and grill for additional 5-6 minutes, depending on the thickness of the halibut. The skin can absorb the heat, even if it scorches. Remove the halibut when the internal temperature reads 135 degrees Fahrenheit, using a good instant-read thermometer like the Thermoworks MK4 Thermapen.
Remove and plate with your favorite sides. Spoon the salsa over the halibut.
How Long to Grill Halibut
Overall, grilling halibut takes approximately up to 15 minutes. But it's ultimately determined by the thickness of the fillet. Cook for around 5 minutes on each side before flipping. Use a meat thermometer to continue grilling your halibut until it reaches a temperature of 135 degrees F.
Wine Pairing with Grilled Halibut
The flavor of grilled halibut is fresh and clean with that slight char from the grill. Topped with the fresh citrus and mango salsa makes it a great choice for a white wine with equal freshness and zestiness. I love Spanish Albariño with halibut. Pinot Gris/Grigio, unoaked Chardonnay, Muscadet, and even sparkling wine work also work great!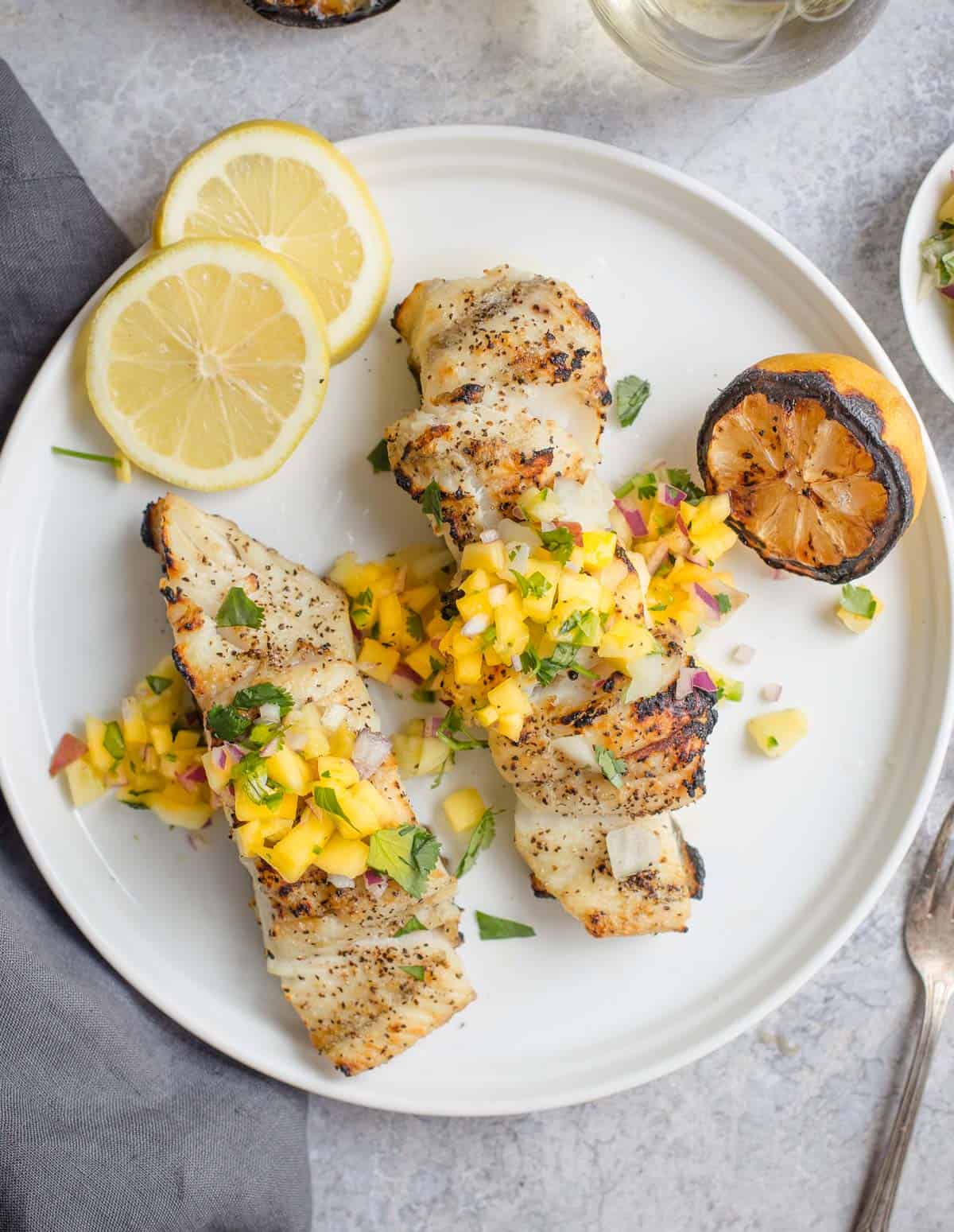 Other Great Grilled Seafood Recipes
This post may contain affiliate links. This means if you click on the link, we may receive a small commission if you purchase through the link. We partner with brands we know and love and use and it helps keep the blog going!