Grilled Ahi Tuna Steak is easy and absolutely delicious! The savory lime and soy based dipping sauce in this recipe is mouthwatering and full of flavor. Learn how to grill tuna steaks in less than 10 minutes, including a great dipping sauce, using any type of grill.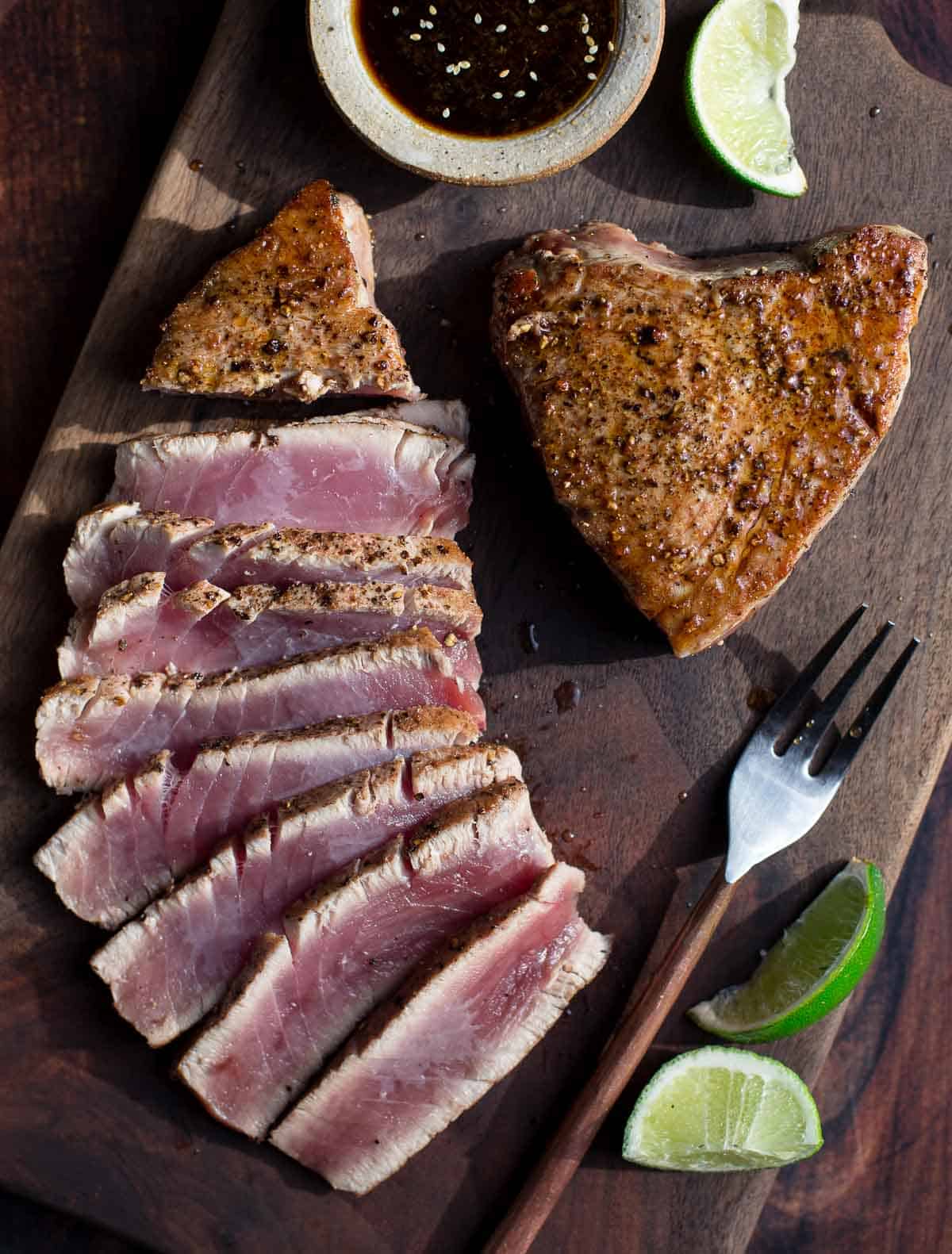 Recipe Highlights
This recipe is focused on fresh (Ahi) tuna cooked on a grill over high heat.
The goal is a good sear on the outside leaving a rare center.
A thick cut of fresh tuna is important for the right flavor and texture and to avoid overcooking.
Jump to:
Type of Tuna
There are many different species of tuna that can be sourced for various tuna recipes, from poke bowls to tuna salad.
Ahi Tuna or Yellowfin Tuna – Our preferred for this recipe. Often found in tropical warm waters. It is leaner with less fat than Bluefin. Often seen in poke and makes great steaks given their size and flavor.
Bluefin Tuna – From the Atlantic ocean it tends to be used more for sushi, versus cut up for steaks, given its higher fat content compared to Yellowfin.
Skipjack Tuna – A more common tuna caught all over the world, it takes on a characteristic more like Albacore. Rich in flavor but not as large as compared to Ahi.
Albacore Tuna – Albacore is more often used for canned tuna in water or oil. It's still very good, but we do not recommend using this recipe with Albacore.
What to Know When Buying Tuna
Try to source raw tuna from a quality local fish market. They will typically be bringing in fresh or frozen tuna in real time and selling through them quickly for the best flavor.
If you are not near fish markets or not close to the ocean, then the most common type of tuna you will see in local grocery stores is Yellowfin tuna (also known as Ahi tuna). When fresh and cut thick, it's one of the best for grilling tuna steaks.
Specifically look for thick cut of tuna that are at least 1 ½ inches thick. This allows a quick sear on both sides while leaving a nice pink center.
Try to buy them fresh. The frozen tuna steaks in the freezer section of your grocer may be thinner, and (more importantly) when thawed look more an ashen gray from the freeze drying process. The tuna steaks should have a pink and fresh look. They should not have an oily sheen or any graying. If they do, do not buy them.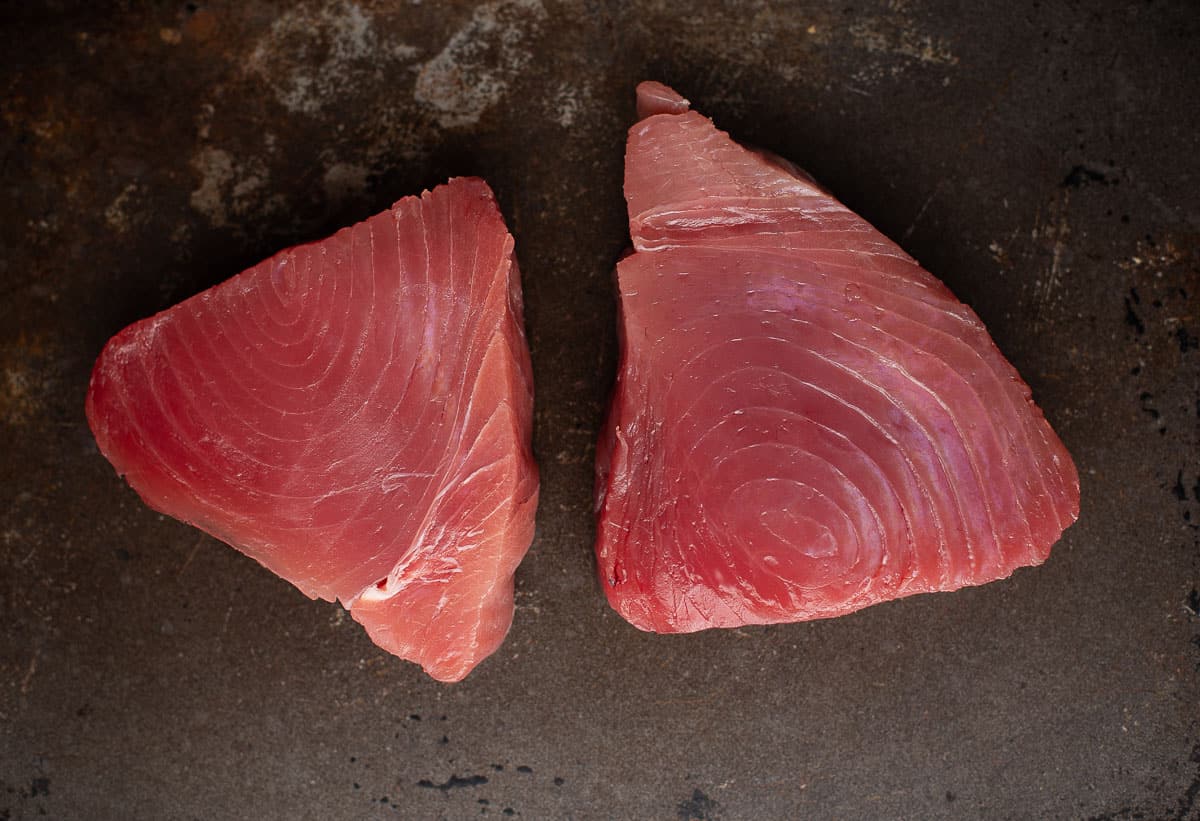 Here is a great visual resource on the various species of tuna.
Note on Sushi Grade Tuna: Tuna is dense and tends to resist parasites better than say, salmon. Most tuna can be eaten raw if sourced from the proper fish monger or market. Sushi grade, or sashimi grade tuna, refers more to tuna that is fresh and has a specific look and texture.
Ingredients for Grilled Ahi Tuna Steaks
Fresh Ahi Tuna Steaks
Extra Virgin Olive Oil
Kosher Salt
Coarse Black Pepper
Soy Sauce
Lime Juice
Honey
Garlic
Fresh Ginger
Fish Sauce
Optional: Sesame Seeds
Amounts are in the recipe card.
Dipping Sauce
Tuna is very lean, so instead of a marinade we prefer a simple dipping sauce to add flavor at the end. Combine all the dipping sauce ingredients in a small bowl right before grilling the tuna.
Seasoning
We use an equal mix of kosher salt and coarse black pepper. Simply coat the tuna with extra virgin olive oil and the salt and pepper seasoning. When using only two ingredients for the seasoning, use the best quality salt you can find.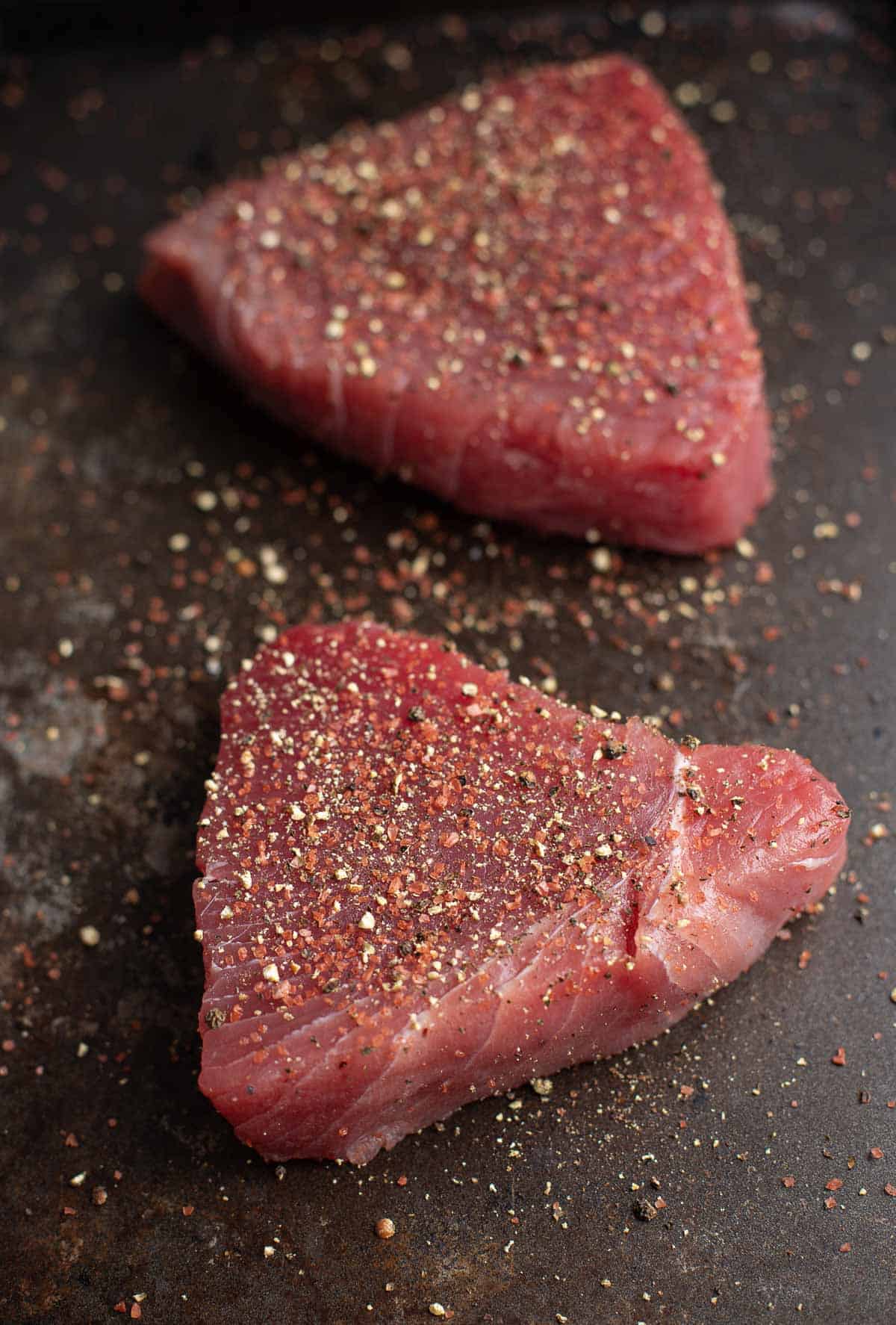 Preparation and Equipment
It's absolutely important to have a CLEAN grill rack. Any residue from previous cooking will stick to the tuna and can cause tearing. So be sure you have scraped off and cleaned your grill grates. A well oiled tuna steak will also help prevent sticking.
The grill should also be HOT and prepared for direct grilling. Target 600 degrees Fahrenheit. This level of heat will allow a nice sear and avoid overcooking the interior of the steak.
On a gas grill this means the burners are running on high.
On a charcoal grill you are set for direct grilling and cook as close to the charcoal as you can (on a grate).
We do NOT recommend this recipe if using most pellet grills as they don't get hot enough to perfectly sear the steaks (while leaving them close to raw on the inside).
If cooking inside we recommend using a cast-iron skillet over high heat versus a grill pan. Be sure the skillet is seasoned and hot.
We also recommend having a good fish spatula to flip on the grill. It is much more delicate and prevents the tuna from falling apart when flipping.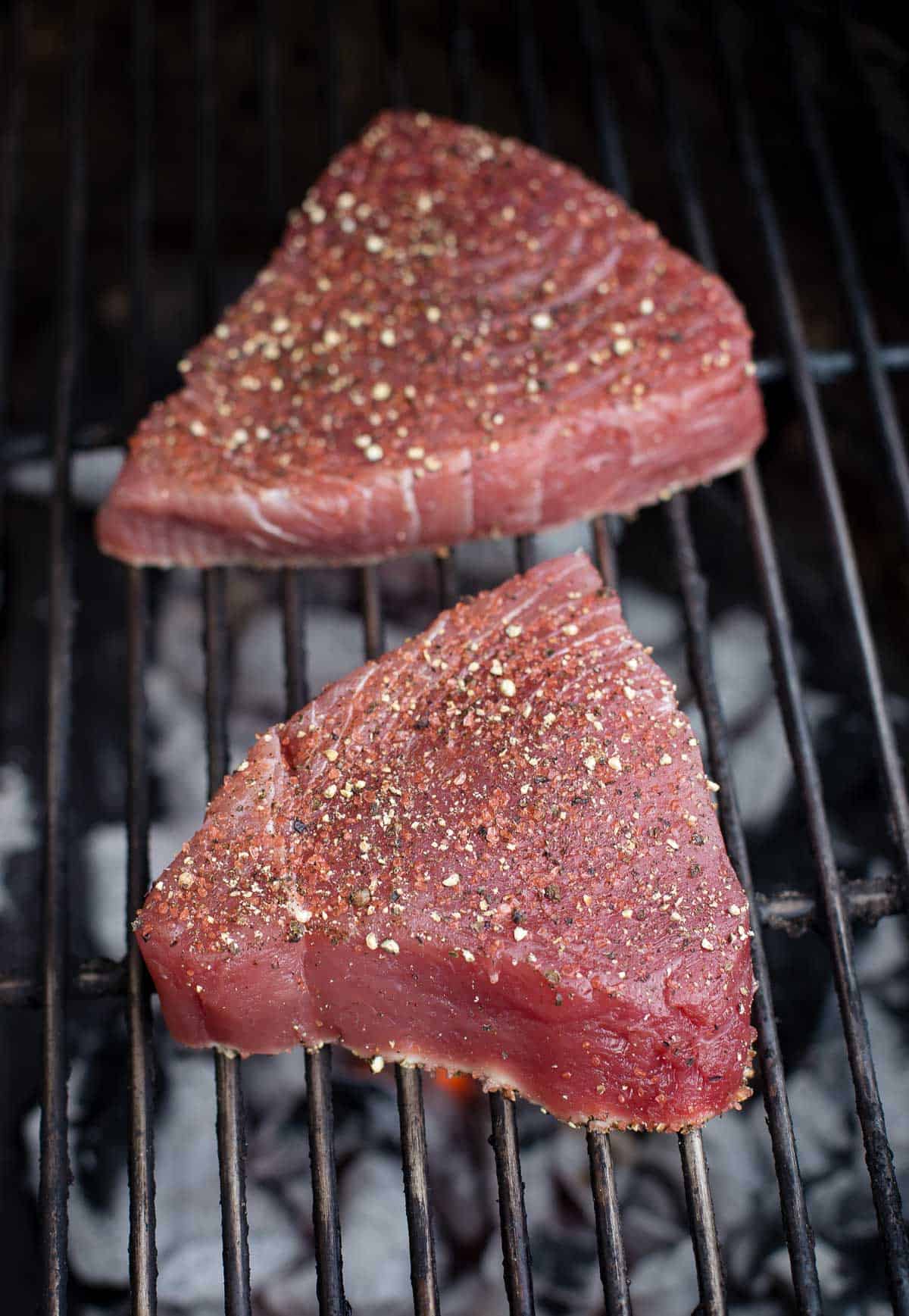 Myth
You do not need to let the steaks come to room temperature. The interior of the tuna will not "come to room temperature". Just be sure it's well oiled and seasoned prior to putting on the hot grill.
How To Grill Tuna Steaks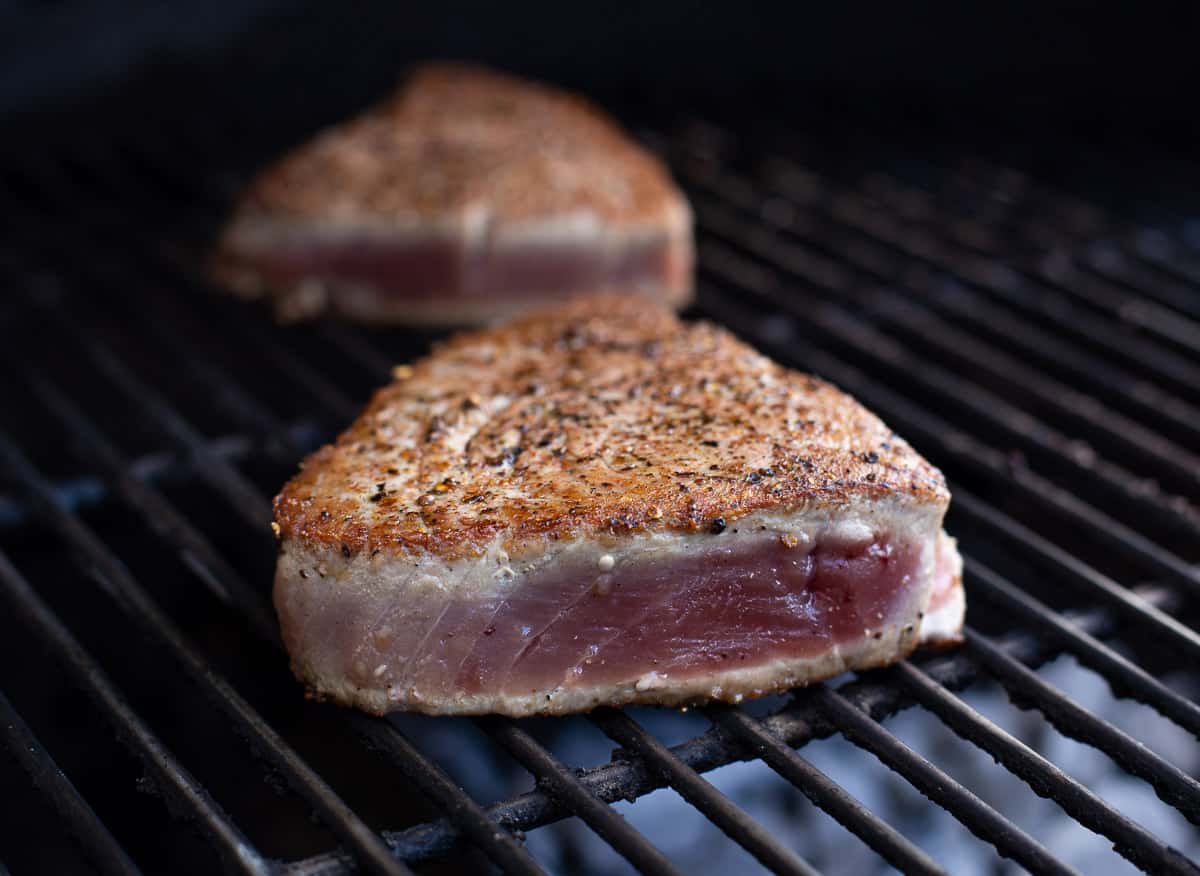 Dipping Sauce: Combine ingredients in a small bowl and set aside. Once the grill is hot the steaks cook in just a couple minutes and they are best warm. So having the sauce done first allows you to eat the grilled tuna steak warm.
Prep Grill: Set up the grill for direct grilling with lump charcoal and target 600 degrees Fahrenheit. If using a gas grill use the burners on high for the same target temperature.
Season Meat: Coat in olive oil and sprinkle tuna with salt and pepper.
Grill: Place tuna steaks over the direct heat. After just barely 2-3 minutes, the sear will occur and the tuna will easily release from the grill grates and be ready to flip. Use good tongs to flip or a fish spatula (preferred). If the tuna is not easily releasing, let it continue cooking another 30 seconds.
Flip: And continue grilling over direct heat again for barely 2 – 3 minutes. Then remove. You'll see that the center of the tuna is still still pink, which is the goal.
Serve: Slice and serve immediately with the soy ginger dipping sauce. Serve the slices warm as an appetizer, or plate it with the sauce for each guest.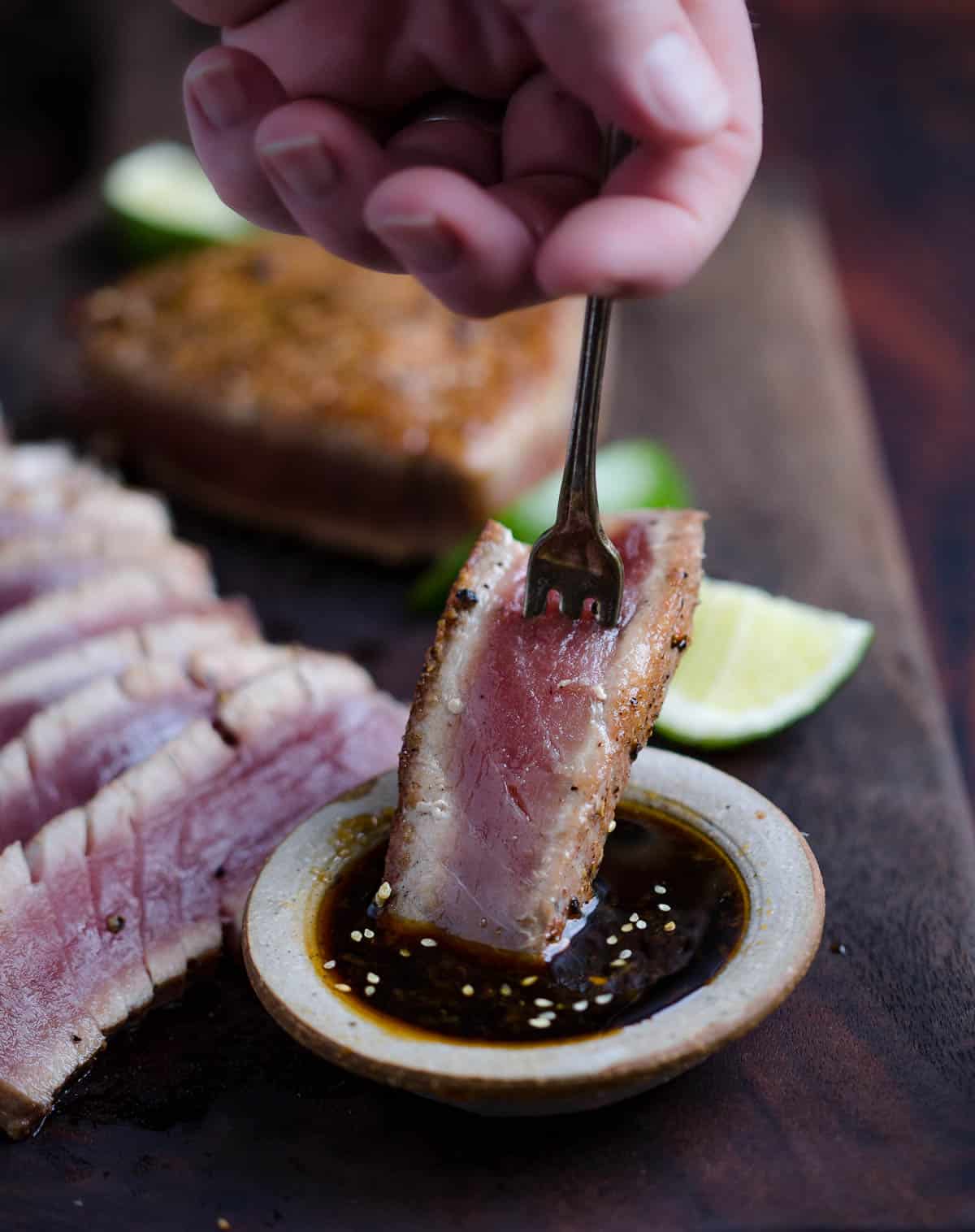 How Long To Grill Tuna Steaks
Tuna cooks fast when cooked over a very hot grill. With a 1 ½ inch steak it should take no longer than 2-3 minutes per side at 600 degrees F over direct heat.
Temperature Ranges for Grilled Tuna Steak
If you like your tuna cooked more that's fine. Here are our chef's ranges for tuna.
Rare: up to 100 degrees F
Medium Rare: 100 – 120 degrees F
Medium: 120 – 130 degrees F
Well: over 130 and we don't typically cook our tuna that high (145 is the USDA recommended temperature)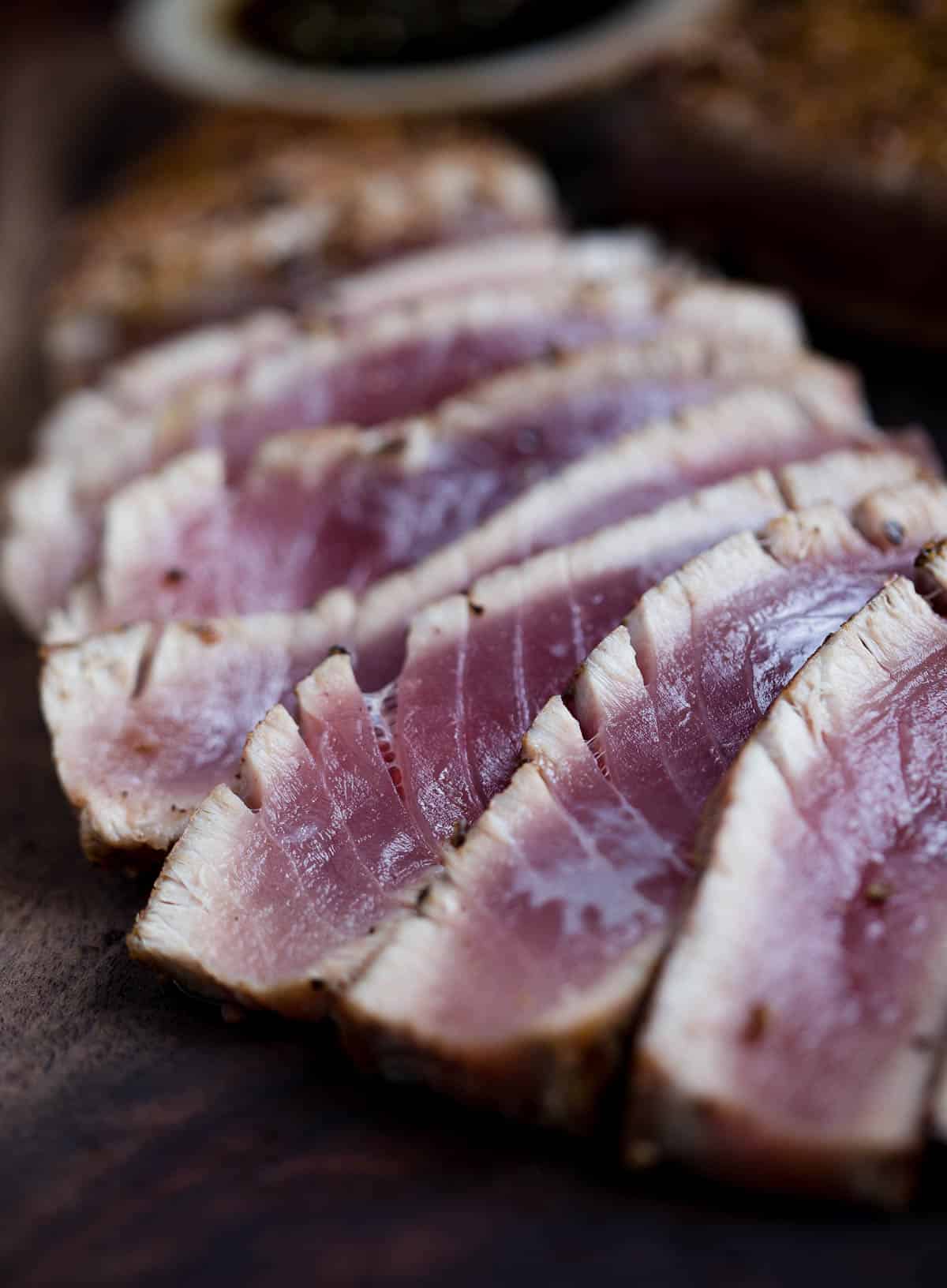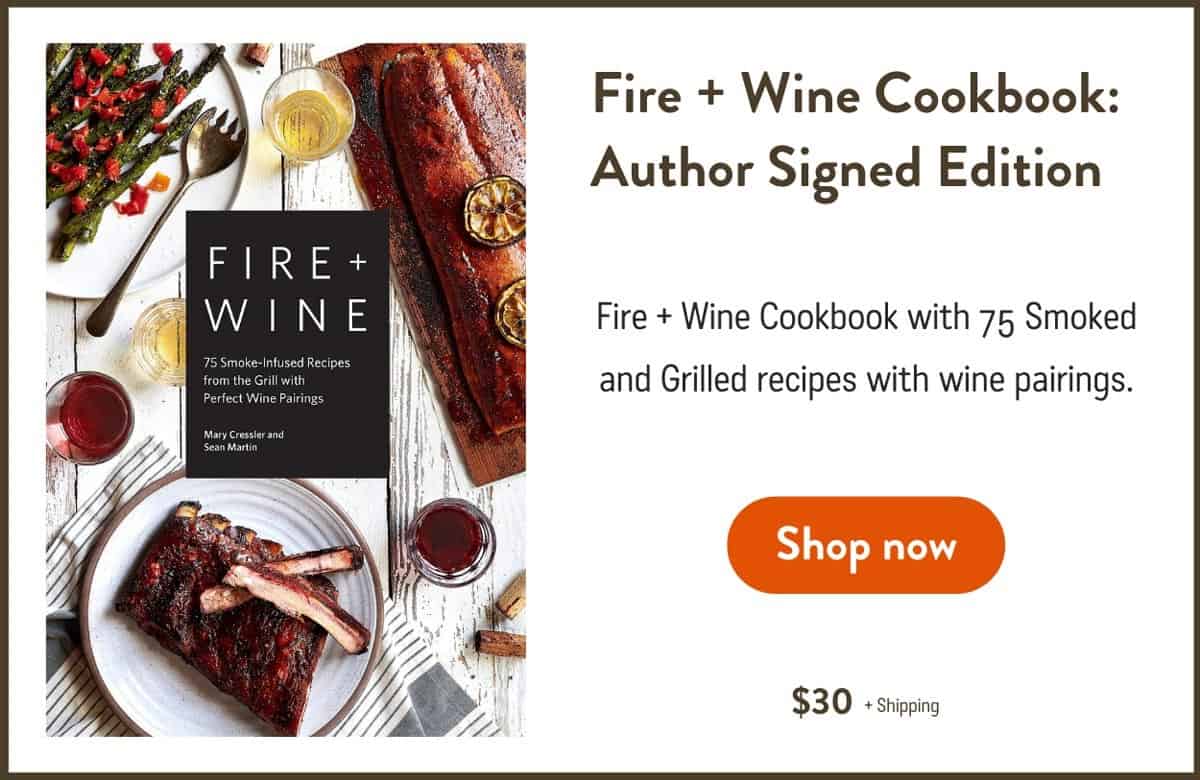 Other Favorite Seafood Recipes
---
Tried this recipe? Give us a star rating and we would love to see! Mention @vindulge or use the hashtag #vindulge on all the social media handles. And consider subscribing to our newsletter where we drop all our favorite ideas and inspirations every week.
Mary (a certified sommelier and recipe developer) and Sean (backyard pitmaster) are co-authors of the critically acclaimed cookbook, Fire + Wine, and have been creating content for the IACP nominated website Vindulge since 2009. They live in Oregon on a farm just outside Portland.
This post may contain affiliate links. This means if you click on the link, we may receive a small commission if you purchase through the link. We partner with brands we know and love and use and it helps keep the blog going!