It's important to have a go to seafood seasoning. From Salmon, to crab cakes, to shrimp, or Halibut, this easy homemade seafood seasoning is a blend of spices that has a touch of heat, a touch of savory, and a punch of flavor for the delicate flavors of seafood.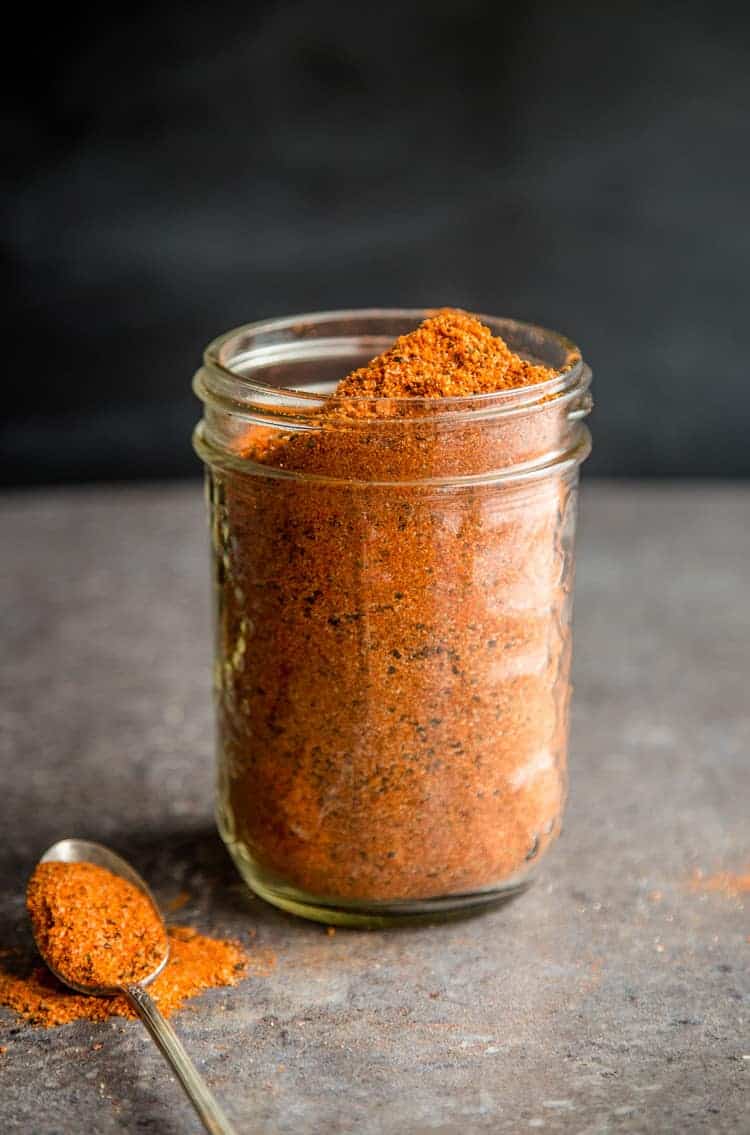 Recipe Highlights
This seafood rub is perfect for all types of fish, including shell fish, and is inspired by the aromatics of old bay seasoning.
This is gluten free and sugar free to avoid burning the delicate fish when cooking with high heat.
You can also use this for crab seasoning or a crab or crawfish boil. Just drop it in the water for seasoning.
Jump to:
Easy Seafood Rub
When looking at good seafood seafood seasoning, our approach is a mix of flavors that won't overpower what is typically a very delicate fish (especially white fish like halibut, cod, or tilapia).
For any seasoning or rub, we follow the basic principles of sweet, salt, savory, and heat. You can read more about that in our post for the Ultimate Homemade Dry Rub. Specific to seafood, we like to emulate a salt and savory mouth feel and avoid sugar because seafood is often cooked or grilled at high temperatures. Sugar can easily burn when cooked quickly at high heat.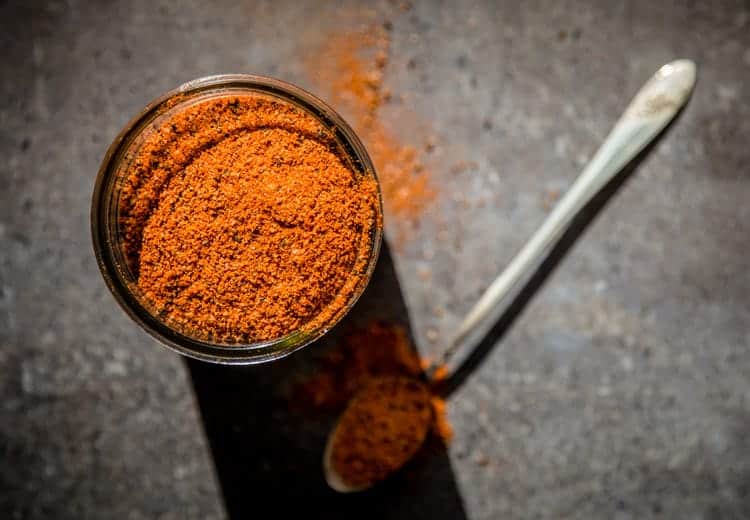 Ingredients
When making your own spice blend, use a blend of spices that are fresh or less than one year old after being opened.
Salt – We specifically use kosher salt. Avoid iodized table salt as it will be too salty in these portions. You can also use sea salt, although often it's similar to kosher salt.
Pepper – We use coarse black pepper. We buy this in bulk so we don't have to use a grinder for the volume. If you want a lighter color you can substitute with white pepper.
Dry Ground Mustard – Dry mustard powder is a starch that adds body and a savory umami flavor.
Smoked Paprika – The earthy flavor is accentuated and the paprika brings the aroma that mimics old bay.
Granulated Garlic – A touch of garlic enhances the salt flavor. We use the larger granulated garlic. If using garlic powder reduce the portion by half.
Dried Sage – The herbal flavor stands out with the earthy and salty flavor. 
Cayenne – For heat we use cayenne. Just a little goes a long way.
Variations – You can customize with dried lemon peel, sweet paprika (or Hungarian paprika), or even onion powder. It depends on the flavor profile you are looking for.
Pro Tip – Make all your seasoning on the same day so you have it for a few months, especially before holiday and grilling season. 
Applying Seafood Seasoning
Before cooking your fish apply olive oil to the fish and then apply the seasoning liberally. If you are grilling be sure the grill grates are clean and oiled.
If pan searing we recommend butter in the hot pan.
If using this seafood rub for a boil plan this full portion for every gallon of water used.
Frequently Asked Questions
How do I Store Seafood Seasoning
Mason jars are the best storage for the seasoning. Smaller jars with shaker lids are typically too small and the seasoning does not come out. Best to use 8 or 16-ounce jars because they can store a fair amount of rub. These are my favorite for gifting, and these are the ones I use at home for everyday use.

Store in a dry and cool place tightly covered. This helps avoid clumping and prevents the need to add an anti-caking agent.
How Long will Seafood Seasoning Last?
Properly stored, any seasoning will last up to six months. When comparing store bought to home made seasonings, not using an anti-caking agent is what defines the shelf life. That….and eating a lot of seasoned fish.
What Portions Do I Use For Seafood
Typically 1 tablespoon of seasoning per pound of fish is the average portion we use. That may change if we do a large Salmon filet, or want to get a more blackened flavor.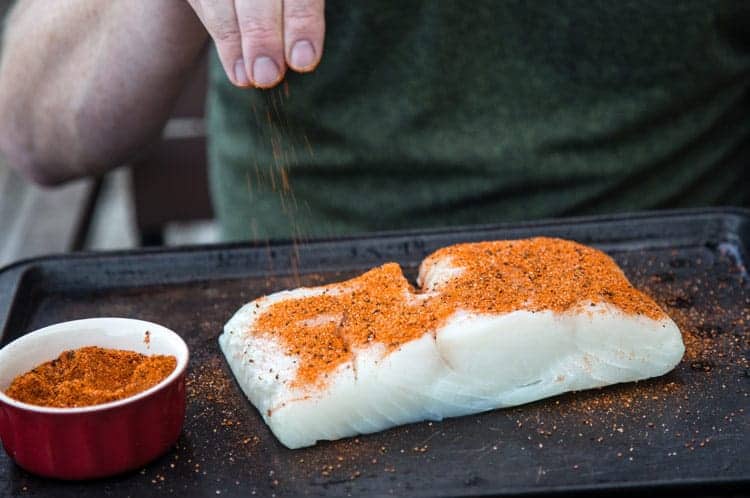 Reader Feedback – About Salt, not all kosher salt is the same. The weight varies. Consider adding smaller portions of salt to find the right balance that works for you. We do not recommend using iodized table salt which has come up by people saying this recipe is too salty.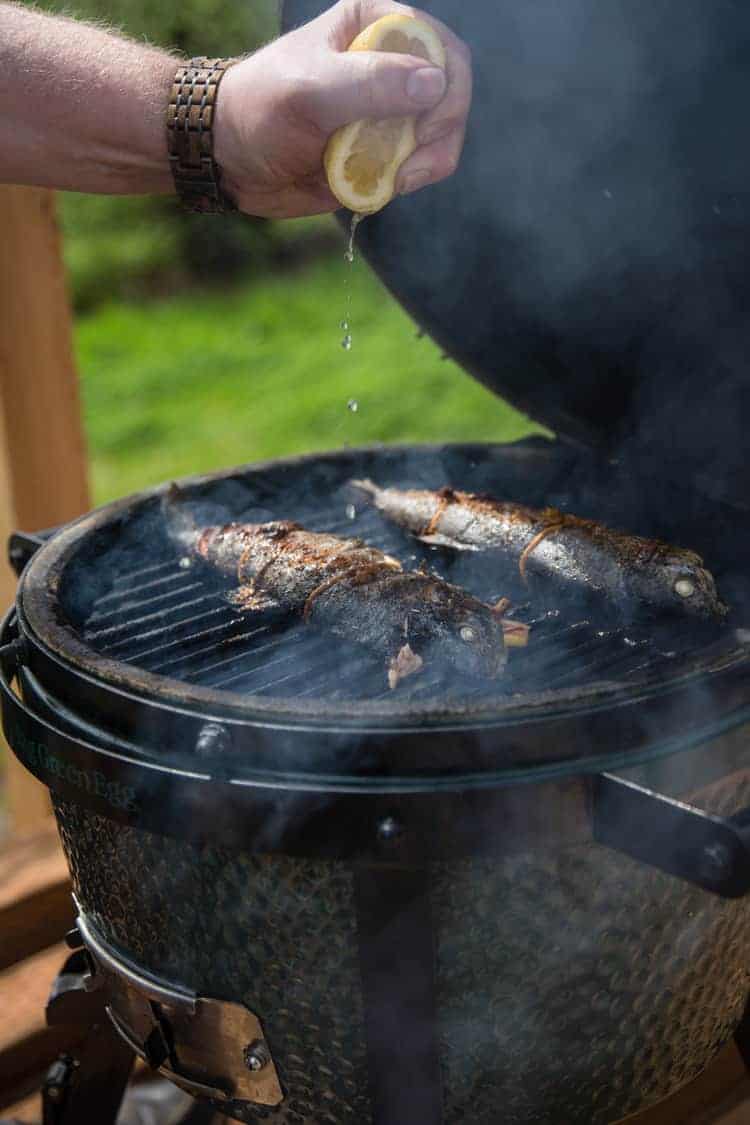 Seafood Recipes
Here are some recipes to try this seafood seasoning on.
Mary (a certified sommelier and recipe developer) and Sean (backyard pitmaster) are co-authors of the critically acclaimed cookbook, Fire + Wine, and have been creating content for the IACP nominated website Vindulge since 2009. They live in Oregon on a farm just outside Portland.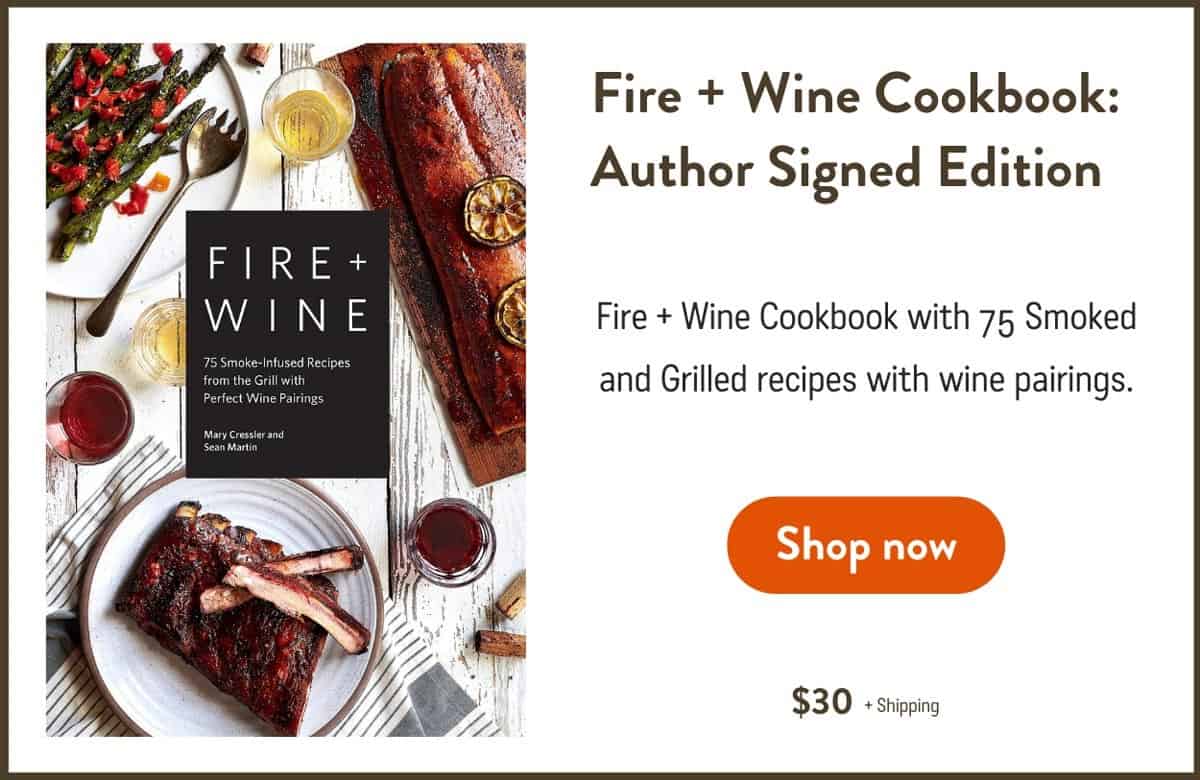 Tried this recipe? Give us a star rating and we would love to see! Mention @vindulge or use the hashtag #vindulge on all the social media handles. And consider subscribing to our newsletter where we drop all our favorite ideas and inspirations every week.
**This post contains affiliate links, which means should you click and purchase some of the items mentioned, we receive a small commission. This allows us to keep putting