A super easy and fast spicy chipotle grilled shrimp recipe with a simple marinade that starts with a can of chipotles. The marinade is finished with a mix of ingredients like honey and lime juice. Perfect for summer grilling season or a weeknight taco night.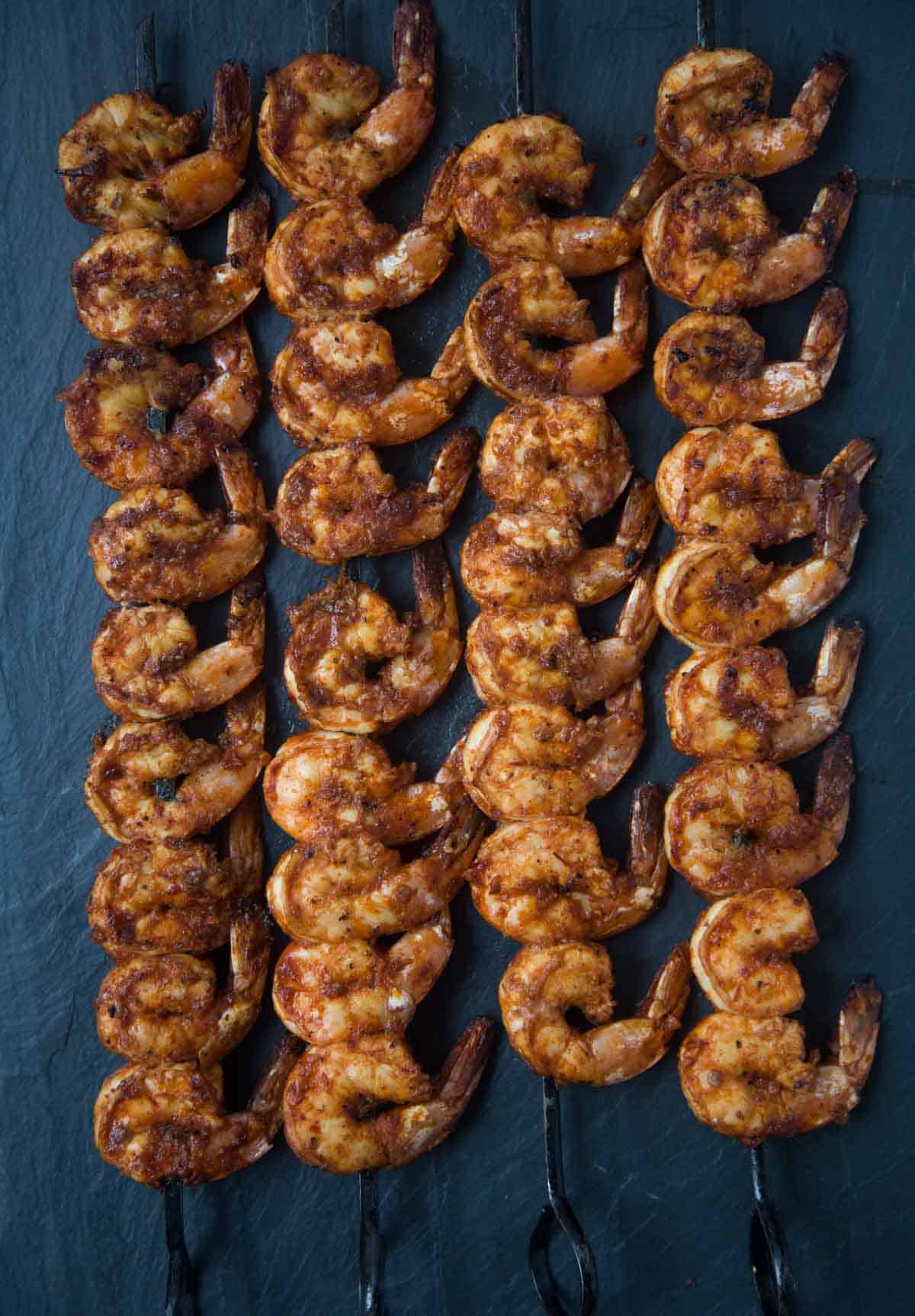 Recipe Highlights
Marinade is done in an hour.
Shrimp grill in less than 5 minutes making this a great weeknight recipe idea.
The seasoning and marinade are gluten free.
Can easily be made into other recipes or as an easy appetizer with lime wedges.
If looking for a prawns recipe try our grilled prawns with garlic butter sauce.
Jump to:
We love cooking with chipotle in all its forms. I especially love the dried spice which we incorporate into cedar planked salmon and the canned chipotle in adobo sauce which can be transformed as a base to any marinade or sauce. The later is what we're using today. It's flavor profile is both sweet and spicy with a strong earthy aroma.
Marinade Ingredients
In a large bowl add ⅓ cup of a can of chipotle peppers in adobo sauce, both the sauce and the peppers (dice up the peppers before throwing them in). Next add some umami flavor with the garlic and shallots (you can sub red onions), and sweetness with honey and fresh squeezed orange and lime juice (my favorite is to use those small Cutie oranges. They've got great concentration of flavor), kosher salt, and finally some olive oil to bind everything together.
Add 1 pound of cleaned shrimp to the marinade.
This may not seem like it, but 1 pound is a lot of shrimp. Just look below. After marinating for one hour discard marinade.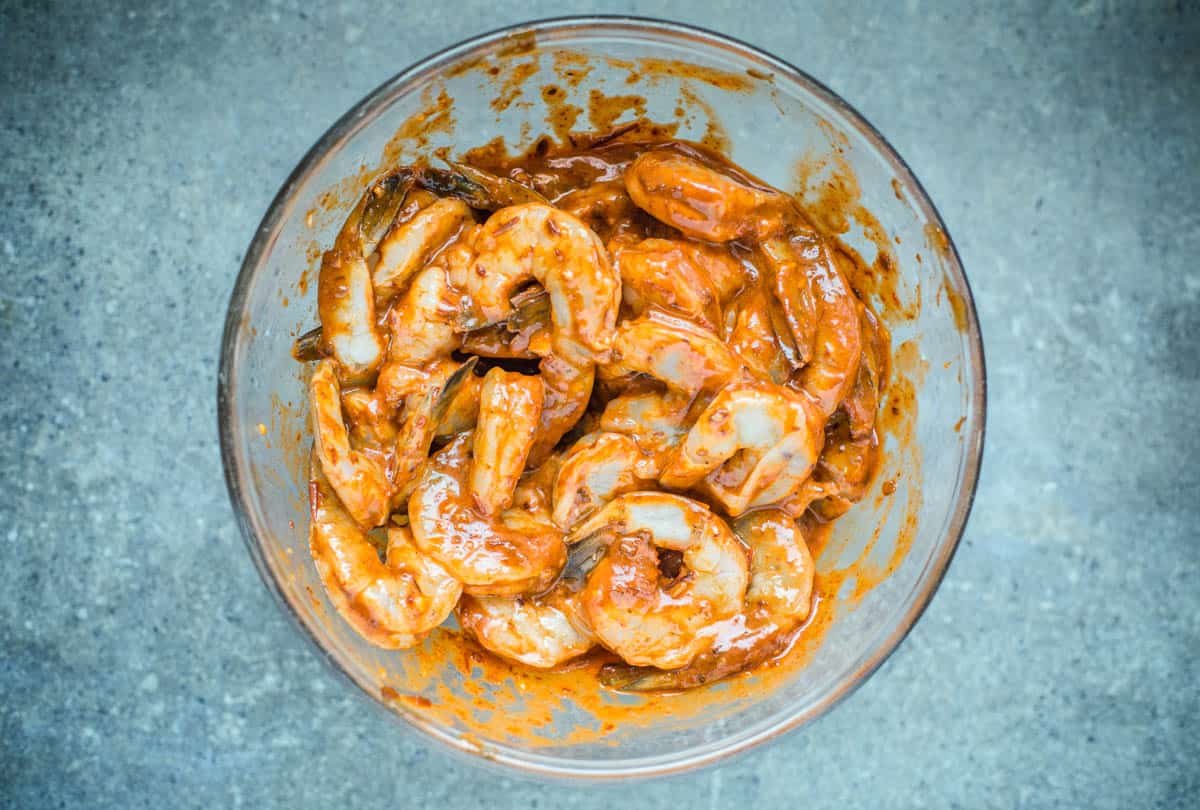 For easier cleanup you can marinate in a one gallon plastic baggie.
Buying Shrimp
To make it easy on you start with raw uncooked large shrimp that has been cleaned (deshelled) and deveined (frozen is ok). Shrimp comes in many sizes, when you see 26 – 32 or other variations of numbers, that is how many shrimp per pound you can expect. For this chipotle grilled shrimp marinade recipe we prefer to use the 26-32 count, which is what I would consider a medium size shrimp. So now you can rock out your order by saying, I'll take a pound of 26-32 please.
See FAQ for more details on defrosting frozen shrimp.
Seasoning and Equipment
For extra flavor add seafood seasoning after they have been skewered. Ours is more savory with paprika and cayenne versus something with chili powder. Or just use a simple mix of kosher salt and fresh cracked black pepper.
Skewers – We recommend using metal skewers so you can reuse them (or even a grill basket) but if all you have are wood then be sure to soak the wood for up to an hour in water. Do not bother soaking in any other liquid as you will not see a difference in flavor.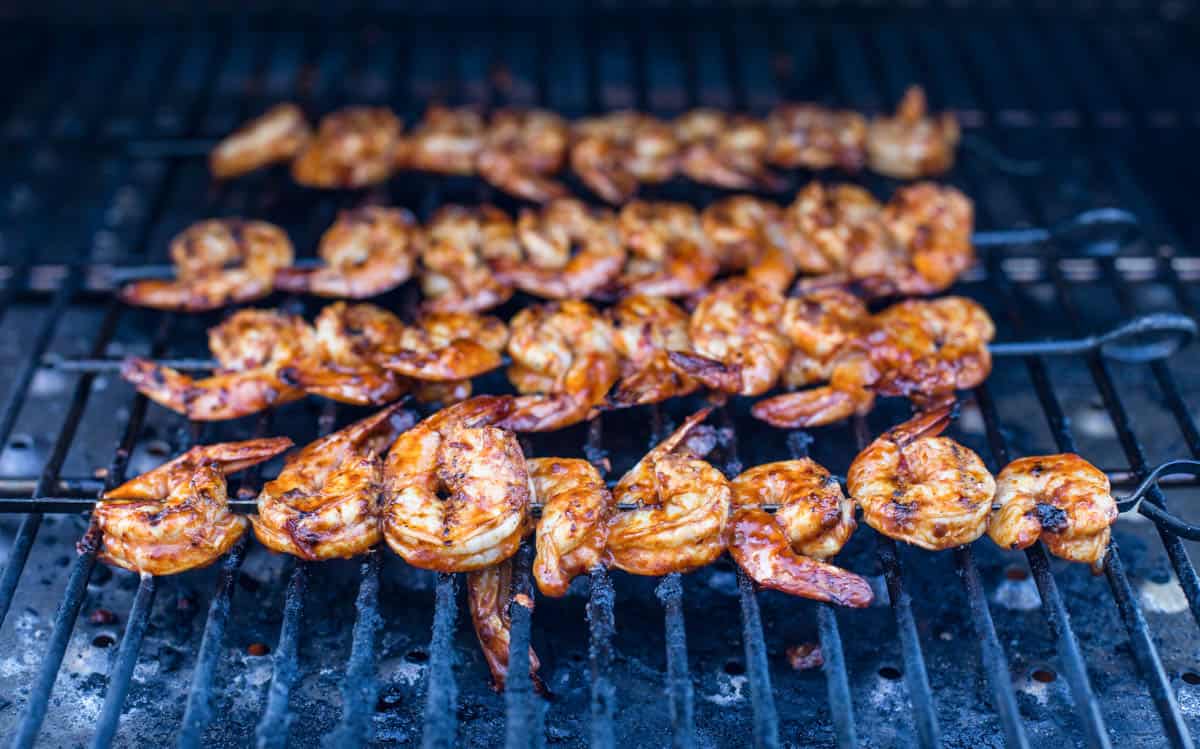 Grilling
Prepare grill for direct heat cooking targeting 450 to 500 degrees Fahrenheit in the grill. While the grill is warming up is a good time to skewer the shrimp.
Grill chipotle shrimp over direct heat for just two minutes per side. That's it. You can use a good instant read thermometer like the Thermapen One or Thermopop. If you do use a thermometer – remove the shrimp when the internal temperature reads 135 degrees Fahrehnheit*.
Shrimp does not take long to grill, they are fast and easy so don't walk away from the grill. Remove them from skewers and serve immediately.
You can enjoy these straight from the skewers or they are a great way to use as a filling for shrimp tacos. However you eat them, they're sure to go fast!
Even our kiddos love these. And our boys can take some heat, but not too much, so you know they're not overly spicy! Garnish with fresh cilantro and for sides warm up some black beans. Cut up a few lime wedges to squeeze over the shrimp.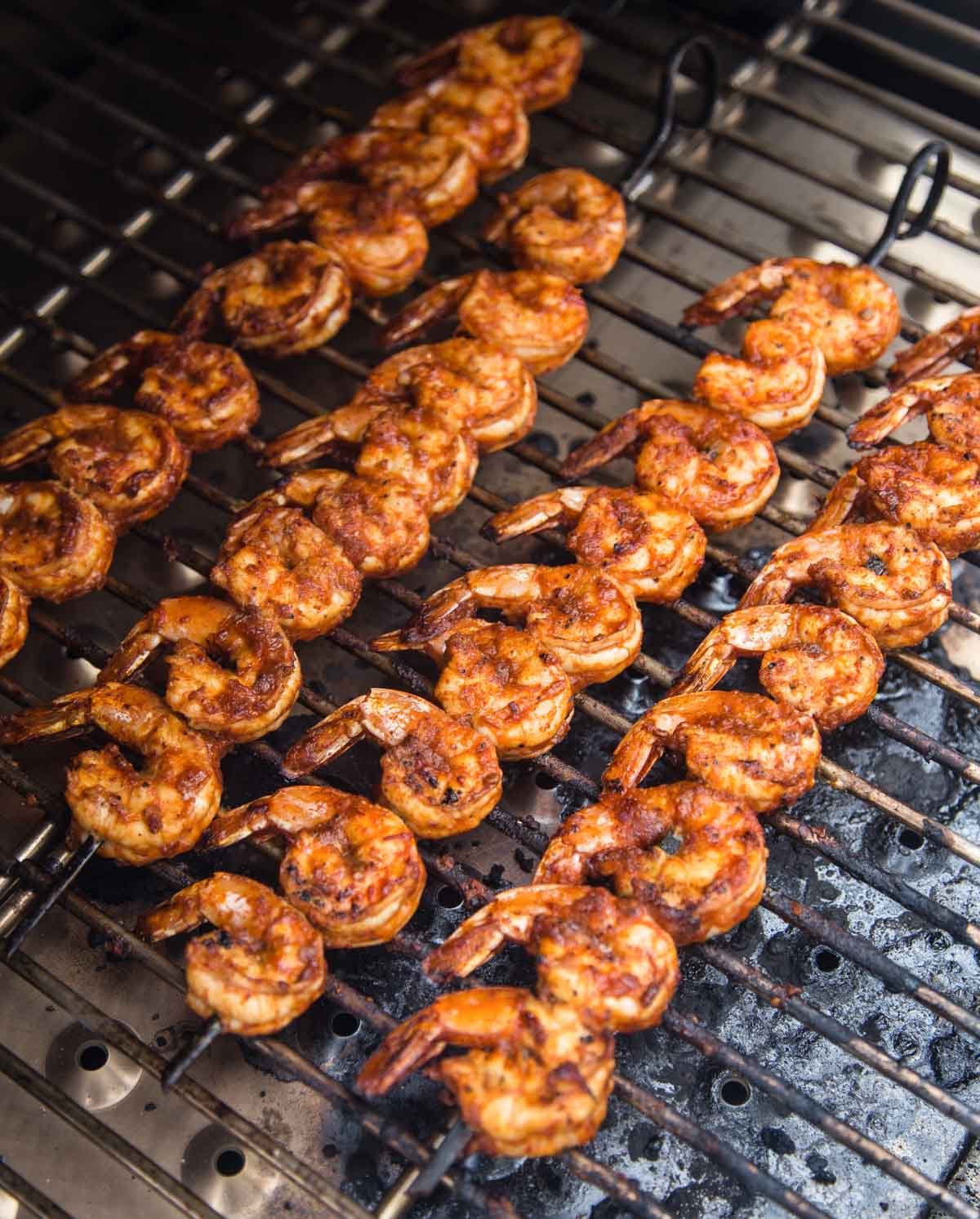 *The USDA recommends all shrimp be cooked to an internal temperature of 145 degrees Fahrenheit. We recommend 135 because as you pull it off the grill they will continue cooking to about 140 degrees and we trust where we source our shrimp from. Follow the recommended internal temperature based on your comfort level with your sourced shrimp and dietary needs.
Wine Pairing
For wine I'm reaching for something refreshing with this semi spicy grilled chipotle shrimp, like a semi-dry Riesling or a fruity rosé. Something that can handle the mix of smoky and sweet flavors from the marinade, but also counterbalance by refreshing the palate after each spicy bite. Another alternative is Gamay Noir or Zinfandel with an earthy fruit forward flavor if you are looking for red wine.
Frequently Asked Questions (FAQ)
How long does it take to grill shrimp skewers?
At a medium heat or roughly 450 degrees degrees Fahrenheit over direct heat it should take 2 to 3 minutes per side on a well oiled grate.
How long should you marinate shrimp?
We marinate for no more than one hour especially with citrus. The citrus can start to u0022cooku0022 the shrimp like with ceviche so there is no need to marinate longer than one hour.
Do you need to soak wood or bamboo skewers before grilling?
Yes. Soak any wood skewer sticks in water for up to an hour. Use a one gallon plastic baggie with water. Otherwise consider buying sturdy metal skewers or using a grill basket.
Should I peel shrimp before grilling?
We like to peel before marinating or grilling to get the flavor in the shrimp. While some say that grilling in the shells keeps them moist if you have the right level of heat and a good instant read thermometer they will still be juicy peeled.
How do I defrost frozen shrimp?
If the only shrimp available is frozen you can rapidly defrost. Place the bag of shrimp in a large colander and rinse with cold water continuously for 10 minutes. Every few minutes jiggle the shrimp so they all get water.

The shrimp will then be ready to marinate. Do not marinate frozen shrimp as it will not take on the flavor. Alternatively you can thaw the shrimp in a refrigerator 24 hours before using.
More Grilled Seafood Recipes
Explore our full list of shrimp and seafood recipes for more inspiration. Here are a few of our favorites.
Mary (a certified sommelier and recipe developer) and Sean (backyard pitmaster) are co-authors of the critically acclaimed cookbook, Fire + Wine, and have been creating content for the IACP nominated website Vindulge since 2009. They live in Oregon on a farm just outside Portland.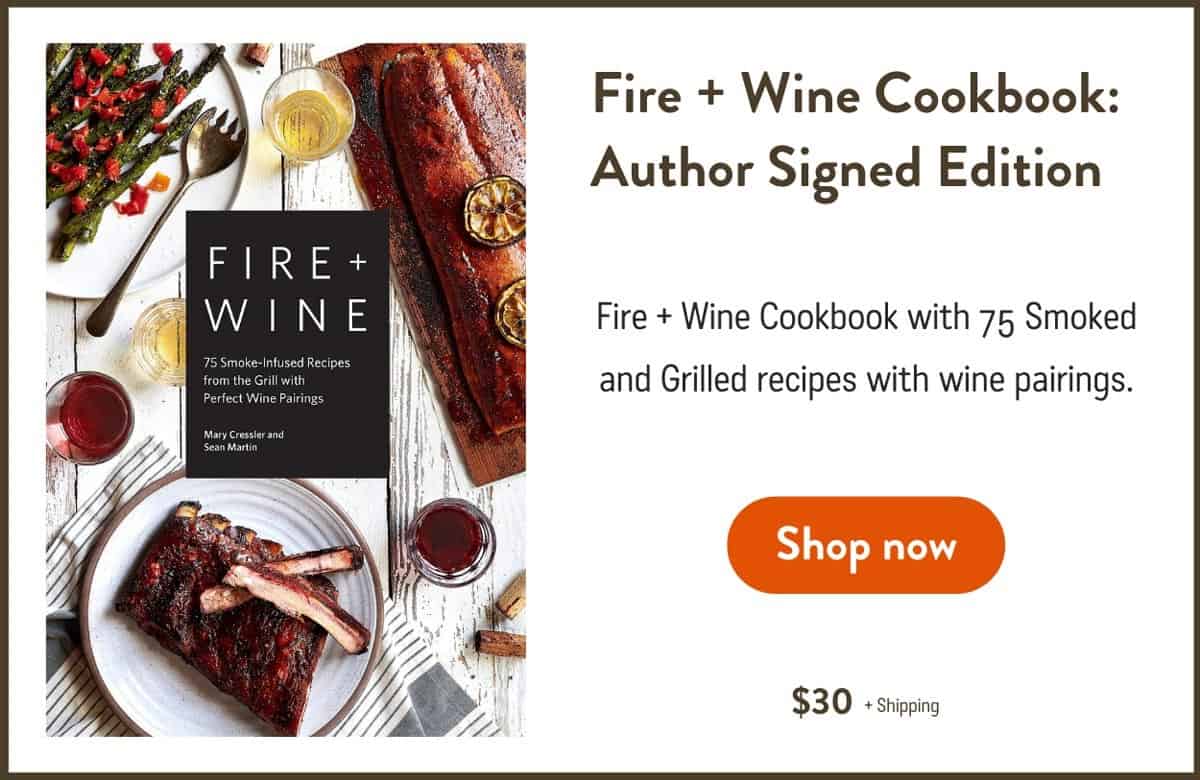 If you like this recipe we'd truly appreciate it if you would give this recipe a star review! And if you share any of your pics on Instagram use the hashtag #vindulge. We LOVE to see it when you cook our recipes.
This post may contain affiliate links. This means if you click on the link, we may receive a small commission if you purchase through the link. We partner with brands we know and love and use and it helps keep the blog going!
This post was originally published in April of 2018 and updated with more recipe details, nutrition information, photos, and FAQ.
---