Grilled Shrimp with Garlic White Wine Butter Sauce is quick and easy and can be made on the grill or adapted for the stove top.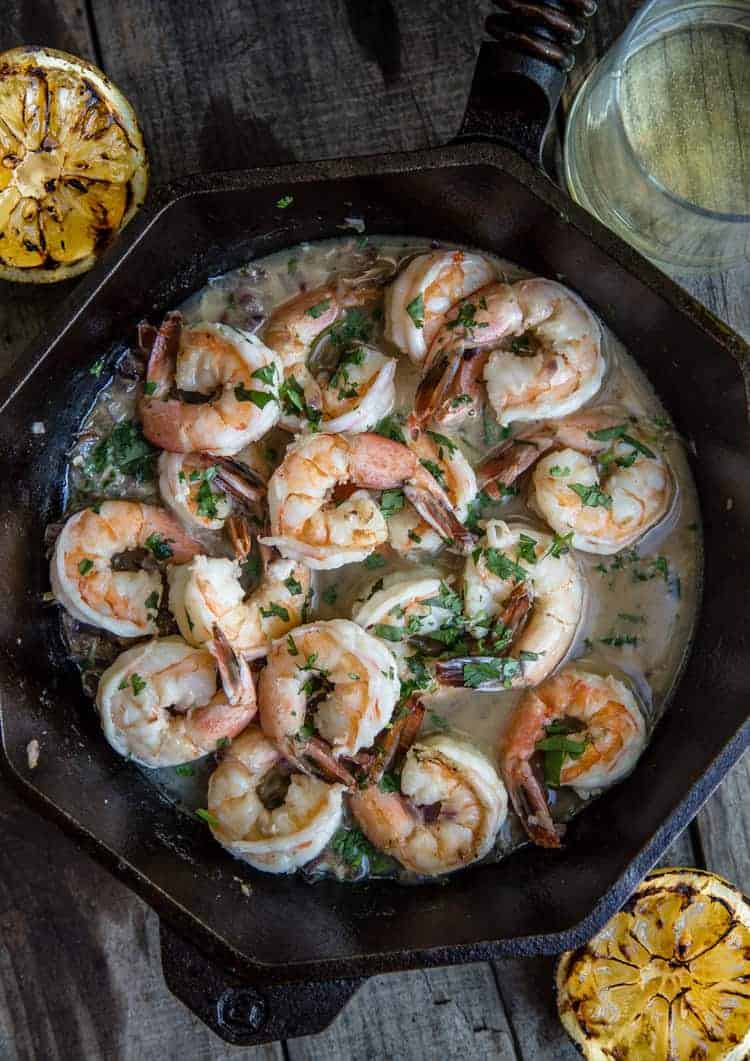 Shrimp is a regular thing in our family. The hubby is usually craving beef, and I'm often in need of a beef break (yes, that's a thing). Seafood, or specifically shrimp is where I usually steer towards and where we compromise.
And we can't get enough grilled shrimp recipes in our family, so enter Grilled Garlic Shrimp with a decadent (yet super easy) Garlic White Wine Butter Sauce! And yes, this one is cooked ON the grill!
Jump to:
Garlic Butter Shrimp
Typically when we grill shrimp, you'll see us skewer the meat, like in this recipe.
But when I'm looking for a fresh and flavorful garlic butter sauce for my shrimp, I cook the shrimp in a cast iron pan ON the grill. The shrimp and the flavorful sauce will still pick up a little of that wood smoke, and add a nice flavor dimension to the shrimp dish.
How to Grill Shrimp
Use direct/indirect heat, or the two-zone method. This allows you to move shrimp from hot zones to cool zones and avoid burning. Lump charcoal imparts incredible flavor when grilling shrimp direct. For cooking options:
Cook shrimp directly on the grill shell on or off. This is great for large shrimp.
A skewer, this is great for smaller shrimp or if cooking for a crowd. Pro Tip: Use metal skewers, worth the extra money. If using wood, soak in water for at least an hour before using.
Use a cast iron pan. This is perfect when adding a braising liquid to shrimp or sauce while still imparting wood flavor, like what we're doing here with the garlic butter and wine sauce.
Grilling With Cast Iron
Cast iron was made to cook over open fire. Grilling with cast iron is easy because it can withstand high heat and direct flame. Be sure grilled cast iron is well oiled and maintained. Place over direct heat and allow the pan to get hot before adding any protein.
It takes just minutes to prepare shrimp for grilling with cast iron.
Make sure you have cleaned and de-veined the shrimp. See this post for instructions on how to peel and de-vein shrimp.
Prep the rest of your ingredients because by the time the pan is hot your dish will come together quickly.

Set up your grill for two zone cooking and place the cast iron pan over the direct heat to preheat. After it's nice and hot (around 6-10 minutes) add the butter, shallots (or red onions) to the pan and let them cook for about 1 minute, just to start softening the shallots. The pan will be HOT, so stir frequently to make sure you don't burn the shallots. It'll sizzle as soon as it gets on. Then add the garlic, lemon, wine, and shrimp.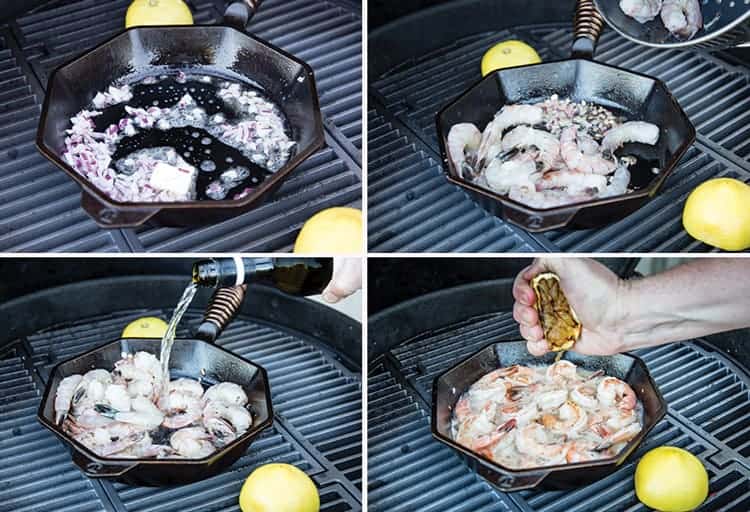 Stir frequently until they're done (about 6 minutes), making sure to flip the shrimp to allow for both sides to evenly cooked. Remove from heat, toss with parsley, and a little finishing salt, and serve!

We jazz up the dish by grilling a lemon to squeeze over the finished dish. This is a serious conversation piece when grilling shrimp for friends.
That's it.
When is the Garlic Butter Shrimp done?
We pull the shrimp when the internal temperature is 120 – 130 (using an instant read thermometer, like a Thermapen MK4), because we know are sourcing high quality shrimp. That is typically when the shrimp will go from translucent to pink.
We like to cook this shrimp recipe on the grill for two reasons. One, to make it easy on ourselves during hot summer months, keeping the heat outside. And two, to make sure we don't lose any of that delicious garlic wine butter sauce. It's great for serving over the top of the shrimp when they're finished. It's also a great one to serve over some pasta for a more hearty option.
Want to adapt for your stove top? Simply do the same over medium/high heat.
Time to fire up the grill and get your grilled shrimp and garlic sauce on!
This post may contain affiliate links. This means if you click on the link, we may receive a small commission if you purchase through the link. We partner with brands we know and love and use and it helps keep the blog going!
Garlic Shrimp Wine Pairing
We love an unoaked (or very mildly oaked) chardonnay for this grilled shrimp dish because the chardonnay typically show some bright fresh lemon flavors that would work well with the complementary flavors of the butter and wine in the sauce. To purchase the wines we love go to VindulgeWine.com.
Whether a light or full bodied chardonnay with integrated oak flavors and textures, both styles will highlight the mild creaminess of the butter and wine sauce.
More Grilled Shrimp Recipes
---
Supplies Used for This Recipe
For an awesome grill grate, we use the Malory Cast Iron grate built for Weber Kettle grills.
---
If you like this recipe we'd truly appreciate it if you would give this recipe a star review! And if you share any of your pics on Instagram use the hashtag #vindulge. We LOVE to see it when you cook our recipes.