Strawberry Sundaes made with grilled strawberries and a melted chocolate peanut butter sauce. Grilling strawberries is super easy, and adds incredible flavor to your sundae.
Can easily be made dairy-free and gluten free.
This is the perfect sweet treat to make for your kids (or loved ones) this coming Valentine's Day.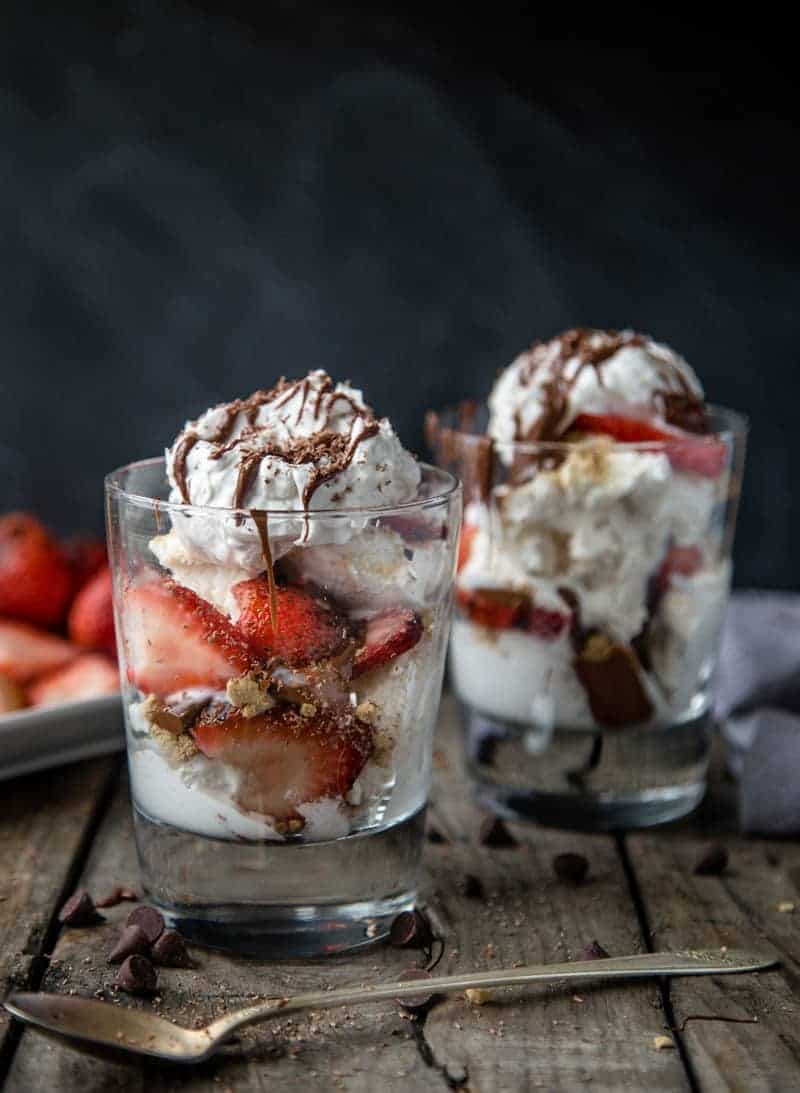 My sweet 8-year old told me he wanted to make a recipe video, "Like mommy's," he said.
They think it's sooooo easy 😉
So I told him, ok then, you can make a video, under 2 conditions: 1) You have to come up with a recipe and storyboard a video, and 2) Make sure it's something that can be grilled.
And he came up with…
Grilled Strawberry Sundaes with Grilled Chocolate Peanut Butter Sauce
Shocking 😉
The idea was to grill the strawberries and also the chocolate peanut butter sauce, both of which would be used as a topping for the sundaes.
We set everything up outside on a table and assembled all of our ingredients, per his list.
Ingredients for Strawberry Sundaes
Strawberries (we use about a quart)
Chocolate Chips (we used vegan chocolate chips since our kids have dairy allergies)
Peanut Butter (kids choice!)
Graham Crackers (crushed up, for the toppings. We used gluten-free graham crackers)
Vegan Whipped Cream (if you're not dairy free you can easily use your favorite whipped cream)
How to Grill Strawberries for Strawberry Sundaes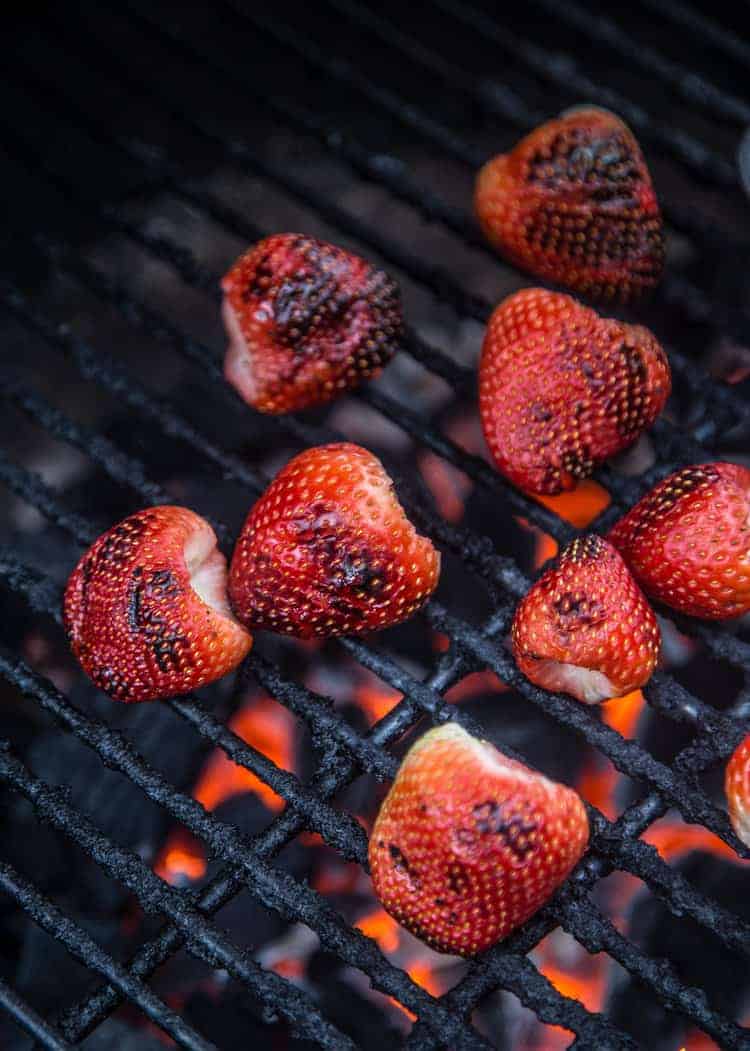 You can use metal or wood skewers (pre-soaked) and line them up. But if you're feeling lazy, and not in the mood to skewer you can easily just line them up on the grill. They're big enough to not fall through the grates.
Grill them about 2-3 minutes per side over direct heat, just to get a nice char and to allow the natural sugars to caramelize.
While you're grilling your strawberries you can melt your chocolate peanut butter sauce.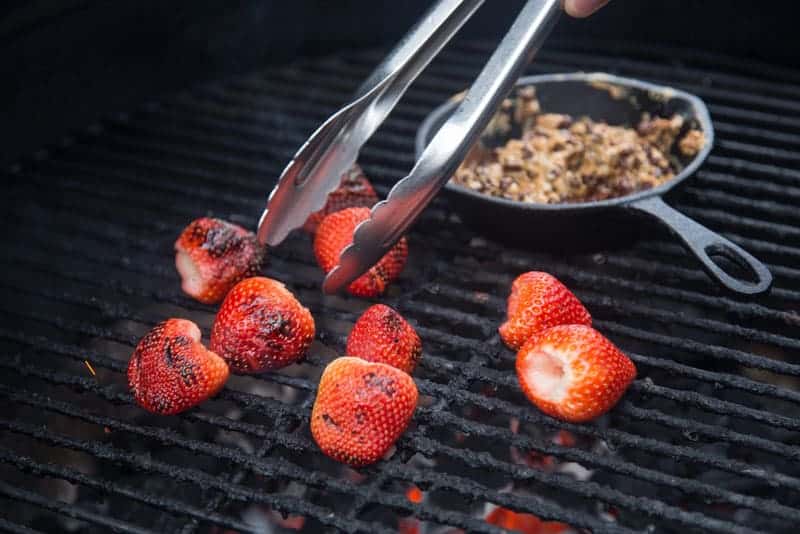 Just place your chocolate chips and peanut butter in a small cast iron pan and place on the grill and stir until melted (this should only take a couple minutes).
How to Assemble your Grilled Strawberry Sundaes
This is where the kids can take charge. No adult supervision needed. On a second note…
Layer a scoop of ice cream, then grilled strawberries, chocolate, half of the crushed graham crackers, and then another layer of ice cream, chocolate sauce, more graham crackers, and finally top with the whipped cream!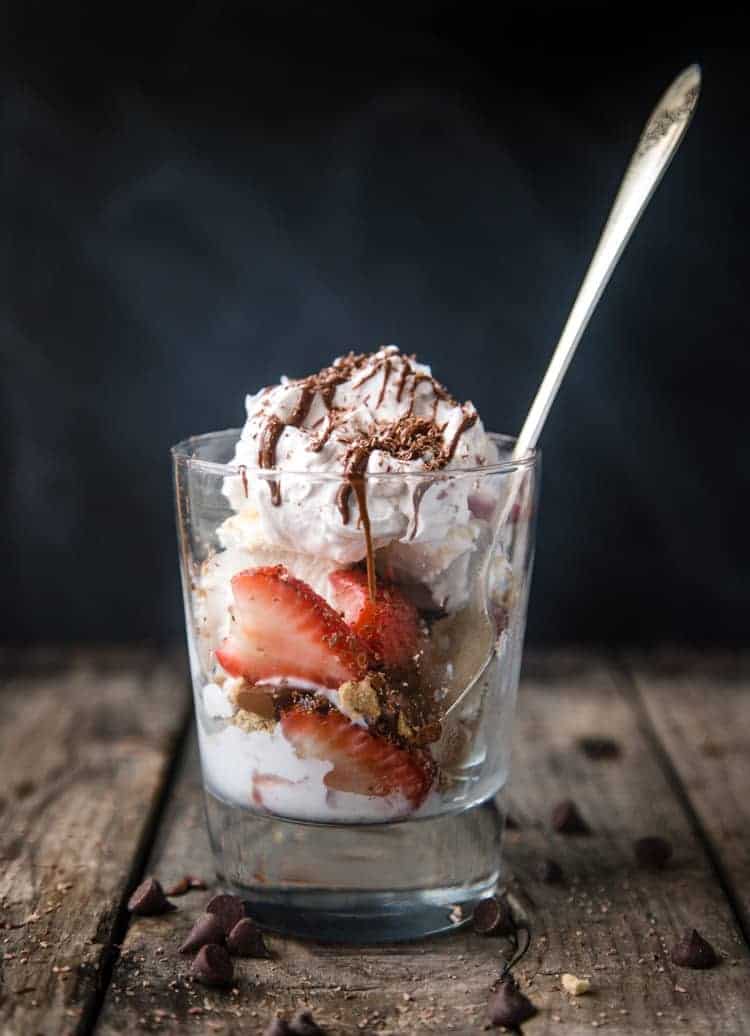 This would be an excellent recipe to make with your kids for Valentine's Day! Strawberries, Chocolate, Ice Cream? It's the sweetest way to show your love for your little ones!
Video
My 8-yr old son created this recipe, storyboarded the video, and even starred in it! Grilling with kids is fun!!!

Grilling with Kids
We love grilling with our kids and teaching them how to understand fire and, importantly, how to respect fire. So he's used to helping us cook outside.
Grilling with kids is a lot of fun. BUT like teaching a kid to swim, you need to be super vigilant with the rules so everyone is safe. And for us it means boundaries and 100% adult supervision. At least for now.
It's also important to have a set of long tongs to avoid burning your arms.
How to make Dairy Free (Vegan) Whipped Cream
This is the recipe we used for vegan whipped cream we got from an AM Northwest guest, and adapted the sugar content and vanilla. It's amazing! We use it whenever whipped cream is called for. It's also a great substitute for icing on cupcakes. Simply put a can of full-fat coconut milk in the fridge overnight (we use the 365 Degree can from Whole Foods). Once chilled, remove the lid and scrape out only the solid part on top, into a bowl. Add 3 tablespoons powdered sugar (depending on desired consistency and sweetness) and 1 teaspoon vanilla extract. Mix with a high speed mixer until fluffy.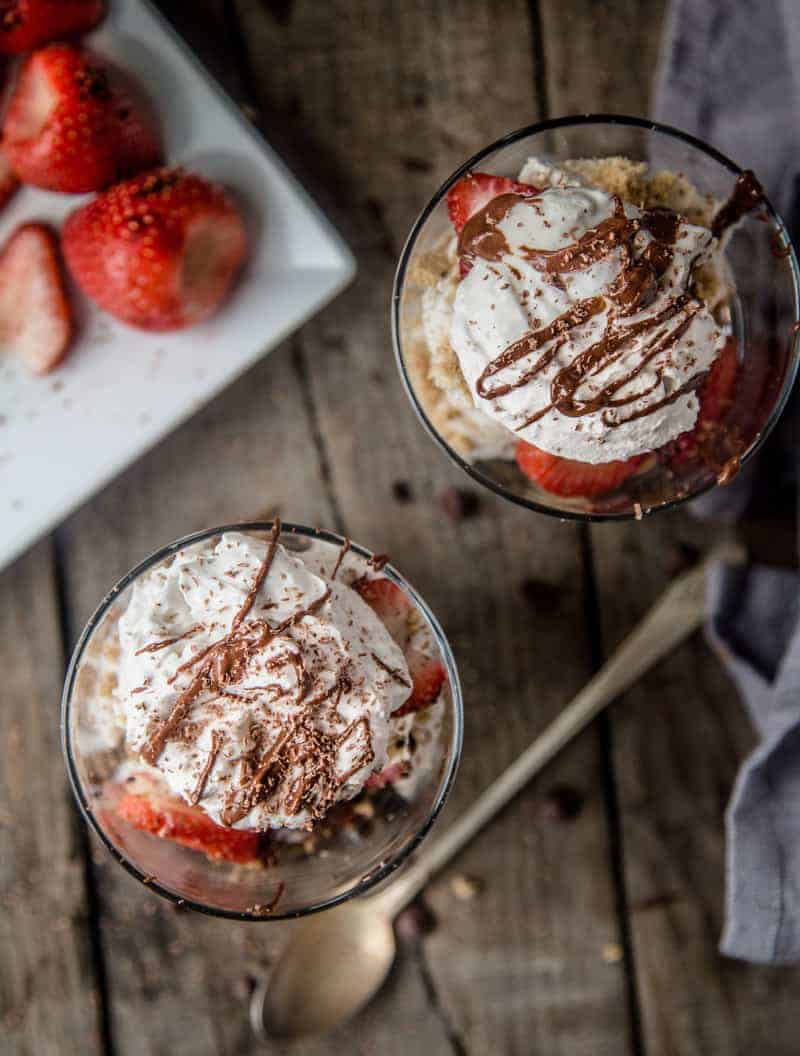 Dairy Free and Vegan Ingredients
If you're not vegan or dairy free use your favorite vanilla bean ice cream and chocolate chips (Ghiradelli milk chocolate chips I miss you so!)
But for my kiddos we use:
So Delicious Dairy Free Very Vanilla Cashew Milk non-dairy frozen dessert
Other Useful Supplies for Grilling Desserts
Long Tongs (so you don't burn your precious arms!)
Small cast iron pan for melting chocolate (a 6 inch works great for this recipe)
Metal skewers for ease of grilling strawberries (not required, but they do make it easier to grill strawberries)
Want More Dessert Recipes on the Grill or Smoker?
---
This post contains affiliate links. We only recommend products we use regularly and love!
---