An easy recipe for Blackberry Crostata (or mixed summer fruit) that you can cook directly on the grill. We use a gluten free and dairy free crust.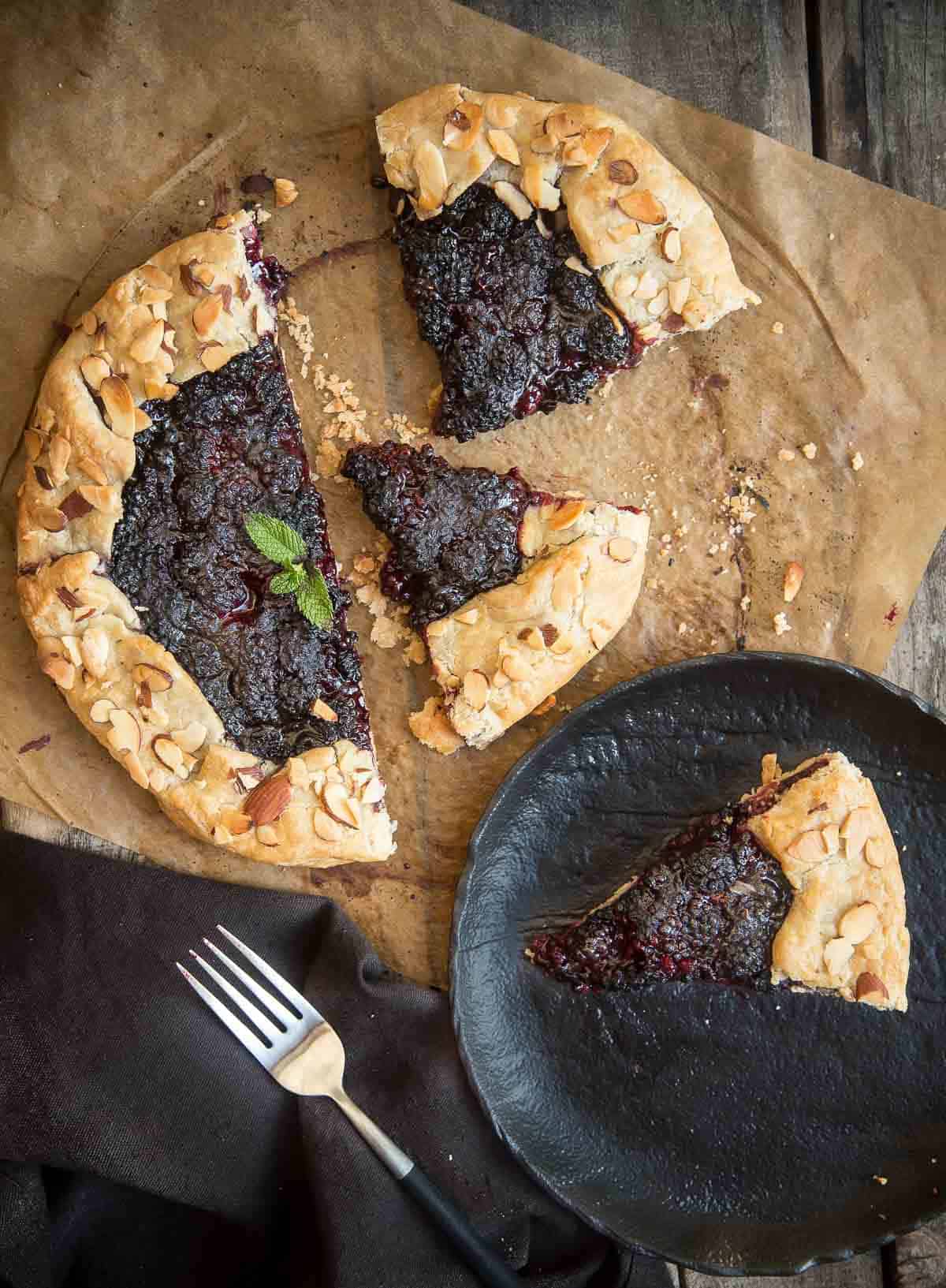 Jump to:
Living in Oregon we are surrounded by berries, especially blackberries. So we were inspired to make a grilled crostata. This gluten free and dairy free version is perfect if you have food allergies.
What's the difference between a Crostata and a Galette?
Crostata is the Italian term, and Galette is French.
They're both rustic baked treats made with pastry dough, folded free-form, and piled with fresh fruit in the center. They can also be savory.
Now if you're thinking of a tart, those are different in that those are cooked in a tart pan, vs. rustic and free-form like a Galette or Crostata.
Ingredients
Gluten Free Dough – See below for more details.
Vegan Ingredients – If you want to make this vegan use a good soy based butter (we used Earth Balance) and almond milk.
Filling – The goal is to have a sweet and rich filling. We use blackberries and then add sugar, and baking spice flavor with citrus juice and zest to elevate the flavor. We use lemon and orange.
Optional/Finish – For presentation top with fresh mint and a dusting of turbinado sugar. We also add a layer of shaved almonds to the crust before baking.
Gluten Free Dough Tips
Use good cup for cup gluten free flour. We recommend Bob's Red Mill Baking Flour mix. Each brand has different combination of flours so they each need their own hydration levels.
You may need more (or less) liquid and fat to get the desired consistency. So adjust your liquids and fat to get the right texture depending on your flour. We use almond milk to keep this a vegan recipe.
Use an egg wash to get more color to the dough as it bakes.
Fruit Options
We love blackberries (fresh or frozen) but you can always mix up any ratio. Just keep to the two cups total.
Blackberries
Blueberries
Peaches
Raspberries
Blueberries
Apples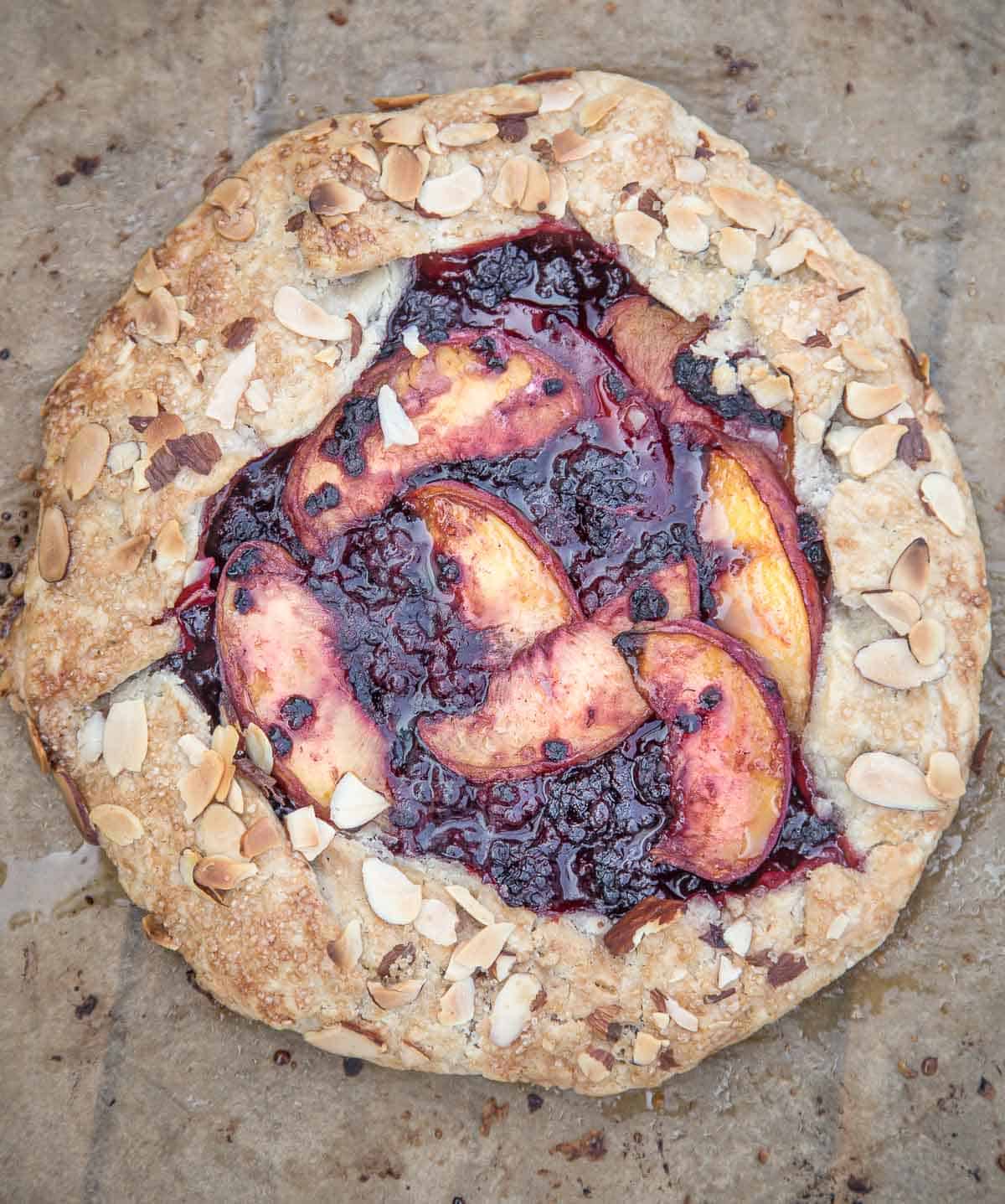 Related Article: How to cook with blackberries.
How to Grill a Crostata (or Galette)
Tool Needed: We use a pizza stone in our Big Green Egg. We purchased ours from a local hardware store, but it is very similar to this pizza stone.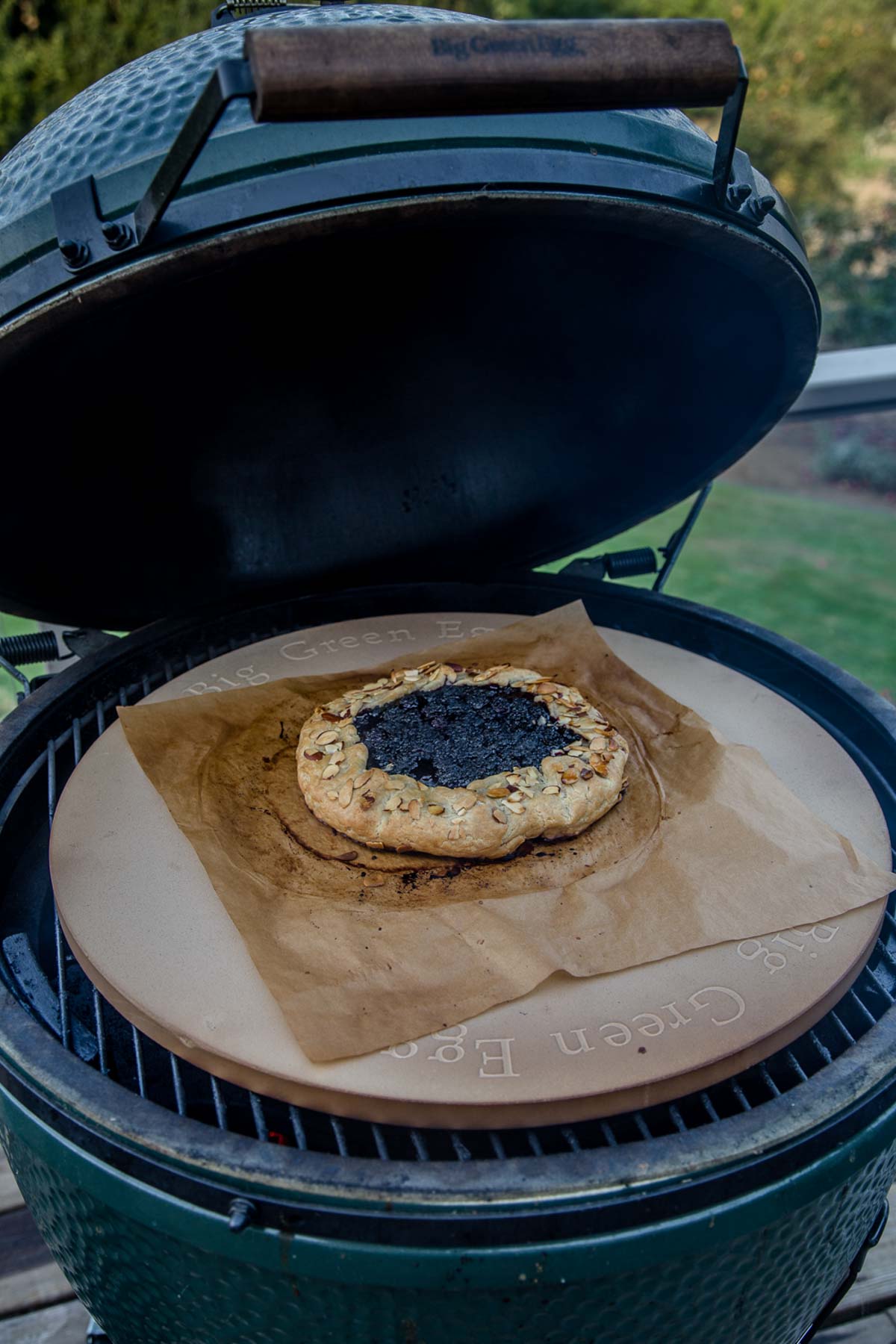 We've used the same method in our Weber Kettle Grill too (also with a pizza stone), with similar success, but there are important factors to consider.
Preheat Grill: Preheat grill to 375 degrees Fahrenheit, and prep for indirect cooking with a pizza stone set in the center of the grill. (If using the oven set to 400 degrees. See notes.)
Combine: Combine the flour, salt, sugar, and cold butter in a food processor. Pulse a few times to break up the butter and get a crumbly mixture. Slowly add in the cold almond milk (or water) one tablespoon at a time, pulsing quickly to combine. I usually add 6-8 tablespoons by the time the mixture feels right and slightly moist.
Shape: Place dough onto a sheet of parchment paper with a dusting of flour, flatten with hands and shape into a disk. Then place another sheet on top and roll out to an 11″ circle.
Filling: In a separate large bowl gently mix all of the ingredients together until combined.
Spoon berry mixture onto the center of the dough, leaving a border of about 2 inches. Gently fold up the uncovered border over the edge of the fruit mix and pinch into pleats if necessary, creating a 9″ round circle.
Brush the pastry with egg wash, sprinkle just the pastry with the shaved almonds and the turbinado sugar.
Grill: Transfer to a pizza stone centered on the grill, close the lid, and cook until the pastry is browned and the filling is thickened (time can vary because the heat fluctuates inside a grill). Keep a close eye on it after 35 minutes. This should be done anywhere from 35-45 minutes, or until crust is golden and the filling is bubbly. Cool for 15 minutes before serving.
This is a similar process to cooking pizza on a grill.
Other Baked Recipes on the Grill
Baking on the grill adds amazing flavor do any dish. Here are some of our favorites.
You can also check out our full list of sweets and desserts on the grill.
Frequently Asked Questions
What if I'm not gluten free or dairy free?
Just use your favorite pie crust recipe to sub for this one, or make it even easier on yourself by buying a store bought pie crust.

The cooking process on the grill remains the same. Before this year we were using traditional pastry dough on the grill using the same method with great success.
Can I make this grilled crostata in the oven?
Yes. Follow the same recommendations on temperature. Cook at 400 degrees Fahrenheit on the center rack for approximately 35-45 minutes, or until the crust looks browned and the filling has thickened and bubbling.

Put the crostata on a baking sheet (with parchment paper) so any bubbling from the berries doesn't hit the oven floor.
Do I need to make this on a pizza stone?
On the grill, yes! That is our recommendation. Look for something similar to this stone.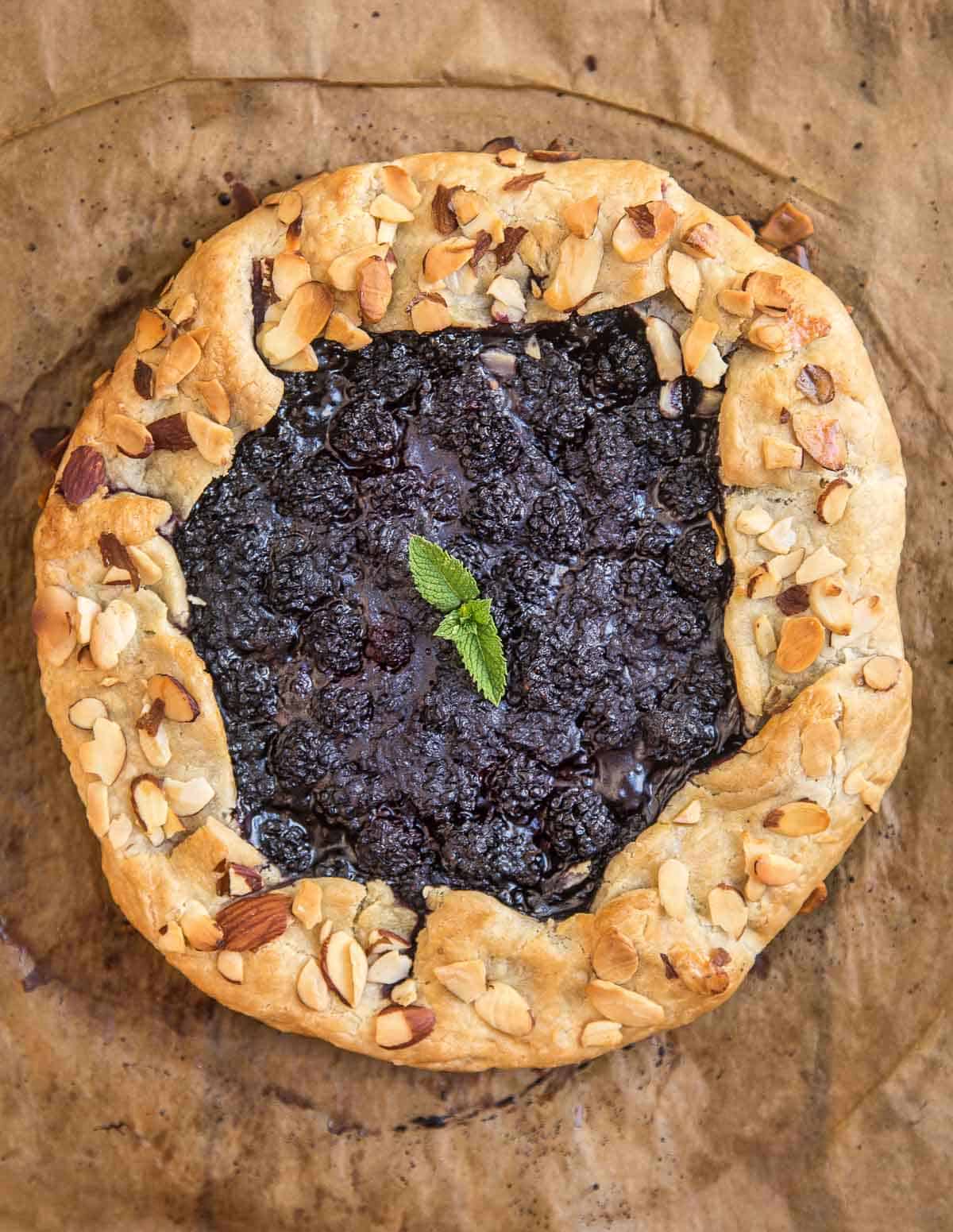 ---
Tried this recipe? Give us a star rating and we would love to see! Mention @vindulge or use the hashtag #vindulge on all the social media handles. And consider subscribing to our newsletter where we drop all our favorite ideas and inspirations every week.
This post may contain affiliate links. This means if you click on the link, we may receive a small commission if you purchase through the link. We partner with brands we know and love and use and it helps keep the blog going!