An easy recipe for Blackberry Crostata (or mixed summer fruit) that you can cook directly on the grill!
And since our kids are gluten free and dairy free we've taken our favorite summer grilled dessert, Grilled Blackberry Crostata, and made it GF and DF friendly!
One of the first things we cooked up when we moved to our farm was a berry crostata. We are surrounded by fruit trees and berry bushes, in addition to 4 acres of hazelnut trees and couldn't resist picking ALL the late summer fruit since we'd never experienced so much before. It was late-August and everything was ripe, sweet, and delicious.
Since we grill most of our meals anyways we decided to cook the crostata on the grill instead of the oven, and it turned out fantastic! So that's the way we've been cooking them ever since.
You've gotta make a few adjustments to your cooking times when cooking pastry dough on the grill, and trust your gut and the look of the crust, vs. cooking to a target time, but if you can do those things you can make some incredible desserts right on your grill.
We started cooking desserts like this on our grill using regular flour, and have adjusted to gluten free flour for our kids. The results are great no matter what kind of pastry flour you use to cook on the grill.
But first…
What's the difference between a Crostata and a Galette?
Nothing really! They're both rustic baked treats made with pastry dough, folded free-form, and piled with fresh fruit in the center. They can also be savory.
Crostata is the Italian term, and Galette is French.
Now if you're thinking of a tart, those are different in that those are cooked in a tart pan, vs. rustic and free-form like a Galette or Crostata.
The first time I ever made anything like this I used an Ina Garten recipe, and hers was a Crostata. So I've stuck with that name ever since.
The Best Gluten Free and Dairy Free Pastry Dough to Grill
I'm no expert in this realm, but I do know how to do my research. And after researching and trying different variations I went with the experienced flour experts at Bob's Red Mill after reading this article on adapting pie crust recipes to vegan and best fats to use for a flaky crust.
I also don't claim to be a gluten free ninja, making my own all purpose mixes, so we use the Bob's Red Mill Gluten Free 1 to 1 Baking Flour Mix. This is different than their AP flour, and their GF Pie Mix. And no, this post is not sponsored by Bob's. I've just tried several store bought dough mixes and this one works the best for grilling.
At the recommendation of the article mentioned above I subbed Earth Balance Soy Free Buttery Sticks for the fat. I'm not in love with Earth Balance (and would prefer not to use it), but it did indeed work best after testing it several times with different butter substitutes.
The only other thing I'd say I did different than Bob's pastry recipe is that you'll need a little more liquid than it recommended. The recipe calls for 4-6 tablespoons of liquid, I use closer to 6-8 tablespoons. I also added some sugar for added flavor.
What Fruit to use for the Filling for Grilled Blackberry Crostata
Whatever combination you desire!
Blackberries
Blueberries
Peaches
Raspberries
Blueberries
Apples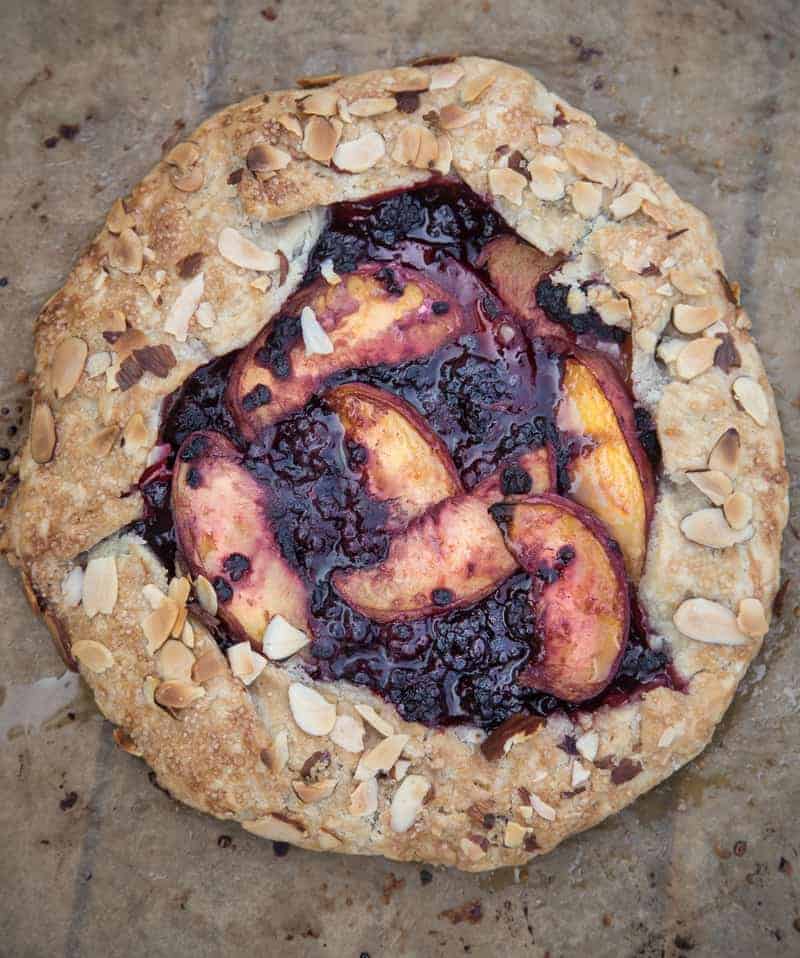 We tried it three ways just last week alone. One with strictly blackberries. One blackberries and peaches. One with blackberries, peaches, and blueberries.
The blackberry peach combo was my favorite.
I recommend a combination of 2 or 3 fruits.
But whatever you do stick to 2 cups of fruit total for standard sized 9" pie crust.
How to Grill a Crostata (or Galette)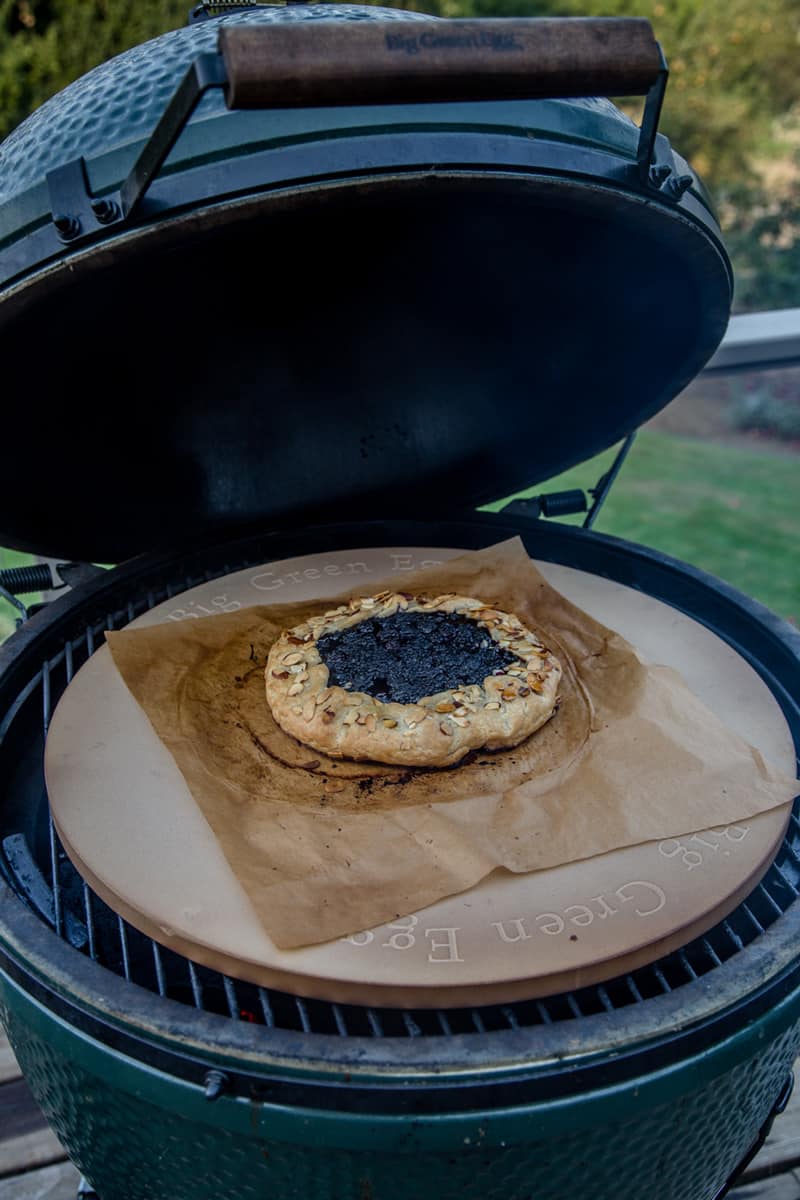 The important thing to note is we used a pizza stone in our Big Green Egg. We purchased ours from a local hardware store, but it is very similar to this pizza stone.
We've used the same method in our Weber Kettle Grill too (also with a pizza stone), with similar success, but there are important factors to consider.
Grills for baking can be fickle. Unlike an oven with consistent temperature, you have to deal with temperature swings and a very hot flame. We like to make sure we minimize the swings by cooking on a pizza stone and keeping the charcoal to a minimum.
Grilling pastry is best done with an indirect heat. If you try with direct heat (and a stone), you run the risk of cracking the stone, or burning the bottom of the crostata. Which is why we use the Big Green Egg and their heat plate or Eggverter in addition to the pizza stone.
On a Weber kettle be sure to avoid too much flame, keep the coal to either side of the grill so the fire isn't "cooking" your pan or stone. Then cook for the normal time frame. With other grills you just want to keep the dough from any direct heat (or flame), and cook it with indirect heat trying to keep your temperatures between 375-400 degrees F.
This is a similar process to cooking pizza on a grill.
Grilled Blackberry Crostata Recipe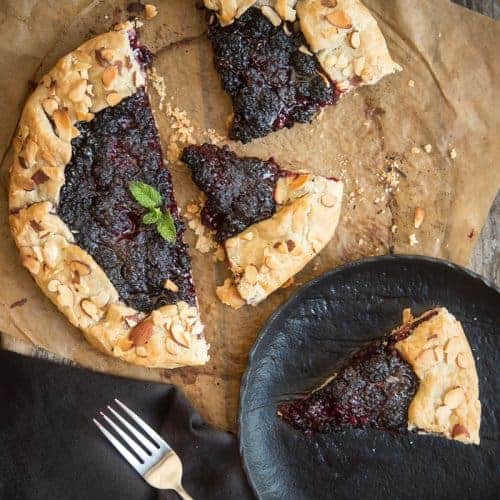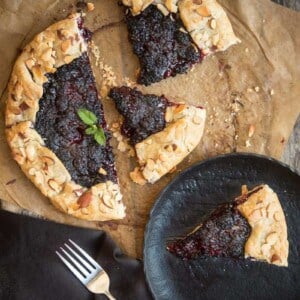 Grilled Blackberry Crostata
An easy recipe for a blackberry (or mixed summer fruit) crostata that you can cook directly on the grill!
Print
Rate
Ingredients
For the Gluten Free Dairy Free Pastry Dough
1 ½

cups

Gluten Free All Purpose 1-to-1 Baking Flour (we recommend Bob's Red Mill)

½

teaspoon

salt

1

tablespoon

sugar

½

cup

cold Vegan Butter (I used Earth Balance Soy Free Buttery Sticks)

6-8

tablespoons

ice cold almond milk (or water)
For the Filling
2

cups

blackberries (or mixed berries and fruit)

1

tablespoon

gluten free flour (I used the same one as for the crust)

1

tablespoon

sugar

¼

teaspoon

grated orange zest

1

tablespoon

freshly squeezed orange juice

¼

teaspoon

grated lemon zest

1

tablespoon

freshly squeezed lemon juice

⅛

teaspoon

cinnamon (just a pinch!)

1

large

egg, beaten

1-2

tablespoons

sliced almonds

Turbinado sugar (for the topping, about 1 teaspoon)
Instructions
Preheat grill to 375 degrees, and prep for indirect cooking with a pizza stone set in the center of the grill. (If using the oven set to 400 degrees. See notes.)

Combine the flour, salt, sugar, and cold butter in a food processor. Pulse a few times to break up the butter and get a crumbly mixture. Slowly add in the cold almond milk (or water) one tablespoon at a time, pulsing quickly to combine. I usually add 6-8 tablespoons by the time the mixture feels right and slightly moist.

Place dough onto a sheet of parchment paper with a dusting of flour, flatten with hands and shape into a disk. Then place another sheet on top and roll out to an 11″ circle.

For the filling: In a separate large bowl gently mix all of the ingredients together until combined.

Spoon berry mixture onto the center of the dough, leaving a border of about 2 inches. Gently fold up the uncovered border over the edge of the fruit mix and pinch into pleats if necessary, creating a 9″ round circle.

Brush the pastry with egg wash, sprinkle just the pastry with the shaved almonds and the turbinado sugar.

Transfer to a pizza stone centered on the grill, close the lid, and cook until the pastry is browned and the filling is thickened (time can vary because the heat fluctuates inside a grill). Keep a close eye on it after 35 minutes. This should be done anywhere from 35-45 minutes, or until crust is golden and the filling is bubbly. Cool for 15 minutes before serving.
Notes
The pastry dough recipe was adapted from this Bob's Red Mill recipe. 
When cooking in the grill temperatures will fluctuate. We recommend aiming for 375, knowing temps could change and likely raise. We don't want it going much higher than 400, so 375 is a good temp to aim for. If you're cooking in the oven you can set it to 400 knowing it will stay consistent the entire time. 
Find the perfect wine pairing at the Vindulge Wine Shop
Common Q&A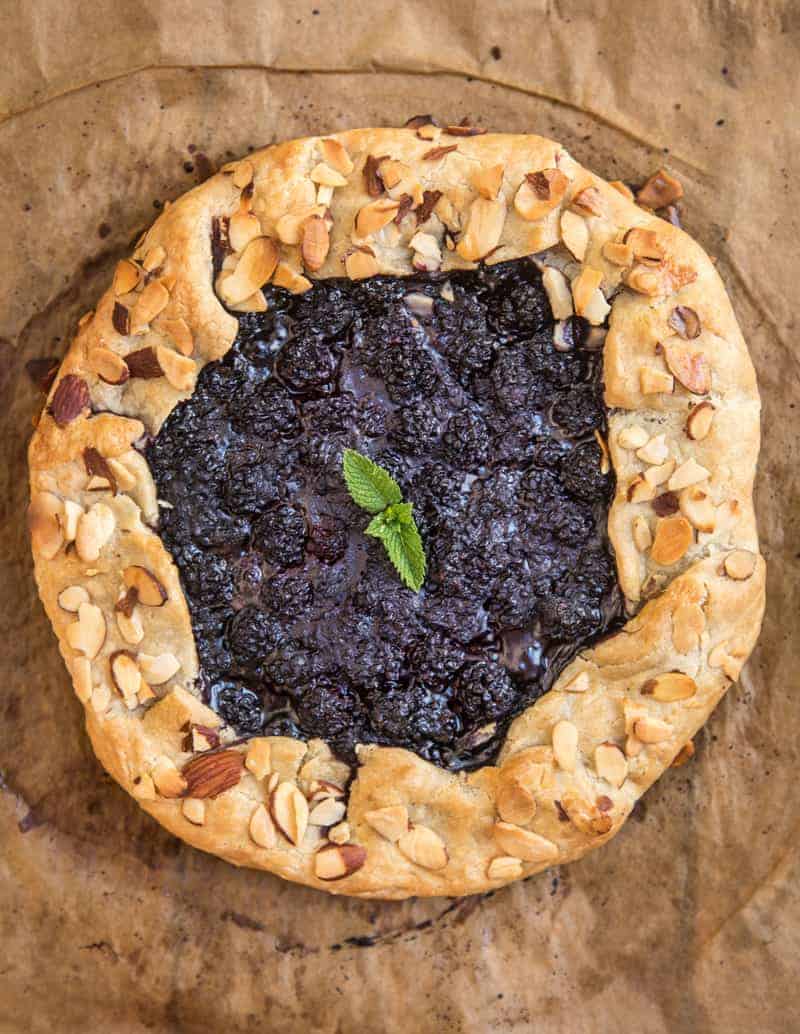 What if I'm not gluten free or dairy free?
Lucky you. j/k
Just use your favorite pie crust recipe to sub for this one, or make it even easier on yourself by buying a store bought pie crust.
The cooking process on the grill remains the same. Before this year we were using traditional pastry dough on the grill using the same method with great success.
What if I don't have a grill? Will this recipe come out the same in the oven?
Yes!
Follow the same recommendations on temperature. Cook at 400 degrees for approximately 35-45 minutes, or until the crust looks browned and the filling has thickened and bubbling.
If you're going the GF/DF route the color of the dough won't get as golden as using traditional dough because there is no real butter, but it will change color slightly. You can also touch it to see if it feels crispy.
Do I need to cook it on a pizza stone?
On the grill, yes! That is our recommendation. Look for something similar to this stone.
In the oven, no. If you're cooking it in the oven you can cook it on a baking sheet or a stone (whatever you have). The stone will yield a more crispy and even crust. Either way we do recommend placing parchment paper under the crostata for easy of transferring it to the stone (or baking sheet).
---
If you like this recipe we'd truly appreciate it if you would give this recipe a star review! And if you share any of your pics on Instagram use the hashtag #vindulge. We LOVE to see it when you cook our recipes.
---
*This post contains affiliate links. We only recommend products we use and trust and have made our lives easier!